Coming Home
Nova Scotiä to Bellë Rivër via Quëbec & Nëw York State
Fall 2007.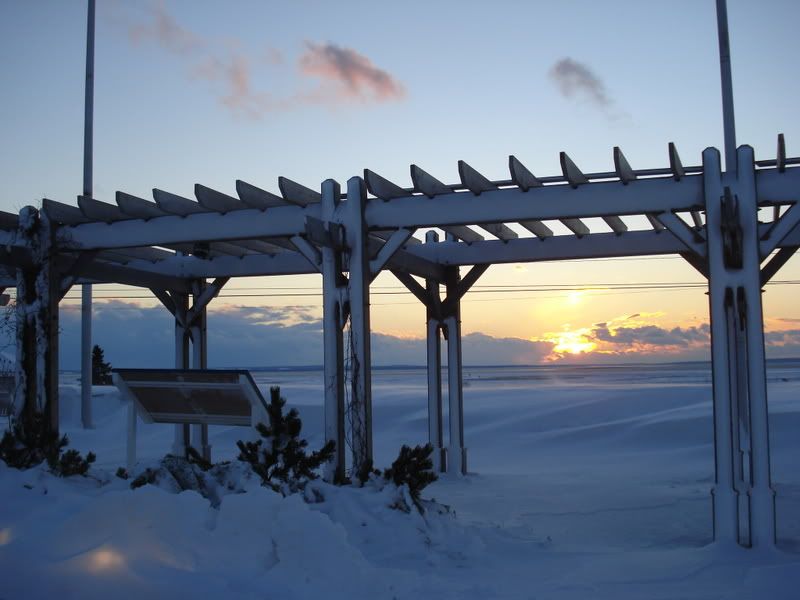 My time had finally come...the shackles of Novä Scotian oppression were eased and I was free! Free to depart on my 23 hour drive home.
I finished my last exam on the Wednesday and was too excited to nap. I left promptly and got on the road.
---
I made great progress and escaped Nova Scotiä. Tired from about six hours of driving, I decided to stop in Fredericton, New Brunswick and check the city out.
The night was cold and windy and I walked to the top of a parking garage to elevate myself above the street network. While atop the parking garage, a security guard just sat in his van and watched me set up my tripod in the cold while trying to blow my hands warm - I think he felt sorry for me more than anything...
---
Fredericton is a city of great history and many old buildings.
I was particularly enamored with the city hall and scaled a neighboring fire escape to get a shot of the old beauty. A cynical old man came to the window and just mean mugged me the whole time - but its not like he was going to climb up the fire escape to tell me to leave.
I calmly set up my tripod, took about 10 pictures and calmly made my way back down the fire escape and into the New Brunswick night. The wintry weather proved useful.
---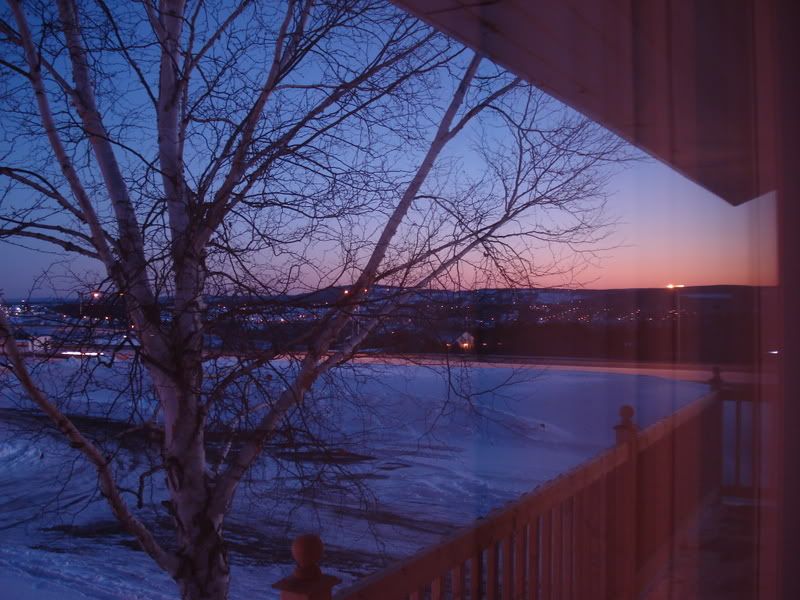 There wasn't much to be had in Fredericton with a point & shoot digital camera. The city doesn't have that many lights and the river which bisects the community just can't be shot with a standard camera. It would definitely be a nice place to see in the day, but that would have to wait. My feet were cold and I was tired; so I left on my way.
I didn't make it very far that night - in fact, with the winds and snow I only made it to Woodstock, New Brunswick - approximately 80 minutes away.
I awoke and left the HoJo at sunrise because of my big plans for the day.
---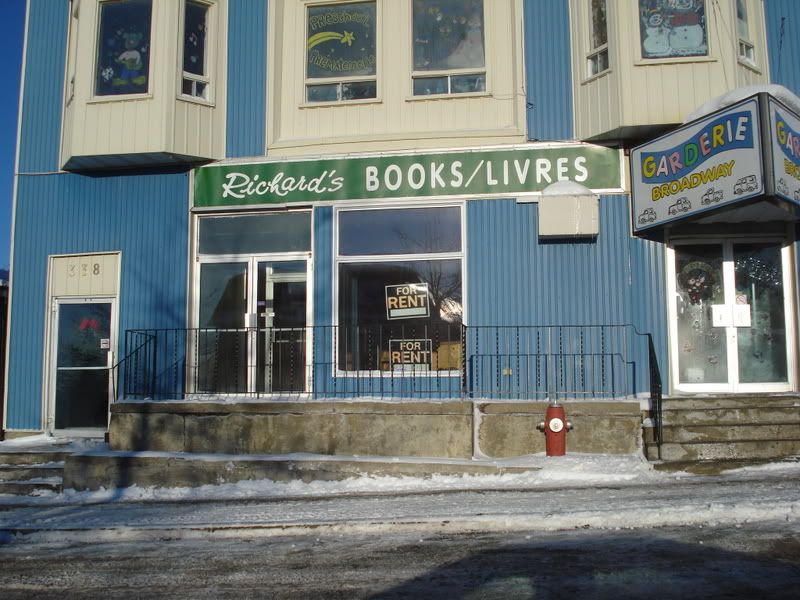 Woodstock is still 2 hours from the Quebec border, but I stopped to get gasoline in a small New Brunswick town and experienced my first french conversation.
Gasoline Attendant : "Bonjour!"
Navi: "Bonjour!"
Gasoline Attendant : <Some french that was way too complicated for me to follow>
(Navi has general look of confusion)
Gasoline Attendant (now in English!) : "Uh, sir? Forty-three dollars? Do you want your Canadian Tire money?"
In fact, that's how most of the conversations went. I tried to speak French for about 1 sentence until the other person realized and cut me off. Only once did someone not know French and I had to ask for "Cinquante" dollars of gasoline.
---
Minutes from the Quebec - New Brunswick border is Edmundston, New Brunswick. I didn't stop here but I found the steam from the large factory quite impressive.
---
Soon enough I made it to the border and entered my ninth province - Quebec!
---
From start to finish I wanted to take pictures of all the french signs I saw. Of course I didn't, but with never having visited a non-english speaking area, Quebec still had novelty.
---
Particularly this sign. I asked my French friend what it meant and she said it said something along the line of, "Slow down, children like yours play in this area."
Apparently these signs are common to most Quebec communities...
---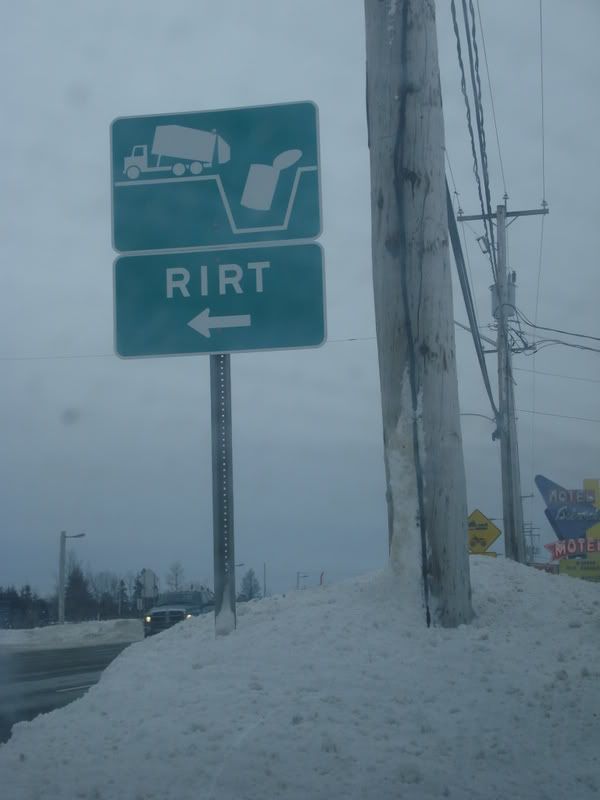 This sign as well - apparently to the left is an area where you dump truck-sized cans into truck-sized holes.
---
I drove about 3 hours out of my way this day to visit Asbestos country. In Southern Quebec is an area which flourished in the past when Canada used and exported vast amounts of Asbestos.
In the recent past and nowadays, Asbestos has been banned in Canada and the U.S.; and this area is only holding on by a string through exporting asbestos to third-world countries which haven't banned its use yet.
---
The original plan was to visit an abandoned asbestos mine; but time restraints led to me just stopping at one of the larger (operating) mines and viewing the mine from the observation deck.
For an idea of scale, check the building eaters in the picture.
---
I continued on my way through Asbestos Country ala Southern Quebec.
Nothing like stopping at the local IGA for a case of Coors.
---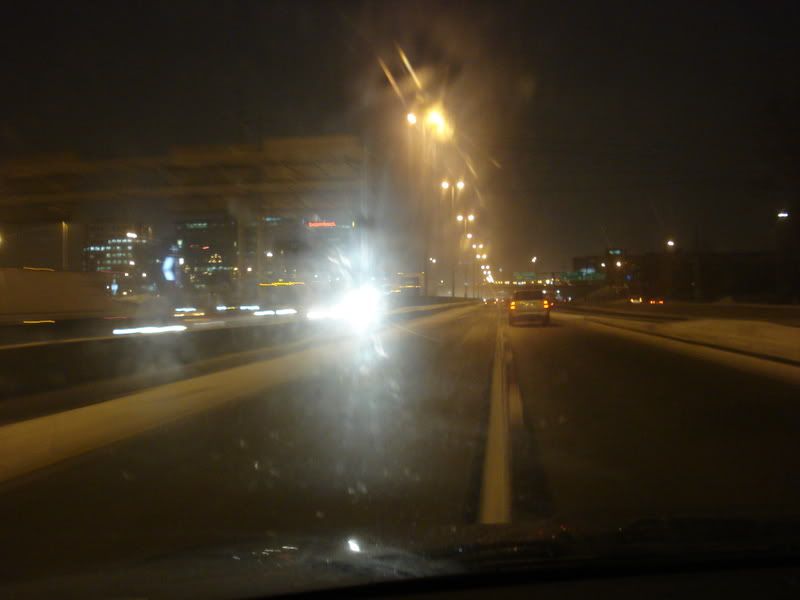 Travel, travel and more travel. I eventually got to the throughway, but the highways weren't moving very fast either because of the weather.
The weather also prevented me from gawking at Montreal. I slowly moved through and got to my destination of Hudson, QC (about 40 minutes outside Montreal)...
---
Why Hudson, QC? Well, my school friend told me I could stay at her house on the way home - so like the scavenger I am...I took her up on it.
I was sort of happy I did - she lives in a 150 year old house rich with history that was probably the raddest house I've ever been in.
History example - the house used to a dentist's office and still had the initials on the door.
---
Her house also featured one of the weirdest bathrooms I've ever seen - beneath the stairs!
My 5'15'' self wasn't having this.
---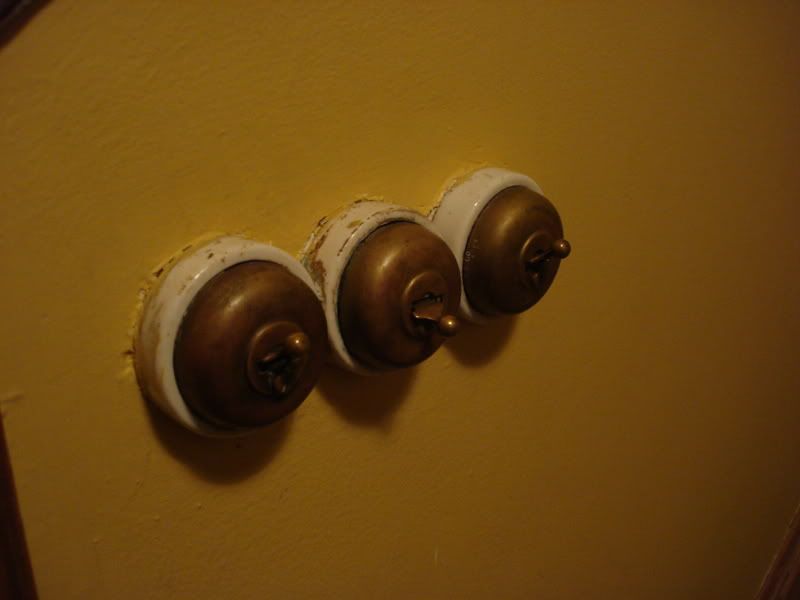 Rad light switches.
The upstairs bathroom had the same brass features in a stand alone tub where you pulled a curtain on each side to enclose yourself.
---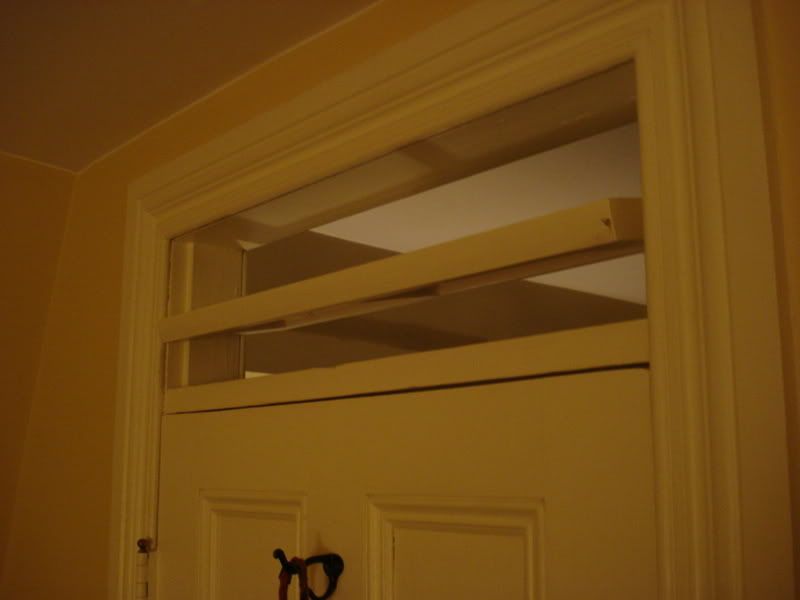 The coolest feature had to be the heating system. The house was heated by fireplace and each door had a little revolving window that would allow heat into the rooms which you wished to heat.
(The only downfall was that the doorframes were about 6 feet tall)
Nothing like a feeling of exploring in your temporary abode.
---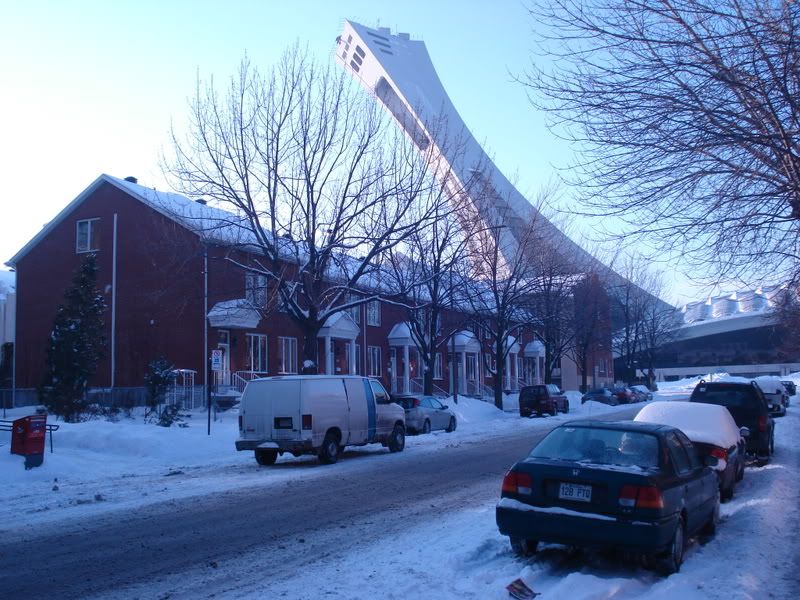 My friend was busy the next day, so I had an afternoon to myself to spend in Montreal as I pleased.
I decided to head over to the Olympic Stadium.
---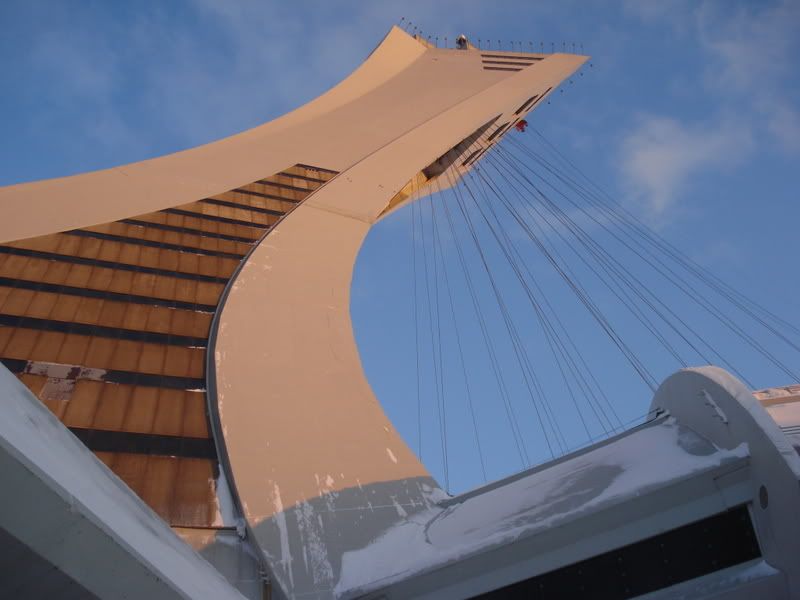 Olympic Stadium opened in 1976 for the '76 Olympics in Montreal. It opened unfinished because of a construction strike - but the olympics needed a venue. It played home at various times to both the Montreal Expos (baseball) and the Montreal Alouettes (canadian football).
Currently, the stadium has no major sporting occupants. The Expos left for Washington in 2004 and the Alouettes only play their playoffs games at "The Big O."
The stadium has been considered a bit of a white elephant though. Various problems have plagued its 31 years - a 55 ton concrete slab has fell onto a walkway, snow & ice broke through the roof and onto Montreal Auto Show workers, the roof has ripped open, &c. &c.
All of these problems have led to the stadium being condemned for a 4 month period every year and the city to examine the feasibility of demolishing the structure - at a cost of $500 million.
---
I didn't walk the perimeter for long before I decided to head inside and see about going to the top. It was only $10.50, so I got in the cable car and headed on my way up.
---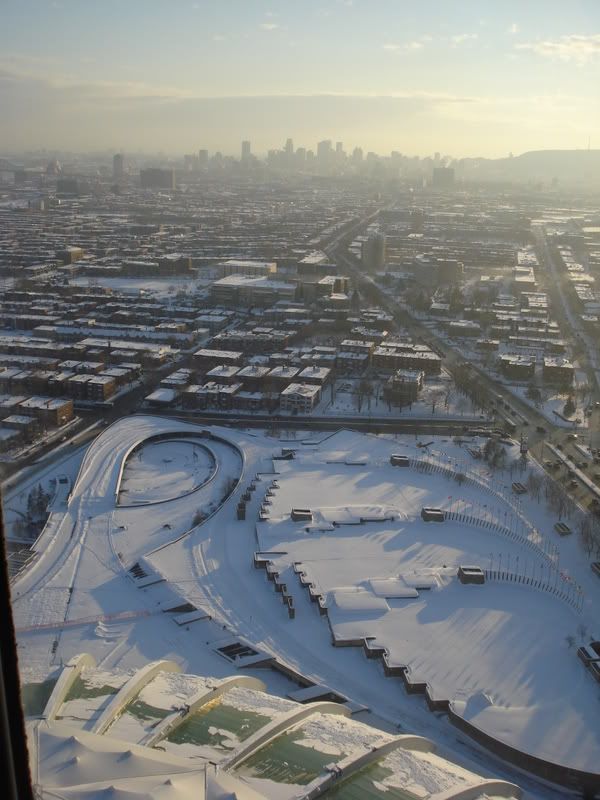 The view from the top was definitely worth the price of admission. The funny thing about it was that you paid the admission and had however much time you wanted up there. I'd be getting a good book and spending hours up there.
In this image you can see the courtyard of the Olympic Stadium and downtown Montreal off in the background.
---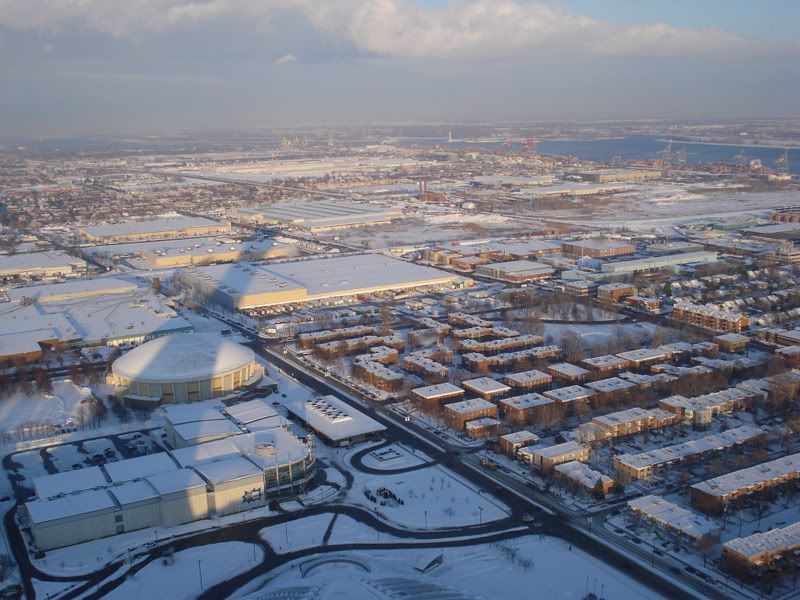 The Olympic Stadium casts quite the shadow upon the Montreal cityscape.
---
From the Olympic Stadium I also noticed the athlete housing.
Although it wasn't the athlete housing I wanted to find.
---
I spent about 30 minutes taking in the views and giggling like a school girl at the frenchmen's "Magnificents!" and "Excellent!"
---
Going down...
---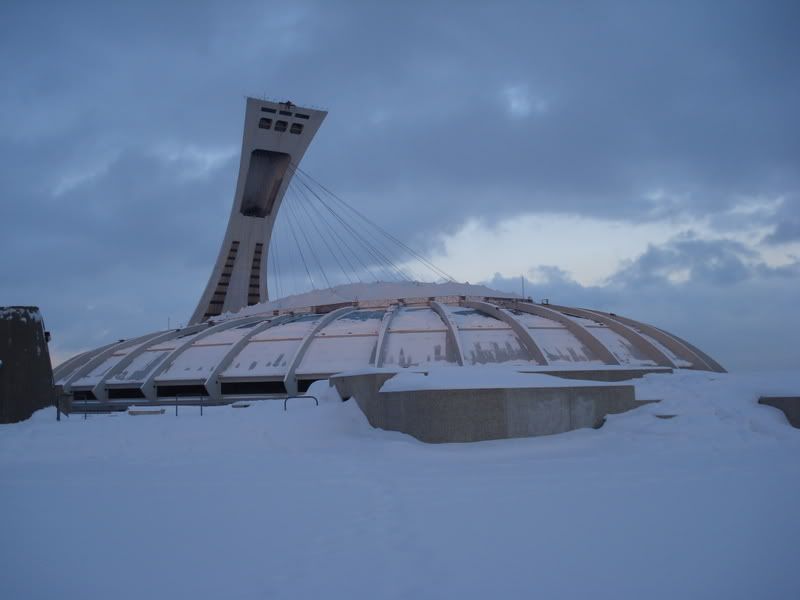 One of the main focuses of the trip to the Olympic Stadium was to find that famous BMX spot - but the snow just wasn't having it. Eventually I got sick of treading through thigh high snow drifts and just went on my way.
(Yes I realize I should have planned ahead and known where the full-pipe and Habitat 67 were located. Oh well, I'll likely be back in the summer.)
---
I got in my car and found a pleasant surprise that was so much better than Office Space in Medicine Hat, Alberta!
I left the East Side of Montreal to head over to my friend's sister's house.
---
My friend Ashley insisted that I ate all the Montreal delicacies; as a big man - I just had to oblige.
We needed to get a poutine and so, we headed over to La Belle Province.
---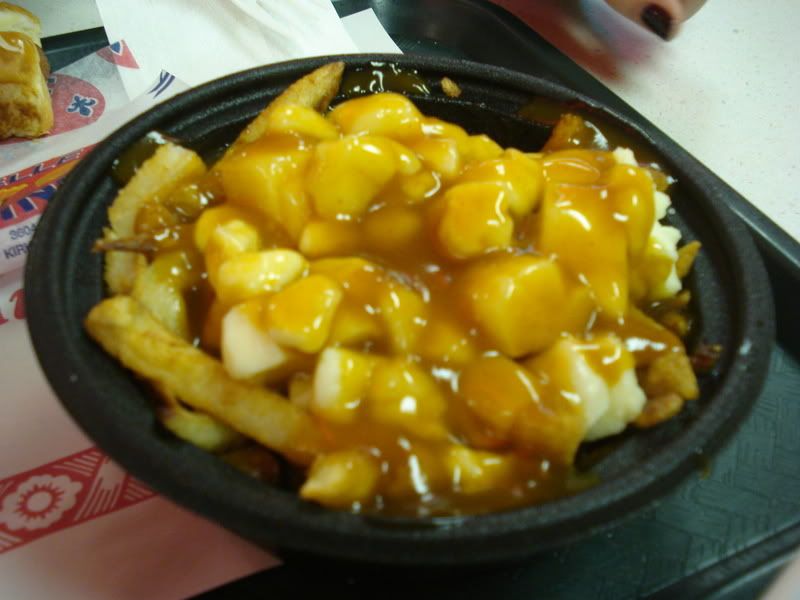 MMM...poutine!
It actually was quite mediocre - Charcoal Pit's poutines dominate these. Ashley was actually disappointed because the cheese wasn't squeaky and the gravy wasn't right.
Quite the poutine connoisseur.
---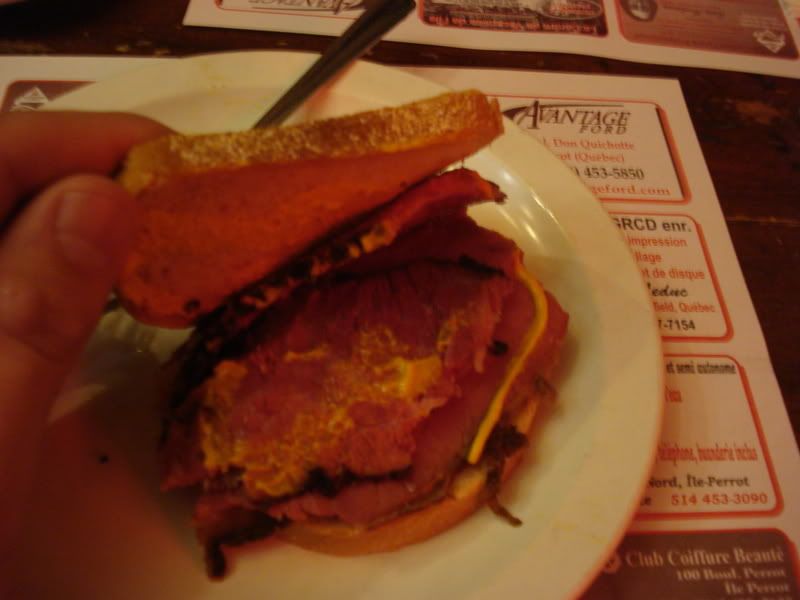 We also went to Joe's Meat Shack and got some Montreal Smoked Meat.
This was quite good; damn update is making me hungry.
---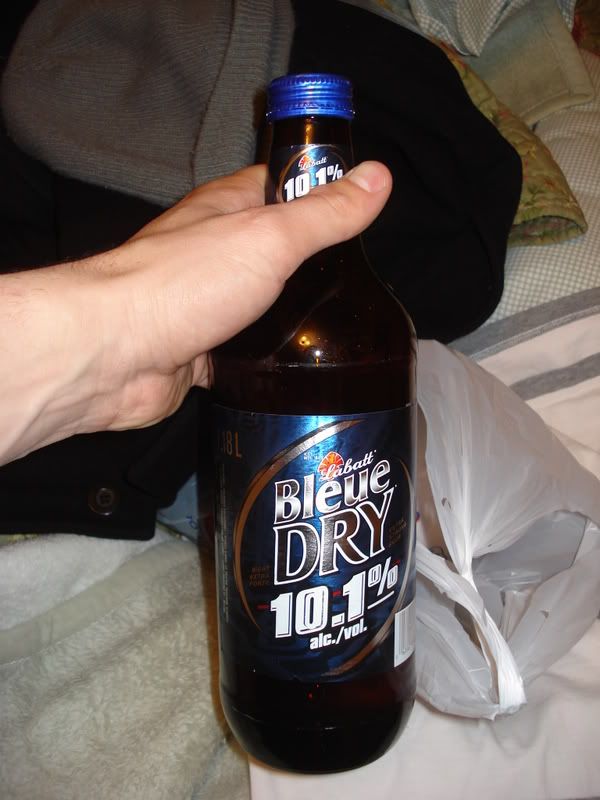 ...and lastly, some good ole' high percentage French 40!
This stuff gets a bad review - Evil Eye at 10% is far, far smoother...you can keep your extra 0.1% Labatt Bleue Dry.
I drank my 40 and watched Chuck & Larry with Ashley. Afterwards, her friend came over and we went out for a few and got home early so that I could get up early for the upcoming embargo.
---
The next day I woke at six thirty and left on my way for the trek from Montreal, QC to London, ON.
The high on the day I left was supposed to be -13°c in Montreal and therefore, I was happy to leave. The roads were quite empty and I got to take the left fork where the 401 starts.
I drove along, out of Quebec and into Ontario. I had planned to go to New York State for quite some time and asked a friend in the area which border crossing was good. He recommended the Alexandra Bay crossing because of the bridges and the views of the Thousand Islands.
The observation deck was closed, but it was still a nice view.
What wasn't nice was the Alexandra Bay crossing. Firstly, the dude took my coat and emptied the pockets onto the table and examined the particles. While he was doing this, I looked over where they have that picture of George Dubya and saw about 5 photos of the twin towers...and then the border guard found some stupid i.d. that I found in this abandoned church in a rough Detroit neighborhood. They asked me what I was doing with this i.d. and I said that I had found it and was pretty sure I wouldn't pass for a 40 year old, large, black man from Chalmers Street in Detroit.
After about 30 minutes, they came back and told me to go on my way - not before informing me that they were going to mail my Detroit i.d. back to Mr. Hodgkins. Well Mr. Hodgkins is sure going to be surprised when he gets a letter from border security informing him that they confiscated his driver's license from a young Canadian male at a border crossing in Alexandra Bay, New York.
---
The reason that I crossed the border and took the American way around Lake Ontario was to visit the Jackson Sanitarium in Dansville, NY.
Dansville is a village located in Eastern New York State with an approximate population of 5000. Around 1798 a spring was discovered in the adjacent East Mountain. This spring didn't gain notoriety until 1853 when a Rochester businessman wanted to open a facility in the area based upon hydropathy.
Hydropathy was the belief that good health could be reached through the use of clean, pure water. Bathing, showering, wet-sheet wrapping, douches and water consumption all played a role in this belief. The Rochester businessman soon fell out of good health and the facility changed hands a few times until it found the hands of Dr. James Caleb Jackson in 1858.
Jackson was a man, who after becoming ill; found hydropathy and returned to good health. After this recovery, Jackson dedicated the remainder of his life to the study and practice of hydropathy. After originally owning another hydropathy location, Jackson bought the location in Dansville as the Dansville Water Cure.
It was in Dansville that Jackson, and later his son, operated the successful endeavor. Success continued until the main building burnt down in 1882 and it was feared that Dansville's success may soon come to a halt. Thankfully, Jackson's son and his wife opened a new, larger, fire proof facility in 1883 - known as the Jackson Sanitarium.
The new Jackson Sanitarium thrived for a short amount of time, but eventually modern medicine led to a decline in the popularity of hydropathy and the Jackson Sanitarium was closed in 1914. It was used briefly as a home for mentally ill soldiers returning from World War I; but didn't have any major uses until 1929 when health enthusiast Bernarr McFadden purchased the property.
Under McFadden, the location became a place for East Coasters to get away from it all and enjoy tennis (the courts still remain), swimming (the pool still remains), rooftop sunbathing and dancing. McFadden's Physical Culture Hotel flourished until his death in 1955. At that time, a New York hotelier purchased the location and renamed it Bernarr McFadden's Castle on the Hill. It operated in a slow decline until its eventual closure in 1971.
It has sat vacant upon East Hill ever since.
---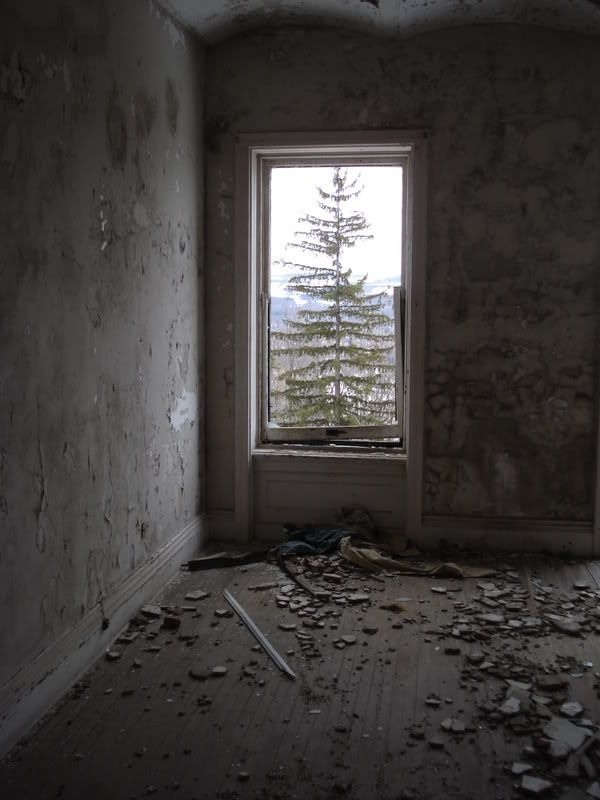 It would be dumb to make an update with a video as well as a copious amount of pictures.
That being said, I did take some pictures that I liked from the Castle on the Hill.
---
The upper floors and even entire sections were in rough shape.
It did make me a little nervous by myself.
---
One portion of the upper floor suffered a fire and a wall shell fell upon a standing, un burnt wall.
---
It was a cold, cold day for dis ninja.
---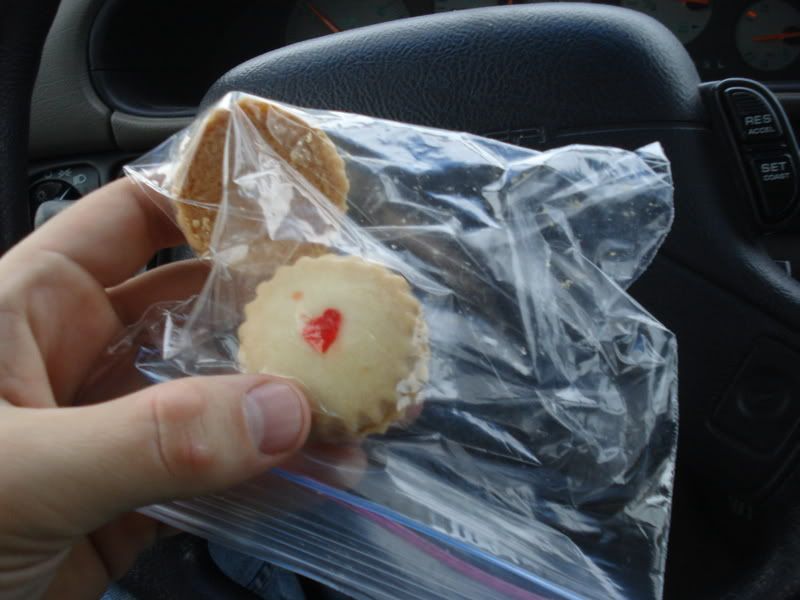 The exit went as smoothly as the entry. I made it back to my whip and parted ways with Dansville. I made sure to buy some gas and some food to support the community which supported my habits.
Thanks Dansville!
Anyway, I was still hungry and polished off the remaining portions of the lunch/dinner that Ashley packed me. Ah, the lucrative incentives of being a scavenger.
I made my way through New York State, through the border smoothly, and through Southern Ontario to London, Ontario with zero inclement weather. Quite a snowstorm was afoot and it missed me completely - good things happen to good people sometimes I suppose.
---
London is, in fact, only slightly above an hour from home; but Roachie had messaged me in Montreal and wanted to know if I would be coming through London at the right time to go out with him, Clarkson and some of Roachie's boys. By sure chance I was, so we hit the town and stayed at some classy hotel.
The night was interesting, I ran into Luxmore by chance and ended up talking about vegemite with some sexy Aussie girl with light color eyes. The most memorable would be the conversation before going out...
Clarkson: "Hey I saw Transformers...the Train Station is in there."
Navi: "Yep, Yep, I saw that."
Roachie's Boy: "What the hell are you guys talking about?"
Roachie: "He goes into abandoned buildings in Detroit and takes pictur..."
Roachie's Boy: "Boring! Lets talk about pussy or something boys"
Roachie: "Well, he slept with a girl in the building..."
Roachie's Boy: "Alright! That's what I'm talking about! Hell yeah!"
...I found that funny.
Anyway, I got back to the hotel around 4 a.m. and got up around 8 a.m. to begin my drive home. The snowstorm had hit in those 4 hours and it took 3.5 hours to drive a drive that usually takes 1.2 hours.
Oh well, it was good to be back in BR.
Navi.
Back to Main.