Mount Katahdin.
Autumn 2007.
Dedicated readers of Belle River Nation will remember that last fall; I headed to Indiana and completed my first state highpoint. I have flirted with the idea of completing all 50 of the state highpoints; but haven't actively pursued it. I figured that I would get the odd one here and there, but it would be more of a thing to complete later in life when my knees are telling me to stay off my bicycle & dilapidated fire escapes.
That being said, I wanted to summit Maine's high point. It wasn't the start of an epic highpoint quest; I just felt like heading down to New England and doing some hiking.
Mount Katahdin is a 1 606m (5 627 ft) mountain located in Central Maine. Of the 5 600 feet, 4 200 feet is a vertical climb for those hiking to the summit. It was formed approximately 400 million years ago when an island arc collided with Eastern America and forced a magma intrusion upwards. It is often said that the mountains are in the west and the foothills are in the east; but Katahdin challenges that mindset.
Katahdin is given a difficulty of 5 amongst highpoints (Denali in Alaska being a 10, Hoosier Hill in Indiana being a 1); and is ranked the 15th most difficult state highpoint to accomplish. I knew neither facts going into this adventure; I simply knew that Katahdin was the highpoint of Maine. A difficulty of 5 really blew me away; I was thinking 7 or 8 and it really put into perspective the difficulty of this list.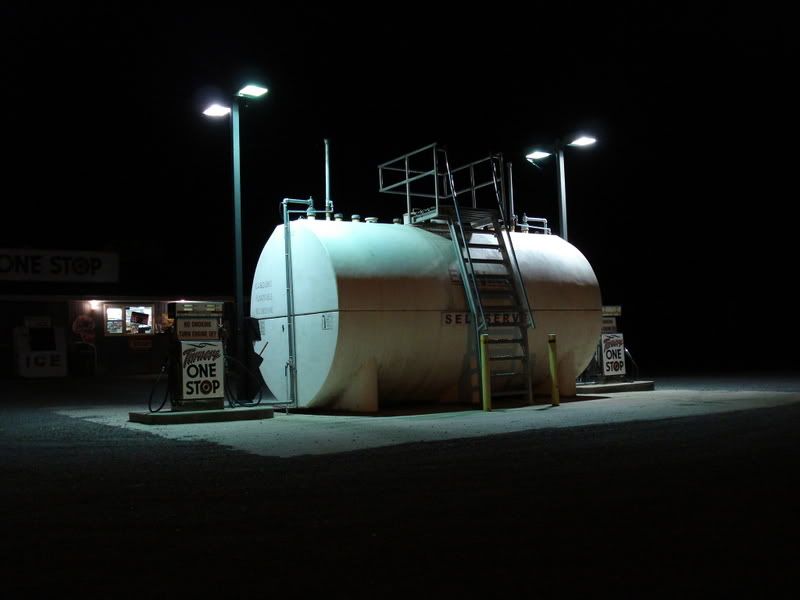 I left Nova Scotia sometime in the afternoon after my classes finished. With the sunset getting so early in the evening anymore; this meant that almost half the trip was in darkness. This was in New Brunswick; probably about 5 hours into the trek to Maine.
---
The changing of the tree colours in New England is a fairly famous event. Since we live (in both cases of Belle River & Nova Scotia) nearly parallel with New England; we experience many of the same sights around this time of year.
Although, I can't really complain; it's something that doesn't tend to get old.
The above picture was taken at a rest stop in the first town inside the Maine border - Houlton. It was another hour or two from Houlton to Baxter State Park. Mount Katahdin is an extremely popular destination, requiring that you get there very early to get one of the limited spots on each hiking trail. That requirement in mind, I arrived at Baxter State Park around 11 p.m.; listened to the baseball game on my iRiver for a bit and got some shuteye in the backseat of the Intrepid outside the park gate.
---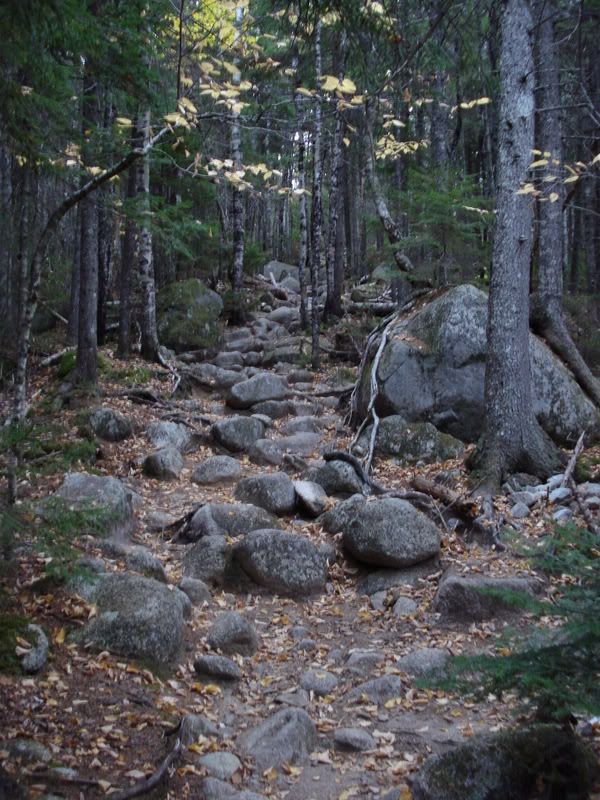 I woke up around 5:20 am and joined the growing line-up. I had my choice of paths and was through the gate and headed toward my designated parking lot by quarter to six.
I packed up my things and started the path around six thirty.
This picture was taken about 1 kilometre into the hike. "Some small rocks, nothing too bad," I thought to myself.
---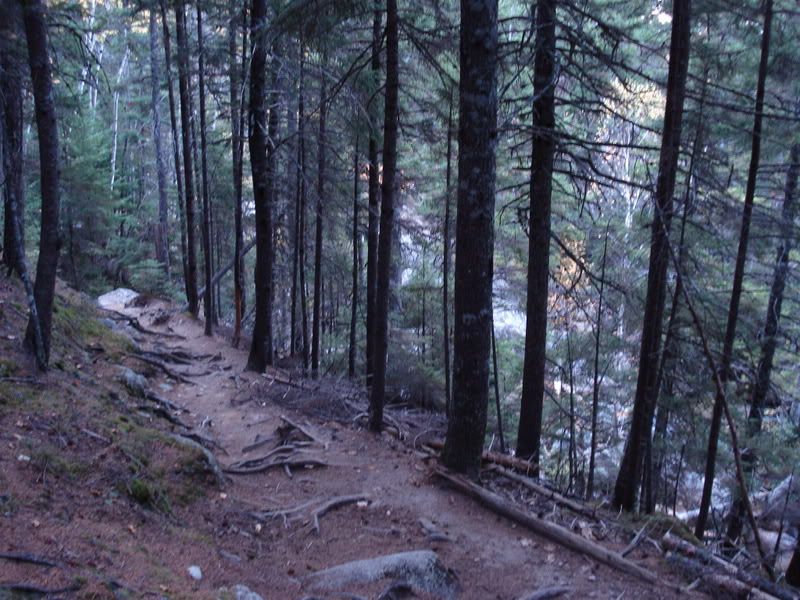 Continuing along the path next to the Katahdin Stream.
(Yes the picture is blurry; it was 7a.m. & I was in Maine climbing a mountain - I didn't feel like setting up my tripod.)
---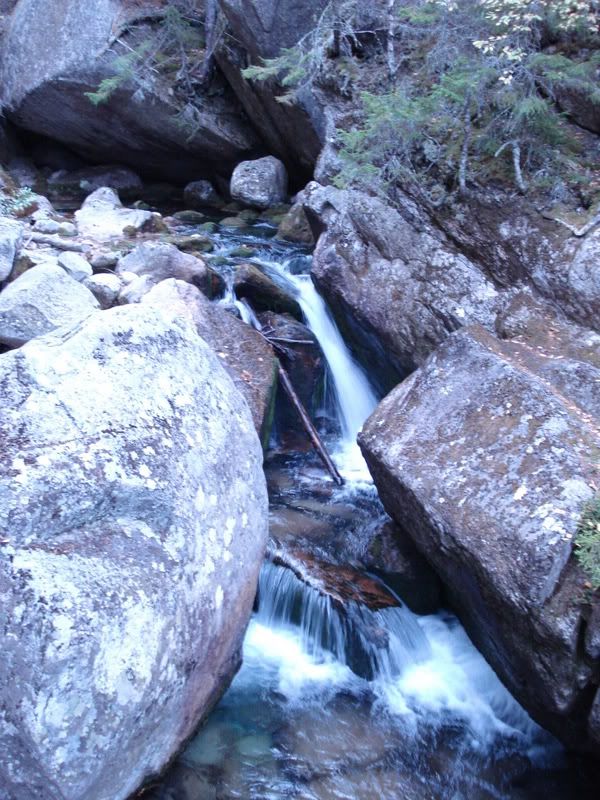 A small waterfall in the Katahdin Stream.
---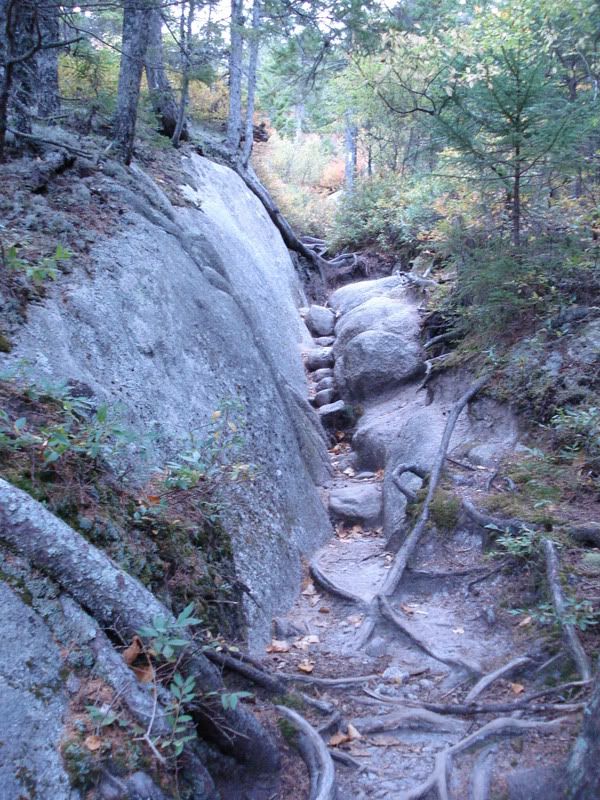 The path is starting to get interesting...
---
After a couple of kilometers, the path started to achieve a higher angle and you could see the surrounding topography at certain points.
---
A larger waterfall in the Katahdin Stream. Soon after this waterfall, I didn't see the Katahdin Stream again until my descent.
The entire time I was near this stream; I kept remembering Colorado when my friend was drinking the water straight out of the mountain stream and Kayla was trying to tell him that he was going to get Beaver Fever. My friend put no value in her comments and simply commented that the only Beaver Fever is when Kayla is around Emily.
---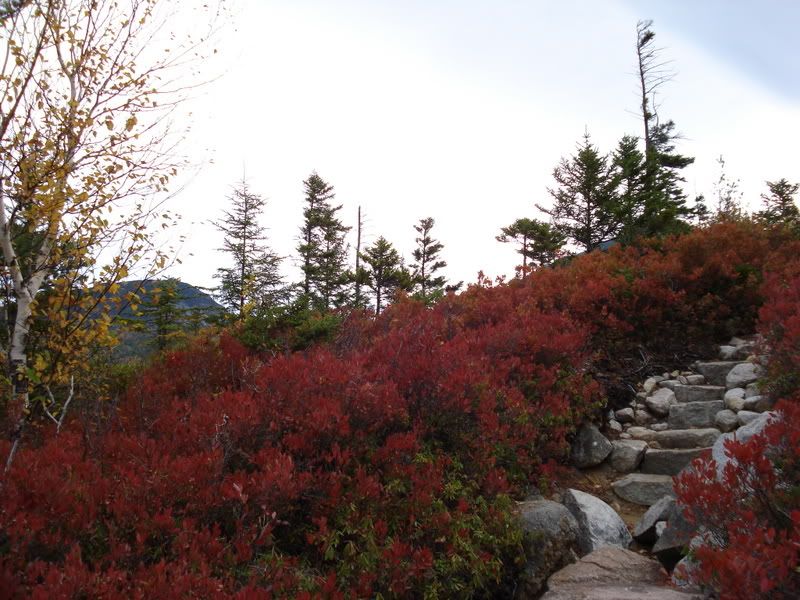 Botany has to be one of my weakest sciences. Some red bush along the way...
---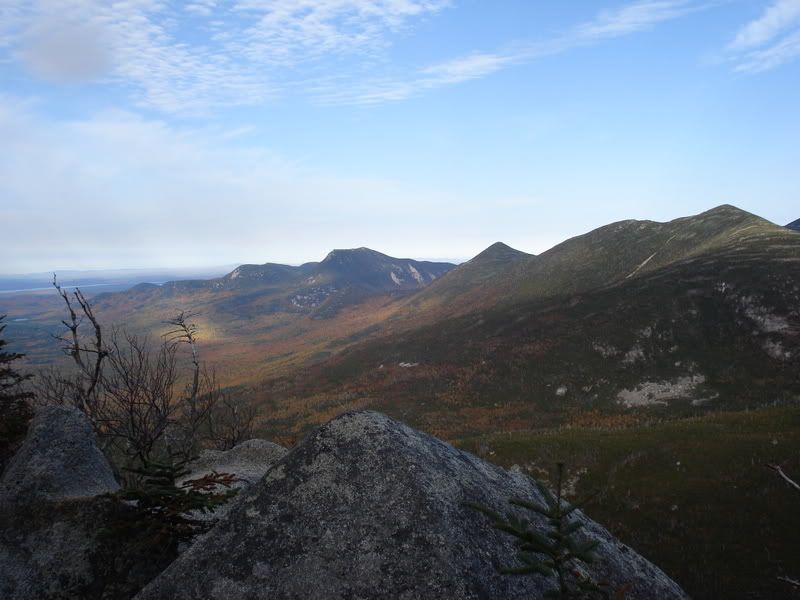 I found an enormous rock along the path and it allowed me to view the surrounding scenery for the first time since I entered Baxter State Park.
---
Turning my attention back to the hiking trail, I could see Katahdin mocking me.
It was becoming apparent how much more of a challenge I faced. I always thought of mountain climbing and just sort of laughed; thinking myself in good shape, that I could do it no problem. The fact of the matter was that I was breaking quite often and sucking down air as fellow hikers would smile and pass me. The hike was really highlighting the poor shape I have kept my body in...
---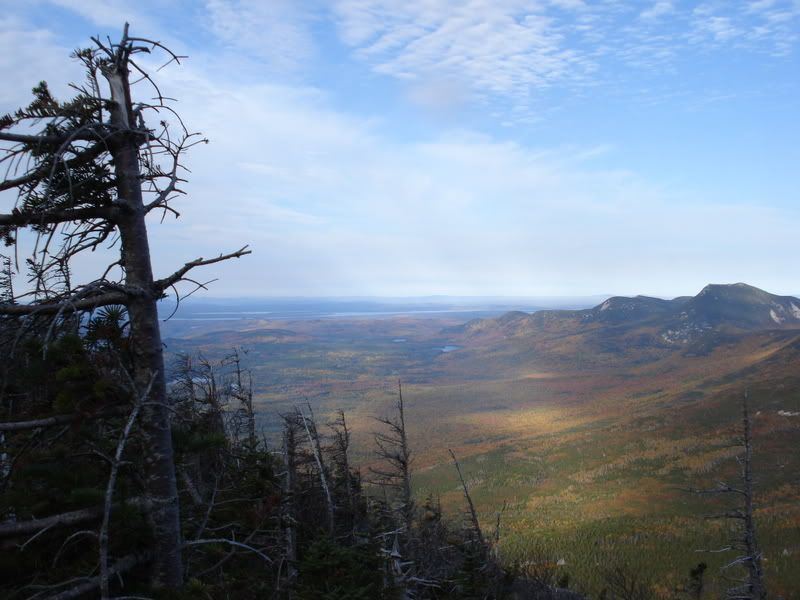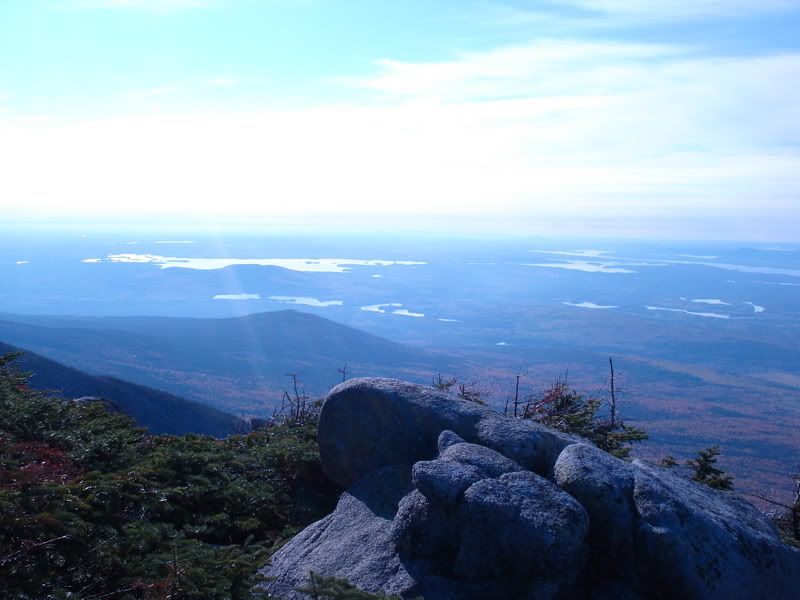 Continuing along the hiking path, I finally got above the tree line. The amount of time that I spent capturing & enjoying the scenery was slowing me down for sure - it was probably about 9:30am at this point.
Random Geomorphology: Those lakes are from glaciers moving rocks over the land and scraping depressions into the ground; these depressions fill with water when the glacier retreats & voila! You have a lake.
---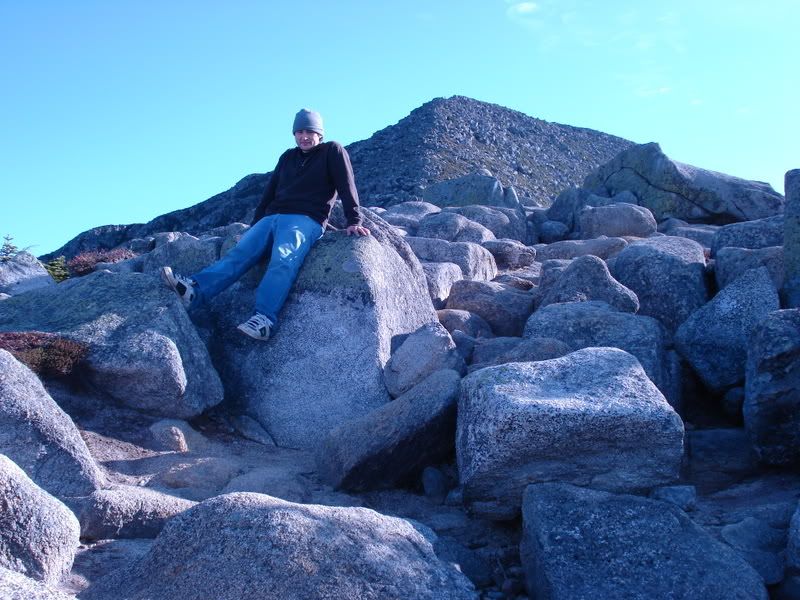 I scurried over, atop and across a series of large rocks until I could finally see the summit!
I was still shocked at this remaining portion; but Katahdin was close, I was going to get there!
The rocks I was climbing were impressively large though. I didn't really understand how young children and elderly women were making it through this...
---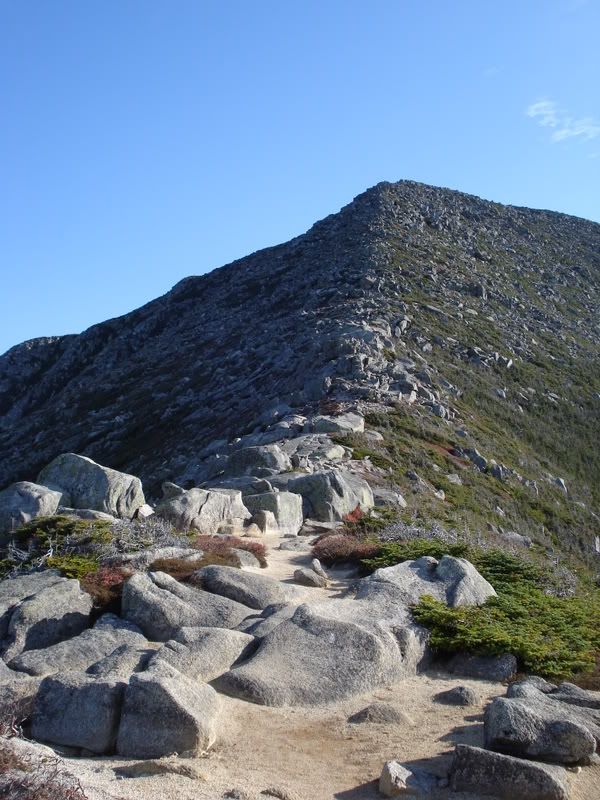 Through the larger rocks and it was down to the home stretch.
---
The view behind me as I headed up the hiking path.
---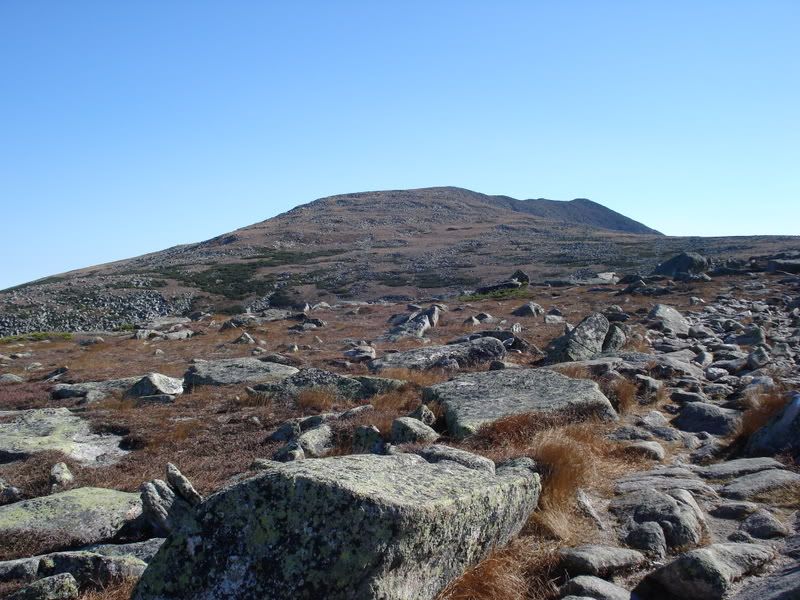 Oh no! I got to the peak in the previous picture and realized that I hadn't conquered Katahdin just yet.
Quite the hike in front of me still. I laid on a rock for a bit and was contemplating taking a nap; but then I saw some girls putting on sunscreen and thought that maybe I shouldn't spend all day 4000m above sea level in the relentless Maine sunshine.
---
The Tableland and its dominating granite rocks. The Tableland was the plateau I had to traverse to the actual Katahdin peak.
---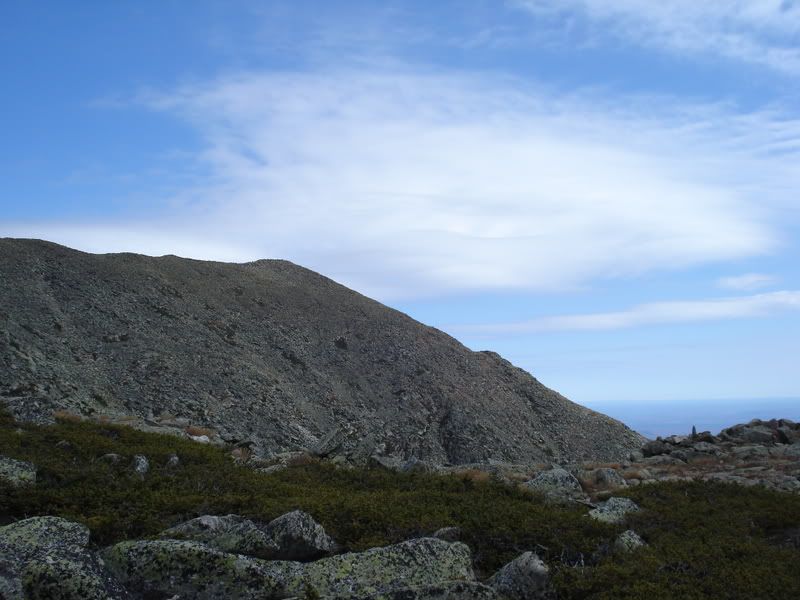 Taking a breath along the way, I looked over to the south at South Peak. Baxter Peak (the summit of Katahdin) is to the left.
I wish I was a better writer so that I could convey how hard this was for me; but anyway, alas...
---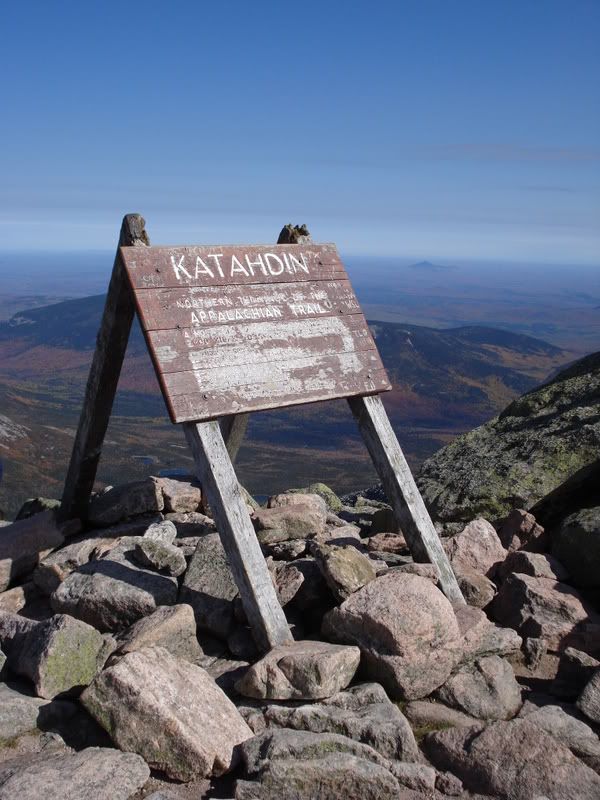 My 2nd state highpoint! Mount Katahdin has been conquered.
The peak had an enormous amount of people there; approximately 50 to 60, no joke. There was even a guy with a man-sized beard, playing a guitar. Some serious hikers / backcountry folk up there.
---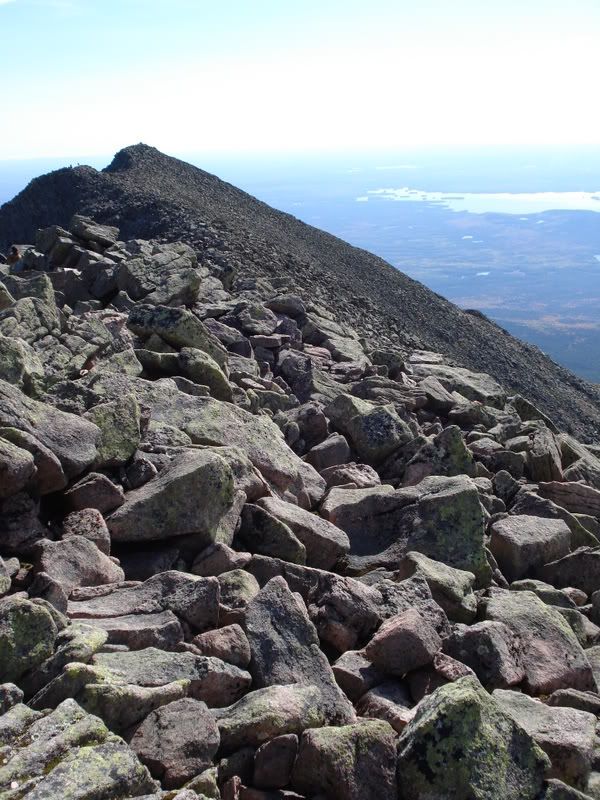 The view from Baxter Peak over to South Peak. The path that you pass from one peak to the other is known as Knife's Edge. I had to conserve some energy for the descent; so I reasoned that I would walk Knife's Edge next time I was atop the highest point in Maine.
---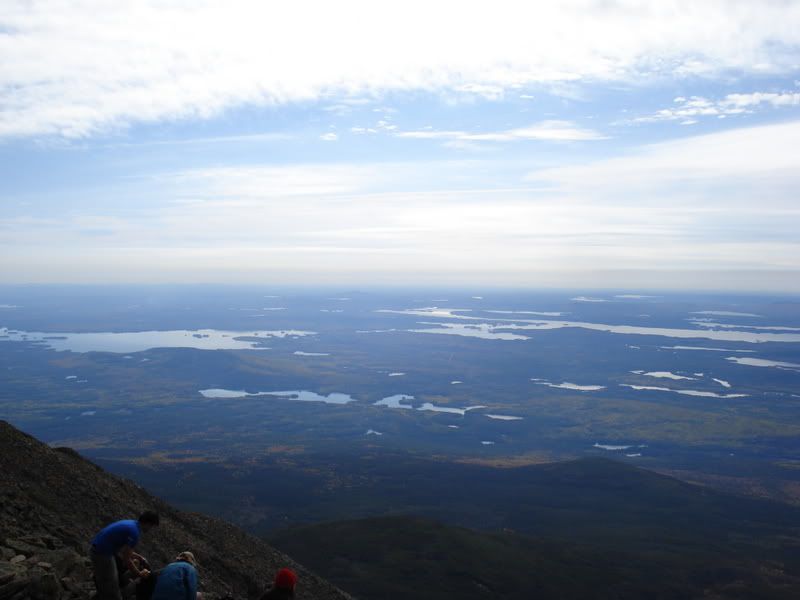 Picturesque views from the summit.
---
The view (from what I believe) westward.
---
I believe eastward.
(In hindsight, I probably should have edited those videos together.)
---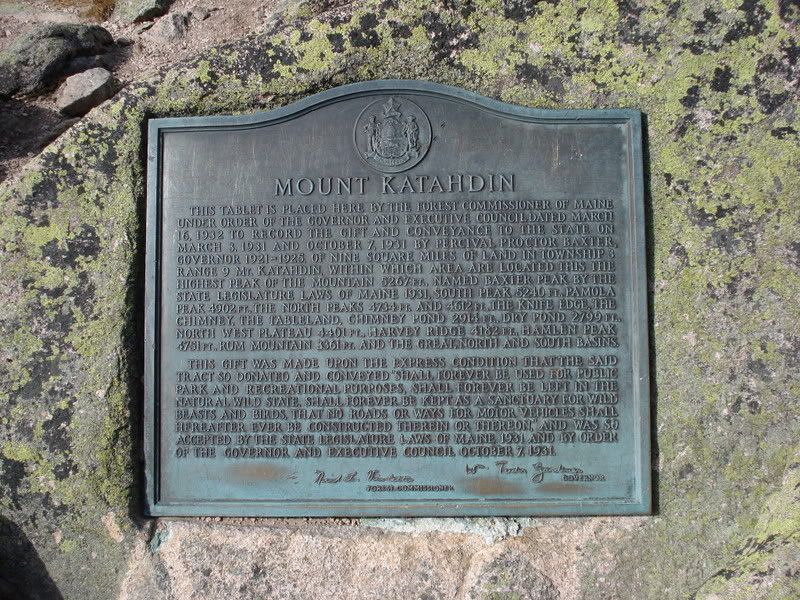 Katahdin plaque at the summit. A random girl made a good point of feeling sorry for the poor sap that had to lug this bronze plaque up to the peak.
"The works of man are short-lived. Monuments decay, buildings crumble and wealth vanishes, but Katahdin in its massive grandeur will forever remain the mountain of the people of Maine. Throughout the ages it will stand as an inspiration to the men and women of the state."
Percival P. Baxter - Former Governor of Maine and the man responsible for Baxter State Park
---
One more picture was necessary. They said sneakers weren't recommended...like I was going to go out and buy hiking shoes...take that Katahdin!
Although, this accomplishment was clearly overshadowed by the guy who had summited at the same time as me after hiking a trail from GEORGIA! Jesus H. Christ, no wonder the guy was popping champagne.
Big ups to that guy!
---
I spent about a good hour at the top of the mountain. It wasn't nearly enough time; but I needed to get to the Burlington Coat Factory before it closed.
This was the beginning of my descent.
---
It had become cloudy while I was at the peak; which allowed me to take some pictures where the sun was before.
---
Speaking of clouds.
---
This was near the mouth of the Tablelands. If I showed you angular rock outcrops on Tancook; I might as well here.
---
I took the same hiking path back down the mountain; partly because I didn't want to plan another path, partly because I didn't want to walk from one parking lot back to the original parking lot of the day.
I figured the 17km round trip hike was enough without a parking lot to parking lot hike. I almost became confused with the metric conversion though & was really happy that I didn't take the 20 mile (32 kilometer) hike that I had originally planned.
The descent lacks pictures though because I took an abundance during my ascent and also because nature was calling. Therefore, very little time was spent enjoying the hike on the way down.
---
Where the ascent took nearly 5 hours, the descent took 2.
I did stop at Katahdin Stream though and boy was it refreshing! It was very cold and felt so damn good. I seriously just wanted to strip down to the boxers and jump right in.
---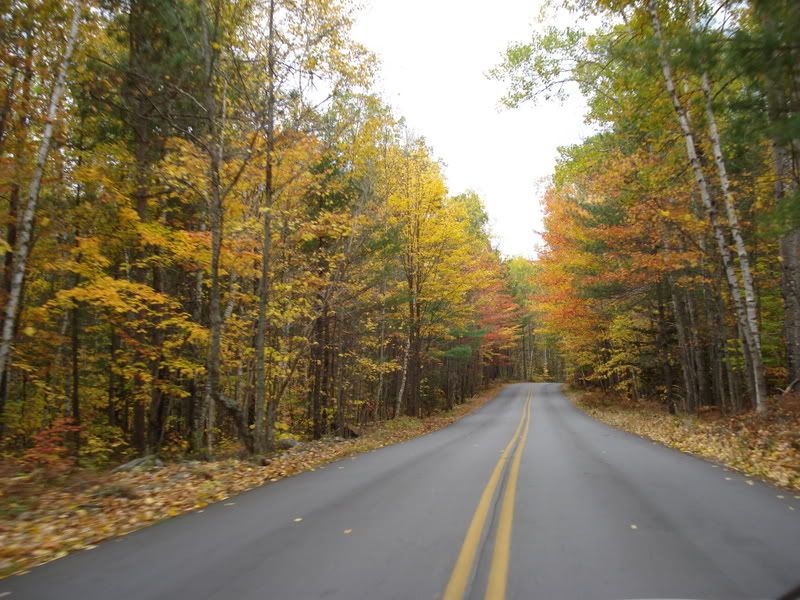 The Katahdin Stream being less than a kilometre from the parking lot meant that I was back to my car soon after and on my way. Incredibly tired, sore & hungry; I don't think I've ever been happier to see a 97 Intrepid.
I got in and headed towards town for a hearty meal at whatever pub I could find.
Overall, Katahdin is absolutely awesome. I usually provide pros and cons in my conclusions; but Katahdin is just an amazing place. If you're ever in Maine, you need to go. Even if you don't summit Katahdin; summit one of the other mountains and just take in the breathtaking park. It was so amazing that it actually converted me into an outdoorsman I think; I seriously can't wait until I can get back outside and hike. It even affected my outlook on the ideal place to live; because now, it would be near a mountain so that I could experience the beauty and challenges that it provides.
Back to the Main webpage of this website.