Pittsburgh, Pennsylvania
Late May 2007.
My friend came down a couple of weeks ago and wanted to go somewhere. He wanted somewhere new, so I suggested Pittsburgh & since it was the middle of the week; we left for a multi-day trip out east.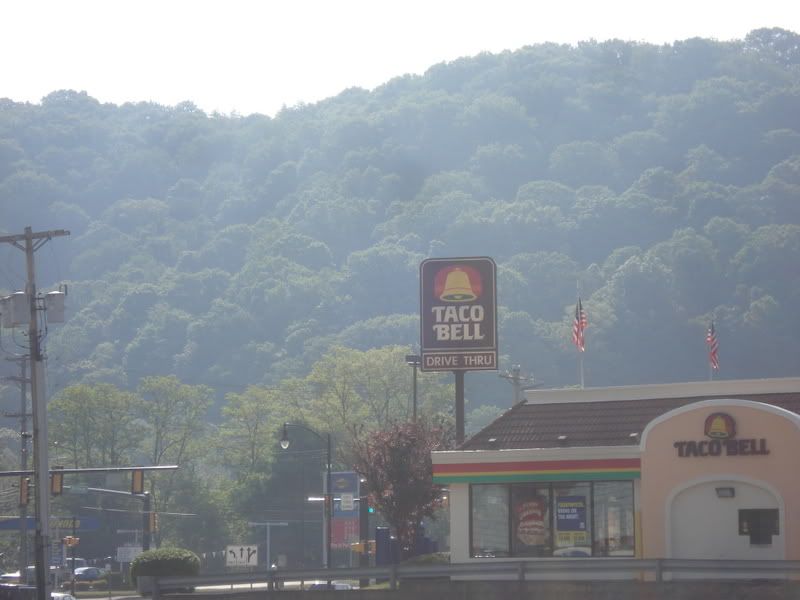 We left sometime Tuesday afternoon and got to the Pittsburgh area around one a.m. We didn't even get to see Pittsburgh the first day, we just simply got an Econo Inn room outside of town and went to bed.
We woke the next day to travel into Pittsburgh and it was a breathtaking view. It was funny because we were surrounded by fast food, but the hills and tree tops still made for nice scenery.
---

Why Pittsburgh?
As we've gotten older, we started running out of places close. Done Columbus, Cleveland, Toledo, Flint, Ann Arbor, London, Chicago...it just escalates to further cities.
---
In a critical error, we decided to search the city at high noon. It was definitely in the 90's and we were dying. Pittsburgh is a stunning place, but the heat took a lot out of us.
P.S. That bank to ledge is really sketchy and hard to ride...I was trying, but the only thing I accomplished was seeing some emo girls making out...
...until I realized one was an emo guy with long hair.
---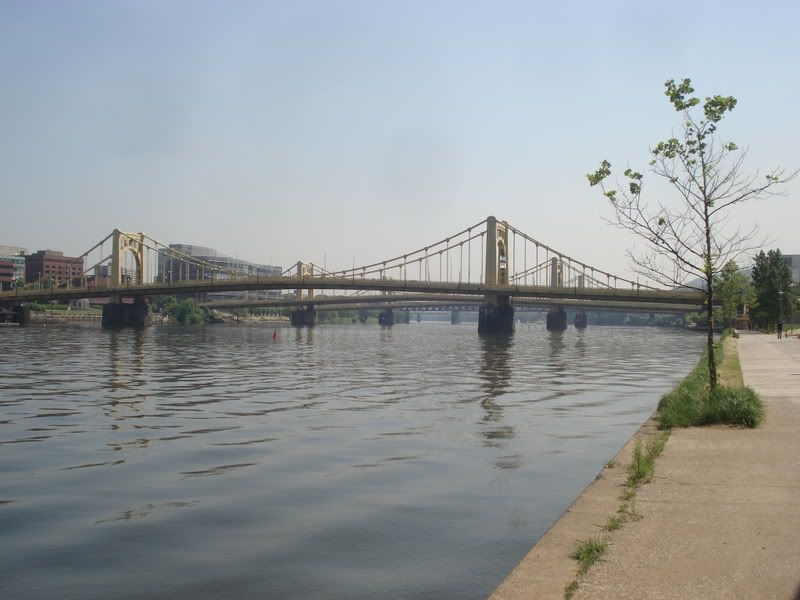 One of the first things you notice about Pittsburgh is the large amount of bridges. Pittsburgh is built on the land where the Ohio, Allegheny & Monongahela Rivers meet and this results in about 40 bridges crossing these rivers in the area near and in Pittsburgh.
---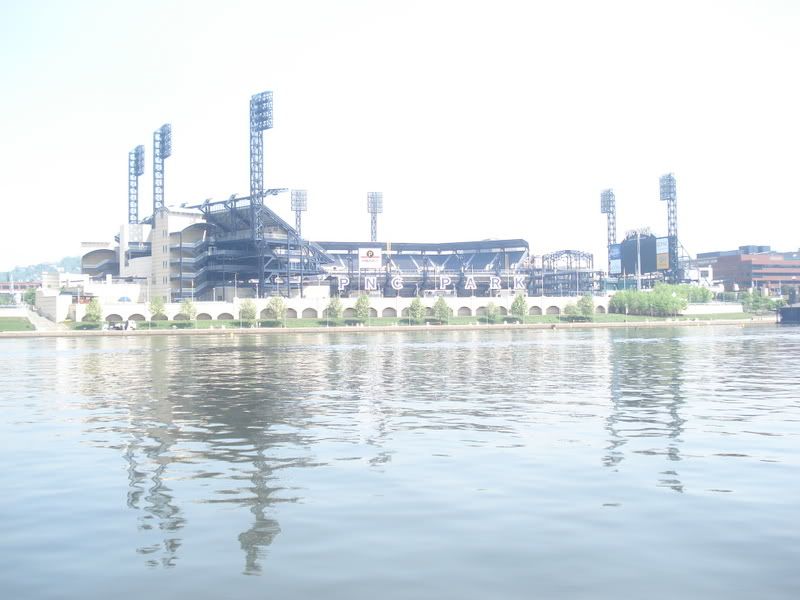 We started out downtown parked near PNC Park - home of major league baseball's Pittsburgh Pirates.
---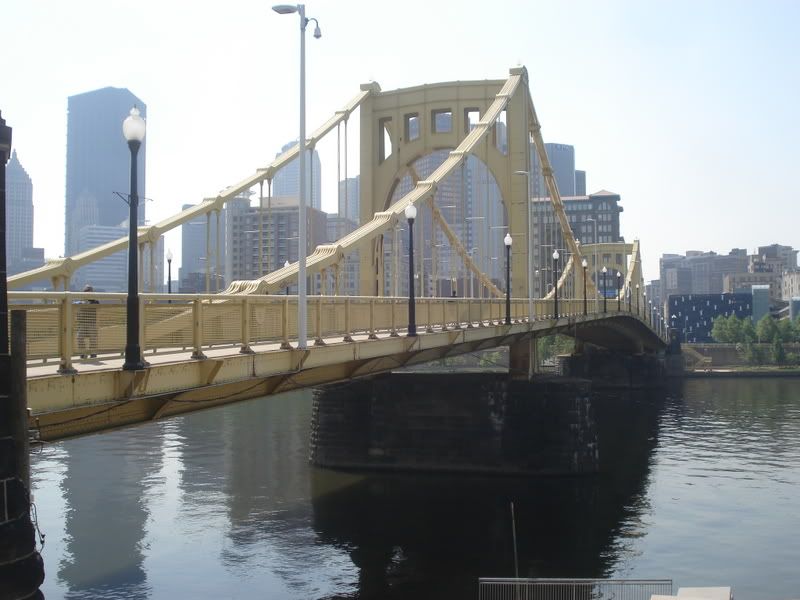 Throughout the day we crossed many a bridge.
---
Crossing the bridge, we spotted this strange building. Plenty of interesting rooms & views in that central area.
---
We never ended up riding anything that good. We seriously rode these stupid pyramids in the picture for about 45 minutes.
In this picture you can see the Duquesne Incline, a funicular (inclined plane railroad), which is a small car attached to a series of cables which pulls the car up and down a steep hill. While in Pittsburgh, it crossed our minds to take the car, but we decided against it...and regretfully so. I looked at pictures later from the particular view and they are spectacular. Guess I have a reason to go back to Pittsburgh.
You can also see my friend trying to escape the heat in the picture.
---
While biking around the city I spotted this. There were a few crazy spots on lock in Pittsburgh.
---
The rest of the downtown didn't offer much of anything. Maybe we were trying to find something too good; but we just didn't find anything to ride.
---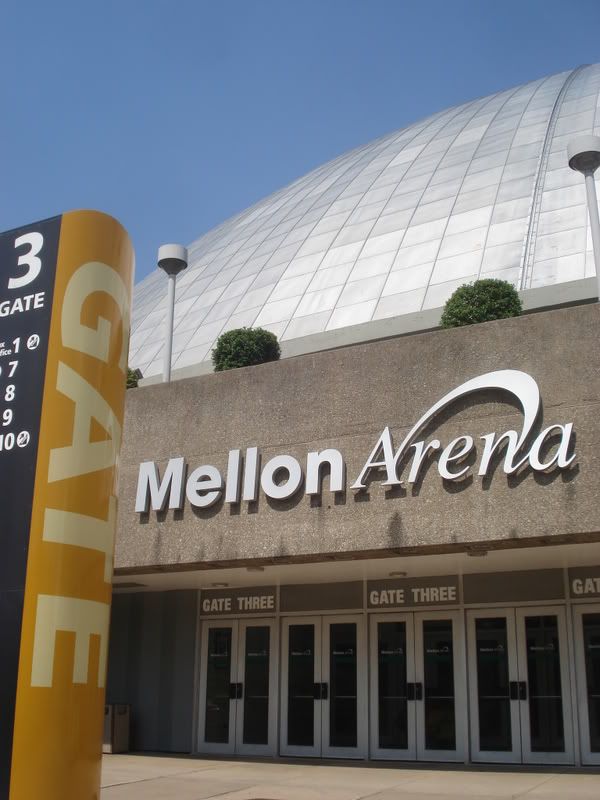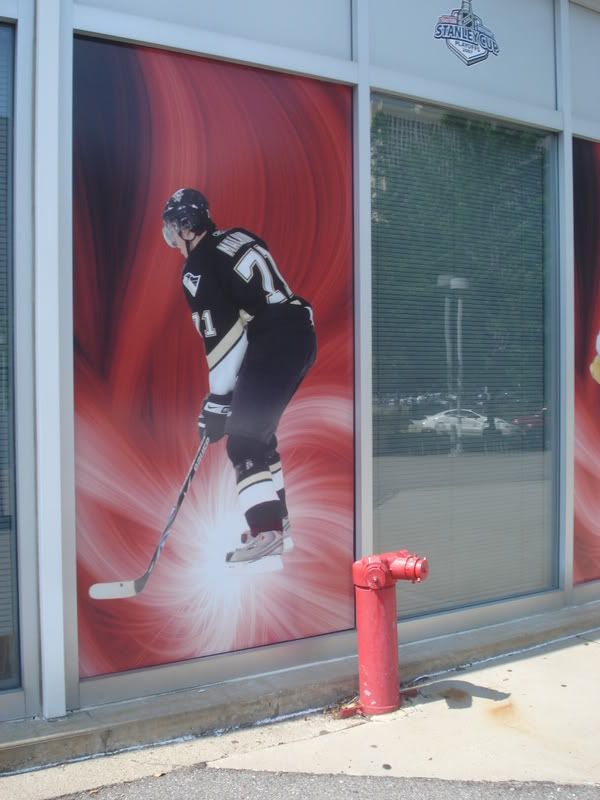 We did find Mellon Arena and its life-sized Evgeni Malkin.
---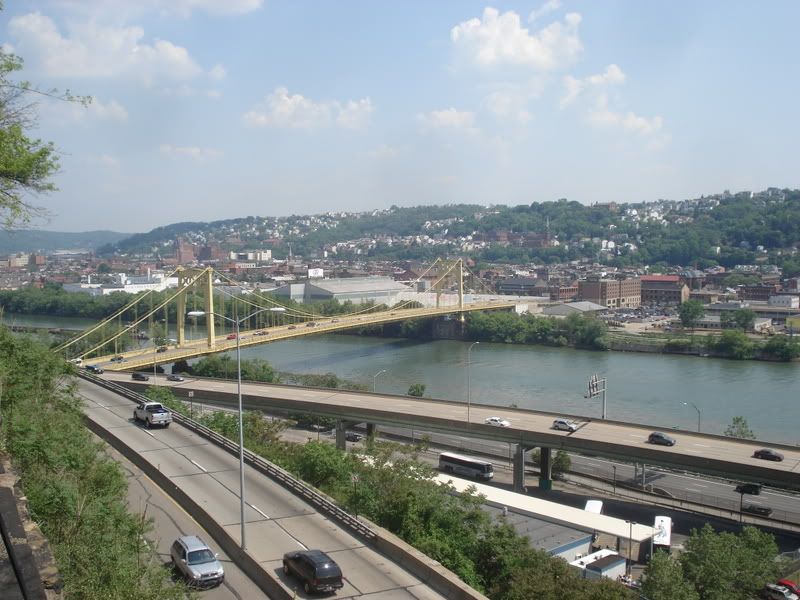 When we passed through the tunnel we came out on the Duquesne University Campus. We found plenty of handrails to ride, but the heat had already done us in.
We took in the view and decided to go get some dinner and our hotel for the night.
---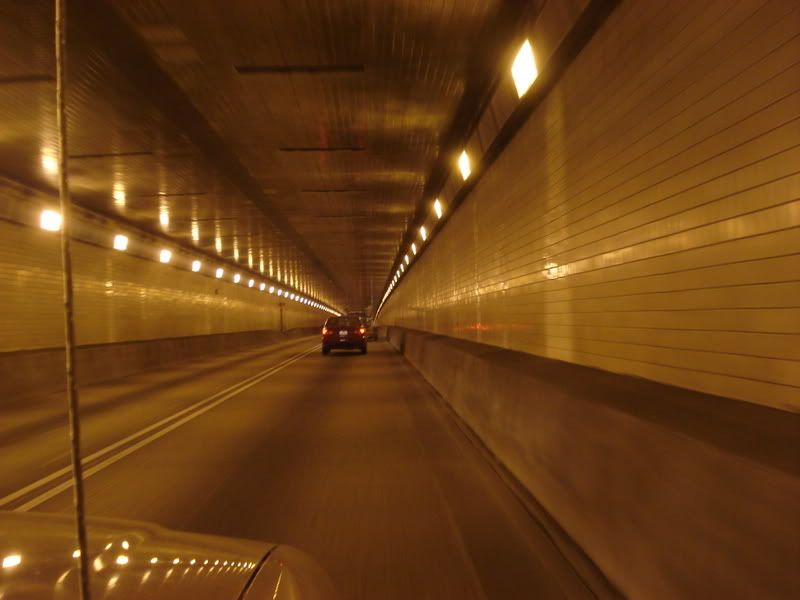 We exited Pittsburgh using the Fort Pitt tunnel which went through Mt. Washington instead of over it.
---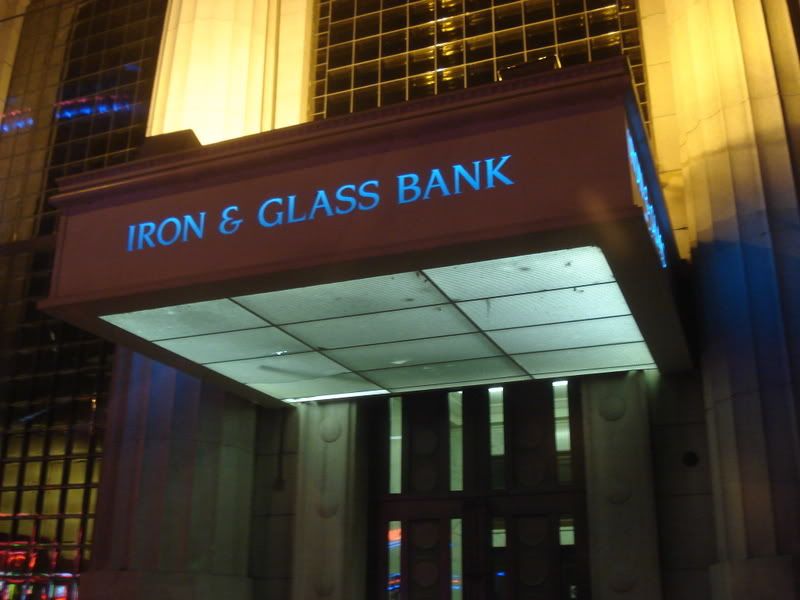 After getting the hotel, we both took showers and drank a couple beers. We headed back into Pittsburgh to find this famous spot from a lot of videos. We found the spot somehow and proceeded to ride it - pros definitely make it look easier than it is. I didn't take any pictures of the spot because I thought we'd be going back the next day.
After that, we drove around Pittsburgh for a bit and checked out some areas and a bar district. My friend needed money and used the Iron & Glass Bank. We headed back to the hotel, drank some beers and my friend carried on about Ashley Judd since she was on Jay Leno.
---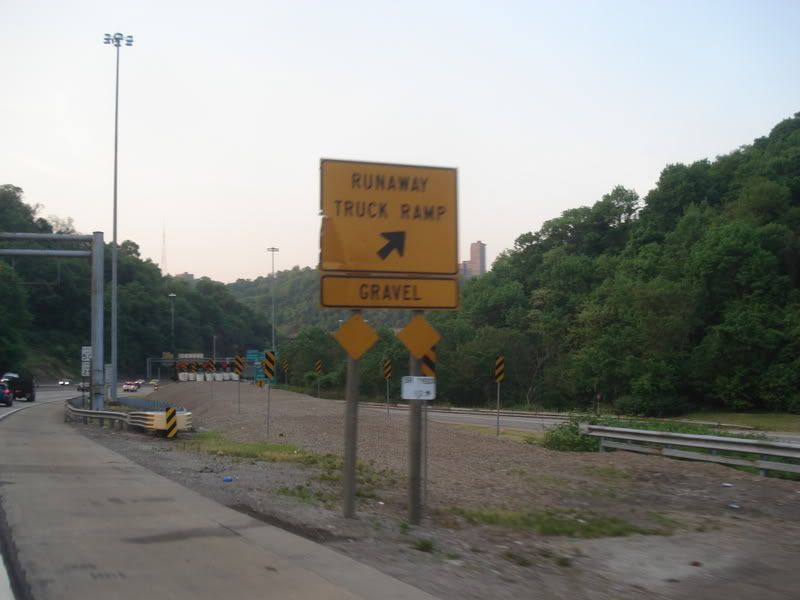 The plans to ride the next day were foiled by my friend, when he said that we should just get on our way because he needed to get home.
It came down to me getting to ride some sub par spots or get to see some stuff on the way home.
---
The ride home permitted two firsts - firstly, that of going to West Virginia. We took a specific road out of Pittsburgh (even if my friend didn't know), so that we could go through West Virginia.
And yes, I know that's a mean EST VIRGINIA sign I got. It's hard to get those damn signs at 70 miles per hour.
---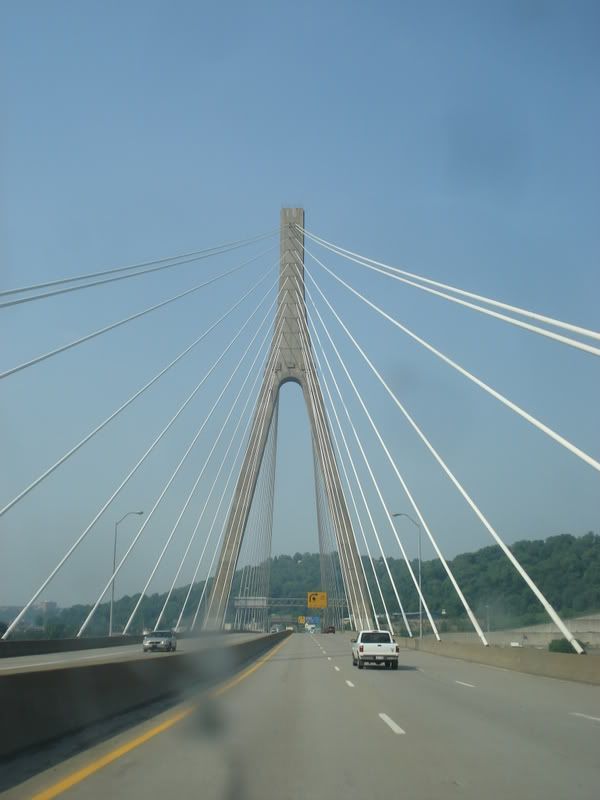 We crossed the Veterans Memorial Bridge as we exited Weirton, West Virginia (which you can see in the above picture). Why I only took a picture like this was beyond me. Weirton has the distinct attribute in being one of two cities in the United States to be bordered by 2 different states. (Pennsylvania - Weirton, West Virginia - Ohio).
Weirton looked like an excellent place to stop; along with the fact that we were about to spend about 5 minutes in West Virginia...but I knew how my friend is about stopping, so I knew I only had one stop to use up...
Hat tip to Seicer on the clarification of the bridge and the West Virginia town.
---
Youngstown, Ohio!
The mafia set up in many midwest cities throughout the early 1900's. Youngstown provided quite a location because of its strong steel mill economy. Well, the mills experienced hard times in the 70's & 80's and many of the steel mills closed. With the mills closed, this allowed Youngstown to remain a mafia town long after the mafia had lost a large control in most other places. Youngstown had corrupt cops, judges and politicians long into the 90's. The worst part of the mafia presence was the turf war present between the Cleveland & Pittsburgh factions of mob gangsters. The turf war led to many a murders in Youngstown, its nickname of Murder City & the fact that a car bomb became dubbed a "Youngstown tune-up."
This view of Youngstown by outsiders, coupled with the fact that the town was actually going downhill as well, led to Youngstown not being a very nice place in people's minds.
As you can see in the above photo & by my personal experience; Youngstown wasn't as rundown as I expected. The downtown was actually quite nice. Recent efforts have revitalized downtown and fought off its ghost city status that it had in the 90's.
---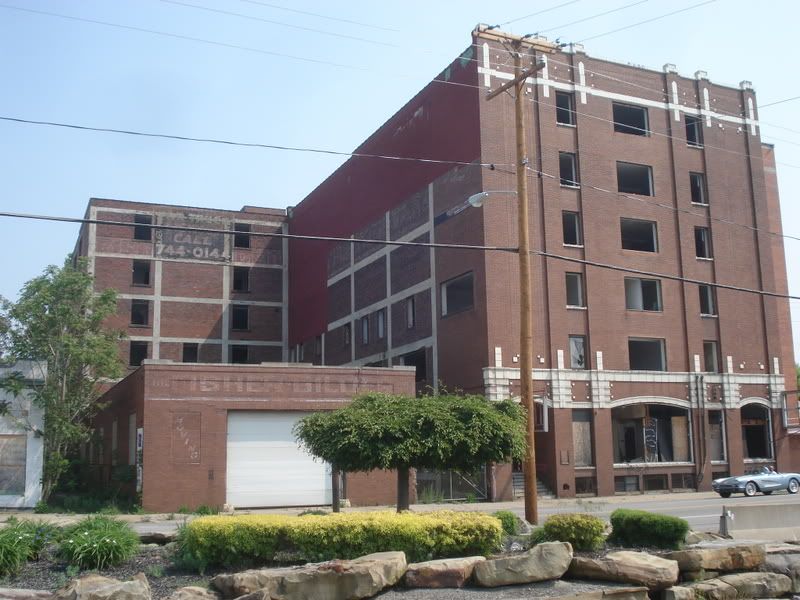 We drove outside of downtown and found this. I have no idea what this building is, but it looked very inviting.
Damn my friend and his fear of bringing his truck to the dangerous neighborhoods!
(Even though I don't think that this was all that 'dangerous')
---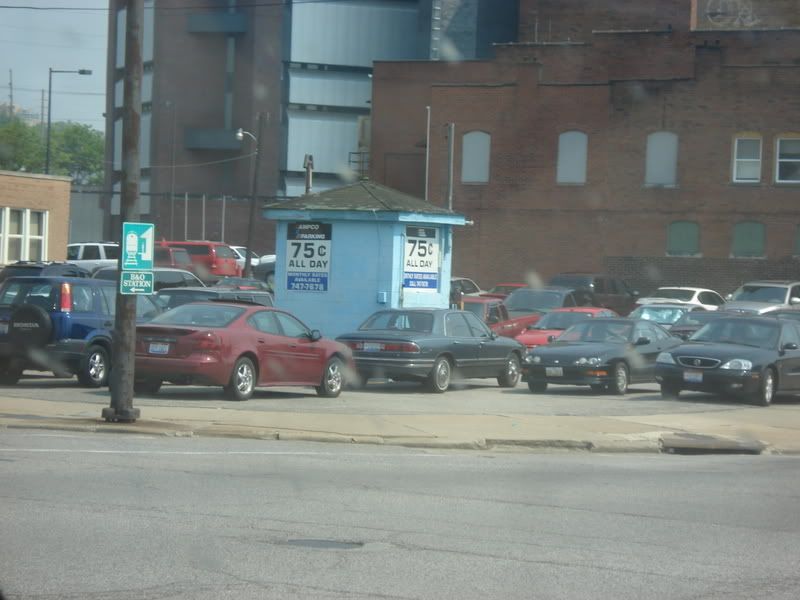 The other thing I noticed was some mean 75¢ all day parking. Other than that, the only other thing of note was how grimy the Youngstown liquor marts were, think one light and a cooler that looked like a bargain bin of random riff raff.
---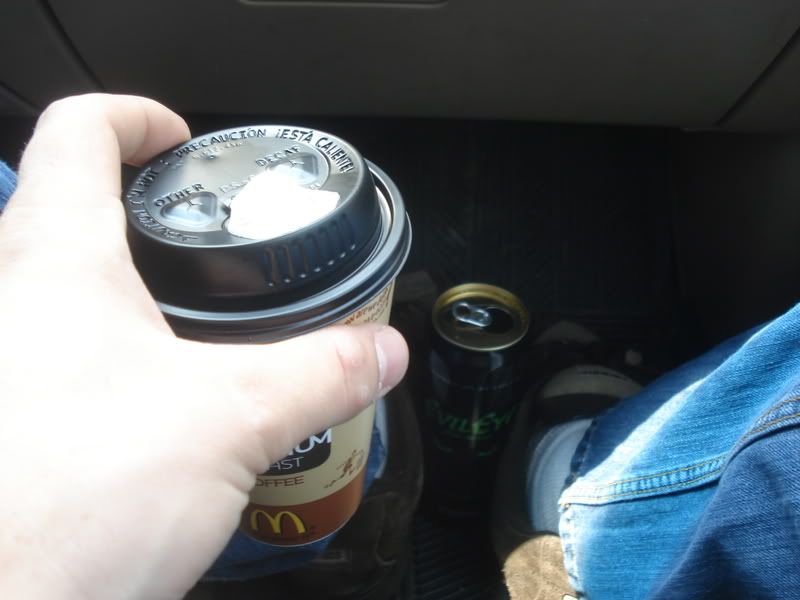 I can complain all I want about the Youngstown liquor marts (even though I liked them), but they did have cans of Evil Eye. Which I promptly bought 12 & drank 3 in a McDonald's cup all the way home.
---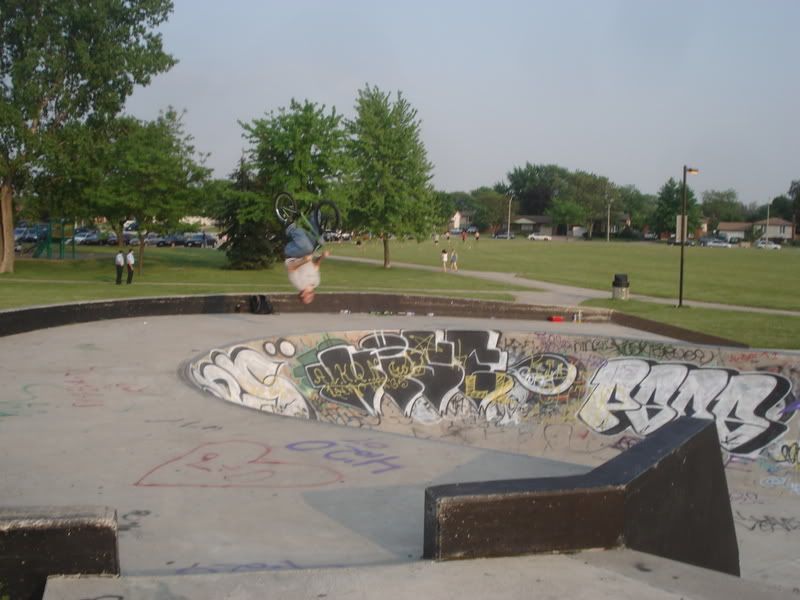 The trip concluded by stopping at Forest Glade to watch Don ride because the Evil Eye had too much effect.
Navi
The pages in this website are best viewed in high resolution.
All images belong to their respective owners.
© 2003-2007 Belle River Nation
All rights reserved
Please give credit where it is due, thanks.