What is an Antonym for Groundbreaking?
Summer 2008
After spending 9 days road tripping out east with Chad & UJ, we obviously grew more acquainted. So therefore the weekend after I returned from that road trip, UJ was in touch and ordering me across the border for some beers and relaxing.
Their group tends to frequent the Packard; so to the east side we went for some barbecue, sunny skies and a few adult beverages.
---
After a full afternoon of drinking and eating, Red & I walked to the Grand Boulevard liquor store1 for more supplies so that the 6 of us could continue to drink into the night.
Now anyone who remotely knows me, knows that I'm not a marathon drinker; so by this time I had a healthy glow. It was around then that I got my mind set on moving the party to the nearby Grand Trunk.
No one seemed too keen on this idea, but Red told me that if I could convince everyone else, then he would go.
---
There was Red's critical mistake. Everyone else couldn't say no and finally my pestering moved us from the Pack to the Grand Trunk.
The Grand Trunk is where Don watched as 4 dudes walked past my vehicle and contemplated breaking into it before deciding against it. Using that as a gauge for the neighbourhood temperature, you know it's not the best. I think Chad & UJ didn't particularly care for the neighbourhood either, so they decided to stay behind and watch the cars.
SloopJohn had gone home after the Packard, so it was down to Red, Crawlspace & I. I could tell that Red was starting to regret saying that he would come here, as he looked up at all the height before him which he had to now climb. He's a man of his words though and soon enough we were on the roof.
I think Crawlspace and Red were happy with the decision overall though, as they quickly noticed two nearby fires and took to relaxing and videotaping from the roof's edge.
---
The ulterior motive of all this was that I wanted to go back to one of the roofs with a medium sized water tower. I had climbed an enclosed ladder water tower in Nova Scotia, so I really wanted to see if I would climb one of the exterior ladders here. I got up from the Crawlspace & Red area and made my way over for a look.
Flirting around, I climbed a few rungs, then a few more, then realizing that the halfway catwalk wasn't very much further - climbed up to there and felt as alive as I have in a long time from all of the adrenaline.
I swung back around the ladder and continued my climb upwards. Once at the top, I sat down and partook in the better view of the fires. By this point, my heart was flowing blood through the left ventricle1.5 at an incredible rate.
I realize that there are thousands of people who climb things like this everyday, but I'm not one for adrenaline - to the point of where I could sit back and list the extremely rare times I've induced this amount of terror in myself on my bicycle in the last 13 years.
---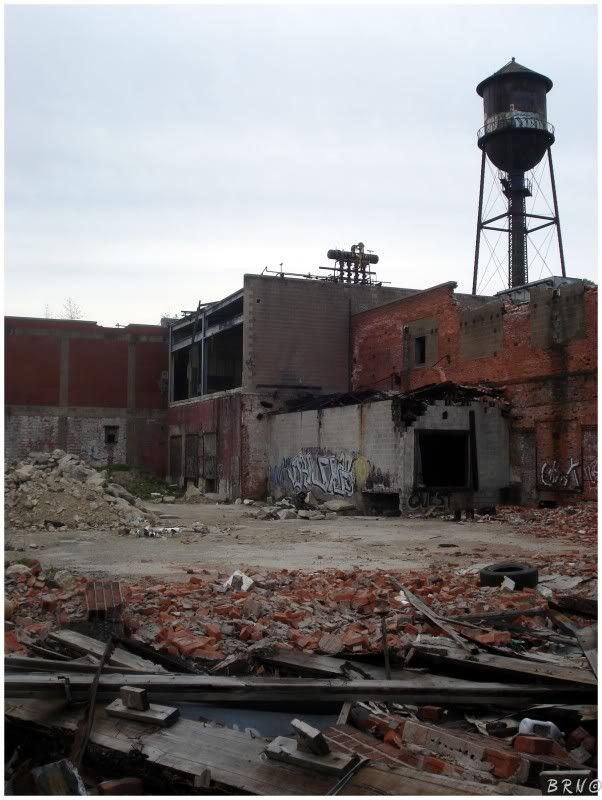 I climbed down from the water tower and we soon headed home.
About a month had passed since that night; this passing month being the one where I went on that Montreal-Toronto-Rochester road trip, that Ohio road trip and then ran out of money.
Scraping money together here and there, I rode my bike to Don's house one day and we made our way across the border. I had told him prior that I climbed the water tower that one night, but that I didn't really count it because of the liquid courage2.
I reiterated my feelings on this day and asked him if we could head on over to the Thorn Apple Valley Slaughterhouse in the Eastern Market district; to climb a water tower minus the asterisk.
---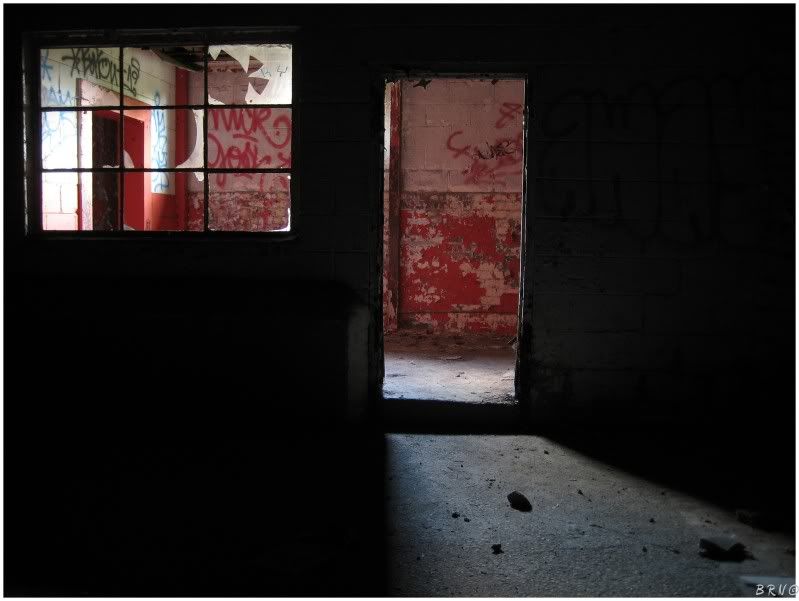 This was a return trip for us, as we had already been here once, but found a large hobo encampment in an empty building - leading us to quickly leave.
This building was also on Kwame's double dirty dozen demo list4, so I had another reason to convince Don; as I always want to document anything which is facing imminent demolition.
---
As previously stated, the building is quite empty.
---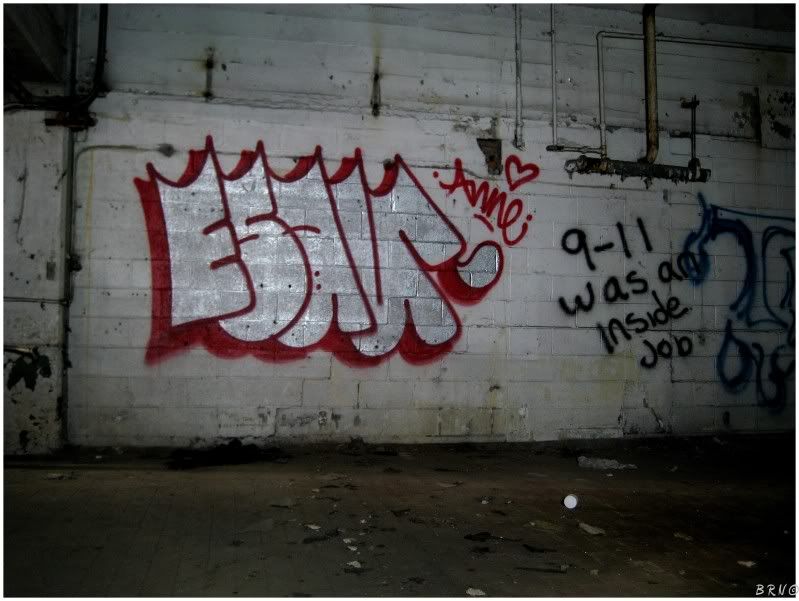 Although quite empty, the building does generate some interest in that it is one of those odd places where city writers practice their craft.
(Sorry about the horrible reflection in the second picture.)
---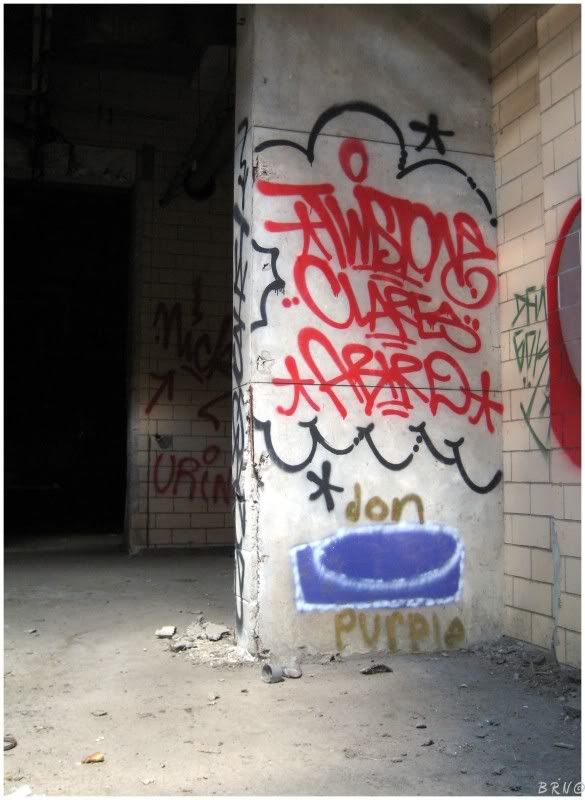 Not only for local writers, but out of towners as well.
As I was taking this picture, Don walked up behind me and asked if I knew who the top guy was. I returned that I knew of the guy, but not too much else.
It ends up Don owns a shirt with that guys tag on it.4
---
That is enough with graffiti and emptiness.
We came to the third floor and couldn't find the stairs. We took to combing the floor thoroughly, but still didn't find any stairs.
Looking around, there was some sort of ladder / pallet monstrosity which would have let us get into an extremely rickety ceiling; but we decided against it, as it didn't have a good sketch factor to promise ratio.
We moved into the room you see in the above picture and I actively took to finding us a way upwards 10 feet, to one of the roof doors.
---
After gathering the previously mentioned pallets and ladder, I had made us a way!
The problem was not only that the setup was fairly sketchy, but that Don had a fractured ankle from a 180 tailwhip gone wrong just days prior.
I climbed up first and encouraged Don, but he wasn't having any part of it. Therefore I climbed back down to weigh our other options.
(Why's that white square there you ask?
Well, there's THE worst graffiti I've ever seen painted there - so bad that it violently disgusts me & I don't want it on my site.)
---
I scaled the wall of the collapsed floor and convinced Don that it was the way to go.
Manning up, he took to it and...
---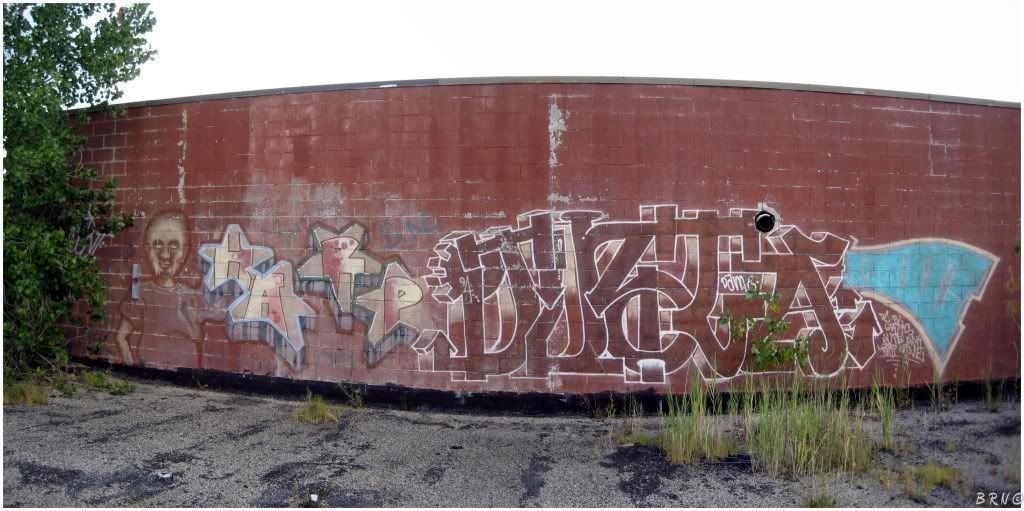 We got out onto the roof! (...with its beautiful 1994 graffiti (that's 15 years old children)).
Don & I both stood there for a second and contemplated how this city now paints the ugliest shit; yet it had dudes doing stuff 100 times better 15 years ago. What a graffiti regression.
---
Back to the business at hand, the Thorn Apple Slaughterhouse was a wise choice because it provided a smaller water tower to warm up on.
I climbed it first and my weak self even received some adrenaline from that.
---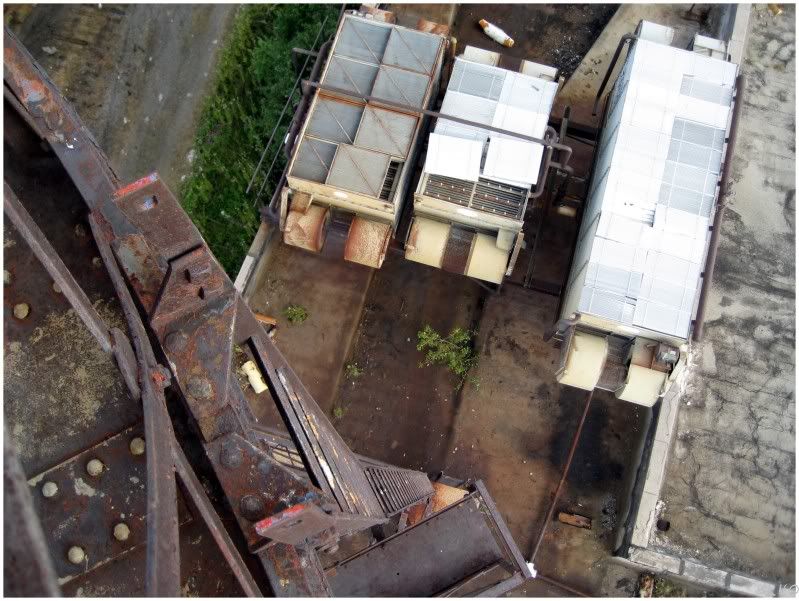 I don't want to make this into a dramatic, long-winded escapade.
I climbed the small tower, which worried me a bit itself. I then took a look at the big tower and climbed up a small portion before returning to the ground. Don was confused and asked what the hell I was doing, where I replied that I was reconsidering my plans.
He wasn't having any part of it and told me he didn't climb up to this roof with a bum ankle so that I could weasel out. That was followed with those 10 words I've heard countless times4.5, convincing me to turn around and made my way up.
---
I definitely didn't enjoy the adrenaline or the rush, but the pictures and the gratification seem to outweigh those factors. I simply put my hands on the rungs and forced myself to keep moving until I got to the top. It was pure focus on the ladder rungs and a refusal to stop.
---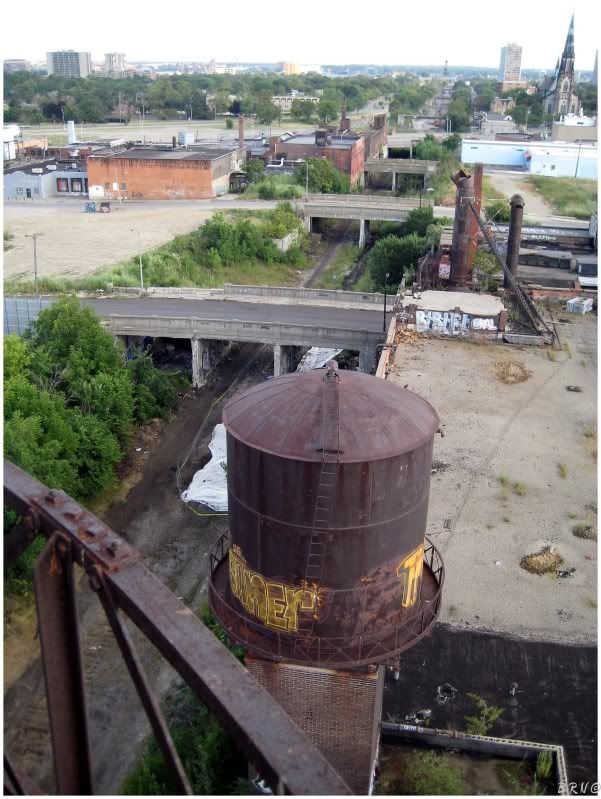 Walking around the water tower, the portion which hung over the Eastern Market was even more unsettling. In addition to the 50 foot height of the tower itself, you were also hanging over the old rail yard, which meant another drop past the height of the building.
I definitely didn't stay over on that side of the water tower for long.
Also, check out Don in the above picture for a sense of height...
---
...and the picture Don took from said position.
You can also see that the water tower isn't leaning as much as the previously, poorly stitched panorama would lead you to believe.
---
As much as I want to sit here and tell you how much I hated the adrenaline and the fear, it was completely worth it in the long run.
What a fantastic view of the city.
Get out there people. Quit complaining about being scared and man up.
Navi
Sources: