Comfort in a Foreign Land.
Fall 2008
Us mainlanders in Canada have some idea of the brutalities of the Newfoundland winter, but no certain knowledge. Therefore, I was scared when I first came here and it didn't help when everyone kept going on about how harsh these winters actually were.
Scared by the coming winter, I was traveling somewhere every single weekend because I knew I would have to stash up and try to get things done to make it through the winter - like a squirrel collecting chestnuts.
During the week, I had read about a community 70km south - the town of Stèphenville.
Stèphenville has a unique history. It was a small, remote village of 500 people up until 1941. Around that time, the United States decided Stèphenville was a great area to develop an air force base because of its location between the U.S. and Europe.
Remember that Newfoundland didn't join Canada until 1949 and it was still a UK possession at this time. The air force base was established through a contract where the U.S. traded 50 destroyers to the U. K. for the rights to build air force bases in Newfoundland, Barbados, St. Lucia, Antigua, British Guinea & Trinidad.
When Newfoundland joined Canada in 1949, part of the agreement left the air force base as a U.S. territorial enclave within Canada.
---
The largest air force base outside of the continental U.S.; Ernèst Harmon at Stèphenville had 4000 soldiers stationed and saw 132 000 personnel pass through the base yearly during its peak.
Similar to most things that interest me, the base closed in 1966 and the property was transferred to the Government of Canada and then passed onto the Government of Newfoundland. The Harmon Corporation was established in the same year to try and save Stèphenville and to do something with the town. The government subsequently transferred the $150 million worth of buildings to the Harmon Corporation so that they could try to attract some industry to Stèphenville with all of these suddenly vacant buildings.
When you drive through the town, it is truly unique. You come upon street scenes like the one above; where they've turned one of the airplane runways into a road and the old hangar sits an arbitrary distance away from the road.
---
Another reason I visited Stèphenville was for the skatepark - which is unique in itself, as it sits upon the ruins of the old brewery (one of those industries they attracted after the base closing).
The skatepark is one of those 'kids bring a bunch of ramps to a place' skateparks. In the past, Stèphenville had an actual good skatepark, but there was a flood and they put the ramps into storage; leaving the kids with this sorry excuse for a skatepark involving 2 shaaaaaady quarters and a 6 foot long flat ledge.
When I returned the next year, it was even worse as the ledge had lost its metal and one of the quarters was destroyed.
Poor bastards.
---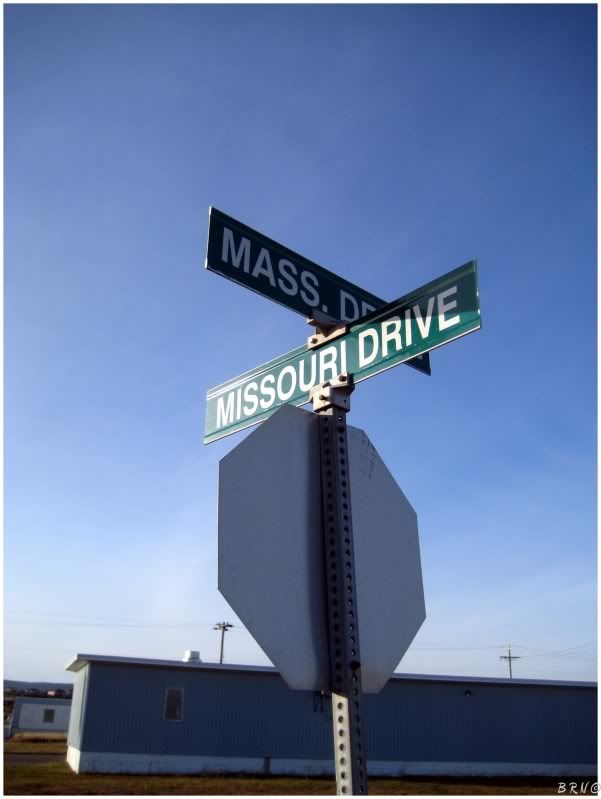 A skatepark with the above description will never consume much of my time. In fact, it actually took up more of my time than usual, because some skateboarder showed up and we chatted it up for a bit...he seemed like a good kid.
Anyway, I threw the equipment back in the car and took to driving around this interesting town. I quickly noticed that I was driving on New Mexico Drive and that a lot of the streets were named after American states.
(Unfortunately I couldn't find Michigan Ave.)
---
I also came across a few bunkers throughout town.
Trust me in that this skyrocketed my curiosity, but locked doors kept me from unlocking the mysteries of what lay behind said door.
---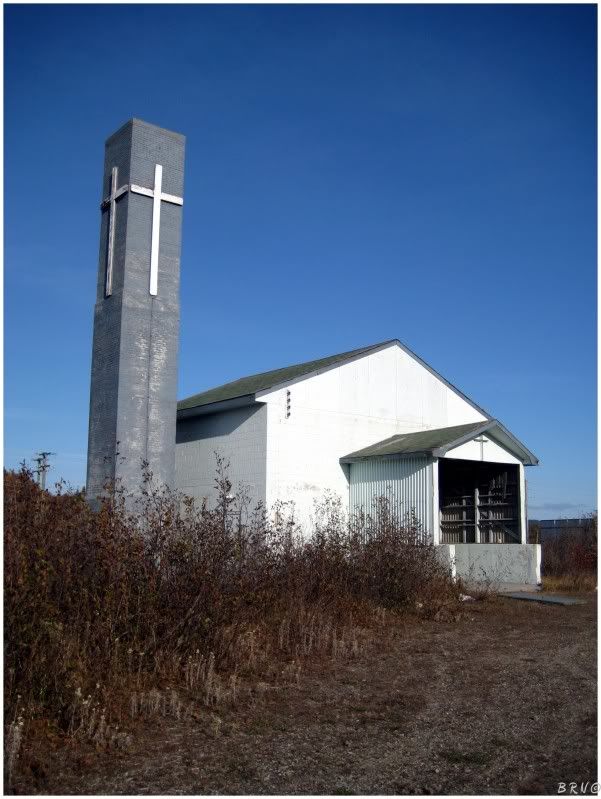 Not before long, I observed what appeared to be a chapel sitting lonesome in a field behind the shiny, new, town hospital.
Firstly, Newfoundland's funny in that this is where I parked my car and then strutted into the wide open building.
Secondly, with the chapel being in the middle of a field and off the beaten path, it was just what the doctor ordered in a relaxed location away from society...
---
...although the building wasn't all that exciting.
The upstairs was nothing more than cinder blocks, a hole in the floor and a 'Big Nig' tag.
Moving downstairs was a little more interesting with an L staircase and some pillars - but still, not all that much more exciting.
I later heard that this place was the crematorium. Now I'm normally skeptical whenever small towns brand 'scary' buildings as murder scenes, funeral homes or the like; but it makes sense in the floor holes, the slab you see above and the fact that the 'slab' leads to the chimney thing you saw in the exterior picture.
I've tried googling Stèphenville Crematorium and also trying to find a base map, but to no avail. I may have to drive out and try the Stèphenville library...
---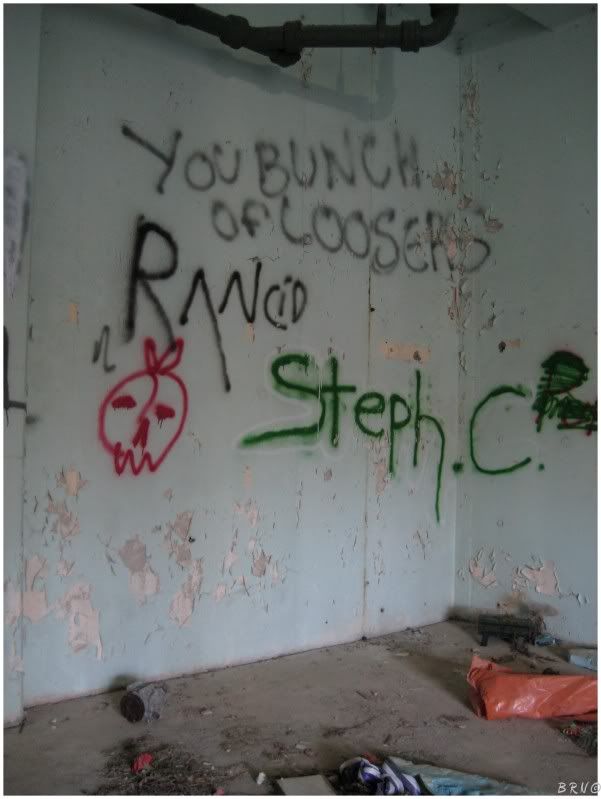 Anyway, along with the 'Big Nig' tag, there was also some informative graffiti - apparently if you like Rancid or if your name is Steph C., then you're a huge looser!
---
The crematorium didn't take very long and I quickly returned to my vehicle.
Driving around, there were a lot of places which looked rundown, but I couldn't tell if they were in fact, vacant.
---
One of these places was Nova Recycling. It looked run down as all hell and was wide open, yet there were neatly piled piles of cardboard and other recyclables.
Oh well, I was just taking a look around anyway...
---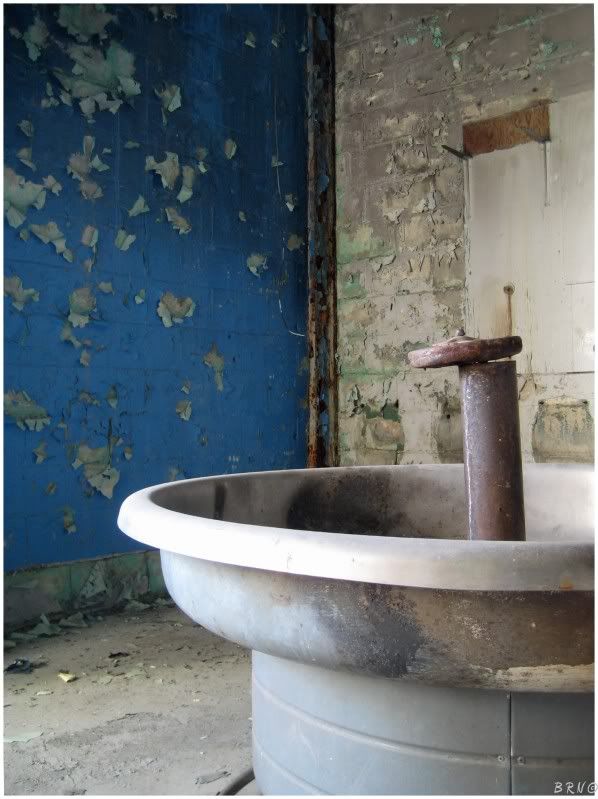 The place was huge, but it was mostly empty factory space, except for the far end of the building where a stair led into some offices.
Houses and schools are great and all, but I was really excited to get back into some good old industrial ish. I kept shaking my head and saying that if you need some tasty abandonment done right, then you need the Americans to do it.
---
Walking around, I noticed the number of broken windows, walls and toilets. This place must either have sat wide open in the past, or it is so far from houses that kids just destroyed it one night.
---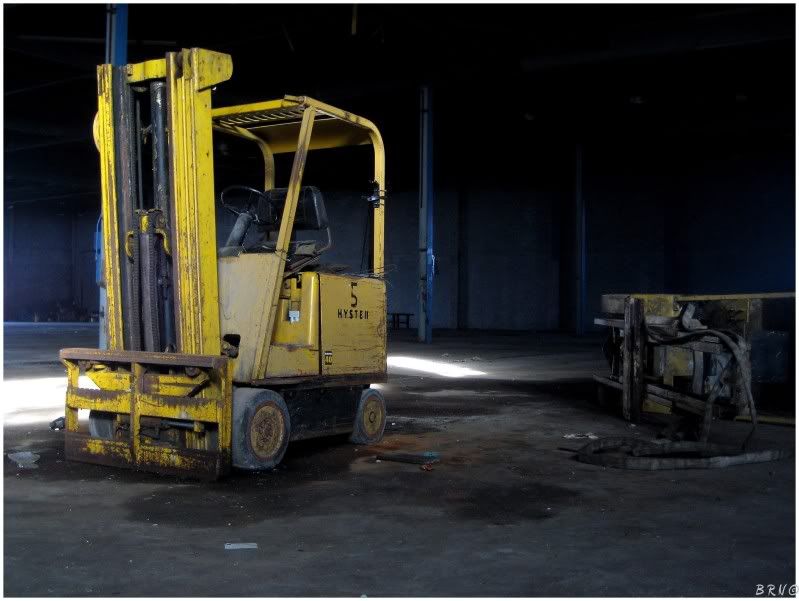 The offices portion was small, so I went back down and searched the factory portion before leaving.
As I drove away I spotted a small child staring me down at the entrance. He then ran inside and I questioned just what the f was going on here.
---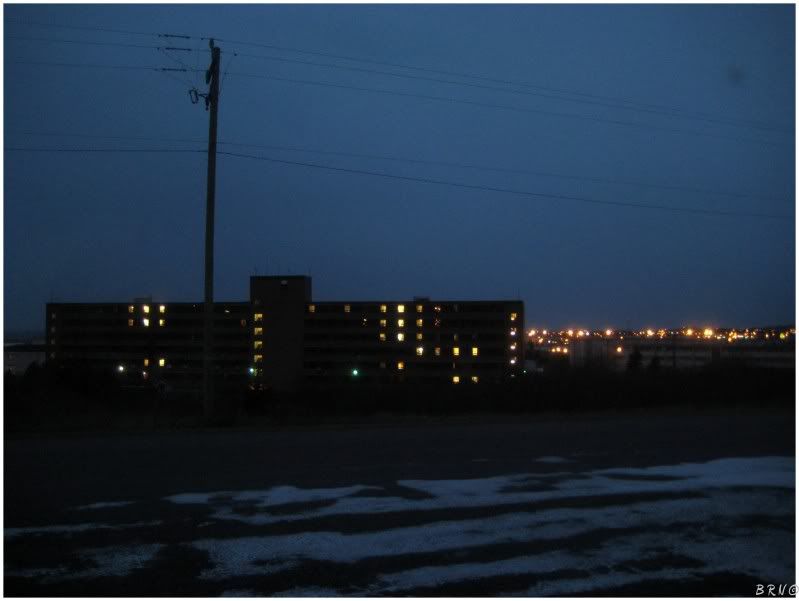 Anyway, I found yet another building while in town, but it was getting late. So I took off for home so that I could go to bed early and get back to Stèphenville the next day to check it out.
Waking up at 5 a.m. and sneaking around, it was a bit sketchy because there's an active prison within rock throwing distance.
Nevertheless, I man'ed up and spent the early hours waiting for the sun to rise and looking out at the former Air Force Base Hilton - now The College of the North Atlantic Headquarters.
---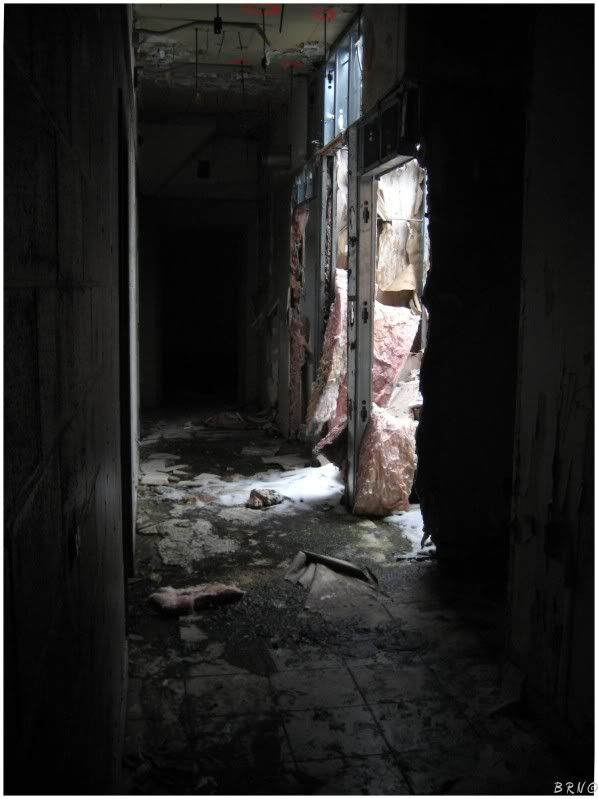 The building itself was pretty disappointing.
The only thing I could determine was that it was some sort of small manufacturing location and that it had suffered a fire. I figured it was a small manufacturing plant from employee of the month papers and some receipts, but other than that, it was completely empty.
---
The design of the building itself did allow me to get my photography steeze on.
---
...and on and on.
The building continued to be empty and boring, no matter how much time I took inside.
---
I tried to smoothly open a back door and look out for any people; but the door was caught by the wind and abruptly whipped open, leaving me standing there dumbfounded.
There are a few hints of buildings in this update that I've returned to, as well as some others not pictured or mentioned. In these travels and the travels your just read, I've learned that Stèphenville has a good amount of buildings, even if they aren't the best.
---
Comments:
At 13:01 on July 4th, 2009;

Steve

- "I wrote that "big nig", when i was there on tour with "stomping tom connors", back in 88.........good times...with "spud da potatoooooooo""

At 22:32 on July 5th, 2009;

Navi

- "Damn! If I knew that was you I would have sidebusted that shit for sure! Or at least crossed out 'Nig' and put 'Herb' http://i137.photobucket.com/albums/q233/myspacenavi/nl_ehafb/IMG_5537.jpg"
---
Sources:
1 - Destroyers for Bases - Wikipedia
2 - Base Buildings - Stèphenville, Newfoundland, Canada - Heritage NF
3 - Ernest Harmon Air Force Base - Wikipedia
4 - Official Web site - Town of Stèphenville
5 - Economy - Stèphenville, Newfoundland, Canada - Heritage NF
Navi