Where Your Dad Was in the 80s.
Winter 2009

We were cruising around one day looking for something...anything to do - when I remembered the Guild.
I've known about this place for a long time, but its size always led me to not bother with it.
---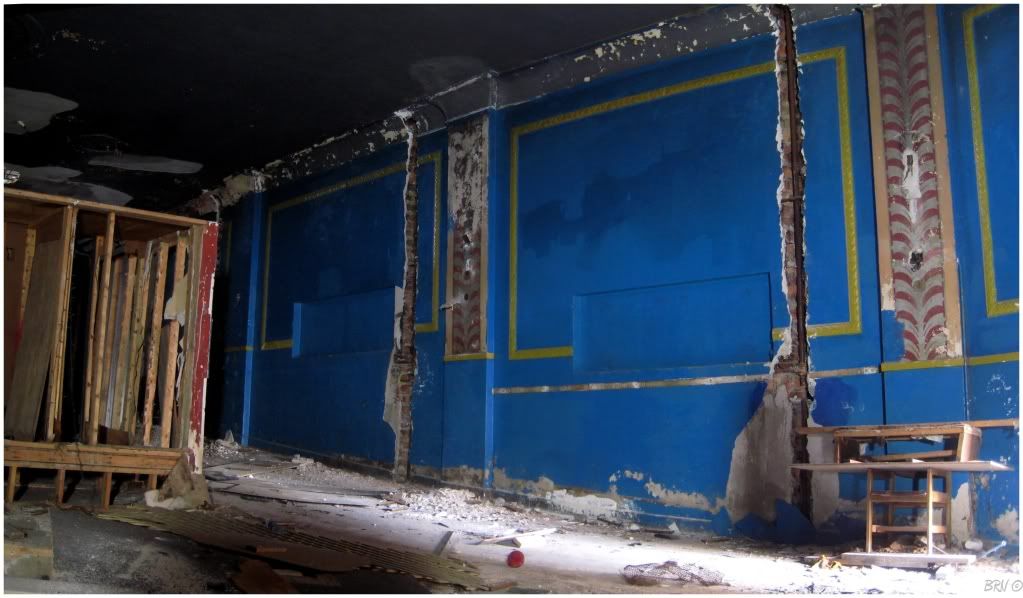 The Guild was originally the Franklin in 1926. It changed its name to the Guild Art in 1962 and then dropped the Art from the name and started showing adult films into the 80s and 90s.
It was a very small theater, only seating about 350 people. This was apparent when we found our way inside and discovered the lack of size.
It has been hit hard as you can see in the above pictures. A lot of the beauty has been lost with time.
For some exterior pictures, to get an idea of the structure, check out this link.
---
There was a catwalk type stage with a octagon on the end - presumably for strip club dancing.
There was only about 20 feet between the end of the catwalk and the scene you see above. About half of the floor space was consumed by this cheap structure of small rooms.
---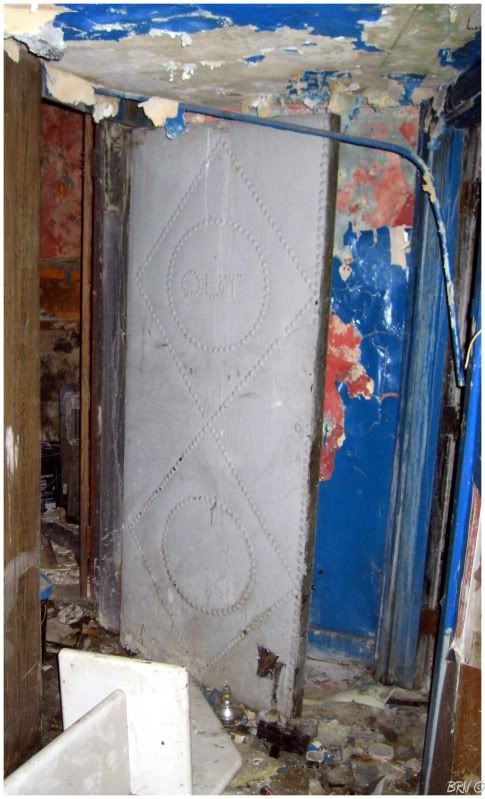 Walking into the floor space structure, you see the above door which hints at former elegance.
---
...and then you realize why this structure was built on the theater floor.
A couple of the rooms would have held televisions and these were connected to other rooms with the above coin slots, wall slot and a chair. In the rooms where the men pleasured themselves, the paint was peeling, but the wall was also stained in a light grey / whitish texture - which I was going nowhere near to confirm if it was actually semen.
---
There were a collection of other rooms without coin operated machines and I have no idea what purpose they served.
They did have hilarious graffiti personals though.
"Torture my big cock, leave #"
---
"I'm a dark length 9 1/2 inches looking for sexy stocking wearing TV (transvestite) 810-xxx-xxxx - Tony"
"If you want a super fine young white TV, call xxx-xxxx"
---
"Call me for some dick. Ask for Dwayne. On Fri-Sat xxx-xxxx. 3:30p.m. - 1:30a.m. xxx-xxxx"
---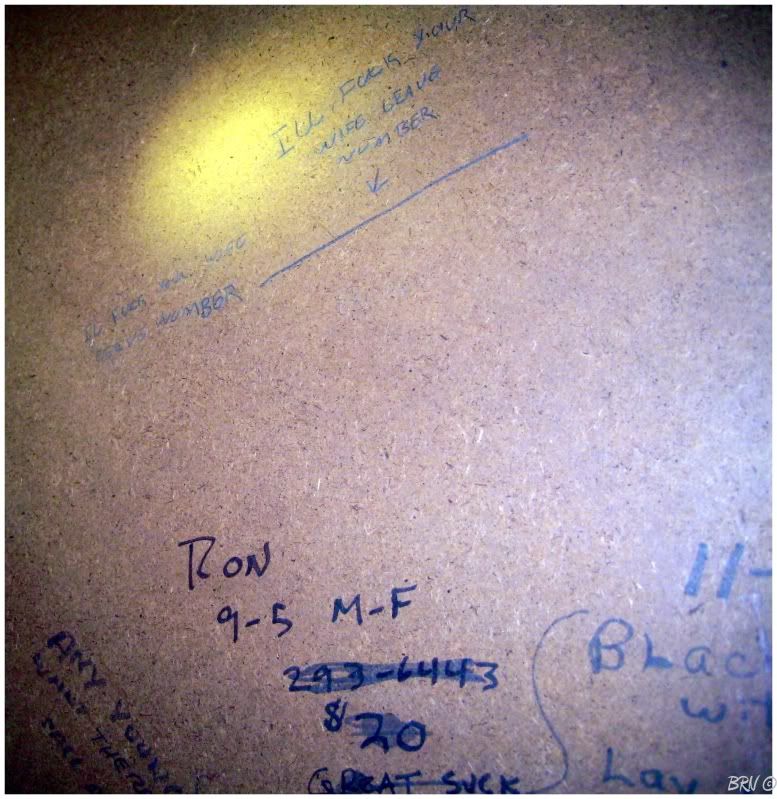 There were also some pretty funny ones:
"I'll fuck your wife. Leave number -> ____________"
Oh! Really! You'll fuck my wife! Excellent!
---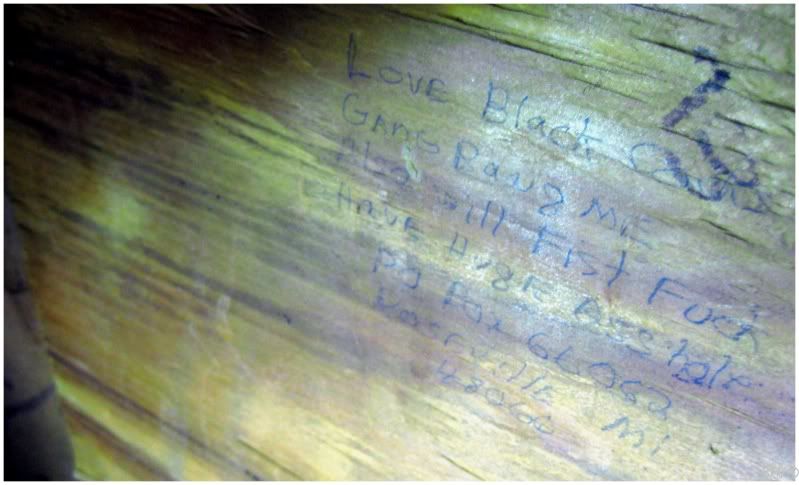 "Love black cock. Gangbang me. Also will fist fuck. Have huge asshole. P.O. Box xxxxx. Roseville, MI"
---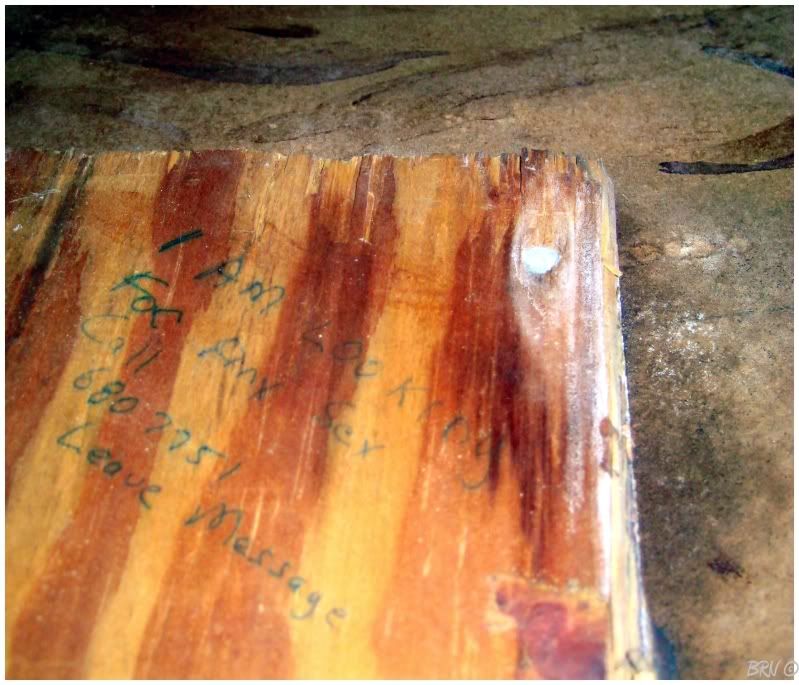 There was also this sad one - "I am looking for any sex. Call xxx-xxxx. Leave Message."
I told the Fondeler about this and he started asking if he thought the guy would give a switch handed handjob while blindfolded and watching something, yadda, yadda, yadda - basically, instead of feeling sorry for the guy, he just wondered how obscure you could get with the poor fuck.
---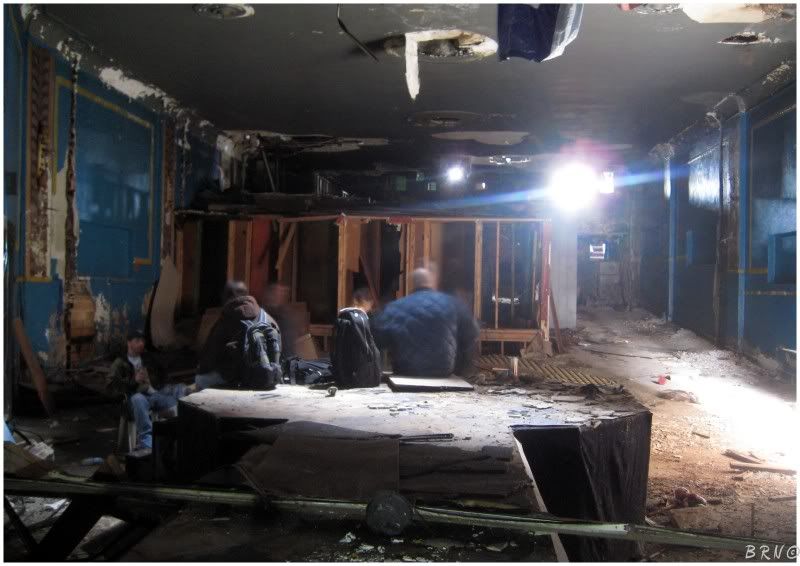 We had a fairly large group, so we ended up drinking at the end of the stage for a bit.
I wrote Centerline in sign letters and consumed my Jooze.
---
Then I found a Vogue in the alley behind the Guild.
"I'm riding on Vogues, my cylinder quiet, like tip toes" -GLC on Kanye's Drive Slow
---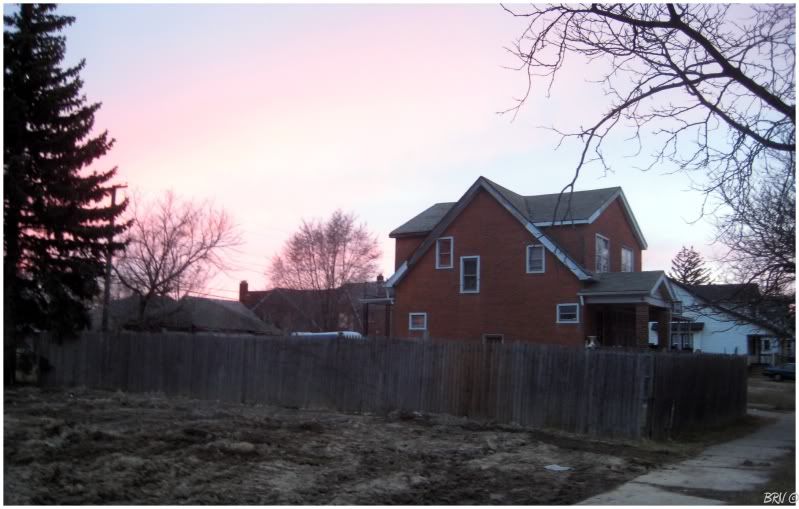 The sun was setting and the skies did cast a rose hue behind the houses as we got into our car and continued on.
By the way: UJ was first to think of documenting all the graffiti personals. Also, she took better pictures and was more thorough!
I'm such a hack.
Navi
Sources:
1 - WaterWinterWonderland - Franklin Theater
2 - CinemaTreasures - Guild Theater