Our House...On West End Street.
Summer 2006 - Winter 2009.
Back in the 2006 days of BRN, I introduced y'all to James McMillan.
"Located in the Delray (Southwest) area of the D, you have the James McMillan School. Erected in 1894 to serve the booming area; it was a typical school design with 2 floors and 16 classrooms. In 1907, the D school board took over the Delray school district and James McMillan went from an elementary school to a high school for the next 9 years. In 1916 it was converted back to an elementary school and continued on for quite some time.
The D lists the school as joining the historic district on July 13, 1999. This occasion was quickly followed by a failed effort to keep the building open by parents & teachers."
---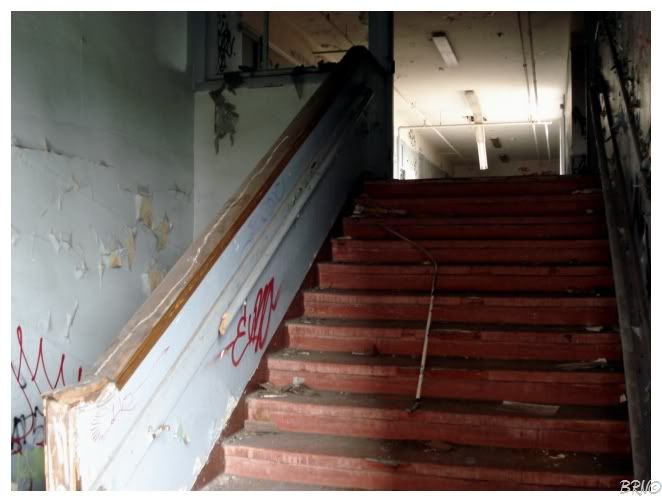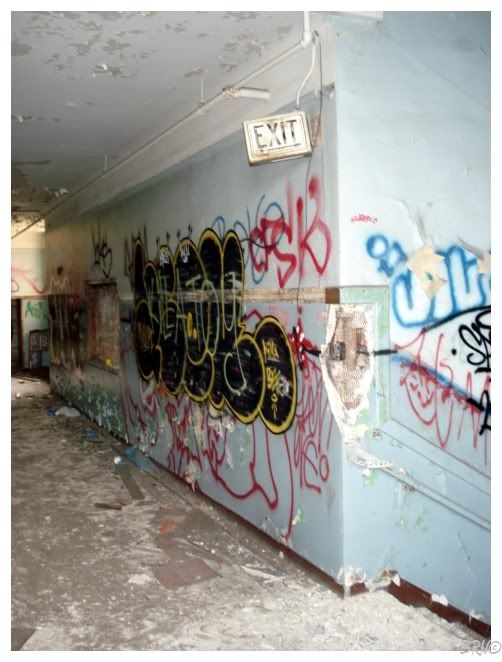 I believe McMillan was my eighth building in the D; meaning my 11th overall. It was my first school and it was the first thing we had ever done in the D which was off the beaten path. I don't even really remember how we came across McMillan, but it probably had something to do with The Don's love of Southwest Detroit and simple meandering.
Back in 2006 and now still, I was and am enamored with how typical 'American high school movie' the hallways were - walking through reminded me of American Pie, Clueless and Lean on Me.
---
Also, our tall selves noticed the height of the lockers and felt bad for the high schoolers who had to use them for those 9 years.
Also, we questioned if the school system, scrappers or former students stole them0.
---
We were a little let down by the lack of 'things' inside.
---
...even most of the chalkboards were gone.
---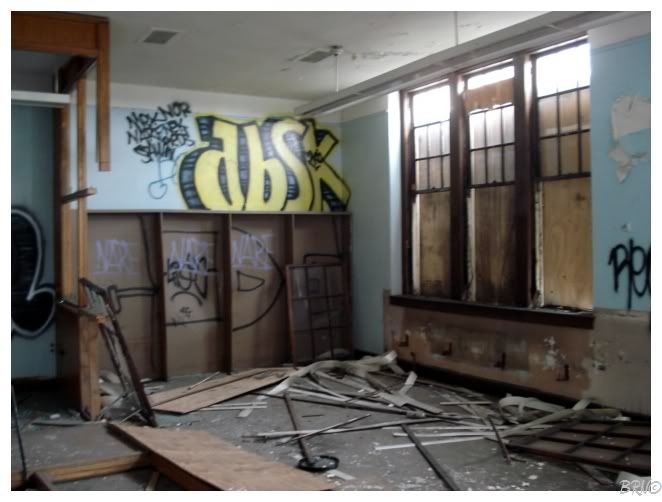 We did like the fact that the interior had so much graffiti and that really creative places were being used.
(You don't see this a lot in the D since there's so many buildings...but we've been in Toronto spots where people get REALLY creative to find space since there's not as many spots.)
---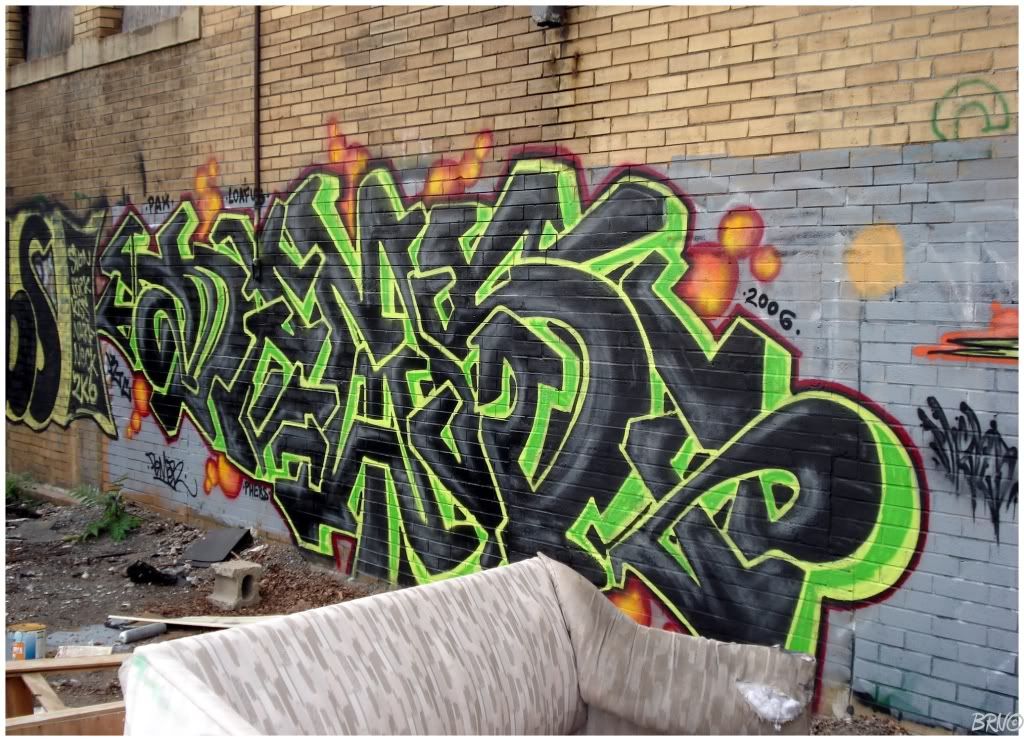 Although not the most creative spot, DEMS had probably the BEST spot and he came correct.
---
I made some goofy remark in my 2006 update, but I like how this emergency exit sign was left hanging from the old days.
(That window was in the front of the building and this was in a second story classroom - so it was no longer a functioning emergency exit.)
---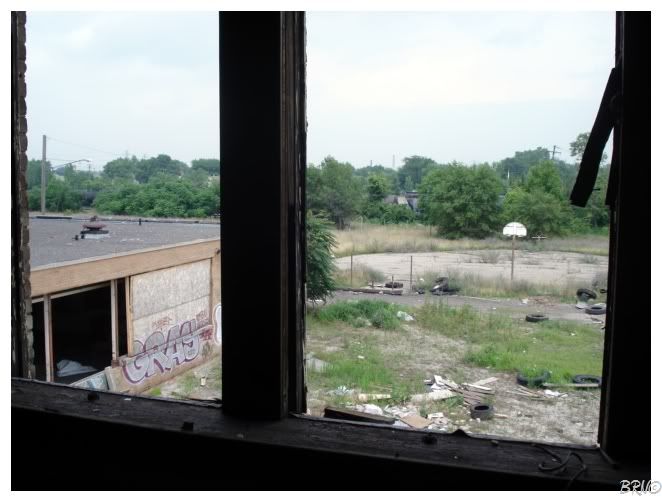 While walking around the second floor, I paused for a second to look out the back window at the prairie before me.
I realize that it's largely the school yard, but then there's another huge vacant industrial lot behind that too - separated by a train line; which I never contemplated the oddness of until just now. (That is, the oddness of a train line being right behind a school.)
---
We used this certificate to estimate when McMillan closed.
Now with the internet I determined it was precisely the year 2000. At the time of its closure, enrollment was increasing and McMillan was producing respectively good test scores. Many fought to keep it open - as they successfully did in 1993 - but their attempts failed.
---
We went through some of the classrooms on each of the first and second floors and opted out of the roof because I had recently drunkenly fell off a shed and hurt my shoulder (therefore, I couldn't climb the ladder to the outside).
We were about to leave when I told The Don we should look for the gym...but instead we found the theater!
While modest, this was an elementary school and it was still pleasant in its subtle elegance.
---
The theater is one door down from the gym, so we found the gym about 5 minutes later - with swing rope still in place!
I couldn't swing on it because of my shoulder injury, but I swore we would be back!
---
...and of course we were, again & again.
This was from a time when some people from the East Coast came out to visit - my friend Kristen swinging on the rope.
---
...and then there were other times we'd go to McMillan just on our own.
---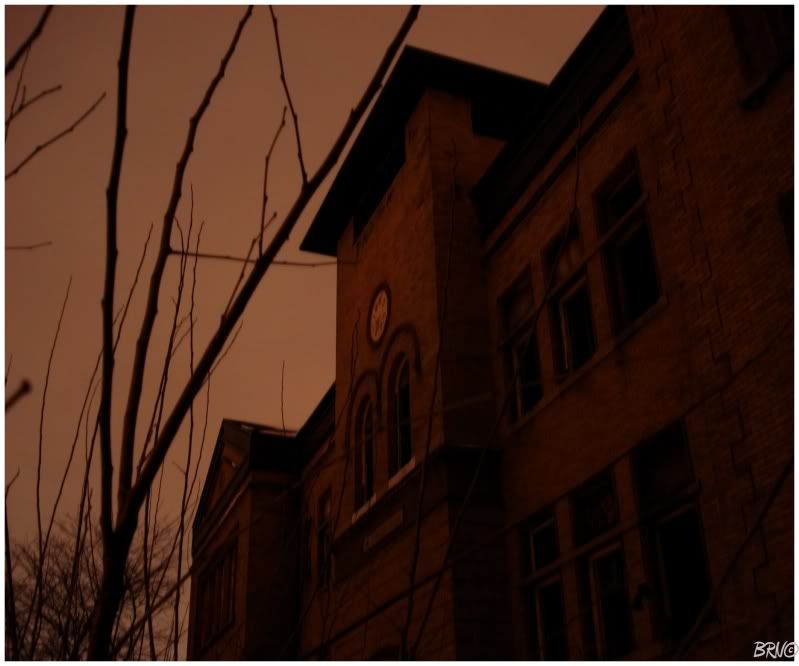 I would move away, but we had to check up on her whenever I was home for Christmas.
The rest of the group doesn't go to the D as much now that I live elsewhere, but I heard about their activities and they were still visiting her and relaxing with her now and then.
---
Simple & elegant decoration atop the doorway to the 1924 annex.
(I never noticed this until this specific winter visit.)
---
Then sometime in 2007, there was a fire or an explosion of some sort. The others had went over on a given day and texted me to tell me about it.
A few months later, we were in Southwest one evening having a few beers prior to an Esham concert, when I said we should go over and check it out - she was definitely hurting.
---
As you can see in the picture above, the first time I saw it, it was dusk and I was faded - hence a blurry picture.
I bothered the group to check it out again during the day so we could have a better look.
Note the second story floor in the above picture...
---
...and look out of that same classroom here.
That floor didn't look safe from the outside and it didn't feel or look safe from the inside. The above distance you see is about how close I got.
---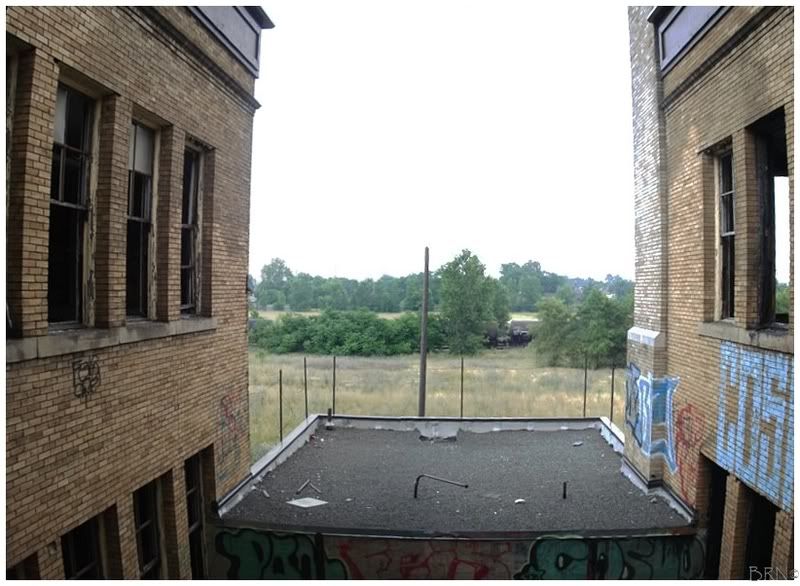 This is actually a pano from our first visit in 2006.
To the left in the above photo; is the classroom and walls that suffered the explosion.
---
The fire/explosion had buckled the entire building - to the point where the floors were waved like highways after an earthquake.
---
The explosion and fire didn't change much. We would still stop by McMillan often; just to see what new car was dumped there, what new garbage was there or what new damage their was.
I really regret that we didn't go in the buildings more, but the truth of it was that we often only came to hang out behind McMillan - without a reason to actually go inside the school.
---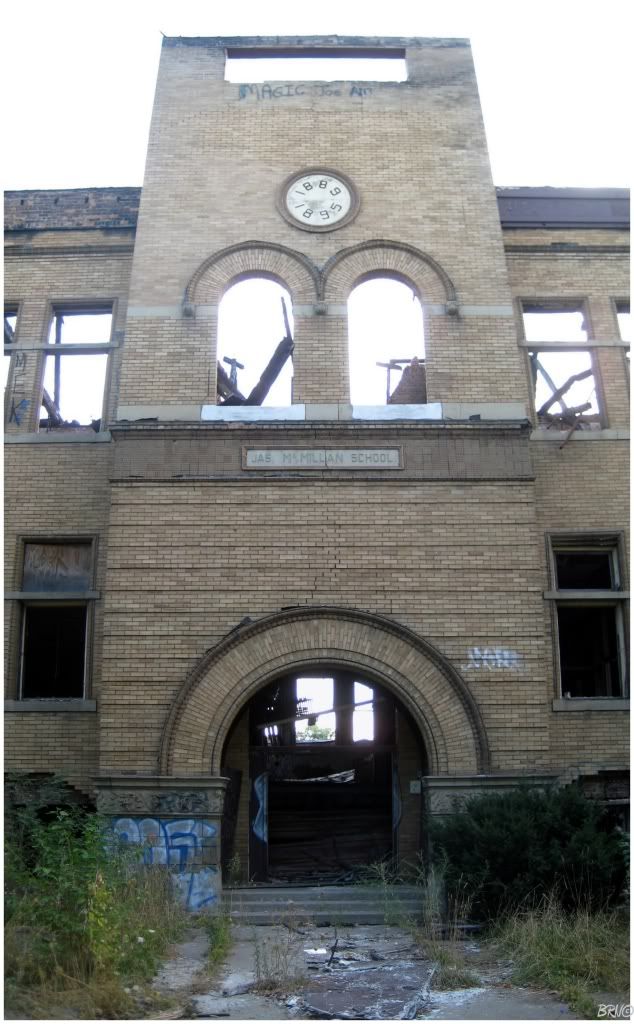 McMillan's steady deterioration, combined with the fact that we frequent a bar more often nowadays, led us to finding ourselves in other places in 2008.
I longed to see what was new, but The Don and I always had something better to go do & we never ended up there.
---
Until one random day I spent the night in Michigan at my friend's house. While driving back to the border, I decided to pop in at McMillan and see her for the first time during this 2008 summer.
As I parked my car and walked up, an ornery street dog made his presence and his displeasure with my presence known. I tried to sidle away from him, but he backed up and angled towards the school I had came for. As I got close to the school, he ran into the front door which was in no shape for any animal to enter, as you can see above. I paused and tried to use a soothing voice with the mutt, but he had already found himself inside the ramshackle structure.
Poor bastard, that was never my intention (for him to run inside).
Anyway, the dog disappeared inside, so I made my way up to the front entry to look at the columns and the archway. While shooting the above column details, I became frightened by a sudden growling, which I would have swore originated from the stairs themselves, if stairs were a possible source of growling.
The dog was very close and I moved to the side instead of entering the front.
---
A look up at the growing damage.
This is the front of the building, to the right of the main entryway.
---
The side entry of McMillan is identical to the front entrance.
I walked through the side entry arch - a way I had never come before - up the stairs and to the top of the stairs.
I couldn't proceed because this was the view from the top of the stairs.
I probably could have taken to rubble climbing, but sure as the Earth spins round the sun, I heard that damn dog growling again - and like the last time, from some location my eyes couldn't place.
---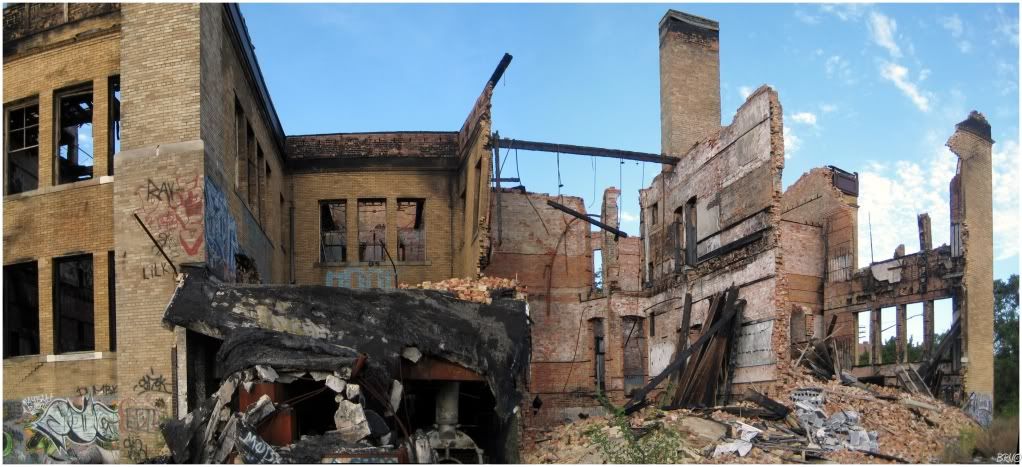 "Have arm gnawed by street hound" wasn't on my to do list this day, so I backed out of that archway and headed for the back of the building.
I had heard that McMillan suffered another fire while I was gone, but the Kosovo-esque ruin that stood before me made me wonder if there wasn't a 3rd, 4th and 5th fire.
She had really went downhill in these past 8 months.
---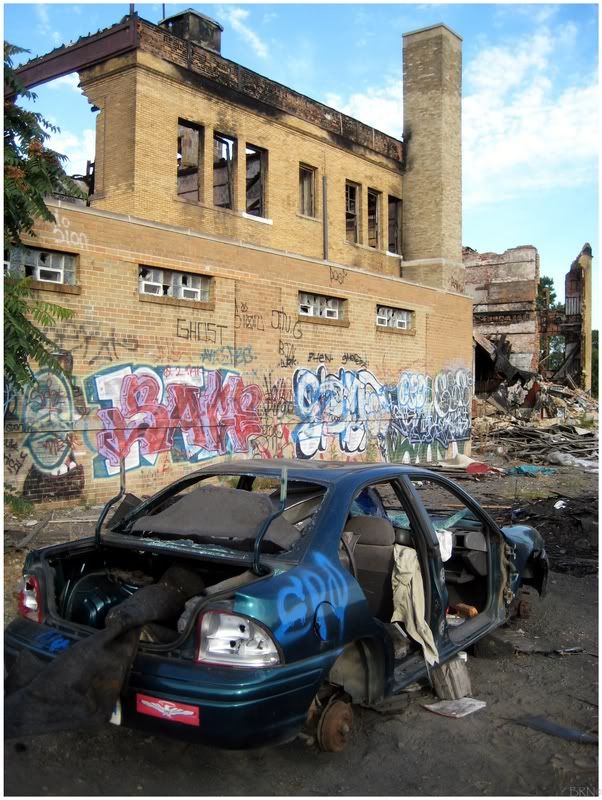 40 or 50 feet more and a car sat near where we'd always hang out. Someone's poor Neon was looking quite worse for the wear.
I actually printed out this picture for my living room, but I forgot it on the memory stick I borrowed from a girl from work. She gave it to me again one day and I realized what I did - she was wondering where that random photo came from.
Anyway, playing hide & go seek with that rabid dog didn't appeal to my desires and I went on my way.
So let's recap...
---
2006
---
2007
---
2009
Near the end of Kwame's corrupt reign, he had this chest beating, bleeding heart speech about how he's suffering a modern day lynching and blah, blah, blah. It was one of those, 'roll your eyes as you see the rabble aroused' speeches; but he did mention something that affected us.
In an attempt to save his ass and win people back over, he promised the demolition of 50 structures throughout the D. He stated that certain structures were chosen because of their proximity to schools and also structures which were weighing down communities with their presence.
---
He only named 24 structures shortly after his speech; and then he was relieved of his duties as mayor of the D before he could announce the other 26.
One of the structures was an apartment building on the west side, which was already demo'ed before his speech - making us all roll our eyes at the fact that likely he just took credit.
The only other structure from that list that no longer stands in McMillan. Now, I don't want to jinx it and come back to find the other 22 demolished, but it sucks that he had to take down our school as one of those 2 structures demo'ed in an attempt to escape that pot of boiling water.
---
I slept over at my friends Chad & UJ's house for the last night during my D visit in March. We had been out the night before, but I didn't need to be at the airport until 5 or 6 - leading me to request a visit to what was left at McMillan before they dropped me off.
My friend Chair and her friend Marnicle had been here previously and Chair sent me a picture of themselves in these left over 'tunnels', wondering if I had been in them before or if I knew what they were.
I didn't know what to expect, but as we made our way over to the rubble, I found a few entrances into these tunnels.
---
The first of these two pictures show what 70% of the tunnels are: about 4 ft high squares which travel due south, then due east. These portions are broken up intermittently by holes created by the destruction company and tunnel endings.
The other 30% is similar to the above picture - bigger areas with small pipes and rooms/entrances everywhere.
I still have no idea what they were for. I don't go into basements very much, but this one school I really like in Highland Park had steam tunnels, so I'm curious if these may have been early steam tunnels?
In any case, there's still something left at McMillan! The demolition company made quick work of 90% of McMillan, but then left behind what you see in these pictures.
The most recent update I've got is that nothing has changed, so my friends better be preparing to drink down here in deeez tunnels!
---
If you scroll back to the pictures of the front entryway, I believe this is the top portion of the clock.
It now sits cast aside in the field.
I'm curious if they plan to have someone pick it up or if it just going to sit there.
---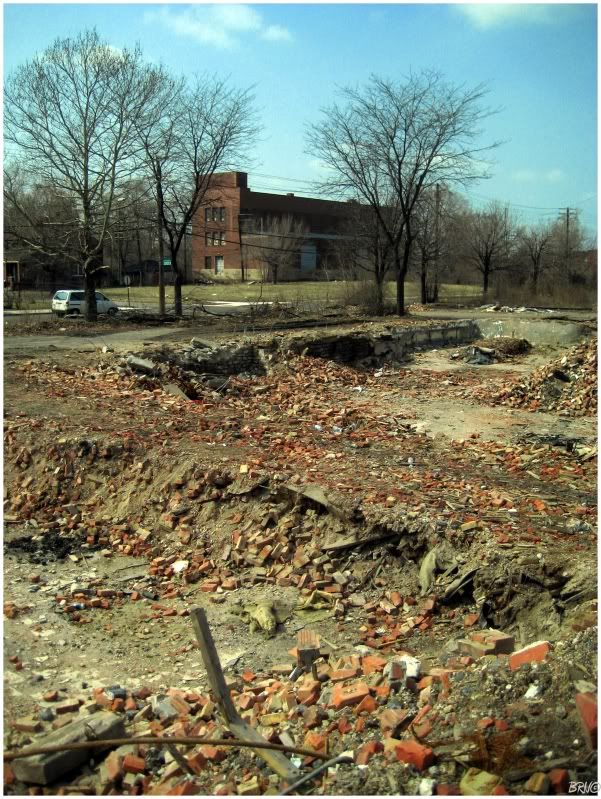 That power substation you see in the back was one of the first things we scouted and wondered about. It was strange to stand atop the McMillan bricks and be able to look directly at it.
The neighbourhood is already terrible pockmarked, so it's even more strange when the few remaining structures disappear and you get new views of the others.
---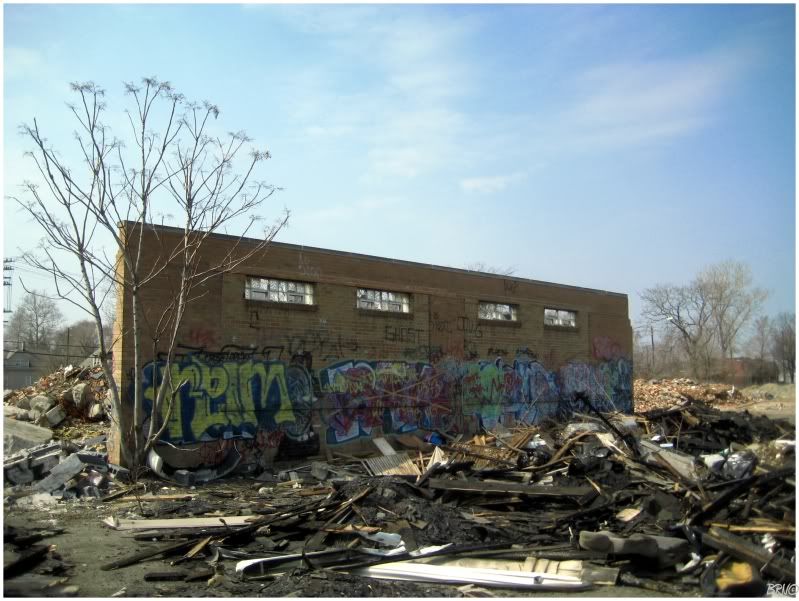 One wall remains standing on the site. I've seen this in Canada, where they'll leave one wall standing to receive historical funds for integrating old structures (yes it's horse shit), but I didn't know it happened in the D too.
Then again, it could just be the demo company being lazy, being incompetent or running out of money - any number of things.
It's just another strange feeling to stand there and see that wall standing on its own. I can still vividly remember walking into the room to which this wall belonged in 2006. I have a terrible memory, but for some reason I have that allotted somewhere in my brain cells, the picture taken by my mind, standing in that room and looking at this exact wall from the classroom to which it belonged.
(You don't know how much I wished I took an actual picture of that classroom now.)
---
Chad was cracking jokes as I walked around with my 211, inspecting what was left of McMillan.
I should totally make a video for this - set it to that Madonna song...this used to be my playground, ussssssed to beeeeee...this used to be my childhood dream...0" I wasn't offended or upset, I actually found it quite funny.
Even funnier was that Chad & I knew that song, but UJ hadn't a damn clue what we were talking about.
Anyway, I'm not about to quote Madonna, but now when I look at this above picture, that song plays in my head.
---
A fairly cold person I am.
I didn't really care about the fires or the deterioration, it was just part of its life; and I accepted that there was no saving McMillan.
Even when Kwame announced he was going to demo it, I told Steve and he was 100x more upset than I.
That remained the same even when visiting the ruins; but the sadness and longing has hit me now as I write this. A few of us have moved away and just don't go over there as much - I don't know if there will ever be another place like McMillan. I've already tried to rack my brain and utilize maps to find a replacement, but nothing stacks up.
The Don & I used to make fun of our Michigan friends who always tell 'old Ypsi' stories - Ypsi being an old psych hospital they had. I know we only had a school, but I can definitely relate a little more now.
R.I.P. McMillan
^1935
Navi
Sources
1 - McMillan School-Detroit to close oldest school - Old-Delray.com