Bunkers along with Highways 461 & 403.
Spring 2009.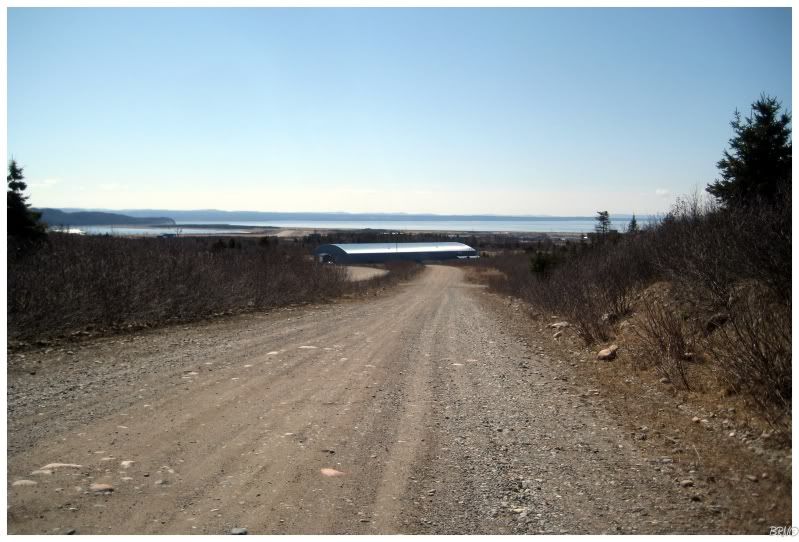 I had returned from Boston to find the snow just about gone. Therefore, I decided to take a nice weekend drive down to Stéphenville.
I had found a picture of some US Military bunkers online; so I set out to find them.
While driving down the road into town, I could see bunker style structures which weren't the ones I was looking for; yet looked interesting enough to warrant parking the car and going for a walk.
---
There were several bunkers; but unfortunately they were held closed with large pieces of metal and accompanying locks.
I bumped the door and hollered a little - sounding the echo inside. The thought of what lie inside excited me.
---
I found a total of 6 of these bunkers along this gravel road which connects two highways.
This was the last one I checked and somehow I found a way inside!
---
Unfortunately the inside had long been cleaned out of its original contents and now stored town carnival miscellany.
---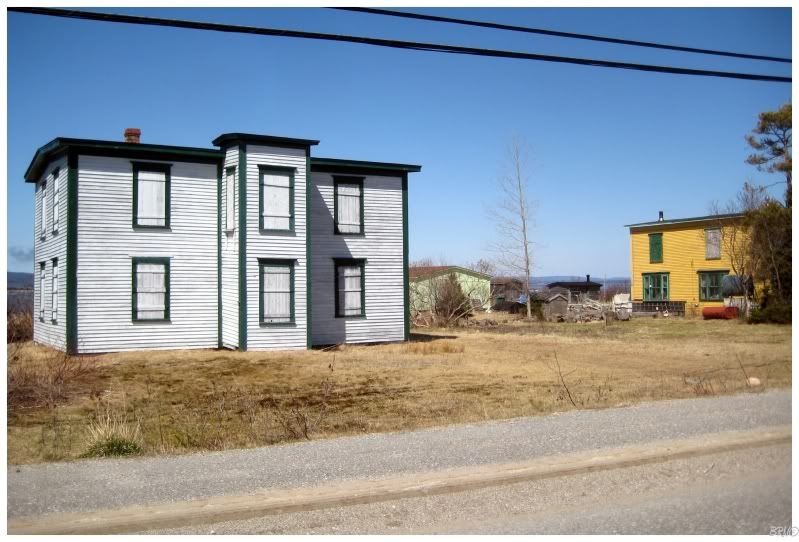 After checking those bunkers, I returned to my car and moved towards the original destination bunkers. I had taken a picture of my monitor showing where the munitions bunker was and therefore went south towards it.
This was the second time I couldn't find the bunker, but I decided to continue south on Highway 461 anyway, since I had gotten up early and driven this far.
St. George's Highway (Highway 461) is a 23.0 km highway which travels from White's Road, through Stéphenville Crossing & St. George's.
I've grown a bit disheartened from NFLD after finding fishing village after fishing village after fishing village; which all look the same. Therefore, it was nice when I came into St. George's and found some unique housing styles which I hadn't seen in the 65 previous fishing villages.
---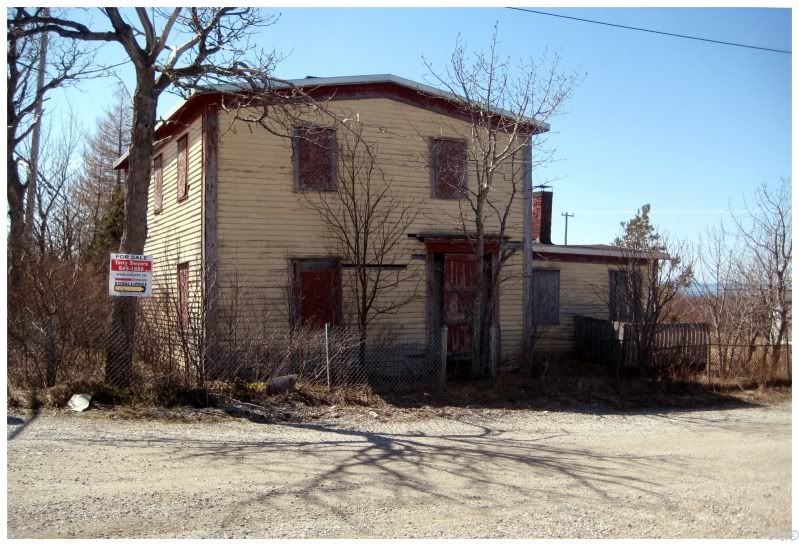 I actually stopped and got out to take pictures of this one, when a man slowed down and hollered at me.
"You own dat der house by?" he inquired When I replied that I did not, he explained how he just saw the unfamiliar face and the Ontario license plate and figured so.
He told me that the house has been sitting like this as long as he could remember; before wishing me luck with my picture taking and continuing on down the road.
---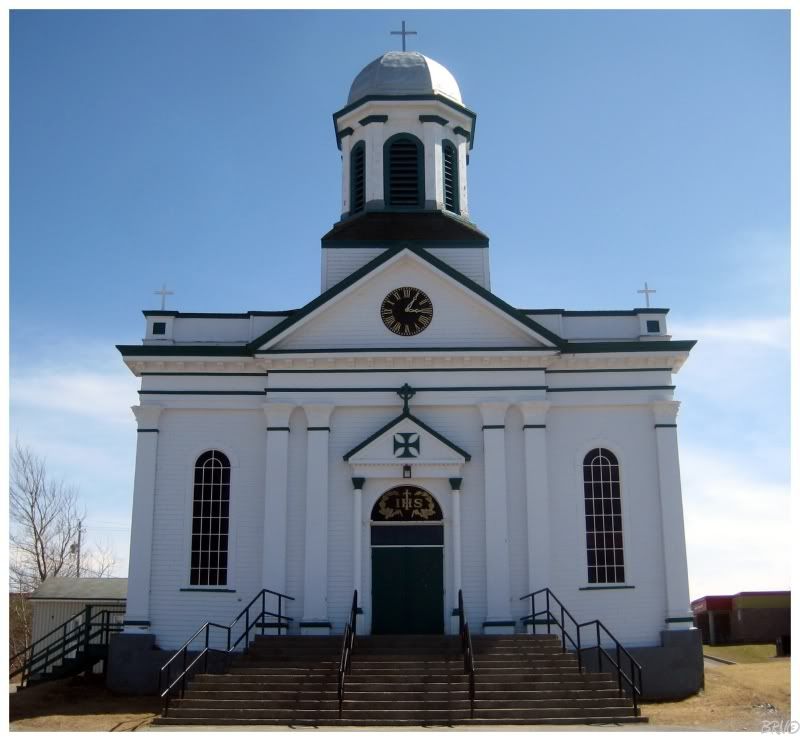 Besides an attractive courthouse, St. George's also has the St. Joseph's Roman Catholic Church.
Started in 1897 and finished in 1903, St. Joseph's was constructed under Neil Macneil, who was the first president of St.Francis Xavier in Antigonish, NS. St. Joseph's was very prominent after its construction and held the seat of the Catholic Diocese from 1904 until the seat was moved to Stéphenville in 1946.
In the past 15 years, concrete foundations have been placed beneath load bearing columns and rotted wood beams have been replaced. In 2000, St. Joseph's was designated a Provincial Registered Historical Structure.
---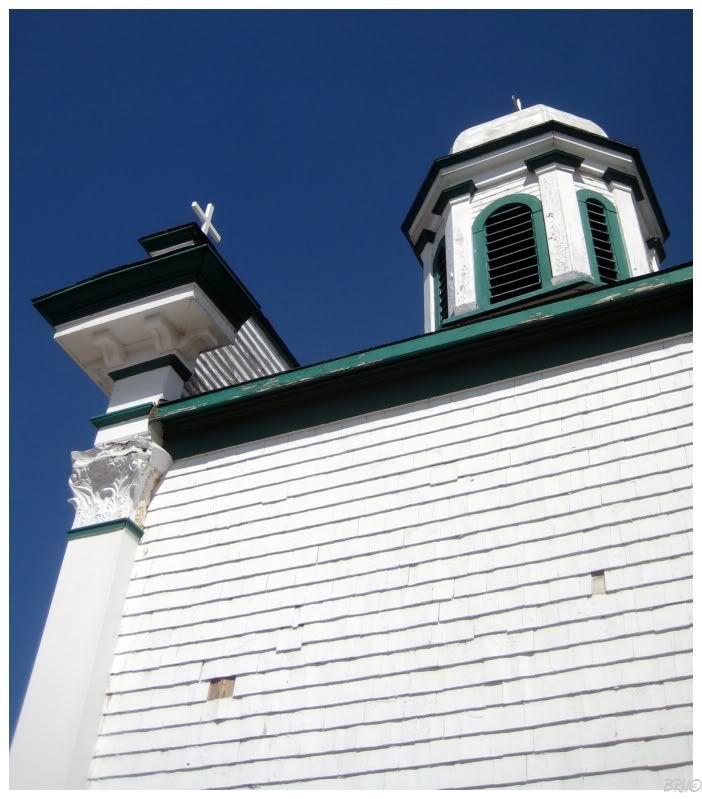 Look Andy! Corinthian capitals!
I was also surprised by the columns that you see on the left. I've become so accustomed to the drab Soviet block architecture style - treasured in Corner Brook - that I'm not used to seeing any architecture that isn't completely necessary and functional.
---
I was driving around the 3 streets of St. George, when I came upon this house. There was a group of young men a couple houses over, but I didn't think they'd see me go in, so I went about it.
Actually, first I had to wait because a large woman and her child were walking up the road. The child was playing in the ditch and therefore, they were meandering and moseying forward at a geriatric's...turtle's...glacier's pace.
---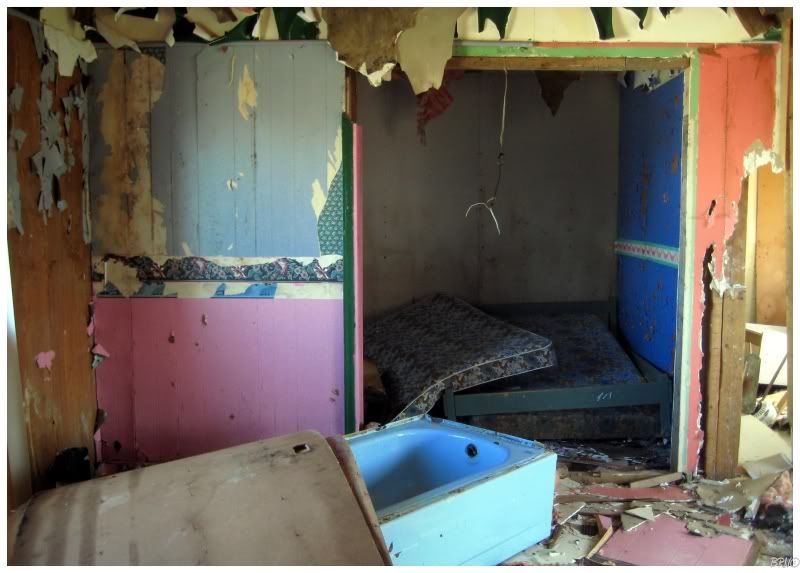 Once they were gone, I found out just how decimated the interior was.
Place was gonnnnnnne!
I'm actually surprised some kid hasn't burnt this down yet.
---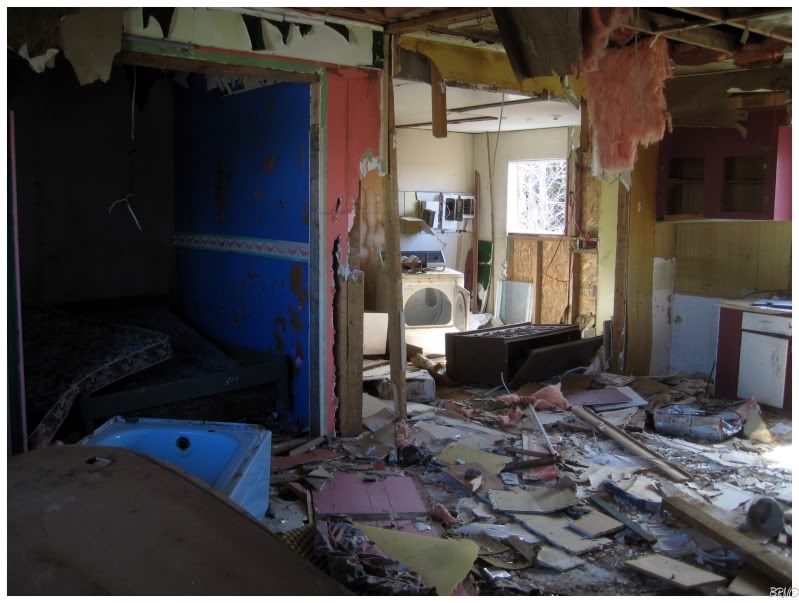 I spent about 10 minutes inside because there was nothing worthwhile.
I went behind the house and the group of young men seemed oblivious to my existence.
---
I still wanted to see more this day, so I returned to the Trans Canada Highway and went further south to the next highway - 403: Flat Bay Road.
403 goes for about 10 km through bush and past a gravel pit until it reaches a fork with a church and a graveyard to your right and another road to your left. I went left and drove around the neighborhood, then planned to take a picture of the church on the way back.
I took the other portion of the road to the end of its 20.8 km length.
This house was maybe a kilometer from the end. There were some really nice houses by the end, but this house just sat on its own.
---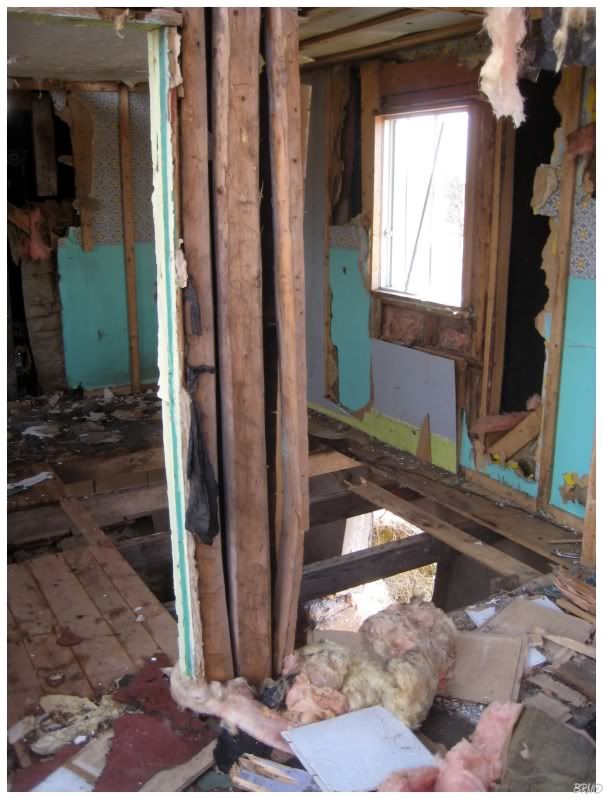 This house was just as decimated, as well as a little more dangerous thanks to a few missing floorboards.
---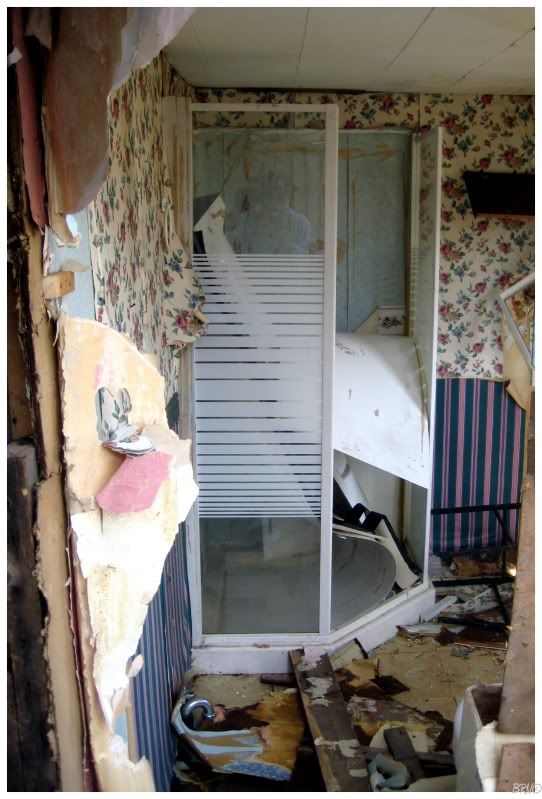 The shower was in pretty nice shape though.
---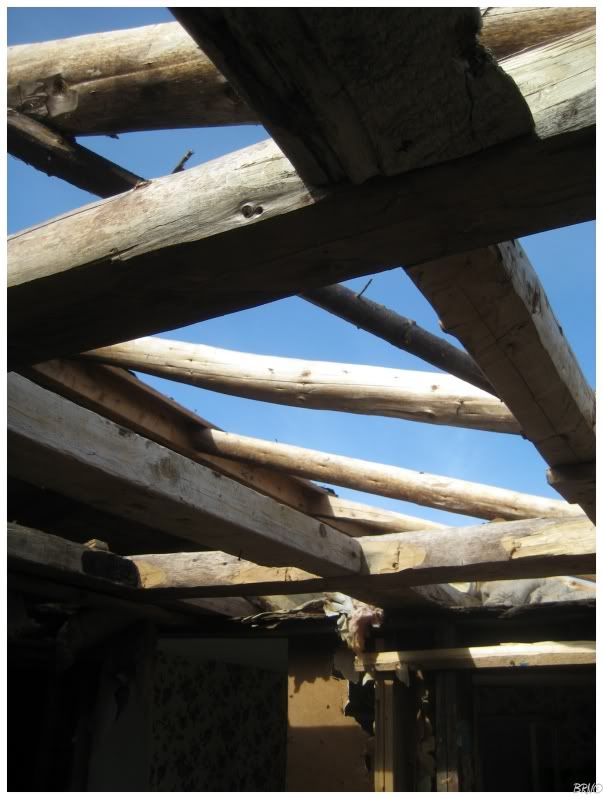 The house did have some interesting attributes to it, in that the roof was made with tree trunks instead of store bought 2x4's.
---
I also enjoyed this old tire turned into a flower pot.
---
I really regret not taking a picture of that church or some of the houses. I hate to depict a road and communities with only a blown out house.
I did take this picture as I was leaving the house though. It shows a really interesting geographic feature where a giant sand bar extends out into the ocean as far as the eye can see.
I've never seen anything like it in all of my travels. I'll actually probably be back to 403 one day to hike out there.
Navi
Sources:
1 - St. George's: St. Joseph's Roman Catholic Church - Registered Historical Structures
2 - List of NFLD & Labrador Highways - Wikipedia