In the summertime....
Spring 2009.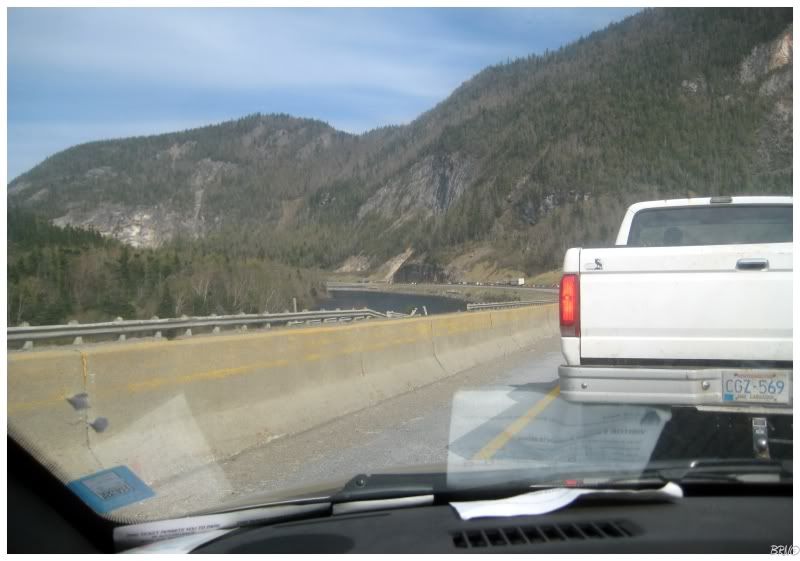 Throughout the winter I was checking off a lot of the places that were located within an hour or two from my home, because it made an easy day trip. It's not that I'm cheap by any stretch of the imagination, but when it's the winter and you have to spend the night in a hotel instead of in your car or a tent, you can save a lot of money by going on shorter, day trips.
Now that it was into the summer, I planned to leave directly from work on Friday and drive for about 4 hours so that I could camp and see some Central Newfoundland places.
About 10 minutes from my work there was a traffic jam on the usually desolate highways. I was confused for a bit until it cleared in approximately 15 minutes and I realized it was a crew erecting fences and clearing rocks from the roadway - in response to an apparently recent rock fall.
---
About 3 hours into the drive east, I decided to stop and get some pizza in Grand Falls - Windsor.
I was humoured by the pizza place - Donnini's. There used to be this kid who was all about Don and adored him and we always made fun of him in response. Then said kid went ahead and started dating a girl named Donniella - which upped his harassment dosage to elementary school levels.
Donnini's pizza reminded me of Donniella.
---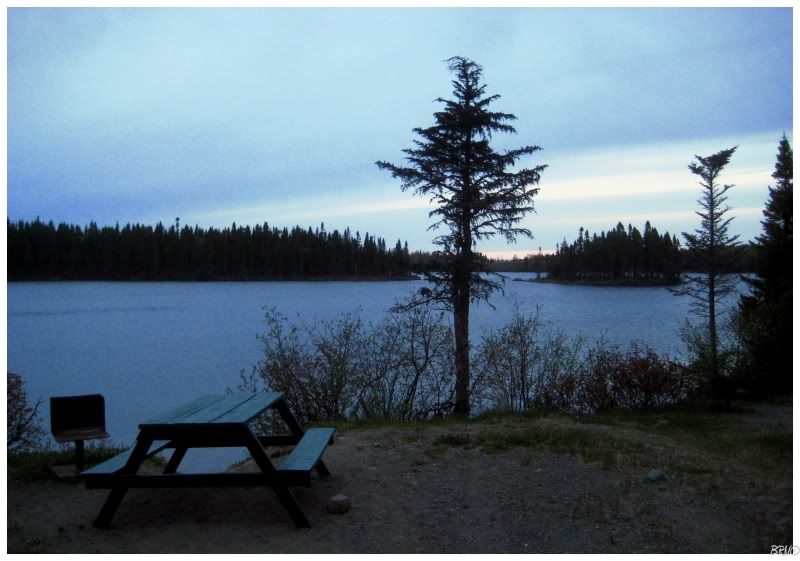 It was only 45 minutes more from Donnini's to my destined campground. I checked in and fought off mosquitoes constantly as I quickly set up my tent.
It was still only 9 o'clock, so as I evaded the mosquitoes into my tent, I set up a movie on the laptop and relaxed atop my air mattress for a few hours before finally falling asleep.
---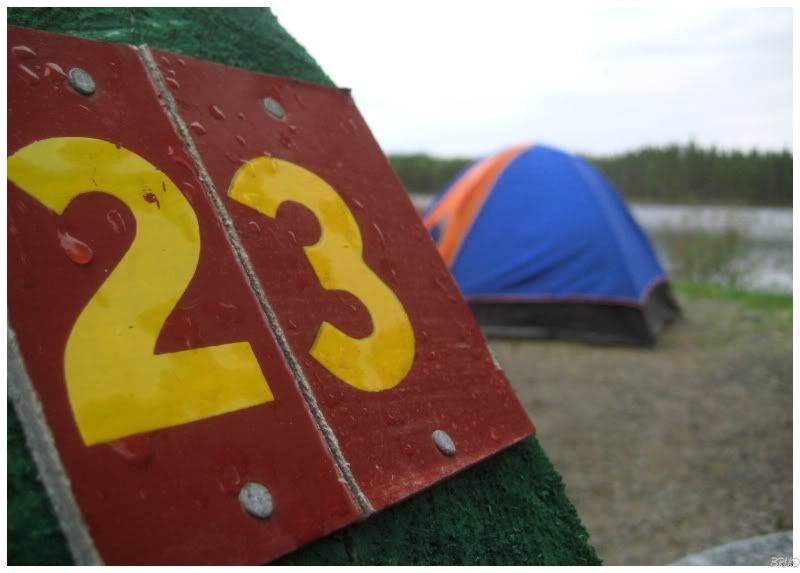 Going to bed at maybe 1030 or 11, I was up and out of the campground quite early.
The fact that my air mattress has an air leak doesn't hurt - it loses enough air to disturb you after approximately 7 hours of sleep.
---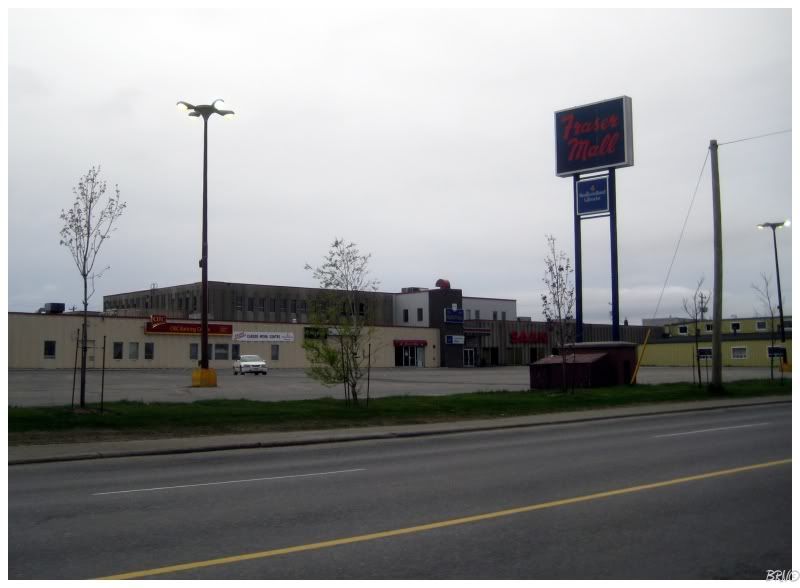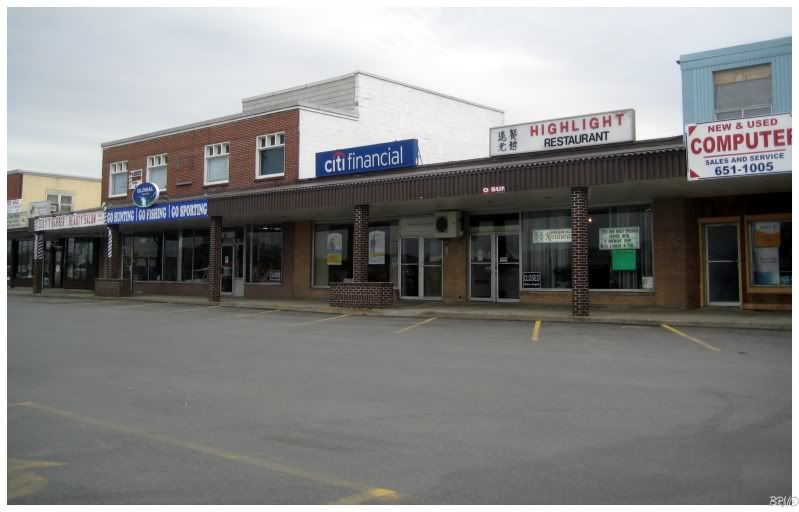 There were no complaints escaping my mouth though; waking up a little early was a small price to pay to be actually seeing new things. I appreciated having the time to see more of Gander than what you get from speeding by it on the Trans Canada as you head towards St. John's.
While it may not look that exciting, I really enjoyed driving around Gander as many of the stores and buildings were in a 60's style and it was like being able to take a time machine back to the time you see in your parent's teenage pictures.
---

When I first came to Newfoundland, I googled their skateparks and found a fantastic Flickr set showcasing all of them. Most were utterly horrendous, but the Gander one actually looked pretty fun and had me the most excited.
After some Sausage N' Egg McMuffins1, I headed over to the skatepark and got to work at 730 in the morning.
---
...and put in work was what I did.
The skatepark was actually only mediocre and had a case of looks better than it is. There was a smith grind I wanted to do but I backed out because no one was around and the fact that I'm soft.
Regardless of that, I had a great time setting up the tripod and blasting 2 foot airs out of the 10 inch spine.
---
I didn't want to handle the ramps too much though - after all, they had attitude.
---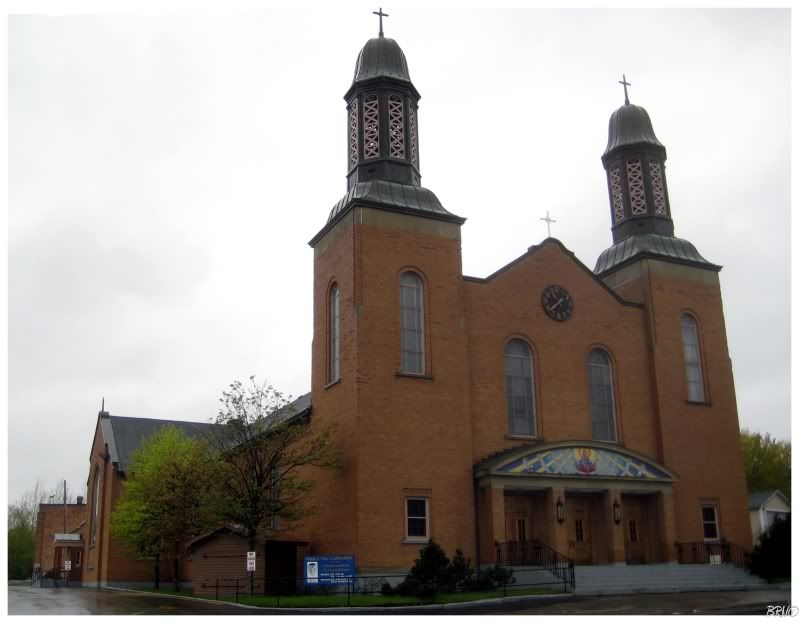 Gander was the predetermined eastern terminus of this trip, so after the skatepark I headed west for about an hour. I came to Grand Falls - Windsor, which is a great little community in itself. I wandered the streets (in the rain) and snapped a pictures of a few structures.
Coming to this church, I figured it HAD to have an incredible interior, but I heard a few voices as I approached the door and my anti-social self moved along.
---
I wanted to simply wander around Grand Falls - Windsor, but I had an ulterior motive in the local school. I had recently read about local youths making a hangout of a closed school and setting fires there.
After seeing that article, I set out to check out the school before the morons destroyed their hangout.
---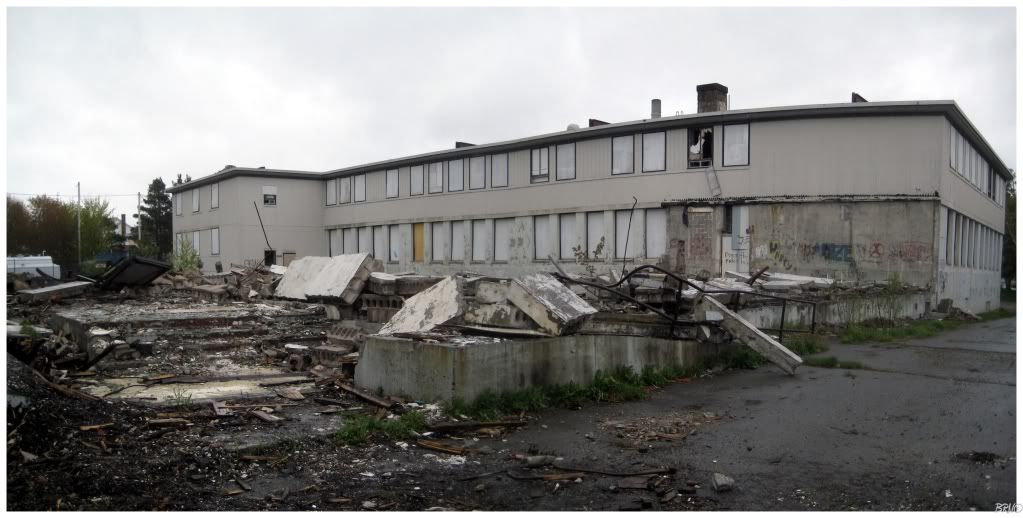 The previous fire had consumed a considerable amount of the building, destroying about 30%. The remaining portion was boarded and a pile of rubble lay where the fire had occurred.
I noticed a few holes which led into the basement below the rubble portion. Quickly I scurried into the hole and into the dark basement, crouching beneath the low ceiling.
---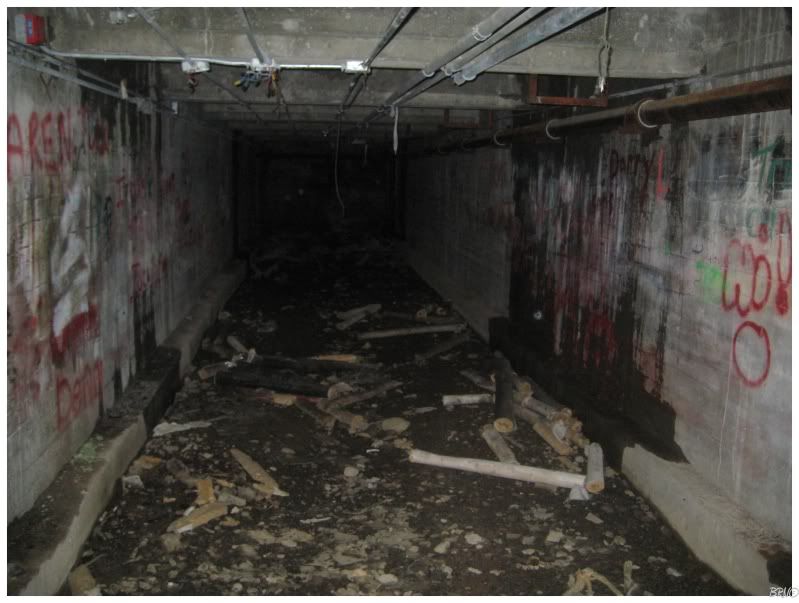 About 5 minutes passed and I concluded that this basement didn't connect to the actual structure.
---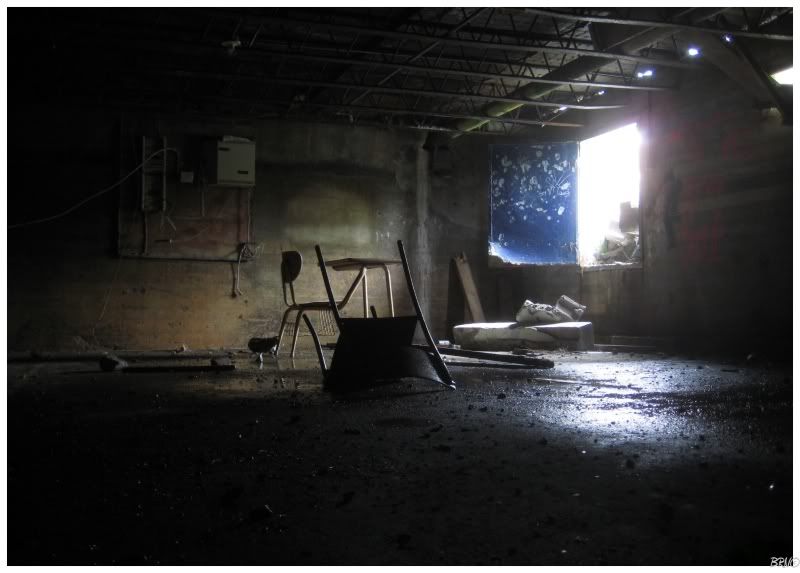 I was frustrated about not getting into the actual building, but overall I just had to chuckle.
I took an awesome picture of a lonely chair and emerged to the parking lot again.
---
I had a mine in mind to stop at near Grand Falls-Windsor, but lack of quality directions and a GPS unit squashed that idea.
The last item on the itinerary was the Dorset Trail - Route 410 up to the Baie Verte Peninsula - which is one of the major highways in Newfoundland. The Baie Verte Peninsula is located in Central Newfoundland and I didn't know much else about it besides what I could see on a map - a few towns reachable by a main dividing highway with perpendicular highways branching off near the top.
---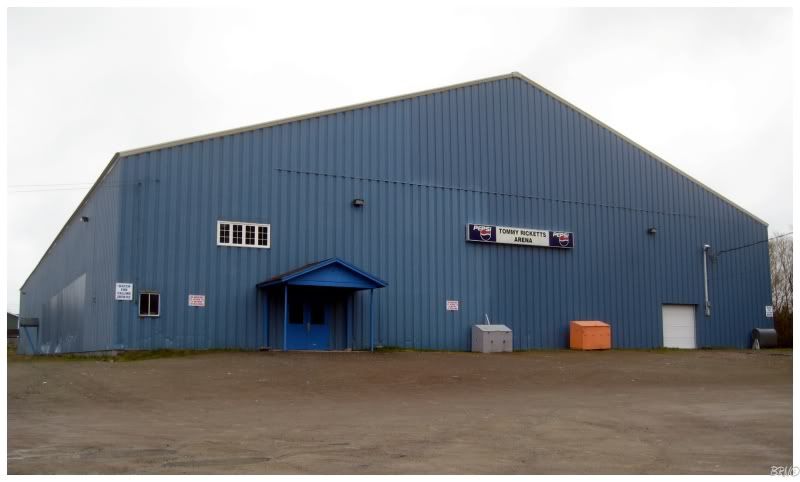 Highway 410 is 89 km and the first 62 kilometers are devoid of communities. Although, after enduring this isolation, you're rewarded with Baie Verte; a neat little community with a lot of great buildings that make you feel as if you're in the 60s or the 70s.
I wanted to take pictures of some of them, but there were far too many people outside even on this rainy day. I turned around in the arena parking lot after driving around the town for a bit; just taking in the great atmosphere, even if I didn't want to draw attention with camera snaps.
---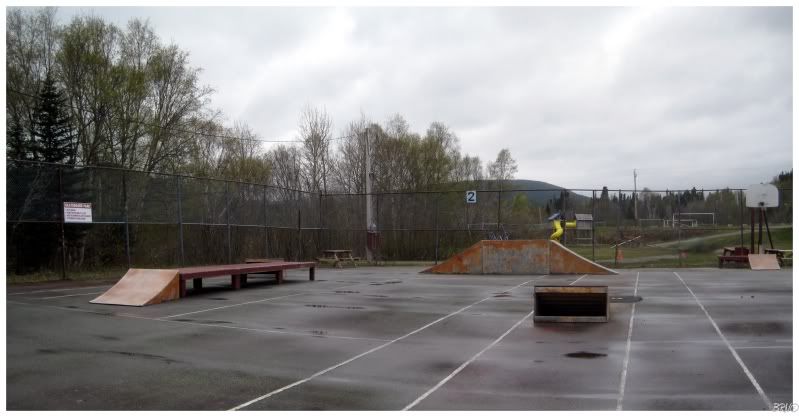 On my way out of Baie Verte, I happened upon the skatepark.
I was tired and didn't have another change of shirts if I worked up a sweat (and it was raining); so I walked around and checked it out before sitting down for a bit and enjoying Froot Loops for lunch.
It looked like some fun could be had, but I moved along without using the bicycle.
---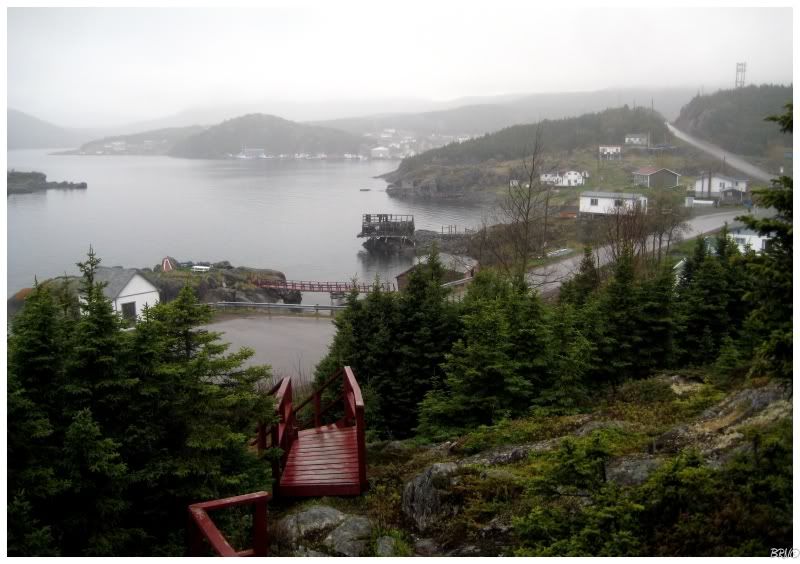 Another 27 kilometers along the highway lies Fleur De Lys and the end of Highway 410. Fleur De Lys is scenic community, as you can see, which holds the end of the 410 in a cul-de-sac with a trailway into the woods.
The trail said the entire hike was about a kilometer, so I decided to take a break from driving and check it out.
I could have asked for conditions better than light mist and overcast, but at least it wasn't raining cats & dogs.
---
The trail was a collection of boardwalks through marshes and staircases up and down rocks.
On this crumby day, there wasn't much to look at besides some near-shore islands and a fog lantern.
Still though, it was an enjoyable solitary stroll.
---
There was one more community which was just off the road - Coachman's Cove.
At 3 kilometers (about 2 miles) off the highway, how could I not turn down the road and see what was there.
Driving through, Coachman's Cove was the typical fishing village: very linear, with most homes dotting the shore of the circular harbour.
Much like Fleur De Lys, I came to the end of the road and there was another trail into the woods. I attacked the terminus trail again and after about 15 minutes came to the above clearing.
---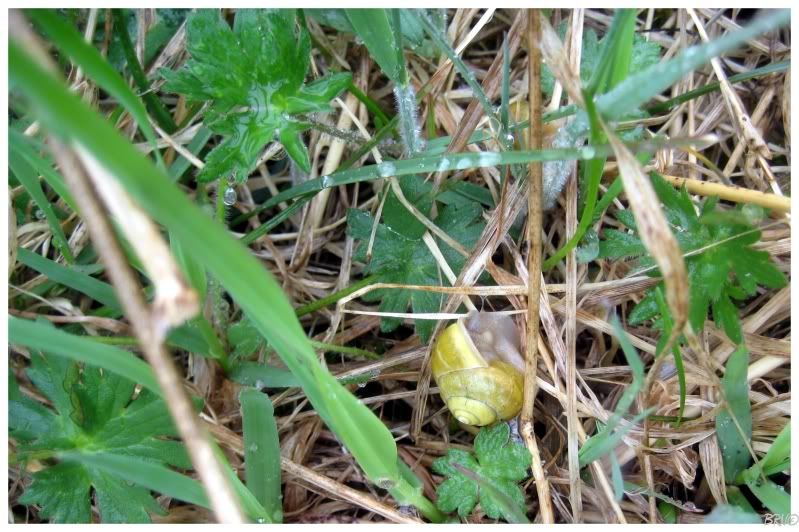 I walked about 10 feet before noticing tons of little yellow balls on the ground - snails!
It didn't appear like there was much at the end of the little clearing, so I decided to spare a few snails and head back towards the car.
---
I didn't feel much like camping again, so I decided against any of the connecting highways and set about going home.
One stop was left as there are observation decks along the road where you can overlook a closed, open-pit mine.
---