A Quick There & Back.
Summer 2009.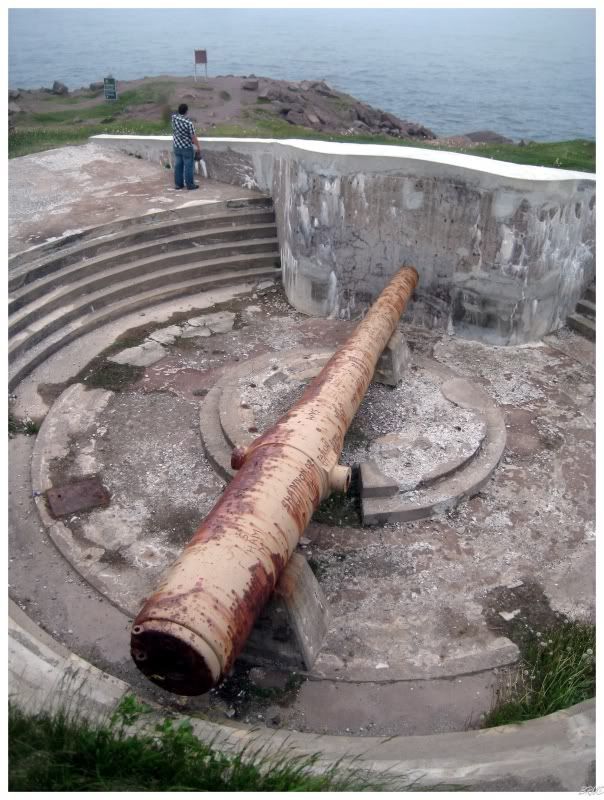 After a long week of work, I called up my buddy and went out to the local dance bar on Friday night. Once there, we ran into some of his friends, one of whom was traveling across the island tomorrow to celebrate her birthday in St. John's. She wanted my friend to come out and he deliberated the 7 hour drive. After thinking about it for a minute or two, he asked me & I jumped on the opportunity to encourage our travel over to the capitol.
That was about all he needed and it was set that we would head out the next morning.
Anyway, after a long night out, 9 a.m. came fast, but I didn't have to drive so how could I complain? We reached St. John's midday and since my friend had never seen Cape Spear, I brought him there first. You know Cape Spear? Most eastern point in North America, WWII fort, couple lighthouses, yadda, yadda, yadda.
It has been covered here before.
---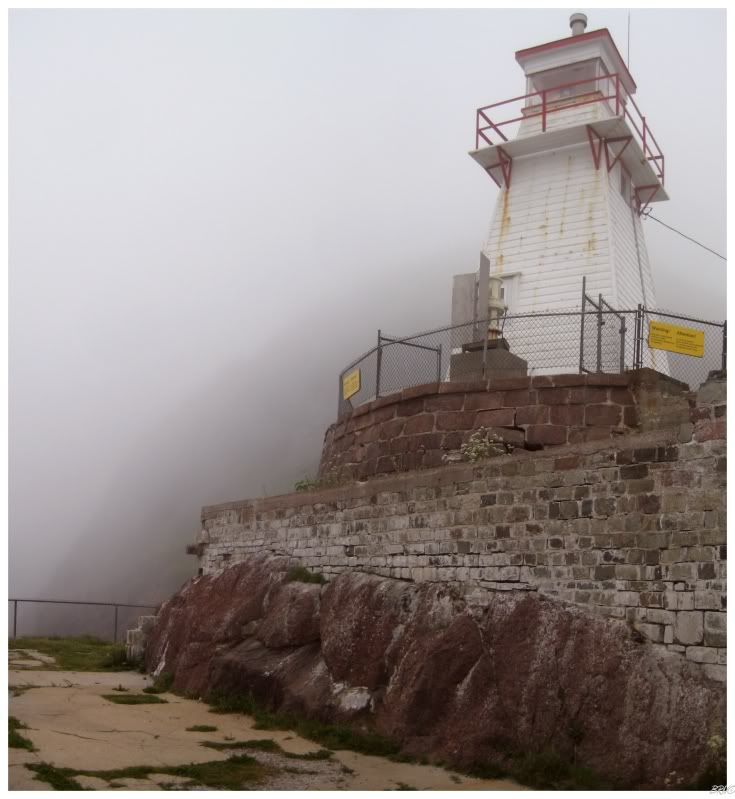 After Cape Spear, we went onto something new to me: Fort Amherst.
Fort Amherst consists of one road, which runs through a marine district with boat slips and coast guard structures, before the actual group of houses that make up the town of Fort Amherst. There are about 20 houses in total, most of which you have to walk by, since you have to park your car back a ways and walk through the street since there isn't ample parking for visitors. At the end of the street sits a promontory out across The Narrows of the St. John's harbour. Atop this promontory sits a keeper's house and the above lighthouse.
I imagine most people take the picture from the road, but I was glad my friend & I climbed down to get the old stone wall protecting the Fort Amherst Light as well.
In 1951, this was demolished in order to construct the 25 ft. tower you see above. Also, the fog horn blasts every 20 seconds, so while it wasn't painful to the ears, it was certainly irritating and we didn't dawdle too much.
---
You can see the shadow of the oceanside cliffs in the above picture and they were even more impressive as you moved closer.
When they were capable of making you forget that blasted air horn for a few toots, you know they were impressive.
---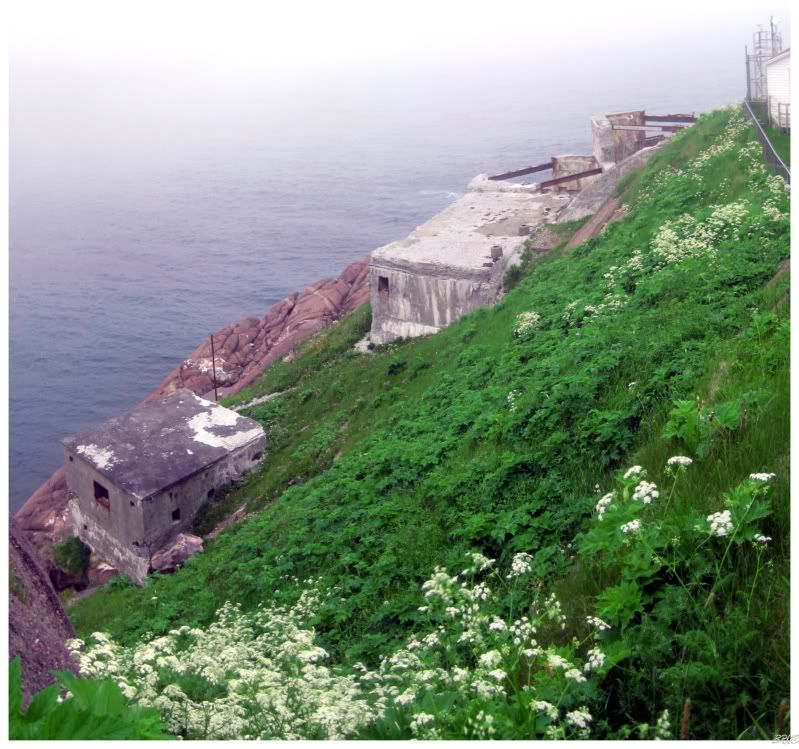 You can easily look across The Narrows from Signal Hill onto Fort Amherst. Therefore, whenever I was at Signal Hill, I would look across and salivate about, yes, the lighthouse; but also, the WWII ruins which sat, slowly washing away into the Atlantic.
I had previously seen a few pictures from inside the ruins, but with the keeper's house right at the lighthouse, I wondered how the heck people were going about gaining entry.
---
Although, walking near the lighthouse, I discovered they made a revision to their policy!
Nice!
(Yes I know I'm a dork, thanks.
I also thought of playing the 'Oh the ruins are in disrepair? ...but I like my ruins in good condition!' angle.)
---
As we descended the stairs, I came across a guy with leather pants and anti-shirt...what the hell?
I turned a corner to receive a disgusted look from some other guy with a fro-hawk and a shiny shirt...
What in the Sam Hell was going on here?
---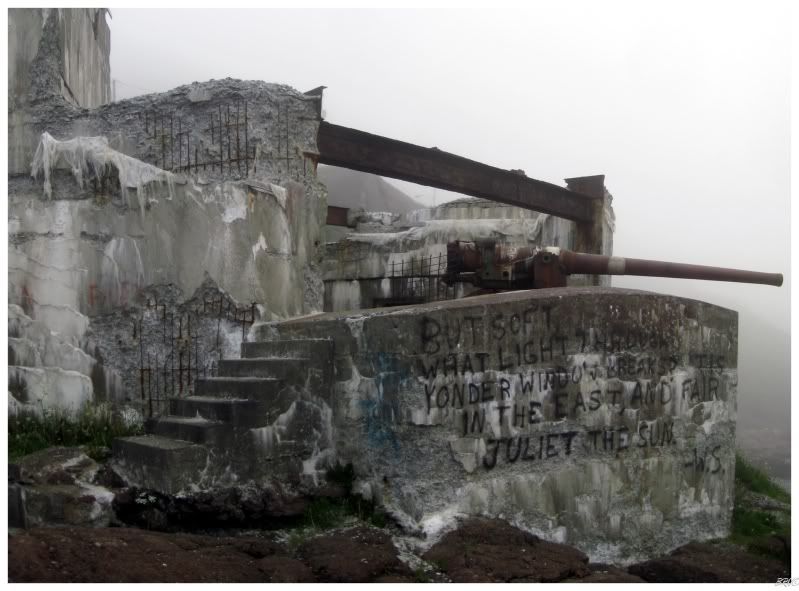 It ends up, as we continued looking around, we ran into a few photographers and there was a male model photoshoot going down.
We couldn't happen upon a female photoshoot, right? It couldn't be girls in girls' pants instead of guys in girls' pants?
I guess it's better than the people at the Packard; who came across the guys dressed up as super heroes filming a gay porn0.
---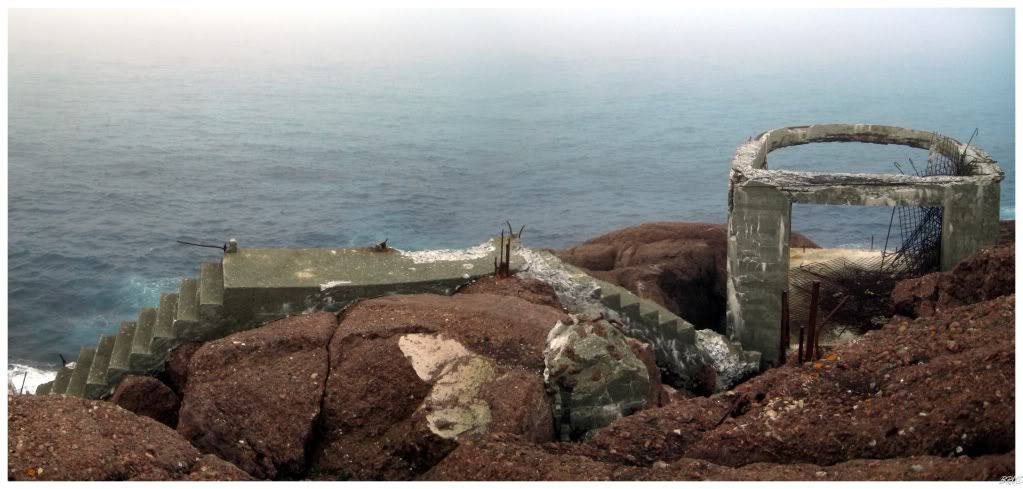 I really wanted to take a picture with, or of the male models, but they all seemed disgusted with my presence and angered by it.
Instead we climbed a down the rocks, closer to the ocean, away from the male models.
(Not close enough for you to scold me about the dangers of the ocean...thanks.)
---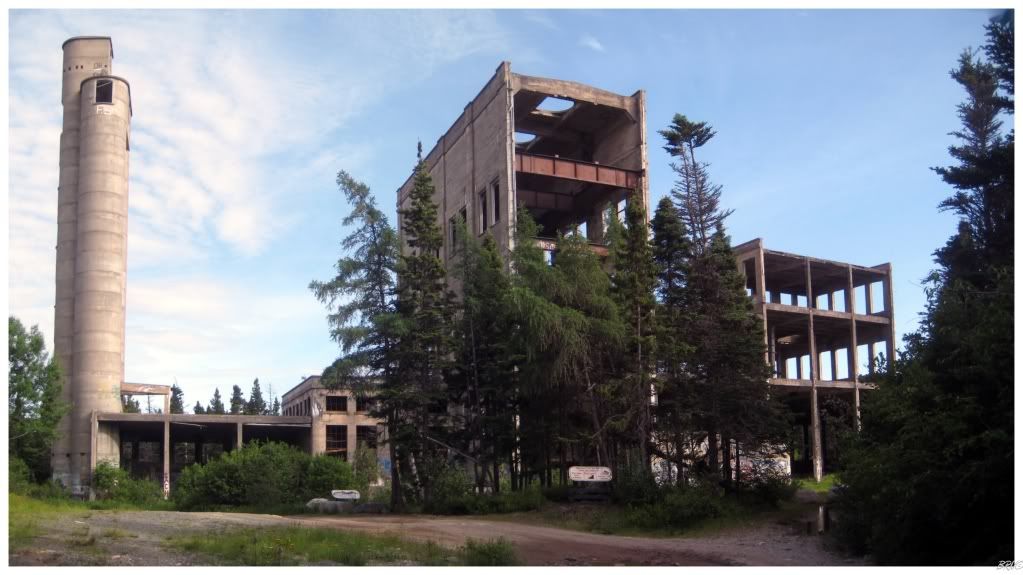 There isn't a lot to Fort Amherst, so we left after maybe 20 minutes. Along the way, we found police & conservation officers near the harbour (this was once we were back in the car). Thinking someone fell in the harbour, we were suddenly alarmed when our car, moving at a very slow pace, crossed the path of a moose struggling and escaping the harbour and running off into the nearby woods!
So after however many non-newsworthy years in Ontario, I made the news in Newfoundland in a matter of months. That's right; I was on the NewfoundlandTV news and that means I'm better than you.
We went back to the hotel, cleaned up, and hit the town. We drank lots of drinks and danced at a martini bar before consuming poutine and calling it a night around 4 a.m.. Of note that night, I was talking in French to this girl and she was very impressed with my French phonetics - which is hilarious to anyone who's heard my terrible French with words like katahhzz (Quatorze (the number 14)).
Anyway, we woke, we ate taters with feta & black olives, and we hit the road.
About halfway home, I thought it would be a good idea to break up the drive with a stop at the The Terra Nova Sulphite Mill.
---
The Terra Nova Sulphite Company Ltd. was formed to build a pulp & paper mill in Central Newfoundland at Glovertown. They acquired 1152 mi² of nearby forest parcels and water power rights for the project.
Through 1921, under the guidance of a firm from New York, construction had begun and rooms were built to hold a variety of things from machine rooms to digesters. Machines began to arrive and it was expected that the mill would go into operation in 1922.
Unfortunately, the Norwegian mill financing portion fell through near the end and left the developers without sufficient funding. The land and rights was sold to another company which ended up halting the construction in the fall of 1921 - they believed the mill was too small and there wasn't enough timber - ultimately deciding to instead focus in Grand Falls.
---
The mill has sat empty ever since 1921 with some signs recently added depicting the historic aspects of the compound.
---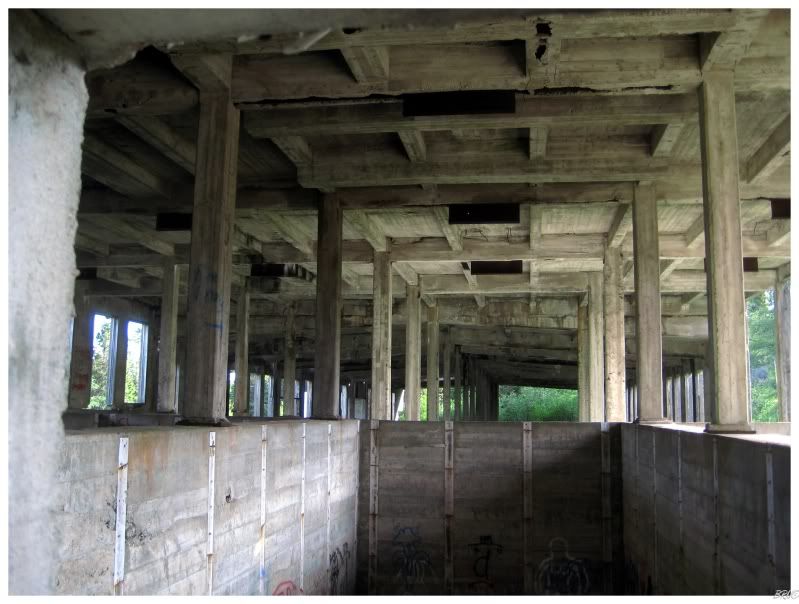 The stairs to the higher floors and the roof have long since been removed and the timber has completely rotted away - leaving a concrete shell of a structure.
Nevertheless, it was still nice to get into something in Newfoundland that wasn't a house or a school & also had some size to it. Also, I've seen pictures of Romanian buildings where the gypsies rape them of everything but the concrete, and the Glovertown mill reminded me of those buildings.
---
My friend and I took our time walking through the shell, climbing atop various window frames and concrete pads. I think I saw more name tags here than any other place in my entire life - Jimmy 1977, Irene 1991, Dexter 2003, etc., etc.
Seeing all of these name tags, I wondered if there were instances where a father had written his name here and then his son had come 17 years later to write his own.
There must have been.
---
Anyway, we finished up there and got back on the highway. The mill is listed as a local attraction on the town's website, so you have to assume it is going to sit there for decades to come (knock on wood).
Another 3 or 4 hours on the highway and it was nice to relax after a long, but great, weekend in capital city.
Navi
Sources:
1 - Wikipedia - Fort Amherst
2 - Town of Glovertown - Local Attractions - The Old Mill