Southern Labrador - Day 2
(Continued from here)
September 2009.
As parts of my body escaped the solar blanket I was using for warmth, I didn't fully awaken, but just slightly, like when someone rolls into you in the middle of the night or a family pet jumps on the bed. Three hours would pass before I suddenly awoke, freezing cold, and tired of trying to force sleep in the Chrysler's driver's seat.
I gazed at the dreary, rainy day outside my windshield and decided to get going: I was determined to be on the 10:30 a.m. ferry back to the Island of Newfoundland and I still had things to accomplish before that time.
The first destination was Point Amour lighthouse - only 30 kilometres (18mi) from where I was sleeping in my car. Driving this paved portion of Southern Labrador, I was amazed at just how much uglier Labrador was while dreary and grey - it was night & day versus the sunny skies of yesterday afternoon.
I quickly arrived at Point Amour and felt the wind shake my car while my ears funneled the whistles of the strong winds in the worn Intrepid seals. Point Amour Light was impressive even from my car, but these conditions weren't going to do the site any favours.
---
During the 1800s, the Gulf of St. Lawrence and subsequently, the Strait of Belle Isle, became important shipping lanes for steamships traveling from the Province of Canada to Europe. Four lighthouses were constructed to increase safety for those traveling through the Strait of Belle Isle - West Anticosti Light on Anticosti Island, Belle Isle Light on Belle Isle (an island in the strait), this Point Amour Light which would become the second tallest in Canada at 109 feet, and lastly, the tallest lighthouse in Canada: Cap des Rosiers on Quebec's Gaspe Peninsula (112 ft).
---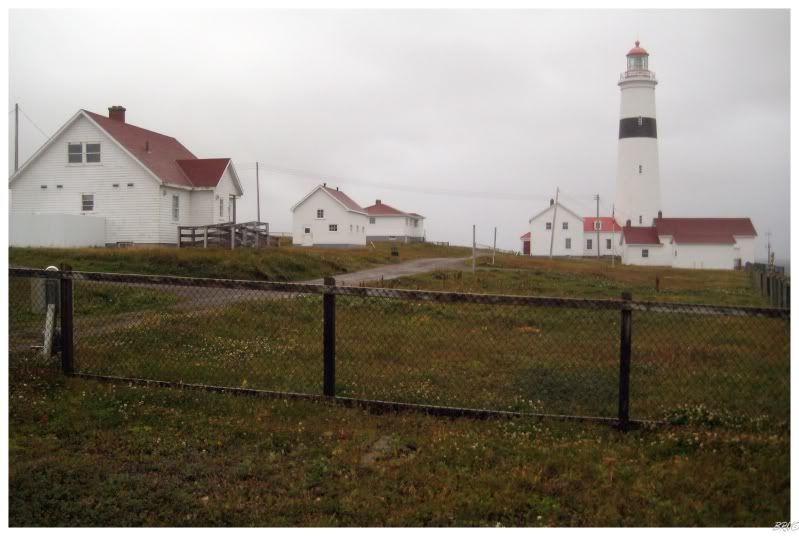 Washed out skies, moderate-to-heavy showers and intense winds aren't ideal lighthouse exploring conditions, but I was here, so I had to make due at 7a.m. this Sunday.
I hurriedly checked out the grounds, leaning against the wind - as one would do against a door which they wish to squeeze shut - whenever I stopped to take a picture. After about 5 minutes of that, I had enough of the weather conditions and rushed back to my car to warm up. The five minute shock from heated comfort to blasting winds ensured that I was considerably more awake afterward.
As I sat in the car and huddled with the heating vents for warmth, I looked out at this random dude's one person tent which I noticed earlier. It was blowing furiously in the wind and I commended his resolved to camp here, in these conditions. I also looked at the wide open warehouse I also saw earlier and really wondered why the lonely traveler didn't take advantage of it; it was surely being used for highway maintenance storage, but there is zero chance any Labradorian would come along and tell the guy to go camp on the grounds instead...
...heck, they'd probably would have gave him a couch to stay on.
---
After watching that tent for a good five minutes while warming up, it was time to move on.
The crumby weather conditions persisted, but I didn't get a motel for the night so that I could explore more, so I wasn't going to let the conditions stop me either - on to Quebec!
---
If you're confused by how Eastern Quebec is located here, then look at this map & zoom out until you understand.
According to Google Maps, Route Jacques-Cartier runs 75km from the Quebec - Labrador border to Vieux Fort (Old Fort Bay) - and I only had 70 minutes before the ferry left for the Island of Newfoundland. The Quebec highway ends in Vieux Fort, where the north shore of the St. Lawrence continues with fishing villages only reachable by boat as they're not connected to any road network.
Anyway, I only made it halfway to the end of the highway - stopping after the community of Middle Bay. I noted the time when I left Blanc Sablon and knew that once 1/2 of that time passed, that I would have to turn around to catch the ferry.
If you're questioning how I couldn't make 71km in 35 minutes while driving as fast as I could; then please go back and refer to the picture with the Welcome to Quebec sign you see a couple pictures up. I was actually driving past things which I wanted to take pictures of, just to try and make it to the end, but it wasn't meant to be.
I normally wont hastily drive to the end of a highway just to get it done, but I didn't know when I'd ever be back in Far Eastern Quebec / Southern Labrador.
(p.s. the above picture looks funny because the rain picked up and I took too long between the two shots of the panorama.
I didn't notice how bad it was until just now and I'm too lazy to go back and fix it.)
---
I made it back to Blanc Salon earlier than I estimated, so I hurried and checked out their skatepark.
It would definitely be a great location to film something and get a lot of 'where the hell is that' questions once you put out an edit.
---
The skatepark was behind the arena...so of course I had to take a picture of the arena too.
...and no, that's not the same arena from day 1.
---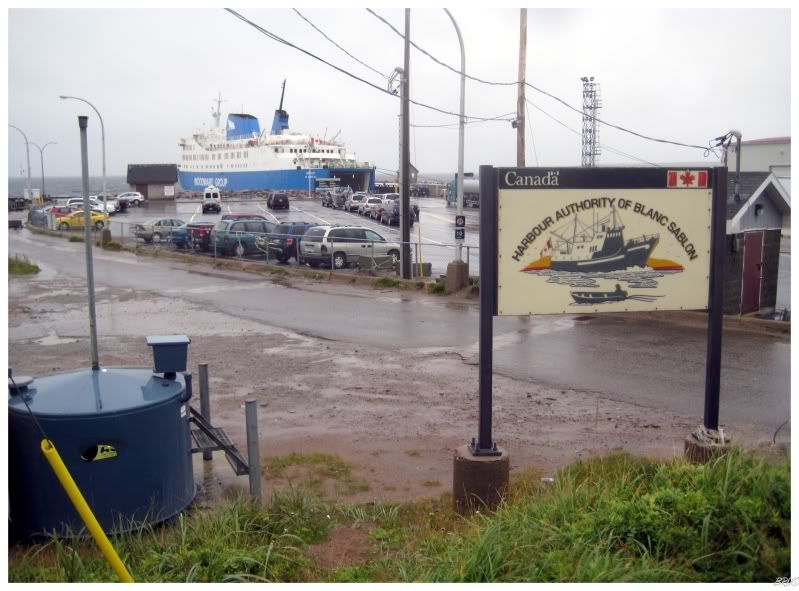 After a few minutes at the skatepark, it was time to get in the line to go back to Newfoundland.
I still ended up waiting about 20 minutes to board the ferry...and I cursed every minute of it, because if I would have known they weren't as serious with their departure time as they fronted, then I could have dawdled a little more in Quebec.
---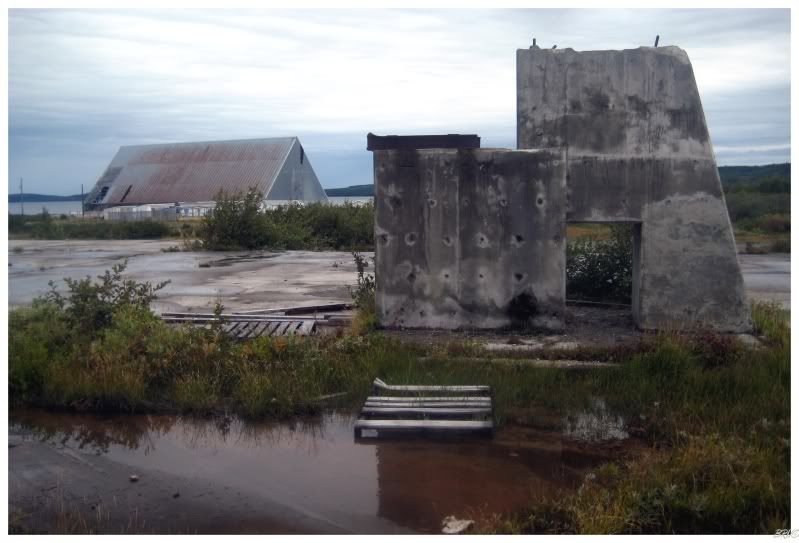 The ferry ride back was utterly uneventful. I was tired, so I put my head in my hand and caught about 10 or 20 minutes of sleep during the crossing.
My original plan was to get back to Newfoundland early on Sunday to head even more north, but because it was rainy and relatively cold (41°F/5°C), I abandoned that plan and decided to head home.
Along the way, I passed the above building, which I've seen 7 or 8 times now, but never bothered to stop due to its boring appearance. Driving along, you see that the building is right next to the bay and I always figured it to be either a simple warehouse or at best, an exhibition place - neither building types which would pique my interest enough to stop.
...but I had nothing better to do today and a few extra hours...so why not!
---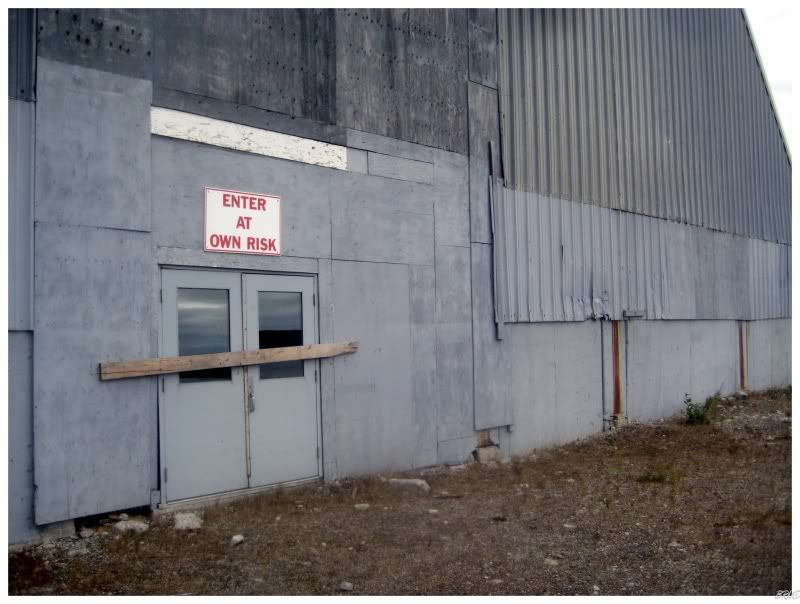 I had a good laugh at the warning signs.
To come from such a bubble wrapped place, Newfoundland definitely gains points as it leaves the decision up to me, instead of hiring security and putting up the-world-is-going-to-end-if-you-go-past-this-point signs.
---
Peering inside...oh ho! Holy crow!!! It's an arena!!!
For the longest time now, I've been looking for a small town with an abandoned arena. I know I've been to Buffalo Memorial Auditorium, but the desired 'hockey arena' changed to 'small town hockey arena' once I had completed that. I've periodically looked for abandoned arenas online, periodically googled "abandoned hockey arena" and also had my ears perk at the news of anyone's small town arena being replaced.
How could there be a hockey arena in every Canadian town over 3000 people, yet somehow not one former arena is sitting abandoned? This I always wondered...until I finally found one in Newfoundland!
I've said this a lot, but, Newfoundland doesn't have A LOT of stuff to check out, but it does have some UNIQUE stuff to check out.
---
I circled the building and unfortunately there wasn't an easy way in.
I did find some type of decaying sea creature nearby though. I have no idea what it was though, but its skeleton was odd and somewhere between dog & bear sized.
...but that's neither here nor there.
---
I continued to an old wharf and sulked about the lack of an entrance. I had been walking around and drawing attention to myself for far too long to go about making an entrance now either.
I started to work out how far the arena was from my home and how I could drive back next weekend, equipped with a ladder and in the early morning hours...
---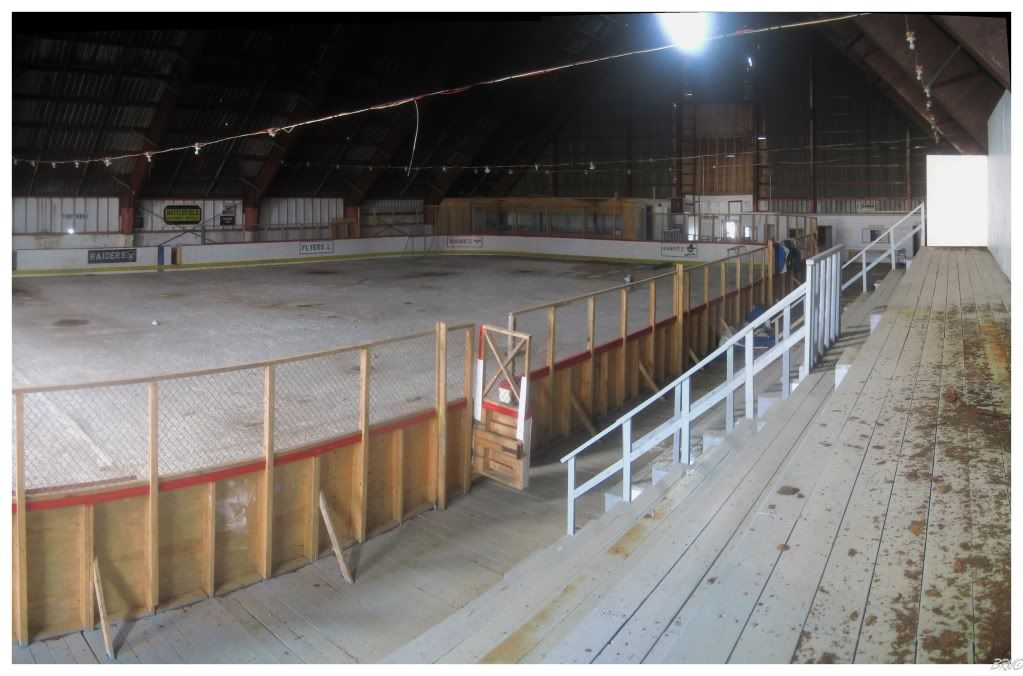 ...but if seeing a small town arena was that important to me, why wasn't I just making my way inside?
I looked around and there were maybe 4 houses which could see me mulling about - if they were watching. Also, I had seen a car back here earlier, parked and watching the ocean, proving that people do come back here regularly just to waste time.
It began to rain too. The rain and drizzle obscured the visibility even further than the overcast conditions, so I decided to throw caution to the wind and go about making my way inside.
If I was a little more athletic or a little more in shape, then the entrance would have been cake; but as I said, it wasn't really that big of deal - I did eventually push my large frame inside.
---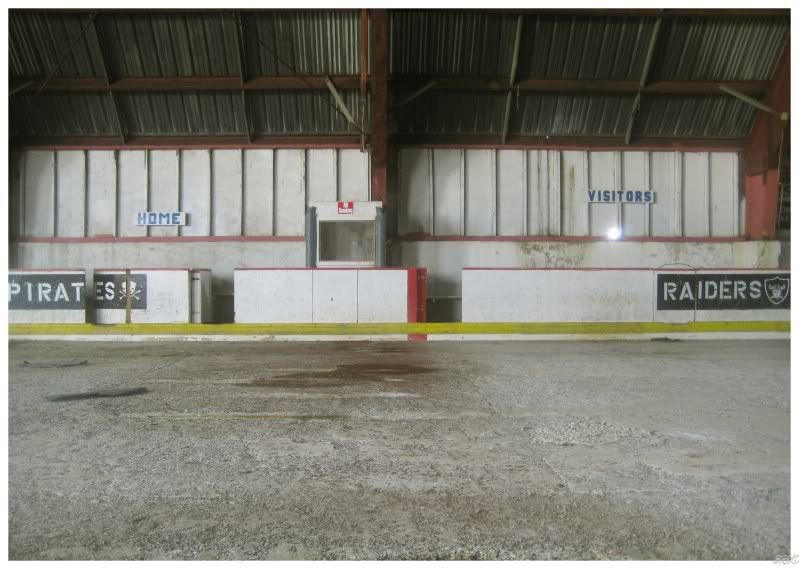 One of the first things I noticed was that the hockey board advertisements had been replaced by something out of a high school videography class project - what a disappointment.
---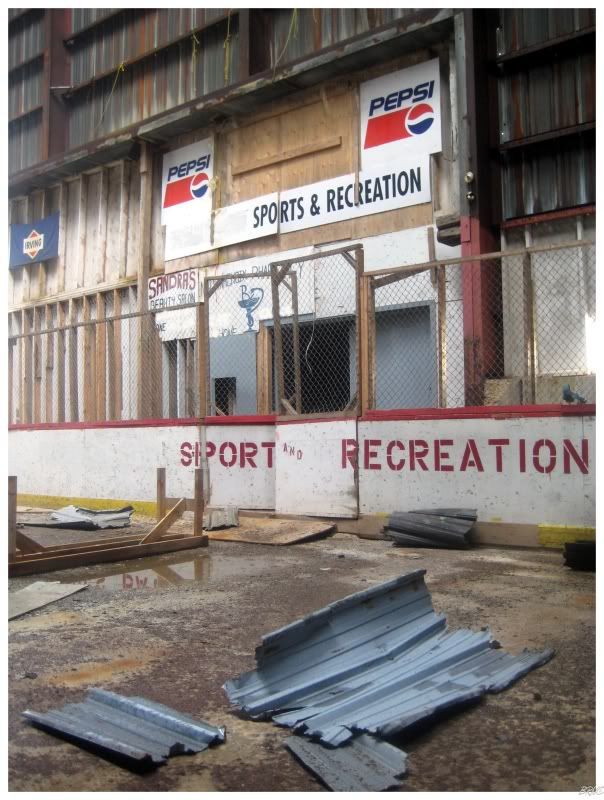 Outside of the ice surface, other advertisements remained and added to the ambiance.
The points lost to homemade hockey board advertisements, were gained back by fence cage in place of hockey glass.
Oh how I dream of an intense game where the opponent needs to be smashed into the fence cage! Reminds me of a great picture of Gordie Howe owning some newb at Olympia.
---
Behind one of the end boards was a walkway, but the other end had a sitting room which I can only presume was heated.
Walking back across the arena, I peeked in the dressing rooms and was shocked at their small size. I always hated how small the BR ones were while I was growing up, and the BR ones had to be about double the size of these miniature ones.
---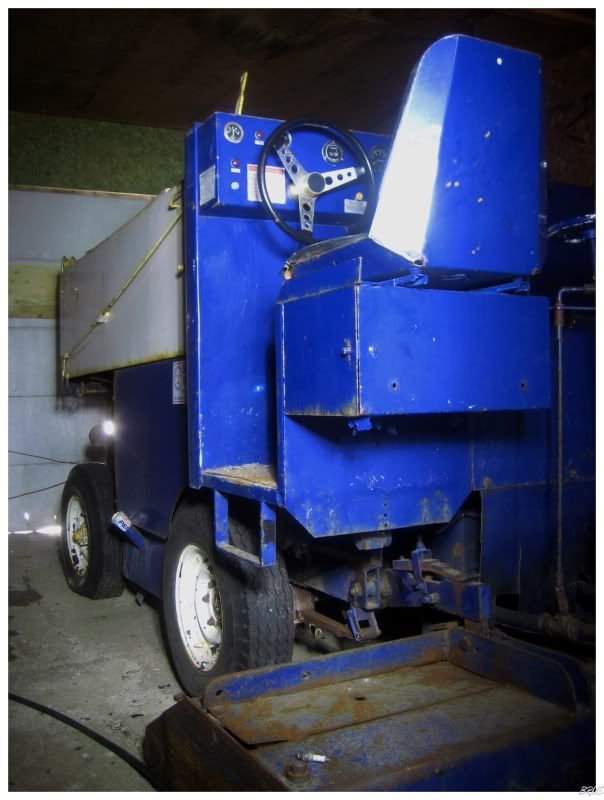 Continuing along, another room held the zamboni treasure! I always imagined a small town arena would sell off or scrap their zamboni, but this is the second decaying zamboni I've found - so maybe it's harder to hustle a zamboni than I think.
You could probably just drive it around town, right?
(The other decaying zamboni I found was in some woods next to an active arena.)
---
Only one side of the arena had grandstands, so I sat up there for a bit and shot a few more pictures.
I had wanted to see a small town hockey arena for a while, but the one here in Newfoundland was quite simple - so there just wasn't countless hours of wandering and checking stuff out to be had.
My camera was dying and the afternoon was passing me by anyhow...
---
...so I decided to get on my way.
It was an uneventful drive home in the rain, drizzle & then sunshine.
Overall a great weekend - even though I could have used more time in Labrador.
Sources:
1 - Point Amour Lighthouse: Welcome
Navi