Detroit October 2009.
October 2009.
I spent the night at Chad's after getting back late from the Maryland & Philadelphia road trip. Instead of crossing the border the next day, I stayed in Detroit because I knew Steve & Donnie were available to hang out and willing to cross (the border).
Buildings seem to gain popularity and coverage in waves; and I had been salivating at the newest popular building just before leaving. Since I was home, I wanted to head up Jefferson and check out The University Club.
In a time where many prominent cities had gentlemen's clubs, several were formed in Detroit; one being The University Club in 1899. By 1913, the club had many wealthy members and they purchased the mansion of Senator McMillan to house their club. This mansion was attractive in its own right, but the members had it razed in the 1920s so that they could have their own club designed by the Smith, Hinchman & Grylls firm. The University Club namesake and the fact that the club required each member to have a university degree, the architect Kapp built it in the Collegiate Gothic architectural style, designing the structure after many 19th century English educational institutions and even insisted that the bricks be the same colour as those at Cambridge in England.
My main source of knowledge in regards to this building explains why gentlemen's clubs are no longer popular: prestigious jobs are no longer only in cities, men are expected to spend more time with their families and that men are now encouraged to be more healthy - they exercise during their lunch instead of mucking it up over manhattans and cigars.
Anyway, with these societal factors hurting the club, they eased their entry restrictions; but the club would still go bankrupt by 1992.
---
Afterward, the building was leased by the YWCA when their building was razed during the construction of Comerica Ball Park. They would occupy the building until 2008.
It now sits empty, with introductory scrapping & open to the elements.
A liquor store owner recently purchased the place; but he explained that he has "no plans for the building".
In 2012, it will be declared an eyesore and too far gone. A couple fires will have happened by this time, along with some bitching about how the building can't be used for anything.
By 2013, it'll be torn down and Detroit will be up to 82% grass lots.
---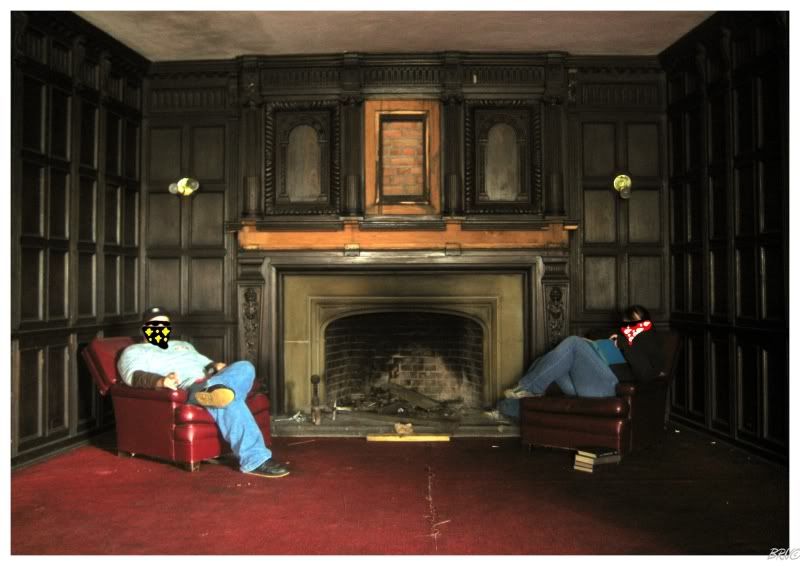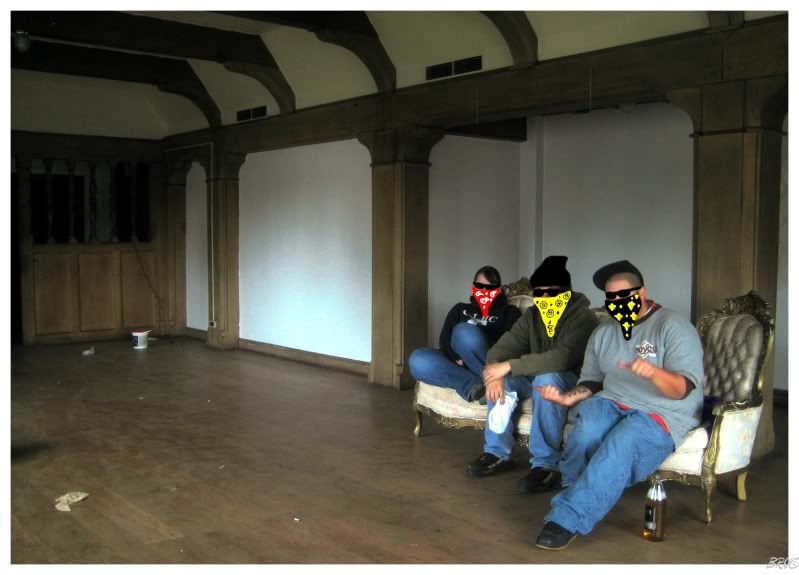 ...so we might as well enjoy the building while it is still here.
Chad, UJ & I were moving slow after getting to bed at 7 o'clock in the morning; so by the time we met Steven he was already half in the bag.
Extremely excited to see each other, while catching up over some Philadelphia purchased 40s of Coqui 800; I ended up relaxing and living the lavish gentleman lifestyle more than documenting the building.
Documenting really should have been done though, as it is a stunning & amazing structure. Please see the quality interior & exterior DFunk coverage.
---
Racquetball courts.
Sat here, shot the ish even more.
I could really tell that Steve was thrilled about seeing his old boy. Some things make you feel like an ass for moving away :/
---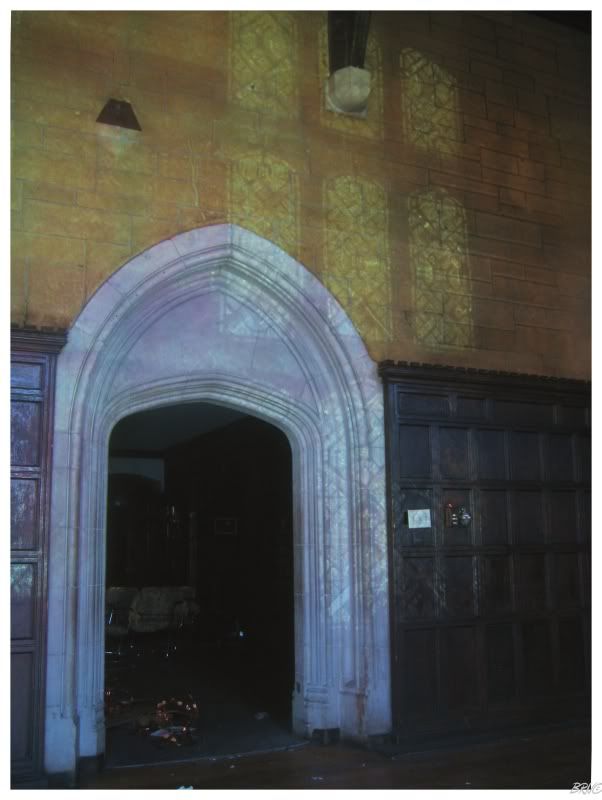 Coqui 40s aren't particularly strong but they're smooth, so they go down quick (like the Titanic). Those 40s, coupled with some 4 Lokos (bootleg Jooze), meant that time was flying, the sun had set and it was getting dark outside before we even knew it.
It was time to get on our way; this isn't the type of place to be shining bright flashlights at night.
---
We decided to stay in Detroit instead of crossing the border and Steve was set on staying at the infamous Packard Motel. With the 10-15 times we've been to The Packard Car Factory, we've all seen the Packard Motel about 10-15 times, and all wondered about what it was like and who actually stayed there.
I personally thought it was a bad idea, but I went along with it. One of us went in and found out the rates, which was $45/night! Now you may be wondering why I'm so appalled, but this is a VERY grimy motel in a ROUGH neighbourhood...how were they staying afloat charging $45/night?!?
The lady offered us the keys and told us to the check out the room, which we were interested in seeing anyway. Once inside, it was completely what you'd expect - the chair in the corner had about 6 different types of stains and the television only had one channel: the low quality amateur porn network. I proceeded to wrestle a friend down onto the gross bed and wrap him up in sheets while Steve rubbed them in his face. Our friend was absolutely disgusted, and this continued for another minute or two.
After that, we posed for a group shot by the amateur porn television; then Steve put a chair on the bed as the woman walked in and told us to get lost - we tried to explain the room was like that when we got here, but apparently she just made it up. Whoops!
Good times at The Packard Motel. I'm hoping they are the only good times I ever have there.
Anyway, the next place we tried was another shrouded in mystery, The Crest Motel.
This place we had actually driven past about 1000x more than The Packard Motel. You literally turn right to reach the tolls for the Ambassador Bridge where you would turn left for this motel. We had always peered at the Crest and wondered about it...joking about staying there.
Tonight we decided to see what was happening and actually considered staying there. Since our friend went into The Packard Lobby, I was chosen to go into The Crest. Walking into the lobby, more so a small room, I asked the owner how much it would be to spend a night. "We don't rent by the night, only by the 3 hours."
WOW.
I asked how much it was for 3 hours, wondering about renting it for 3 or 4 blocks of 3 hours, but it summated to some ridiculous amount which was out of our price range; so we moved along.
---
After The Crest Motel fail, we wondered about The Corktown Inn. This didn't seem sketchy enough for our friend, but I was personally happy to get into a place a step up from The Packard or The Crest. A former Holiday Inn, it is walking distance from the old Tiger Stadium on Trumbull, and it has secured parking.
It also has a channel to watch the parking lot too, haha.
Of course it also had that same amateur porn channel. We watched the amateur porn channel for about a half hour, joking about the scene where a couple is in a boat on some river - was it the Detroit River? Who cares, it was the Detroit River to us.
Once the amateur porn channel started looping, we left the inn, drove around, ate some chicken ring sandwiches at the White Castle in New Centre, drank some more beer and caffeine drinks, I got overly drunk because I'm not used to the high percentage liquor from living in Newfoundland, and that is that.
Once back at the motel, I pushed the highboy against the door and told Steve and our friend that we needed to prevent akickdoe. Steve & our friend were completely confused...asked me to repeat what we were preventing about 3000 times...but I crawled into bed with Steven and the z's floated above my head within minutes.
Steve is probably going to be wicked excited to finally figure out that I was talking about someone kicking in the door and robbing us - a term I learned from C-Murder.
I'm whiter than Larry Bird.
---
Whenever I wake up in a bed with another man (no homo), I worry that I've got cuddly in the night; but I awoke all wrapped up in the blankets, so I was relieved that I likely didn't attempt any cuddling.
I was hungry & didn't feel like waiting around for the others to get ready, so I left for some BK breakfast up the street behind the toque toque liquor store.
Once I got back, Steve & our friend were ready to go. I was passed some funds and in charge of checking out of the motel. Steve & our friend went out to the car while I walked to pay...and while I walked up the hall, I laughed as I heard couples having sex in 3 distinct rooms. That is not me struggling to listen either, I mean they were loud enough for me to notice in the course of walking to the lobby.
I've been accosted for bumping (and grinding) against a wall at a motel before, so I'm thinking this might be the motel where that wouldn't happen.
Anyway, the 2nd day destination was the Vanity Ballroom. If you're wondering how snow fell overnight in October, then realize that the above picture is from December, but I used it because I didn't take a good 'whole building' picture on this day.
---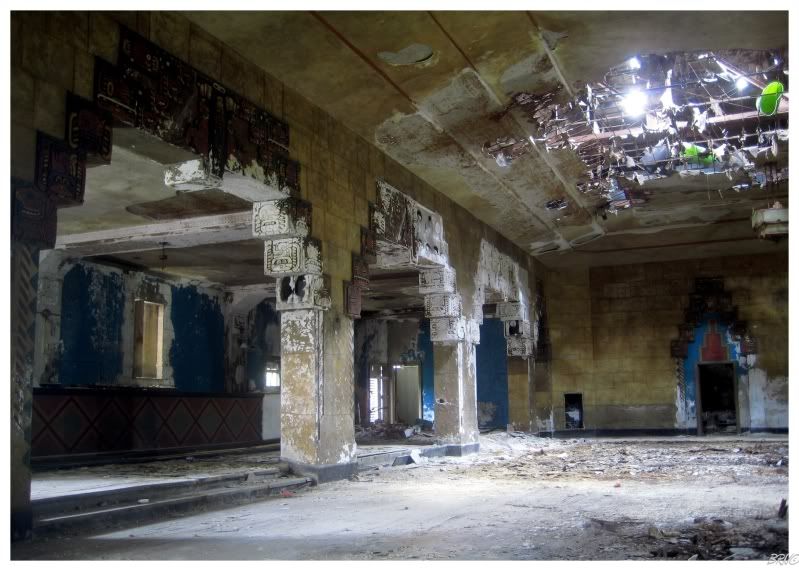 Back in the day before cars dictated our lifestyles, people found recreation in their own neighbourhoods. Detroit constructed 6 ballrooms around this time, of which, only the Vanity remains.
It was constructed in 1929 and designed by Charles N. Agree.
The Vanity was apparently in Eminem's 8 mile after they shoot the cow head with paintballs and then their car breaks down? Apparently they break down in front of the Vanity?
It has been a long time since I've seen 8 Mile, plus I was fucked up when I watched it, plus I didn't know about the Vanity when I watched it, so I have no idea...
---
When I saw the Vanity popping up all over the internet, I had wondered what had changed.
A few people got into here a couple years ago, but many were thwarted because a caretaker lived in the apartments across the street. Without knowing about him, we came along and attempted to crawl into the bottom section of the building, squeezing past peeled back window security bars. The third person in our group was finally getting through just in time for the caretaker to make his way over and tell us to get the hell out.
The funny part was that we found out one night that the bottom section doesn't even connect to the upstairs ballroom...after spending about 3 hours inside trying to get from the westernmost retail section into the centre bicycle shop section.
Anyway, as you can see above, I realized how everyone was eluding that caretaker now.
---
Especially with small locations, if you see enough pictures of a place, you aren't very surprised when you actually go there.
Vanity wasn't like that though. As best as I can remember, I had not seen pictures of the lobby, so I was surprised when it also had impressive Aztec plaster details.
---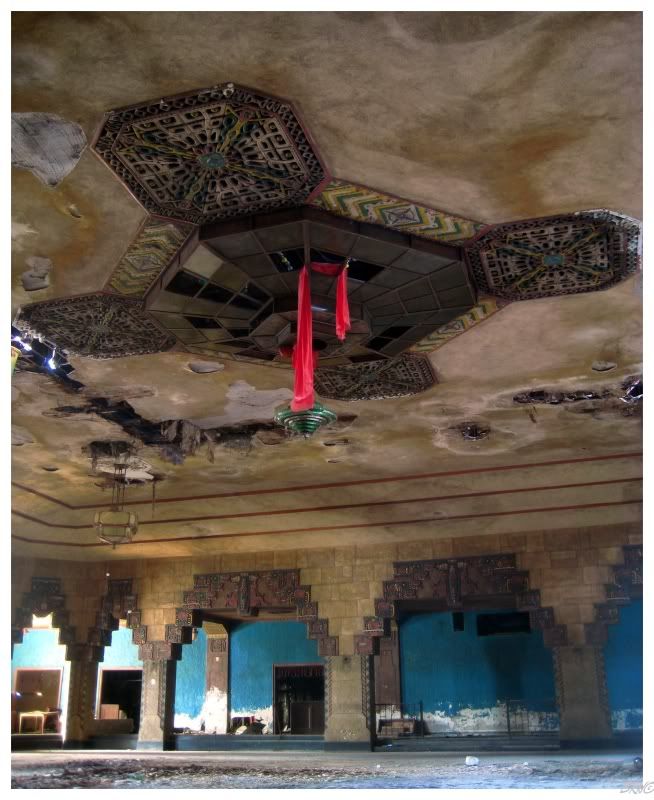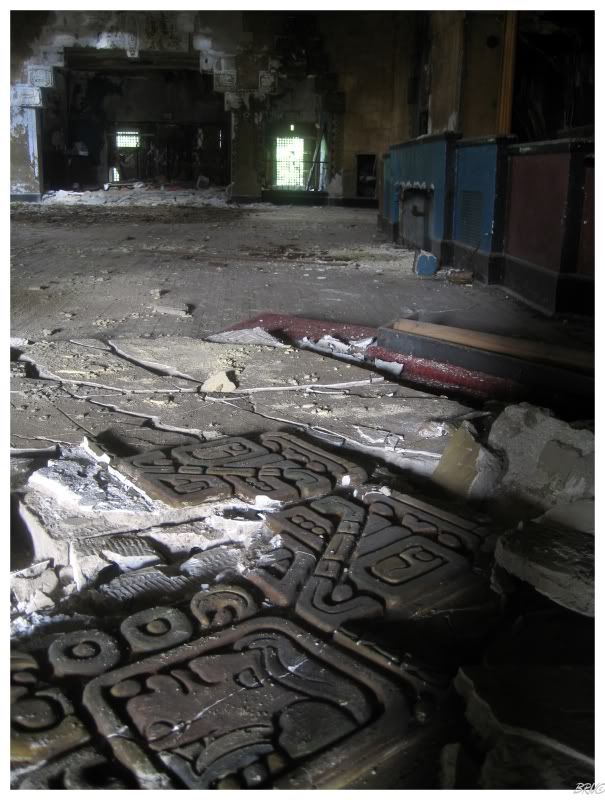 Detroit is a huge city and the Vanity is a far drive east for us, so just driving there to check on the building situation, made it seem like we had put in a lot of work trying to enter (the Vanity).
After seeing all of the pictures of the inside, and all of our fail, it was pleasing to finally stand there myself.
---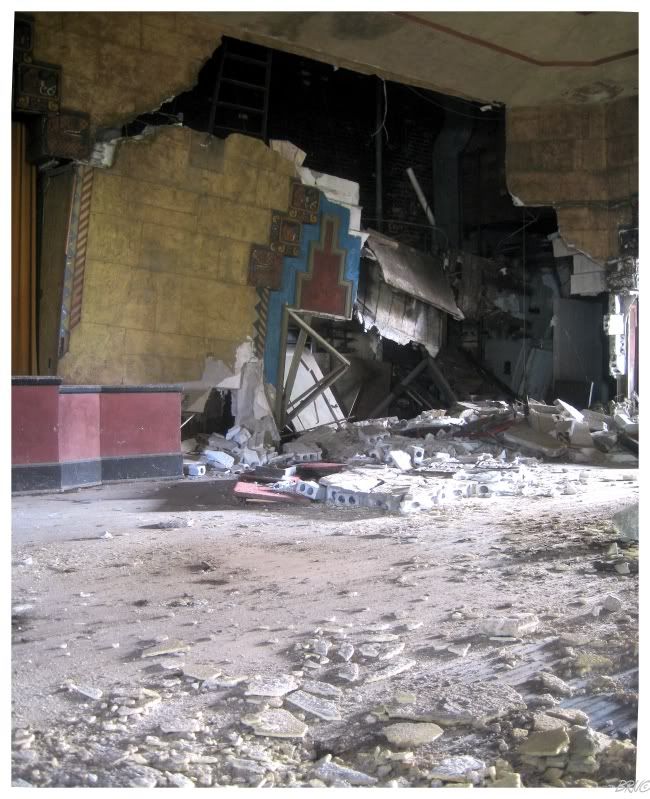 Besides the lobby details, I was also surprised at the decay in the Vanity.
There is another music venue in Detroit which I've seen & which is decimated; but I didn't realize the Vanity was so far gone as well.
---
The amount of decay is not encouraging and neither is the fact that the current owner has it on the market for a ridiculous price.
It helps that it is located in a rough part of town where it is hard to cry about it being an eyesore & that there is history and beauty in the place; but it is also going to need a miracle at its current asking price and condition.
Having arsonists on the east side along with an open building doesn't help her chances either.
This area has revived a bit in more recent time, but I'm not holding my breath...
---
Since we were already over in the eastside, I pointed the car towards an amazing school which I wanted to see. I didn't have precise directions, but driving around the empty eastside, we soon found our school.
I was actually really upset that she was apparently abandoned, but overjoyed when we drove by and the building was surrounded by cars and full of pupils.
Seriously one of my 10 favourite buildings in the city, it was home to Andrew Jackson Intermediate High School, before changing to an academy, before its current use - the temporary home of Finney High School (while Finney is razed to the ground and rebuilt because it is apparently too costly to use old heating systems in buildings nowadays).
I just hope the DPS finds a use for the building after Finney or finds a suitable new owner. I'm sure the fact that the students don't feel safe in the neighbourhood - complaining about rapes, abandoned buildings and murders - doesn't help the building's prospects though.
I didn't take a picture because school was in session; we continued up Chalmers.
---
A few city blocks away, there was apparently some building from the movie Gran Torino which Steve & Don declared necessary to get a picture in front of. The problem was that some teen was waiting for the bus across the street and we all felt way too dorky walking over with our tripods and posing it up as this teen was sitting there waiting for the bus.
Figuring the bus wouldn't take very long, we parked the car & waited with the grasslands and overgrown trees where dense neighbourhoods used to exist.
---
...and waited & waited.
We started to question if the bus would ever come.
Impatient me, I harassed Don & Steve for a bit, but eventually grew tired of that. Next, I carried on about the urban prairie around us; employing my frequently used comedy strategy of using dorky white people words.
Since I had never really walked around the eastside, I decided to get out of the car and walk around. Amongst the urban prairie, I found a Fish cd (apparently some local Detroit rapper)...which soon made it into the car deck. Next, I laid down in the prairie and got Steve to take a picture...which wasn't very effective as the grass was so long that you couldn't even see me. After that, two dudes stealing metal from some nearby building passed us by and we greeted each other as they looked really confused at our presence.
Growing more comfortable, I started to wander more; discovering worn paths through the urban prairie. I guess it makes sense because there are no longer homes forcing you onto the sidewalk, I'm just saying that I didn't really think about it...
---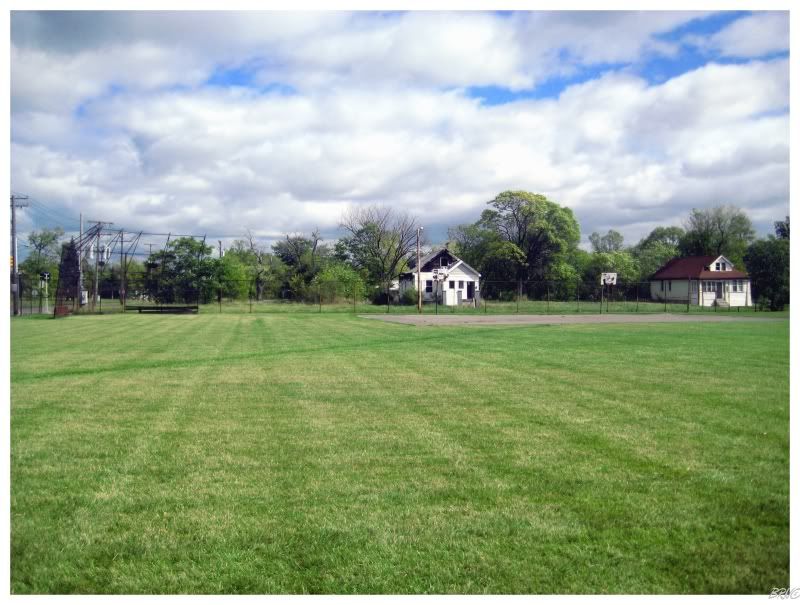 Still waiting for the bus, I told Don & Steve that I was going to take a walk around Carstens Elementary - which we were parked across the street from. Don warned me not to get robbed or beaten up by any of the grade school students; really amusing himself with this warning. I was going to argue with him, but kids can be pretty big by grade 8; and if they grew up in this neighbourhood, they're probably a little tough as well.
The above view is from the school's ball field/schoolyard.
---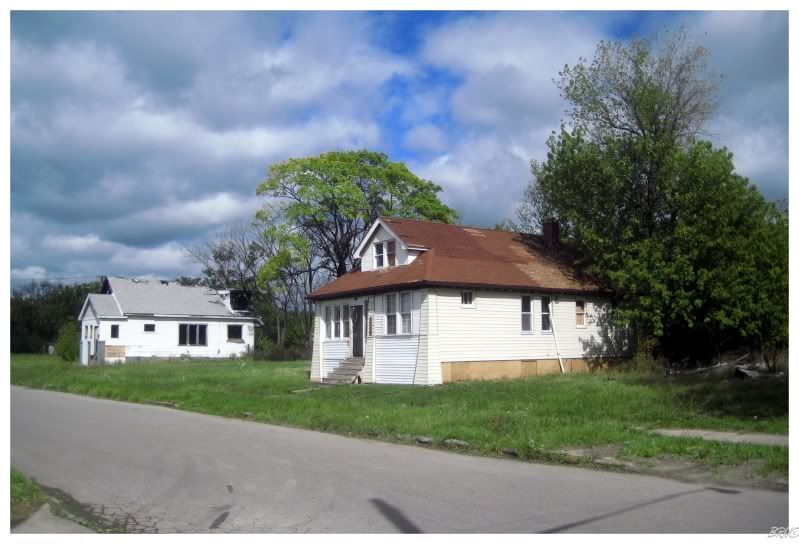 (Vacant) 2652 Lakeview St. & 2524 Lakeview St.
---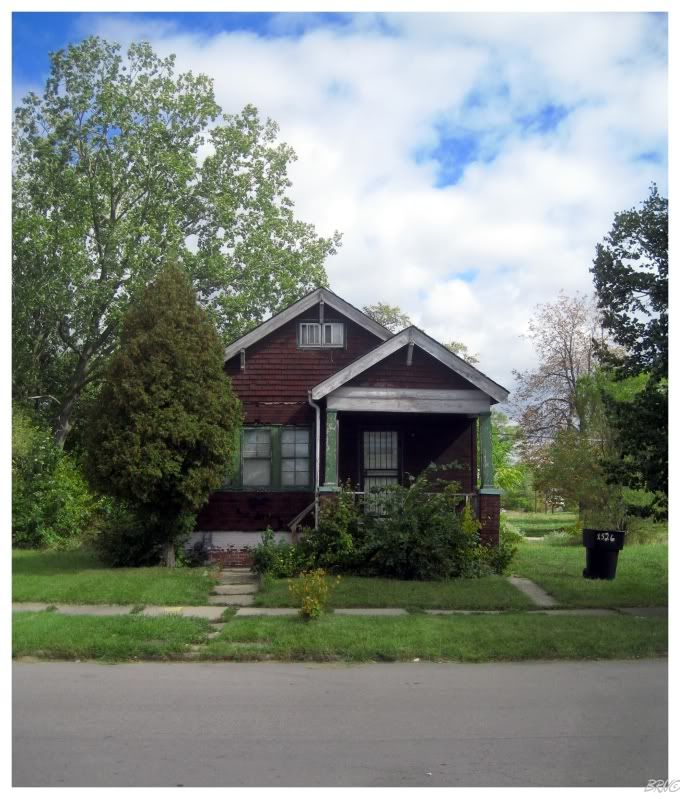 2524 Lakeview was looking a little worn, but still inhabited :)
I know that I'm looking at that herby curby too, wondering if Google's house numbers are way off..
---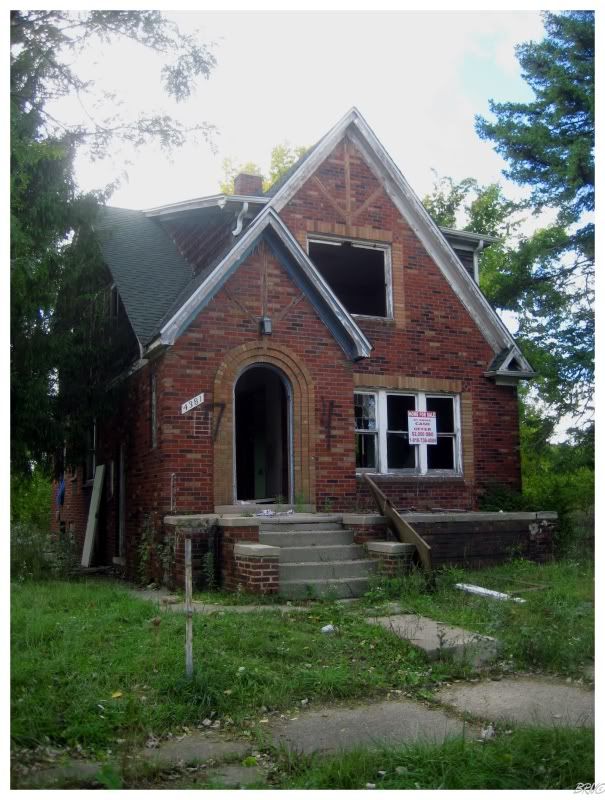 Rounding the front of the school and back towards the car; the teen still hadn't caught the bus.
Donnie declared he was hungry and we sauntered up Chalmers to the Little Caesars at Harper. I told Don & Steve about the article I read about Scott Storch, a famed producer who bought something like 14 cars and blew 30 million on coke and drunk purchases.
...and so it was born, for the rest of the trip, we cracked jokes about Scott Scorch snorting coke off of Fat Joe, or getting fucked up and waking up with 6 cars.
I guess you had to be there.
Anyway, on the way back, I asked Don to stop because I've always liked these multi-peaked bungalows, and wanted a picture of this one.
4381 Caplin looked a lot better just 2 years ago.
---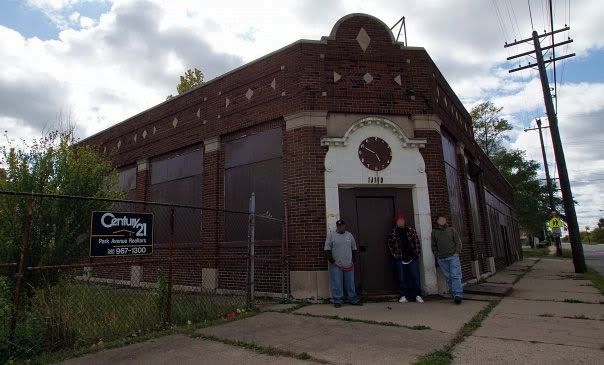 Finally the teen was gone & we took our ultra necessary Gran Torino shot.
I actually can't complain because it afforded me some wander time in the Eastside.
(Donnie's picture)
---
A look up Drexel St., from Charlevoix, as we walked back to the car.
---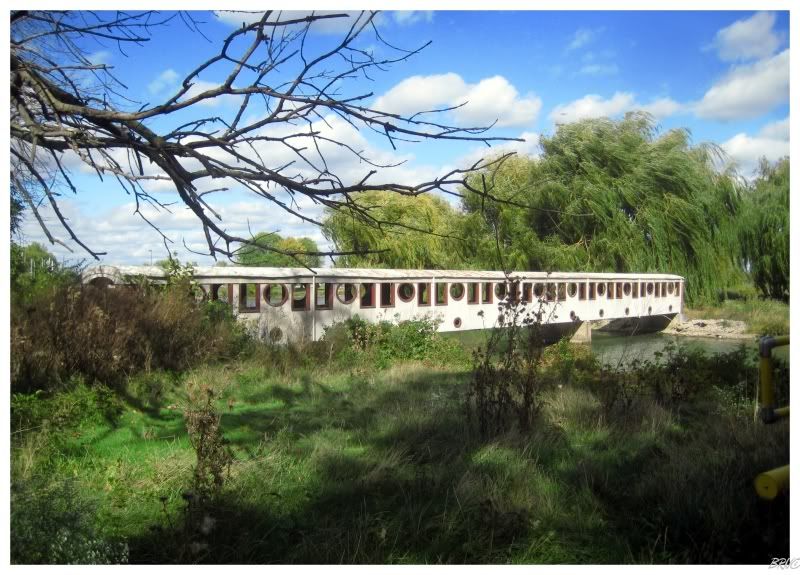 Our next destination brought us to Detroit's island park: Belle Isle.
While circling the island in search of our destination, we spotted this strange bridge from afar.
---
It was a neat little detour.
The ARMEE tags inside the bridge were an added bonus.
---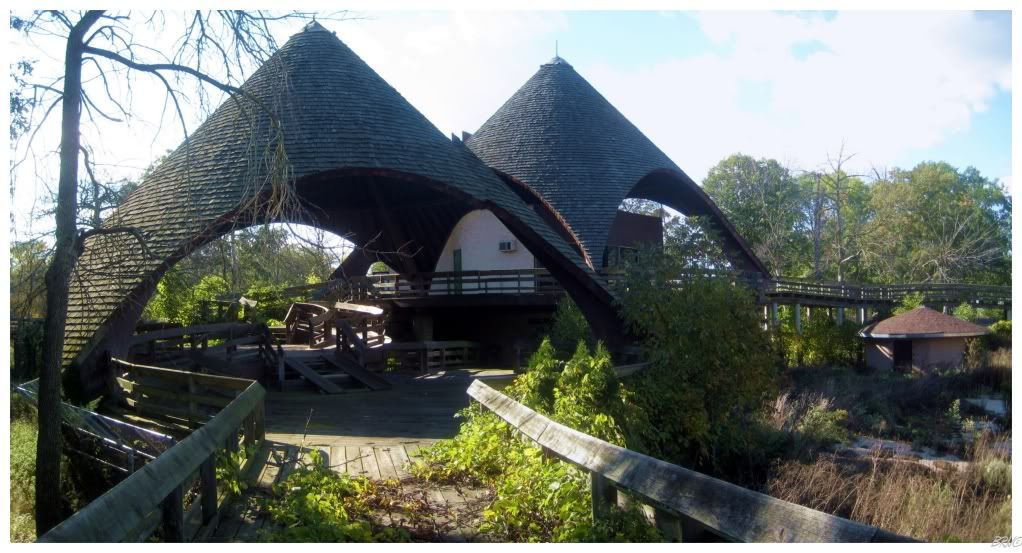 After walking back through fields, peeled back fences and amongst leaning hydro poles; it was onto The Belle Isle Children's Zoo.
Looking for an entrance, Don found one that involved climbing and was convenient. Knowing that Steve has had shoulder surgeries and isn't the best climber, I went with him to the woods instead. Bushwhacking our way through thorn bushes and some very thick brush, we eventually found regular fence holes as Don sat atop the boardwalk, amused at our trials and tribulations.
I guess that's why Steve gets so bromantic with me, cause I do stuff like walk with him through harder entries.
The above picture shows the Visitor's Centre.
---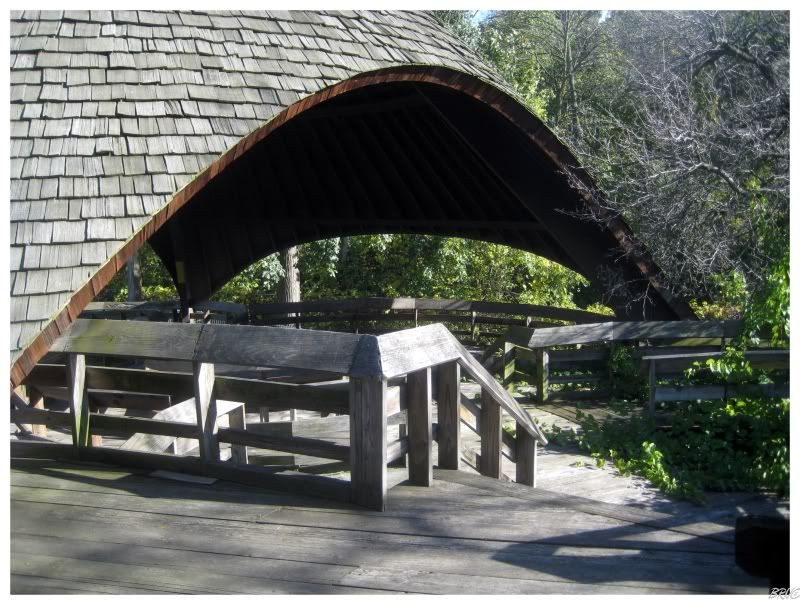 Why did the zoo close?
Queen City Disco has a pretty good explanation; the gist of it being that the city council voted to continue funding the zoo, but (former mayor) Kwame ordered it closed. He then sold off all the animals except for a heard of Eurasian fallow deer. These deer would have an enclosure built by the mayor's longterm best bud, Bobby Ferguson, at the cost of $1 million.
I liked how Kwame slacked on tearing down buildings, but man was he a crooked fuck.
---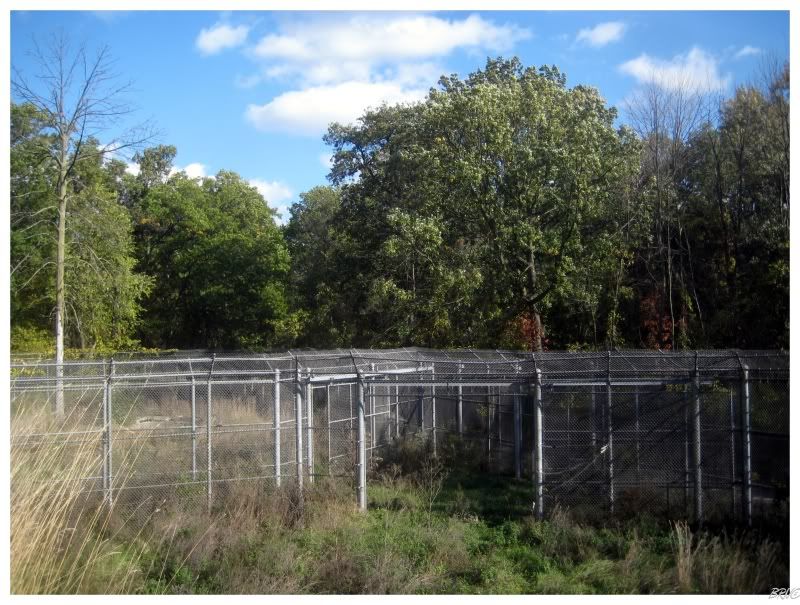 For some reason this place has only recently become popular; but I've heard many times the story of Don & Dylan coming here back in the day and running around with the fallow deer. Was this inside the Bobby Ferguson enclosure? Was this after the zoo closed and only the deer were left?
Anyway, the story came up again and I finally saw the area with my own eyes. I always thought those deer were eventually just abandoned to fend for themselves (by the City), but I just read that they were transferred to the actual Detroit Zoo and have an acre of land to roam over near 8 mile.
---
The boardwalks were still in decent shape, but missing a few boards and coupled with toppled trees in a few areas. I wondered about how sketchy this place could get in 10, 20 or 30 years of abandonment.
It was another one of those pleasant, warm October Detroit days, so I think the 3 of us were content to just laze around on the boardwalks and take it all in. We stood near the fence enclosures for a bit, while Don & Steve cracked jokes about raptors & Jeff Goldblum; and since I'm one of those people who remembers absolutely nothing from movies, I was completely lost amongst their Jurassic Park references.
---
Walking along the boardwalks, I was crowing on about how I actually thought this was a top 10 place I'd ever seen.
Looking back it was good, but I'm wondering if I was overly jubilated just because I was home and it was warm outside...
---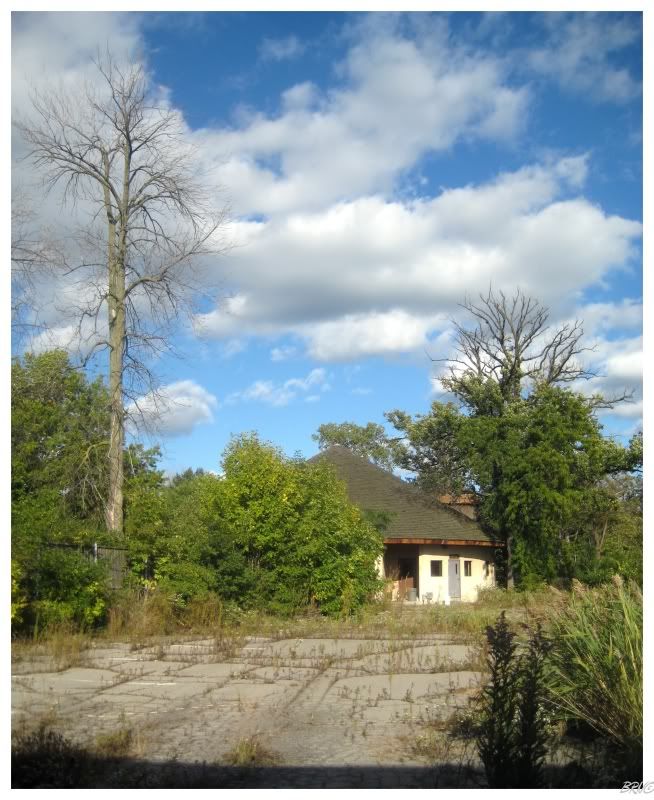 Towards the other end of the children's zoo was some more of the African safari style huts...
---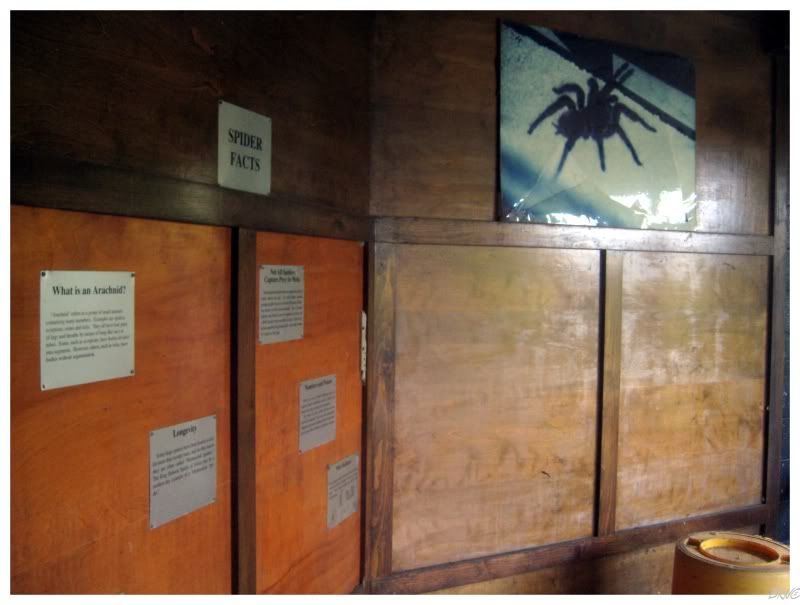 ...which housed the spider exhibits!!!
This is definitely something I wouldn't be stepping anywhere near when it was freshly abandoned (or active either).
---
I was still slightly irked to walk around the back and check out the place.
Don berated me by asking if I really thought they left all the spiders and somehow those spiders survived for the last 6 years...
I agreed with him, and it was also comforting to know that only 1 type of poisonous spider can survive in the Detroit/Windsor area...
---
...but I still wasn't at ease when looking at displays that used to be home to things like the "South American Bird Eating Spider."
To hell all this, you can go Google that yourself...
---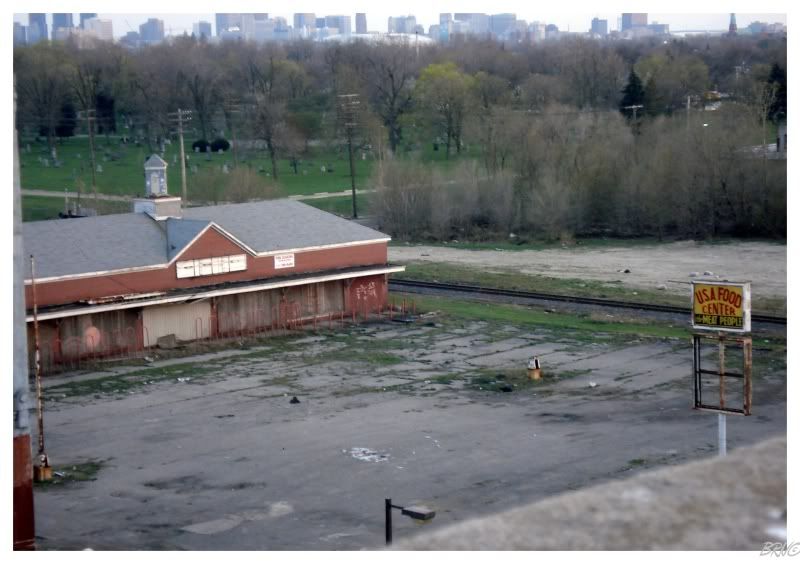 Since we were checking off the locations quite handedly, I was at a bit of a loss for what to hit next. Already in the eastside, I asked about finally checking out The Packard Grocery Store, as it had bothered me that I never actually saw the inside...
When you're a visitor, people are willing to do whatever you want, so we were headed up Mt. Elliott. Although, Donnie wasn't going inside and he let me know this (he had been there before with Dylan)...
---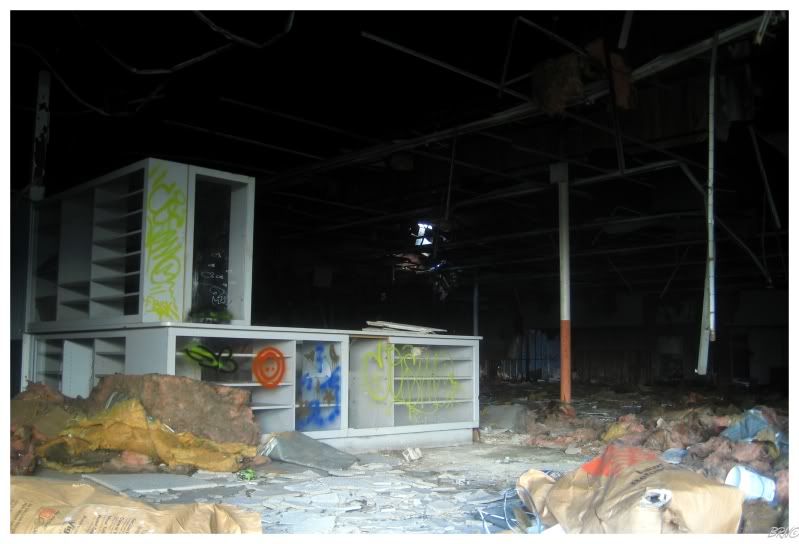 ...and it was amazingly lame.
I came back outside and told Donnie this; to which he was confused and wondered what the hell I expected. I thought there would be old school wood shelves and checkouts and that it would be just epic...
---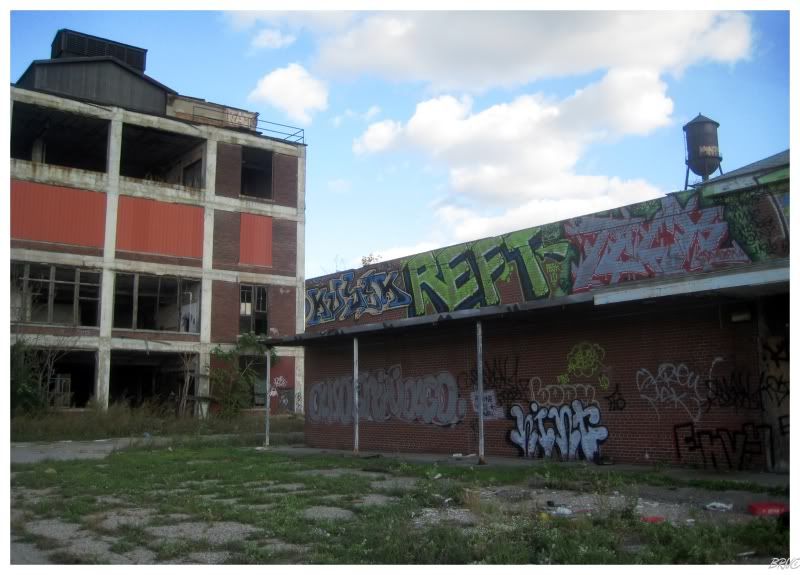 The outside remains the most exciting part of The Packard Grocery Store.
---
Next up, I wanted to check out this rail terminal station, so we headed up Van Dyke. Stopping at a gas store, I noticed the Yung Joc Rap Snacks, but I had to be smooth so that Donnie & Steve didn't see what I was eating until we were in the car.
So I stood around in the store, waiting for them to purchase their goods before me. Apparently the owner asked Donnie where he was from and Donnie decided to mess with him and reply, "oh, just up the road"; which the owner didn't buy for one second, telling Donnie that he was the first white person he had seen in the store in a month.
Damn.
(The Rap Snacks killed once I got in the car by the way. Lots of references to 'it going down' and 'meet me at the mall'.
If you're wondering what they were actually like, think really shitty Cheetos. I ate them all because I was hungry though.)
---
Since we were near Jane Cooper, I wanted to check on her progress.
Another jewel lost from the Detroit school crown.
After spending funds to demolish all of the nearby houses long ago, I guess Jane Cooper was the one blockade before all of that industry rushes in to snatch up this land they cleared (for that industrial purpose).
Then again, it's not like Jane Cooper stood a chance. Raped, scrapped, vandalized, desolate, alone. If it wasn't occupied, it was gone - it was only 3 years from closure to rubble.
---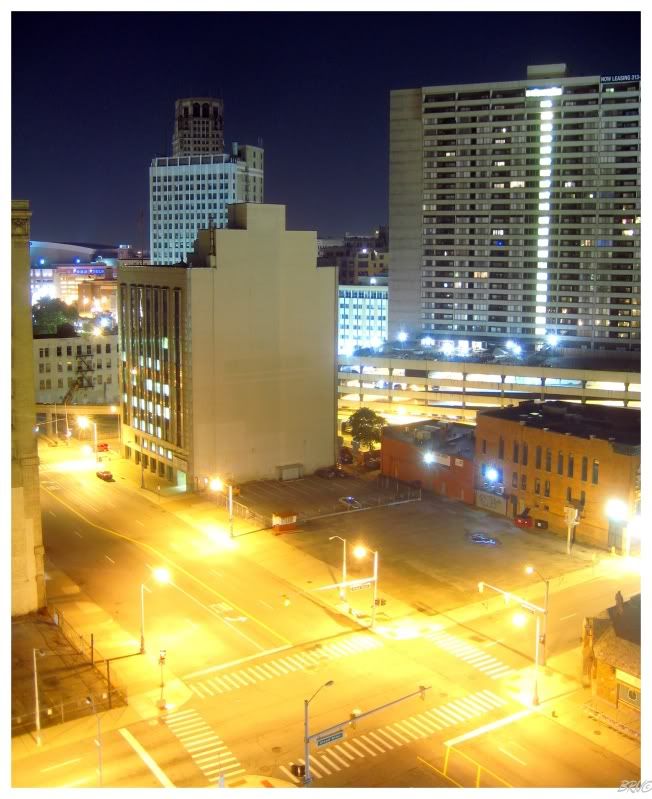 After a short stop at a cemetery so Donnie could take some pictures, the sun had set and we decided to find somewhere to stay for the night.
Again my visitor status came in handy, as I really wanted to stay at the Detroit-Leland Hotel. A historic hotel built in 1927, it was added to the National List of Historic Places in 2005. I had seen pictures from the roof, it was old school & I had also read a ton of bad reviews on Expedia - not bad reviews like cockroaches or spiders, but bad reviews like graffiti in the stairwells and mostly people being whiney princesses and crying about dingy hallways.
It sounded interesting, it sounded relaxed and I enjoy staying at older places with character versus staying at the sterile, uninspiring hotel chains out in the burbs.
---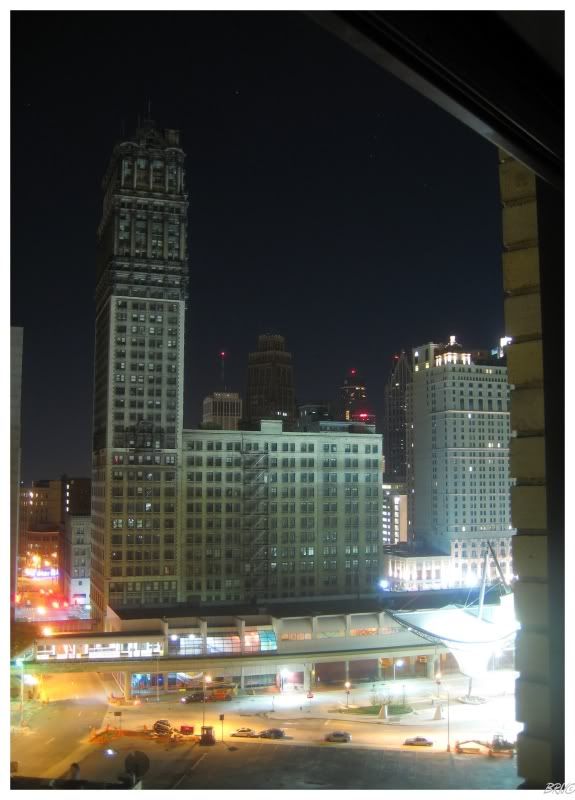 I was hoping it wouldn't be too much money and that Steve would be up for staying the night there. Asking for a room facing downtown, high up from the ground and cheap; we got a corner room, on the 14th floor (of 22 floors) for $72 (two beds).
Nice!
Nowadays every hotel & motel you go to has 19 locks on the window and it is always screwed shut. This relaxed old hotel? Nope, nothing.
We opened the large window, kicked up our feet on the windowsill and sipped 40s with the skyline before us.
We were pretty worn out after being on the go all day. It was amazing while it lasted, but we weren't up all night.
---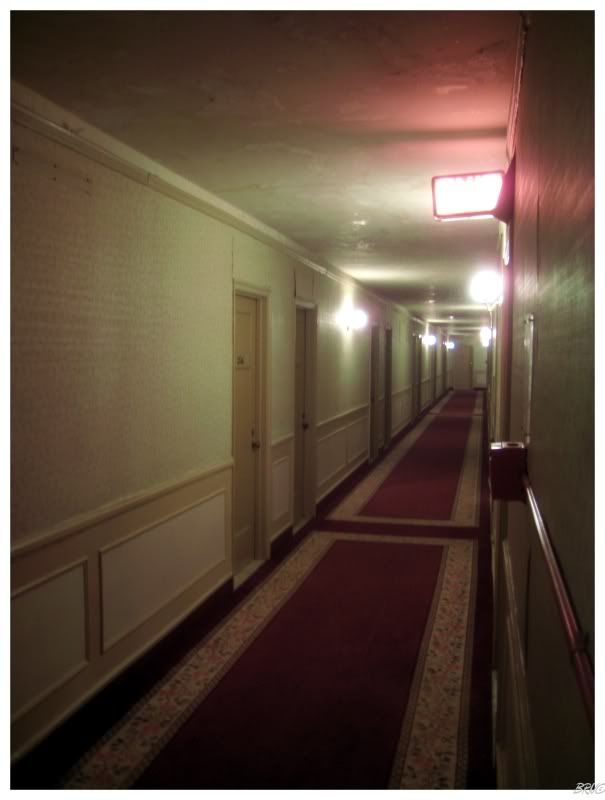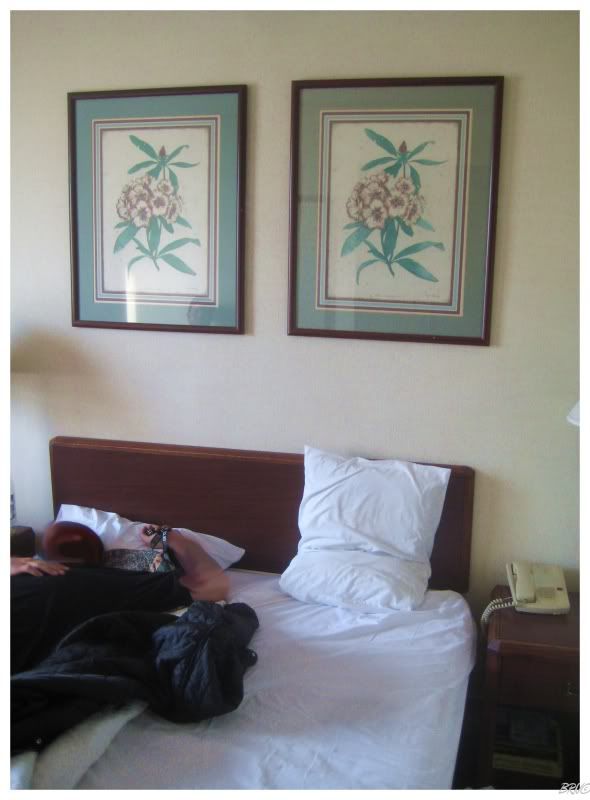 The Detroit-Leland isn't going to win any awards for interior design (outside of the lobby), but it's good for what you need. The 2 of us drinking beer, just needing a place with a bed and a shower? Perfect. A bed to carry your new wife over the threshold? Probably not.
The two matching pictures over the bed were a nice touch. I didn't notice this fact until Steve pointed it out to me.
---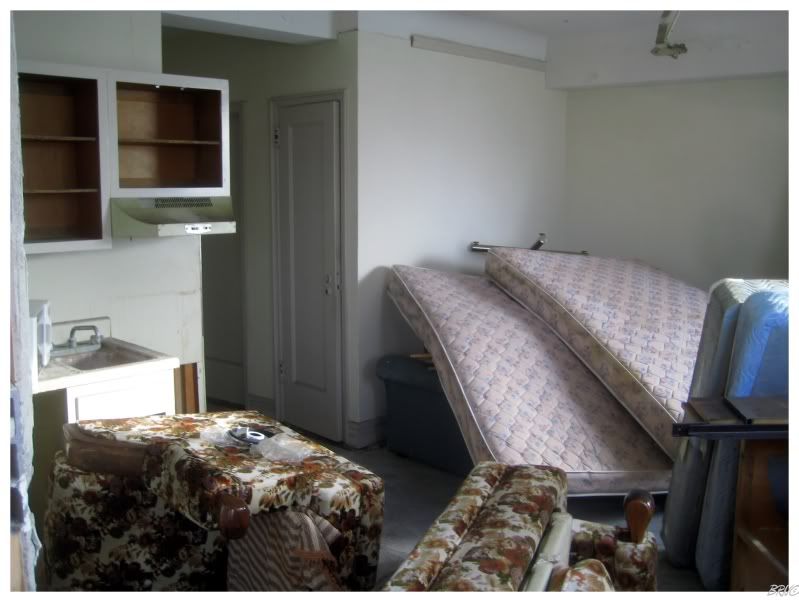 The next morning we took to exploring the hotel. Walking in the hallways, you notice that certain rooms are missing door handles...
What the heck? Abandoned rooms intermittently? Don't mind if I do...
---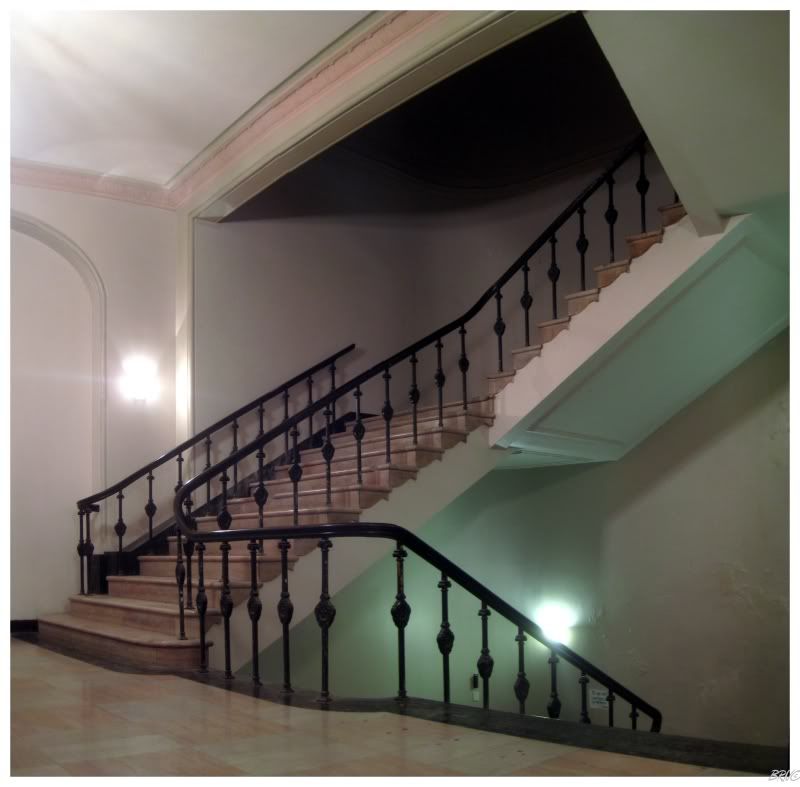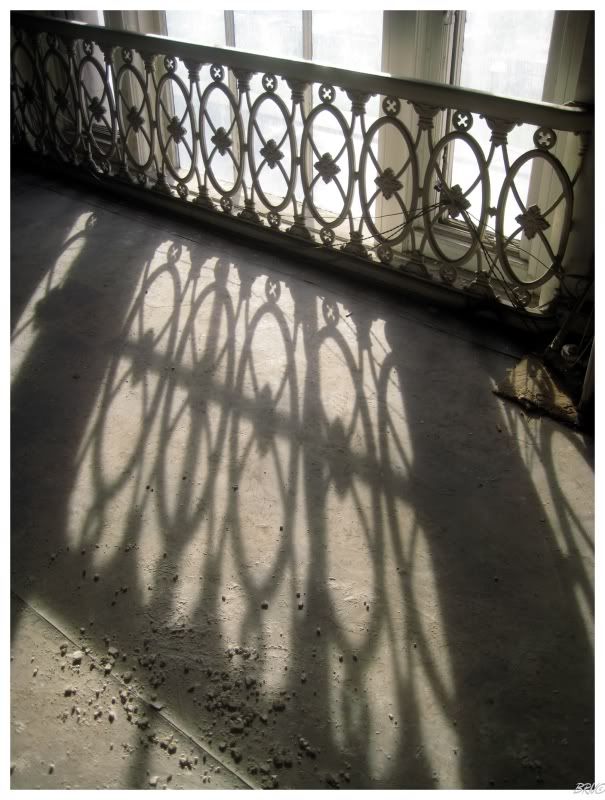 We only checked out a few abandoned rooms as they were all sort of the same. Next was the balcony section of the lobby - we went up some marble stairs (see above) and suddenly we were overlooking the lobby; in an area with fancy handrails, but also, garbage, paint chips & a rotting piano.
---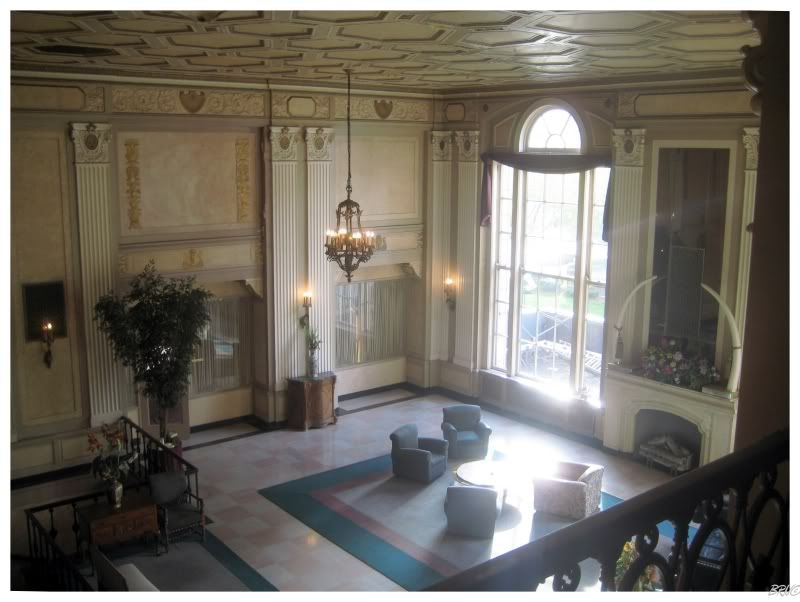 At least they maintain the lobby.
I could see how princesses would bitch after being fooled by seeing this part (the lobby), then having to step over (gasp!) paint chips on the way to their room which isn't (gasp!) 3000 square feet.
---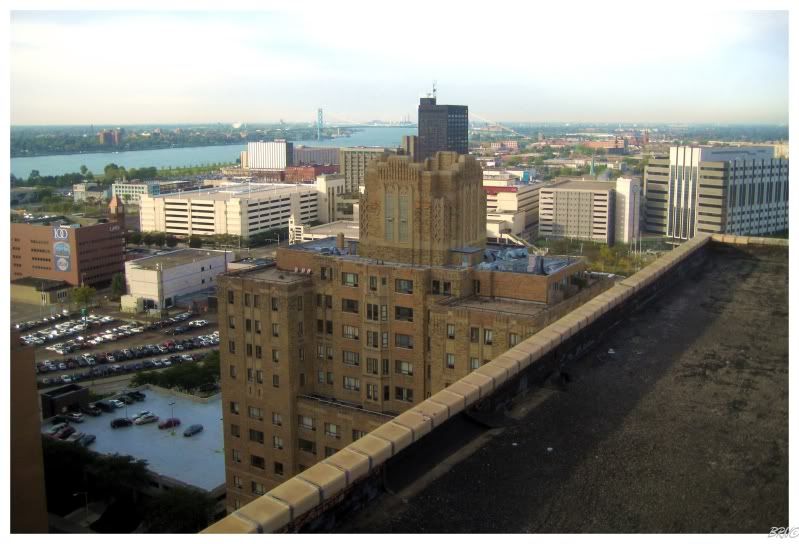 We sneaked onto the roof next.
A nice view towards the Ambassador Bridge.
---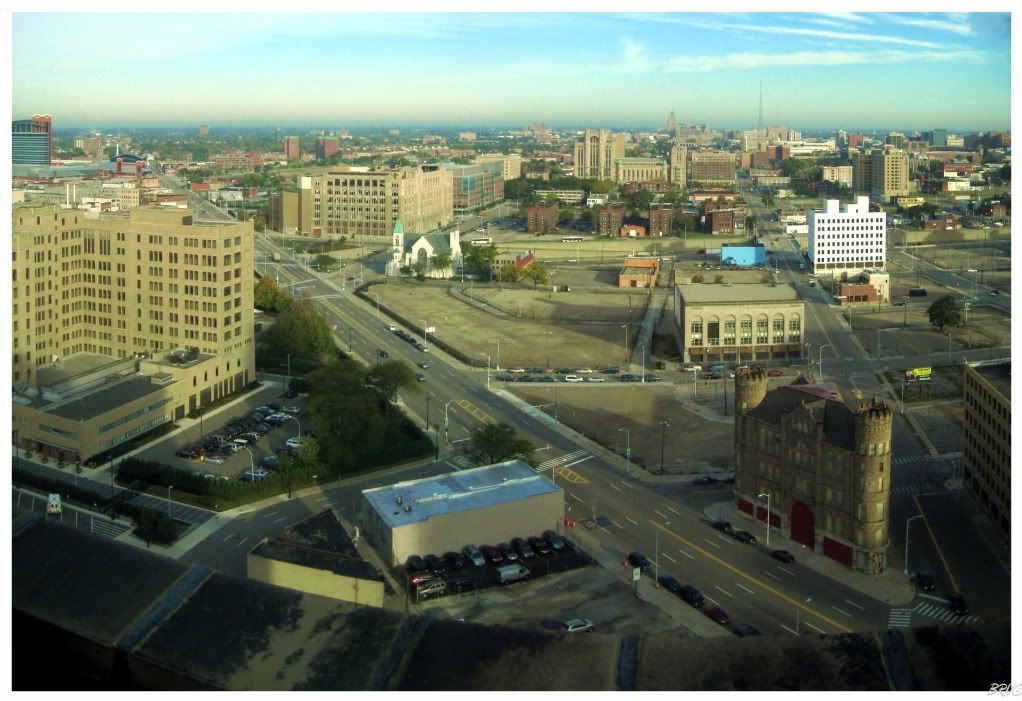 A look up Grand River & Cass Avenue.
The location of the Leland and the morning sun, meant that I couldn't take a picture of the actual skyline. The above picture turned out much better (plus most of the stuff over in this area is occupied, so you don't get views like this regularly).
---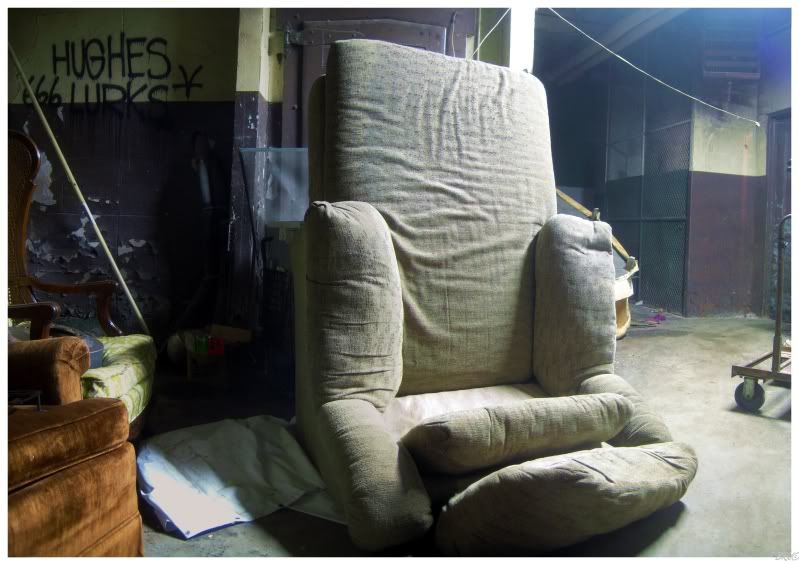 After the roof, we also checked out the basement. Even more graffiti, much of it from the Detroit graffiti heavy hitters, plus a disused kitchen and plenty of furniture.
The basement was also very dim and dank. I think normal people might have been a little uneasy down there.
---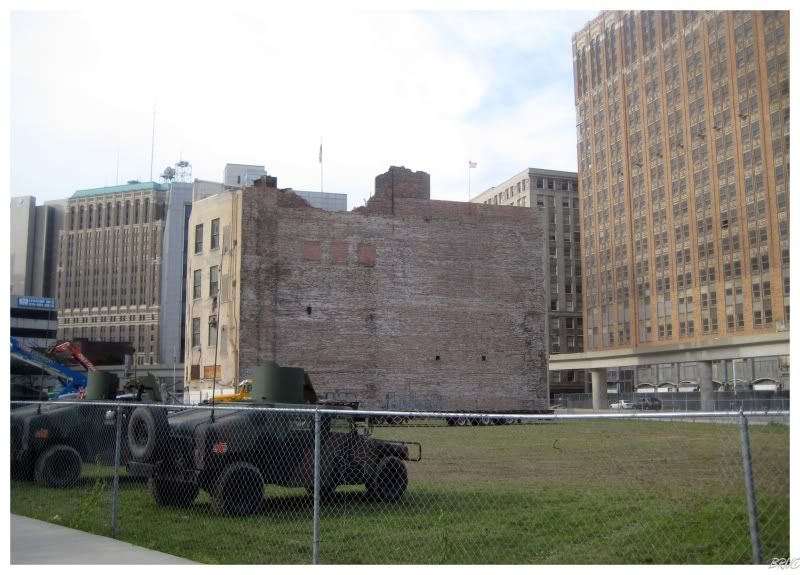 We had another free day, another day with no plans; but outside of driving around and noticing some filming for the Red Dawn remake; we all agreed that we had enough - we were tired and we wanted to go home & change clothes/rest.
Good times in Detroit, but we were completely worn out.
Sources:
1 - Detroit1701 - The University Club
2 - Detroit1701 - Vanity Ballroom
Navi