Engine 43 Fire House
October 2009.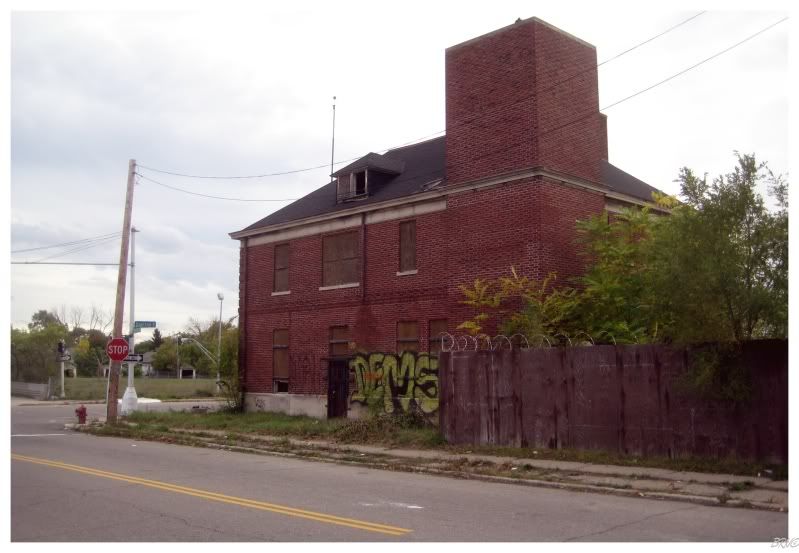 The Detroit Fire Department has had 66 fire stations; with 60 built before 1932.
This is the Engine 43 fire station. Built in 1921 and closed in 1983.
---
We were driving around aimlessly, unable to think of anything worth checking out. Driving down the Davison Service Drive, we came across #43 at Davison & Goddard; deciding to exit the car and check it out.
Even if there was a treasure of interesting items left in a place, it would be mostly gone after 26 years of abandonment. Then again, unless some homeless man was collecting hub caps, this place may have escaped abandonment and served as a garage or a personal residence for some time after 1983.
Chad was amused with the hub caps and kept asking whoever would come into this room whether they wanted a hubcap from a 1987 Ford Tempo or from a 1991 Grand Marquis.
---
I think I took about 10 pictures in total, as the building was extremely featureless besides the hubcaps and these insane bee hives between the windowpanes and the window boarding.
---
There wasn't a bee to be found though. Too late in the season?
---
Looking out on the highway.
---
I had no idea it was on any list, but my buddy told me Engine 43 was demolished in January.
...and hence why I'm bringing it to your attention.
---
Sources:
1 - DetroitYes! Archived Firehouse Thread (http://ensim.atdetroit.com/~admin16/news/070315/201f/00-index-forum.htm)
Navi