Detroit Tourism
October 2009.
Although I do portray Detroit in a negative light on this website; I brag about it in real life.
Another item for the positive column came up during my October trip. We were looking for a place to stay again; and again thinking about the Corktown or some place similar. Chad was baffled as to why we were staying in motels & insisted that we use his phone to try Priceline.com. Apparently, it works by stating what amount you're willing to pay & what star rating you're willing to accept; then waiting to see if any of the participating hotels will accept your offer.
We tried a cheap price as we were skeptical about what hotels would accept our offer and what scary accommodations would come back. Trying $50 for a 3-star hotel...we had our offer accepted! By a 4 star hotel!
I had never heard of the Detroit Omni, but where else are you staying for 4 stars at $50? That's what I was bragging to my friends about when telling them of this vacation - you can go to Chicago or Toronto and pay $200 for the same room...or you can visit Detroit and get these accommodations along with cheaper food, parking and entertainment.
Anyway, we figured out where the hotel was, checked into our rooms and were very impressed with the cleanliness and the elegance of it all. $6 bottles of water, a bathroom so nice we were taking pictures, complimentary bath robes, complimentary apples & lemon water...I know it may not look that crazy from the picture, but I was asked if this was the nicest place I've ever stayed and I had to admit it was a tie with another place in St. Louis.
Realize that I don't always stay in grimy places, and this place was definitely topping the fancier places I've stayed.
---
For some reason I didn't take a good picture of the hotel, but you can see some of the other buildings in the historic complex above. Wikipedia has some proper pictures if you'd like to see more.
Anyway, another bonus of spending the night at the Omni was the fact that it wasn't a new hotel, but it was actually a renovated pharmaceutical campus; one which is on the National Register of Historic Places. The Parke-Davis complex was built in 1891 with buildings continually added over the forthcoming decades; many of these buildings built by famed Detroit architects.
At the time, Parke-Davis was the largest drug company in America and their research laboratory was the first American structure dedicated solely to drug testing and led the lead in the commercial drug production approach.
---
I had to get up earlier than everyone else because I was meeting someone at the tunnel crossing during the early morning hours. My friends offered to get up and save me the 2.6km walk downtown; but I was excited to enjoy the streets and take my time strolling over there.
In the above picture, you can see the hotel at right & the Detroit Riverwalk looking pretty before me.
---
Another reason I wanted to walk was because I knew there was a lighthouse between the hotel and downtown.
Tricentennial State Park was built in 2001 to celebrate Detroit's 300th anniversary. When a marina was added 2 years later, the Tricentennial State Park Light was also built.
---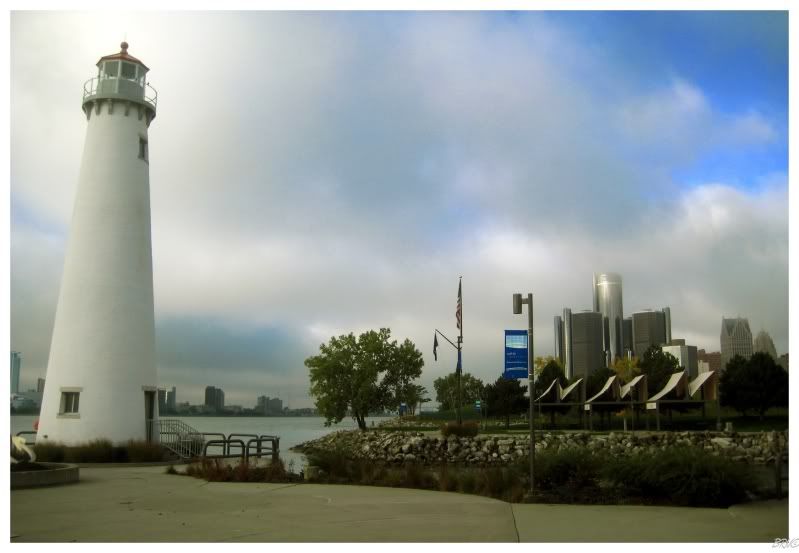 The 7 year old, 58 ft. tower.
My 2nd Michigan lighthouse! 2 down, 162 to go!
---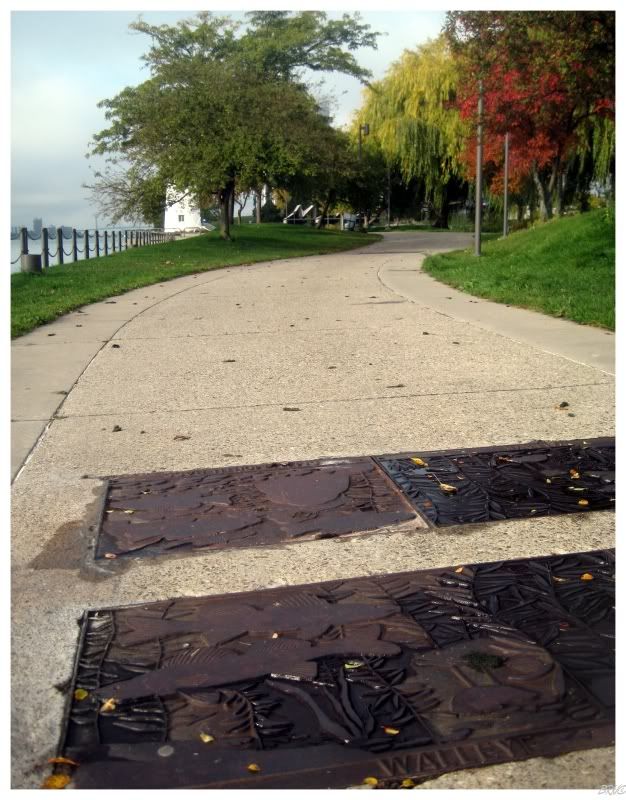 Other than the lighthouse, the park was small, but enjoyable. I shared it with a couple of men partaking in some early morning fishing at the base of the lighthouse (that's why I'm violating picture rules & have the lighthouse far off to the left of the picture).
I stopped to take one last picture as I knew that Mr. Davis would enjoy these decorative metal tiles explaining the fish found in the Detroit River...
---
The rest of the walk was mostly through the shattered lots where buildings used to stand. There are a few locations where the Riverwalk doesn't meet up, so you have to walk around - but after seeing the lighthouse, I abandoned the Riverwalk for Atwater St. until I reached the Ren Cen.
Are you & your girl coming to Detroit? I would recommend the Omni and then strolling the Riverwalk in the early hours. Unless she's a real princess, then just stick to Cabo San Lucas.
---
Sources:
1 - Parke-Davis_and_Company_Pharmaceutical_Plant - Wikipedia
2 - Lighthouses of the U.S.: Michigan's Eastern Lower Peninsula - Lighthouse Directory
3 - Omni Detroit Hotel - Expedia
Navi