Maryland & Philadelphia - Day 4.
October 2009.
Camden Heinekens, plus whatever beer I bought in the Baltimore ghetto, led to us not leaving early the next day. We had a full itinerary, but only got out of the motel by 10.
We originally stopped at the Waffle House, but it was ridiculously busy, so we continued to some random train car diner. While ordering, Chad asked me if I knew what the menu item scrapple was, which I did not. Chad asked the waitress and she answered, "ummm, well, how do I describe it? Well, it's everything on a pig which doesn't have a name. You want it?"
Chad declined.
I wasn't scared though and I took the waitress up on her offer. Chad & UJ were very skeptical, but the scrapple was really good - it tasted much the same as a sausage link. While I enjoyed my scrapple, the next table over had two 20-something men and apparently the one man's son. They looked a little backwoods if you know what I'm saying, then we heard the one 20 year old state that they should visit the strip club before the Ravens game today. UJ found it amusing that they were going to the strip club at noon, which I didn't find out of the ordinary at all. The funny part was when the son asked if he could go, and then the son was told he was getting dropped off at his mothers.
Always good to meet some locals; we were on our way.
---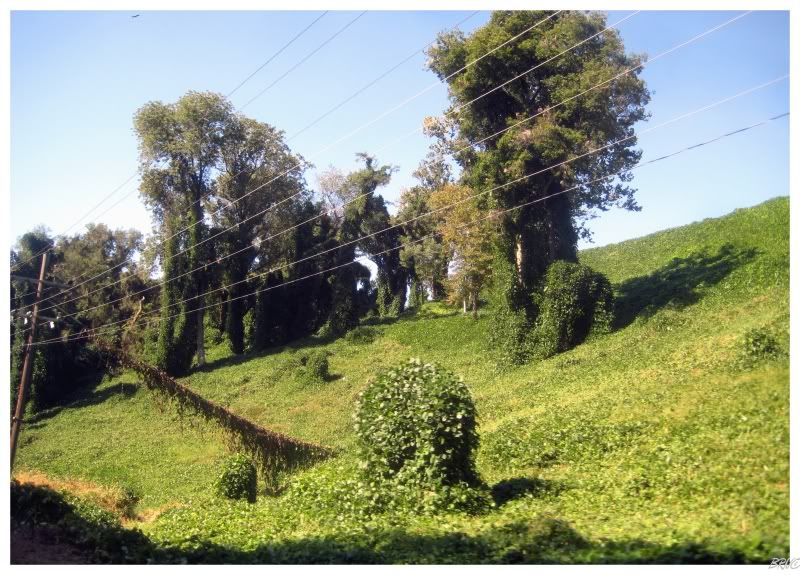 Filled with random pig parts, it was time to get things done!
The first place we had in mind, was surrounded on 3 sides by these insane vine hills. The three of us just drove down the road and imagined how long it would take us to fight and claw our way up - which wasn't happening.
---
The other side was a forested road with the parking lot separated by a fence from the campus.
"Trespassing on Sunday Prohibited! Trespassing on Sunday Prohibited?"
All three of us wished it wasn't Sunday, so that we could just say we thought it was fine to trespass because it wasn't Sunday, but we were S.O.L.. The road had very little in the way of side roads, with one very sad excuse for a suburb. We drove around the nearby town in search of parking, but the walk to the campus would have been about 2 miles uphill.
We eventually decided to park in the 'suburb', but took a minute or two to mull over the decision to park here. How many people park here and have residents call the police on them? Could we just park in the parking lot and have no worries? Should we walk from the town?
A million questions and the final decision was to skip over this location as we were already far into the day & we didn't know if we would have time for both of today's destinations. Walking uphill would have took forever and we weren't comfortable with parking in front of someone's house.
I just wish we would have woke up earlier. You have to make accomplishments more important than drinking on these trips.
---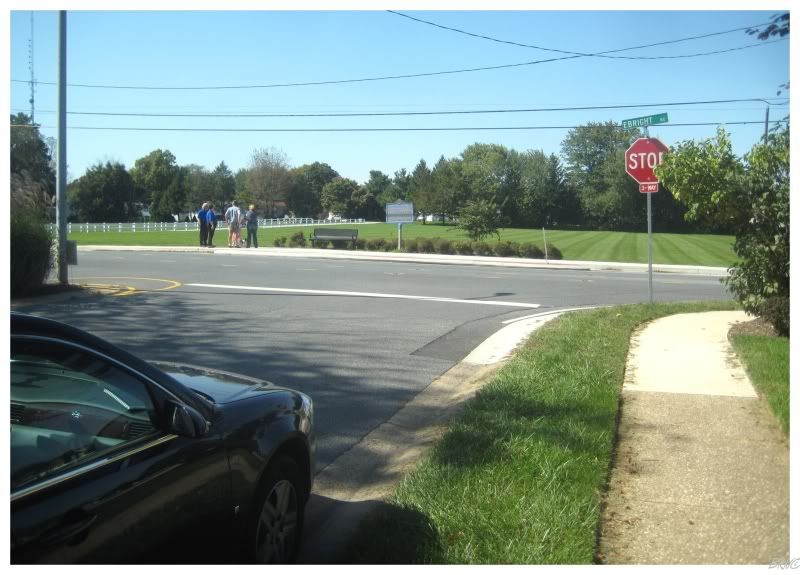 After the 3 of us went to the Rhode Island highpoint during our last road trip, I was informed that if we were near any new state highpoints, to let Chad & UJ know.
Delaware is not a large state by any stretch of the imagination, but we did happen to be in the vicinity of the state highpoint. Ebright Azimuth is located about 10 minutes off the interstate in Northern Delaware, so while Chad really wanted to check out something abandoned, he didn't mind taking 30 minutes to see the highpoint of Delaware.
---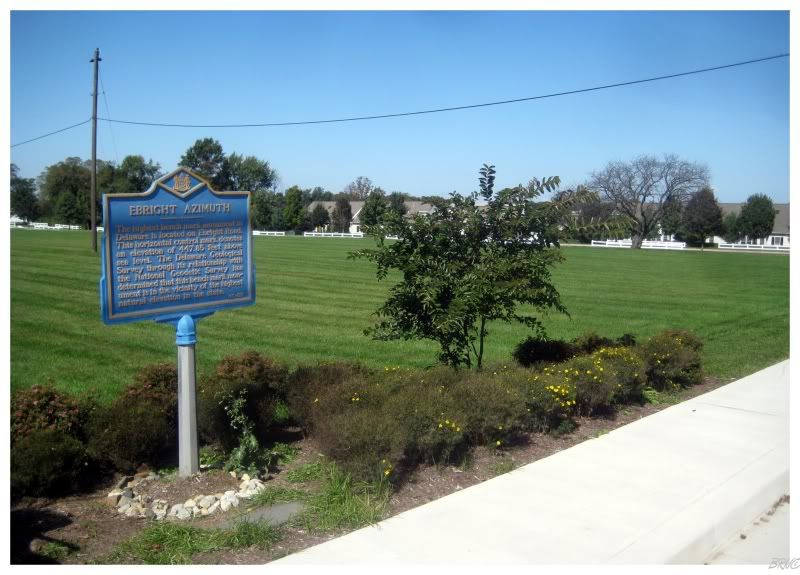 Which, yes, you can see in the above picture!
Without checking the master list, I'm pretty sure this has to be the easiest state highpoint. We drove through a town, onto a secondary road and into a suburb. Upon coming to a 3-way stop, I squealed with glee as I pointed at the blue sign to our left - we had arrived at highpoint of Delaware!!!
Parking Chad's car and crossing the road, suddenly we were on top of the first state! What an accomplishment!
A man cutting his grass across the road paid us no mind, as we snapped a few pictures, a few self portraits, then departed after Chad finished his dart and had enough of the highest point in Delaware.
(I'm up to 4 now! (In chronological order:) Indiana, Maine, Rhode Island, Delaware...)
---
If you think this was another failday of only kitschy tourist destinations, then think again my friend!
The passing on the first location was largely because we were told our second location this day would take all...day...long.
Constructed in 1925, this power plant was built to help provide electricity to one of America's greatest cities. The turbine hall is one of the larger open spaces ever created and was modeled after the Roman Baths. Originally, the turbine hall was designed to hold 4 turbines. Later on, energy needs would necessitate the installation of more turbines, some of them having two jet engines each.
The plant was mothballed in 1984 and only used sparingly during peak energy usage periods.
---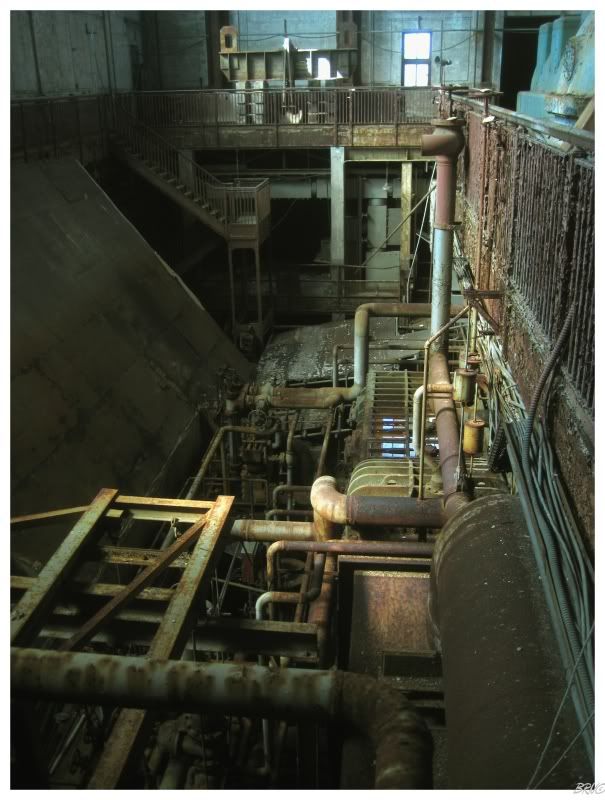 Walking to the plant, you pass through some grassland which may have been nice in the 1800s, but has since been littered with tires, hobo encampments and general rubbish. We passed two guys hauling copper wire two natives carrying a killed pig on a tree branch (they were white guys before you write me a letter because you're offended by me comparing them to natives). The two guys didn't want any part of us and Chad didn't particularly like how they eyed his fancy camera.
The next people we passed were clearly there taking pictures. 3 guys & a girl, they looked like they could clean up a bit and hill the mall afterward. (I knew one of the guys from the internet and I mean no insult, I'm sure we looked out of place too.)
Did I mention this was all in 5 minutes of walking?
Once we reached the actual structure, we found a pair of dudes mining the building of its precious metals. Cautious, we approached the building and looked around. One of the dudes probably had enough of us drawing attention and instantly pointed at a hole and told us that's where we wanted to go, "turn to the left, walk all the way to the end, go up the stairs, go straight, turn left."
I was amused at two things: 1. How the guy looked at us and knew what we were there for, & 2. That we walked up to a building in a random city, found some large, filthy man...stealing copper, then dived into a suitcase-sized hole to a dark building at his suggestion.
---
It's actually surprisingly complicated to get to the turbine hall, but the between the 3 of us, we remembered enough of his instructions to eventually find our way over to the hall. We could hear numerous people banging out pipes all around us in that first building, so that's why we went straight to the turbine hall - it's sort of unsettling to just hear scrappers working, unable to see them.
Anyway, I had seen enough pictures of this turbine hall to have an expectation of its size. The footprint of this power plant is about 2/3rds that of Ford Field, of which, 1/3 of the power plant footprint is turbine hall.
Not good with fractions? Well that's ONE of the turbines above and UJ is in that picture. I gave her a pink bandana so you can see her, but she is still really small and hard to find. To further help you find her, she's near the center of the picture and I've hotlinked her so that you can bring your mouse over the picture and find her for scale.
---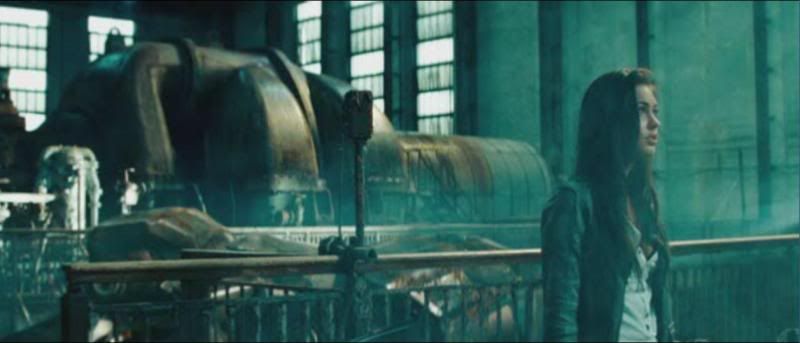 This power plant was used for filming 12 Monkeys, but probably more famously featured in Transformers 2.
I still regret not having the above picture on my camera, so that I could pose in the same spot and have a great profile picture with me on top & Megan Fox on the bottom.
Also, I'd say that Detroit still wins because Scarlett Johansson has been in our buildings, but only that guy went into MCS in The Island. Bah!
---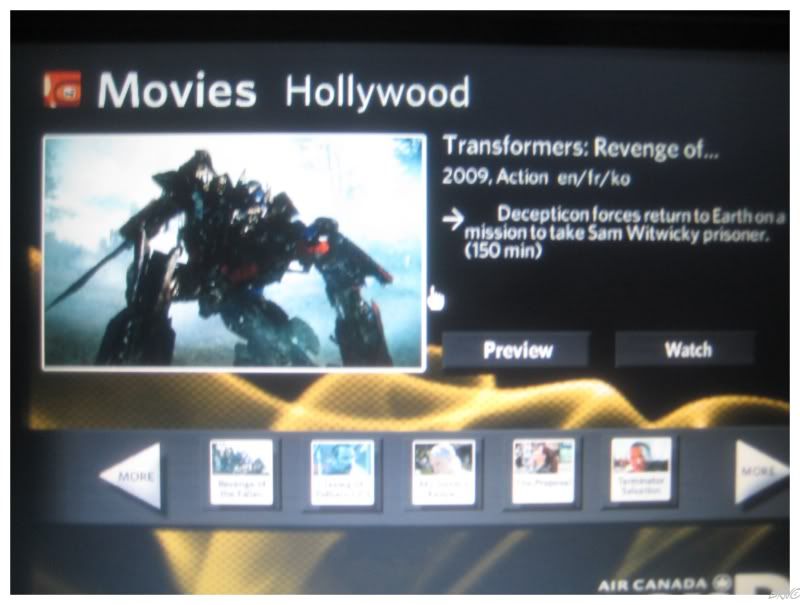 If you know me well and wonder how Transformers 2 actually made it as 1 of the 10 annual movies I watch; it was because it was randomly the in-flight movie from NL to Toronto.
Knowing I was about to visit the power plant from this movie, I was amused to be flying in for the road trip, while watching the film...
---
I don't know how to decompress a movie and chop it down to a specific section, so I tried to film my computer screen showing the Transformers 2 section with this power plant.
It didn't work very good in my opinion.
---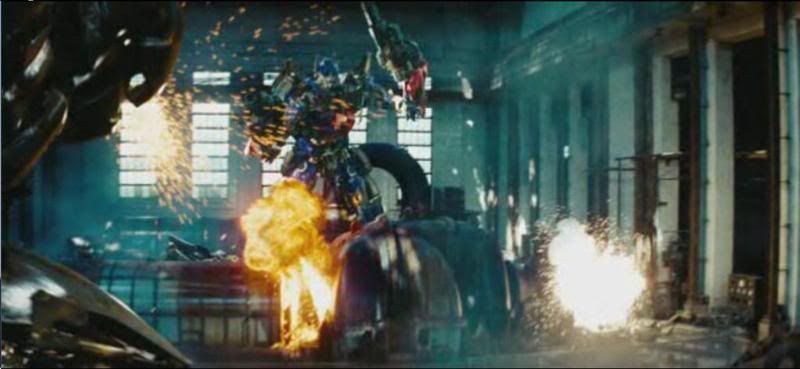 Screenshots where Bumblebee is fighting work much better.
---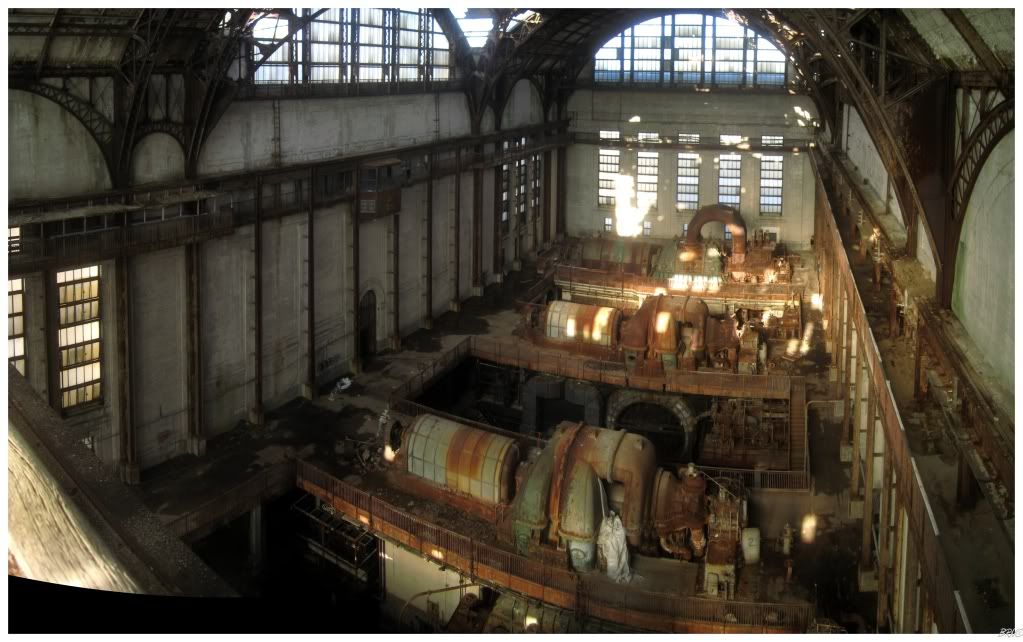 Even more tourists popped into the turbine hall as we were standing around. Plenty of tripods and Sean Connery hats were about, so I stuck to the side rooms and checked out what else there was to offer, before hitting the staircases and getting to higher ground.
A catwalk hugs the walls of the turbine hall, with a back room on one wall.
---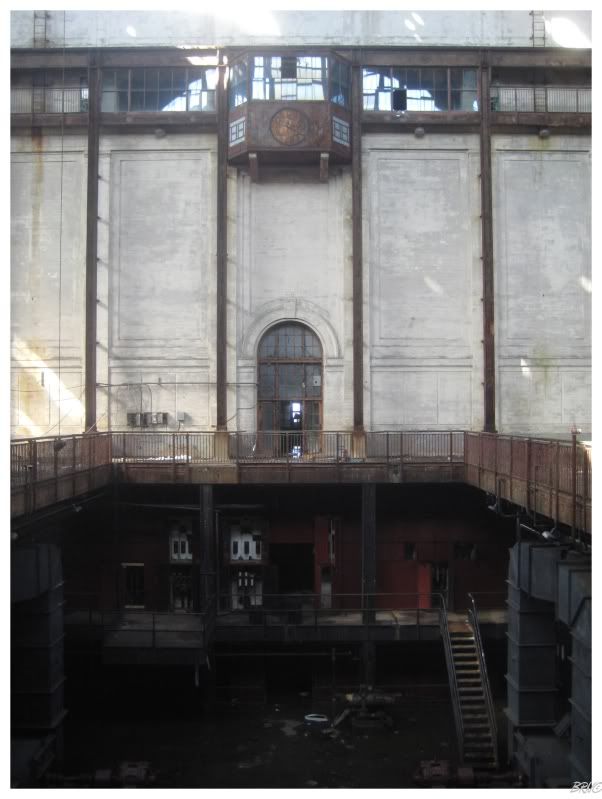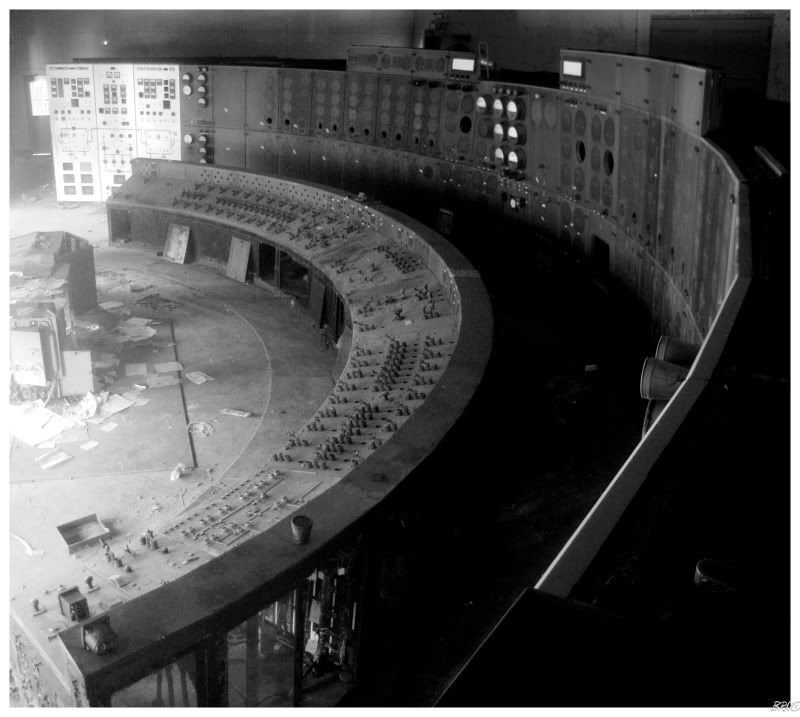 The catwalk also leads into the control room. You can see the control room from the turbine hall in the first picture (it's in that area above the clock) & the second picture shows the master controls.
I spent about 20 minutes gathering junk so that I could climb atop the control cabinet, trying to get an original picture, only to edit pictures today and find them to be blown out and dull.
As with most of my life, it's the effort, not the results.
---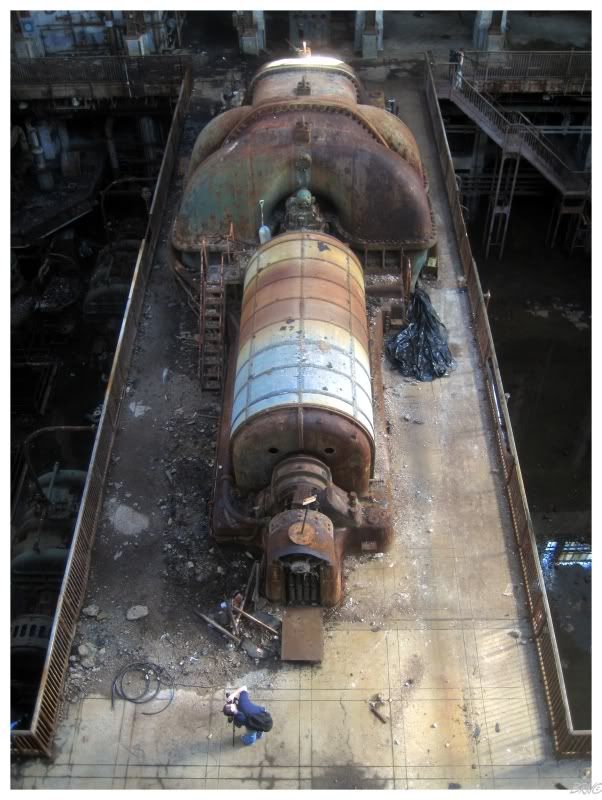 Looking down from the control room, we see little UJ.
Her method of operation was to wait around the turbine hall until enough people went away and weren't in her shot. I wasn't having that, but I'm also not as dedicated to making pretty pictures.
---
She did eventually catch up to Chad & I in the control room, but we had already been up there long enough, so while we did chill for a bit, complete with a Private Stock 40, we eventually left for the roof.
Climbing cranes, rickety ladders and catwalks, there were some sweaty hands and focused upward movements.
The above picture shows the worse portion of the roof, the turbine hall is 70(?) feet directly below those holes.
---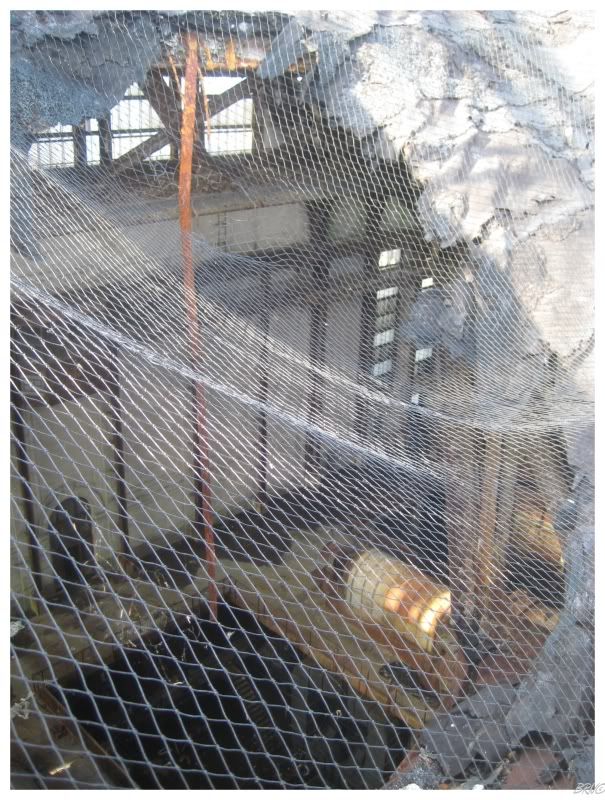 There was netting over some of the holes, which I didn't really understand.
---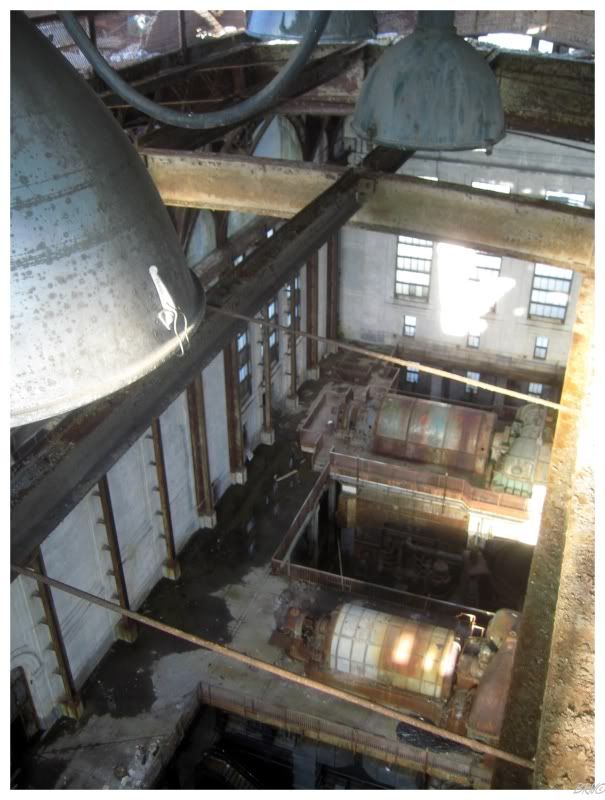 Thankfully Chad & I found a little room absent of netting.
This room led out onto ceiling catwalks over the turbine hall, but Chad & I were not having any part of those...
---
Instead we took to exploring the roof...
---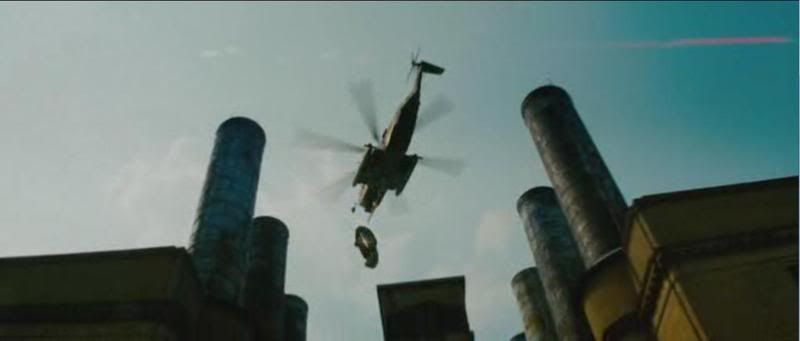 ...which is prominently featured in Transformers 2 where they drop the car with Megan Fox & that guy into the building.
---
The roof has a million ladders and levels going every which way.
I decided to climb that thing you see at right; the thing that looks like it has 4 holding tanks on top.
---
The view was fantastic, but the giant smokestacks and the bright sun made all of my pictures look mediocre.
This structure had those fun metal grate floors, so I didn't stay up there for very long as I was nervous about the heights.
---
Once back down from my climbing, I walked over to the city view side and tried to take a picture into the sun...
---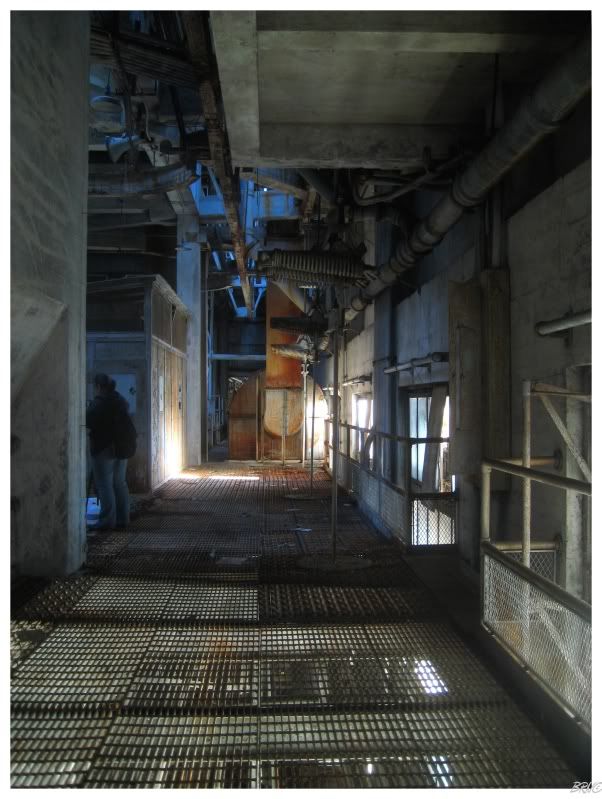 It actually took me about 10 minutes to find Chad & UJ once I climbed down, as the roof is so vast.
Once I did, I found them both tired and hungry. We had been at the power plant for 5 hours already and the afternoon was quickly passing. Chad wanted to check out the area below us - next to the turbine hall and where the scrappers were. The scrappers wouldn't be a problem though, as we were about 10 floors off the ground and the place is an absolute maze. If you had to go in there to find someone who didn't want you finding them, you wouldn't stand a chance - I have never been in such a cluttered, complicated and intricate place.
---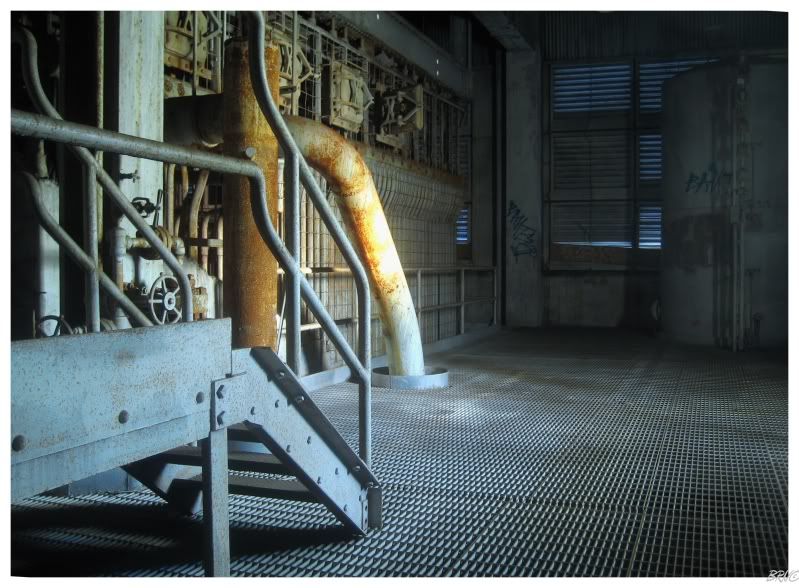 I liked the areas, I liked the photography light, but I couldn't tell you what one damn thing in those 10 floors did.
I was actually surprised that Chad was so enthusiastic about climbing all through this area and documenting it - but after seeing his fantastic pictures, I was happy he did. Unfortunately, Chad recently took down his website, so I can't share those photos with you anymore.
---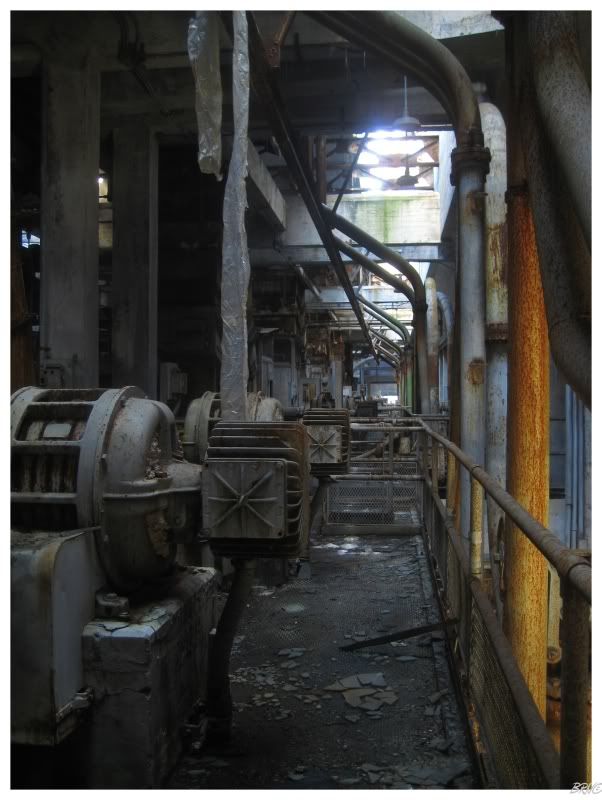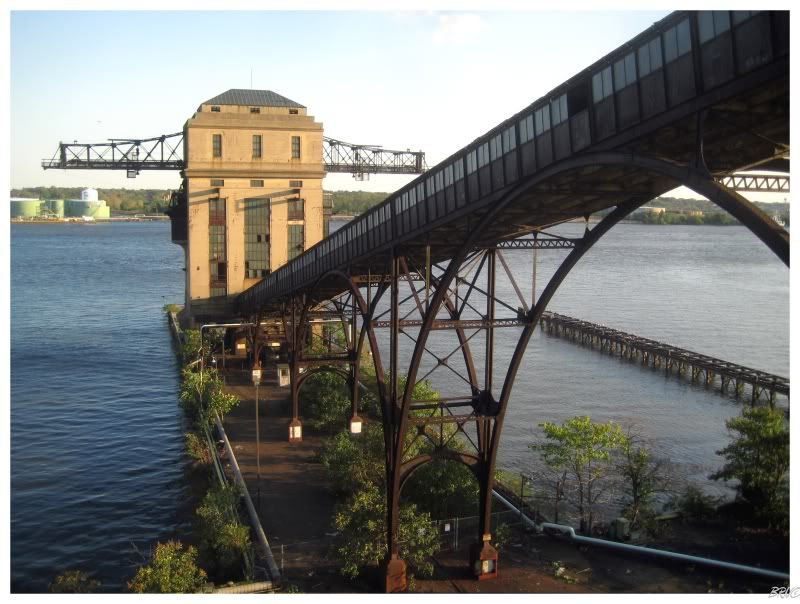 Besides Chad's desire to document something besides the turbine hall, he also wanted to find the entrance to the conveyor belt connecting to the coal tower on the river.
We went up and down the floors near where you would expect the conveyor belt door to be, but only found locked doors and dead ends.
You couldn't pay me to actually walk in that coal conveyor, so I was more than happy simply to find the balcony where the above picture was taken. The late afternoon light was fantastic - if it wasn't for the dangerous parking spot, social obligations and the scrappers, I would have insisted on sleeping here.
---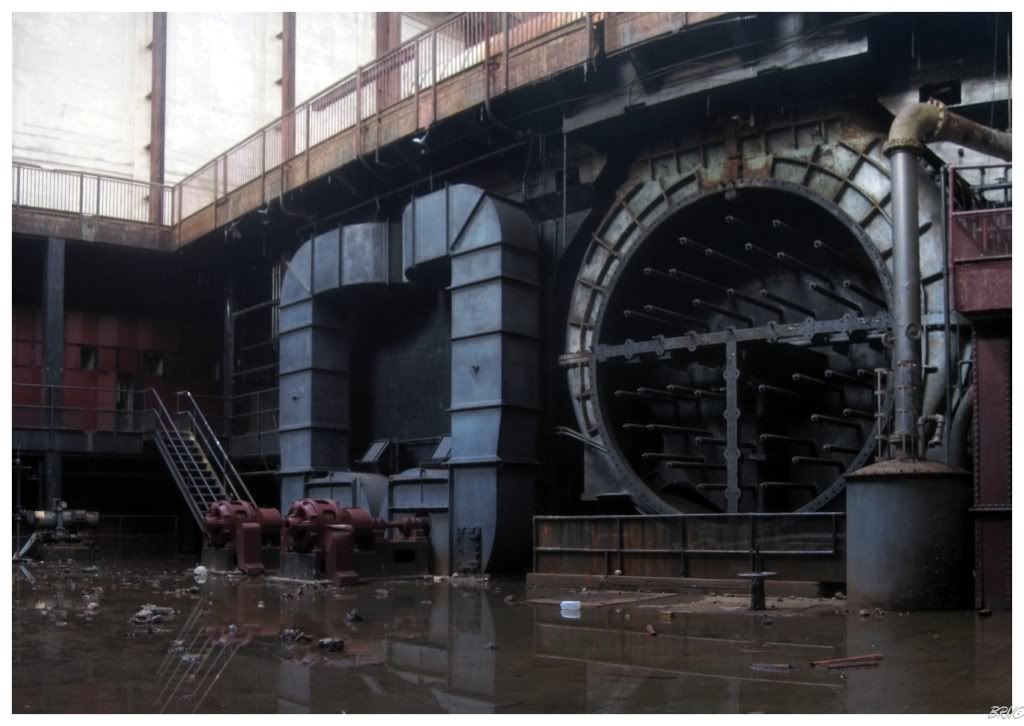 The last thing we wanted to see was the areas below the main floor in the turbine hall.
Chad had already been down here, but I hadn't, so I asked if we could as I had seen some nice pictures from down below.
---
The sun was really starting to fall in the sky, the turbine hall was growing dark and those grasslands didn't seem welcoming at night at all. We packed up our gear and made our exit. What was 2 scrappers before, was suddenly a gang of them! I actually went home and told my Detroit people, as we're used to seeing 'a' scrapper or a pair of them, not 15 to 20!
It seemed like everyone had a job and everything was systematic. They also seemed very nice and even let us exit the hole before them, while making small talk as we were going on our way. We made it back through the grasslands without incident, and I was happy to see that the car windows weren't smashed, as I know someone who's personally had their stuff stolen while parked at this location.
---
I can't remember why our Philadelphia friend didn't come with us to the power plant, but since we were near his territory, he insisted that we go & have dinner with him. We were tired, but also ridiculously hungry since we hadn't ate in 8 hours - so we were happy to oblige (plus UJ & I had never met him in person).
Anyway, it was nice to finally sit down, relax and enjoy a tasty pint and a monterrey chicken pita.
We drove to a nearby motel which Chad had stayed in while coming to explore a mental asylum a couple of years back. It was grimy & cheap before, but the prices have seemed to skyrocket since they tore down the asylum.
We decided against the rate increase and stayed at a cheaper motel down the road. Chad & I both tried to stay up and drink some beers, but the day had wore us out too much & it was time for bed.
Onto Day5.
Sources:
1 - Workshop of the World
Navi