Irish Loops & Giant Squids
November 2009.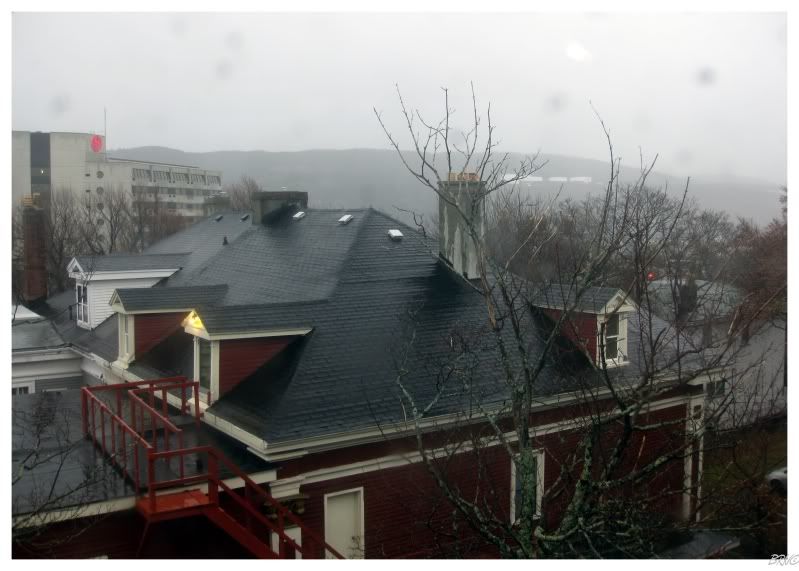 It was early November and I decided to drive the 7 hours to my friend's house in St. John's for some touring on the Avalon Peninsula.
Especially at this time of year, you can't expect Newfoundland to give you any nice weather. My friend & I resolved to only cancel the journey if it was truly nasty outside (heavy winds and/or heavy fog).
Thankfully we awoke to mediocre conditions of light drizzle and slight fog - nice enough for us to get on our way and hope that the day would improve as it progressed.
---
Today I wanted to drive was the 312km Irish Loop scenic highway. Now that I had made a friend in St. John's, it was suddenly a lot easier to drive the 7 hours over to St. John's, sleep for the night, then tackle one of the 4 peninsular scenic drives of the Avalon Peninsula.
I had long wanted to do this specific drive (the Irish Loop) because of the abundance of lighthouses, aged communities and unique Irish heritage.
Attacking the Irish Loop counterclockwise, the first lighthouse we came upon was the Point La Haye Light. A lighthouse has been at this location since 1883, but earlier, more appealing towers were demolished and replaced with the above skeletal tower.
Moving right along...
---
Further south, causeways with interesting signage connected the slivers of land.
Although it wasn't pleasant today, I imagine it can get quite a bit nastier over these causeways during really inclement weather.
---
In addition to the causeways, we also knew that many of the lighthouses of this trip were reached by gravel roads.
The second lighthouse of the day was at the end of an 8km road. Stupidly, I didn't print out directions and decided to wing it. We ended up driving past the lighthouse road, into the town of St. Stott's, and onto some gravel/mud road out of town for a few kilometres.
After we reached a point where we didn't believe the rental car could go any further (too muddy), we turned around and assumed we just weren't going to get Cape Pine Light done today.
---
We decided to stop for directions and a friendly woman informed us that we missed the lighthouse access road about 10km before St. Stott's.
Also of note was the Irish flavour to the woman's accent. Being named the Irish Loop for a reason, this area holds strong to the ancestral dialect and traditions which came over from Ireland to Newfoundland.
While I knew about the Irish-Newfoundland accent curiosity before this trip; I expected to see it in a bearded, grizzly character; not an attractive middle aged female...
---
Anyway, enough about my swooning.
We departed St. Stott's and drove the 10km back the way we came. Once there, we found a tiny sign denoting that this random gravel road before us was the lighthouse access road.
8 kilometres (5 miles) later, and we were shaken, not stirred. The road wasn't absolutely awful, but it was still bad enough that just as you felt confident and started to move quicker, you would come upon a giant pothole (and subsequently be forced to brake or bottom out the car).
After what seemed like forever (probably about 20 minutes), we reached the lighthouse. We were already unimpressed with the fog preventing any possible caribou sightings along the way...and now apparently also preventing sheep sightings!
This is one of the rare lighthouses that is still manned, so it leads to visions of a tired lightkeeper cursing about the gate being left open...and then having to chase sheep off of the lighthouse grounds.
---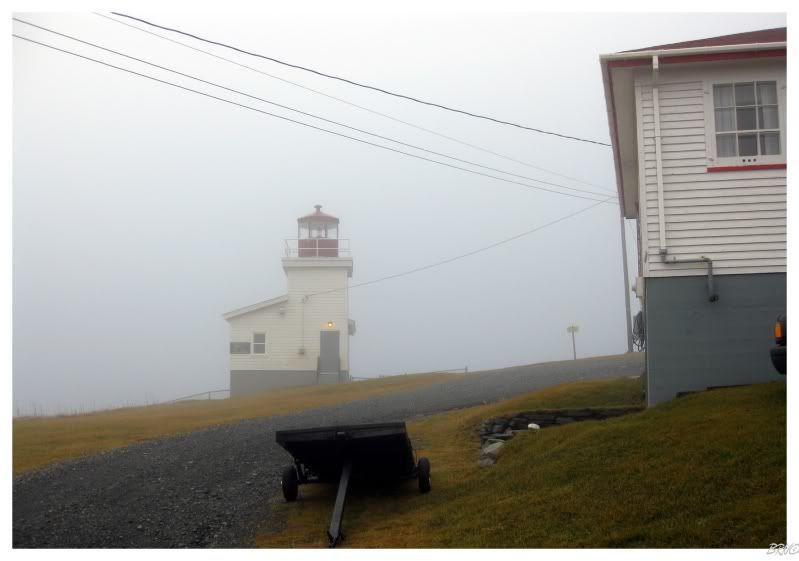 After driving only 17 kilometres (11mi) more on Highway 10, it was time for some more gravel road.
The Powles Head access road was only 5km (3mi) and in far better shape than the previous road to the Cape Pine Light.
---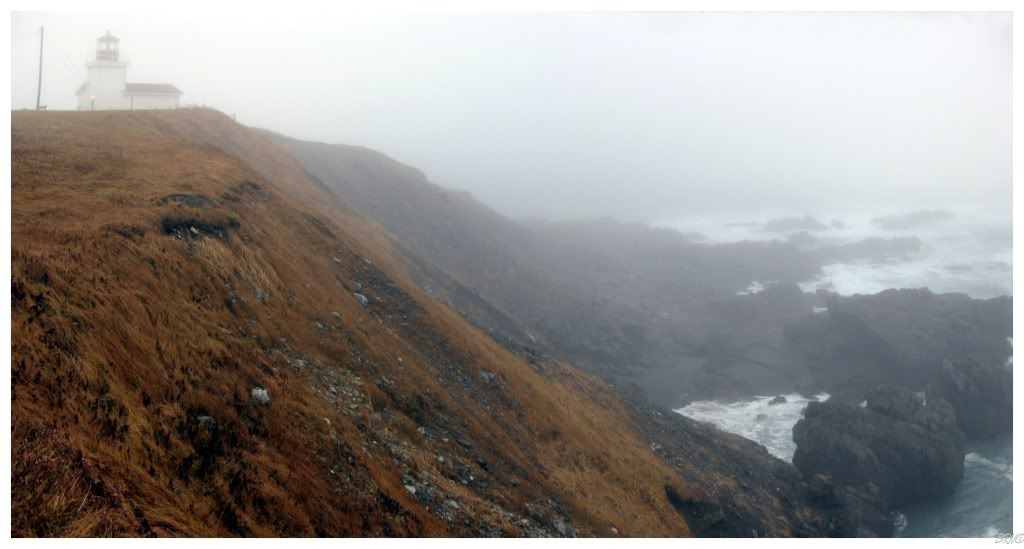 A station was established at Powles Head in 1902, with the current lighthouse constructed in 1960. It would seem to be a twin of the previous lighthouse built at the skeletal tower location from the beginning of this update.
The fog was letting up a bit, allowing us to walk the grounds and see more of our surroundings.
---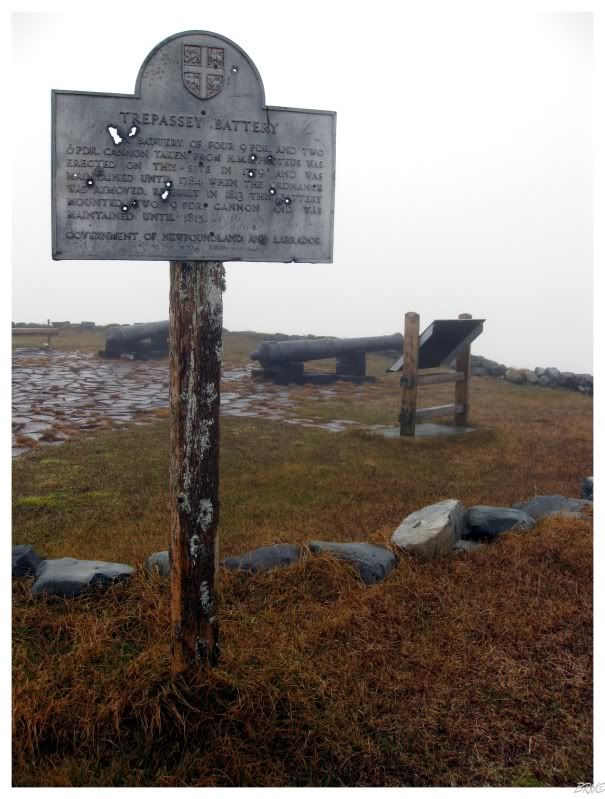 My friend and I noticed a small hiking trail to the 'Trepassey Battery' while out on the peninsula to Powles Head Lighthouse.
The trail brought us to the top of a small foothill; with cannons dating back to the American Revolution & used in the War of 1812.
We were both surprised at how rundown the site was, but apparently Trepassey is having a come-home-year celebration this year; and one of the tasks they're completing is the cleanup and maintenance of this Trepassey Battery.
---
After the Trepassey Battery trail, it was only another mere 11km (7mi) along the highway before it was time for another gravel road!
This one was the granddaddy of the day - a 21 km (13mi) gravel lighthouse access road! Complete with steep hills and large water-filled depressions!
I was thanking my lucky stars that we had a rental car as we moved along this rudimentary road. It really wasn't that rough of a road, but after 5, 10 then 15 kilometres of gravel road, you start to drive a little faster and punish the car a lot more than you should...
Once we reached the lighthouse, we were happy to finally get out of the car; even if it meant having to withstand Cape Race's frequent fog horn. The cliffs here were more precarious than both Cape Pine (the sheep lighthouse) and Powles Head. The sun was losing a battle with the thick fog, but we did get sunny fog conditions; which allowed us enough of an opportunity to poke around on the cliffs and experience that feeling where you feel so minor in relation to the physical world.
---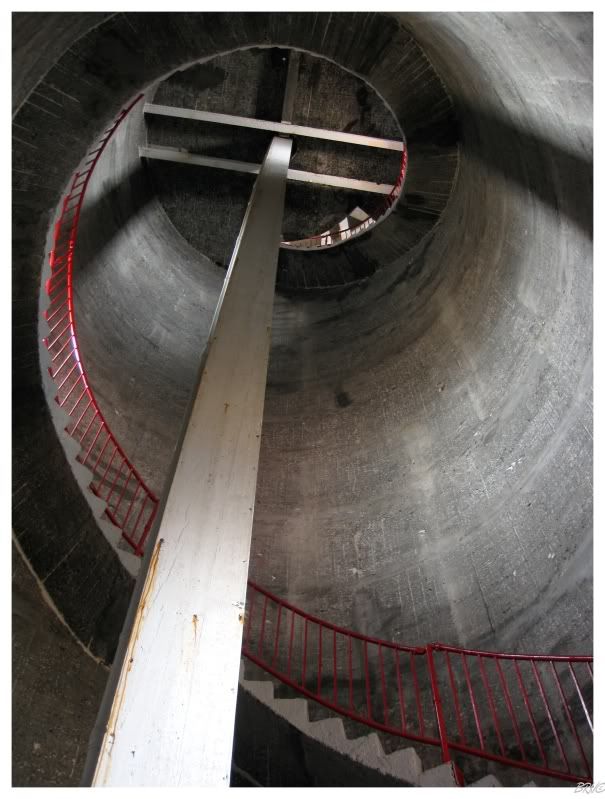 This location has been the site of a lighthouse since 1856 (the 1856 tower was relocated to Ottawa, via Nova Scotia); the current lighthouse constructed in 1907. Both lighthouses have acted as the welcoming beacon to immigrants coming to Canada (similar to Cape Hatteras in the U.S.).
This was the first large lighthouse I had ever been inside and I was awestruck with the interior cavity and the number of stairs. In addition to amazement, I was also intrigued with how the stairs were built into the wall, with no additional support beneath them.
With a more than adequate handrail protecting us from falling into the centre area, I wasn't nervous in the slightest; but it still seemed to worry my friend & she wasted no time getting to the lantern room.
---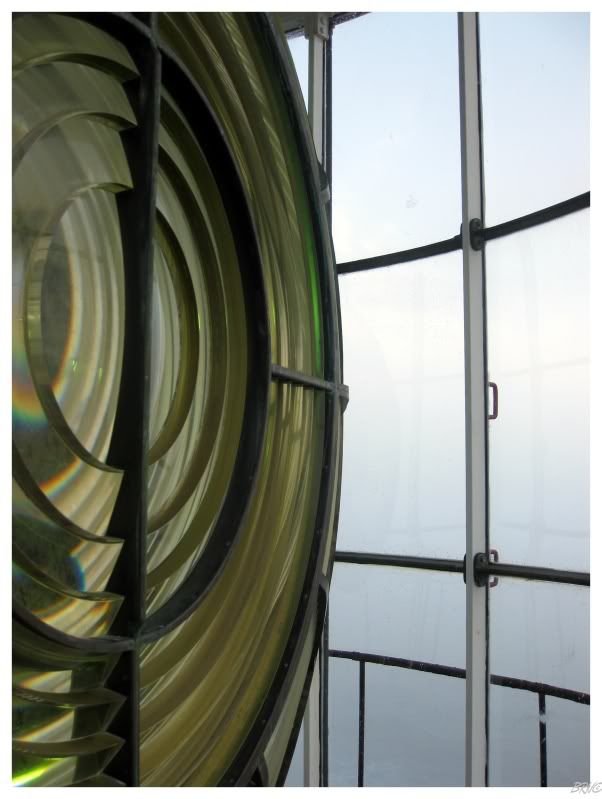 In the lantern room was a simply enormous light.
Lighthouse lights work in terms of orders (1st order, 2nd order, 3rd order, etc.)...with 1st order being the largest. This light is actually larger than a 1st order light, and is one of approximately only 10 ever built of this size. It can be seen for 37 kilometres (24mi) and was the brightest lighthouse in the world when constructed (at 1.5 million candlepower).
---
Beneath the great light was a series of gears working together to spin the Smart Car sized behemoth.
It is fascinating enough to look at antiquated machinery and imagine it working; it is another thing to stand before it and witness.
---
Unfortunately, by the time we drove the 21km gravel road back to the highway, purchased some gas & used the facilities - the light of the day was quickly fading. The sunny fog had long left us and now all that remained was cloudy fog. In November, the sun sets early enough, but when you tack on the fact that the last hour of the day is dark because of the weather?
It meant that we didn't have enough time for the remaining 3 lighthouses on the Irish Loop and that they would have to wait for another journey. They're closer to St. John's anyway. In addition, the closest one to our current Cape Race location was about an hour away - so we couldn't exactly rush and get one more done either.
---
My friend had to work in Grand Falls (Central Newfoundland) the following Monday, so I ended up staying at her motel in Central on Sunday night. Not wanting to throw away open hours where I'm already in Central Newfoundland, I decided to drive north to a giant squid.
What? Giant squid? They didn't build it just to build a giant squid:
In 1878, nearby fisherman caught a 55 foot long giant squid, which was the Guinness Book of World Records largest squid ever at the time. In 2001, the hamlet of Glovers Harbour built a life-size recreation of the squid.
---
Since I was only 8km (5mi) from the end of the 70km (44mi) Highway 350 - and since I have an obsession with driving every highway in Newfoundland - I decided to cover those 8 kilometers to the final Highway 350 community of Leading Tickles.
---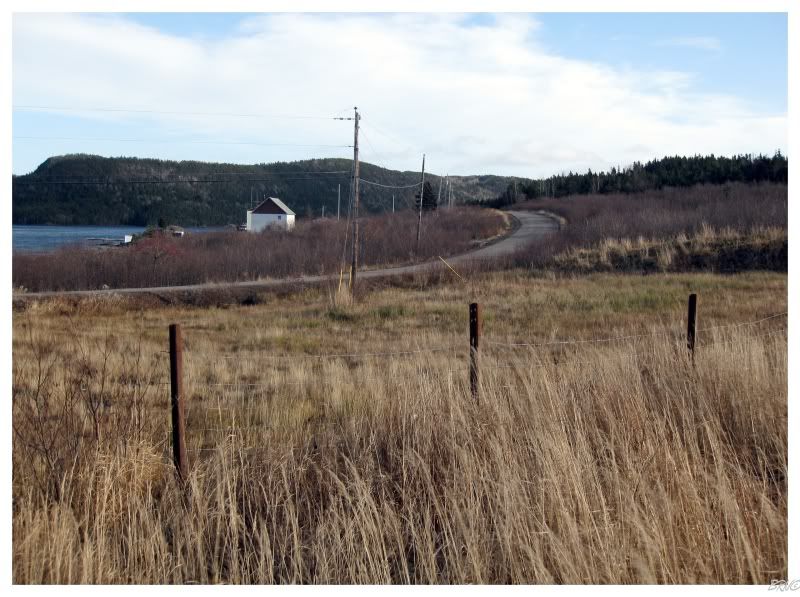 Halfway back to the Trans-Canada, I decided to turn off & complete Highway 352 as well.
The majority of the communities were your standard fishing villages, but I really enjoyed the village of Fortune Harbour (above).
Why?
---
Their huge, impressive church!
To be driving along the highway through tiny villages, it was a nice surprise to suddenly come upon such an enormous, attractive church.
I read online that it was a bit of a mystery why such a large church was ever built for such a small community; but I'm certain it was simply a matter of a wealthy resident or an expected surge in population which never came.
It just doesn't happen that someone says at the end of a church construction, "oh heavens Edgar! I don't know what happened! We accidentally built a 350 capacity church instead of the 35 capacity church we had planned!"
---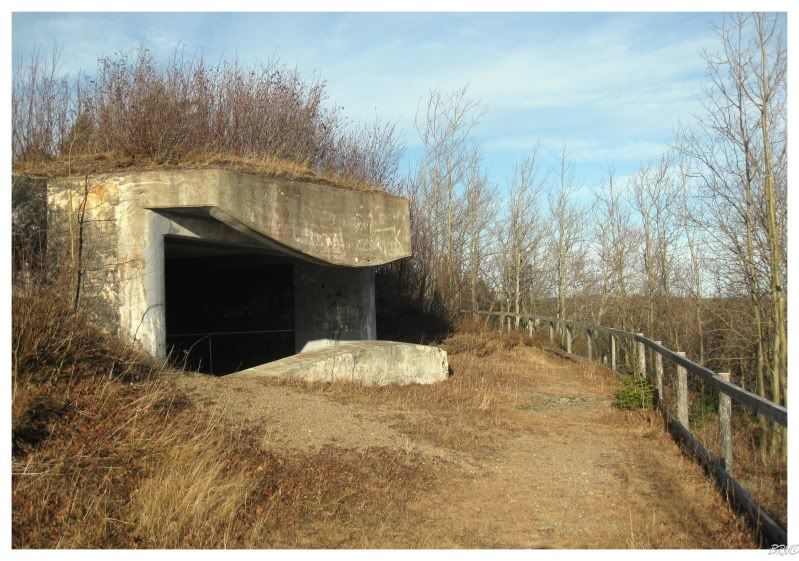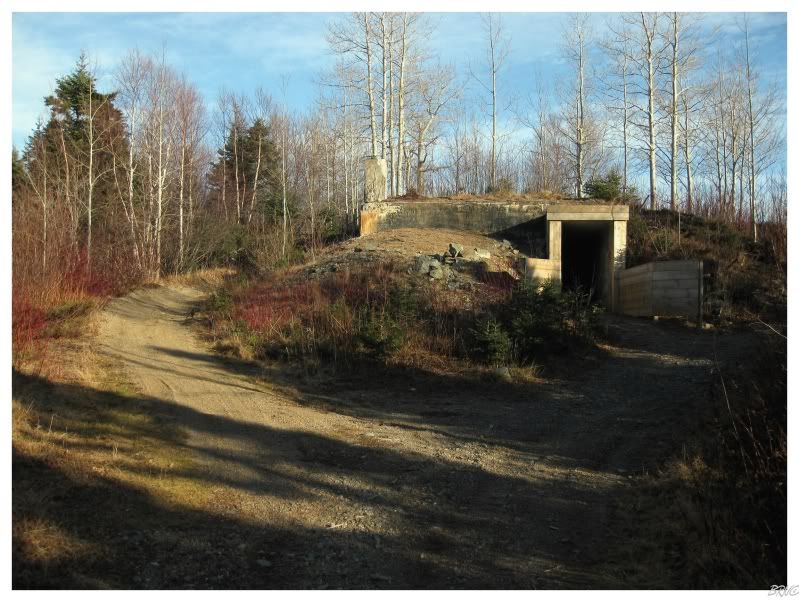 Anyway, heading back towards Highway 350, I passed through the community of Phillips Head and noticed an intriguing WWII Battery trail.
An explanation for this battery comes in the fact that further south is the community of Botwood, which was a very important army base during WWII. Its North Atlantic location provided a great place to launch Atlantic-crossing flights and reconnaissance missions which could travel further than anything from Nova Scotia.
If the Germans somehow took Botwood, it would have been a huge shift of power in the war and therefore Botwood was heavily defended. Two gun batteries were installed at Phillips Head & Wiseman's Cove - strategic places which protect the entry to Botwood.
---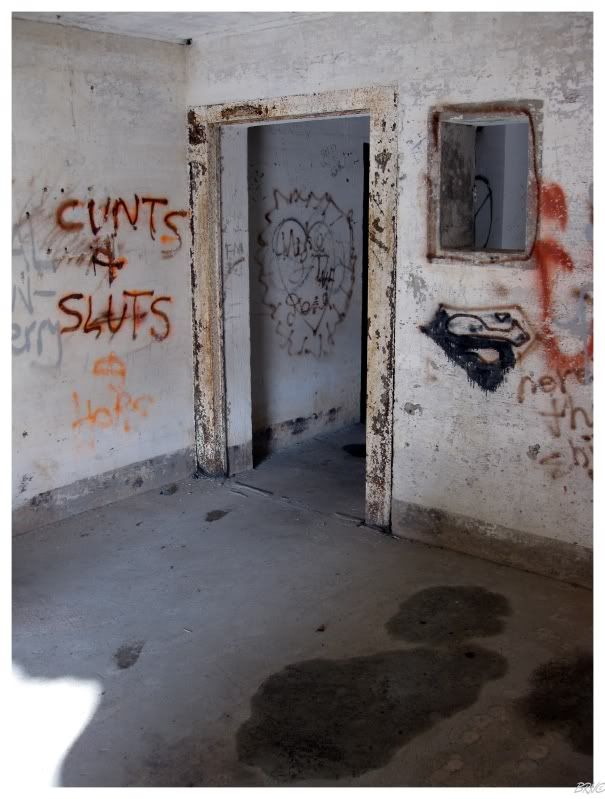 HeritageNF has a fascinating description of the Phillips Head site:
"The artillery station constructed at Phillip's Head was elaborate in scope. It boasted a three-storey lookout tower and a 700-foot underground passage that connected 11 rooms filled with ammunition, secret documents and supplies. The entire station was surrounded by barbed wire fencing and fitted with drain pipes intended to flood the facility in the event of enemy invasion. Booby traps were also set up along the underground passage and two hidden escape hatches were installed."
---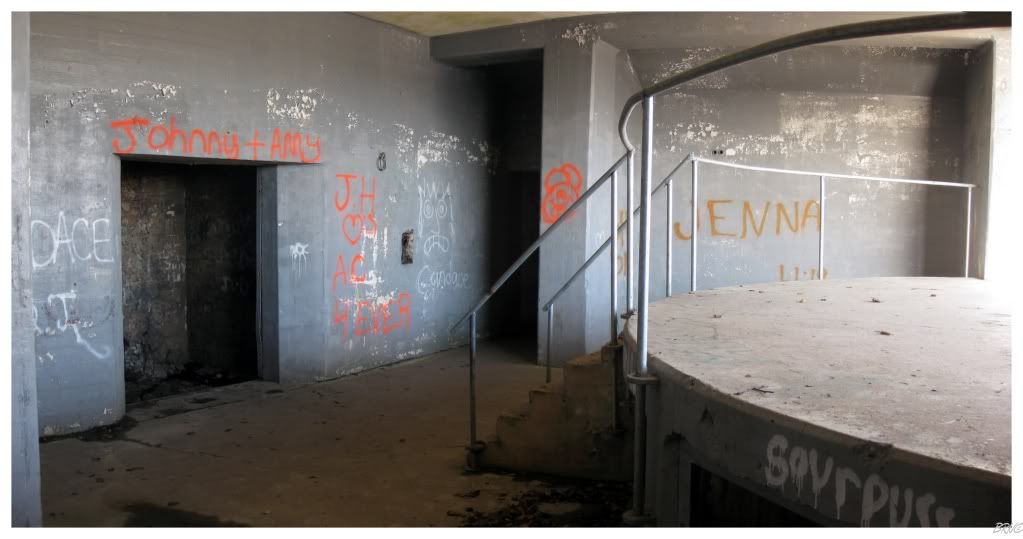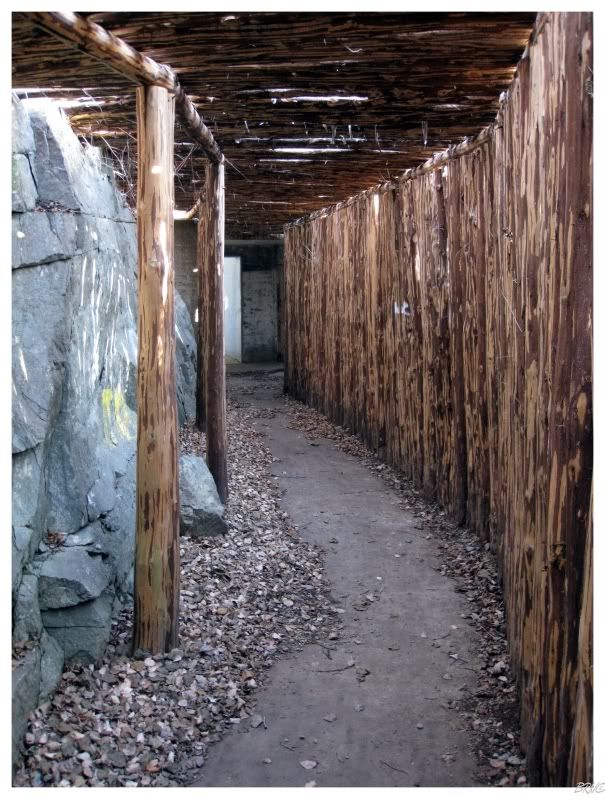 I had no idea this battery was here before this trip, so I completely expected something minor when I discovered the sign for the trail.
The battery ended up traversing a lot of ground and was far more complex than I had envisioned.
It made quite the pleasant surprise.
---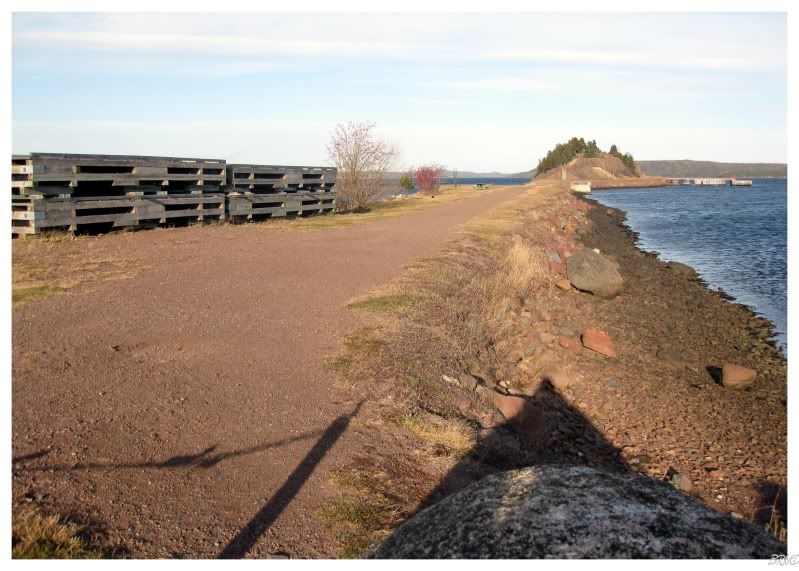 Aside from the giant squid, the other reason I drove up Highway 350 was to explore Killick Island in Botwood.
During the times with a military base in Botwood, a causeway was constructed to connect Botwood to nearby Killick Island...
---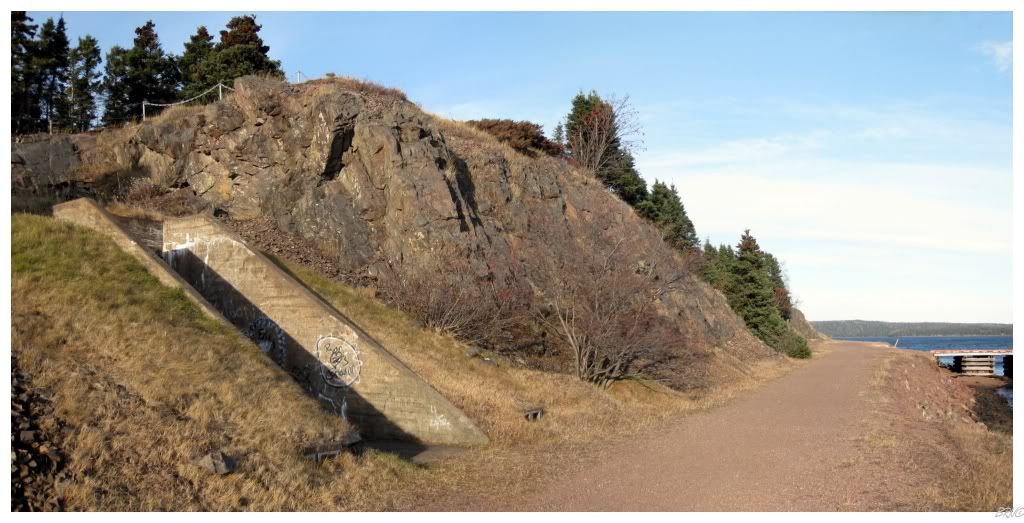 ...where underground ammunition storage cave/bunkers were created...
---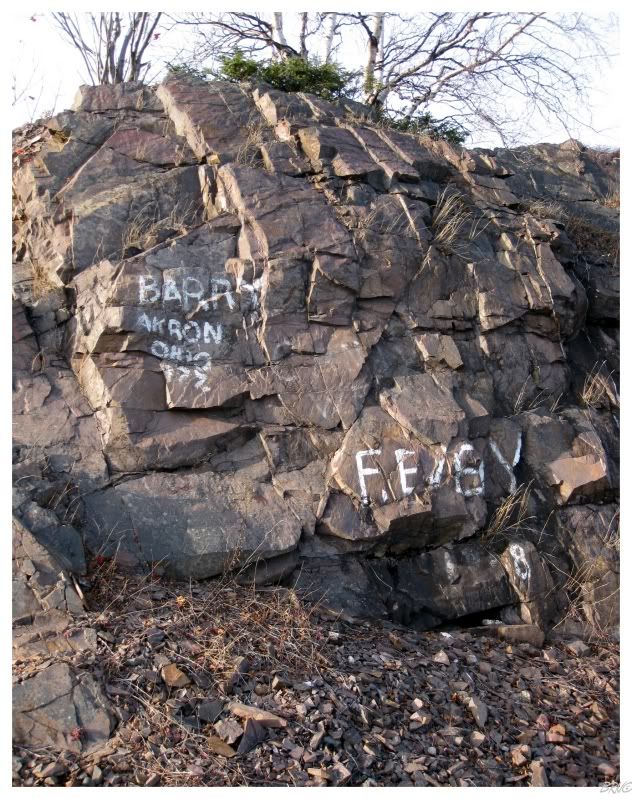 ...but unfortunately all locked up tight.
A former military island connected by a causeway already peeked enough interest in me to visit; so it didn't really matter all THAT much that I couldn't get inside.
Some of the graffiti, from who you'd assume were former servicemen, was also interesting.
---
I drove around and explored Botwood for a little while longer, before calling it a day and heading westward towards home.
Sources:
1 - Point La Haye Light - Lighthouse Depot
2 - Cape Pine Light - Lighthouse Depot
3 - Powles Head Light - Lighthouse Depot
5 - Cape Race Light - Lighthouse Depot
6 - Phillips Head, Newfoundland - Wikipedia
7 - Botwood: Canadian Presence in Newfoundland in World War II - Newfoundland and Labrador Heritage
Navi