I would have thought Ryan would have procreated by now, but since he hasn't, that's a good thing for me as I still get to go on these annual Christmas sporting road trips.
---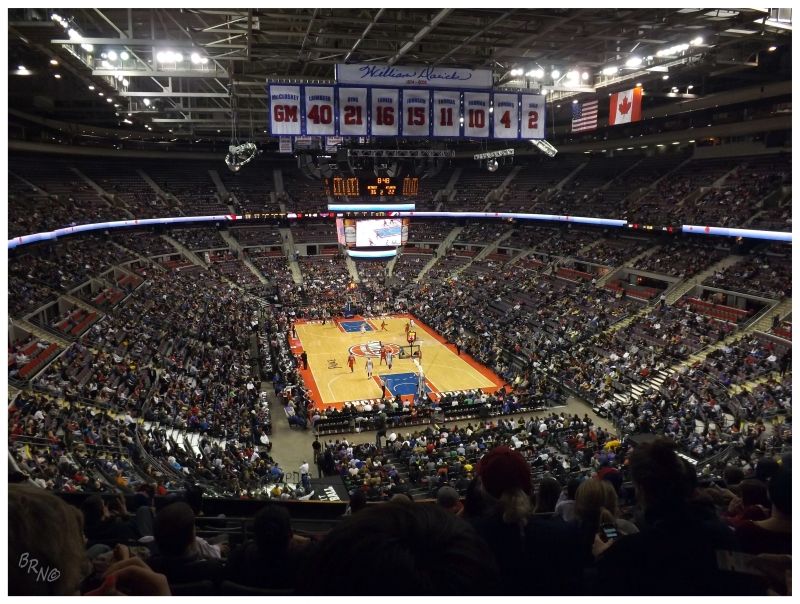 The reason we were able to make it work this year was because of how the weekdays fell on the calendar. I won't fly back to Newfoundland for New Years, so that meant I was in Ontario through the first weekend of January.
The pickings were slim on that Friday night, seeing as Ryan had to work until 430.
As none of us had ever been to the Palace of Auburn Hills to see the nearby Detroit Pistons, we decided to check that off. It was a good thing we went with this instead of going to Saginaw, as rubbernecking turned the 45 minute drive into one where we almost missed the opening tip.
Those damn mouthbreathing rubberneckers, because once we passed the accident, it was evident that it wasn't even anything that should make one want to remotely rubberneck.
Anyway, as for the Palace of Auburn Hills, it was funny how fired up Ryan got with the atmosphere, noting that he's felt more electricity at a business conference. I had to agree, only giving the place points for being a neat stadium (then again, this was only my 2nd NBA game).
---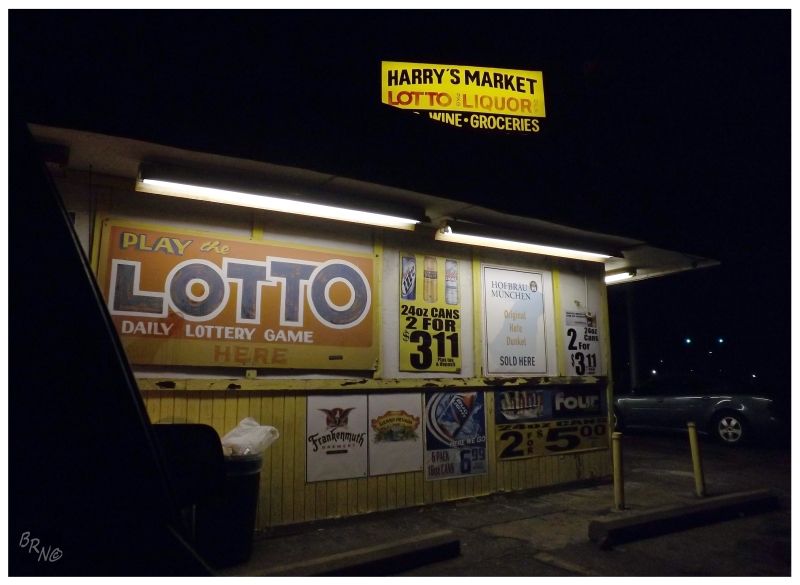 Leaving the palace, we took some convoluted way to get back to I-94, as it seemed silly to go all the way back to Detroit. This meant Wendy's for Rye & Mike, while a stop at Harry's Market somewhere along the way, meant Stroh's and Milwaukee's Bests for Mike & I.
The GPS said we still had a 3.5 hour drive ahead of us to our fleabag motel in Indiana, so we settled in while Ryan handled the driving and the music. I would fall asleep near the end, but he woke me up to help him get there - and finally seeing that Indiana exit after that long, arduous Michigan crossing, was more than welcome.
I can't remember much about the Dollar Inn except that we didn't stay up for very long. And that Ryan filled his coat with free bananas and muffins come morning. (Myself, I have Newfoundland syndrome where I want to purchase strange restaurant food/drinks whenever I can, since I can't have them back home).
---
After two hours of driving, including a pass through of fantastic Chicago & an uninspiring breakfast of McDonald's, we would reach Milwaukee and the Pabst Brewery.
---
Like many breweries in America, once Milwaukee's Pabst brewery was closed, it sat vacant for a number of years. These buildings are so sturdy that they usually stick around for a bit, although thankfully the Pabst Brewery acquired an even greater chance of longevity because a local man named Jim Haertel purchased it after only 5 years of vacancy. He is working towards slowly reusing the buildings.
So we stopped in for the tour, where you sit in the Blue Ribbon Hall, designed to replicate a German Beer Hall. A 16 oz. beer is included with the tour, so Ryan & Mike got Pabst while I had a Schlitz.
We finished our beers and started to look around, wondering if anyone else listening to the history was going to get a second...thankfully soon enough, a teenage worker came over and solved those problems for us!
---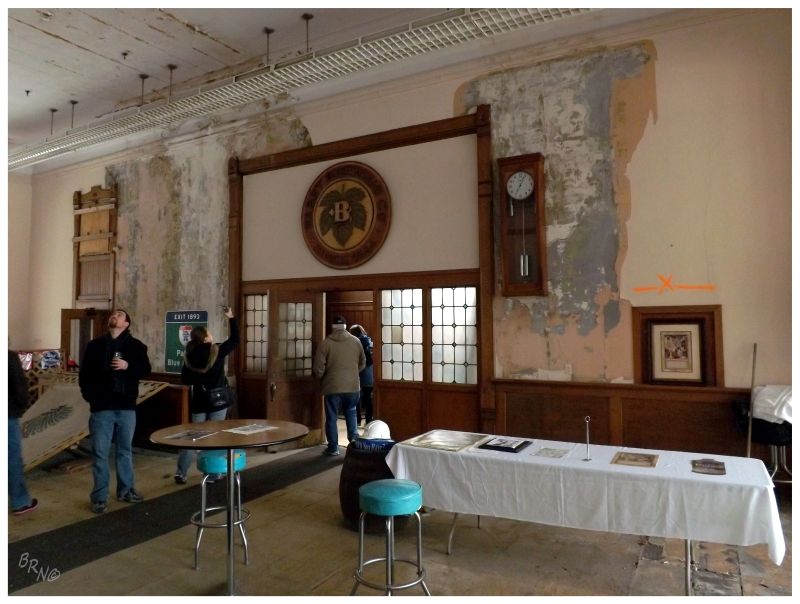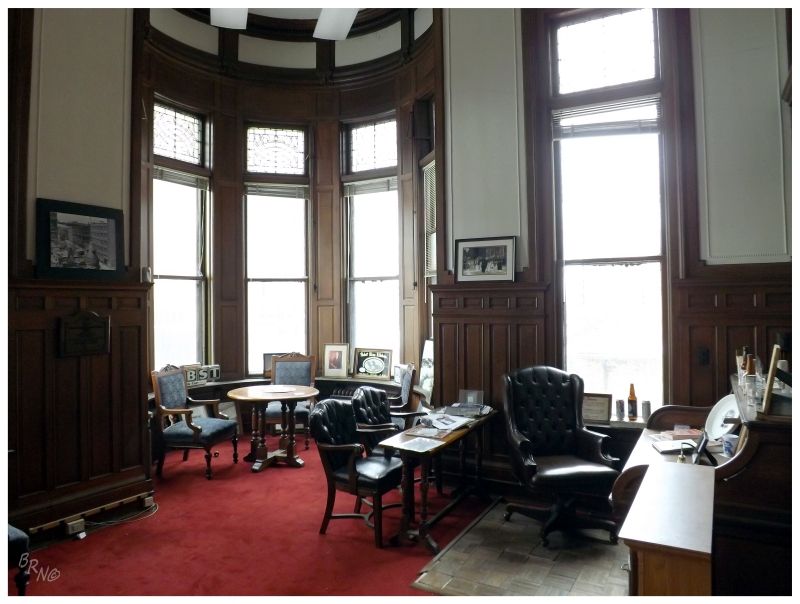 The tour doesn't include going into the actual brewery, but you do get to go into the boardroom and Captain Pabst's old office.
I thought it was well worth the $8 and my companions agreed
(Although it certainly was a friggen cold day to be in an abandoned building...)
---
We rushed across the handful of blocks to the BMO Bradley Center, hoping to catch the afternoon college basketball game of Marquette University. Not liking the scalpers ticket prices, we told them to kick dirt as we paid full price, not quite believing that the game would be full.
While not every seat was taken, it was awfully close. The crowd was rocking as well, with the home Golden Eagles hanging tough and eventually winning against the No.15 ranked Georgetown Hoyas.
It was a far cry from the sterile environment at the Pistons game last night. Dweeby guys and beautiful women draped in yellow, vociferous in their support of the Golden Eagles.
---
The Bradley Centre was built in 1988 and also plays home to the Milwaukee Bucks. It was great for a college game, but I found it a bit intriguing that the NBA Bucks also play here (although, they are definitely a small market franchise).
---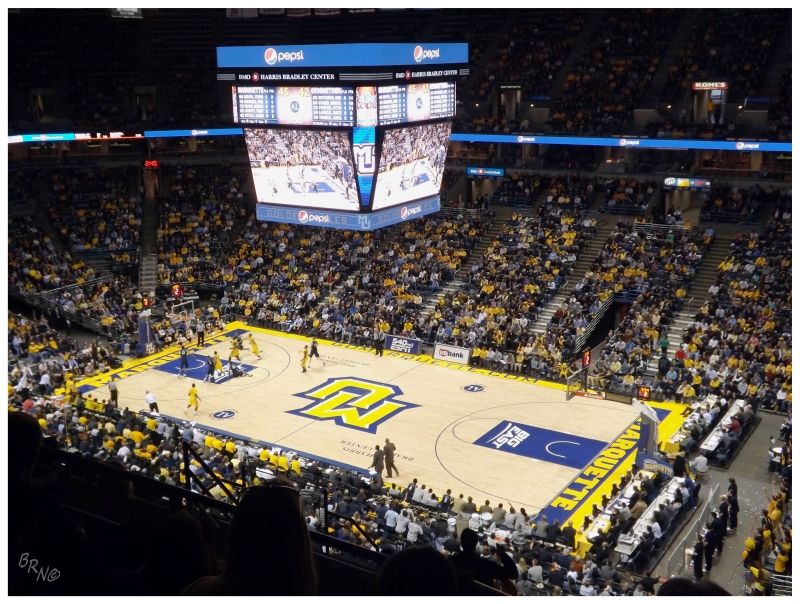 We left the Bradley Center for all of 3 hours so that they could put the ice in...that's right, it was time to watch hockey in the same arena!
With the NHL strike still going on, Ryan was most excited about seeing the Oklahoma City Barons - who were playing the Milwaukee Admirals - as the Barons are the Edmonton Oilers' farm club & they were basically rostering an NHL lineup since all of their players were so young.
Excitement abounded as I was able to watch my boys Teemu Hartikainen and Magnus Paajarvi-Svensson; while Ryan kept a steady eye on his boys Justin Schultz & Taylor Hall.
---
The game even went to a shootout and had a giant pirate ship on the ice during the warm-ups, how can you beat that?
(Cue the hockey purists who criticize the shootout. In a game where I couldn't care less about who wins, give me a shootout.)
Leaving the arena, we went to a nearby bar where we could only find two seats since so many people were there to watch the Packers. The atmosphere was so electric that I contemplated whether we should have just watched the Packers at the bar instead of Hartikainen & Paajarvi-Svensson at the rink!
Once the Packers won, things quieted down a bit as we walked across town to this 'spy bar' that Ryan wanted to go to. It was awesome in that it was clearly an old building with crazy passageways and fire violations, but it was also a bit quiet. I have to imagine a place like that has a hard time getting people to put up with the shtick every time they want to come out.
---
Since we had to get up at 6:30 a.m., we decided to call it a night from there.
We walked back to our hotel & Ryan was blown away when we saw a rat scurrying along a building exterior. Guess they don't have those in LaSalle, haha.
Anyway, I thought I would be asleep for at least a portion of the 6 hours back to Windsor, but I ended up doing pretty well. I was even observant enough to notice the 5 Guys billboard outside of Jackson, Michigan; allowing all 3 of us to have 5 Guys for the first time (it was delicious, although a bit gluttonous).
Eventually Ryan was able to get me across the border and to the airport in time to meet my 'rents to fly back to the cold, desolate land I call home for mid-to-late January.