As we drove along, the roadside snow was still high enough that it was hard to see over. The hills here were smaller than at home - considering this trip was 120km/75mi down south to the Heatherton/St. David's area - but still tall enough to make spotting photographic scenes problematic.
Noticing this house up ahead - admittedly because I already knew it was there - I pulled over and strapped on my giant snowshoes. The snow pile was so hard that it barely moved as I stepped over, and the snow on the way to the house was so shallow that I could've managed without these metal devices attached to my feet. It sure seemed like all of the snow blew away from this windswept land and collected somewhere else (likely Corner Brook).
---
This wasn't my first trip down to this southwest portion of Newfoundland & I'd already found that I enjoyed this area because of the rolling hills of farmland and pasture. It was more hilly than home in Southwestern Ontario, but otherwise it was fairly similar in a Newfoundland-Southern Ontario comparison.
Of the handful of towns and villages down this highway, this house was in Heatherton, a place that exists because of lumbering and farming. The Newfoundland Encyclopedia explains that there's no natural harbour here & if any Heatherton residents were fishing in the early days, they would be doing so further down the road.
I previously walked down a Heatherton laneway to the ocean, finding only cliffs and a small tidal beach at land's end.
---
The snow out front of the house was deep enough to warrant snowshoes, but the real beauty became apparent when I stepped inside. Sure, the snowshoes weren't very good at climbing stairs, but they worked wonders atop the mixed surface I was trying to walk upon.
After all of these years of people saying that I'll love 5.5 months of 14-feet-of-snow winter as soon as I snowshoe, well, I finally found their optimal use! Ha!
---
This old farmhouse sits today next to a fenced pasture, where I've seen a picture of horses grazing when it's not as cold as today's late winter's day.
There were two roadside bungalows which we snowshoed past down the long driveway towards this house, suggesting the possibility of the family decreasing in size and/or wanting a new house, and leaving the old farmhouse to ruin. There's also the common Newfoundland situation of the grandparents living in the old saltbox/traditional home & the kids building their own place on the property - which leads to the old house being sealed up after it no longer has any use.
Peeling wallpaper revealed newspaper from 1910 on the walls, so the place was over 100 years old & quite possibly more. I particularly liked the old newspaper advertisement for the Hotel Dennis in Atlantic City, which amazingly still stands as a part of Bally's, but is hidden in gaudy exterior finishes.
---
The stairs are usually one of the last things to go in these old places, so I carefully made my way up them, even though the left side of the top floor was entirely gone.
The StreetView from 2013 shows this house without collapse & while I know we had a bad winter in 2015, I'm amazed that this collapse would happen only from snowfall. This is also right on the ocean just 60 km north of the famous Wreckhouse winds, so there could be a combination of factors.
---
Walking atop the books, tupperware and broken boards that littered the kitchen floor, I went back outside through the missing wall to check out the backside of the house. It was here that I found a neat addition, like a quaint little seaside shack attached to the back of a traditional Newfoundland house.
---
There was an open window facing the sea & therefore the washer/dryer room indicated how much blowing snow they get here in Heatherton. One room over, thankfully the window in the study wasn't open, allowing me to appreciate the handmade shelves and old Physics textbooks without blindly sticking my legs into 3 feet of snow.
---
I've already mentioned how much I love the Heatherton landscape, so it was a no-brainer to walk the short distance of the backyard to the ocean.
(The above picture also demonstrates Heatherton's lack of a harbour.)
---
October of 2010:

February of 2015:

Continuing along the rural highway now going away from Heatherton, I was sad to see that they tore down this old yellow house in Cartyville.
I guess I didn't just miss the demolition, since even the June 2013 Google StreetView shows only a building scar on the empty ground.
---
Spring of 2012: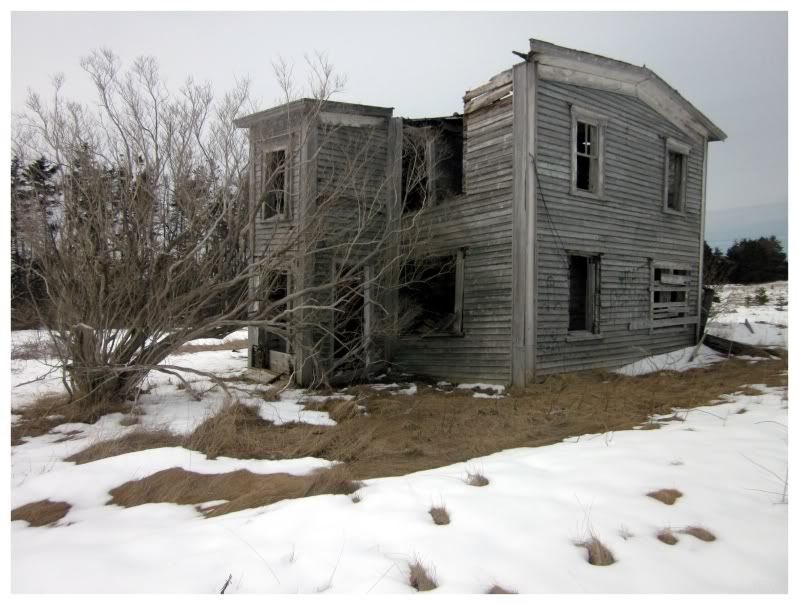 February of 2015:

Continuing along, I stopped at the old homestead in Maidstone. I'd been here previously, but it was worthy of another stop because of the interesting site of one great Newfoundland house, that also its predecessor still standing.
Unfortunately, it doesn't seem like that's going to be the fact for much longer. Although if no one comes to steal the lumber or clean up the property, the window frames and other pieces of wood should sit here in a defense formation against winter for years to come.
---
What did I tell you about those old staircases of excellent workmanship!
---
If you're from the area and reading this while stewing because I'm only cherry-picking old abandoned homes (admittedly because that's what I enjoy), you'll be happy to know I also stopped at the St. Michael & All Angels Church in St. David's.
---
St. Michael & All Angels is located on a winding road, right before the road dips down to the braided Crabbes River. Even though I took my exterior picture straight on, it's the type of scene that should be in a tourist commercial - the wooden Anglican church upon grassy hills slipping down towards a relaxed, handsome river.
Then again, maybe the scene isn't typically "Newfoundland" enough, haha.
---
Like so many of the other Anglican churches in this province, the woodwork and craftsmanship at St. Michael & All Angels was off the charts.
---
We'd see more of the craftsmanship from these early settlers upon noticing the Hulan House set back from the road. Parking at a nearby medical clinic and exiting the vehicle, we were elevated about 2 feet off the ground because of the snow, where it was easy to step over the now 2 foot fence onto the land to check out this provincial historic site.
James and Ann Hulan settled here and started Newfoundland's first commercial farm at Middle Barachois River in the 1700s. Their great-grandson Leonard Hulan built a building for storage of his salmon nets on this land in 1865 and 1866, using pit saws, wooden pegs and the rare nail. He'd then build another salmon net shed in 1868 and moved into his first building, which by now he had converted into the above Hulan House.
---
Leonard's son Albert would live here with his wife Annie until 1972. The house was then left to Dr. Howard "Bud" Hulan, an academic and professor at Memorial University in St. John's, who at one time was also cabinet minister under premier Clyde Wells.
The Hulan House would become a provincially Registered Historic Structure in 1991. It stands as a great example of the houses built by people in this area at the time, where no other houses of this age and design are known to remain in the St. David's/Jeffrey's/Heatherton area.
In addition to the Hulan House itself, there was also this beautiful red wood shed on the property. I have no idea how old it is, but it sure is a fine wood shed.
---