From the moment I first heard of plans to replace Detroit's Joe Louis Arena, I studied the schedule and knew I had to see one last game there. I'd grow frustrated with how every year around Christmas, the Red Wings leave around December 20th and don't come back until mid-January, except for their annual New Year's Eve game.
For someone whose favourite holiday is New Year's Eve, would I have to cancel plans with friends to see Joe Louis Arena one last time?
---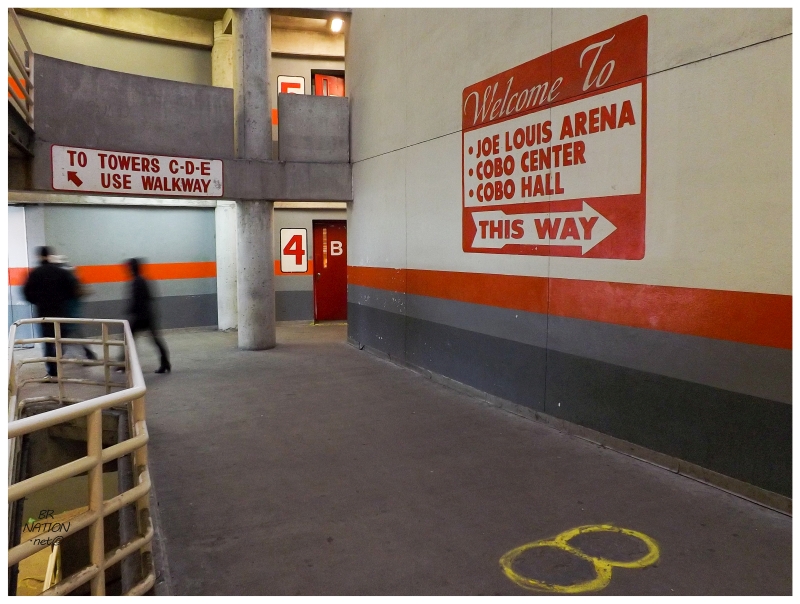 It might come off as strange to feel sadness at the loss of a rink like Joe Louis. It wasn't one of the NHL classics like the Forum, the Gardens or Chicago Stadium, and it isn't even that neat in terms of the NHL's "second wave" of arenas.
Joe Louis is a grey building of sharp exterior angles, without a remarkable roof or any peculiar features inside. That being said, it was the NHL arena I grew up with. It wasn't until I was in my 20s that I went to a different NHL arena (Columbus's Nationwide) so Joe Louis defined professional hockey for me. Attending games and watching the infuriatingly good Red Wings on TV - I actually despised the Red Wings - the subtle features of Joe Louis would morph into that of an iconic arena. The red seats, those Bluewater Bridge-coloured blue roof beams, people blocking the tv cameras and the Little Caesars and Belle Tire boards. You knew you were watching a Detroit home game.
---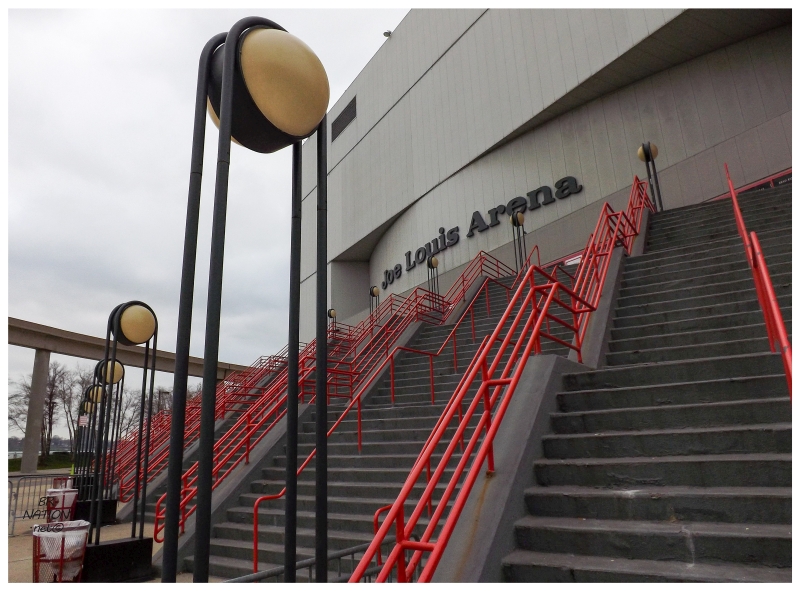 With an arena built in 1979, some of the iconic things are funny, like how everyone cherishes and talks about the insane staircases that lead up to the doors of Joe Louis. Coming out of a game into the icy or rainy night, painted and steep stairs are going to linger in your memory as you take care with that first step.
There were initially calls to cover these stairs because of their steepness and the midwest winters, but those plans soon fell away like many drunks leaving games on cold February nights.
---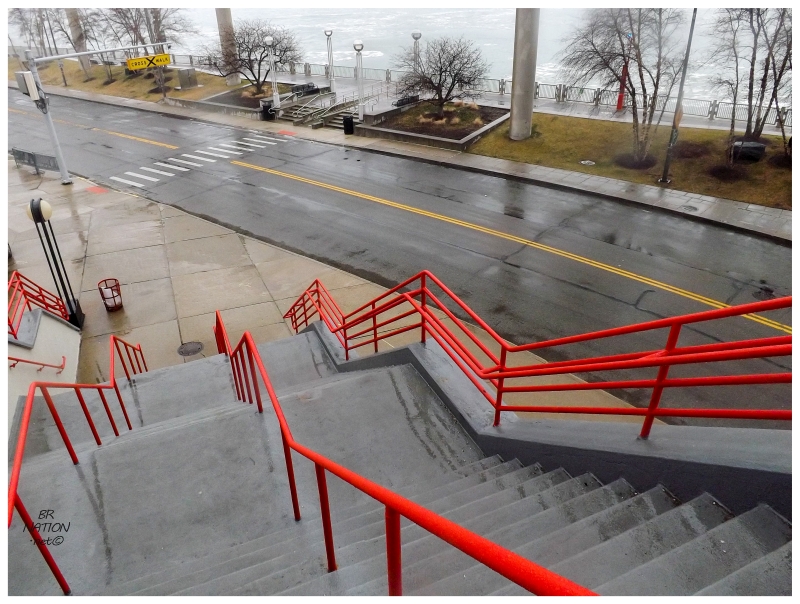 I always wanted to see a rollerblader hit one of these handrails, but it's probably too steep and long, even for them. (I'm certain that it's too much for skateboarders and bmxers).
---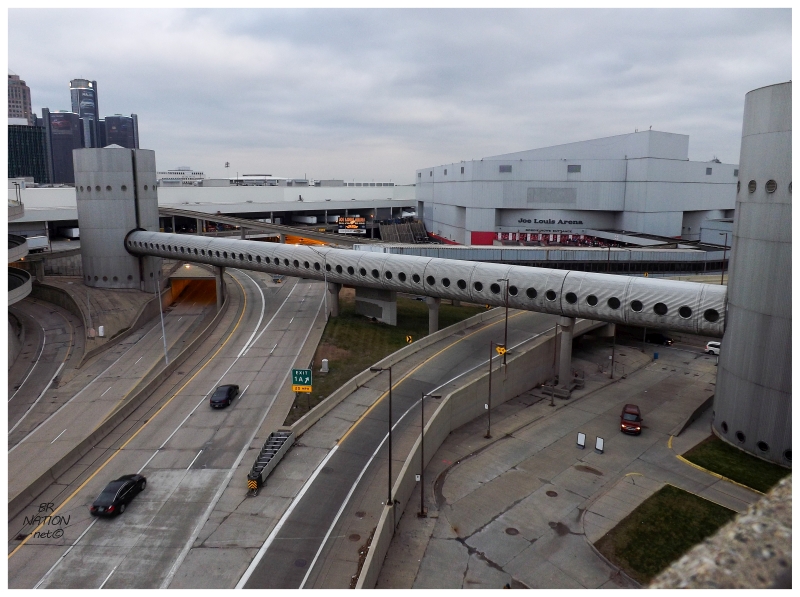 Another unique thing is how you reach the arena. If you use the Joe Louis parking garage, you find yourself following signs and stairs down to futuristic concrete tubes that bring you over and across the street to the Gordie Howe Entrance. These tubes have a lot of rounded windows, but the light is reduced by metal grates that cover them. Combined with thousands of people, you shuffle in the dim space and wait to shoot out at the arena, or back into the parking garage.
(Nailhed & Sloop climbed to the top of one of the staircase towers and I'm forever jealous. I've always thought the tubes and towers were really neat.)
Of course the new arena will have a plaza with foot-high concrete planters, manicured trees at distances calculated by engineers, entrances every 30 feet, and everything else studied and mastered from other arenas. There will be no quirks and everything will be predetermined from computer simulations and whatever worked at other cookie-cut arenas. There certainly won't be any concrete tubes.
---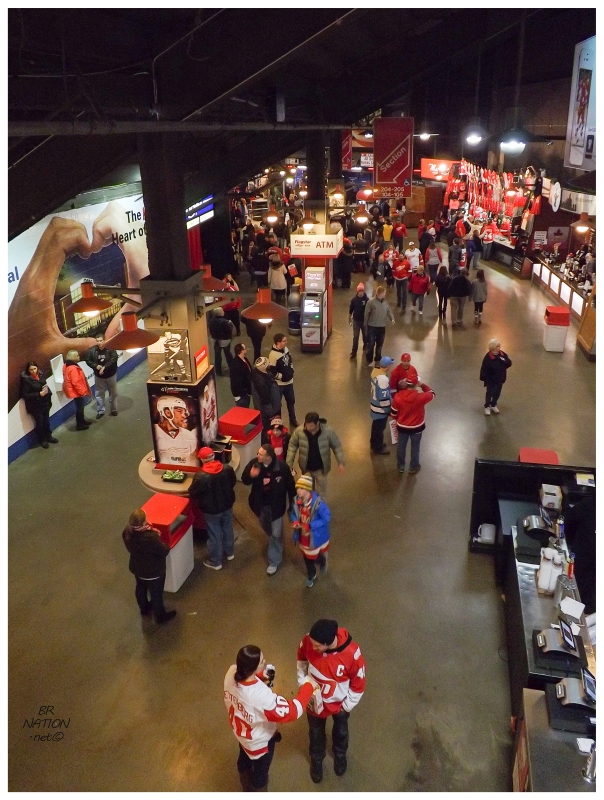 I can picture it like it was yesterday, rushing out of the southern entrance and hurrying under the riverside Cobo Hall overhang to catch the tunnel bus. This was the one time I saw the Bruins lose at Joe Louis and that meant listening to loudmouths in Federov jerseys give me the business.
That Boston-Detroit game was during a 6 year span where the Bruins were in a different conference and only played 1 game at Joe Louis every 3 years. The other Bruins game, I recall Boston winning even though they were awful at the time (they thankfully saved me in my McGillis jersey). The aforementioned time where Detroit won also helped me in my opposing team jersey, since I didn't have to listen to pro-Red Wings nonsense for too long with them only winning in overtime.
---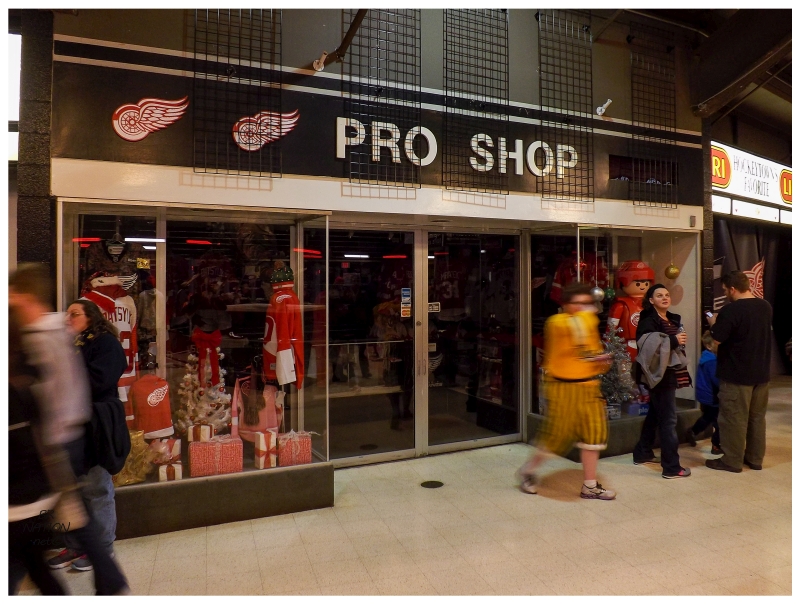 My most cherished memory from the Joe comes from when I was around 10 years of age. Back then I was a fan of the Jets, because this is when they were still in Winnipeg and hadn't moved to Arizona to become the Coyotes. With an upcoming Winnipeg Jets game at Joe Louis, my Dad got tickets from someone & we headed over; little me in my Keith Tkachuk jersey, excited to see my Jets beat up on some Red Wings.
And what do you know? The Jets destroyed the Red Wings with my beloved Keith Tkachuk netting two goals. I still remember jumping out of my seat for both Tkachuk goals, as well as every piled-on Jets goal.
To this day, my father still insists that this lady intentionally hit me with her purse when she got up to leave before the end of the game. Haha. We both laughed at the thought of Joe Louis being the type of place where a middle aged woman would "accidentally" hit a child with her purse.
---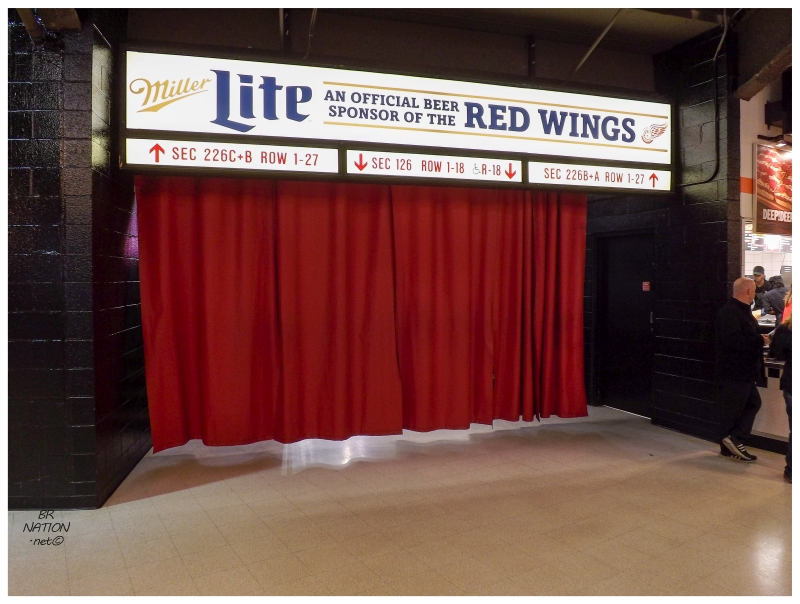 Yaz pointed out how these red concourse curtains are iconic to the Joe. I hadn't thought about it, but he was right.
The only other game I can remember is when Whitfield, myself & two other people got free tickets for the Wings against the Columbus Blue Jackets. Of course I insisted on wearing the jersey of the opposing team even though this was back when Columbus was god awful.
Which means my leave favourite memory might be sitting through a 4-0 Detroit shellacking, where some sloppy drunk dude berated me for most of the game.
---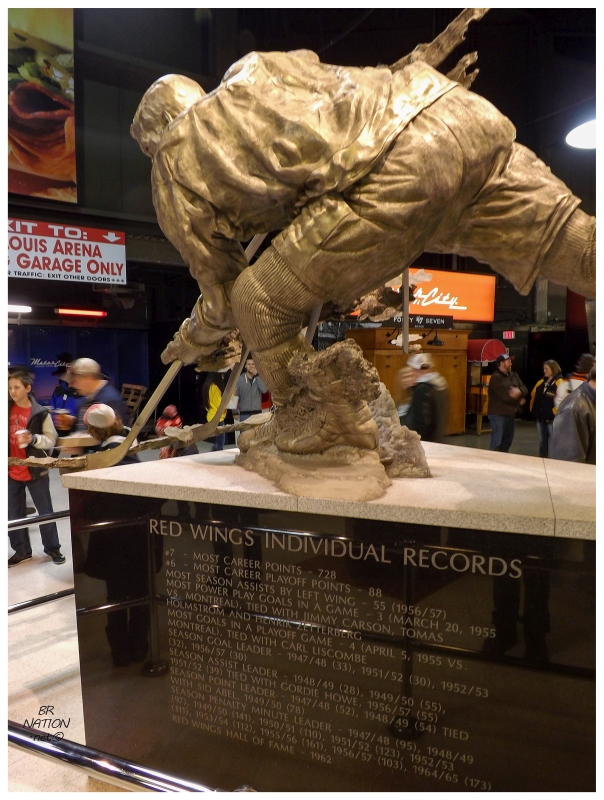 For how much I go to sporting events these days, you might be surprised that I can only remember 4 games at the Joe. The thing that hindered my early years, was that my parents thought it was a big deal to come over here for a game (which is also why I never saw a game at Tiger Stadium).
This year would finally be the year I'd check off seeing one last Red Wings game though, as both Cooper and Ion didn't seem to be doing much for New Year's Eve. I'm normally staunchly opposed to doing anything besides hanging out with my friends on NYE, but with no one doing anything, I decided to finally watch the Red Wings on NYE.
---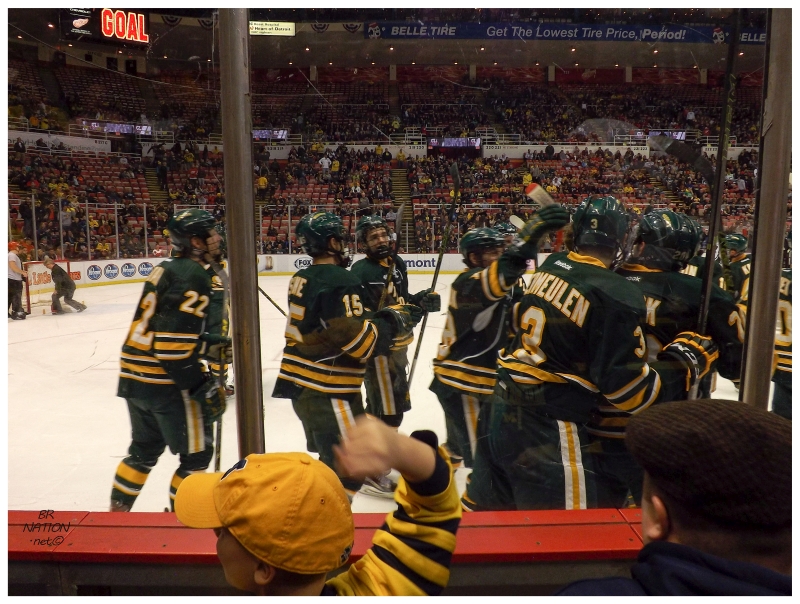 It happened to work out that my friend Yaz was in town for a few days, so we also went to the 52nd annual Great Lakes Invitational at the Joe. This four team college hockey tournament is held on December 29-30, originating at Detroit's old Olympia Arena, then Joe Louis, and now will move to the new arena.
The two of us arrived sometime during the 3rd place game and marvelled at the second row seats we were able to snag. Even if I didn't have any horse in college hockey, the cost of Red Wings tickets meant I had never sat in seats like this at Joe Louis Arena before (I couldn't even remember ever sitting in the lower bowl).
It was also pretty special as the Northern Michigan Wildcats won the game by a centreman cutting across, receiving the puck and putting it home. He then followed his momentum as he leapt into the glass and his teammates surrounded him, all upon the glass panel directly in front of us. We couldn't have scripted a better game winner.
---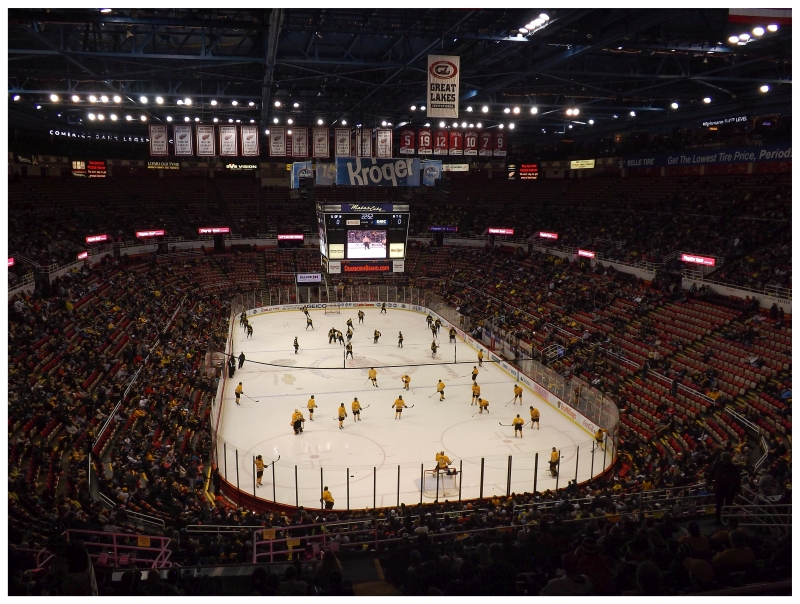 The championship game was between Michigan & Michigan Tech. I decided to cheer for Michigan Tech because it's in Michigan's Upper Peninsula, but unfortunately Michigan had this guy Kyle Connor who was pretty good (he was drafted 17th overall, right after Boston made those 3 consecutive questionable picks in 2015).
---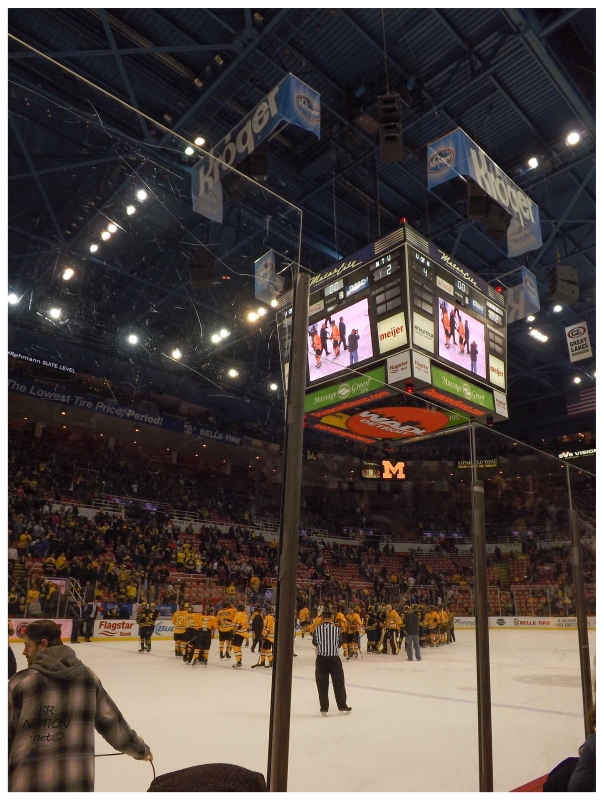 We sure happened to pick nice seats as the trophy presentation and celebration was right in front of us. This picture is from the handshake line before the celebration.
---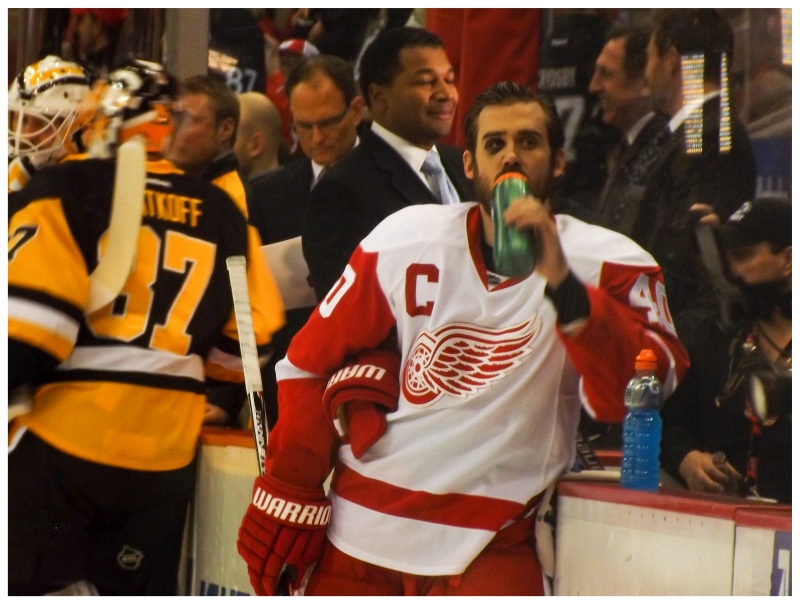 The next day was the New Year's Eve game. A game between my two most despised teams: the Red Wings and the Pittsburgh Penguins.
Rolling with Yaz, we were doing things a bit differently than my usual show-up-for-puck-drop ways. We got to the arena about 2 hours before puck drop, grabbing tickets & entering the arena to get right down to the glass for warmups. Soon enough I would understand why you get there early, as everyone else that showed up would surround us and covet our view right on the glass.
Unfortunately I couldn't do much with my camera and players warming up at NHL speeds. The best I could do was a still-blurry picture of Zetterburg taking a breather. I laughed at his pretty self having a shiner, but even with a shiner the handsome bastard is still light years ahead of my homely self, haha.
---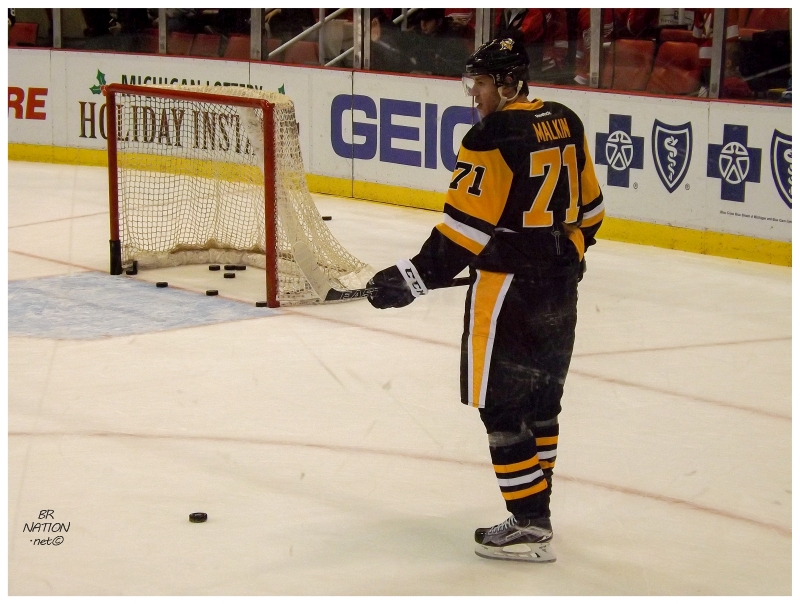 After the Red Wings finished up, we hurried over to the Penguins section where my favourite player in this particular game stayed out late. I was pretty happy to get some shots of Malkin as he was amongst the last 5 people on the ice before the zamboni.
There was some consolation to seeing the Penguins.
---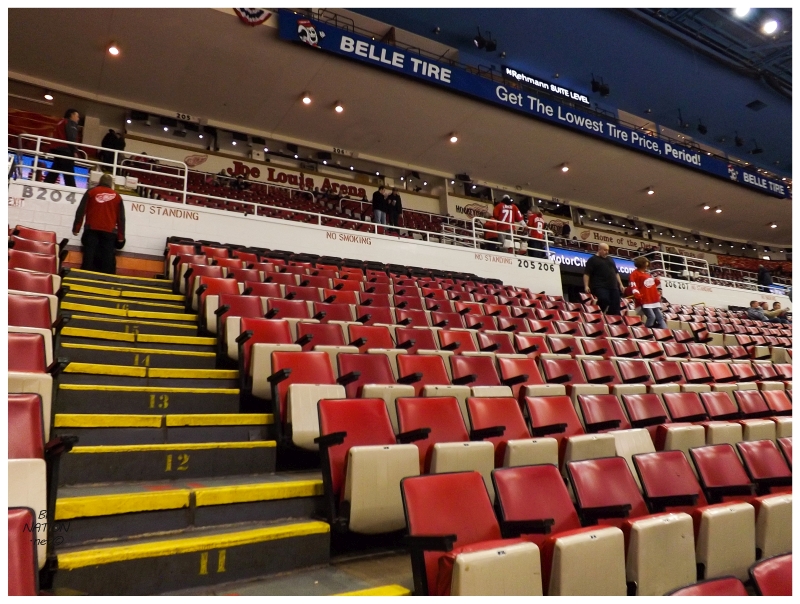 Showing up early meant watching NHLers warmup up-close for the first time, but it also meant exploring and seeing an empty Joe Louis. Even during the college game, the place was so packed that it felt close to an NHL atmosphere.
---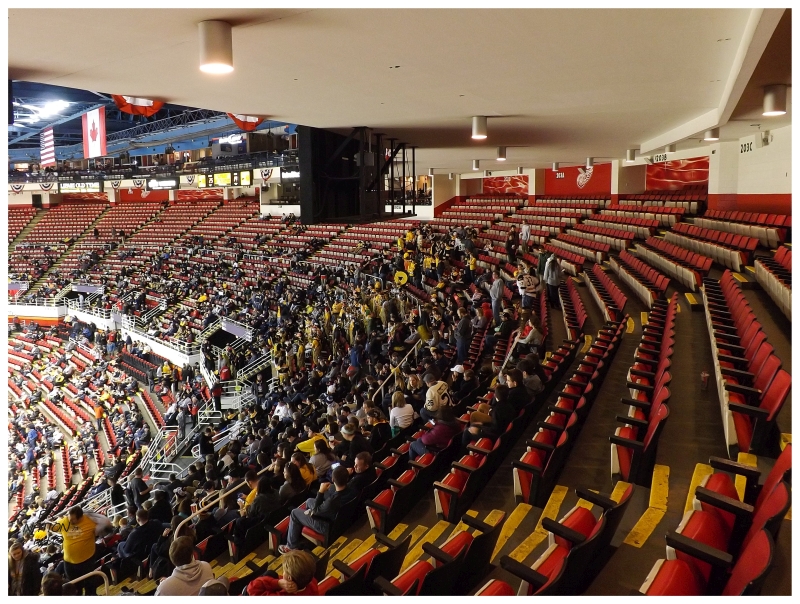 The above picture comes from the college game, but it shows where we sat for the Penguins/Red Wings game. At over $100 each a ticket, the two of us sat 2nd row from the back of the whole rink. After going to a bunch of QMJHL junior hockey games recently, this felt like a funny comparison as I squinted to see the jersey numbers below.
(The ticket price is also partly why I didn't go to many games in my 20s: the Red Wings have been so good for so long, that I can't be dropping this kind of coin regularly. I can only imagine the ticket costs at the new rink - I would be going to Flint or Chatham for live hockey instead.)
---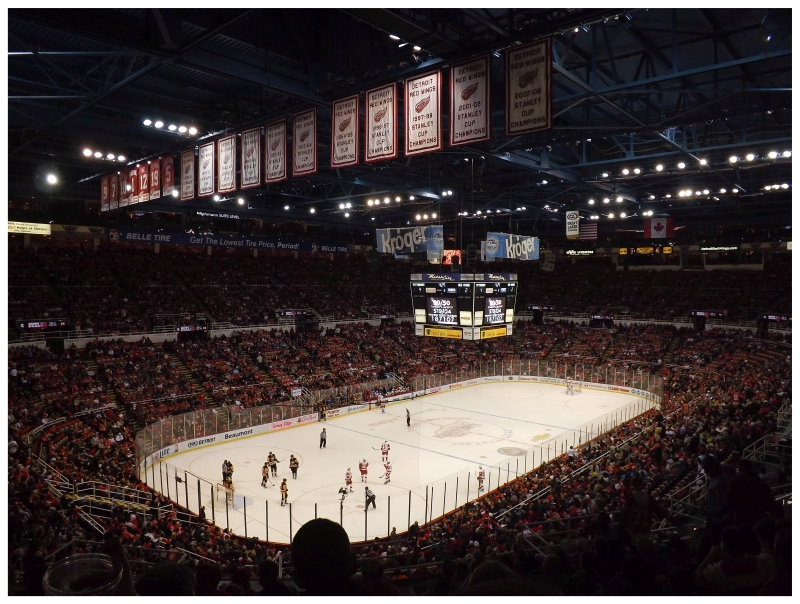 The Red Wings success was one of the reasons that I thought the NHL might finally keep an old arena. During their 38 years here, they won 4 Stanley Cups recently and dominated the NHL through the mid-to-late 90s and 2000s. This was a valuable lesson to learn though, because clearly luxury suites and Gary Bettman win out over a building's history. Hell, Edmonton had even more history at their arena & they replaced that without any problem. The history that happens at a rink clearly means jack shit.
In reading a much better Joe Louis Arena eulogy by Nicholas J. Cotsonika, he mentions the history that Gordie Howe, Delvecchio, Sawchuk and Ted Lindsay made at Olympia and how in Detroit Olympia's last season, fans actually boo'ed announcements that mentioned Joe Louis Arena. (Olympia is where they became the Red Wings, as they were still the Detroit Cougars when they had to play at Windsor Arena while waiting for Olympia to be built.)
It's funny that success and history couldn't save Olympia & it couldn't save Joe Louis Arena. None of it matters, as it's simply a spectacle to extract the most money from patrons anyway.
---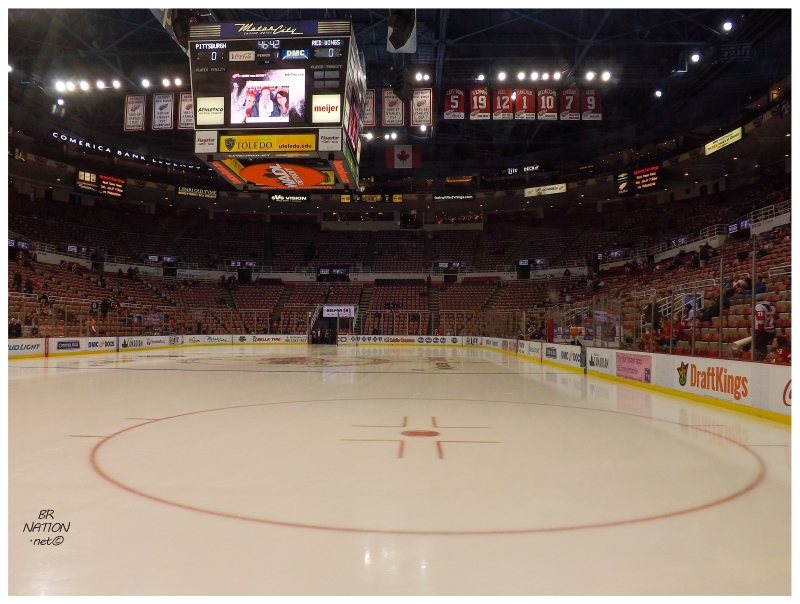 The new Detroit arena will be called Little Caesars Arena and will feature a giant, stationary Little Caesars logo on the roof, plus a hockey village newly constructed right next to the arena. This will allow you to eat & drink at bland, banal, formulaic bars before the game. Illitch holdings is also working to get rid of nearby older buildings so everything feels the same. You'll no longer be in a unique city & you could be in any suburban strip mall in North America. Away from the Hotel Eddystone that the city is trying to make them save, you should be hard pressed to see another building not built in the last 10 years while you sip your Shock Top and eat your $5 Hot-N-Ready in the shape of a winged wheel.
As for Joe Louis Arena, in 2014 it was announced that the bankrupt City of Detroit would give the arena and parking garage to a creditor in order to settle $1 billion of the city's $18 billion dollar debt. The city which gave $324.1 million to Mike Illitch to build the new arena, will then pay for the demolition of Joe Louis Arena before handing it over to the creditor. The creditor's company has plans to then build a hotel with retail on the site.
Since this was all announced, no demolition date has been set & there's actually a race through the old arena in September.
---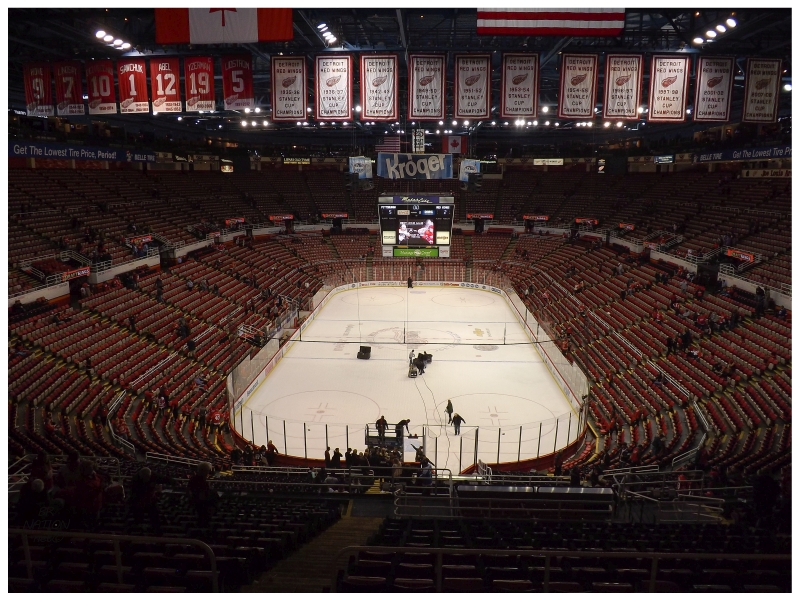 With our seats up at the top of the arena, we exited through some strange stairwell that I hadn't been in before, but not before turning back and wondering if I'd ever see this place again. There was some question whether I'd attend another game, but I was pretty sure this was it. The next time I'd see this is if they leave it open for scrappers, or while I'm sitting on a sidewalk and watching Adamo building eaters whack away at the concrete.
I guess it won't be a true farewell until I walk by here and see the streets reconfigured, the stairs and red handrail long gone, and all of it replaced by a glass hotel tower with a Subway or Tim Horton's at ground level.
---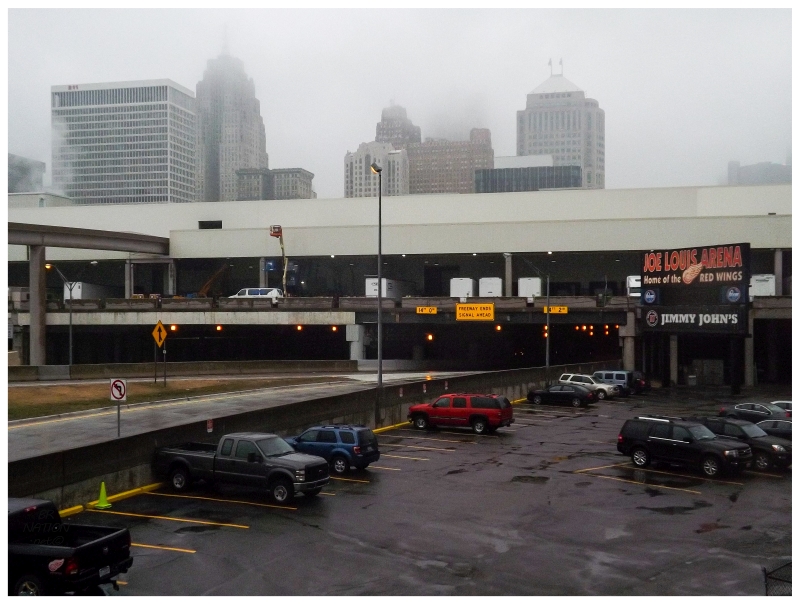 I'm not only happy that I saw Joe Louis Arena one last time because it meant so much to me, but also because it's the last of a dying breed for the NHL. Unlike baseball or football, the NHL made sure to get rid of every old arena, leaving nothing even remotely old or interesting (save for the Calgary Saddledome and Madison Square Garden (although MSG was heavily renovated)).
If (when) they get rid of the Saddledome, you'll have the 18 oldest arenas being built from 1993-1999. Having been to Boston's, Buffalo's, St. Louis's and Columbus's arena from this era, I'd be hard pressed to tell you what arena I was standing in if you transported me to any of them. They're all generic 90s buildings. (Boston's was special because it was my team, but it's not like the arena was all that different from St. Louis's.)
One thing is that I'm glad I got to Le Colisee to see the closest thing to 1970s hockey, but it also certainly makes me sad I'll never experience Detroit's Olympia, the old Boston Garden or Chicago Stadium.
---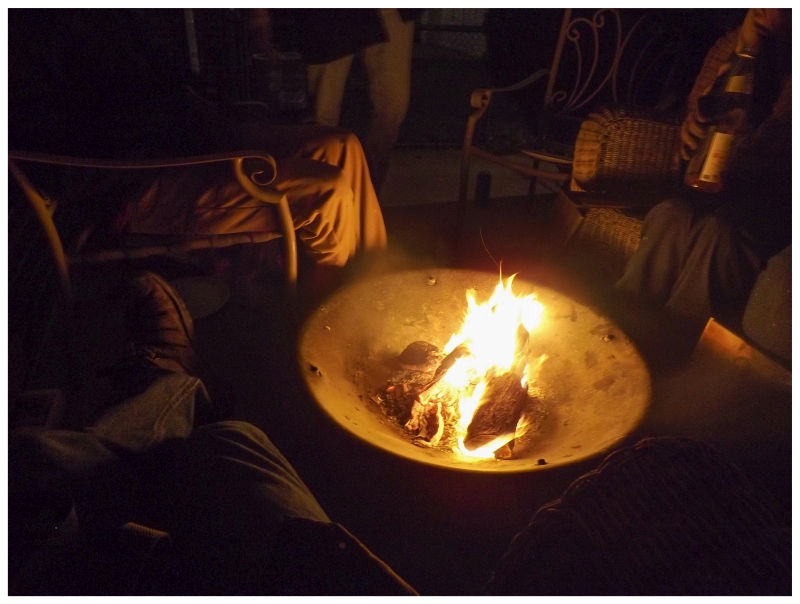 As for New Year's Eve and my concerns with not spending it in Ruscom or Toronto, it ended up being quite good over here in Michigan. Like I mentioned, NYE is my favourite holiday, so it was pretty funny going to the Happy Four party store by the Joe and buying all kinds of booze while my friend Yaz doesn't drink all that much and picked up a more modest amount.
We'd chill on my friend's backyard porch around a fire, sipping acquired 40s and shooting the shit between breaks in the gunfire that you hear from metro Detroiters celebrating the coming of a new year.
---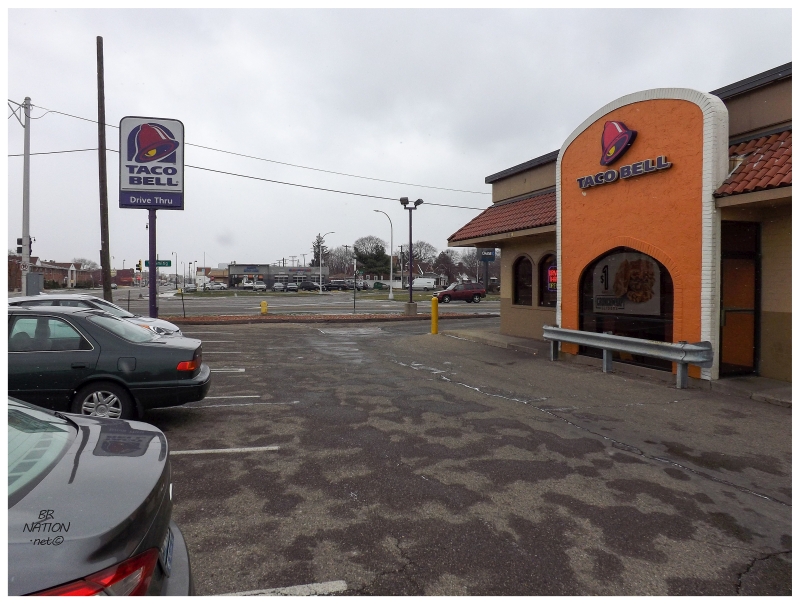 I prefer to ring in the new year in a different way.
Waking up to 2016, I couldn't have started the year any better way. Live Más.