Archives: June, July & August 2007
---
Saturday, August 25th, 2007
Day 17: Whistler, British Columbia to Ellensburg, Washington (Map); 527 km.
I see the first fjords of my life & travel to Safeco Field.
(18 pictures, 749 words)

Also, people thought I took those pictures of the dudes at the Packard. I wasn't there and I didn't take the pictures. I just thought it was strange. I'm clearly not as homophobic as some of the people that frequent this website.

Navi

on iTunes: Brand New Colony - The Postal Service
---
Thursday, August 23rd, 2007
Day 13: Kamloops to Whistler, British Columbia (Map); 298 km.
If day 12 was the most scenic day of travel in my 23 years; then this day doesn't rank far behind.
(10 pictures, 309 words)

Days 14-16: Whistler, British Columbia (Map).
Dylan and I ride a couple of skateparks, lounge at the beach and punish our livers.
(11 pictures, 518 words)

Navi

on iTunes: Blue Sky Mine - Midnight Oil
---
Tuesday, August 14th, 2007
Days 6 through 11 were spent in Edmonton.

Day 6 was simply a day of rest & day 7 was the one with Rowley & Dorothy, Alberta.

Days 8 through 11: Edmonton, AB.
Some biking, dining, Edmonton sightseeing & one abandonment.
(28 pictures, 720 words)

Day 12: Edmonton, Alberta to Kamloops, British Columbia (Map); 808 km.
The most scenic day of travel in my life.
(10 pictures, 309 words)

Navi

on iTunes: The Pretender - Foo Fighters
---
Monday, August 6th, 2007
No, the update isn't done yet. But this is something else.

Yep. That's the Packard. I have no idea what's going on.

The D is a strange place.

Navi

on iTunes: Geraldine - Chuck Ragan
---
Saturday, July 28th, 2007
I recently went on quite the journey. I enjoy road trips; but this was a whole different level of road tripping. The entire trip was 19 days and over 10000 kilometers - so I've decided to break down the trip into days & highlights instead of 1 giant, ridiculous update.

Day 1: Ontario to Manistique, Michigan (Map); 651 km.
This day was an uneventful day of travel and getting my shit together.
(3 pictures, 161 words)

Day 2: Manistique, Michigan to Baxter, Minnesota (Map); 726 km.
A cold July day in the Upper Peninsula. I checked out two places and took a quick stroll to the Manistique lighthouse in the morning.
(45 pictures, 1606 words)

| | |
| --- | --- |
| | Fayette, Michigan - A restored company town from 1891. Fayette sits on a beautiful footprint of land that extends out into Lake Michigan. |
| | The Holy Family Orphanage - An abandoned orphanage located in Marquette, Michigan. A funny experience with tweenyboppers and also a rad balcony and chapel. |

Day 3: Baxter, Minnesota to Estevan, Saskatchewan (Map); 904 km.
The worlds largest turkey and my favorite skatepark; located in Fargo, North Dakota.
(6 pictures, 1 video, 666 words)

Day 4: Estevan, Saskatchewan to Strathmore, Alberta (Map); 993 km.
I drive on a road consisting of broken pavement that is completely out of my way to visit a ghost town with a curling rink.
(35 pictures, 1 video, 1400 words)

| | |
| --- | --- |
| | Orkney, Saskatchewan - A ghost town located far off the beaten path in Southern Saskatchewan. Plenty of abandoned homes and other unique buildings left to rot in the prairie sun. |

Day 5: Strathmore to Edmonton, Alberta (!) (Map); 339 km.
Kayla works all day, so I need to kill time by riding the Millennium Park in Calgary and by photographing sub par graffiti near her house in Edmonton.
(9 pictures, 195 words)

Day 6: Rowley & Dorothy, Alberta (Map); 674km.
After driving for 5 days, I decided to take a day trip to a couple of ghost towns near Edmonton. I find it funny that a trip that would be equivalent to traveling to Toronto & back becomes not only feasible, but not that big of deal.
(20 pictures, 566 words)

| | |
| --- | --- |
| | Dorothy, Alberta - A hamlet that some would consider a ghost town. Dorothy has two abandoned churches and a few other abandonments. |
| | Rowley, Alberta - A partly restored ghost town that still has an abandoned train caboose. |

At this point in the trip, I took a couple of days off & did nothing of note. I find that it is a good place to split up the trip.

The next update will include everything from Edmonton on.

See everyone at Puce River Palooza tonight.

(If I messed something up, it's because I'm leaving for work in literally 9 minutes, cheers).

Navi

on iTunes: Milk It - Nirvana
---
Sunday, June 17th, 2007
I went to the home of the Penguins a couple of weeks ago.

Navi

on iTunes: Keep Ya Head Up - 2pac
---
Monday, June 11th, 2007
Clarkman, Rye & I went to Chicagoland last weekend.

84 pictures & 3000+ words took a while to update.

Navi

on iTunes: Sparta - Taking Back Control
---
Thursday, June 7th, 2007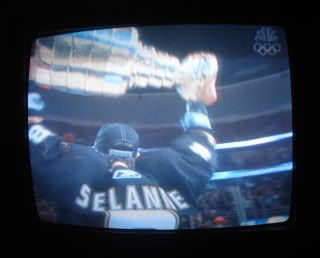 The finals are over. Teemu finally got his cup and several tears flowed.
1 of my top 3 players now has a cup. Go Lang and Kolnik!
Navi

on iTunes: Pardon the Interuption Podcast

---

Forward to the September - November 2007 Archives >

OR

Go back to the Main Page of this website.