The Rochester Subway
Summer 2008
Rochester, NY
It had been a long time since mixing with The Fondeler on an exploring venture.
Recently, I found myself coming home from Montreal and inside his newfound region of the GTA. I knew I was more than welcome to stop by and see my old friend, so I made a phone call and had a Mississauga futon to sleep on for a couple days.
Fueled by cottage cheese and a steady diet of Wildcat Strongs, I knew that all of these free days had to allot some time for getting inside something. Scared of the GTA's horrible law enforcement to broken window ratio, I set my sights stateside, upon the Rochester Subway.
---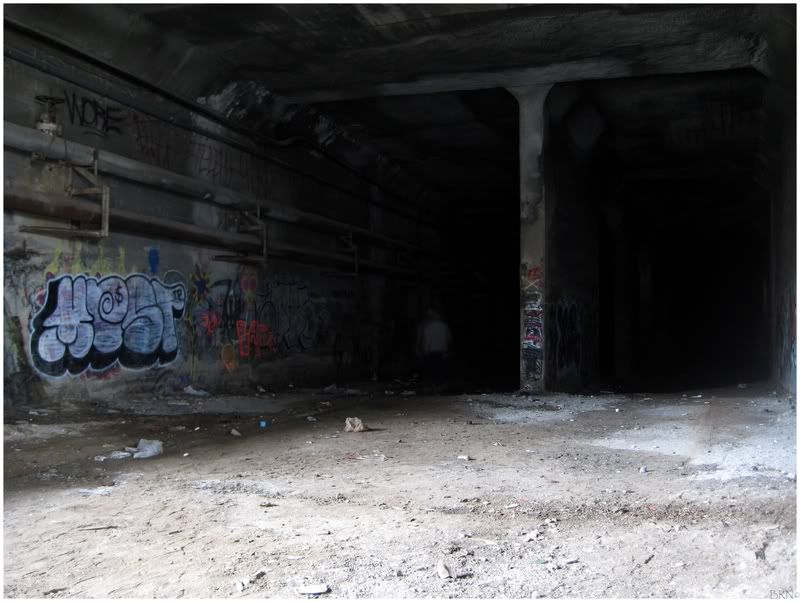 I ran the idea by The Fondeler upon his 13th floor balcony & he was more than down. Two days would pass before we would depart for Rochester in the crowning jewel of the 1998 auto industry - the Chrysler Intrepid.
In a vehicle more suited for plaid pant shuffleboard players, we eventually made it through the slow downs and idiocy of GTA driving. After experiencing some nasty woman at the duty free crossing in Lewiston, NY we both realized it was nice of the Windsor crossing to hire based on physical appeal and, more importantly, friendliness.
We told the border of how we were going to visit our friend 'John Szczney' in Buffalo and had to explain how we knew him (of course he moved there after finding work).
Smoothly through? Good.
---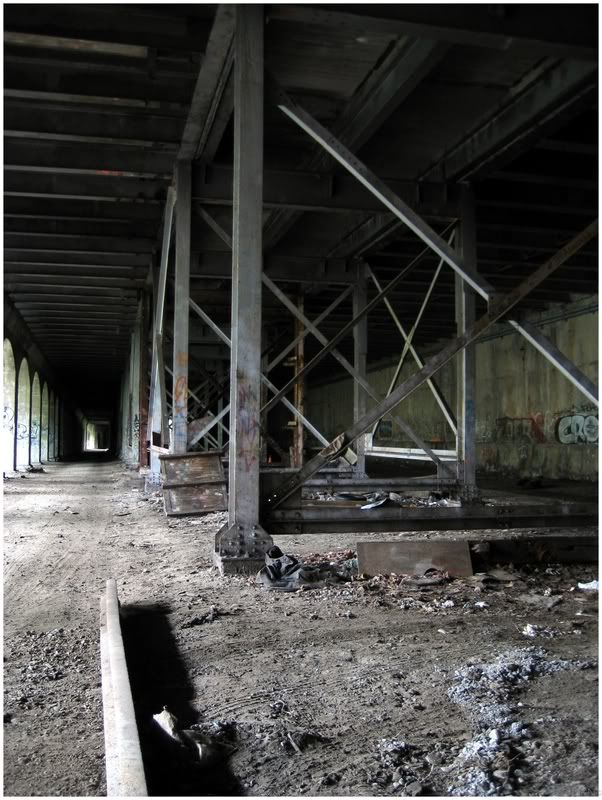 Once in America, it was still an hour and a half from the border to Rochester. The Fondeler and I needed to stop so he could buy a flashlight and because we were hungry.
As per usual, The Fondeler and I wanted to try something new to eat. I was trying to encourage Roy Rogers since I enjoy their cheese fries (and since The Fondeler hadn't been there); but he didn't like that idea.
We settled on a place called Ted's, which I didn't even know was a chain restaurant.
Ted's or Ted's Hot Dogs have nine locations throughout Western New York. The Fondeler and I were both displeased. I thought the food was mediocre at best and The Fondeler said it was 'pure crap.' He claimed the onion rings were the worst he's ever had and I'd have to agree, as the onion rings were downright awful.
I guess we should have gone to Roy Rogers.
---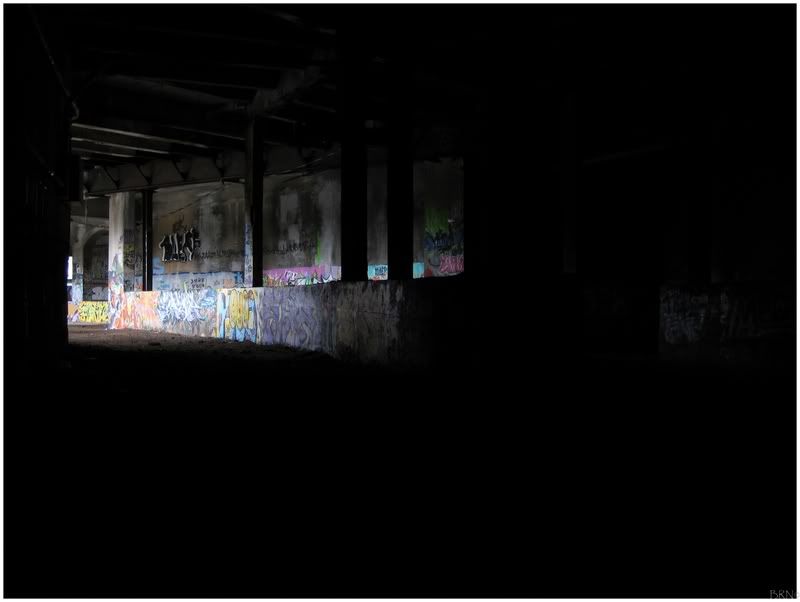 Thoroughly disgusted from 'Ted's', we continued on towards Rochester.
After The Fondeler picked up a Genesee and me a 211, we arrived at our destination around 6p.m..
I went into the situation only knowing the location of the former train station that is now a restaurant. I didn't research it to any greater extent since I figured it couldn't be that hard to find a mile-long subway that apparently is easier than MCS to get into.
---
I was right.
After passing on a really elaborate, tight-squeeze-elevated-fence entrance, we found this convenient stairs-down-to-either-the-riverside-or-tunnel-entrance entrance.
---
Dropping seven feet from the steam pipe to the ground below, we found ourselves in the remnants of the Rochester Subway.
The Erie Canal was built between 1817 and 1825 as a means of connecting Lake Erie to the Atlantic Ocean. The locks and canals cut through New York State (Rochester included) en route the Atlantic.
In 1900, the Erie Canal was re-routed to avoid downtown Rochester. The abandoned canal served as base for the construction of the Rochester Subway in 1919. Opened in 1927, Rochester became the smallest American city ever to build a subway.
The subway would never fulfill its full potential and became a haven for the homeless. The fact that the city grew and the population moved to the suburbs past the Subway's reach ultimately defined the Subway's fate.
The Subway would close in 1957.
Originally the Subway consisted of an 8 mile stretch. After abandonment, a lot of the above ground features would be demolished; leaving only the 1 mile section below Broad Street that you see in these pictures.
---
The Fondeler and I entered near the half-way point in the tunnel. It was a coin flip which way to go and we arbitrarily picked to go west.
Into the darkness we went.
---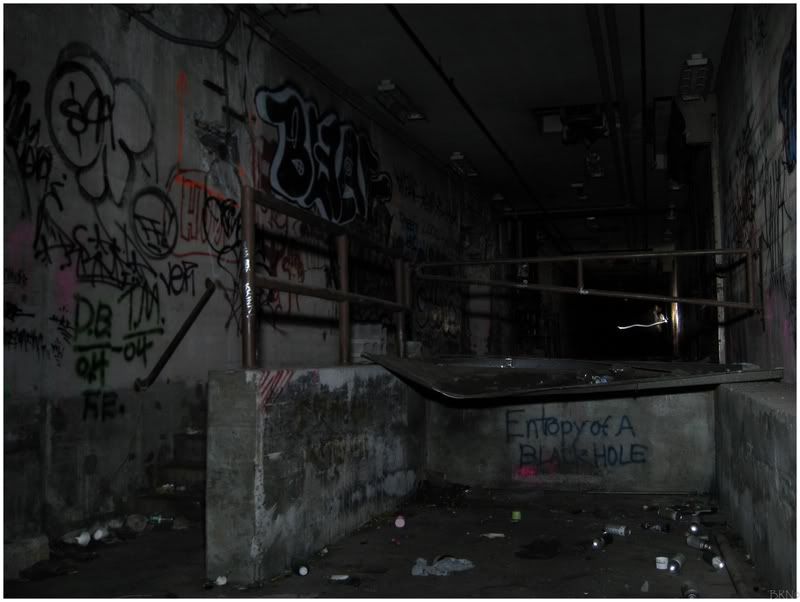 It wasn't long before we were enveloped in complete darkness. After all of the online stories about rats and the majority of Rochester's homeless living down here, I wasn't scared, but more so cautious.
We walked for a while in a tube split by two columns. The Fondeler was enticed by the remaining track upon the ground. The two of us would soon come upon an area with a clanking noise that sounded like somebody was scrapping metal. We listened briefly but then went over to investigate and determined it was just some random steam pipe noise.
---
We soon came upon the former loading docks of the Gannet newspaper - who continued to have deliveries in the subway until 1997. This section was notably more modern as there was more than just concrete and the metal doors even opened & closed by chain lift.
I unrolled one door to see the graffiti that was painted on the rolled up section. The Fondeler & I would examine the graffiti for a short time and then continue on into the darkness.
---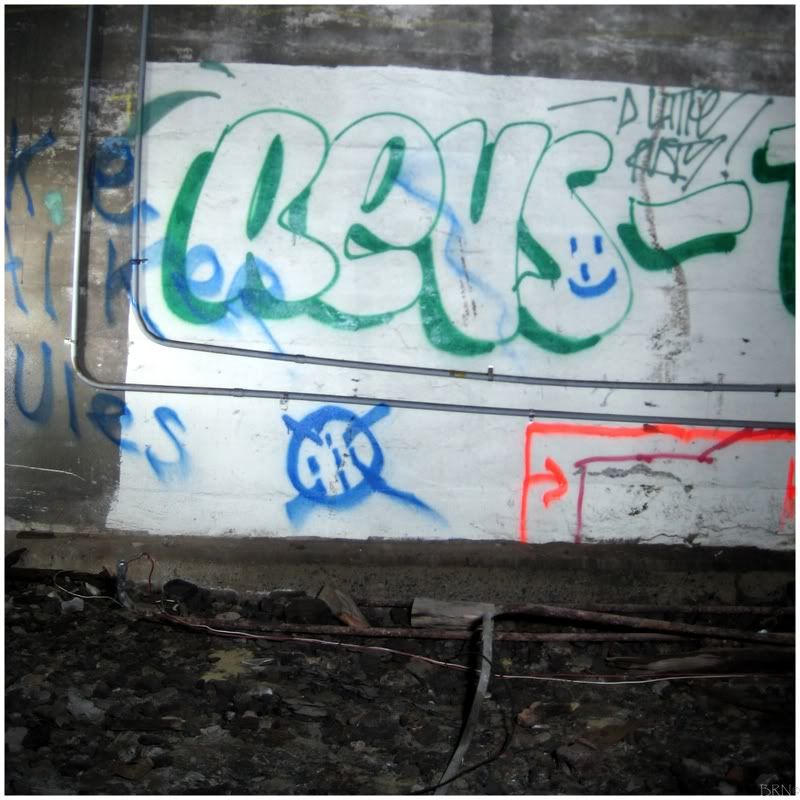 Most of the graffiti in the subway seemed to be either local or Buffalo cats as there wasn't much variety in artists.
We did come across a couple REVS outlines though. REVS is a fairly famous graf writer with most of his notoriety coming from when he wrote his own biography, page by page, in the various tunnels below NYC and also, from creating metal installations such as this one that I saw while at Bethlehem Steel last year.
---
It was through the chamber where the one REVS outline was found and into a new, curved chamber. After another 20 minutes of walking we reached one more lighted area and then went back into the darkness soon after.
The darkness would continue until we could see the end of the Subway at Oak Street.
We had reached that end of the tunnel. It probably took us a good hour and it was quite the distance; not knowing the distance at the time, I pondered how far the remaining, un-explored portion would be.
---
The long Subway walk did culminate with some of the best graffiti of the entire length though.
These were the same guys that I saw at Carborundum Corp in Niagara Falls. I heard that place is getting demo'ed, so they're losing spots.
---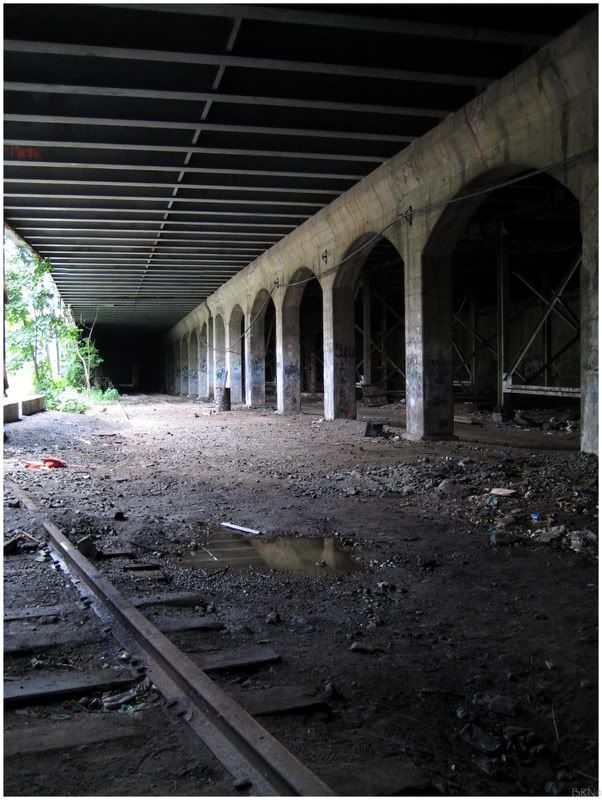 We turned around and retreated to where we entered the Subway. On the first pass of this lighted area that I mentioned above, I could hear some dudes and they could hear us too. I think they were doing some sort of graffiti communication thing as they shook their cans from above ground; expecting us to return the noise. The Fondeler asked if we should shake cans back, but since I've never encountered this, I said forget it; they won't follow us into the darkness anyway.
Now on the return trip, I noticed the 3 dudes far quicker than The Fondeler because of his ailing eyes. They didn't look like they were going to give us any trouble, so we just kept walking. The funny part of it was, was that the one kid must have seen us with maglites, walking through the tunnels and then hid behind a large shrub. The Fondeler said 'hey, how's it going?' to one of the guys that wasn't hiding and the guy quietly returned 'hey.'
That guy then started laughing at his friend hiding in the shrub who realized we weren't police due to our consumption of malt liquor, regardless of the fact that we had maglites.
I didn't really feel like talking to random Rochester graffiti dudes. It's one thing when it's Detroit and I actually pay attention to the graffiti scene, but talking to those guys would have been like pulling teeth. I don't like talking about what I do, and they probably don't really feel like talking about what they were up to.
---
In one of the dark chambers of our walk, there were two sewers lids that looked like they've been there since the 1900's. The Fondeler easily moved one and it was filled with trash; the other one he moved was clear and featured some beautiful old brickwork.
I salivated, remembered the old adage 'when it rains, don't go in drains' and moved along the first time we passed the sewer holes.
Then my mind got to working and the excitement of old brick drains that I always see on worksongs and sleepycity overcame me.
On the way back, I said 'ok, I'm going down there.'
---
The Fondeler again removed the sewer lid as I removed my backpack and put my tripod down.
I thought I was going to have to shimmy my way down an i-beam until The Fondeler pointed out the ladder - how convenient.
Inside these fantastic, old school, brick pipes of Western New York.
Oh baby!
---
I didn't have to violate the 'when it rains, don't go in drains' adage very much.
The tube which I dropped into could fit about 4 Navi's. There were 2 very small tubes (basketball size) dumping water from about chest high to where my feet were. Around my knees were two medium size tubes with one inflowing from the east and the other out flowing southwest.
One of these medium size tubes is pictured above. Since I had my tripod set at about a foot and a half, I would have to say these are about 3 feet in diameter - big enough where you could easily walk on all fours, but not even close to being tall enough to walk upright.
The inflow and outflow didn't seem to end or grow within the beams of my flashlight. I decided against getting on all fours in this rainwater (cities have sanitary sewers and storm sewers - this is a storm sewer) since they didn't seem to lead to anything within reasonable distance.
Psyched, I climbed out and convinced The Fondeler to climb down there. He would later say, "without that Genesee and the 211, I don't think I would have found myself in the Rochester sewers."
I would return later and tell The Fondeler's girl that, "today was awesome! I was drinking 211 in the sewers of Rochester!"
GREAT times.
---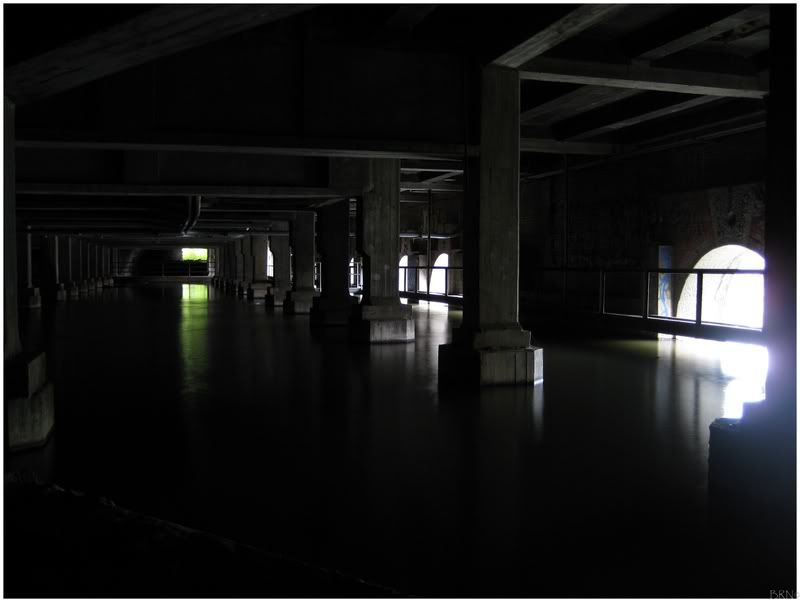 Coming back and passing through the Genesee River aqueduct where we entered, we continued the other way in search of what we initially missed.
This direction was far shorter than the initial direction; with this route being only about 300 metres.
Although this direction was shorter, it did contain interesting remnants of the Johnson & Seymour Millrace. A millrace is a stream of water which moves a mill wheel and produces energy. What you see above is the spillway for the millrace built in 1817; which could produce 1300 hp for the local mills.
---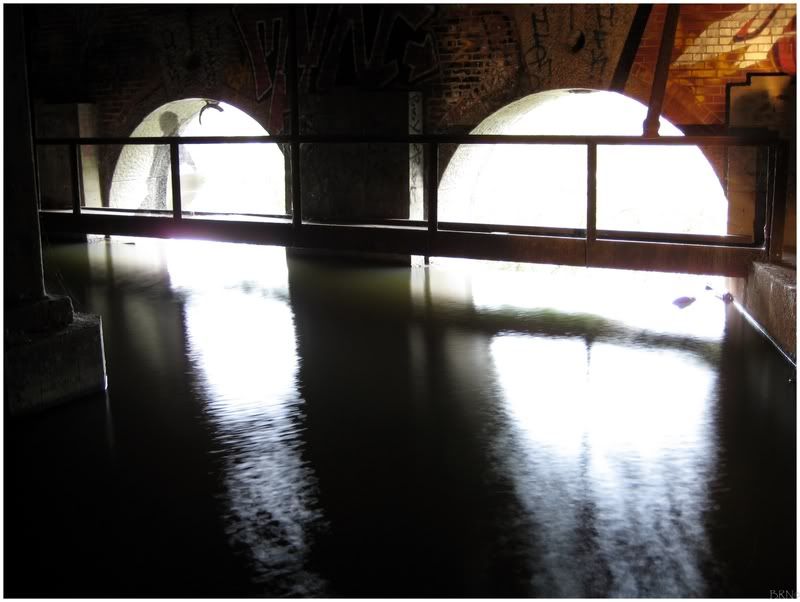 ---
A catwalk extends over the spillway from one side to the other & provides a great view of the Genesee River and the city of Rochester.

The Fondeler enjoyed the catwalk far more than I did because of all the giant spiders along the handrail. I already concluded that I'd rather fall through the dilapidated catwalk than handle that damn spider handrail.

I did go the distance across the ramshackle catwalk where about 50% of the planks were missing. My desire to sit down and take in Rochester at each arch was continually squelched when I'd look around and see any number of large spiders.

I was completely envious of the people who have, and can, come here in the winter. I'm sure it would be quite cold, but at least the spiders would be absent.
---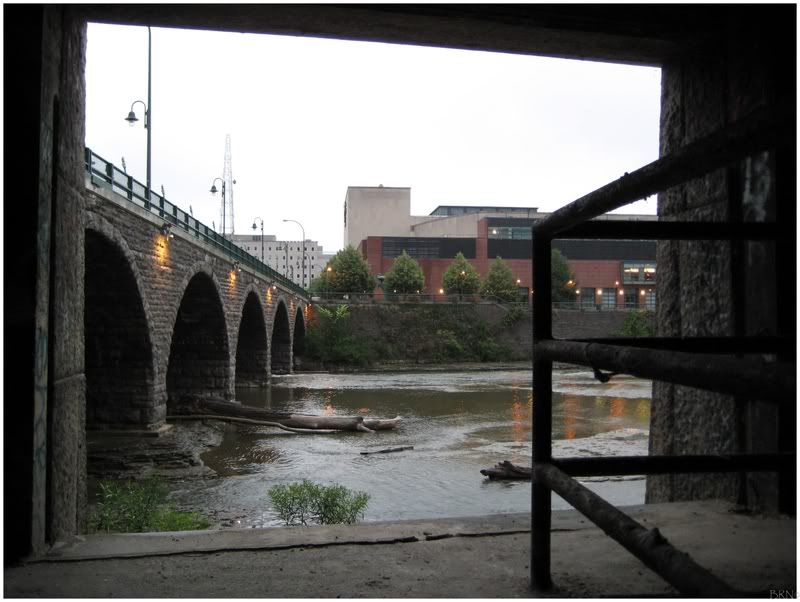 The Fondeler walked the catwalk before me since I was taking pictures. I'm not sure if he just didn't notice, but as I reached the end of the catwalk, I looked to my right and found 2 couples atop the bridge looking at the Genesee River. They saw me but I just moved along; there was no need to converse with them.
---
At the end of the catwalk was two fantastic, old stone arches about 15 feet in diameter.
I think this may be my first black & white picture ever on BRN since The Fondeler was helping me lightpaint and I didn't know there would be a yellow tinge to his area.
---
This section is probably the most complicated of the whole subway. Since I was doing 15 second exposures and taking my time, The Fondeler split off and we both wondered about independently for a few minutes.
Without even realizing it, I found that we were at the end of the tunnel. It was interesting to stand upon a staircase that led into the ceiling and get a somewhat elevated view of the non-abandoned Rochester cityscape, mere feet away.
---
These are the stairs which I was standing on in the last picture.
They led to a cement wall where a homeless man had taken up residence.
---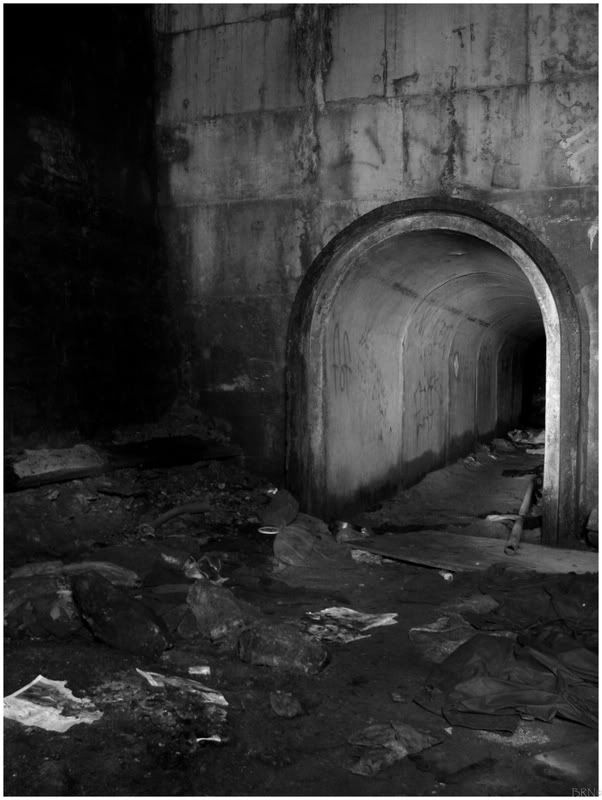 There was one more little section that I hadn't seen. The Fondeler had found it and brought me over to check it out.
It wasn't that interesting though; simply a room with the above tunnel which led to another room. I had to hunch over in the tunnel for a sense of size.
I was pleased with all of these tunnels we had found and the lack of Rochesterians put me at ease.
---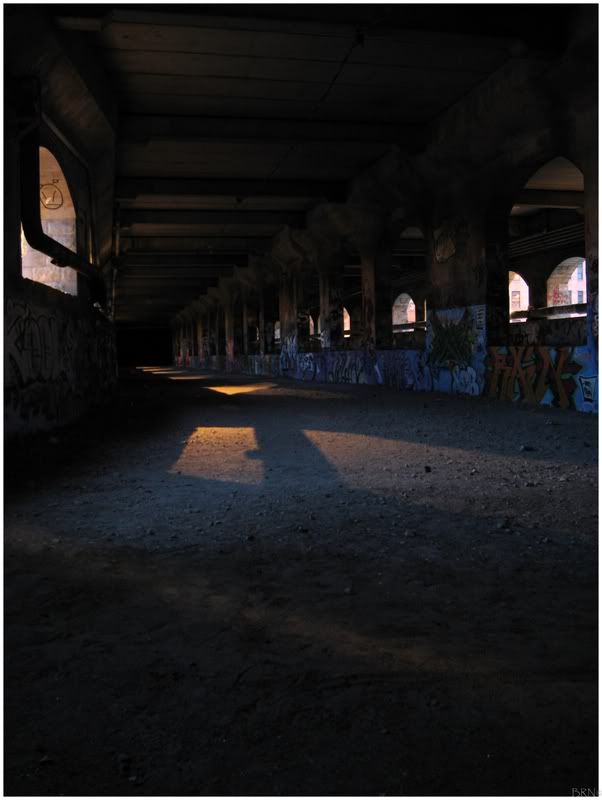 It was nearly dark and The Fondeler was starving. I had finished my cheese fries at Ted's, so I was slightly less hungry. Seeing how The Fondeler only ate about 3 onion rings, I could understand where he was coming from.
We found a gas station and asked some cute girl who was washing the floors where the nearest Popeye's was. We had both wanted Popeye's, but she only directed us up the road to the nearest fast food & we had to settle on Burger King. The Fondeler and I sat up in the AutoZone parking lot and ate our chicken tenders and rodeo cheeseburgers.
---
It was getting late and The Fondeler talked me out of the other Rochester location I wanted to do. We went back downtown once more and looked around a little before hitting the wet New York highway.
It would take even longer than the 3 hours it took to get here. A GTA 2a.m. gridlock meant that we'd take nearly 4 hours to get home.
Future plans for the subway are for its imminent fill in. The city has just paid an engineering firm to survey the task and the city plans to fill in 80% of the subway within 2 years. Filling in of the subway means that dirt will be placed underground and then have more dirt packed from atop. The subway currently costs Rochester approximately $1 million a year in maintenance expenses and the estimated $13.4 million 'fill-in' project will eventually save money.
There are a lot of people who want Rochester to actually do something useful with the unique opportunity. Sadly, there are city councilors who believe they should fill the subway because you can simply 'dig it out later.'
Work is slated to start in October.
Navi
Sources:
1. Democrat & Chronicle, FRA Engineering to finish work on old Rochester Subway bed.
2. Wikipedia, Rochester Subway
3. Infiltration, Rochester Subway
4. Rochester Wiki, Abandoned Subway
5. Railroad.net, The Orphan Rochester Subway
6. Opacity, Rochester Subway History
7. Vintage Views, Old Subway Pictures
8. Vintage Views, 1928 Rochester Subway Map