Going back for seconds.
Fall 2008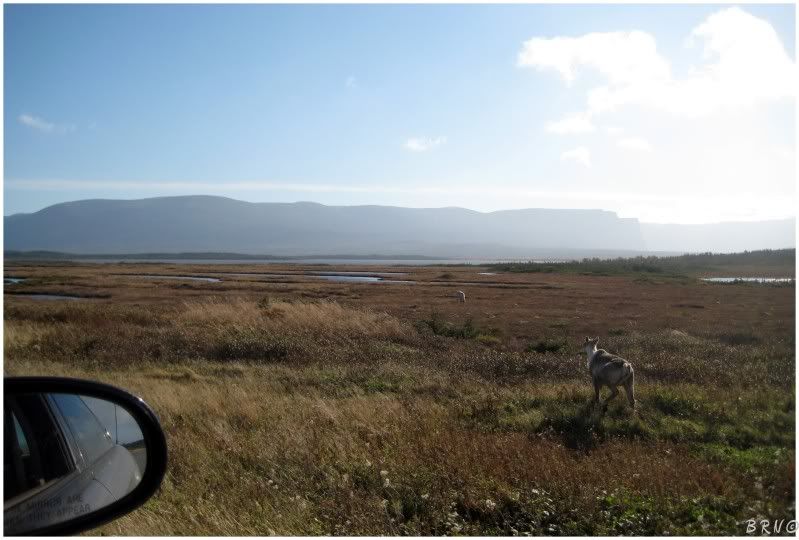 (This update is sort of a continuation from here. It's the same highway and so, they sort of tie together)
I only drove 115 km of the 424 km that Highway 430 stretches on the first go.
Still though, I knew I liked this area from what I had seen so far. It was desolate, unique and far more interesting than the forested, rocky corridor between Deer Lake and Corner Brook.
One week would pass and I went straight back for second helpings of Highway 430.
---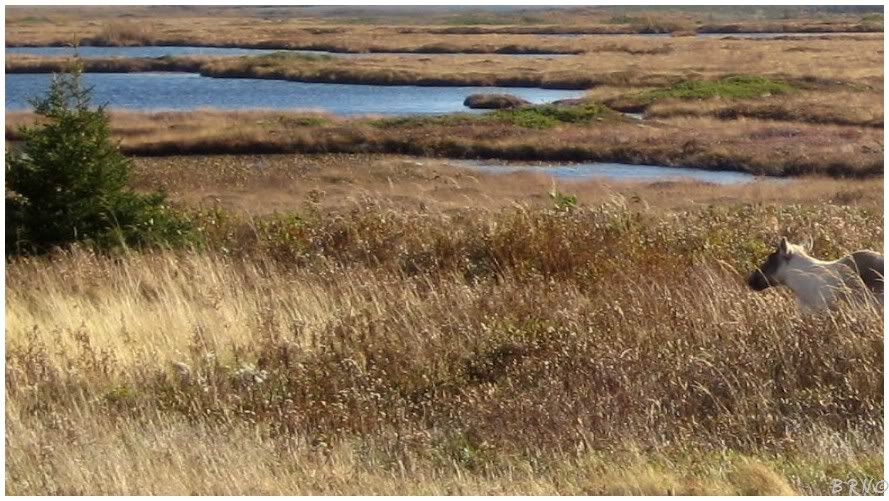 Sure enough, Highway 430 delivered again. I spotted some caribou outside St.Pauls0 and quickly wheeled the car to the side of the road.
After scaring them a bit back from the highway, they stayed about 15 feet away and ate some grasses while I stretched out and snapped pictures. All the while, I cursed my lack of a telephoto lens!
Eventually they moved even further back from the road and the novelty of caribou wore off; so I moved along and left them to their lunch.
---
Even though that kid gawked at me and I tend to boycott towns that do certain things (see: having rude people, skateparks which don't allow bikes, tearing down impressive architecture); I must have forgotten and went into the convenience store in St Pauls for a Crush Pineapple.
I was amused to find the beer where it belongs - with the fruit & vegetables!
---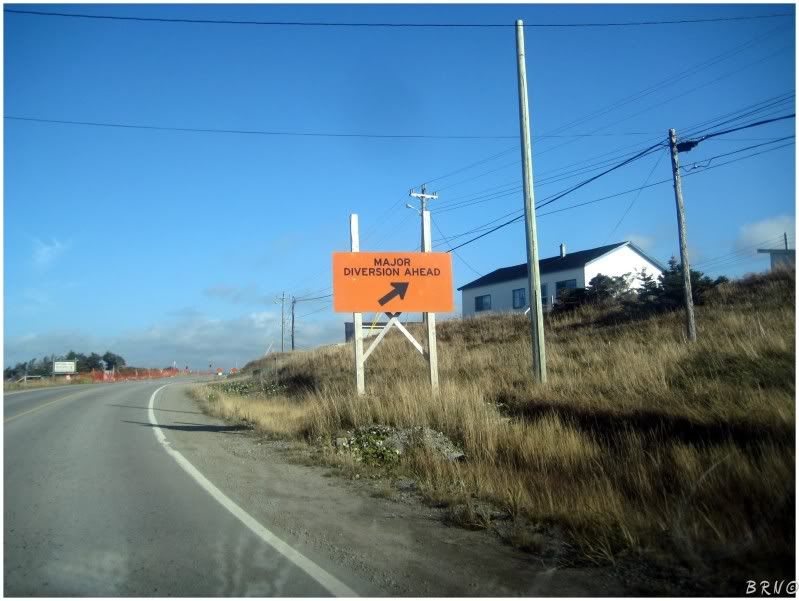 Going past Cow Head, where I stopped for the lighthouse last time, I continued for 42km through a couple of small communities until Dāniel's Harbour, which had this strange 'diversion'.
Driving the diversion, I eyed a fenced portion with large no trespassing signs and house foundations...
---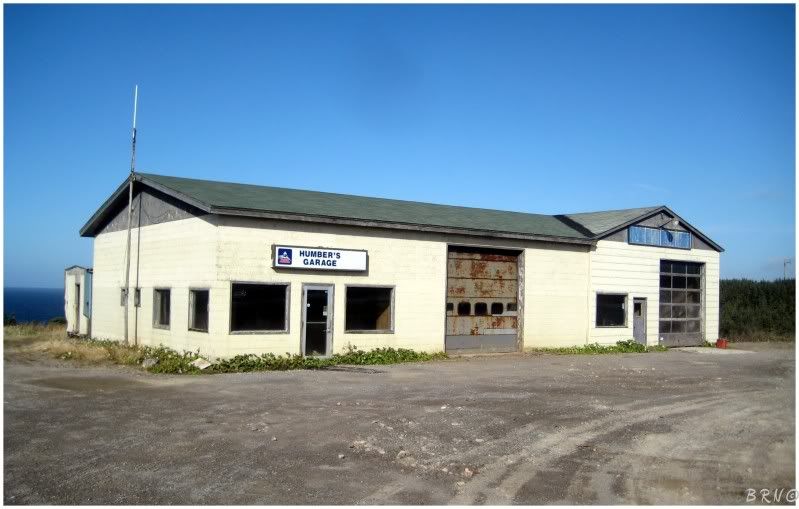 I would later learn that Dāniel's Harbour is the site of an active slide.
The coastline which Dāniel's Harbour is built on, is made out of clay instead of the typical Newfoundland bedrock; therefore large portions of the coastline have been actively eroding, already consuming the bungalow you see in the news article.
When I returned this year, the above garage was also demolished as they move back from the coast and try to figure out what to do with Dāniel's Harbour.
---

Another 12km past Dāniel's Harbour lies the small community of Bëllburns.
---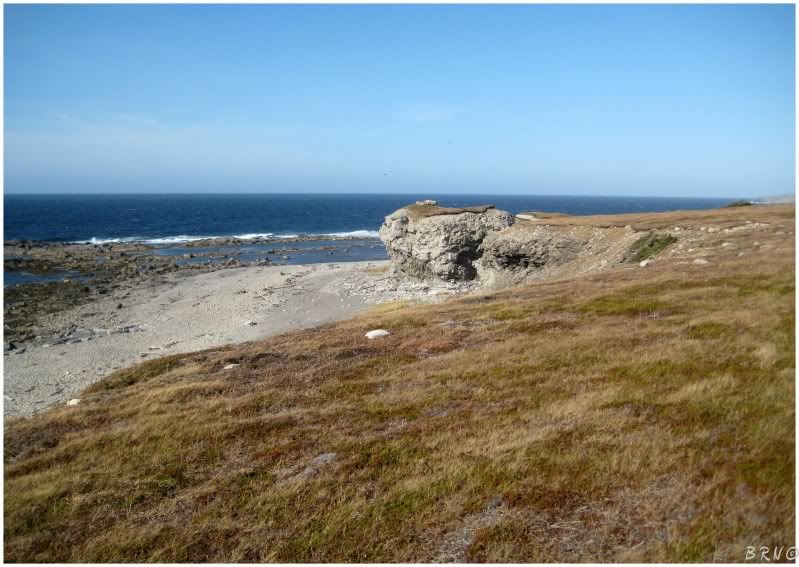 I parked the car at the town lookout and had a nice walk along the coast...
---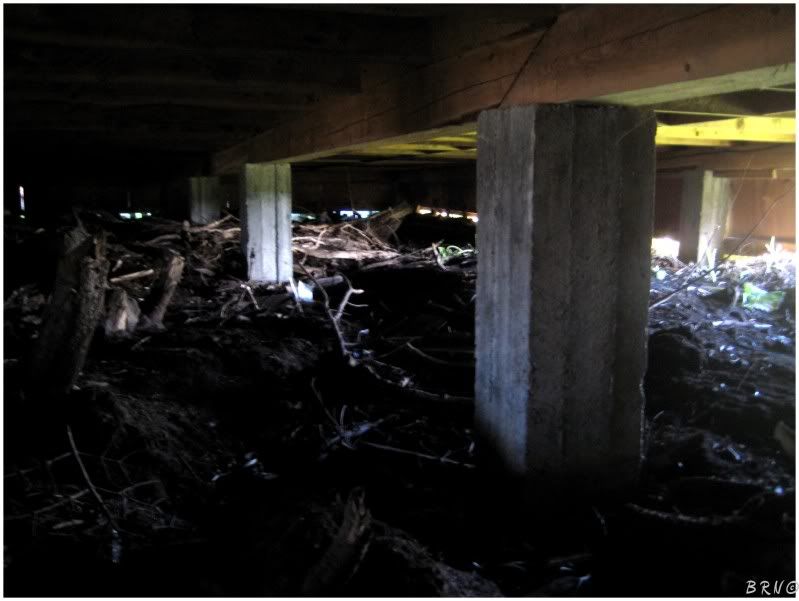 ...as I wanted to head around back what appeared to be the old school. There was a board missing at ground level and I crouched around beneath the structure to no avail.
Walking to the road, I realized the structure was in some sort of renovation stage. Whoops!
---
Along the road, I spotted another promising structure...
---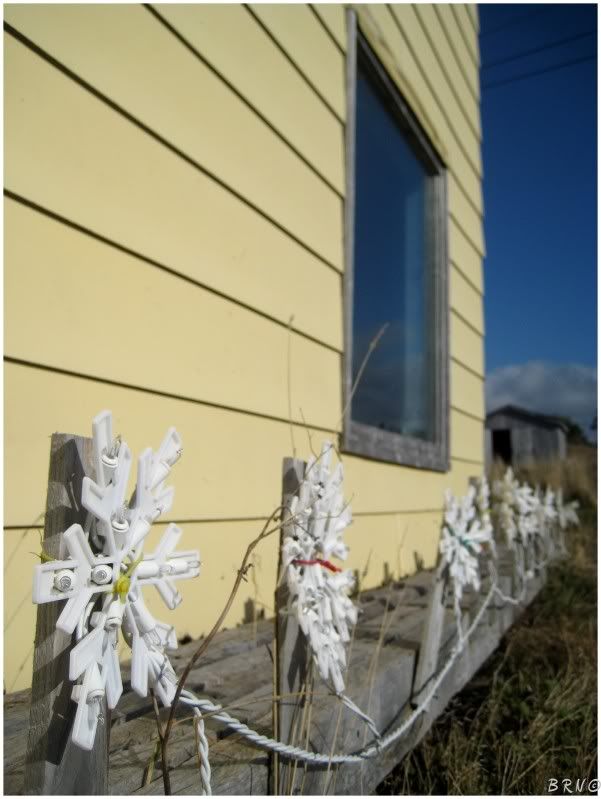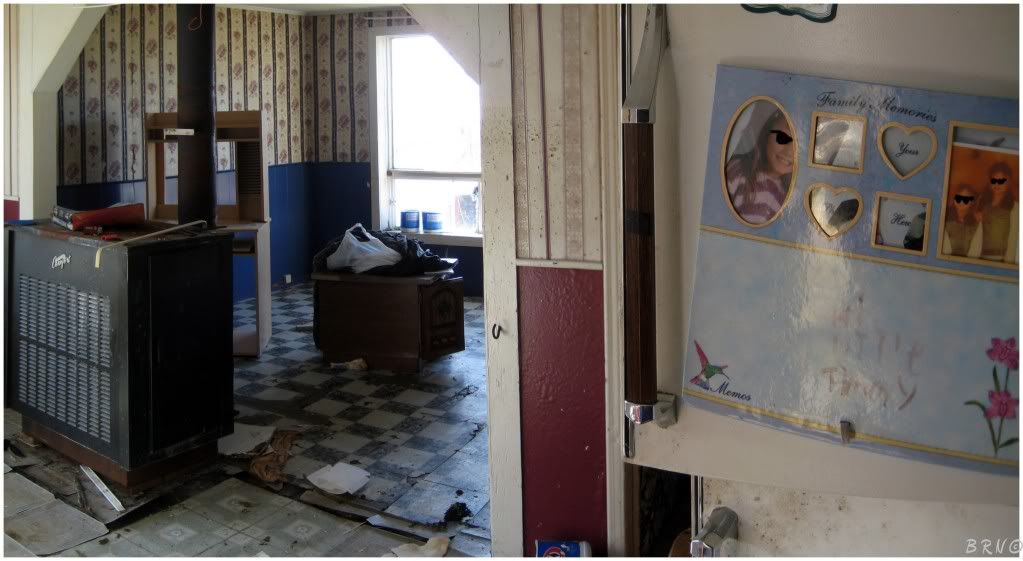 There a lot of houses which look abandoned in NL simply because of the level of poverty in some places. You can never be absolutely sure which ones are vacant; unless they're absolutely falling in on themselves.
Therefore, I had only been in a few houses in NL so far, that were completely empty and completely trashed. The neat thing about this house was it was different in that it wasn't completely trashed and that there was almost everything left behind.
---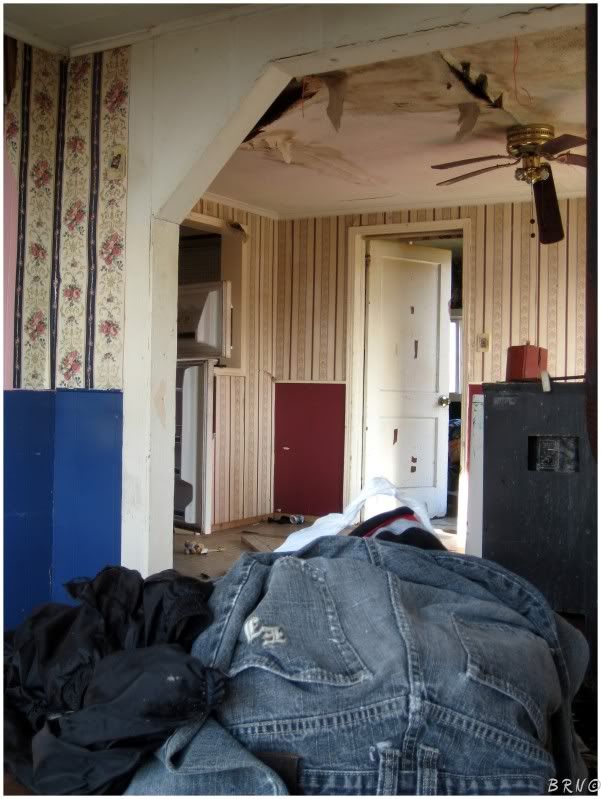 The downstairs consisted of a kitchen, dining room, living room, vestibule and a washroom.
Moving into the washroom, there was evidence that the residents weren't very well off.
---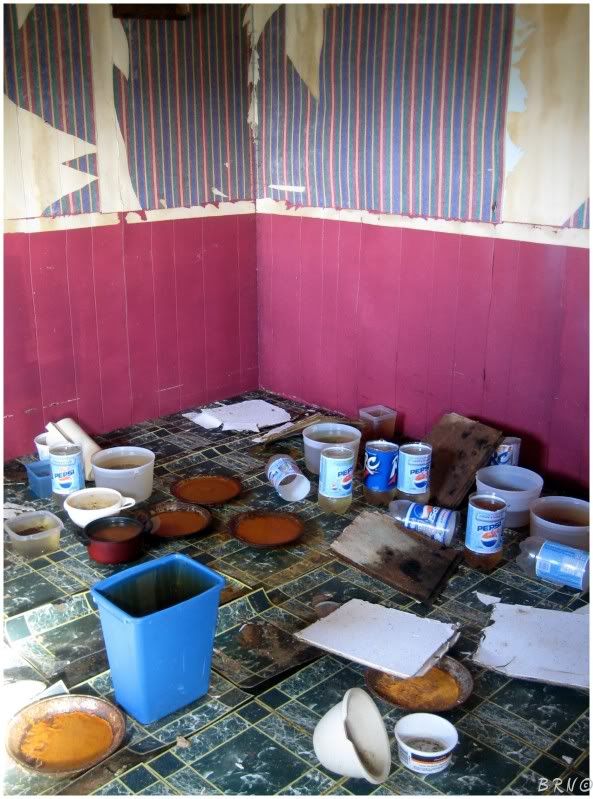 Moving upstairs, it was amazing to see just how many buckets and 2 litres they had catching water.
I had never seen anything like this before and it was quite humbling to stand there in awe of their everyday struggles.
---
Moving into the daughter's room, it was apparent that she was a bit of a nerd (Lord of the Rings?) and quite the student (from all of the certificates on the back of the door).
---
Also, that her & her friend Gabrielle were wiggers for life.
---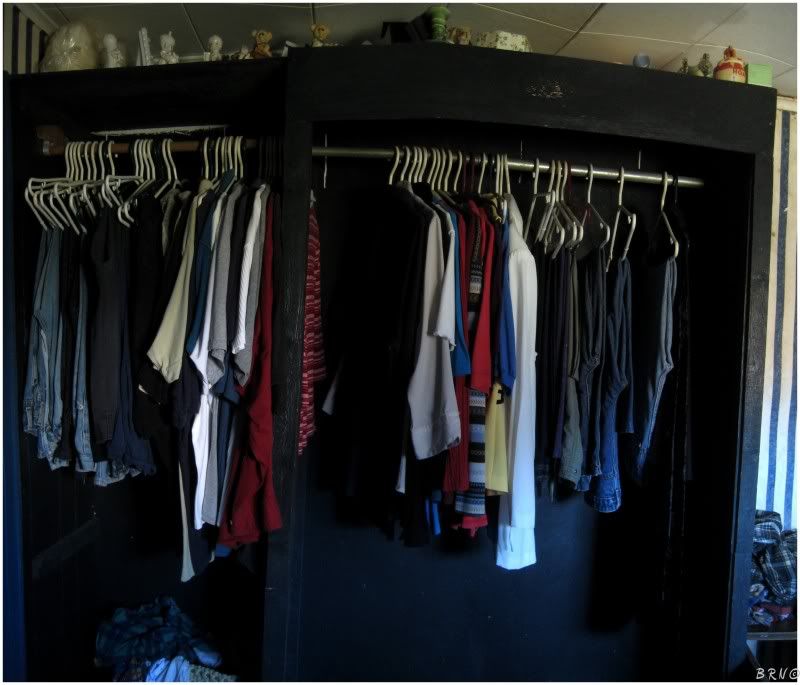 The great mysteries in life arise when you visit some abandoned houses. Like, why would someone leave their clothes behind?
I was thinking that either she outgrew them or that she only took what she needed...
---
The upstairs hallway was a collection of useless textbooks and cd cases without actual CDs.
Too bad too, could have used a nice Styx Greatest Hits CD.
---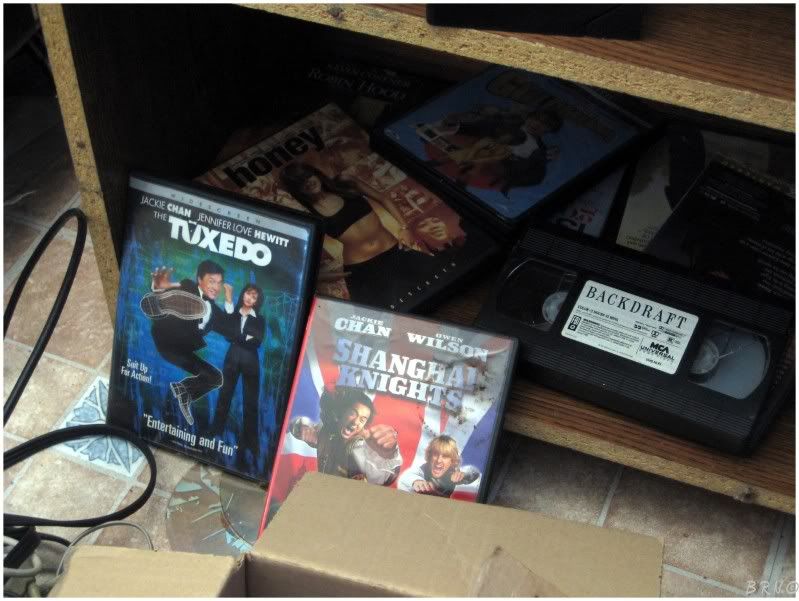 Moving into the mother's room, she was apparently a Jackie Chan fan.
---
...and 'washed-up-actors-in-general-hijinks' movies.
To my shock & dismay, the 'Trapped In Paradise' DVD could still be found in its case!
---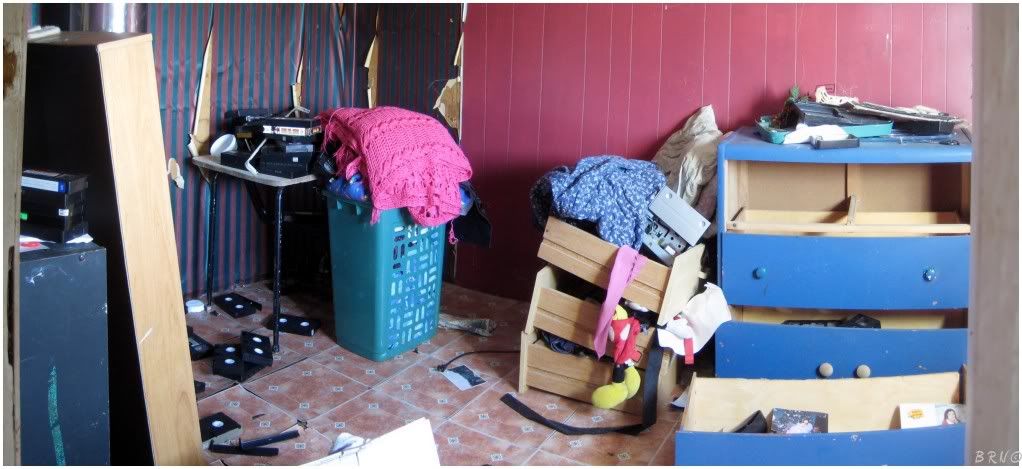 The other sister's room had a huge collection of VHS cassettes and drawers full of random miscellany.
---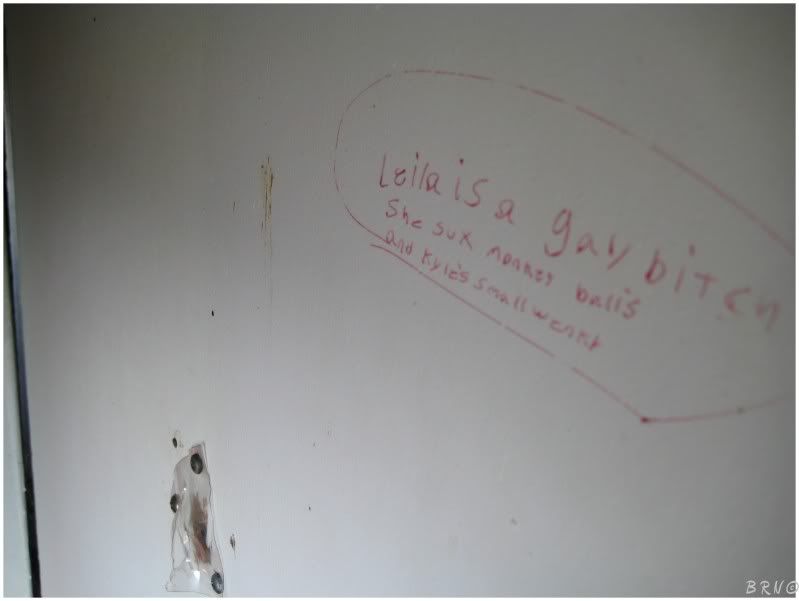 ...and she apparently thought her sister was a gay bitch.
---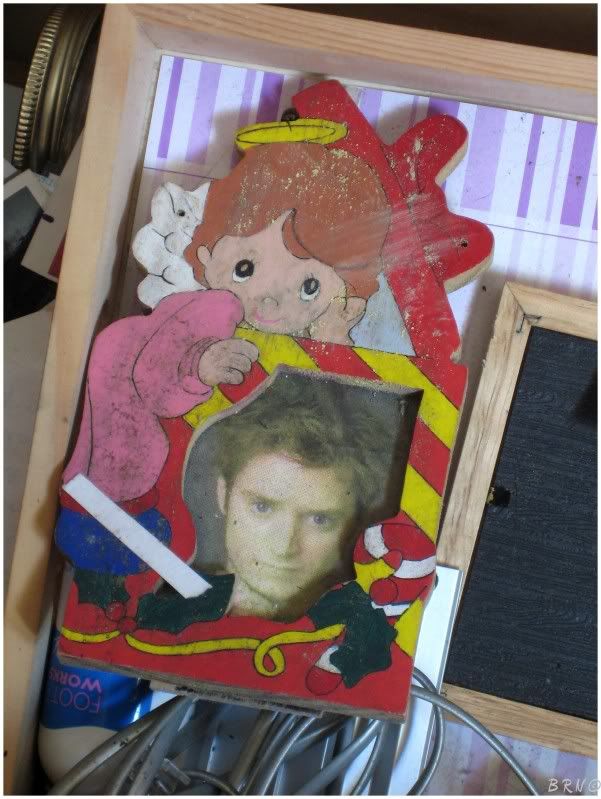 She also had a huge crush on that dork from Lord of the Rings.
---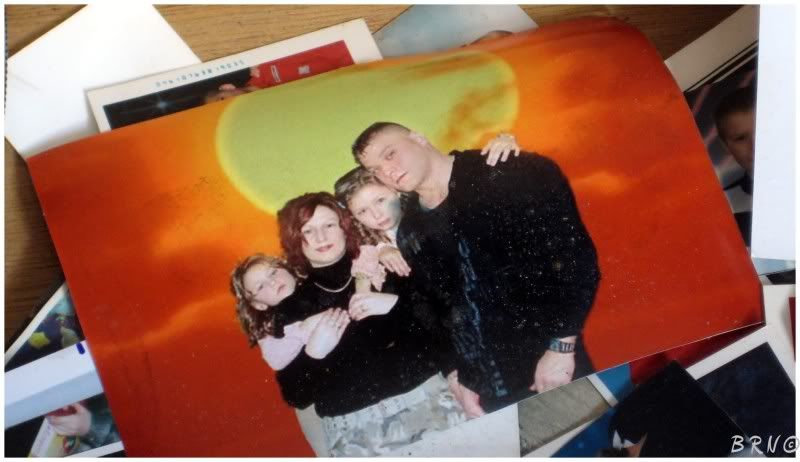 Looking through the drawers, I came across one containing about 50-100 photos.
I'll never understand why people leave some of these things behind. Do they not care? Do they think they'll be back for it? Did they die?
Something I've racked my brain over for a long time.
---
Coming back down the rickety stairs, I stood and looked at a shed and another house on the property.
The shed didn't have much besides a rusty Schwinn, so I quickly made my way over to the other house.
---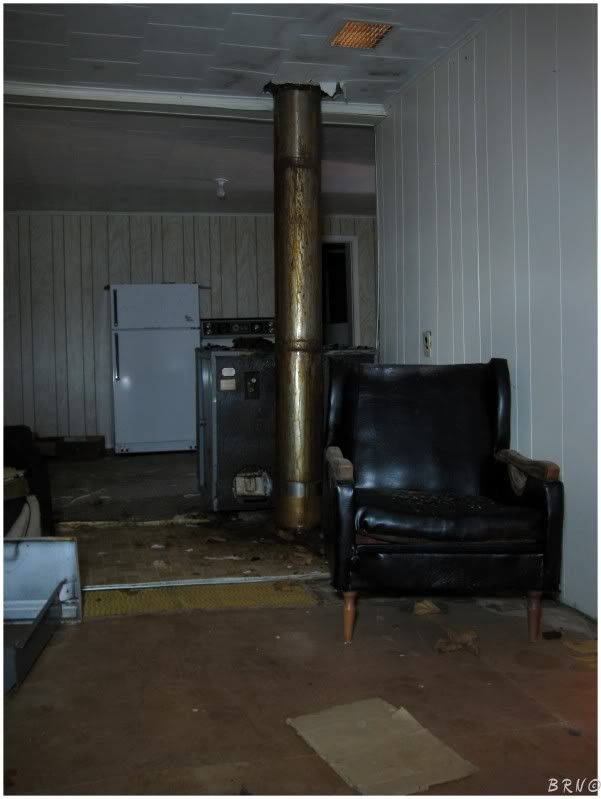 This house was completely boarded on the bottom floor...so along with the period furniture, I postulated that this was the grandparents home from long ago.
I also remember finding a paper with a Edward or Frank or some grandpa-sounding name on it.
---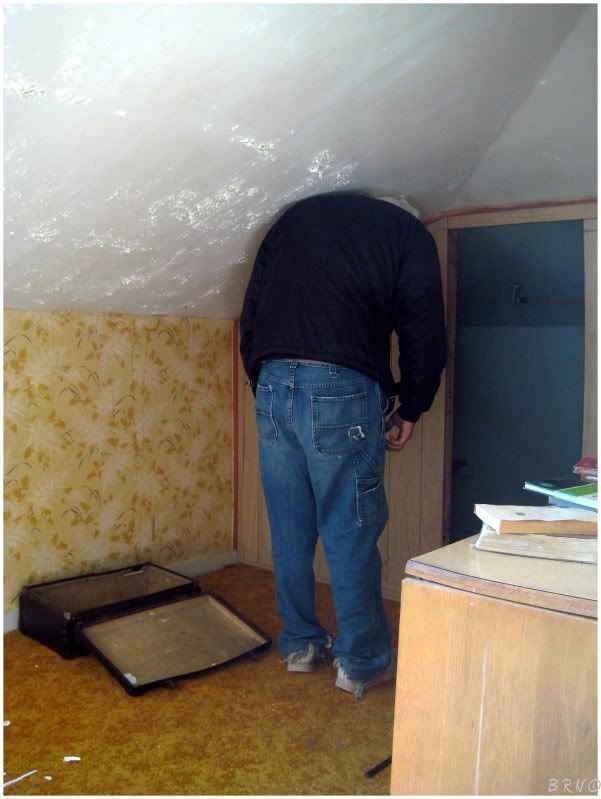 The house was also built for smaller people or in olden times.
In the first picture, you see the stairs going up, where I had to turn sideways to get through the door and I barely fit in the stairwell.
In the second picture, you see me upstairs in one of the bedrooms, where the roof was only built so high and half the room didn't make my height requirement.
Then again, I suppose they may not have been short, as the 'man of the house' wouldn't really have to encounter these spaces in the living room and the bedroom. It was only on the way upstairs and actually upstairs, that you found these annoying requirements.
---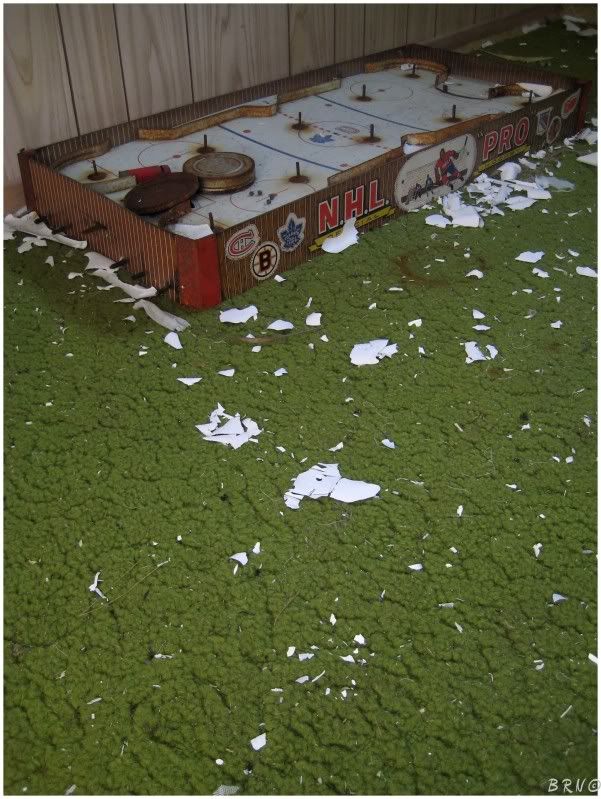 There wasn't nearly the same amount of items in the older house as the newer house.
I did get a good laugh out of that 'Danny and Ron Orlis in the Canadian Wilderness' cover, as it looks like their quite close to that (very grown) moose.
---
Coming out the back of the older house, it was a mere foot or two to a nice little stream/river that divides Bëllburns.
The fact that this was already quite the drive, coupled with the fact that I wanted to sleep at home; led me to call it a day and head back.
---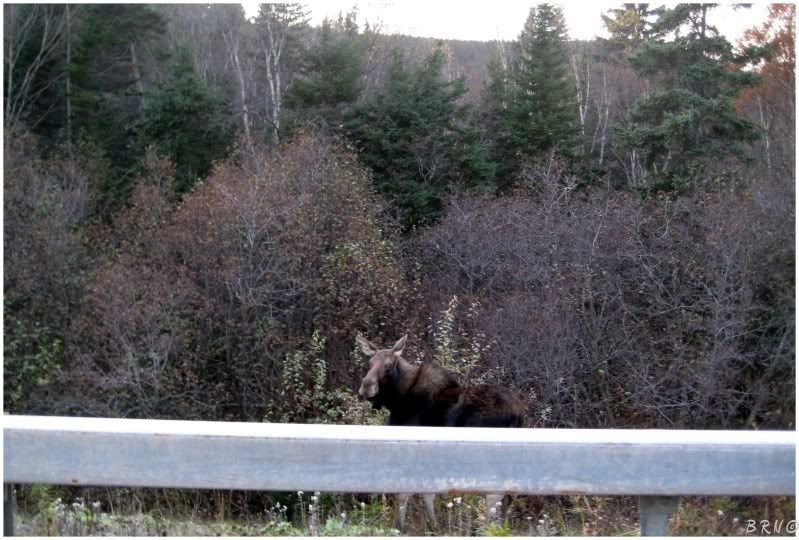 Oh yeah! I also saw my first moose on my way home while driving through Gros Morne.
I had now driven about half of Highway 430.
Navi