The First Taste.
Fall 2008
My first weekend in Newfoundland was spent driving Highway 420; so as I looked at the map in my office, I decided to tackle Highway 430 the next weekend.
Highway 430 stretches 424 kilometers0 total, from its inception at Deer Lake, through Gros Morne National Park and then parallels the coastline for over 250 kilometers before cutting across the northern tip of Newfoundland to the community of St. Anthony and onto its conclusion at Goose Cove.
I left late on this day, so the furthest north I went was Cow Head, NL (marked by the B on the above map) - 115 kilometers from Deer Lake.
---
As previously stated, Highway 430 cuts through Gros Morne National Park.
National parks in Canada hold certain connotations of beauty and grandeur and a national park in a far off, rugged land, such as Newfoundland, is surely not to disappoint.
I'm not much of the hiking/outdoorsmen type, but I was impressed with Gros Morne.
I decided to park my car and went on a brief hike...or I should say I went for a brief portion of a longer hike. I hiked to the 'decision point' at Gros Morne itself (Gros Morne is the highest mountain in the park and the second highest in all of Newfoundland). The decision point is named so, because the first part is easy and then you stand there with a million warning signs telling you to turn around if you're low on water, have blisters or are extremely tired.
I was all of those things, so I took a brief look at my surroundings, a few pictures, then returned to my car.
I conquered Katahdin, I'll be back for this.
---
Moving up the coast, you pass exits for a large town named Rocky Harbour and you go through a small village named St. Pauls.
Passing through St. Pauls, some gumpy, bucktoothed child stared at me like I was driving a UFO...so I politely gawked back at him blatantly and fully confused the dim-witted child. It was one of my high points so far of living in Newfoundland and it puts a smile on my face every time I think of it.
Anyway; after St. Pauls, you come to the exits for Cow Head, which is about 3 kilometers off the highway.
Cow Head has an interesting layout as it is a community with a causeway which connects to an island about 300m off the mainland. The people used to live on the island in the summer and come back to the mainland for the winter (calling the two areas, summerside & winterside).
The above view is from the marina on the island, looking back at the mainland (winterside) and the mountains behind. The population of Cow Head is 500 and if you're wondering what kind of name 'Cow Head' is for a community: French fisherman first called the community 'Tete de Vache' or 'the head of the cow', because of a rock formation that looked like a cow's head from the sea.
---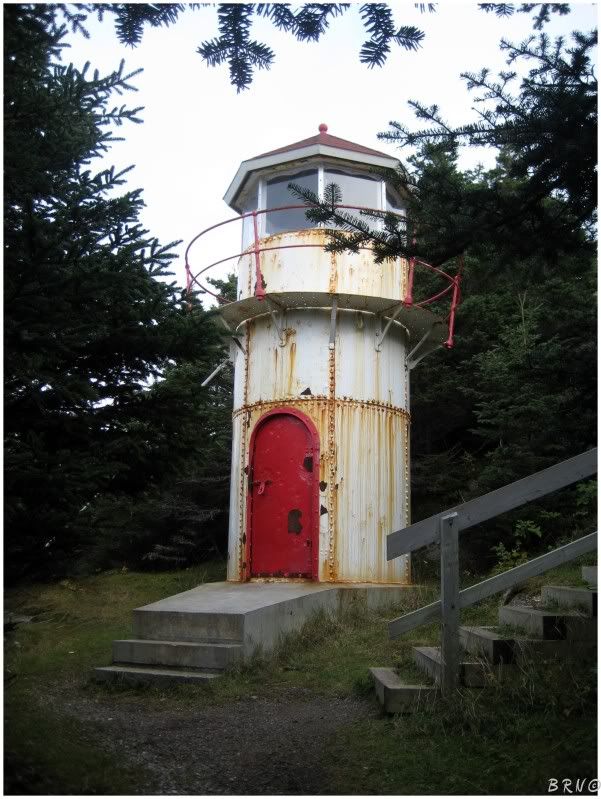 While checking out Cow Head, I noticed a sign for 'old lighthouse trail', which was awfully intriguing.
I parked the car and after a 15 minute walk, consisting of mostly boardwalk through forest, the lighthouse appeared!
---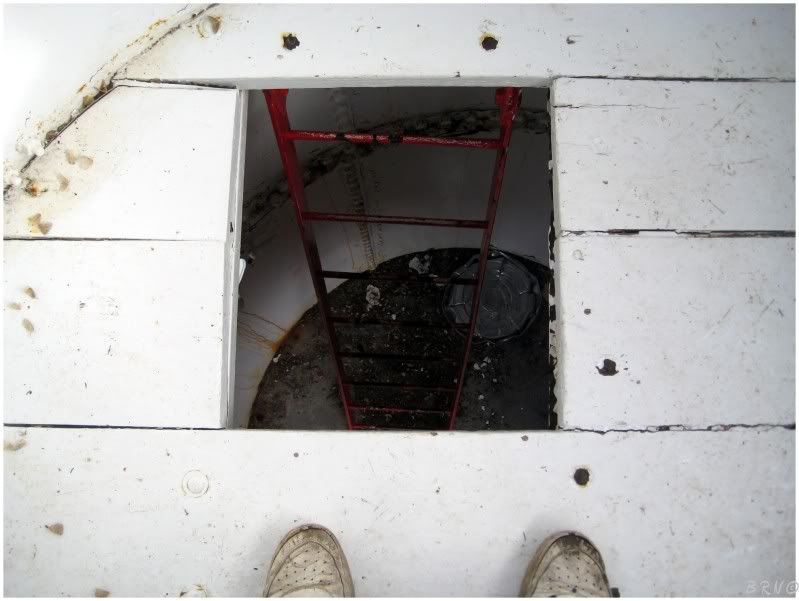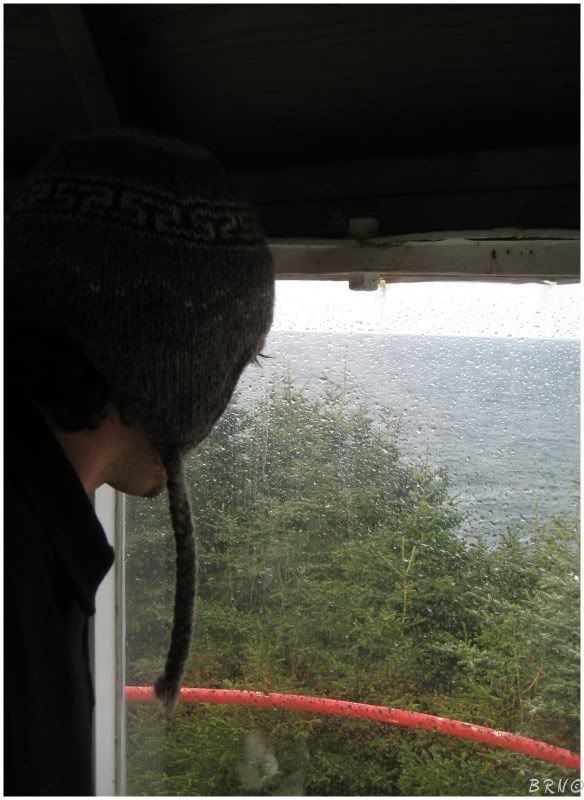 Cow Head lighthouse became inactive in 1988 and sat forgotten until a 2001 grant gave money for tourism which led to the lighthouse's renovation in 2002.
For all of the lighthouses I had been to in Nova Scotia, it was neat to actually be able to climb inside one and take a look around.
---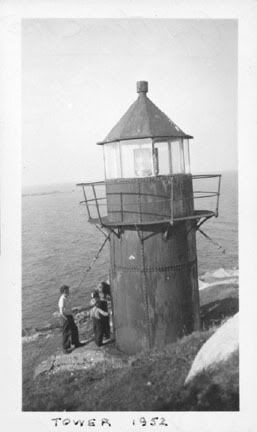 A 1952 and a 2008 look - compliments of LighthouseDepot.com
---
After the hike in Gros Morne and in Cow Head, I had enough and decided to turn around and head back.
(The above church is in St Pauls, NL.)
---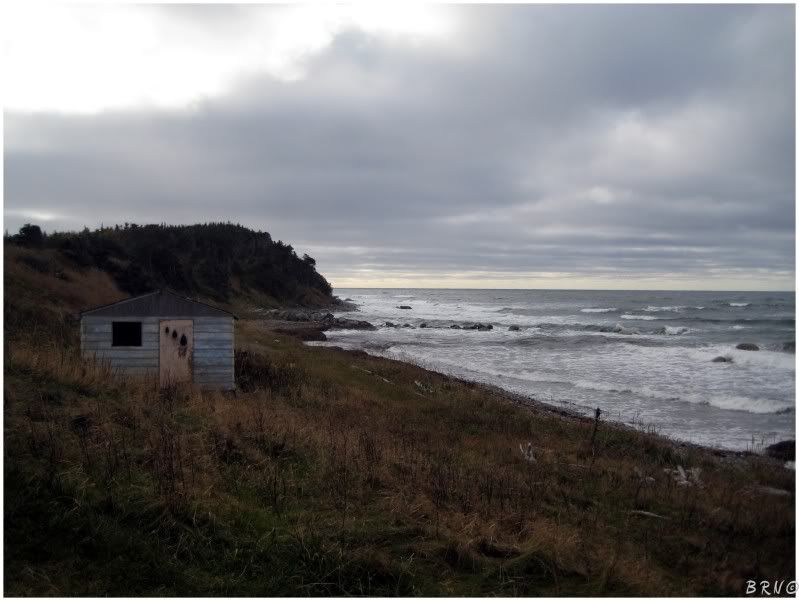 I decided to turn around because Cow Head is a good decision place and also because I spotted these fishing shacks en route and I wanted to have enough time to stop and check them out on the way back.
---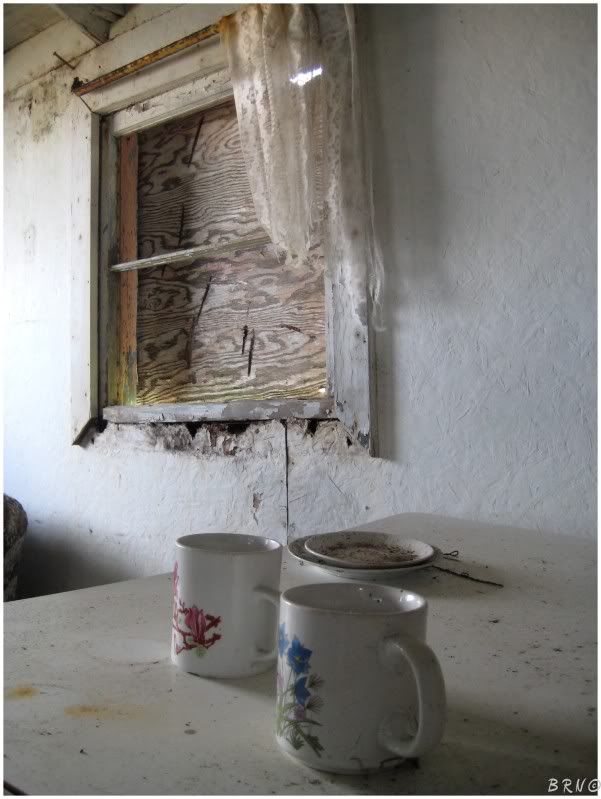 They were about what you would expect from fishing shacks.
---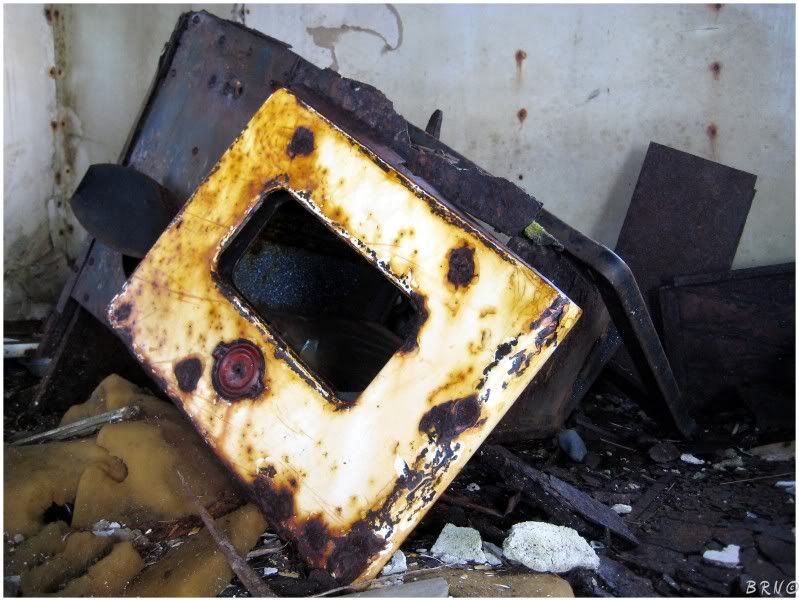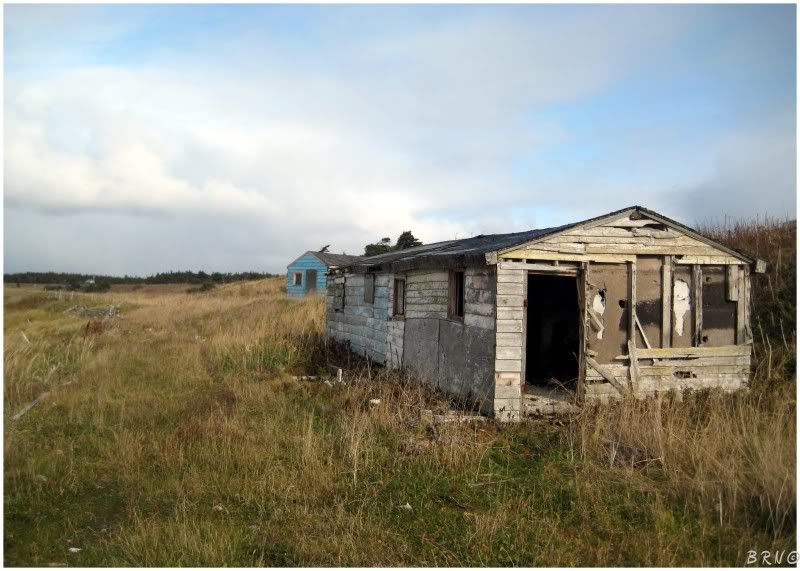 There were actually two of them, so I moved over and checked out the sky blue one as well.
The window frame had the most flies I've ever seen, so it was a fun entry.
---
The floor was better in this shack, but the place was less photogenic in my eyes because of the very feminine pink that every wall was painted or wallpapered.
---
A look out the front window at the ocean.
---
The fishing shacks took all of 30 minutes.
It was about an hour and a half before I got home from there - just in time for this beauty of a sunset.
This was the first taste of Highway 430 and I would be going back for seconds, thirds, fourths, fifths...
Navi
Sources:
1. History - Welcome to the Town of Cow Head
2. Cow Head Lighthouse - Lighthouse Explorer Database - Lighthouse Depot
3 - Lighthouses of Northwestern Newfoundland - Lighthouse Directory