St. Philippe et St. Jacques.
Fall 2007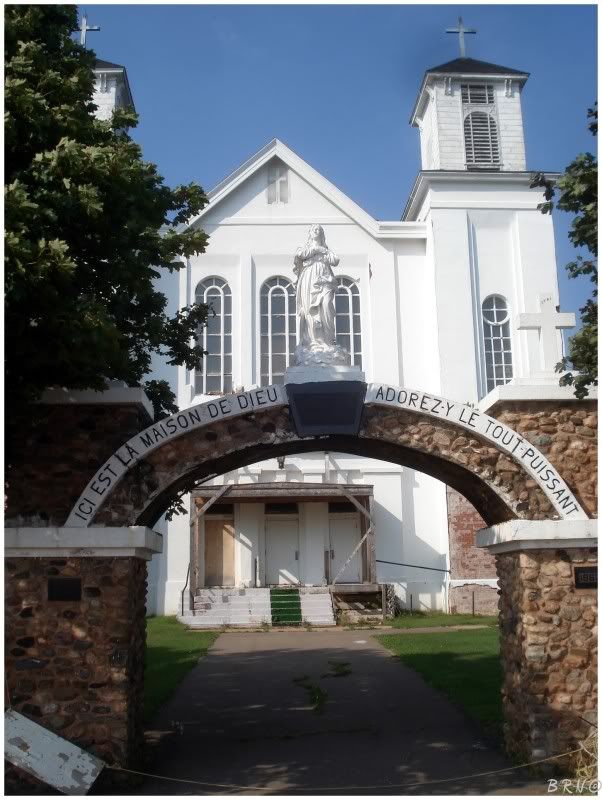 I'm not a social person, so when I arrived in Nova Scotia it was easier for me to leave and spend hours on the road, then it was to strike up a conversation with any given classmate.
That's not to say I only traveled because I couldn't properly socialize; it was just easier at first to leave for the weekend than it was to sit in my room. In addition, I had never been east of Pittsburgh; so I was very excited by all these new, tasty travel locations which suddenly surrounded me.
It was on one of these early travels that I visited Prince Edward Island. In my write-up from last year, I made a passing reference to an 'old Acadian church by the ocean'; which should have set off red flags when you noticed that I didn't stop the car.
You knew better.
---
Well after returning from Prince Edward Island, the thought of that church continued to agitate me. The constant weak drizzle of sorry buildings in the valley of Nova Scotia didn't help either.
Sure the church was 5 hours away; but I knew it was there and it looked incredible. I had no idea if it was accessible or not, but regardless, I ignored the collection of texts I got from various newfound friends one night and drove out of the province.
---
Prince Edward Island is somewhat built up in Charlottetown; but not in the least bit anywhere else. It is tiny, completely defined by the primary roads and there's not exactly good places to park your vehicle undetected. I drove around in frustration, but the absence of people also led me to minimize the amount of driving I did in this small town at 5 in the morning.
I did notice one sand/gravel road cutting off the highway towards what appeared to be some type of meeting hall. Since it was Saturday, I figured it would be alright to head on down this road. My good luck became even more apparent, when I realized you didn't even have to park at the meeting hall - you could just continue on the road and park your car down by the ocean.
In hindsight, I guess someone would have been suspicious of a car parked by the ocean in its own right, but it was the best option I had.
As quiet and elegant as possible, I closed the car doors, threw my backpack over my shoulder and walked up the distinctive P.E.I. red sandstone road towards the church.
---
When I first entered it was still completely dark. Since there were houses fairly close, I covered my flashlight with one hand, so that a tiny beam of light could escape and faintly light me a path to somewhere to watch the sunrise.
I found myself in the bell tower at first, but the shutters didn't make for a very good view. I climbed down the maze of ladders and watched the brilliant yellow and soft pink sunrise from a regular window.
---
Once satisfied with the amount of time spent watching the colourful morning sky, I made my way back into the main church hall and found there still wasn't an adequate amount of light.
I sat down on the organ's seat and relaxed for a half hour or so; watching the main hall being painted by the rising sun in an ever so slow fashion.
---
Eventually there was enough light to be able to move through the church without the assistance of artificial light.
---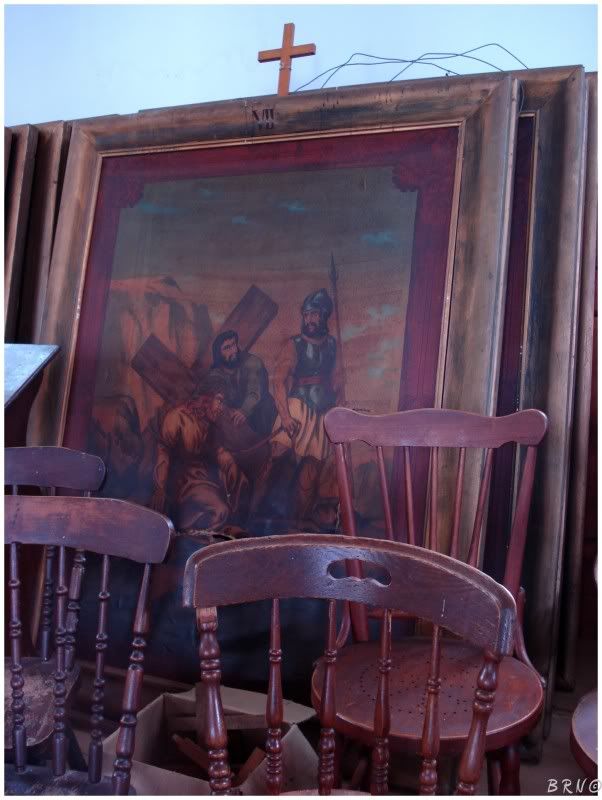 Walking around, I was pretty sure that the items in the church were being organized for an auction. Finding a website later, I confirmed this hypothesis and the website stated that everything had been successfully auctioned off besides the organ.
Apparently this organ is an original from a company called Casavant; who are renowned organ makers. They have constructed 3800 organs since 1879; organs for such famous places as the Royal York Hotel in downtown Toronto, the D.I.A. auditorium in the D, University Hall at Acadia (in Nova Scotia) and also that church I went to in St. John's.
---
For the first time since I entered the building, I came down from the balcony and walked past the pews and up to the unique altar.
There appeared to be a rat on a boat with a bunch of oars as the main symbol. Also, all of the light blue & gold kept reminding me of the Ukraine.
The artifacts led me to believe that I must never have been in a church of this particular religion before.
---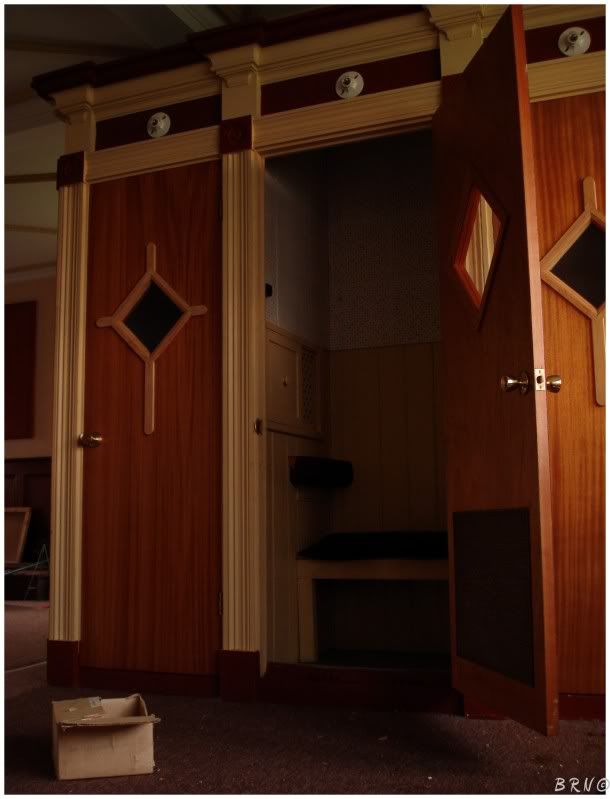 Walking behind the altar, the church had some really unique confessionals.
---
Also some posters showcasing a previous Robert Lebel show!
I'm actually surprised this wasn't enough to save the church itself. In fact, Lebel mustn't have shown or else they'd be bathing in fivers.
---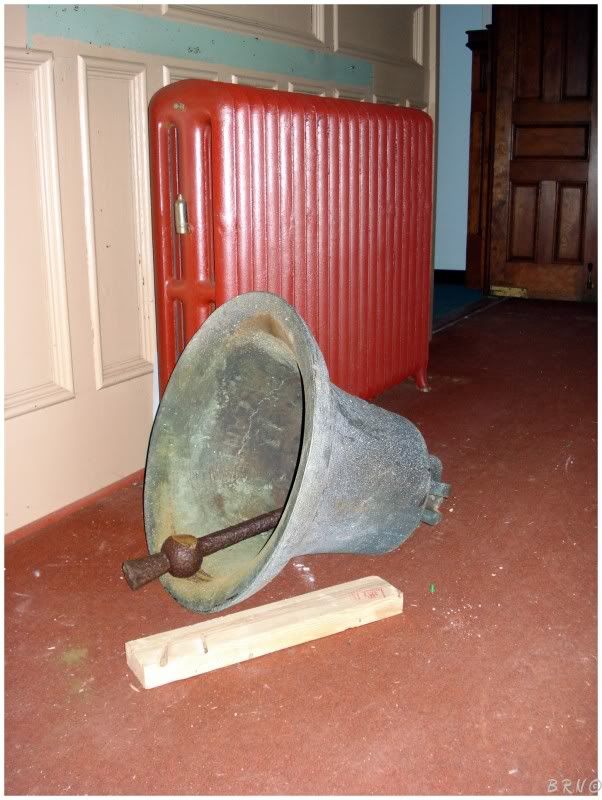 Church bell.
When they say everything was for auction, it makes me wonder if you could have picked up things like this.
If so, I can picture how angry my theoretical significant other would be after my attendance of a church auction and the subsequent items I would bring home.
"Look honey...a church bell! I also bought this picture of Jesus being put in a cave!"
---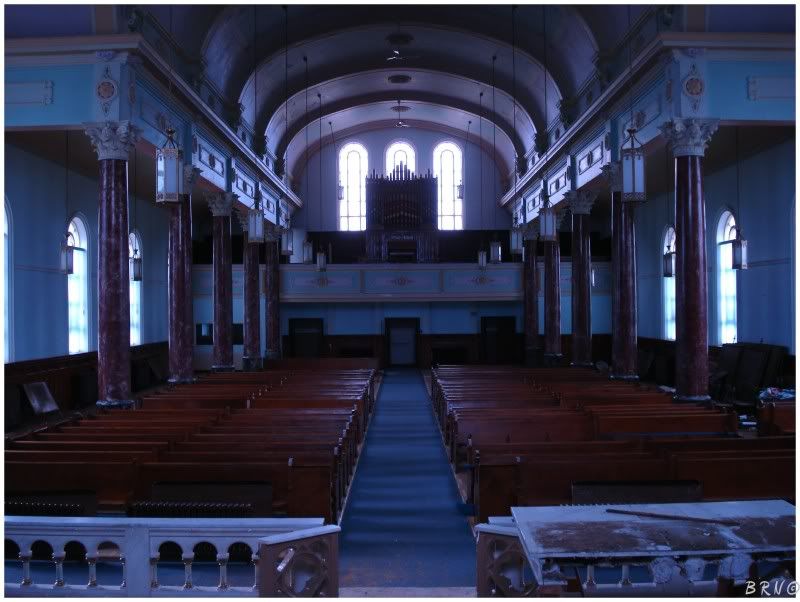 The church had some complexity in plaster work and architectural features, but not in design. Overall it was really simple in a balcony, vestibule, main hall and the area behind the altar.
Therefore after taking it all in for a good while, I decided that I should be on my way as to not press my luck with someone showing up to organize auction items or to retrieve them.
---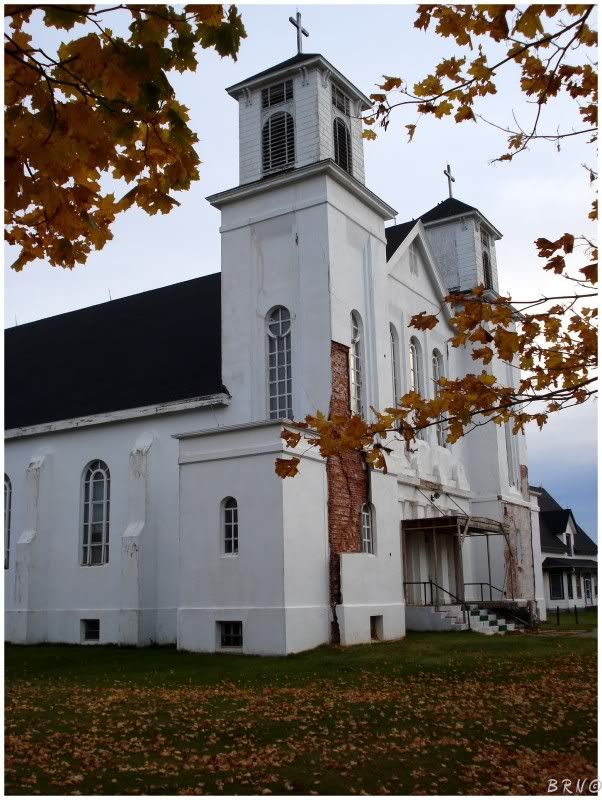 I snapped a few quick pictures as I distanced myself from the church. It was that perfect time of year, with orange leaves and the weather commanding a hoodie.
---
After only getting an hour or two of sleep in my car the night before; I wasn't really in the mood to bike in Charlottetown, check out the northern tip (which I should have done) or anything else.
To the best of my knowledge, I believe I drove straight home from here.
I got about 6 hours of sleep that day and then went out partying that night. I still didn't feel comfortable with the NS crowd, so any questions as to where I was the previous night, were met with me trailing off and changing the subject.
Anyway, I wasn't really sure when I would ever be back in P.E.I. to see this again. I envisioned driving by in 20 years and seeing the difference, but I should have known better. The active auction was to strip the building down to its bare bones. Since no one had bit on the $60 000 offer for the building, it was set for demolition and they started this just a few months ago. (Early 2009).
Navi
Sources:
1 - Casavant Freres - Wikipedia
2 - Angela Carlsen: Another one bites the dust