Devon Garages North Unit.
Winter 2008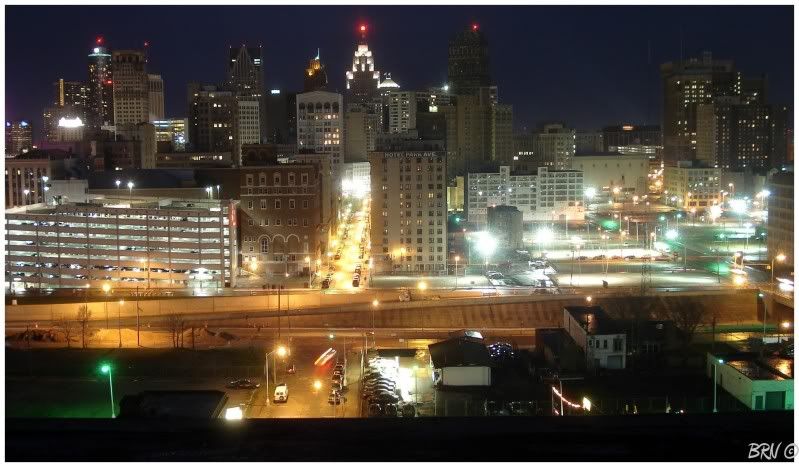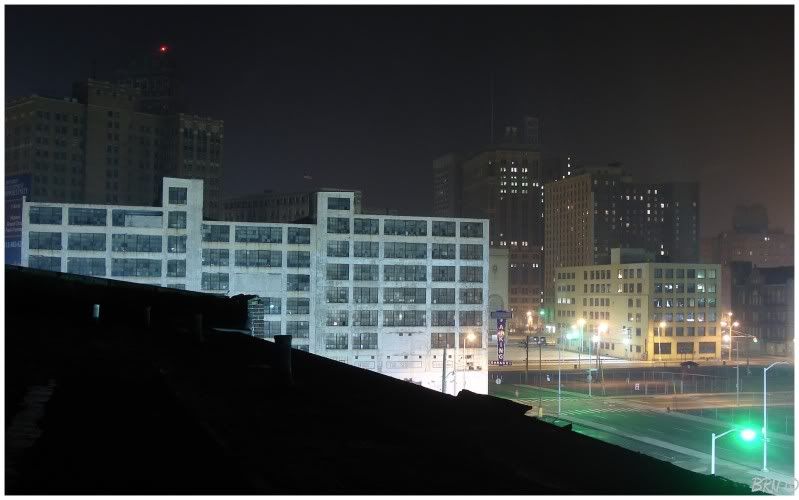 Certain buildings don't possess that ability to capture your fascination - you pass them everyday and you barely notice their presence, if even at all.
From the above pictures, you can see that we were all around the Devon Garages North Unit00, but we never took substantial notice.
---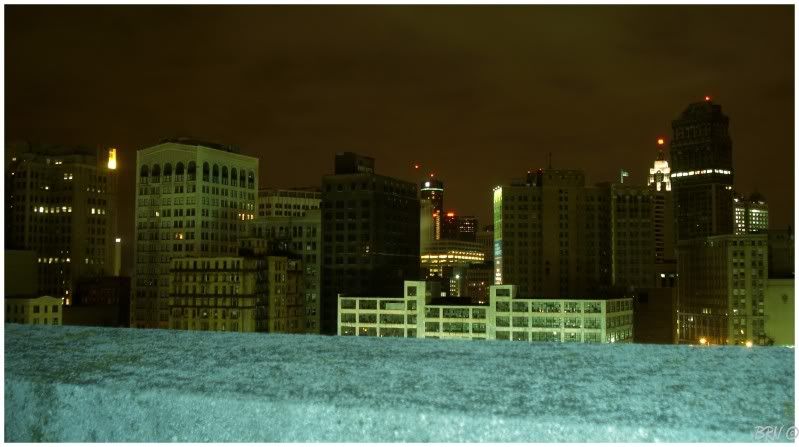 The only time it was even discussed was when we used to sit atop the Film Exchange on Friday nights to watch the drinking establishments empty. We would always arrive early so that we wouldn't run into the drunks; but this also gave us time to have a few drinks and take in the skyline.
More than once it was discussed that we should 'do that parking garage', but nothing more ever came of it. Once our brains were free of the 211 death grip, we would return to the city, but always have something better to do.
---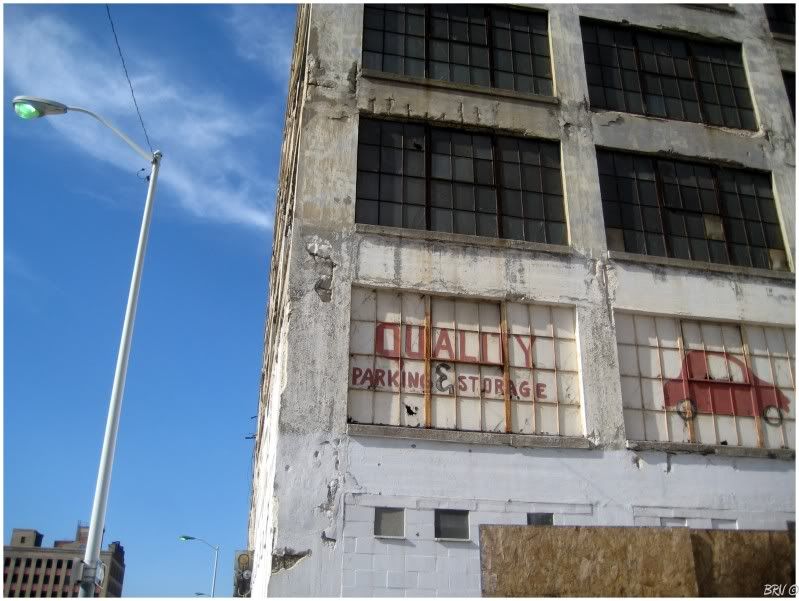 We never found time for the parking garage and that was the simple & plain.
Then came along January, where I was sitting in NFLD fresh off a winter trip home. Opening the internet one day, I discovered that Mike Illitch was granted $2.5 million dollars of taxpayer money to demolish 6 buildings he owned. This was done in preparation for the NCAA Final Four basketball tournament, as they wanted to remove these 'eyesores' before our visitors arrived0.
I cursed and brought down a thunderous fist atop my keyboard at living in geographical obscurity. Why did I do this to myself? Why did I put myself in a position to miss friend's weddings, lasting memories and the final breath of buildings?
It was just great that I live in a place with no history and only mountains. I was so sick with myself that I felt like I could fucking puke.
---
A couple weeks later I booked a flight home due to an airline sale. I could only get time off in early to mid March and I was positively sure that King Illitch would have the buildings down long before the NCAA arrived in late March.
Faded Detroit and DetroitYes both provided great coverage of the sextuple demolition. Through some stroke of good fortune, the Illitches started attacking the other 5 buildings before the Devon Garages North Unit (the parking structure). I wouldn't have minded seeing the other buildings, especially this immaculate, no-good-reason-to-demo, triangle building, but I had to be happy that their simple minds were occupied with killing other structures first.
---
Throughout the whole fiasco, I was getting updates from my friend UJ who worked downtown at the time. She is great in that she's really understanding of my desire to see goofy and odd structures; so she was running by on a regular basis and giving me the positive updates as the days neared my flight home. I also have to tip my hat to Keith Emmerich, who was keeping an eye on it for her (and in turn, for me) as well.
Thanks, brother.
---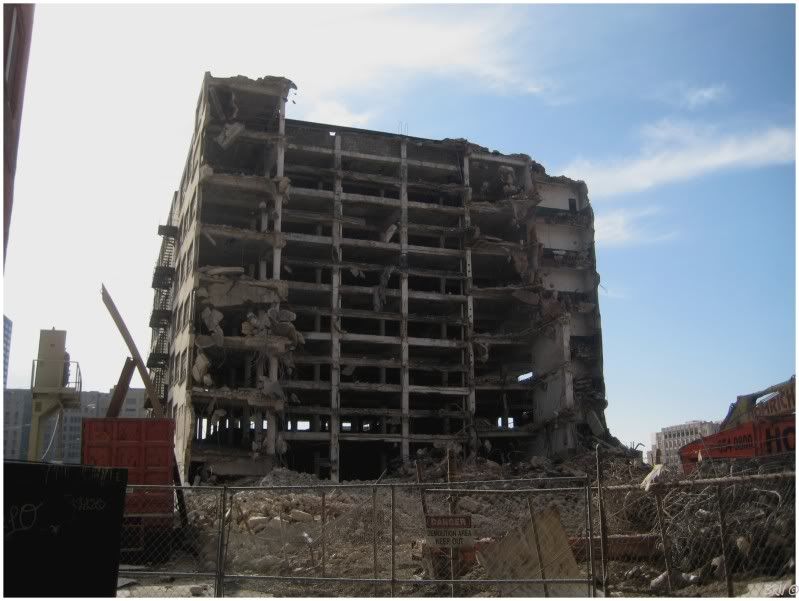 I couldn't believe how well this was working out: the death bringers were occupying themselves elsewhere, my flight was going to land just in time and it was all coming together.
Then it came.
My flight was to land on a Friday and I got a message from UJ the day before:
"Motherfucker. Can you guess what? Here's a hint: worst timing/luck EVER."
"But seriously. This is fucking ridiculous. The DAY before. Are they fucking serious?!"
That was followed up with a message that the building eaters had started to attack the building and it was coming down - they started one day before my flight home.
I was beside myself with disgust, anger, resentment and sadness. I couldn't focus on work and afterwards I paced around my apartment for a good hour, beating myself up for being such a dumbass for moving away...for being such a fuck up. I couldn't handle spending the night in my apartment, so I called a friend and went to the one sorry excuse for a pub in the Brook to grab some Smithwick's. That helped a bit and I still owe her one for that.
I flew home, had lunch with the parents and made my way over. I saw that they had got about 25% done and there was no one around. We cased the area (that's where all of the above demolition pictures are from), but decided against risking going inside the fence for a half demo'ed parking garage1.
---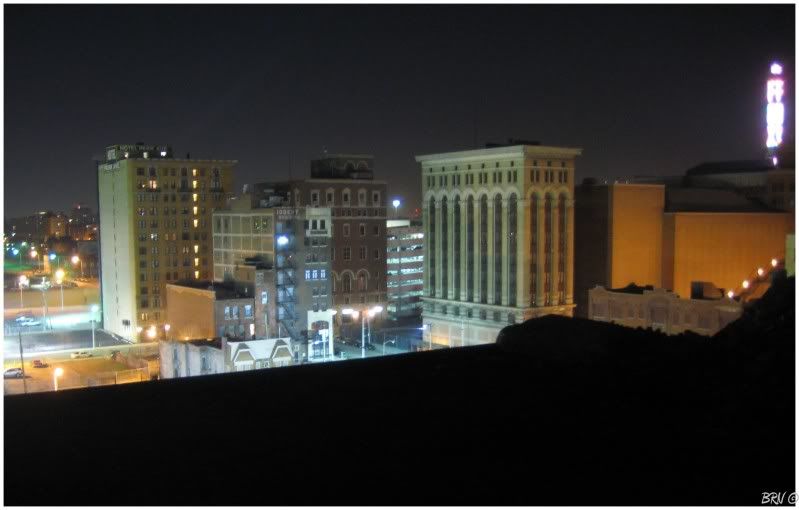 Not going inside would bother me too much and we decided that it could be done that night.
I have to thank Crawl, UJ & Chad on this one. It would have killed me not to see this after all the preparation, worrying and praying.
---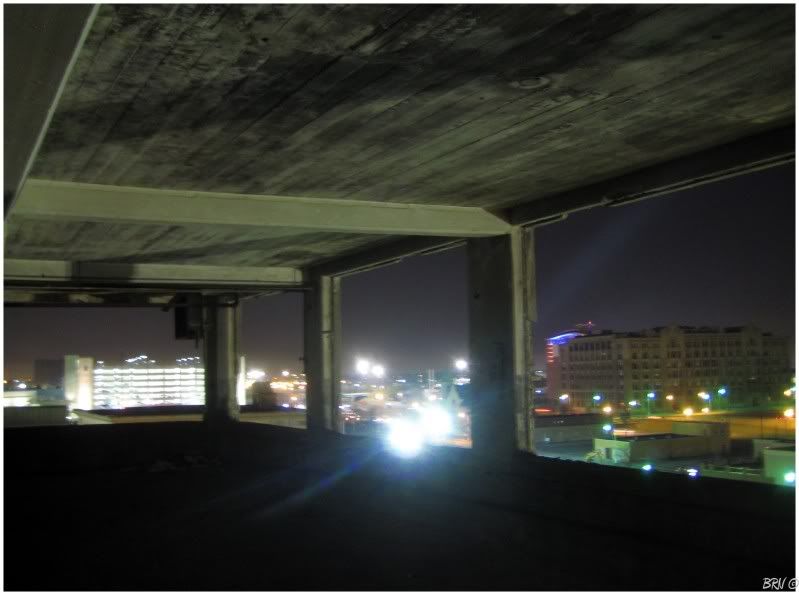 The Devon Garages North Unit's eight floors were built in 1926. It had sat vacant and closed up for decades - presumably because it was condemned, but also possibly because there was no need for parking here in the 80's & early 90's (there were only a couple hotels and a YMCA where Comerica & Ford Field are located now + a lot of the structures in this specific area of town have been gone for decades).
---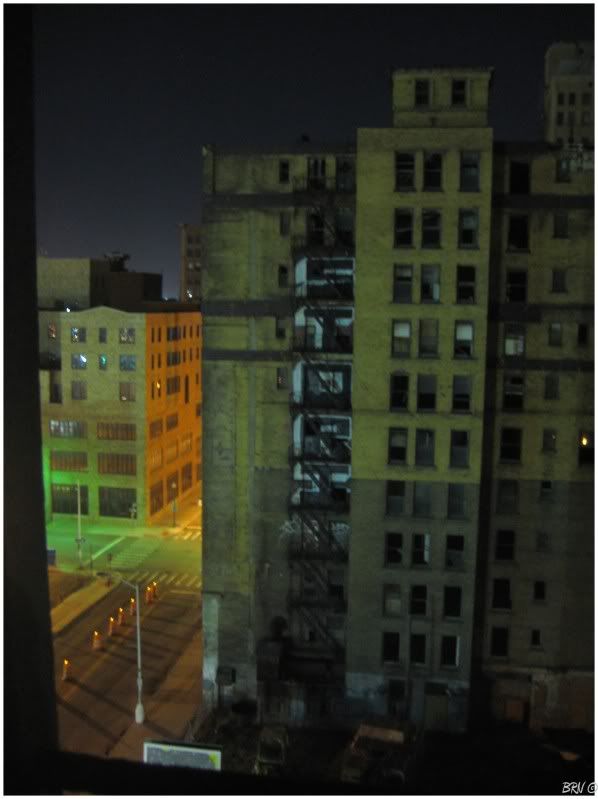 Yes some of the pictures are blurry. I was still concerned about someone spotting us or there being security, so I didn't bring my tripod. This is an extremely dark portion of the D because there's very few lights, so 2 and 3 second exposures were required and it was hard to hold the camera perfectly still.
Also, you see the above STORI which was done while I was away? I went absolutely bananas when I saw it online the first time.
Remember that those stairs are the Charlevoix stairs. BIG ups to STORI for getting that done. At least there's still a few dudes doing D graffiti proud.
---
The view of some nearby skyscrapers that you won't see in your lifetime since this will be a gravel lot for the next 60 years.
Oh wait! I stand corrected...Illitch promised to actually turn these into hard-top parking lots.
---
Atop the parking structure, the United Artists dwarfed us.
The Hotel Tuller was in front of the United Artists before and it would have made us feel even smaller as it was nearly two times the footprint of the United Artists.
---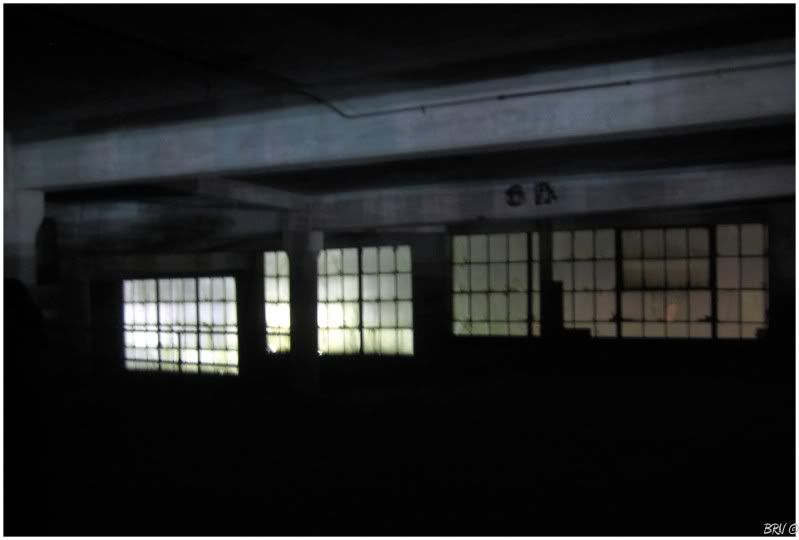 The majority of the interior looked like what you see in the two preceding pictures. Since we were trying not to use flashlights or camera flashes, I didn't end with many interiors.
I regret this somewhat because I wanted to document the place, but then again, it was like every other parking structure you've been in, so I was more enamored with the surrounding views. (Plus the fact of how dark it was inside, as you can see).
---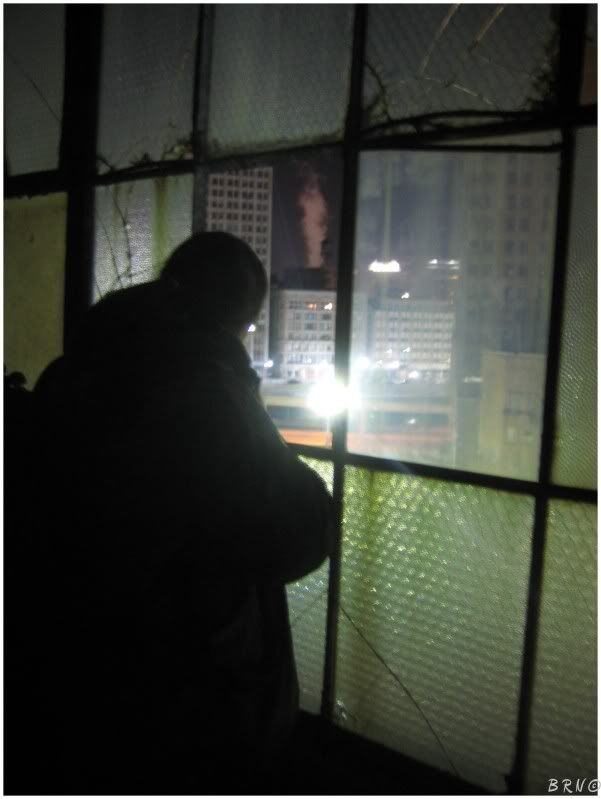 I wandered over to where UJ was taking her own pictures out of a window; we spotted a man in the apartment parking lot next door, looking up and talking on a phone.
We decided to get the hell out of Dodge.
---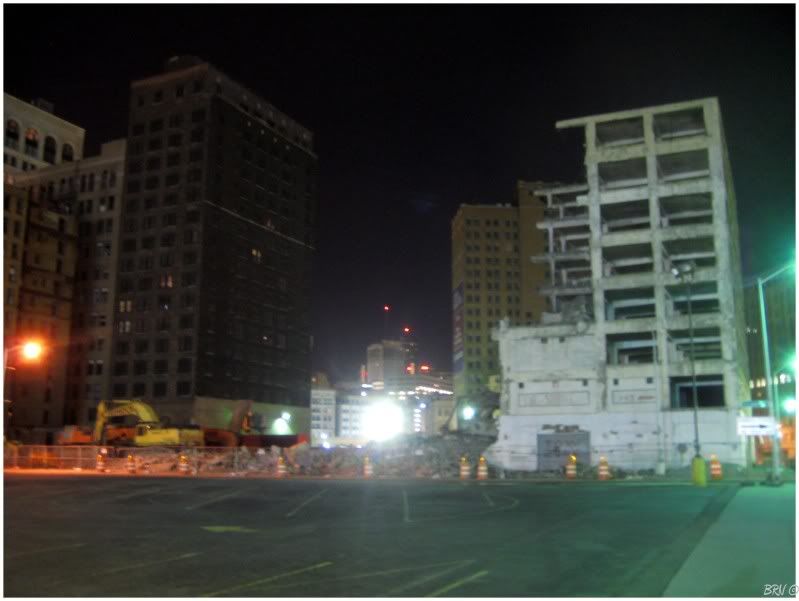 Just a week later, we were driving by and witnessed the progression of the demolition.
I left the next day and haven't been back since.
I'll take a picture of the gravel lot for you next time I'm in the area.
---

A few last words.
For some reason, my Hotel Vermont page gets a lot of hits and I've received complaints about my sympathy for the building and my condemning of Illitch. I understand what you people are saying in that these aren't significant buildings, and I completely agree, I'm not calling for the preservation of a parking garage.
Nevertheless, I'm still sad to see them go as more and more of the D's character becomes replaced with gravel lots. I'm simply a person who grows depressed about things which are inevitable. I know that time will pass, structures will die, character will be lost and glass monstrosities will be built; to fight against this is to try and fight against the ocean's tides: an exercise in futility.
If that doesn't bother you, that's fine. It bothers and depresses me; and since this is my blog, it is simply a collection of my thoughts and ramblings created for a select group of friends.
Navi
Sources
1 - Detroit Authority to Pay for Demolition of Illitch company buildings - Crain's Detroit Business
2 - Elizabeth Street Properties LLC - Emporis.com
3 - Illitchs' downtown power play - Detroit News