Summer in the Province - Weekend Adventures into Central NL & the Road to the Shore: Day 3.
Summer 2009.
My campsite of choice in Central Newfoundland is somewhere halfway between Gander & Grand Falls-Windsor. The last time I camped there, I woke and continued on to Gander for breakfast, but I had drove through nearby Lewisporte last night and it enticed me.
Only about 10 minutes north from my campsite, the only thing I knew about Lewisporte prior was that my friend's girlfriend was from there. Driving through last night, I saw some impressive houses and that the town had a lot of buildings that reminded me of 1965.
After grabbing a coffee, I drove around town and enjoyed the 60s/70s sheet metal architecture.
I mean, when's the last time you saw a Shoppers Drug Mart which looks like the one above?
Awesome.
---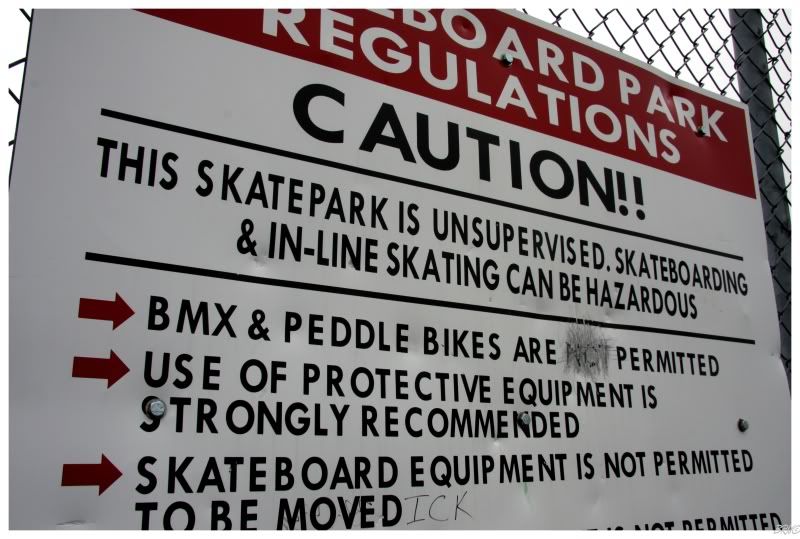 Knowing the fact that Lewisporte had a skatepark provided extra motivation to visit.
Thankfully my bike was broken today, or I would have not been impressed when I couldn't bring my peddle bike into the park.
---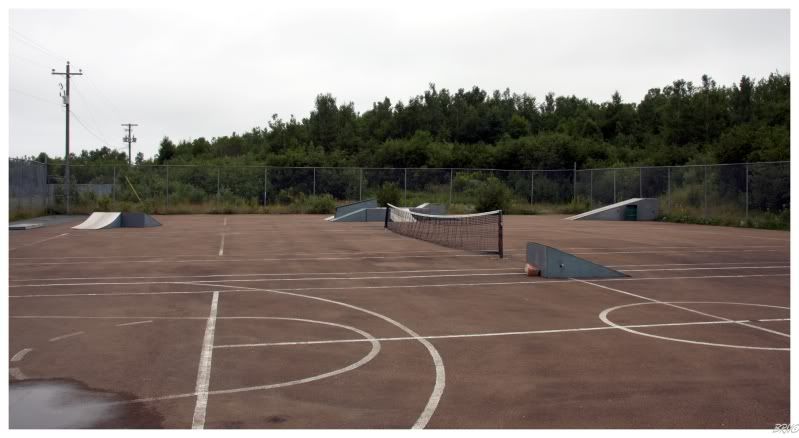 A look at the Lewisporte park.
It's funny how I'll get excited by something like this now; meanwhile The Fondeler will send me pictures from the new, ridiculous, Toronto Skate Plaza.
---
The unique looking St. Matthew's church situated along Main St.
I don't think I've ever seen so many different shades of yellow & brown used in a building...
Also, the cop shop was across the street and one came out and stared at me like I was insane for wanting to take pictures of the church - yes I know officer, I should be at home abusing alcohol or watching television. My apologies.
---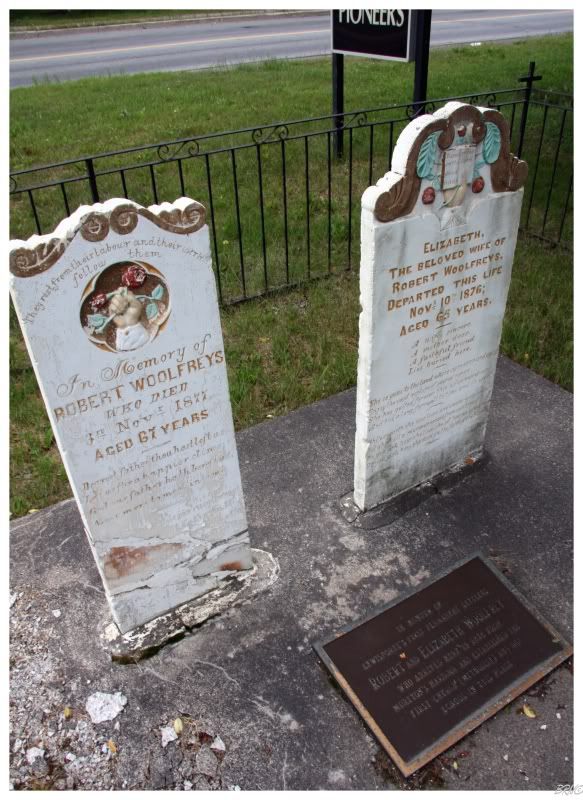 One thing I saw in Lewisporte which I had never seen before, was that the pioneers of the town had their own gated cemetery.
I would imagine this was their homestead cemetery, it was just strange to see "The Lewisporte Pioneers" sign marking off a gated cemetery directly on main street.
Or at least I thought it was strange...
---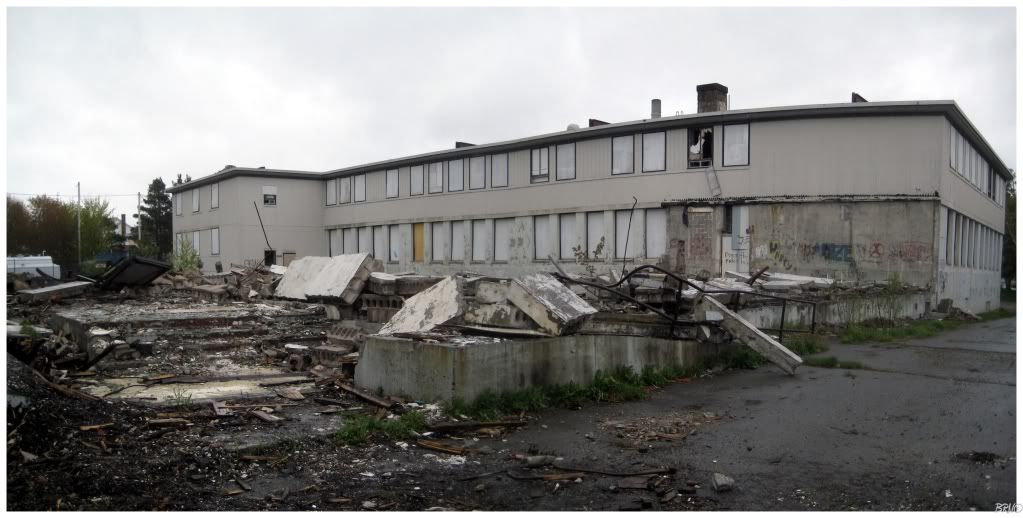 Progressing back towards my west side of the island, the next stop today was in Grand Falls-Windsor.
You may remember this school from a previous update, and I was still fixated with getting inside before the moronic town youths burnt it down (and then would subsequently complain that they had nowhere to hang out).
---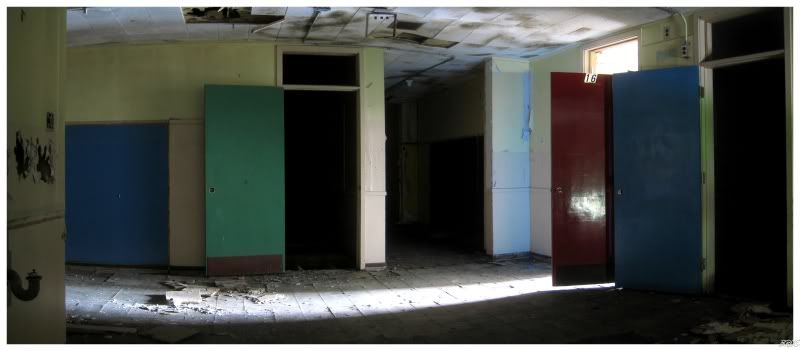 Your typical school? Yeah, pretty much...although, I did enjoy the heavy amount of decay for picture taking.
I found a 'class clown award' from 1997 and a calendar from the same year - so I have to imagine the school has been sitting here rotting for the past 13 years.
---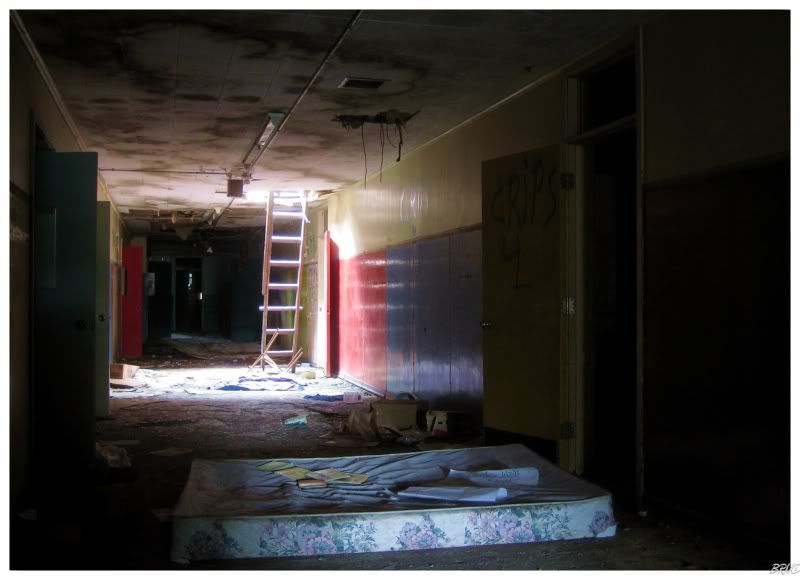 I know you can barely make it out, but that yellow door says "Crips" with the 4Life symbol. These were all throughout the school and I'm not going to lie, the threat of Grand Falls Crips had me shook.
Pure fear. Pure fear.
---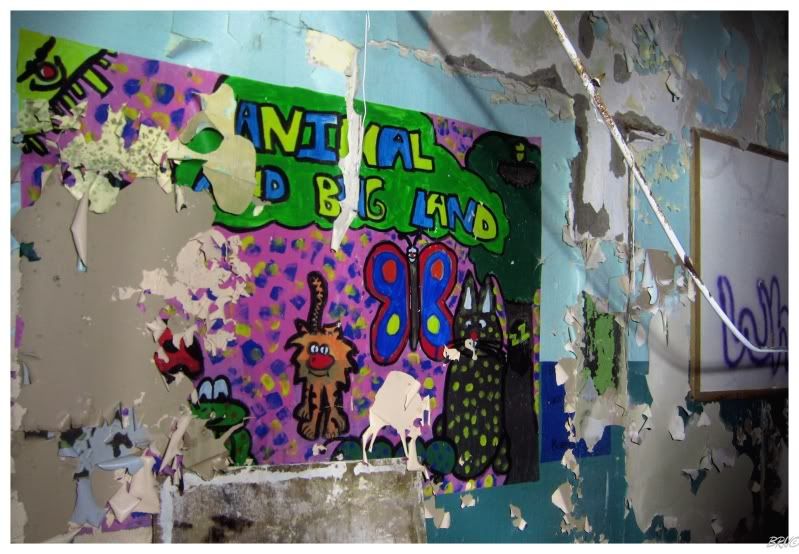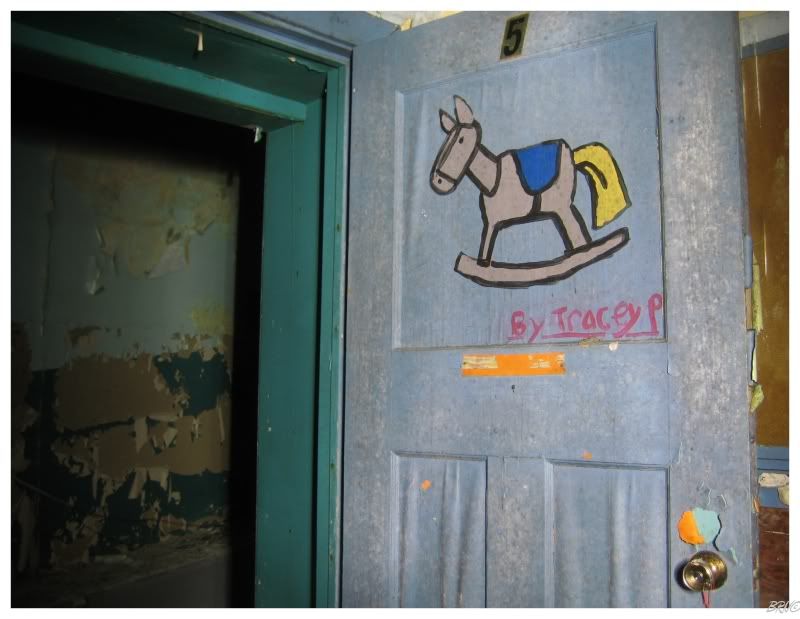 Another highlight was the student art that survived throughout...
---
I also liked the new age graffiti - nothing like graffiti with emoticons (the smiley faces made with keyboard characters).
=) '~)
---
Knowing it was an elementary school, I never expected to find such an impressive gym inside!
Quite sizeable and interesting, it was a pleasant surprise.
Plus I've never seen gymnastic rings before...
---
The roof was utterly unexciting and in clear view of quite a few neighbouring apartment complexes.
It would be a cool roof to sit out on at night...but I didn't spend much time up there midday.
---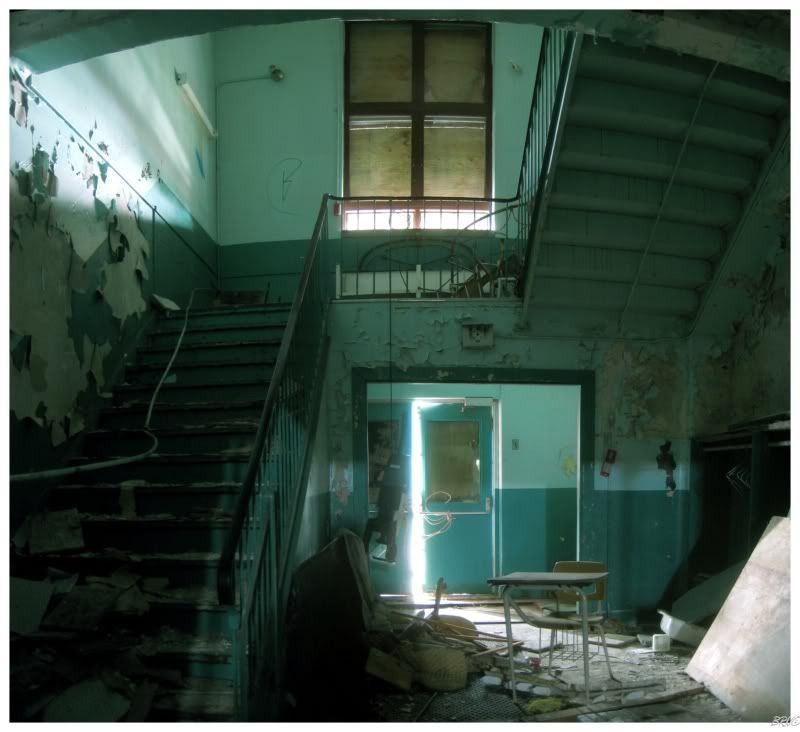 As I've said before, I'm so deprived of places to check out in Newfoundland, that when I get in something, I take a lot more time and take it less for granted than anything in Michigan.
Therefore, even though I had seen everything, I walked through again and worked on getting some better pictures.
The exploration came to an end though, when I walked up to the door in the above picture. A woman was right there, petting her dog on the front steps a mere 4 feet away! I quickly backed up as quietly as I could, trying not to startle her.
The problem with that is that I was walking on broken glass, tiles and school supplies...I was still only about as quiet as your average television. I'm sure she heard me, but I didn't want her to see me in hopes that she would write it off as a ghost.
I know how society is scared of everything nowadays, so before she could even get home to rush and call the police, the fire department and the mayor; I was out of the building and on my way.
I left quickly and didn't see her anywhere around...odd...but good!
---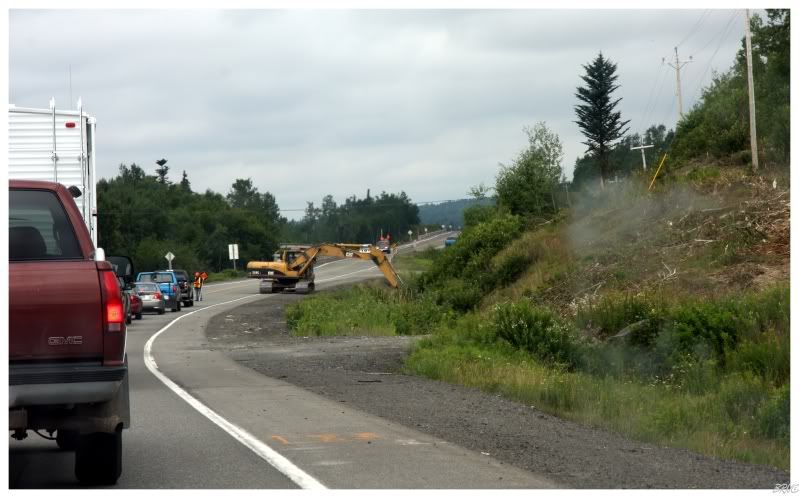 After grabbing a coffee, it was back to the Trans Canada Highway and onto the next destination.
Driving along, there was stopped traffic ahead and I realized there were construction crews out to remove the trees near the highway - they do this to discourage moose from hanging out near the highway.
---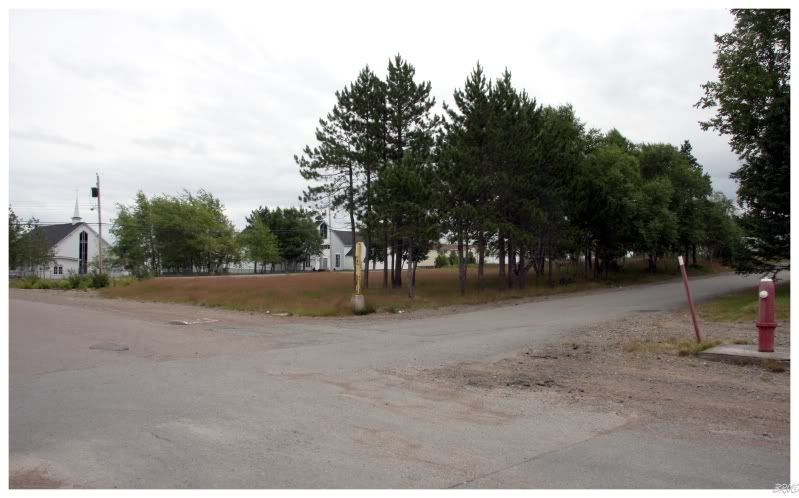 My last destination was still in Central Newfoundland, 70km off the Trans Canada - the town of Buchans.
I'm not one to toot my own horn, but sometimes it comes up that I like to travel and then people rapid fire off Newfoundland places to see if I've been there. I usually have been to the first 2 places they name, but then they throw out the Buchans Card and I fail.
Not anymore!
---
In 1905, the Anglo-Newfoundland Company paid a local prospector to investigate the area of Red Indian Lake for ore deposits. The prospector would find lead, zinc, silver, gold & copper and the Anglo-Newfoundland Company began work at the site to set up mines.
Quickly, what was a random place in the wilderness was developed into a mine site. The problem was that there wasn't a method to separate the five valuable minerals at the time. It wouldn't be until 1925 that a method would be discovered and the town of Buchans really began to take off. A company town from the start, the population would swell to nearly 1000 people as 4 different mine sites opened.
The interesting thing about Buchans was just how much of a company town it was. The only way into the town for nearly 30 years was a railway which connected to Millertown Junction - but that railway was owned by the company and you required written permission to use it. Also, no outside business owners were allowed into the town and the only store was company owned. It wasn't just the store either, the company owned everything from the homes, to the power plant to the municipal services - if you needed any home repair, you weren't allowed to do it yourself, but instead had to request the company to come and do it (a request often denied as the company didn't think the mine would last past 1946).
A road would eventually be built connecting Buchans to the outside world; loosening the company's stranglehold. They closed their company store in 1955 and closed one of their mines in 1969. Throughout the 70s, they sold off their mining operations to the Grand Falls mill company and would eventually begin to sell off their company houses between 1977 and 1979. This would lead to the incorporation of the town of Buchans as an actual community in 1981.
Four mines would close in 1982 and the number of mine workers would fall from 550 to 12. The last barite operation would close in 1984.
---
Therefore, Buchans wasn't simply a checklist item so I could puff my chest out; but a place which had a compelling history and created interest in what was left of the four mines.
I wouldn't have time to wander off in various directions on this day, but things looked promising.
You could see everything at the Lucky Strike mine site from the comfort of your car. The welcome sign is gone, but you can drive right onto where the mine used to be and there are even some of the buildings left.
In the above picture you see the headframe for the mine. They're trying to make this headframe and the hoist a provincially historic site.
---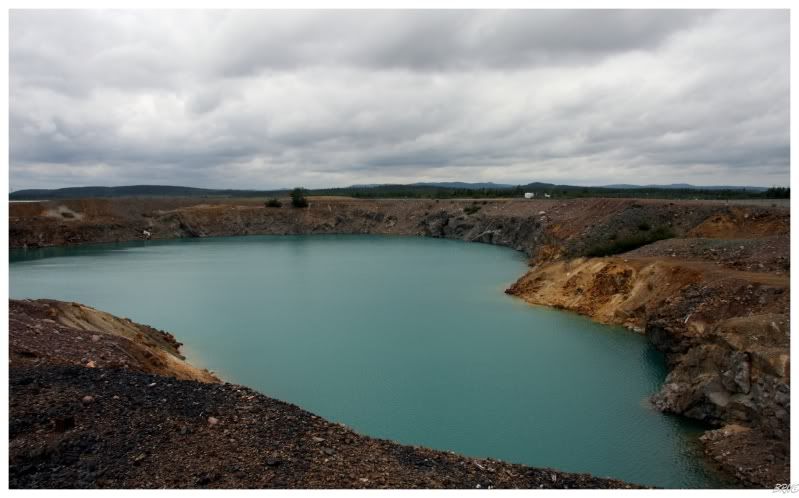 Old open mine site.
There was a large chain link fence around this entire pond which I had to reach over for this picture.
---
The main road in Buchans.
This street was created initially as a road from the Lucky Strike mine to the Old Buchans mine site.
It definitely looked a lot different in 1927 and 1950.
Although I was initially drawn to Buchans with the hope of mill buildings, a fact that didn't even occur to me was the reason I ended up loving Buchans: the fact that it wasn't a fishing village! I know that the first inland community in Newfoundland was only created in the 1910s and that fishing villages are just the nature of the beast with Newfoundland...but it was neat to visit somewhere in Newfoundland and suddenly feel like you were in Alberta!
The town was flat, there wasn't a lot of grass, there was a grid system of streets...it was love!
---
The T.A. Soper hockey arena in Buchans. During the 1950s, the Buchans team was quite formidable and won many tournaments.
I was curious as to what the interior looked like, but I wrote it off because it was July.
Thankfully, the internet can always help!
---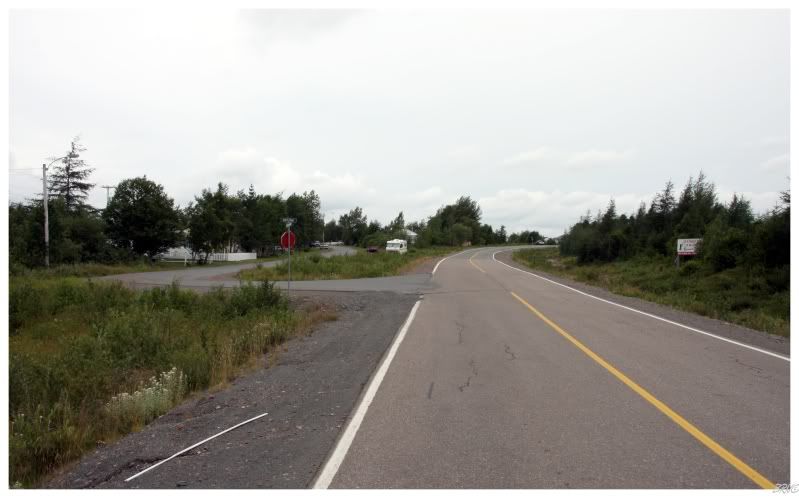 I think I drove most, if not all, of the grid streets there, but it was getting late and therefore time to bid adieu to Buchans!
I really regret only allotting a couple hours to Buchans, but I had to get going so I wouldn't be driving at night.
I absolutely loved Buchans and I really recommend it to anyone who lives in Newfoundland. It may not be the craziest thing if you're just visiting Newfoundland, but if you live here, it's a great change of pace.
Sources:
1 - Buchans: The Making of a Company Town, Newfoundland & Labrador Heritage
2 - Buchans, Newfoundland - Wikipedia
3 - Buchans Miners Museum - Buchans - History of Mining Town
Navi