After finishing up the communities on the isthmus, there was an hour's drive into St. John's.
Putting off dinner, I first went up to Bauline to get the last community I hadn't seen near the capital.
---
Bauline was a pleasant little town, one of those where you can tell it has been there a while since the road network is designed to go between the houses, instead of the houses placed around the road network.
It was actually such a nice town that I'd have Bauline in mind if I was in St. John's and wanted to take a short drive out to a nearby, picturesque, stereotypically-Newfoundland town. (I'd also enjoy seeing Bauline in some better weather conditions.)
---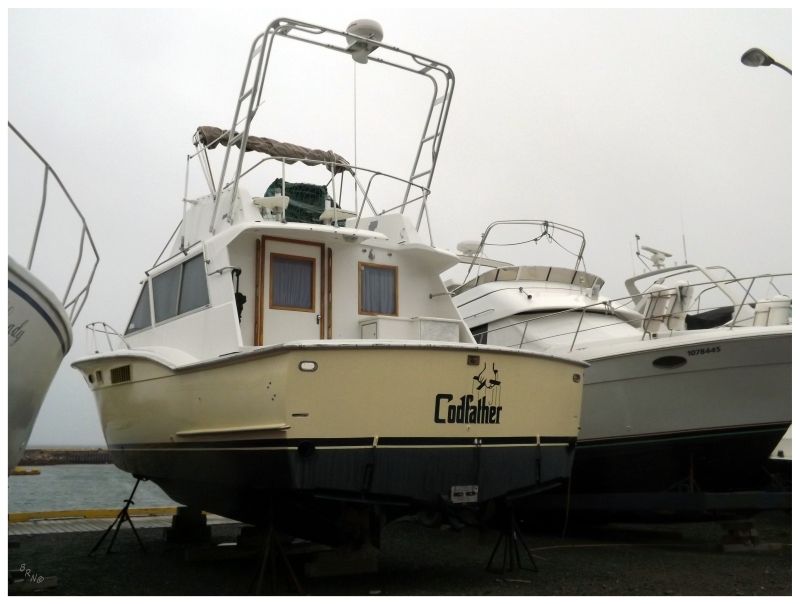 Leaving the big city the next day, Seal Cove & Indian Pond remained on the list as two places located in that indiscernible sprawl of bedroom communities, where you drive on the Conception Bay Highway and you don't know where say, Foxtrap begins and where say, Kelligrews ends.
Community #749 and #750 were worth the brief detour if only for laughing at the sight of The Codfather.
Certainly one of the better boat names I've seen here.
---
Continuing to about an hour outside of the capital, there are here three foreign, inland towns to the south of the Trans-Canada. (These are foreign since it's so rare to have a community not on the ocean in Newfoundland).
Without road signs on these forest roads, I swear we went halfway to Colinet before finding Ocean Pond, Mahers & Brigus Junction for 751, 752 and 753.
Brigus Junction was the coolest of the bunch - so obviously I took a picture of Mahers. Ocean Pond and Mahers were very similar in that they were clusters of houses along winding woods roads (Ocean Pond was more separated and less community-like); while Brigus Junction actually resembled your standard community, by being set upon a rolling landscape with streets and even a store!
I think it was the rain, my hunger & my sleepiness that led to skipping the Brigus Junction picture. One day.
---
Leaving the Trans-Canada for the Conception Bay Highway again, I had driven this section from Holyrood to Brigus before. The reason towns remained was because there are three fingers which reach up into the bay and have communities I'd never taken the time to see.
Well actually, I knew I had been up one of these roads before, but since I couldn't place it upon reviewing the pictures, I didn't count the town - that town ended up being Chapel Cove (I realized this once I drove by sheep I had taken a picture of before).
There were no worries in regards to spending resources or time though, as this area of Newfoundland is very old and gives you the true Newfoundland experience - roads where you wonder how two cars pass, houses that surely have been there for a hundred years (or more) and nasty coves with high rocks and crashing waves. I truly love this area and never see time spent traveling these roads as time wasted.
Gallows Cove (seen above) was #755.
---
Two more communities came on the next finger of land, but only one counted as I thought I had already seen Kitchuses. Even after studying Google Maps, topographic maps and satellite images; I was still wrong as there was much more to Kitchuses than I'd seen.
Driving right to the end, or at least to a gravel road which grew too rough, I turned around to admire an abandoned house at the end of a place named for a pub owned by Kit Hughes.
---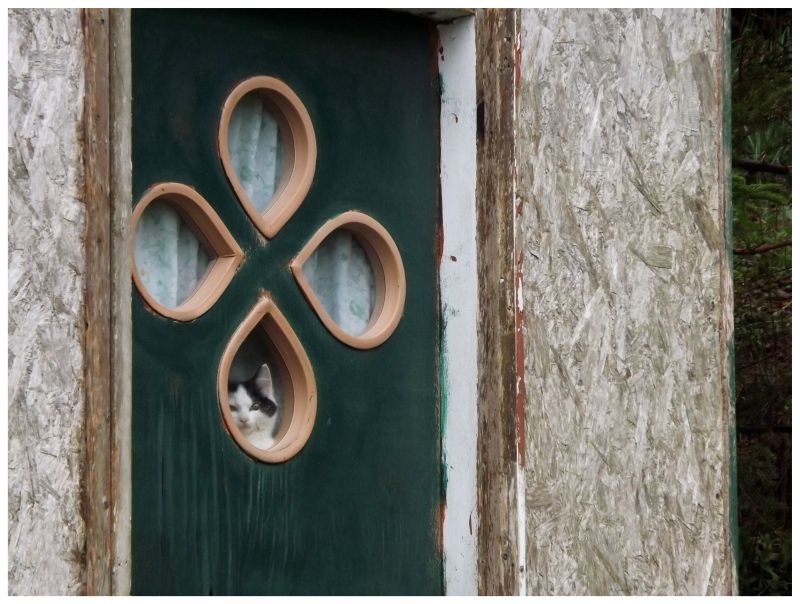 Walking to the fence, I looked up to realize I was being watched through the Newfoundland door. Suddenly more enamored by the cat house, I noticed a few run away while standing there eye to eye with the watcher. This is, until my focus was broken by an approaching car, which came from down the road to see what was up.
I guess back in the day people explained that they were simply going to Kit Hughes's - or Kitchuses - but nowadays, the road is less traveled.
---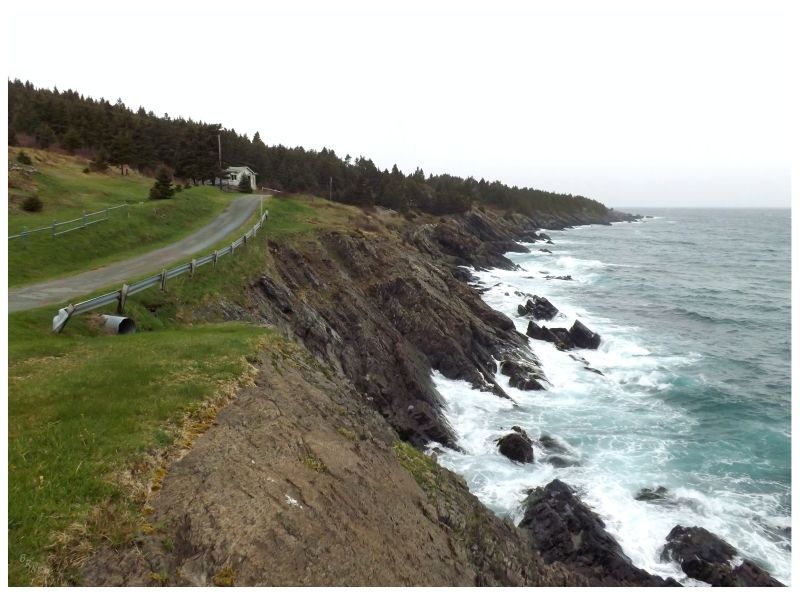 Returning to the nearby fork in the road, a new community was found at the left-hand end of the road at Bacon Cove. #756.
(The story goes that a ship wrecked in this cove and the ship was transporting hogs - they were forced to make bacon.)
---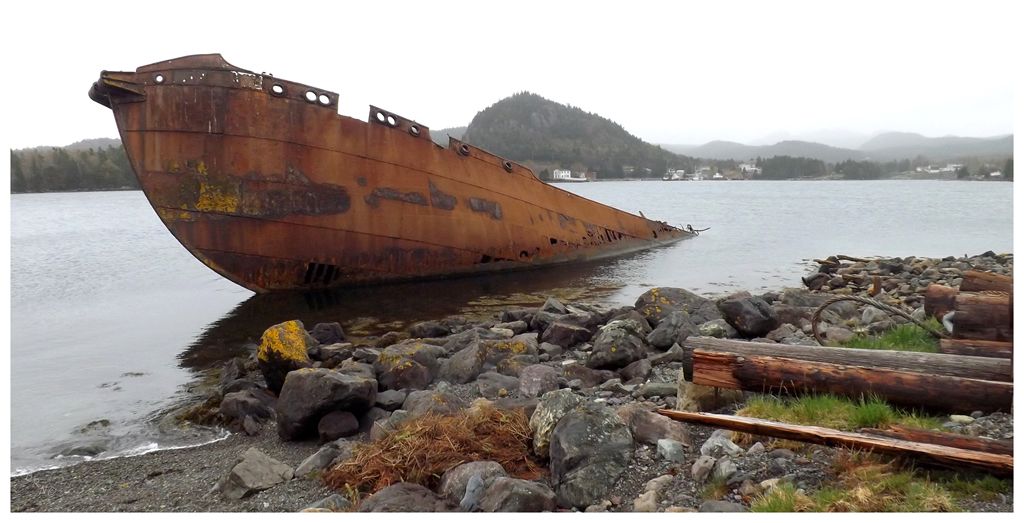 Of course on the way back to the Conception Bay Highway, a stop was required at the whaler SS Charcot.
---
In the early 1960s, a fleet of whaling ships was brought into this harbour destined to be cut up for scrap. Eventually it was decided to simply sink the whalers out in Conception Bay. The first two ships were brought out to sea and sank, while the third one is what you see above.
A storm hit the area before they were able to bring the Charcot out to sea & it has sat along the shores of Conception Bay ever since.
---
Next up was a series of towns which have remained on the list because of confusion. Whereas most towns in Newfoundland are at the end of a road or alongside a loop road, this area is made up of network of parallel roadways. In other places you can drive to the end of a road and see a village, but here there are tiny villages jutting up against one another along feeder roads. Away from the St. John's area, this area may have given me the most trouble in terms of trying to look at a topographic map and decide what I counted as a community & what I did not.
After going through Colliers for 757, I accidentally happened upon Springfield while looking for Emerald Vale for 759.
The above shot shows the road to Emerald Vale, where there wasn't much besides a Department of National Defense training ground (it was behind some trees & not as exciting as it sounds.)
---
Tired of looking for these small villages which don't stand out because they're next to other small villages, it was time for some Quiznos and coffee in Bay Roberts (a Quiznos lingers in Bay Roberts and I find it to be a nice treat when in the area).
Coley's Point is directly beside the centre of Bay Roberts, where I've explored the more northern peninsula mistakenly looking for the Green Point Lighthouse, before finding the correct peninsula to the south of the Coley's Point peninsula.
Finally finding Coley's Point this time, it fell into that category of places over here with fantastic homes from aged wealth. I'll never complain about dawdling about these places near Avondale, Brigus, Bay Roberts, Harbour Grace, etc.
---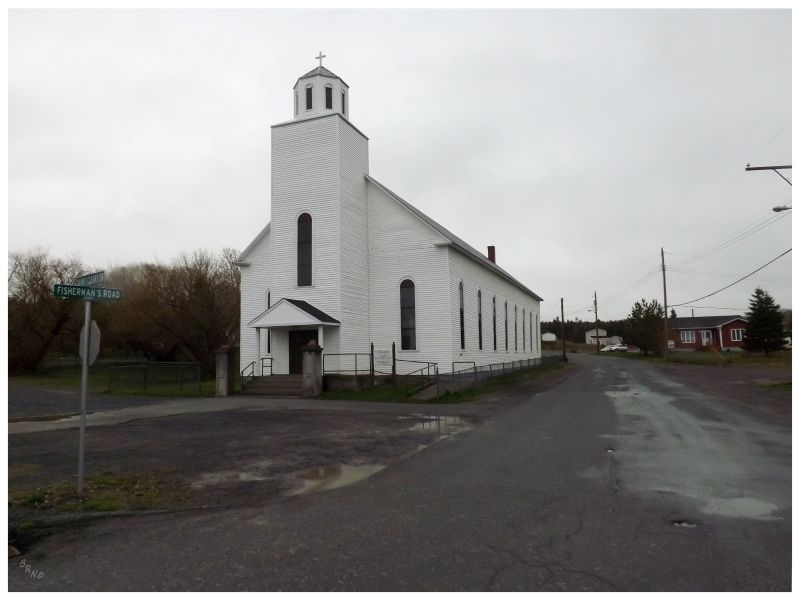 The northernmost I would get today was Harbour Grace, where I had only driven on the highway & hadn't turned into the community of Riverhead right before town.
Here's St. Joseph's Roman Catholic Church in Riverhead, built 1886.
---
The remaining towns were of the same variety as Emerald Vale and Springfield, where highways went away from the ocean with one or two communities sprinkled upon them.
I liked this patriotic house in Shearstown for #762.
---
I enjoyed Butlerville for 763, where the forest disappeared and there was this standalone community inland next to some sizable hills.
Country Road was #764 and it is shown above. I had to crack up as I photographed this house and looked to my left, noticing the Tim Horton's and Dominion that I've visited in Bay Roberts 4 or 5 times now. I was in a new community, only a stone's throw away from the stupid line where I always wait hours for coffee.
---
Leaving the Conception Bay Highway again at Clarke's Beach, the highway here brought the communities of North River (765) and Halls Town (766).
Halls Town had the fantastic general store you see above.
---
One of the ones I was most excited for was the fantastically named The Motion.
The Motion would check off my last community in this area of the Avalon Peninsula, leaving the afternoon hours to start moving back towards home. Needing to stop somewhere along the way for the night, I finally inquired about the rates at the Ivany's Cove Motel...and they were actually reasonable!
So there we go, a place with a motel and approximately 50 houses situated right along the TCH was #768. Ivany's Cove.
---
Waking up the next morning, it was time to drive through that portion of the Trans-Canada Highway where you go through Terra Nova National Park and the speed limit is lowered and forests surround the road.
Today would be different though, as I finally pulled off onto the 17 km, gravel NL-301 which leads to the town of Terra Nova.
Any Newfoundland community which isn't a fishing community will stand out as unique. Terra Nova is no different as it exists because of logging since the railway crossed the Terra Nova River here. Providing good access to lumber and river transportation of subsequent logs, Terra Nova was the eastern base for the woods camps of the Anglo-Newfoundland Development Corporation. The first people settled in Terra Nova in 1915 with a small railway hotel built for the community.
That NL-301 highway leading into the community was built in 1958.
---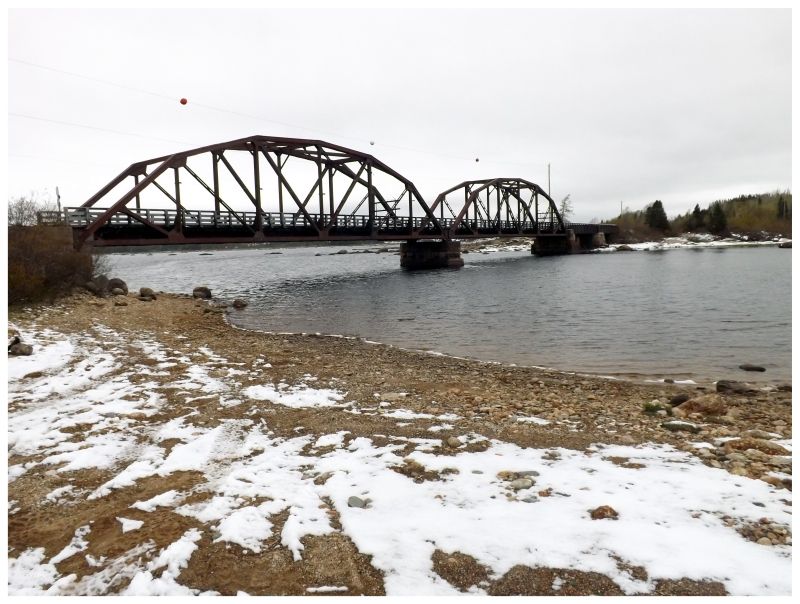 The train bridge that crossed the Terra Nova River now satisfies recreational use and provides ATV access for people with homes/cabins across the waterway.
You'll also notice snow in this picture after you didn't see any in the isthmus update or the previous pictures of this update. Even though it was indeed May 2-4 weekend, the Gander area was slammed with the white stuff while we saw none on the Avalon. Stopping at Wingin' It in Gander on the way home, it was amazing how much snow had to be sloshed through for deep fried, dill pickle spears.
---
In addition to a nice church, worker houses and a lovely train trestle, I was also enamored with these two buildings in the centre of Terra Nova.
It turns out that the grey one was a store providing clothing & other goods to lumberjacks and those traveling on the railway. (I'm not sure of the purpose of the yellow one.)
---
Peering through a window, one sees that it's used for storage nowadays.
---
An inland town with interesting, different history and unique buildings - totally worth driving the 17km road.
Terra Nova would make #769 and leave 29 to go on the island!