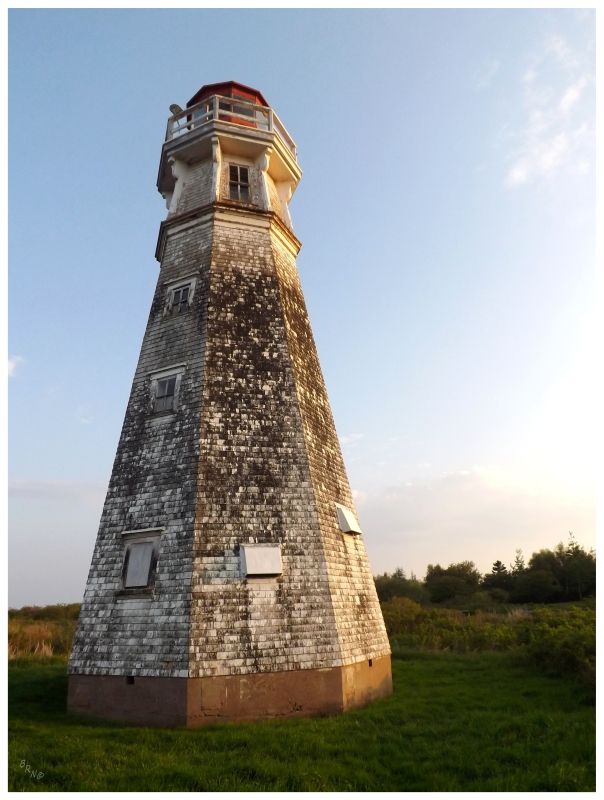 I jogged lightly through the forested trail, cutting it awfully close to sundown after I had spent precious minutes acquiring Taco Bell in Stewiacke.
Realizing that these trees would play an additional role in blocking out the sun below a point higher than the horizon, as I finally broke from the poplars into the grasses at the cape, I happily realized that I had succeeded in reaching Cape Jourimain in time.
Oh sweet, fading summer light.
---

The ruins of the keeper's house lie directly in front of the lighthouse.
The Jourimain Islands were always a hazard for ships trying to navigate the Northumberland Strait between Prince Edward Island and New Brunswick. These islands stand in the Abegweit Passage, the narrowest portion of the strait. In addition, they are just north of Cape Tormantine, which isn't much more than a village today, but was a hub of railway activity in the late 1800s into the early 1900s.
A lighthouse would be constructed on the northern tip of the Jourimain Islands in 1870.
As the Abegweit Passage marks the shortest distance to P.E.I., fixed links have been proposed here for just about as long as the Cape Jourimain Lighthouse has existed. The government even built the approach roads in the 1960s, while the Canadian Hydrographic Service told them the tidal currents would wreck havoc on any attempt to close the passage.
This 1960s would only get as far as approach roads, but this was enough to connect the Jourimain Islands with mainland New Brunswick.
---
They eventually managed to build a bridge to Prince Edward Island in the 1990s; resulting in the decommissioning of the Cape Jourimain Lighthouse in 1997. As you drive to the lighthouse these days, you don't even realize you're on an island, as the causeways connecting the Jourimains have silted up on the western side and created salt marshes.
For a lighthouse which hasn't seen maintenance in 16 years, it doesn't look...that bad. The nearby nature centre - which created this trail I raced to get to Cape Jourimain - is trying to acquire the lighthouse, but it's a costly and slow venture when you consider that it needs exterior paint work, interior mold remediation and the cliffs are quickly eroding out front.
I suppose at least it's a prominent lighthouse to anyone crossing the Confederation Bridge and the Cape Jourimain Nature Centre does bring much needed tourism and jobs to the area. (It's also one of the nicer lighthouses in New Brunswick.)
---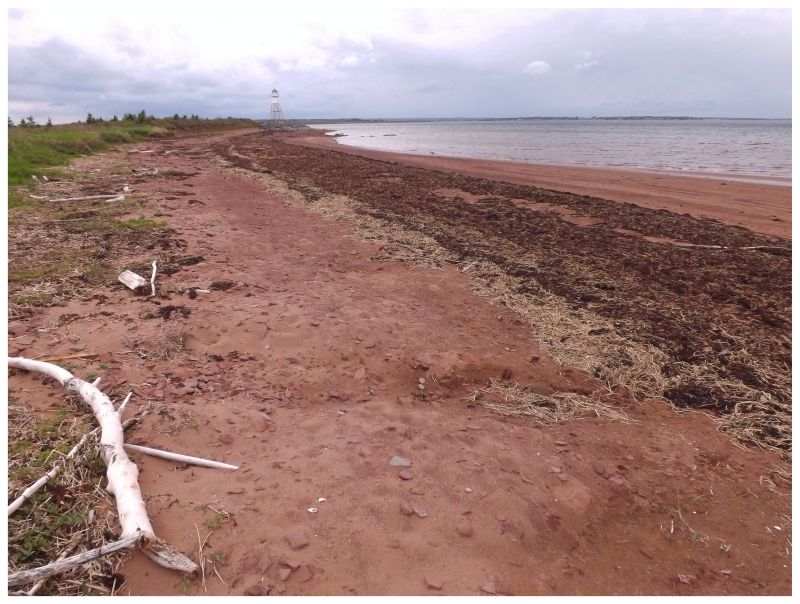 Leaving New Brunswick the next day, I took the long way back to the airport by following the Northumberland Strait from Pugwash, through Tatamagouche, to Caribou (map).
Leaving the Trans Canada Highway at Amherst, I found hills strangely rugged and empty for Nova Scotia, but they still had the odd impressive house that you grow used to as you drive through Canada's Ocean Playground.
The emptiness was apparent in there not being any towns until a fairly impressive one in Pugwash. It reminded of many lovely Nova Scotian towns I'd explored while living there, but I felt pressed for time today and sped through to the northern tip of Pugwash Harbour.
---
Having read that the lighthouse in Pugwash is bordered by private property and doesn't have any trails or roads for access, I set about parking my car in a field and breaking for the forest. Concerned with the ticks that are plentiful in certain parts of Nova Scotia, I checked myself a handful of times while actively avoiding thickets and leafy shrubs until there was no other choice.
And when I say there was no other choice, there was absolutely no other choice. The thicket you see above is what I emerged from, after fighting my way through tangled bushes of spikes, thorns, vines and (what I envisioned to be) tick covered grasses. It was the type of mixture that you fight through, make little progress, then plop upon to take a break for a few minutes.
Thankfully I didn't have much distance to cover. I also don't feel any more lethargic or off-balance than I have over the past decade, so I don't believe I picked up lyme disease.
---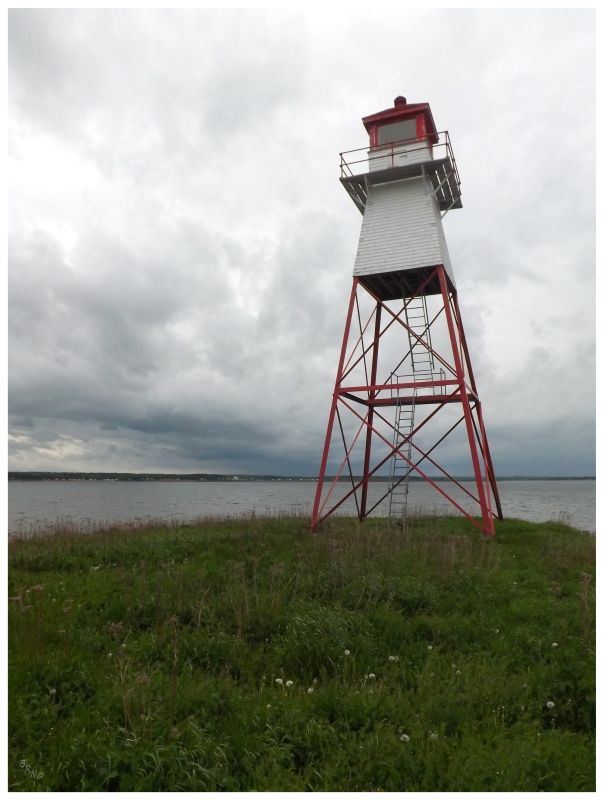 A short slog on the soft, red sand beach - I was right across from Prince Edward Island after all - and I then found myself at the unique Pugwash lighthouse, the current structure being built in 1962.
I should say that this lighthouse is unique to me in that this style is uncommon in Newfoundland, but you can find it in other provinces. In fact, we only had one lighthouse which looked like this in Newfoundland, but shortly after a failed 6km, bushwhacking attempt by myself to reach this unique light, it was only then did I discover that it had been destroyed a couple of years prior.
---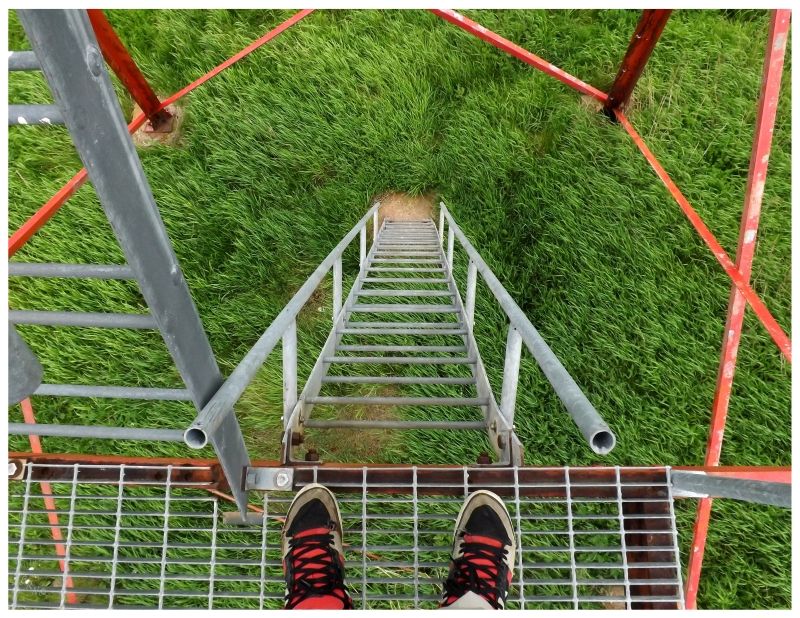 This meant I was a more enamored with Pugwash's lighthouse than normal, as I had pictured climbing and experiencing Broad Cove (the Newfoundland one) in the same way some years ago.
Once I had my fill, I noticed a path to the beach side cabins and questioned if there was really any legal worry about any of this. I walked this path instead, right onto cabin road and back to my car (there might have been trespassing signs along this pathway, but they were facing the wrong way for me to read them, so, y'know...)
---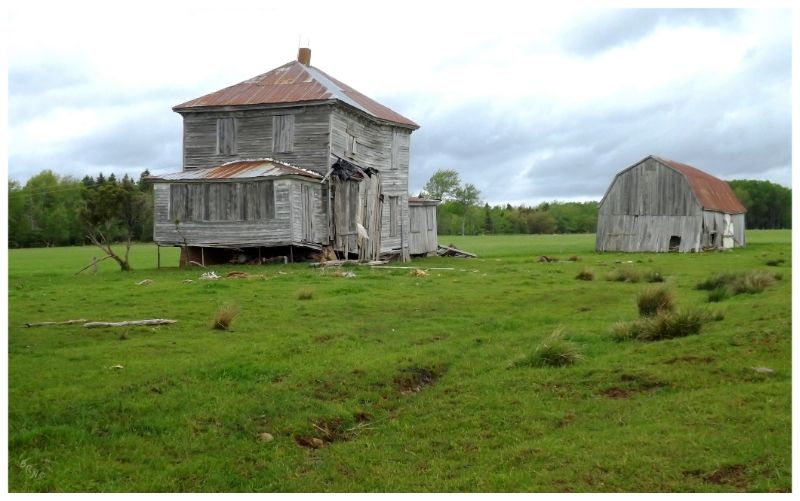 Following the gulf out of Pugwash and passing Fox Harb'r Golf Resort - a private facility bordered by a huge fence, where they have their own airstrip and Tiger Woods owns the course record at 63 - I continued to the tiny community of the course's namesake, Fox Harbour, where I was more interested in this farmhouse set over in the countryside.
A nearby farmer and an electric fence would keep me on the road though.
---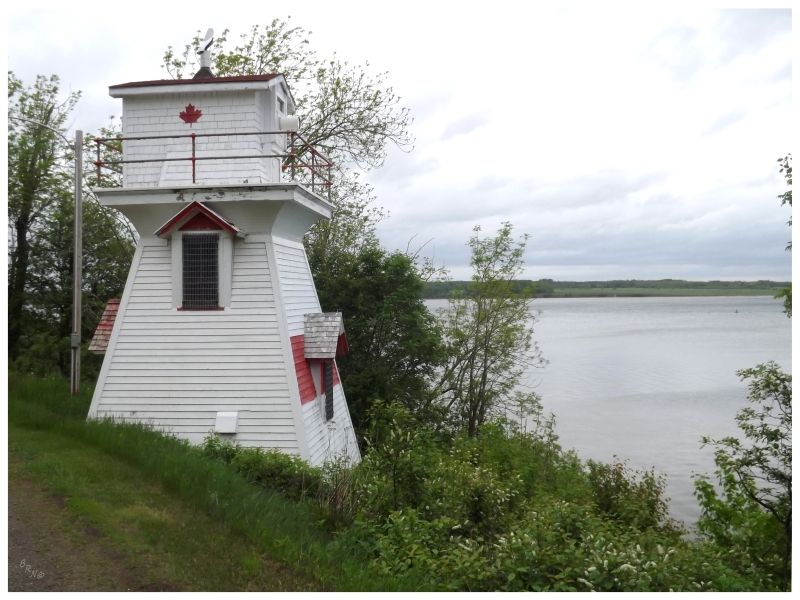 Once over a bridge spanning Wallace Harbour and into the town of Wallace, I found a small seaside community with fishing shacks reminiscent of the 1940s. I couldn't imagine things in Wallace change very often.
Thankfully they don't change their lighthouses either, as the Wallace Harbour Sector light stands right beside the road.
Eventually finding somewhere to park, I got out of the car in the pouring rain and trotted over to snap a few quick pictures.
---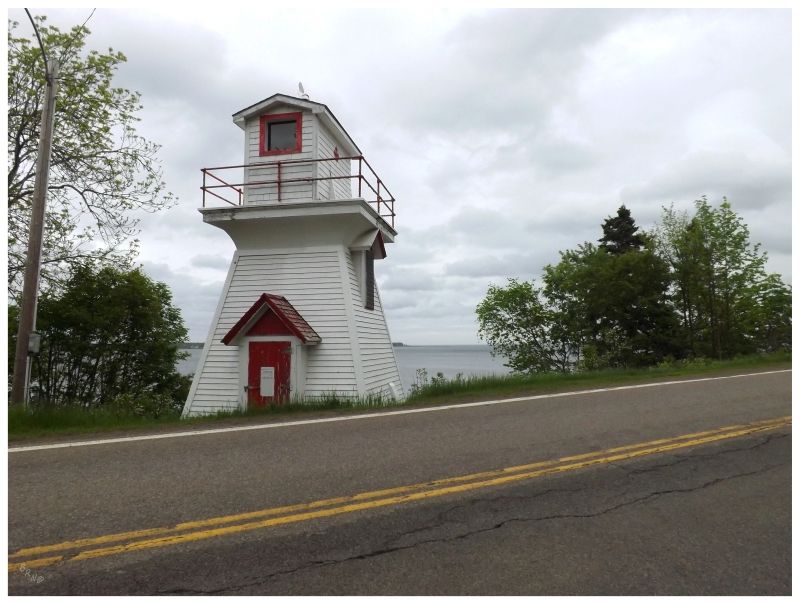 This lighthouse used to be the Wallace Harbour Range Front until its rear partner was obscured by trees and the landowner with the trees denied the Coast Guard access to their land to fall them.
Instead of going to court with this landowner, the Coast Guard simply turned this front lighthouse into a sector light, where the lantern room was closed up and a green or red light is seen, depending if the harbour-seeking ship is on a safe path (green) or a dangerous path (red).
---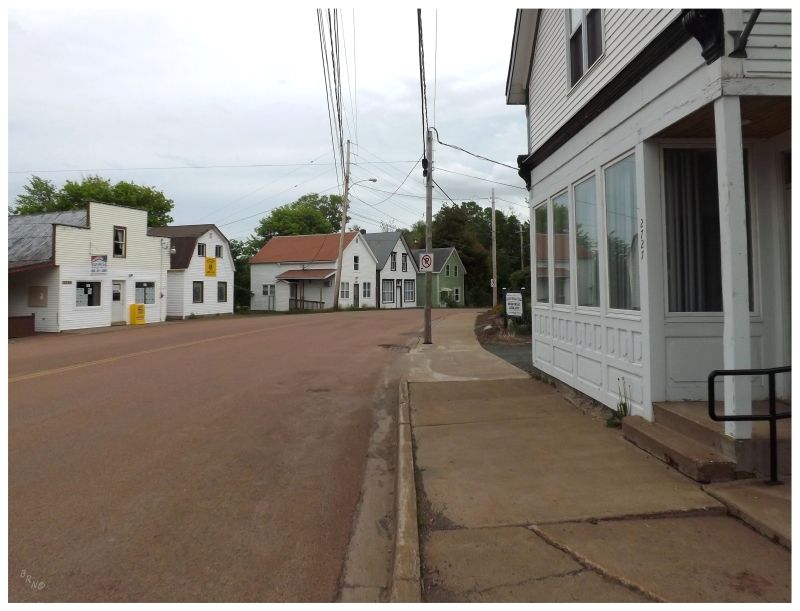 With the rain falling in Wallace, I passed on a walk around town and instead, made my way along the NS-6 through Tatamagouche - where I picked up some 40s for the upcoming flight - and on to River John, where there aren't any lighthouses, but the main street is lined with attractive, wooden, stereotypically east coast buildings.
As the rain had now stopped, I took this opportunity to walk around a new Nova Scotian town. In turn, this made me long for that cycling trip I did from North Sydney to Halifax (and contemplate where else I could cycle within Nova Scotia).
---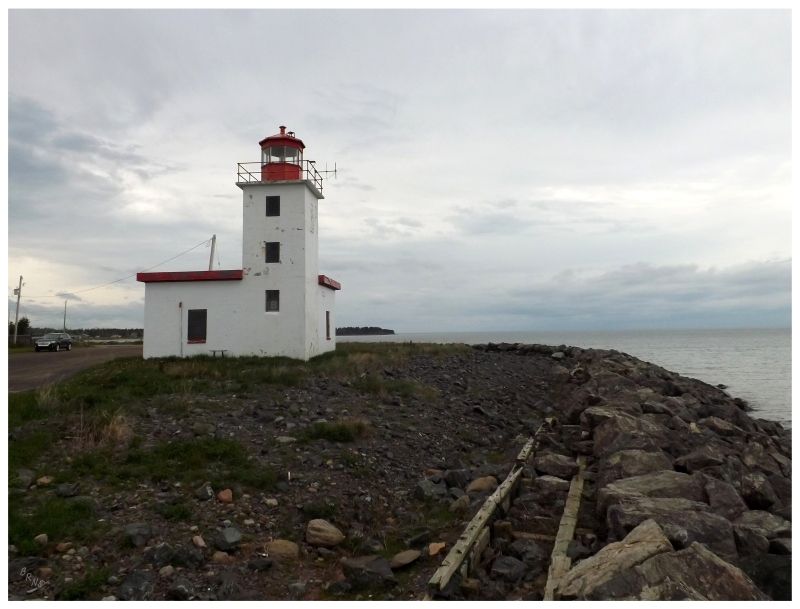 The last lighthouse of the day would come in Caribou, one which I'd seen from the sea a handful of times now, on account of the fact that the P.E.I. ferry sails out of the harbour it demarcates.
Regardless of being able to see the Caribou Lighthouse from the P.E.I. ferry terminal near Pictou, I always knew the long bay separating the terminal and the light made it too far of a drive to squeeze in before going on my way to Charlottetown (or Tignish, or Summerside, or Panmure Island, or wherever)1.
---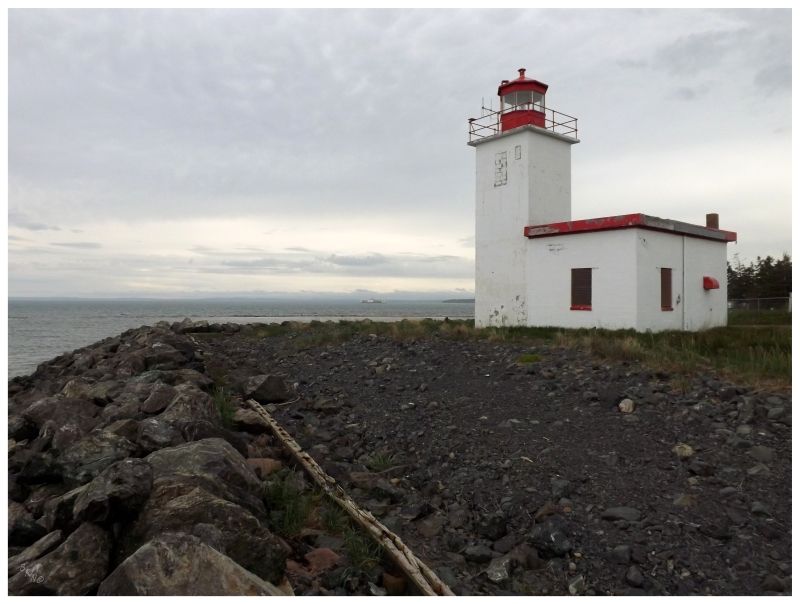 In fact, the ferry to P.E.I. was leaving just as I was meandering about the Caribou Lighthouse.
As we were on the ferry on that last P.E.I. golf trip, Geordie had given me a hard time about not making it to the Caribou Lighthouse, so it was funny to be on this side of the travel coin now.
---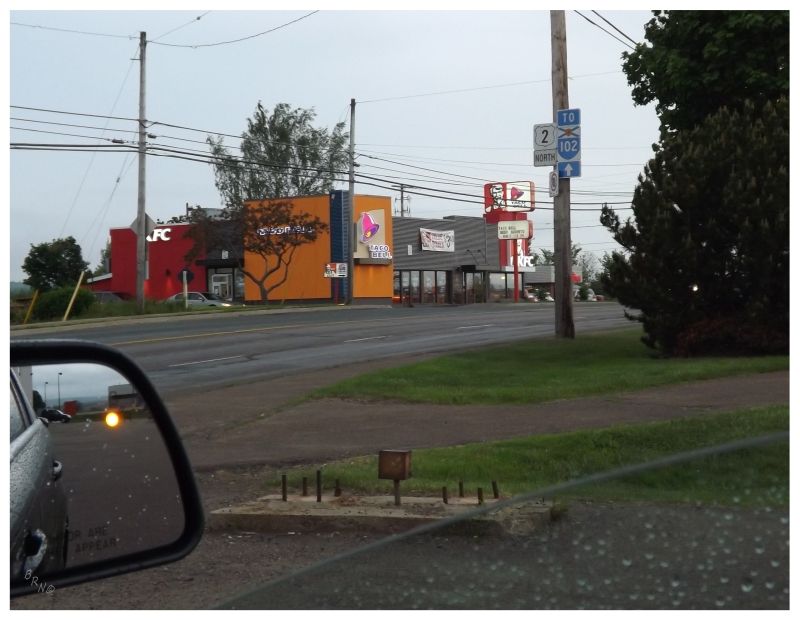 I still had time left before I had to catch my flight home, but without any more lighthouses to see in the area, I accepted that I was tired from driving those attention-grabbing backroads. I sat down for dinner at the new Taco Bell in Truro, before going to relax at the airport.
The 3 Nova Scotia lighthouses in this update puts me at a total of 25 for Canada's Ocean Playground.
(I believe Cape Jourimain was only my 2nd New Brunswick lighthouse.)