2 Days and a Night in Ohio.
Cleveland, Youngstown and Southington+, Ohio
Summer 2008
I slept at home for 3 nights following my Montreal/T-Dot journey. After the short stop-in, I departed for the Buckeye State+ with my '9 days out east companions' - UJ and Chadwick.
Boys and girls, realize that zero responsibilities, having distinct groups of friends and a little pocket change will enable you to go on vicious, delicious and copious amounts of road trips.
Although my pocketbook was growing tighter than my first year university freestyles+, there was something on my plate that I needed to devour - even if it would immobilize me for the upcoming months.
---
Faymore Castle was not that unhealthy, yet delectable, 4 cheese chimichanga on my plate. If anything, Faymore Castle was the coleslaw that you muscle down simply because it's there and you don't want it in your presence anymore.
I can't complain though. Chad made the itinerary and figured that the drive straight to Cleveland would be a little long; so he found us what he could in North-Central Ohio. He warned me to temper my enthusiasm and I told him that I already had, as I had seen this place on the interweb long ago.
---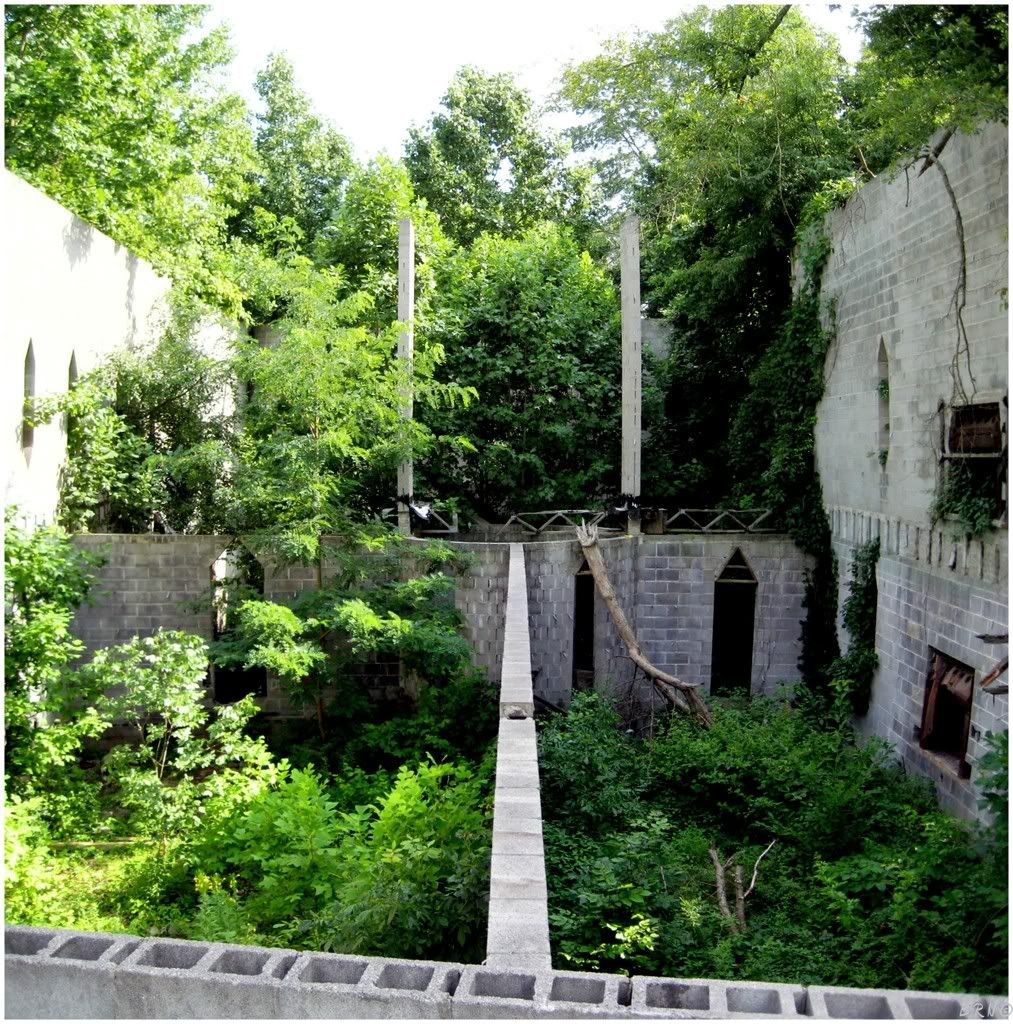 The United States Court of Appeals case of Leonard Faymore vs. The United States of America tells the story of the Faymore behind Faymore's castle.
Faymore graduated the College of Osteopathic Medicine - Des Moines (Iowa) and began work at a clinic in 1968; then purchased the facility in 1970. In the 1970's, the clinic ran a dependency program and Dr. Faymore became able to distribute controlled substances. By 1980, the government began to observe that patients were flocking to Dr. Faymore's clinic and often paying $200-$300 for prescriptions.
On December 11, 1981, the DEA+ terminated Dr. Faymore's ability to prescribe controlled substances and begun to plan a undercover sting where they would sell Dr. Faymore a large quantity of Quaaludes+. On June 11, 1982, a customer of Dr. Faymore asked a DEA agent if she knew of a place where he could buy a large quantity of Quaaludes; the DEA agent introduced the man to another DEA agent and they set up a transaction. One trip was made to Dr. Faymore's house where Dr. Faymore was interested in meeting the other DEA agent (whom he thought was a drug supplier).
On July 29, 1982, the two DEA agents showed up at Dr. Faymore's and Dr. Faymore searched them and then agreed to purchase 1 000 Quaaludes for $2 500. On August 12, 1982, the DEA agents sold Faymore 1000 Quaaludes for $2500 and then later, another 10 000 Quaaludes. The next day, a DEA agent again met with Faymore, this time to sell another 10 000 Quaaludes, 7 200 Talwins+ and 7 200 TBZ+'s.
At the meeting for this transaction, the DEA agent withdrew his revolver and tried to detain Faymore. Faymore and the agent struggled and the gun discharged, grazing Faymore's right ear. Eventually Faymore gained control of the revolver and sped off in his car. Faymore would lead the DEA agents on a dangerous high speed chase, but eventually it came to an end where Faymore was arrested.
Dr. Faymore would go to trial and eventually be convicted of 11 counts of unlawful possession with intent to distribute various controlled substances and 1 count of the use of a dangerous weapon against a DEA agent in the course of their official duties. The castle was about 1/3rd done when Faymore went to jail in Wisconsin in 1982. At this time, the castle was put on the market but never sold.
Dr. Faymore died shortly after being released from prison and so, the castle has sat in the Ohio woods since 1982.
---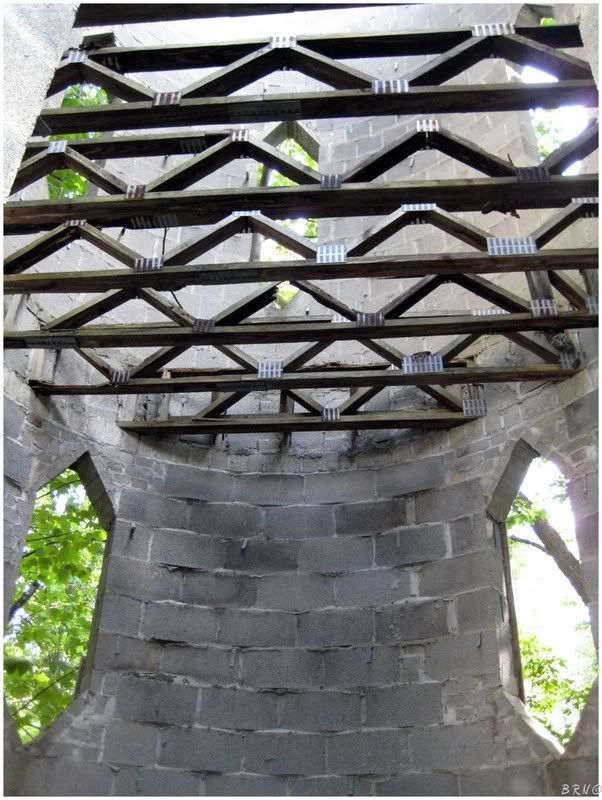 We moved throughout the structure, all snapping away at the oddly shaped windows and cinder block walls.
That's another reason why I compare Faymore's to coleslaw - cinder blocks? Really? You were a drug lord and you couldn't do better than cinder blocks?
Unimpressed I was.
---
Although, I was impressed with the prevalent graffiti misspellings.
I understand if you're actually from the ghetto and the system failed you, but c'mon, this is Elyria, Ohio we're talking about here. I guarantee that this has more to do with blazing dime sacks and watching South Park while you should be doing homework; then it does with being a 'Getto Boy'.
Oh Ohio.
Anyway, Chadwick saved this place by telling me there is a skateboard/biking friendly pool which we should go find. My interest instantly skyrocketed and we took to searching the property.
Unfortunately, the only thing we found was a deer+.
---
We were only outside of the car for 30 minutes at Faymore's before getting back onto the highway towards Chippewa Lake.
The drive from Faymore's to Chippewa Lake takes approximately one hour according to Google. We made it in 90 minutes after stopping for Hardee's and having some difficulty finding our destination.
---
There wasn't an exceptional place to park for Chippewa Lake, but it didn't seem necessary. The three of us piled out of the car and began packing our backpacks with tripods and camera equipment. At about the same time, another car came along, driven by a middle-aged man and who I assumed to be his wife.
The man inquired, "going inside?"
Since they were equipped with an SLR camera; it was evident that they were (heading inside) as well. So we explained that we were going inside and the the five of us took to maneuvering through a hole in the chain link perimeter fence.
The couple disappeared into the wilderness as Chad, UJ & I stopped to snap a few pictures of the teal, white and black park entrance.
---

The history of Chippewa Lake began in 1875 when Edward Andrews created a picnic grounds on Chippewa Lake in Northeastern Ohio. The picnic grounds had some success but didn't really flourish until 1920, with the building of the park's first modern roller coaster+, the Big Dipper, which you see the remains of in the above picture.
Chippewa Lake had great success from the 1920's to the 1960's with 3 large roller coasters, a ballroom, various rides, a Ferris Wheel, carousel, stage and capacity 5 000 eating pavilion.
The demise of the park seemed to coincide with the retirement of one Parker Beach. He would sell the park in 1969 and it would continue operating for only 9 years before closing with Oktoberfest celebrations in 1978.
---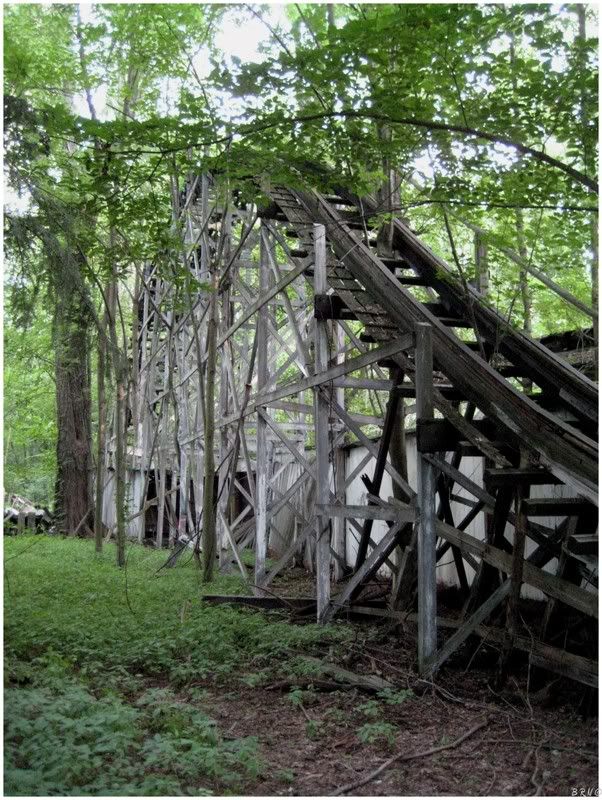 It was definitely more than fair to say they disappeared into the 'wilderness.'
As we moved away from the entrance, it was not 25 feet before we were greeted by a giant, dilapidated roller coaster. I had seen pictures of Chippewa previously, but I was still impressed by how the old coaster had survived the years of abandonment.
---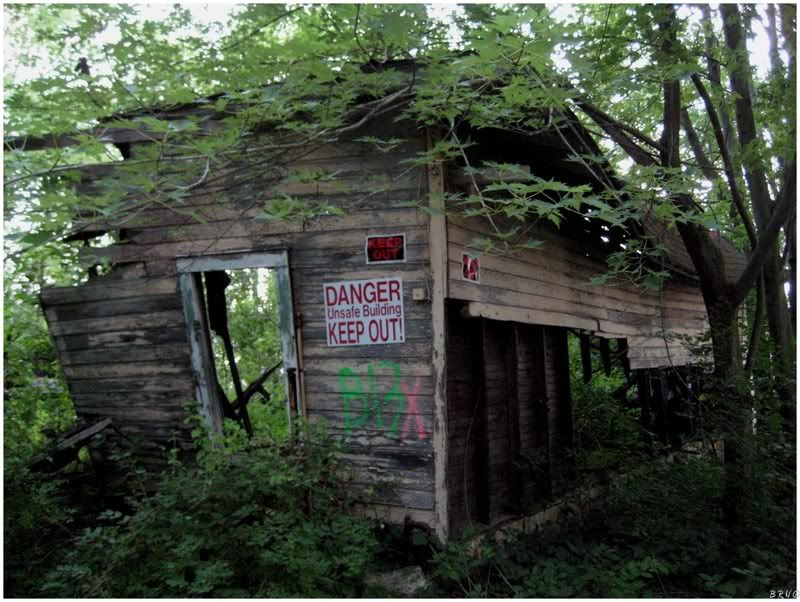 A collection of buildings stood adjacent to a section of the giant coaster and they hadn't survived the weather and locals so well.
The most humorous part was that, no matter how run down some of the buildings were, they still had large 'keep out' signs affixed.
Take the one above, I'm glad they did affix that sign or else I think Chad, UJ and I may have decided to camp there for the night. I mean it looks like a good spot, right? It was just that damn sign that forced us to look elsewhere.
---
The ramshackle buildings with 'do not enter' signs weren't of interest to me when I had this giant wooden roller coaster before me. We climbed on portions and worked our way down the property through the curves in, the curves out and finally the point where the coaster would have turned around.
---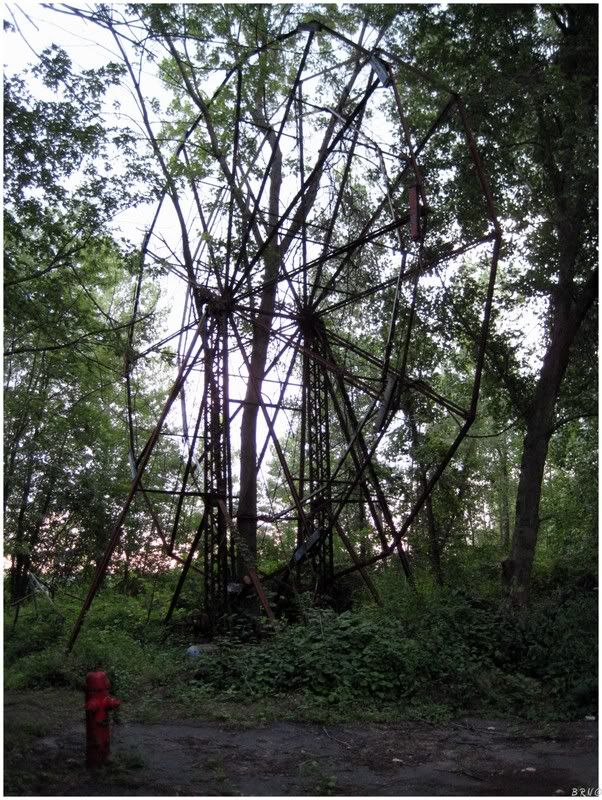 I came across another 2 guys checking the place out as I returned from the end of the coaster. I found Chad, but couldn't find UJ, so Chad and I took to seeing what else the location had.
As we walked through the forest, you would see small buildings here and there - which were probably all linked to bigger functions or were bigger buildings themselves in their time.
Researching the place afterward, I found this amazing picture tour - http://illicitohio.com/SBNO/chippewa/park.htm - which shows quite a few of these mystery buildings and explained their purposes. Sadly, it also showed some which have been burnt to the ground by the locals - like the ballroom which was burnt by a local girl playing with matches and starting fires.
Anyway, we continued walking to the area near the lake, where we found a completely collapsed cottage, a couple Ford trucks and the above Ferris Wheel - complete with a very large tree growing right through the centre.
---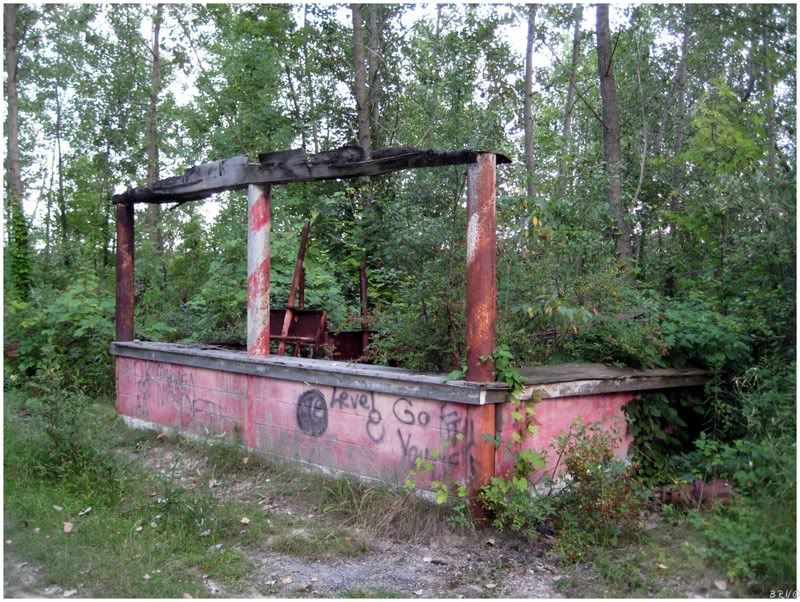 Continuing onward down the path, we came across UJ and the pogo dog stand ruins+. This was originally the 5000 capacity food pavilion; but now is only this - which leads you to think of how much more there was here that is completely gone.
For much more information on the above and a really cool before and after, head on over to illicitohio.
---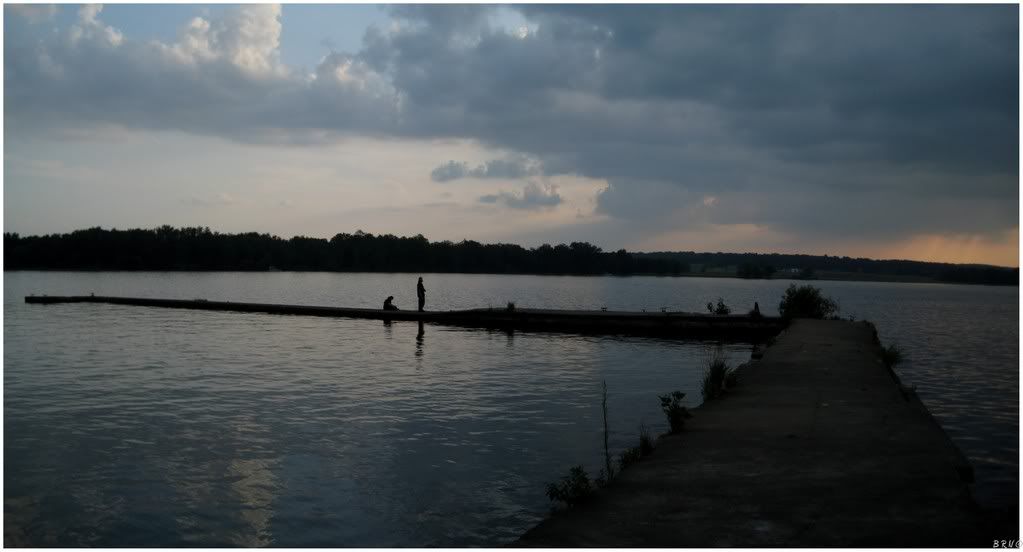 After we explored the hell out of the pogo dog stand+ ruins, we found a path which finally cut to the lake. I took a few pictures of some rubble next to the lake while UJ & Chad left me behind and walked out onto the pier - allowing me to take a picture of them along with the beauty of Ohio.
I made my way over to UJ and Chad, noticing the metal supports and broken concrete of the pier. Once over there, they sat for a bit longer while I removed the Etnies+ and put my feet in the water.
A few minutes passed, the sun began to disappear from this day and a light rain began to fall. We concluded that we should start heading back to the Impala.
---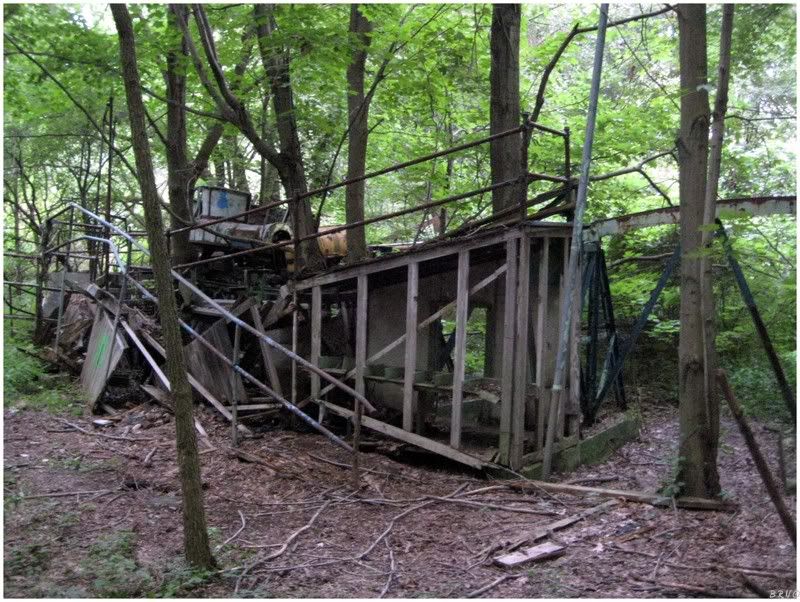 Halfway back; UJ asked what we thought of the spin-ny car ride. Chad and I realized we hadn't come across it and she pointed it out for us. As the night was falling, the mosquitoes were gathering and the rain was growing in intensity; UJ wasn't prepared for a 30 minute artfagging+ session by Chad or I. Therefore, we hurriedly climbed atop the structure and snapped a few pictures of the cars and the ride itself.
Later I would read that this was the Tumble Bug ride. Tumble Bugs were an amusement park ride that was very popular in the past. A lot of them were constructed in the 1920s, with the above one being constructed in 1927.
Since the 1920s, a lot of the Tumble Bugs have been scrapped, but there remains 3 worldwide - this one, one operational in Pittsburgh, PA and one operational in Conneaut Lake, PA+.
---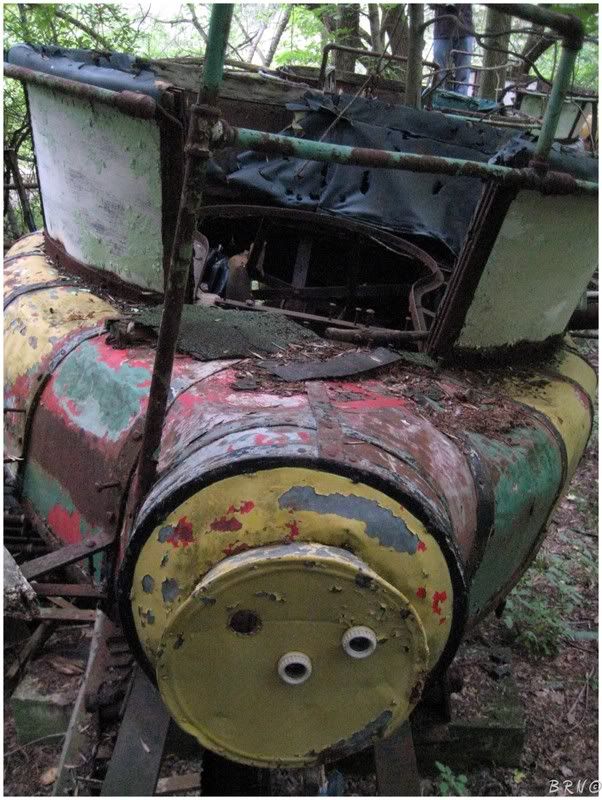 We just beat the heavy rain as we entered the car. We exited the Chippewa Lake driveway, onto the route and onto the highway eastbound.
Chippewa Lake was purchased in 2008 and there are plans for Senior Citizen Projects by 2010. I was especially glad to see the place because it seems like its days are numbered. This fact (that the days are numbered) is upsetting because looking at the IllicitOhio site, it seems there's enough at Chippewa Lake to warrant a return visit or two.
---
By this time, there was about thirty minutes remaining before sundown. Our destination was 90 Google minutes+ away and since we planned to spend the night there, we stopped for some Arby's combination meals and adult beverages.
After our curly fries and Arby's Roast Beef Melts, we got back onto the highway with my 211+s and Keystone Ices+ cooling.
The reason we stopped halfway between Chippewa Lake and our destination was because we were headed to the middle of nowhere. Shortly after we finished eating and returned to the highway, the road turned into a single-lane route with lined trees, sparse lights, seedy taverns and small town fruit stands.
Without Chad's GPS, it may have been a little tricky to find this small town in eastern Ohio; about 40 minutes from the Pennsylvania border. Once we did find the small town, we easily discovered our destination and began searching for a place to park. This was difficult due to the size of the town as there was really only a 4 corners type light with a convenience store, a fire hall and a school. We would have stood out like sore thumbs if we parked in front of our destination, so we weighed each of the other options.
The convenience store only had a couple parking spots and they would wonder why there was a car with Michigan plates in their lot in the morning; so that was out. The fire hall was eliminated for similar reasons and we settled on parking at the school.
(The above picture shows us walking away from the car. The white building you can see in the middle of the picture was a Marathon Gas Station at the four corners. The picture shows just how desolate and dark the village actually was.)
---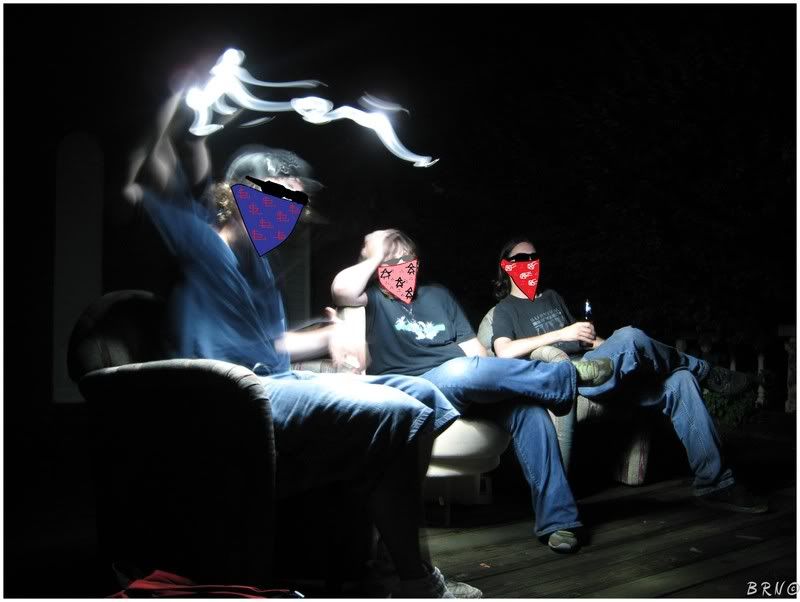 Our destination was 3 quarters of a mile up the road from the 4 corners intersection if I remember right. The county road had zero lights and the speed limit was 55 (miles per hour). Therefore the 3 of us walked with great pace as we just wanted to get there and end this experience of 2 feet of shoulder and cars racing by. It was good for a while as there was no traffic, but as we came closer to the gates, the traffic picked up and we were growing tired of the stress.
At the gates of our destination, we climbed the rock walls and onto the grounds. We walked up the winding driveway and my night vision saved UJ from tumbling into a 5 foot deep, 8 foot wide, marshy driveway sinkhole.
Soon after, we were inside but didn't want to use our flashlights at this time of night (it was around midnight by this time). Instead, we found the balcony and each dragged out a chair to relax and have some beers within the Ohio night. Chad & I got a little tipsy and started lightpainting+ and taking pictures, to which UJ wasn't amused.
We didn't have that many beers and so, when it reached nearly 3a.m., we moved back inside the building and onto our mattresses. I didn't really want to sleep off by myself, so I was happy that Chad & UJ weren't implying for me to get lost.
UJ set her celly for 6a.m. so the group could watch the sunrise.
Onto Day 2.
Navi
Sources:
1 - Bulk.Resources.Org - Case 736 F.2d 328 - The United States of America versus Leonard Faymore .
2 - IllicitOhio - Faymore's Castle.
3 - IllicitOhio - Chippewa Lake Park.