Days 8 through 11.
Edmonton, Alberta.
The time I spent in Edmonton wasn't that noteworthy. While it was exciting and fun, I'm not going to recap going out for dinner or going to the bar to celebrate Canada Day. Interesting things happened like having a guy buy me a drink and riding Edmonton street late night amongst the displaced bums drunk off 11% beer.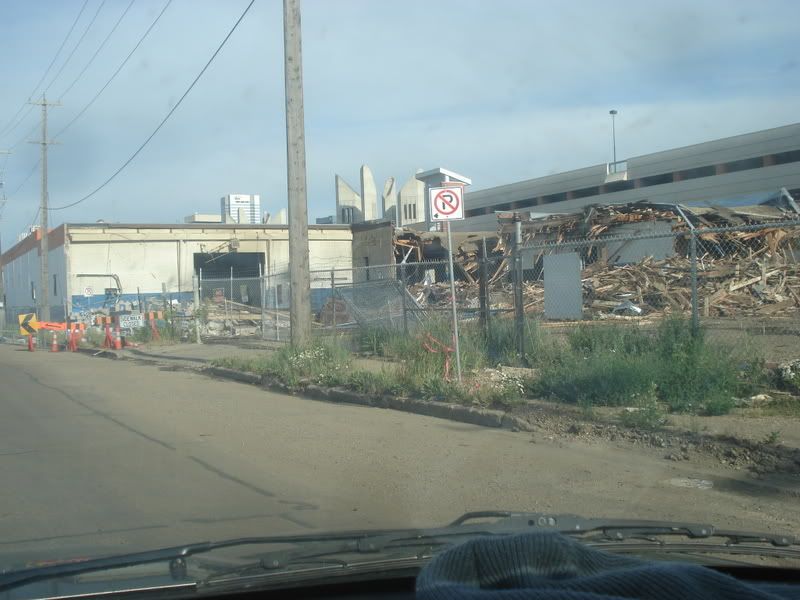 In terms of biking, I didn't record anything. In terms of exploring, I thought I was going to get shut out. Everywhere I turned; things were being demolished or were just gone. In a place of economic upswing, such as Edmonton, derelict buildings just don't last.
---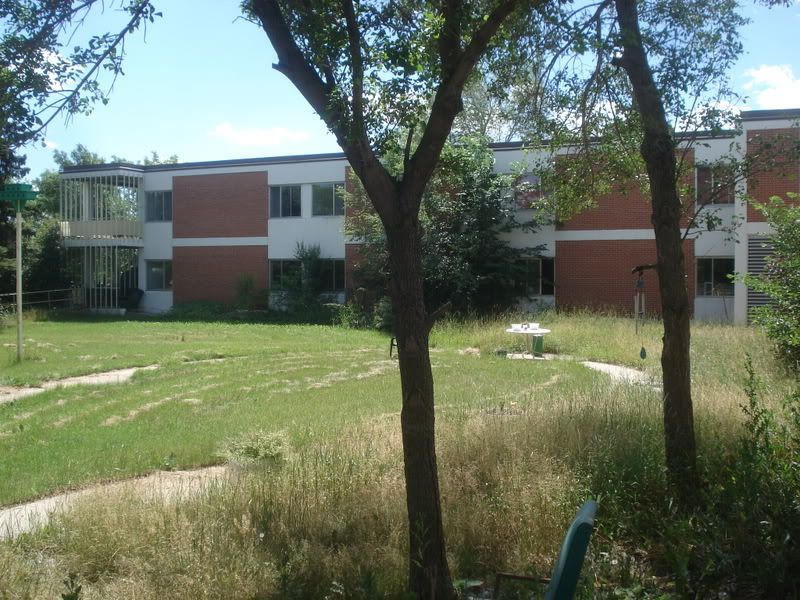 Eventually the days passed and I came to the last day I had in Edmonton. Determined not to be shut out, I finally found something.
The Good Samaritan Nursing Home.
---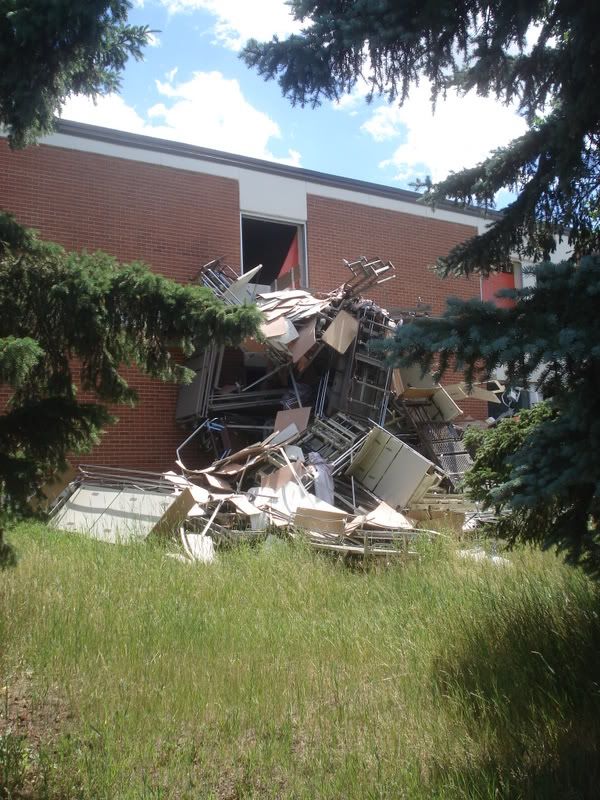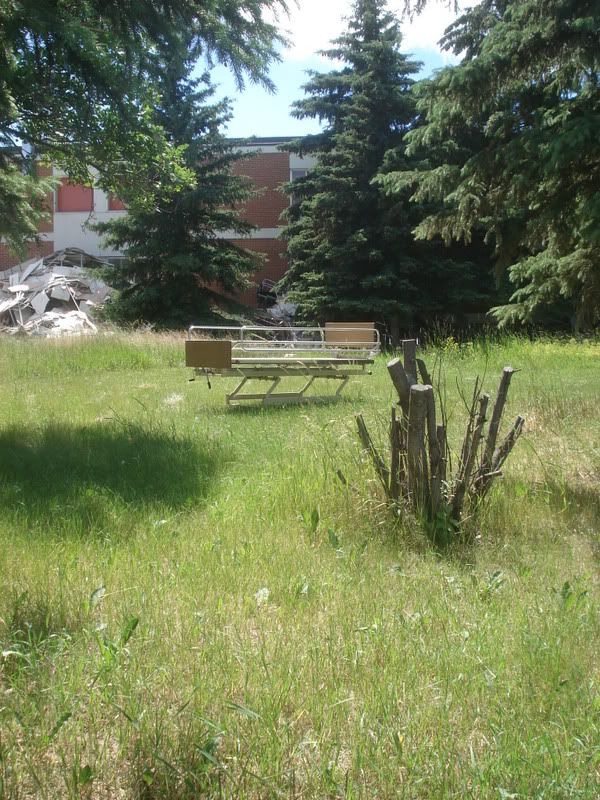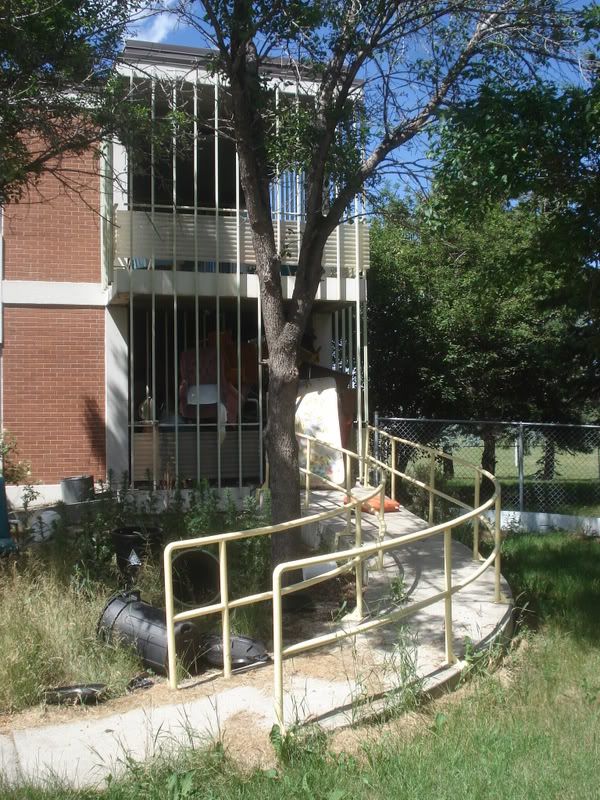 The furniture of the building had already been ejected to the outside grounds & stairwells.
---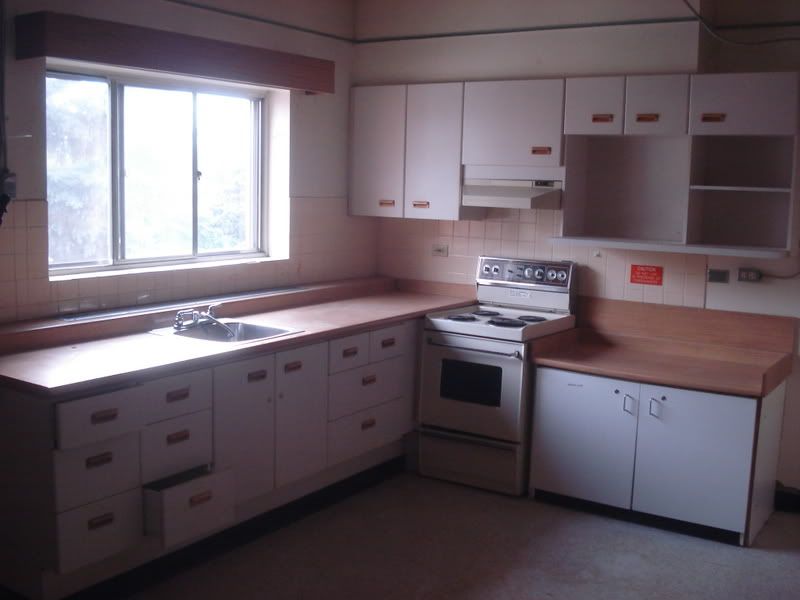 The furniture ejection resulted in everything missing that wasn't bolted down.
---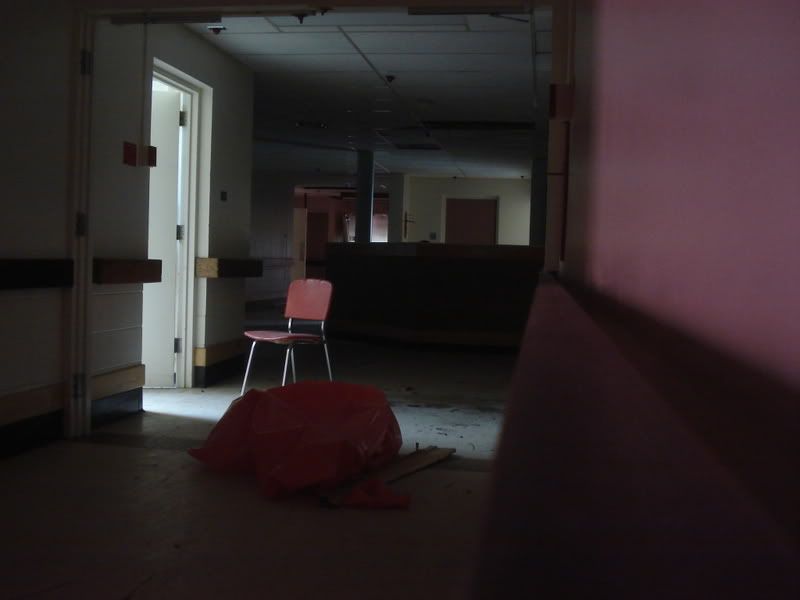 The building had a large x footprint. Where you would walk hallways and look into rooms until you came to the center and decided which way to go.
---
At the center of the X was the switchboard that had warnings & alarms for each room.
---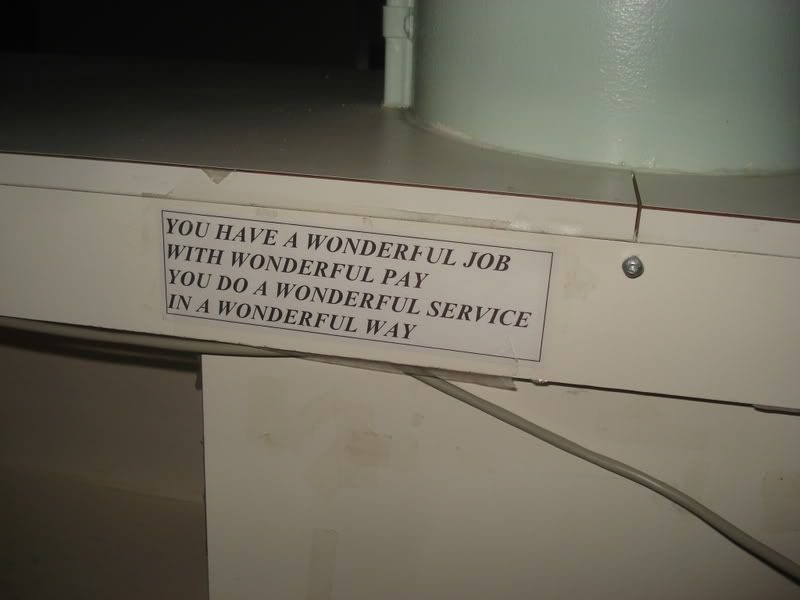 Maybe I should have things like this in my car instead of listening to Death Cab when I get down...
---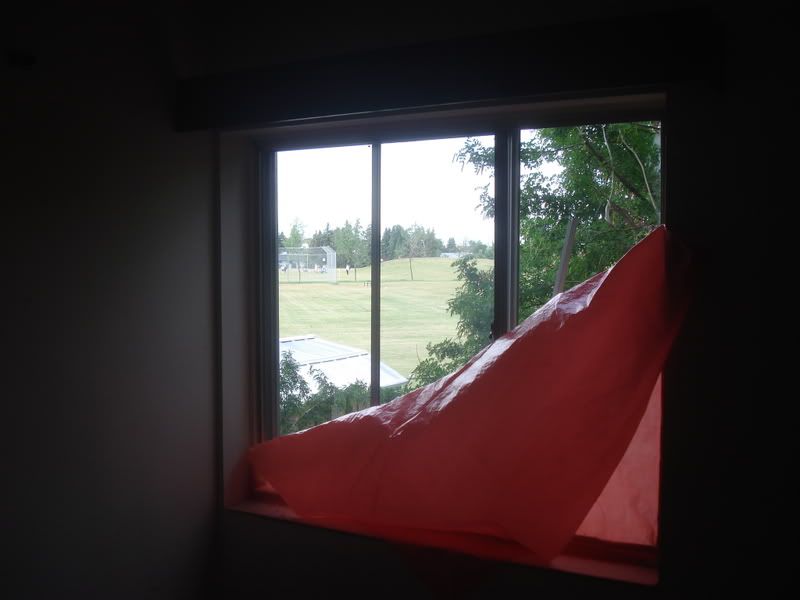 I've heard blaring rap music, crack deals & mouthy thugs; but this was the first time I've explored to the sounds of a youth soccer game.
---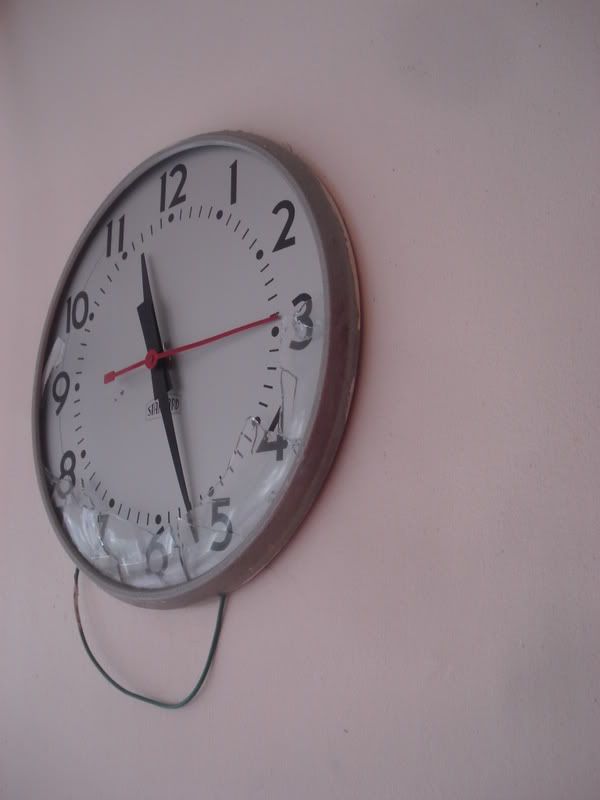 ---
This place put things in perspective. It's sad to think of old folks sitting in a common room; looking at a bulletin board portraying the years of their youth on the farm.
Hmmm...maybe I should visit my grandparents?
---
Someone's special chair forgotten.
Jesus, I'm probably bringing your day down...
---
Evacuation Slide.
---
---
Bathing tub.
I told 23 about this because I've never seen one; then he had to go and rain on my parade by saying his dad's work has one just like it.
---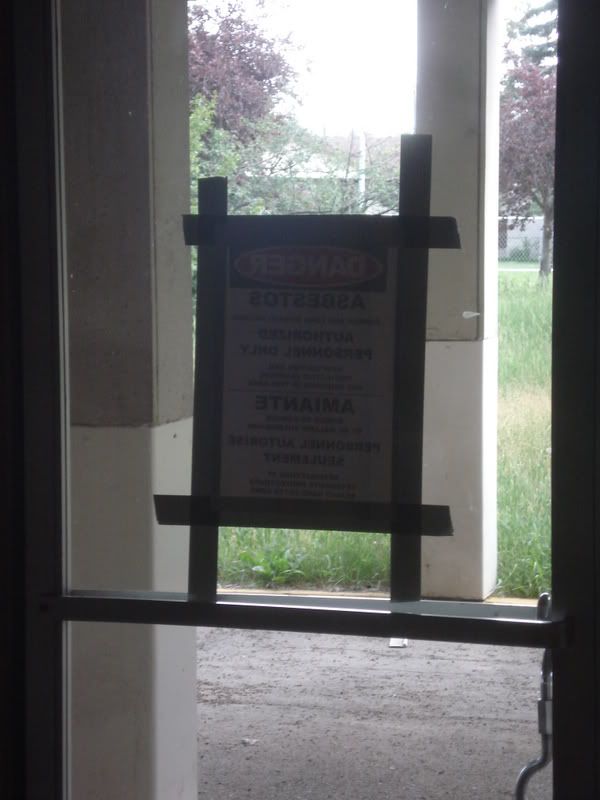 Hmmm...I can't read this sign from this side for some reason...
---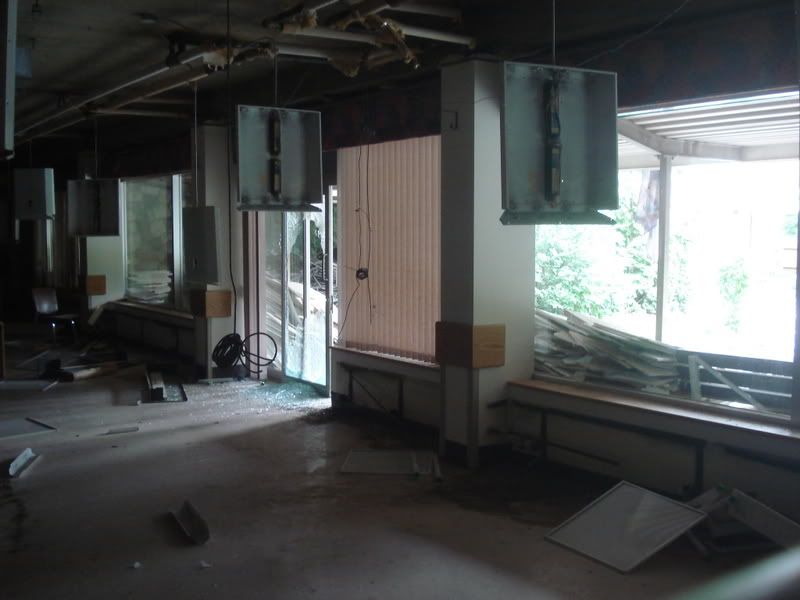 The X footprint of the building made for a mean common room with a courtyard plentiful with trees.
---
Abandon it, Demolish it!
Progress, Progress, Progress people!
---
---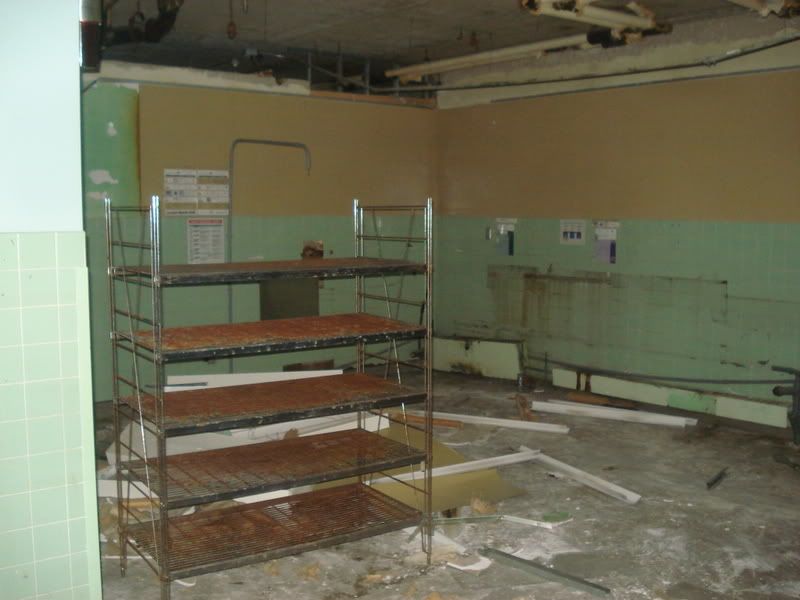 I was happy that I brought my flashlight because it allowed me to venture into the basement.
The only thing of note was the cafeteria though.
(Or was it just the kitchen? I never thought about it then, but thinking about it now; you would assume that many of the residents wouldn't be mobile enough to navigate the stairs into the basement? Hmmm.)
---
The fact that the building was surrounded by houses of the same height & also the soccer game being played; meant that I didn't sit on the roof for that long. Even though this is one of my favourite parts about exploring far away places; I just didn't want to draw attention to myself.
---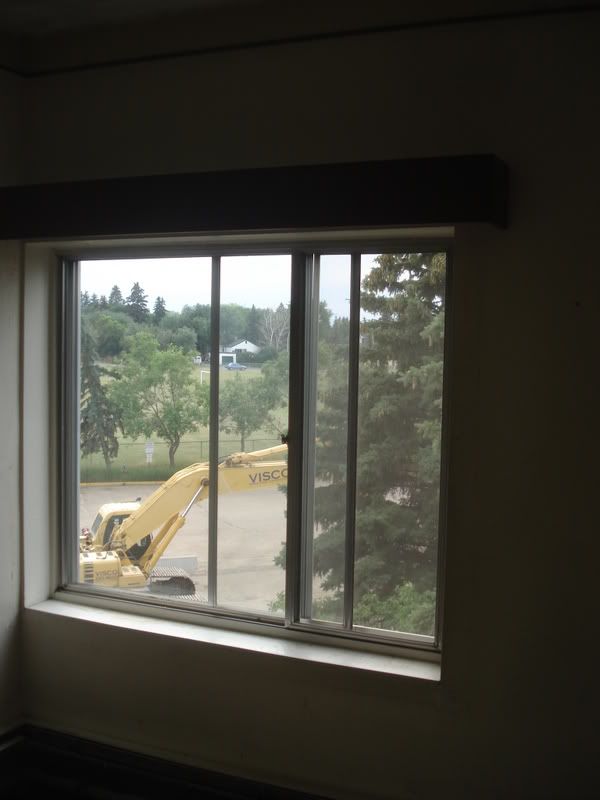 The building eaters wait there turn to get inside the building.
About a month ago, I went back to the same forum that I had heard about this building from & someone had said it was demolished about 2 weeks after I got to see it.
That's not confirmed; but I don't think it's worth it to get Kayla to drive over and confirm it.
I guess I just made it.
---
I was somewhat rushed through the nursing home. I basically fit it just into my itinerary; so close that I actually fielded a call from Kayla inside the building about what I wanted on my pizza & then left the building to get back to her place and find warm pizza upon arrival.
Afterwards, Kayla & I drove around the city because I wanted to catch a few pictures of Edmonton and see a few things.
This is the Alberta Legislature building.
---
Also came across the banks that Mike Aitken jumps in the Fit Video.
Go to 12:28 of that video if you want to see.
---
Even though I don't particularly like Edmonton, I had a good time there. Kayla was hospitable as can be & the street riding was good.
Overall, it was nice to stay somewhere and lick my wounds inflicted from the Millennium Park in Calgary.
Onto Day 12.
Back to Main(e).