Day 18.
Ellensburg, Washington to Bozeman, Montana.
920 kilometers.
I woke up in Ellensburg, packed my things and went on my way east.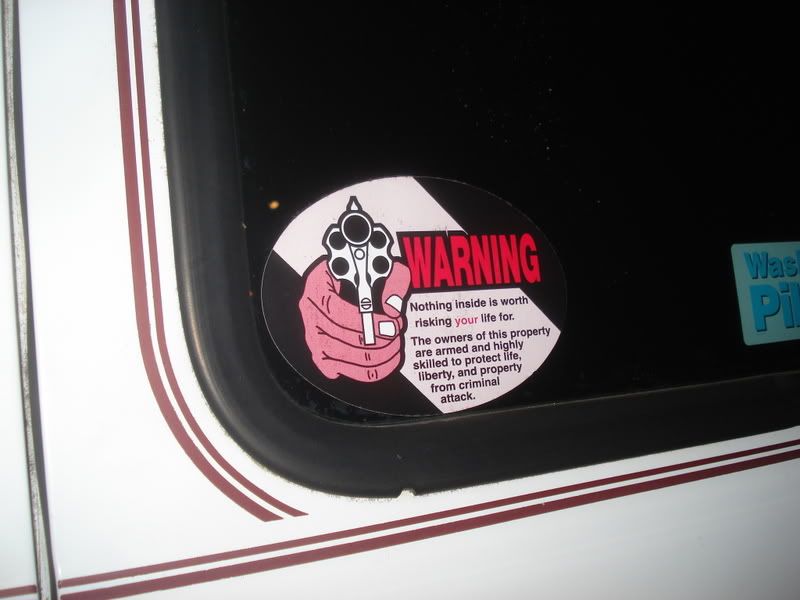 I did see this sticker on the van next to my car.
Good ole' U S of A.
---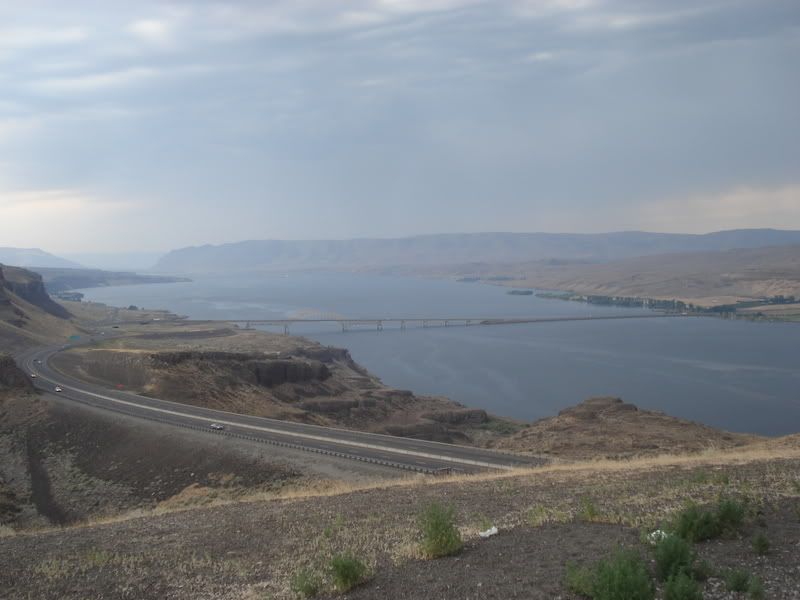 Ellensburg is east of the Cascades, so I woke up to find dry, arid land cover.
I forget the name of this place, but you cross that bridge, go up the road in the foreground to the scenic lookout where I took this picture.
It was from that very bridge that the radio told me that God even thought about the smallest creatures. This was because he gave insects the ability to bend their body to escape the surface tension of water.
---
An example of the varying plant life in the rain shadow of the Cascades.
---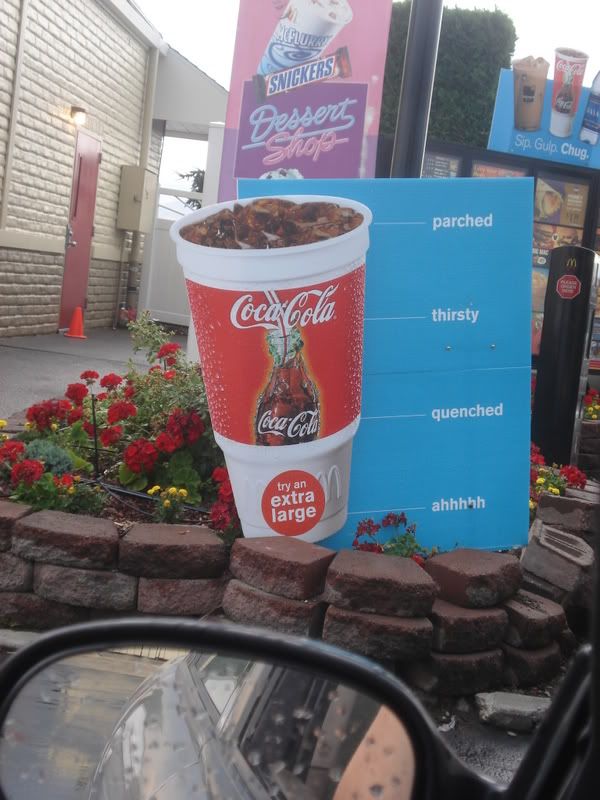 Throughout this trip, I kept forgetting about American sized drinks. I'd order a large drink and finish half - baffled at how people could drink so much cola or coffee.
---
I had a lot of travel planned for day 18; so I decided to stop for a second and take in Spokane, Washington.
I asked myself when I would ever be in Washington state again; and that was good enough reason for me.
---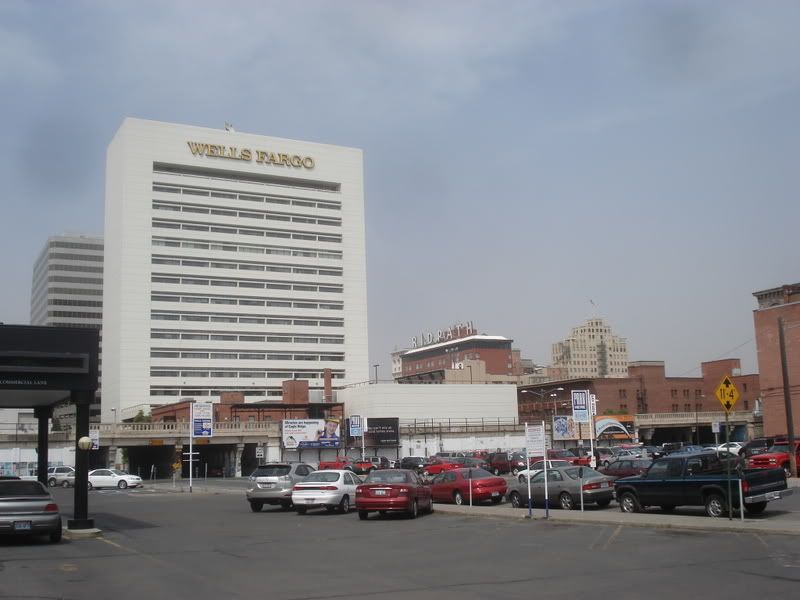 Spokane is the 2nd largest city in the state of Washington. It is located in Eastern Washington and is home to Gonzaga University. Its population is 198 000 in the city and close to 450 000 in the metro area, which incorporates portions of Idaho.
---
Just a building that I liked...the Longbotham building.
---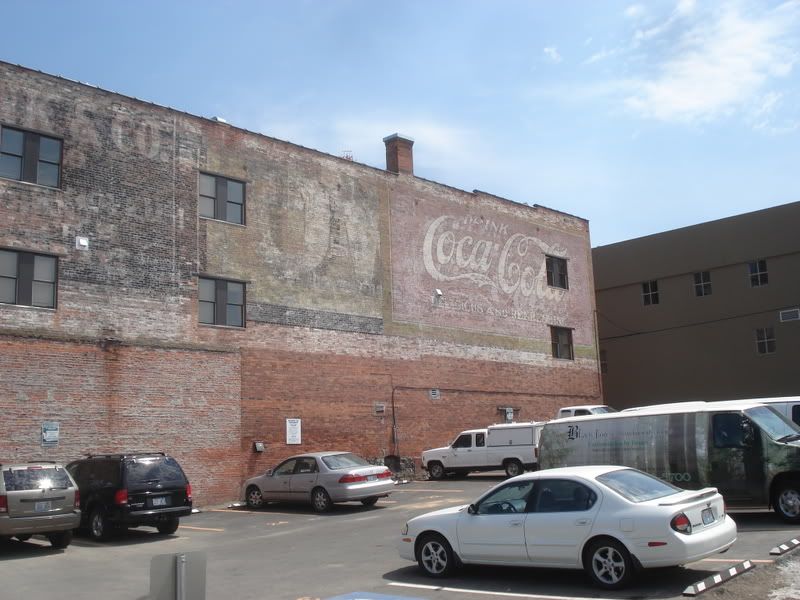 Throughout Spokane there was plenty of fading, painted signs on the buildings. I guess it's better than Detroit where they painted over these for the Super Bowl.
---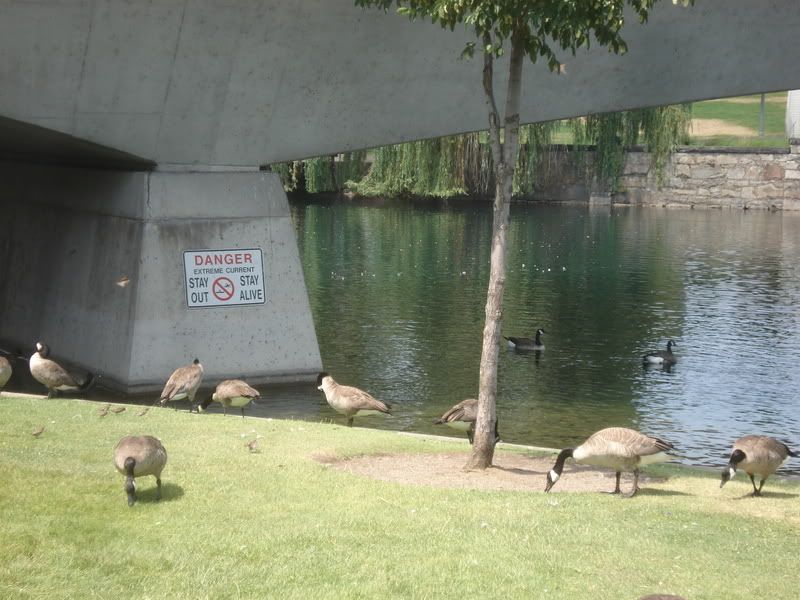 Continuing on my travels through Spokane, I came upon Riverfront Park. Riverfront Park is an area that until the 70s was a grimy railroad depot. The World's Fair in 1974 transformed the area of railroad industry into a site for the Fair. After the Fair completed, many of the structures remained standing and in use.
---
The clock tower is all that remains of the former railroad depot. It was a prominent feature in logos and advertisements for the World's Fair.
---
This kinked rail in Spokane is too sick. I almost did it by myself, but decided that was a bad idea.
3 more days of driving on a broken ankle? I guess I'll let the rail win.
---
Know what else is too sick?
Sinbad!
---
The Spokane County Courthouse is a stunning example of French Renaissance architecture. It was built in 1894 and has housed Spokane County proceedings ever since.
The building is actually more impressive than this picture shows. For evidence of that, check out this old postcard.
---
A look at downtown Spokane from near the County Courthouse.
---
Moving towards downtown, I came upon a park with quite the view.
---
If you look closely, you can see the SkyRide; a Gondola that travels above the Spokane River & Falls.
---
The Spokane Falls.
---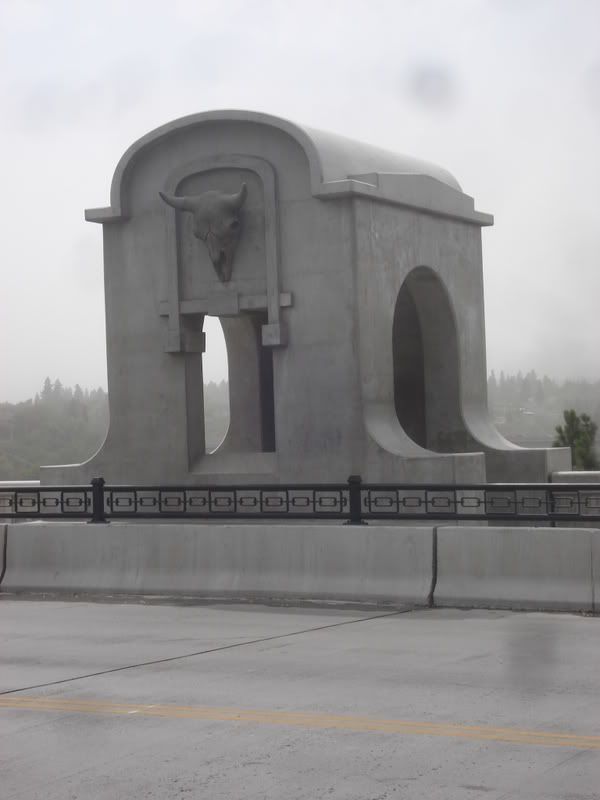 This is the bridge from 3 pictures back.
The Monroe Street Bridge - built in 1911; it is the third bridge in the current location. The first was a wood bridge that lasted one year & the second was a metal bridge that lasted 15 years until being deemed unsafe because of a considerable dip in the center. Monroe Bridge was then built, and based upon a bridge in Cleveland; but made a foot longer to become the largest concrete-arch bridge in the U.S. at the time.
Why is the picture so unclear? A dust storm blew in at this point. It hurried me across the bridge and into downtown for some relief downwind of buildings.
---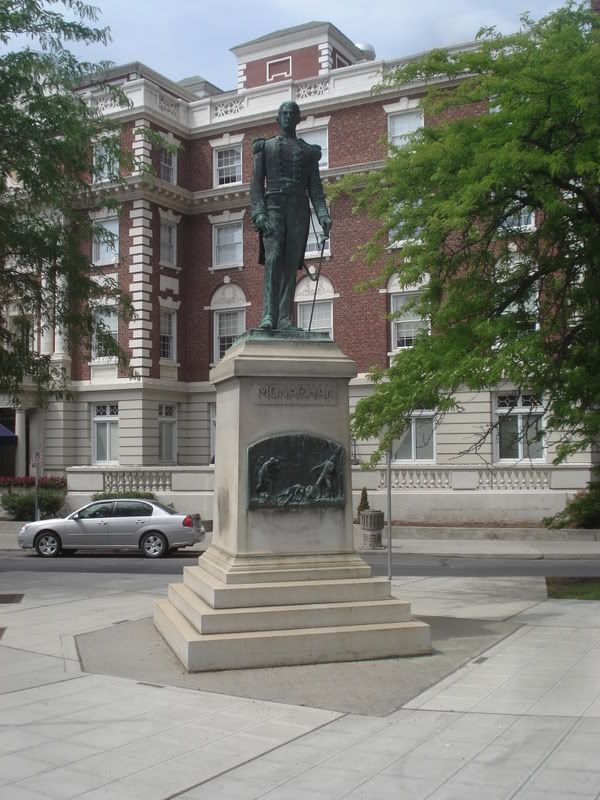 A Monaghan statue.
From the City of Spokane web site:
"John Robert Monaghan, a U.S. Navy officer and the first person in Washington State to graduate from the Naval Academy, was commemorated for his unswerving devotion to duty. Monaghan was killed in action in the Samoan Islands in 1899 while protecting a fellow officer."
So there IS a decent Monaghan out there? I guess you learn something everyday.
Thanks Spokane!
---
You'd have a hard time finding an ugly Masonic Temple.
---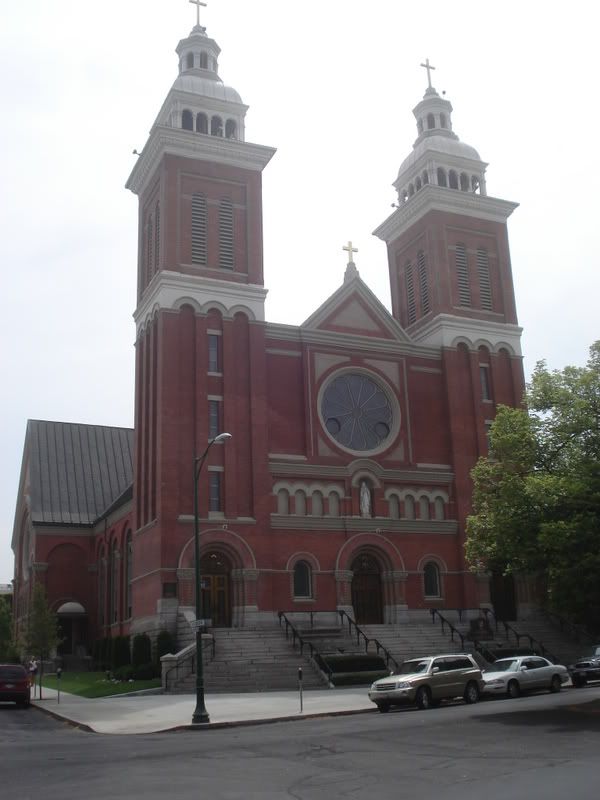 A random church across the street from the Masonic Temple.
Anyway, Spokane was a nice city to ride around in. It was a little grimy; but that is what you call character.
Don't let the fact that it's Jason Hanson's hometown deter you.
Visit Spokane!
7/10!
---
IDAHO!
Another state off the list.
---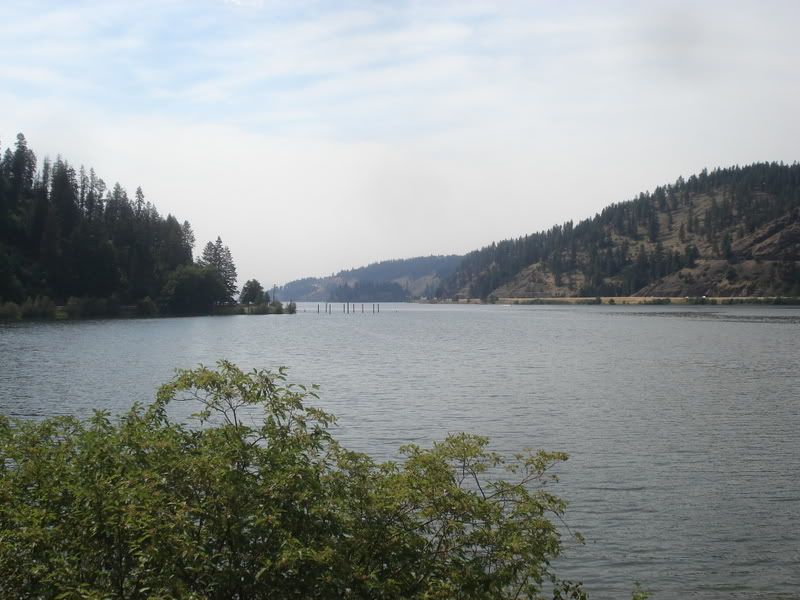 Couer D'Alene lake in Northern Idaho.
I had to check the spelling on Wikipedia and found a couple interesting facts.
Firstly, that there are a few Ford Model T's sunk in the lake. Back in the day, people would drive their cars across the lake & well, if the ice started to crack...bye bye Model T.
Secondly, it's a great place to see Bald Eagles swooping down and catching Kokanee (freshwater Salmon).
---
I drove through the Rockies again as I headed back east across the great divide.
---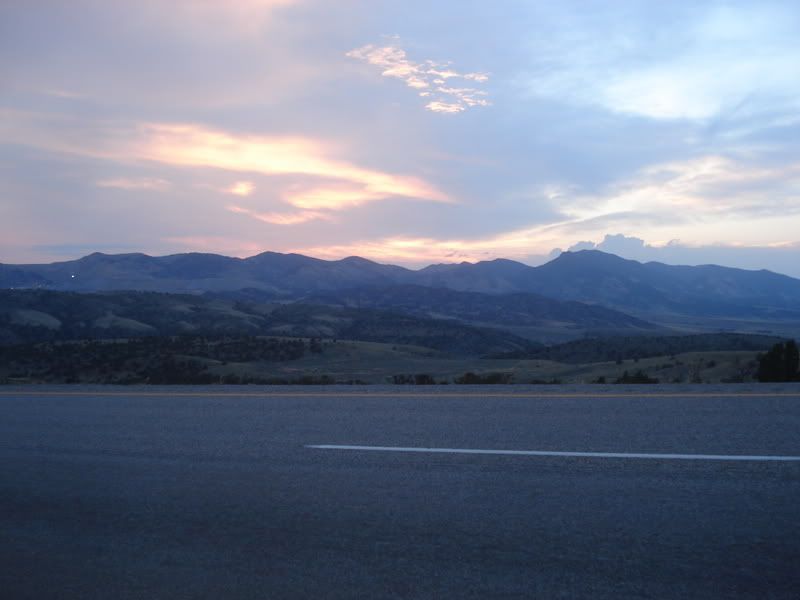 My drive continued after Idaho and into Montana. Montana is the 4th largest state by area and it proved its width to me with a long day of driving that resulted in arriving at its center.
Knowing that Helena has a skatepark which doesn't allow bikes, I purposely supported Bozeman, Montana and spent the night there.
Onto Day 19.
Back to Main(e).