The 'I am not leaving the US on my own accord' Road Trip: Day 7 (Continued from here)
Summer 2008
East Taunton, MA to Cedar Grove, NJ (rough map)
Approximately 4 hours of travel
Our target for day 7 sat 10 minutes from our campground; the distance from East Taunton into Taunton, Massachusetts.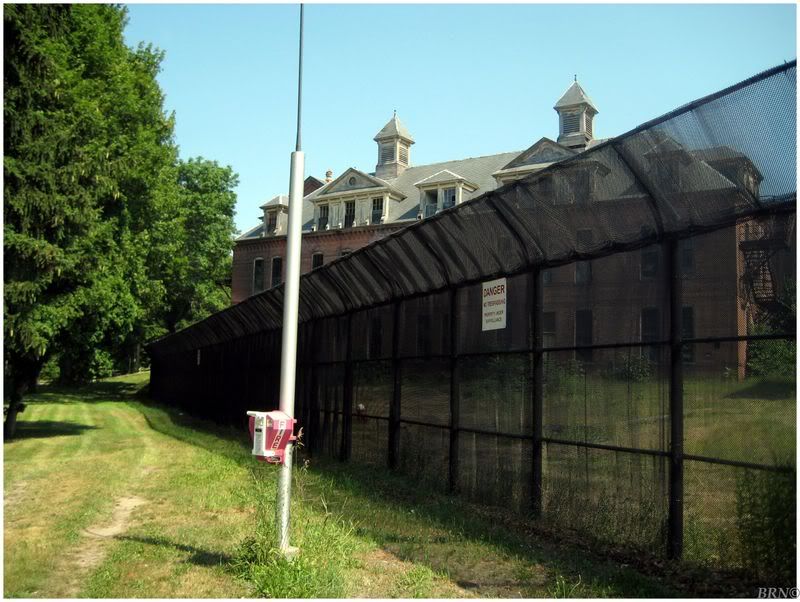 The target of day 7 was the Taunton State Hospital.
Taunton was a little much for me, so I had stated that I would grab a bagel somewhere nearby and wait on Chad & UJ's (hopeful) return.
I know I was being soft, but Google aerials only showed a small remaining section and it didn't seem worth it.
---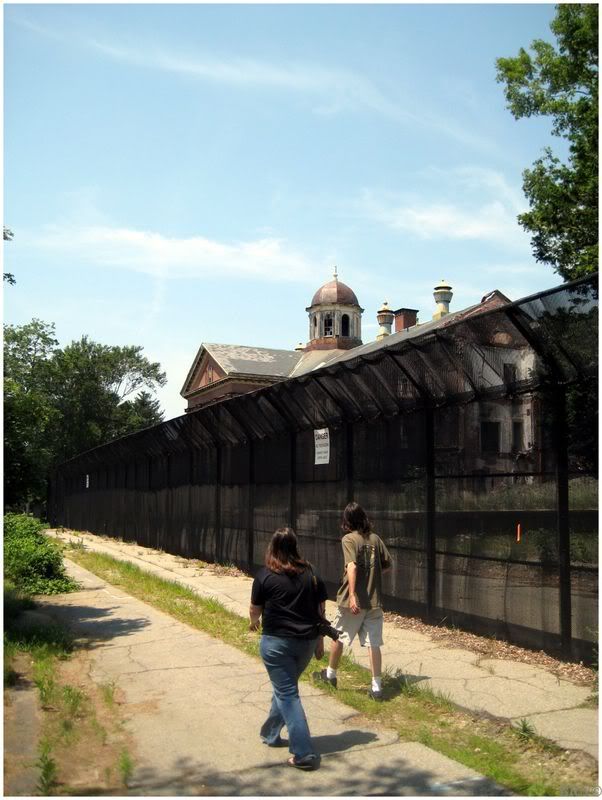 My stance on Taunton quickly changed when we had visited it the night prior. Before heading to our campground, we stopped by Taunton to have a walk around and scope it out - it was then, that my excitement grew and I flipped stances quicker than a crooked politician.
I now wanted to find myself inside.
Anyway, we returned the next day, parked our car and took to walking around the giant fence.
---
As we weren't fully prepared to enter, we rushed back to the car and over to Kristen's place of employment. We wanted to ask her a few more questions and also get our Chinese leftovers in us since we hadn't eaten yet.
Arriving at the pizza shop, Kristen was baffled that there was actually a fence hole, but said we should go for it. I then proceeded to make my way over and (accidentally mind you) break the pinball machine. I tried to dislodge the ball, but I stopped after all the Chowderhead kids were staring at the giant man with the funny accent, tipping the pinball machine.
So we were reheating our own food, breaking pinball machines and using the free internet - boy we were thankful that Kristen's boss is a hippy.
After dilly-dallying around long enough, it happened that Kristen's shift was over and that she would join us. We made our way to her house so she could change clothes before making our way over to Taunton.
Once back near the hospital, we parked in Kristen's recommended area and walked over to Taunton, as we approached the fence, we began to make for it and...
---
What? Oh what the hell!
In a little over an hour, they had giveth and they had taketh away. We stood in awe of the sealed hole. We walked around in the dim hope of another hole, but to no avail.
We stood around and weighed our options. The plan all along was to hit Taunton, so we were all stumped as Kristen asked what we should do now.
---
The only thing I could come up with is a place everyone calls Candycorn. The last time I had come down to Massachusetts for some buildings, I was supposed to hit this place, but instead decided to get going on the ten hour drive home.
I asked Kristen how far it was and she said it was within an easy driving distance, so we were off.
---
I remembered that Candycorn wasn't the riskiest place from last time and Kristen confirmed that this was still the case. Therefore I asked Kristen to stop at a nearby liquor outlet so I could actually have a few beers and relax at Candycorn.
I chose to grab some Narragansetts which are brewed in Long Island and are shark hunter Quint's beer of choice in the movie Jaws.
The first building we entered isn't visible in the first shot of Candycorn that you see above. It is a smaller building near the road which has been cleared out, sustained a fire and also was previously used as a haunted house (hence the hay). If you're wondering why we went into this building knowing that, it's because the black soot makes for some decent pictures.
I didn't take many more pictures than the one I've posted above.
---
Before we left the first building, we received a call from UJ who wasn't feeling very well and had decided to stay behind in the car. She had changed her mind and now wanted to join us, so we had some fun trying to explain the 20 minute walk through fields and woods to her over the phone.
You don't really see Candycorn during the walk until you're nearly there, so it was humorous to look out and see UJ walking, waiting for her to realize where we were. Once she reached the building, she checked out a small portion briefly before we moved onto the better buildings.
---
Chad eventually found an entrance and we made our way inside.
---
The first section was incredibly boring, so Kristen led us to the lobby which was somewhat cool.
This modern hospital still wasn't providing enough motivation to document or explore; so we became distracted by some signs we found. Using 'outgoing' and 'incoming' signs, we posed it up in positions with sexual tones for a good 30 minutes.
---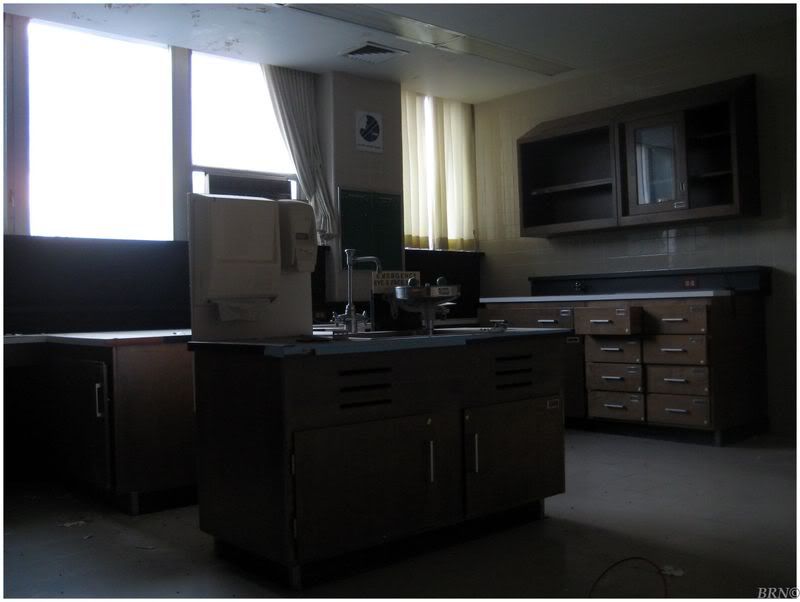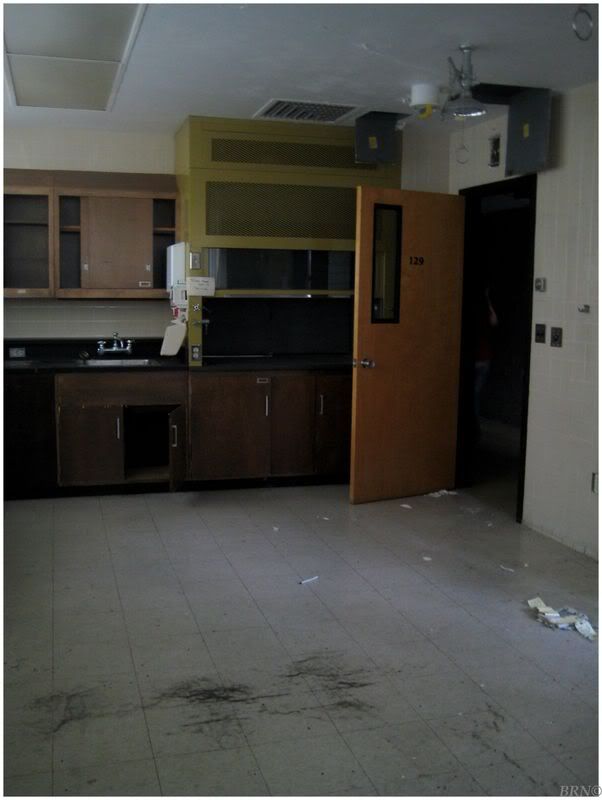 Continuing on, we checked out the cafeteria, the receiving desk and the above labs.
---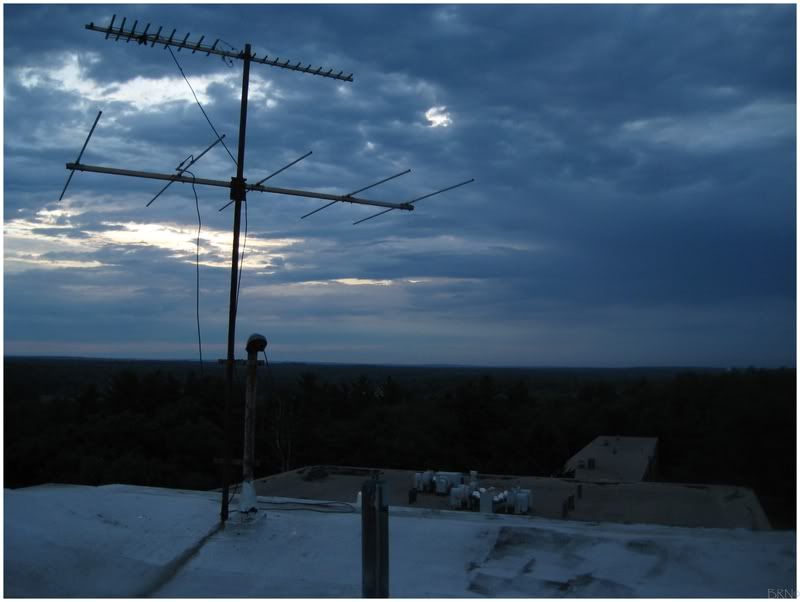 Our late start, our sloppy time management and our Taunton denial didn't leave us much time at Candycorn. The previously mentioned lack of motivation also meant we didn't move through Candycorn with any speed either.
After seeing maybe 10% of the place, it was getting into the evening, so we decided to make our way up to the roof for the sunset.
We relaxed in the summer breeze for a good 20 minutes. Fireworks crashed in the background and Chad yelled something about America (the fireworks were a good 2 miles away, he was just being goofy).
Eventually bidding adieu to Kristen with thanks for the 2 days of New England tour guiding, we departed south towards our next goal.
Chad was drinking with me at Candycorn, so UJ took the wheel for the 4 hour drive to the southeast. I had 1 or 2 Narragansetts left and quickly drank them. Chad offered up some of his cooler full of Bud Ice and I was back in business.
I remember driving through Rhode Island and seeing the World's Largest Termite, but one of my greater faults is my inability to stay awake while drinking in a car - you can ask Don, Roachie, AI, Cheech, &c. &c.. - it is definitely well documented.
---
There's something about driving where you continue to sleep until there's a change in your speed, so when UJ finally got off the highway in Newark, NJ; Chad & I both came to and both needed to use the washroom bad. We hollered and carried on for UJ to pull over and that we didn't care that we were in Newark at 1a.m. She pulled over immediately at a park where both Chad and I made short work of the 4 foot fence.
Main street, New Jersey's largest city, 'using the washroom' in a public park. Oh jeez.
I jumped back into the car and took a look around at my surroundings as Newark is definitely one of those places you hear about in terms of being a dangerous city. It reminded me of New Jersey Drive, one of my favourite movies, about a group of young car thieves in Newark, NJ. ("Really Navi? Being in Newark reminded you of a movie set in Newark? Odd." )
The reason we found ourselves here was because we were to meet two friends who were doing a jail in Newark in the morning. We hadn't heard of the jail before, so we followed Chad's GPS and found ourselves in front of it, judging if it was worth spending the night in Newark.
The jail looked awfully small and either partially demolished or really run down. It looked cool, but was it really worth it? In hindsight it was, but that night, on the cool streets of New Jersey, we decided to pass and stay nearer to our day 8 destination.
(If you're that curious as to what we missed, here's a link to my colleague's pictures that he took in the morning.)
UJ hit the highway again and after a 1/2 hour of driving, we checked into a motel and called it a night.
Navi
Day 1
Detroit to Camden
via
Centralia,
Philadelphia,
Spring City

Day 2
Philly to Delaware
via
Philadelphia


Day 3
Delaware to Northern NJ
via
Paterson, NJ
Cedar Grove, NJ

Day 4
Northern NJ to Long Island


via


Kings Park, NY
Day 5
Long Island to Norwich, CT
Day 6
Norwich, CT to Taunton, MA


via


Jerimoth Hill

Day 8/9
Northern, NJ to Detroit
via
Cedar Grove, NJ