Even if you never look at the map I provide, maybe you should finally look at this one.
Looking at that map, realize that New Zealand's North Island is only slightly bigger than the Island of Newfoundland. Therefore if you read this website regularly, you have an idea of how much driving I did over the next 3 days.
---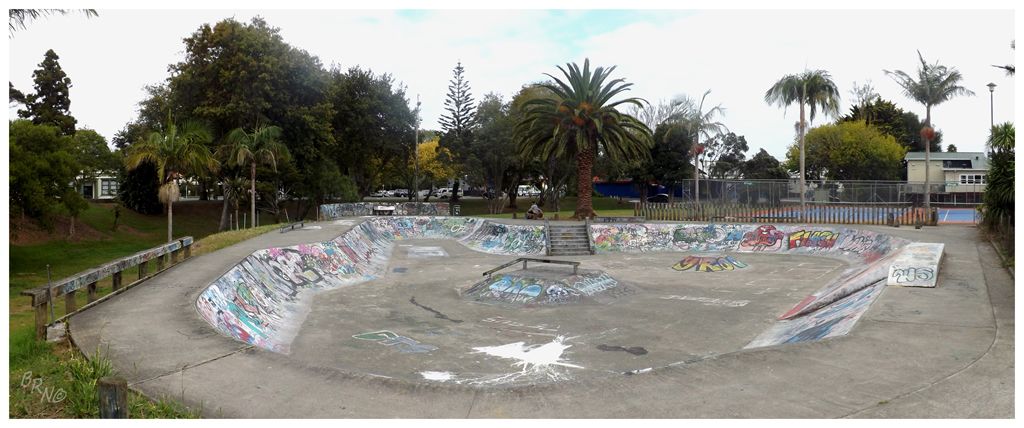 I thought I would have to drive for a few hours this morning to reach a decent skatepark, but knowing that decent skateparks exist even in the smaller towns of New Zealand, I kept my eyes peeled while buying gas station breakfast in Kaitaia.
Well wouldn't you know it! Right across from the gas station!
This wasn't Austin Texas' House Park, but I still had plenty of fun over the next two hours. It was even so early that I had the park all to myself; save for a skater who sat on a bench and played on his cell phone the entire time.
---
Eventually I would have to head south if I ever wanted to get more items done on this trip.
After swapping out for a fresh and dry shirt, I now found myself back on State Highway 1 going through tiny places like Ohaeawai. It was so quiet and so much of the same road I already traveled, that I almost picked up a hitchhiking couple, except I needed petrol.
Once I returned for them they were already gone to Whangarei.
For lunch I stopped in some seaside village with a delicious little fresh food spot, providing more exciting options than the fried chicken or burgers of many places back home. My credit card still wasn't working, so I don't have a record of just which town this was exactly.
---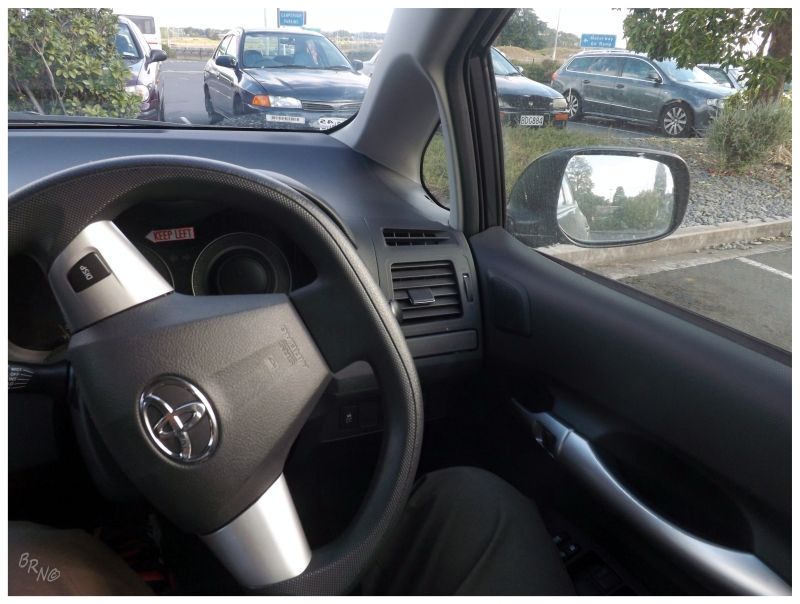 State Highway 1 would start to resemble the highways which I'm more accustomed to back in Canada or America. I even had to exit this freeway into an oasis/rest stop that made me feel like I was suddenly in Illinois.
It was here that I bought my afternoon coffee and glared at the conglomeration I had created on the passenger seat. This involved a cup tray with clothes underneath one side to make it flat, with a belt fastened around the cup tray to keep it from sliding.
I started talking to myself..."How in the living f*** does this car not have a cup holder! I get the whole "I'm focused on driving, I stop to eat" thing, but really? You buy a car and in 200,000km of driving, you never want to have a drink inside? Your passenger never wants to? Like why is there this stupid black rectangle beside the steering wheel..."
It was with that, that I pushed the black rectangle and a little cup holder popped out. My eyes bulged and I've never felt more like James Bond in my life. I couldn't believe the sight before me!
Finally on day 3 I could rest my coffee and enjoy driving without worrying about coffee spillage or steering with one hand. Marvelous! I immediately opened the door and threw the cup tray into the trash.
---
I acquired that coffee just south of Auckland and continuing along, I would soon leave State Highway 1 for State Highway 2. With plans in mind for the eastern city of Gisborne, I had to start heading that way, forced onto this more rural highway.
(Thankfully I heard the radio station say something about Gisborne and realized that it's pronounced Gizzborne and not Jizzborne like I'd thought.)
I would drive throughout the afternoon and into the evening through the Waikato Region's plains of rolling farmland, finding it so pretty that I finally pulled off onto a secondary road to get people off my tail and allow myself to stop the car for pictures and appreciation.
---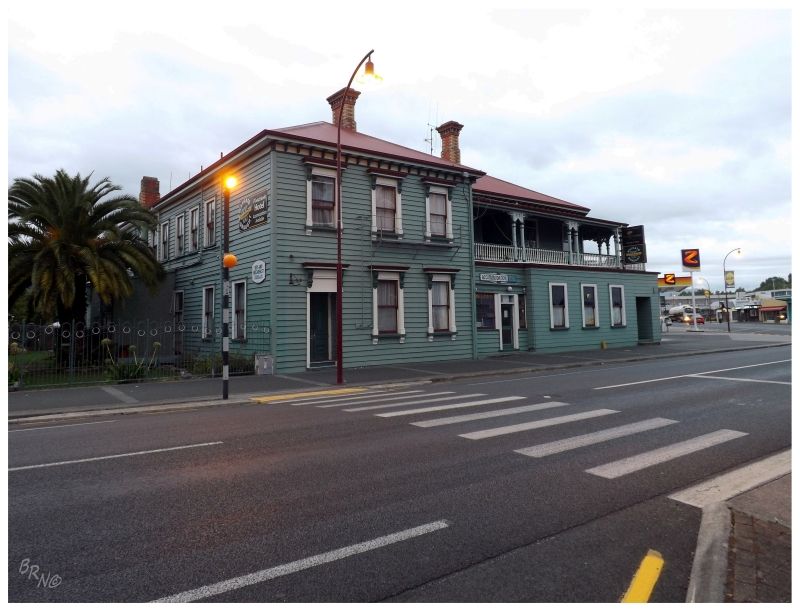 It was with enjoying the scenery so much & the fact that Paeroa seemed like a decent town, that I stopped driving a bit earlier than usual. Pulling into the Paeroa Hotel, I was confused with where to go until a older guy yelled from the balcony above me. I couldn't understand a lick of what he was saying, but he looked like he might own the place and be able to rent me a room.
This allowed me to walk the streets and also relax in my fantastic room. This place was akin to the spot back in Dargaville, a reasonably priced old motel that has been brought up to modern cleanliness. This one wasn't even stereotypically creepy or dated like Dargaville, which may have had something to do with why the Paeroa Hotel had 10-15 people sharing the communal kitchen/living room/balcony.
---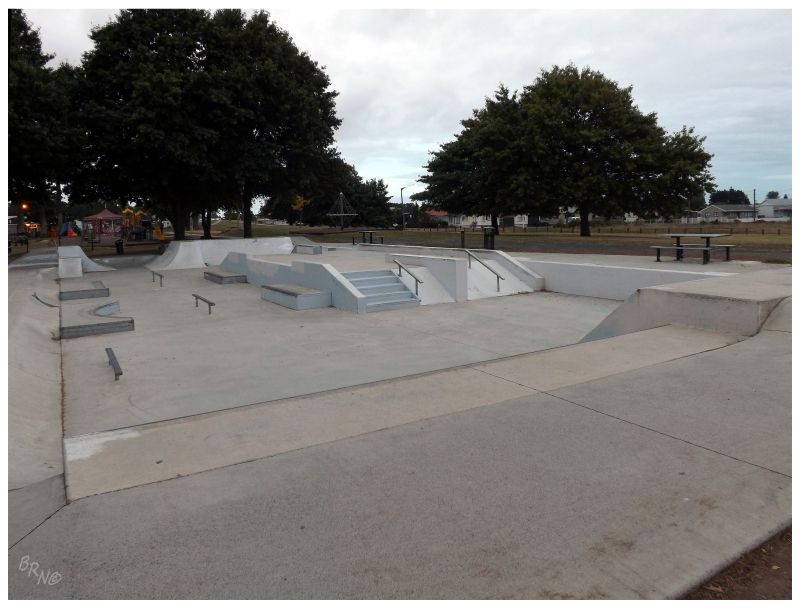 Tired from driving and going fairly hard at biking earlier in Kaitaia, I was ready to simply relax this evening or take a light stroll. Although after asking a kid on a BMX where the skatepark was - and comically discovering it was right across the street from the Paeroa Hotel - how could I pass this up? Add in the fact that the only other users were a family with 3 scooter daughters and it was as if I had another skatepark all to myself.
And if I'd give Kaitaia a 5/10 score, I'd give Paeroa an 8/10. Paeroa was a fun little park with smooth ledges and interesting possibilities.
Returning to the Paeroa Hotel, it was nice to finally have a shower after 4 hours of biking this day. I hit the streets afterwards for a late dinner, walking under outdoor overhangs which played music to the outside world (similar to an outdoor mall back home). I happily found an Indian spot where a man in a gold rope chain served me delectable butter chicken. I took it to go and made a mess of it in my room, before going to bed shortly after.
---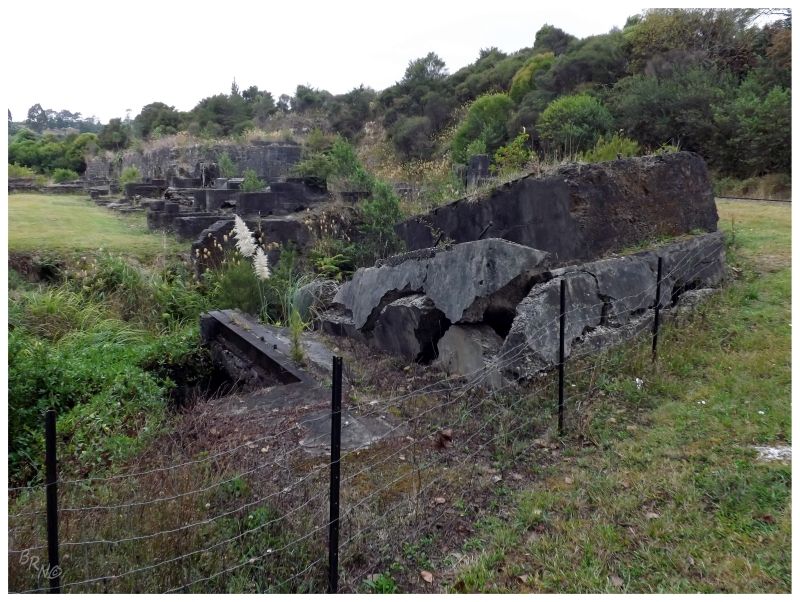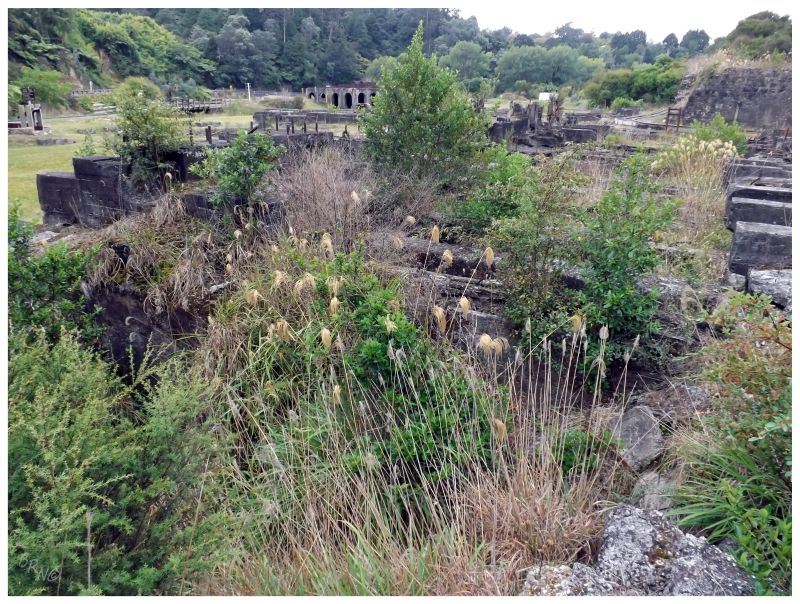 Waking up early on day 4, I bought some McDonald's breakfast to quickly get moving. After victoriously placing my coffee in the cup holder, I was excited to knock out some distance and finally get to my goal after driving across the North Island.
Then I made it all of 10km (6mi) before seeing a sign for Victoria Battery with ruins beside the road.
---
Okay there's lots of little spaces and tunnels to crawl into, this was probably worth a stop.
---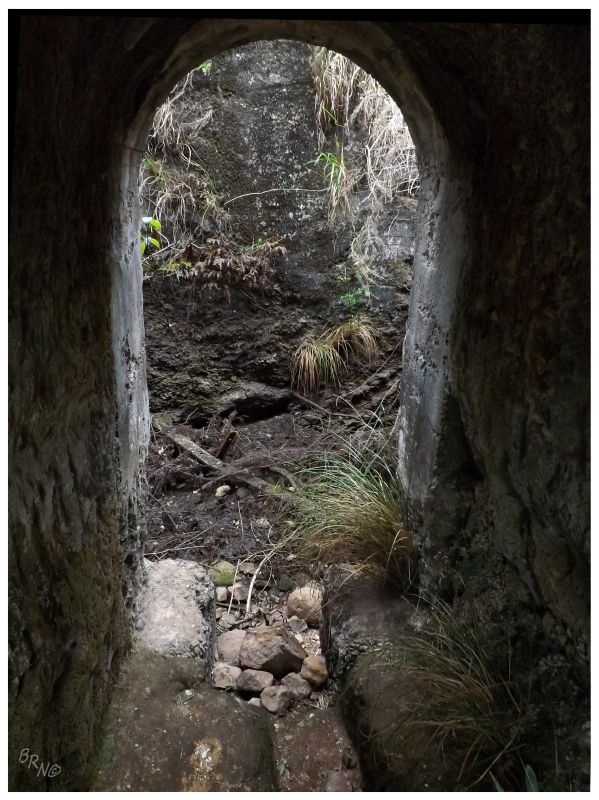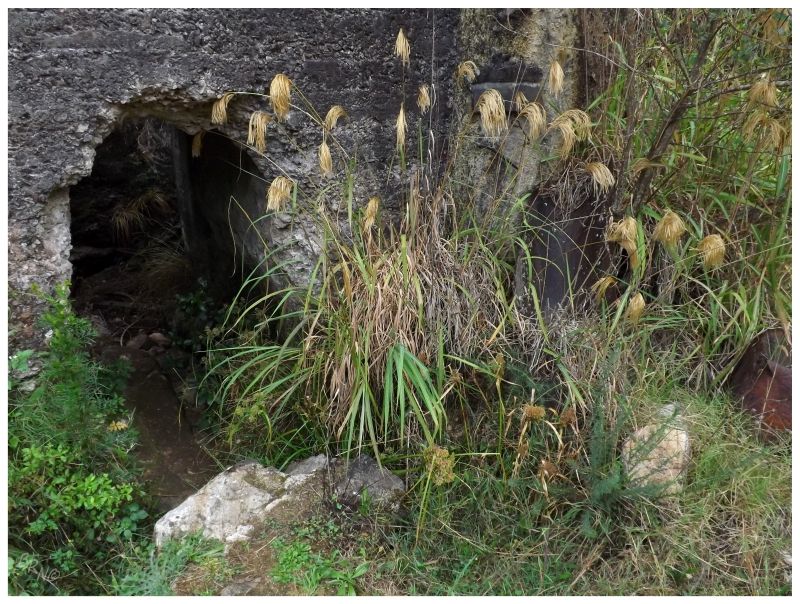 Especially seeing as New Zealand doesn't have any poisonous snakes and only one (rare) poisonous spider.
Crawl, crouch, peer.
---
The Victoria Battery was a processing plant built 6 miles from the Martha Mine because of the availability of water at Waikino. The company's rail line would transport ore to the plant, where it would be burnt with layers of timber in large kilns. Men would rake the resulting ash/ore combination into wagons and bring them further down the plant, where it would go through stampers, crushers and into a cyanide treatment. This would result in fillings that could be transported back to the refinery for use in the creation of silver and gold bars.
---
The neatest thing had to be the base of the old cyanide leaching tanks. If you look back at the 1910ish picture, you can see the same cement base as the ruins in the above picture.
---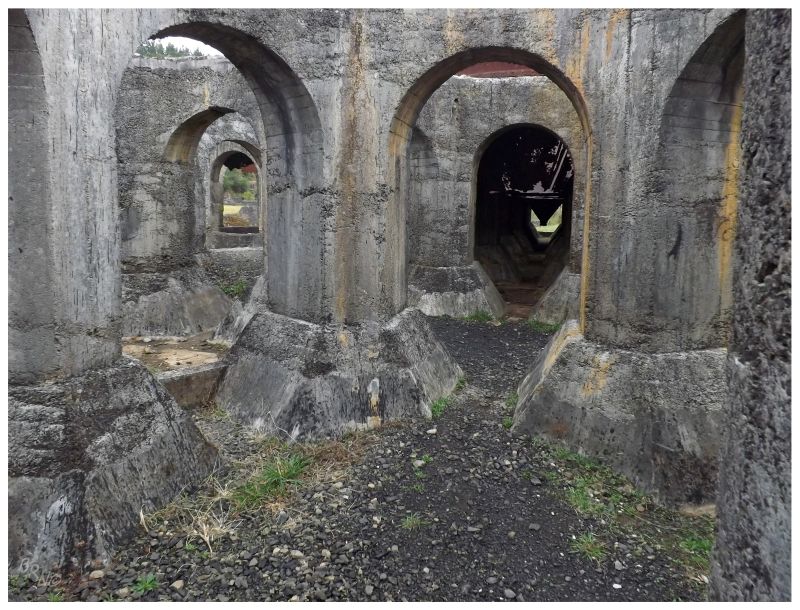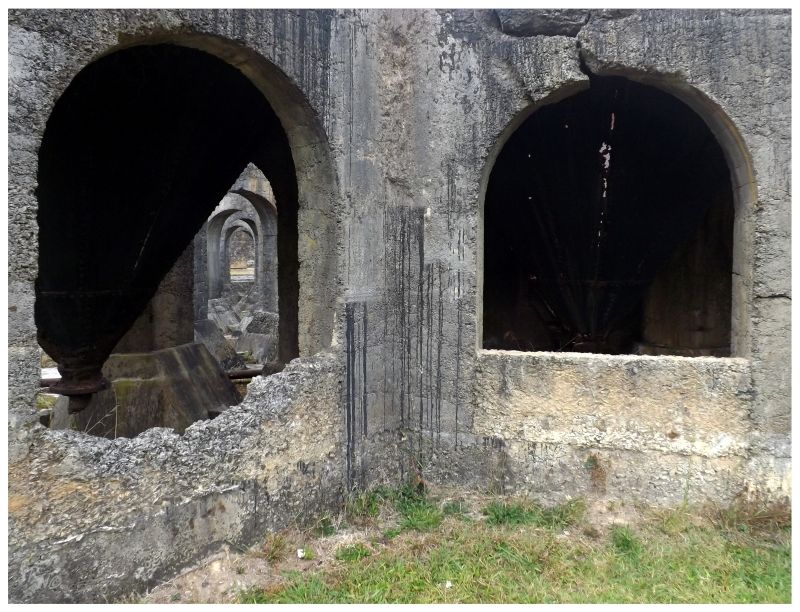 Stepping over one of the walls and into the underbelly of the cyanide tanks felt like walking into a hall of mirrors.
I was extremely jealous of those that get to come here on a sunny day with soft light and shadows (although I couldn't even get that great of a picture simply involving the ruins this day).
---
A footbridge stretches across the top of the kilns. You better believe I gripped my camera tightly as I walked over this section.
---
By 1901, they had developed better processes than the process here which required 5 hectares of lumber every 2 days (530,000 ft²). They would use these processes for the first half of the 1900s, up until the Victoria Battery would eventually shut down in 1952.

The Martha Mine itself is still operating in nearby Waihi today (although it has since been converted from an underground operation to open pit). You might be able to spot it if you look at an aerial of Waihi: http://goo.gl/maps/9hMjF
---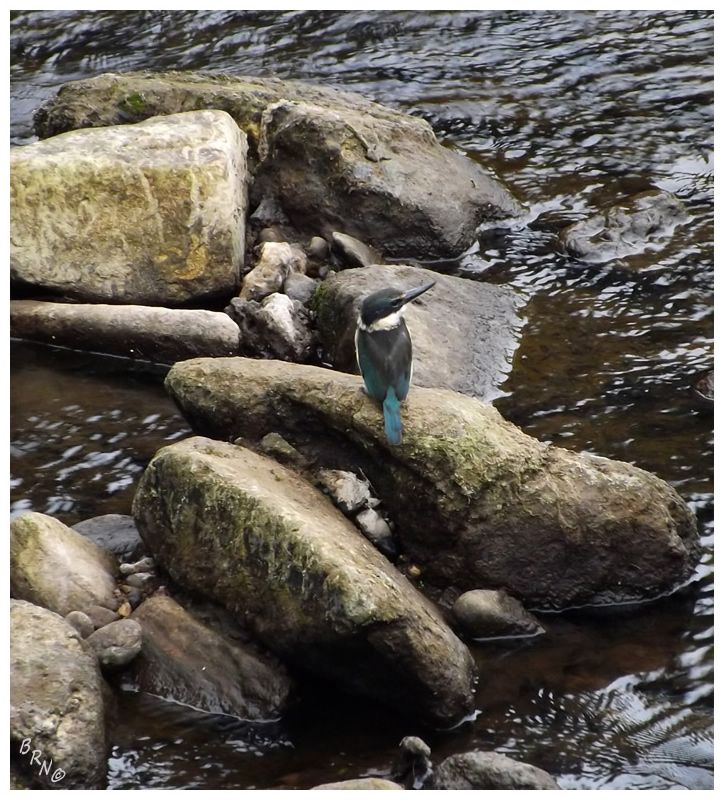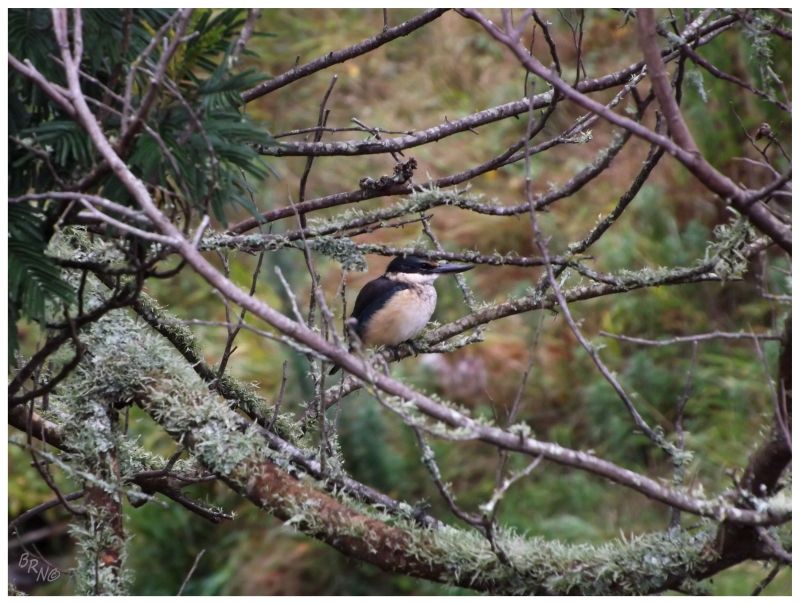 Heading back to my car, I noticed a Sacred Kingfisher in the river flowing past the Victoria Battery.
---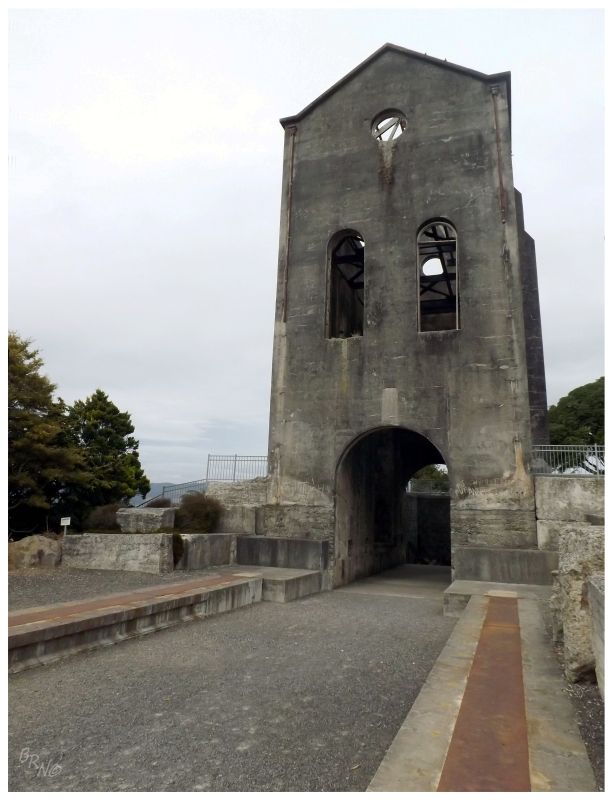 I pulled into Waihi next, a place where I actually had their pumphouse marked in my GPS (this wasn't the major goal of all this driving though).
Martha Mine's Cornish pumphouse has an interesting history in that during the conversion of the mine from underground to open pit, the pumphouse came under threat from the mining company as they tried to get at gold closer & closer to the pumphouse's foundation.

Lo and behold, there were stipulations in the gold mining license that they were to preserve the Cornish pumphouse...and they actually did! They moved the structure to a safer place at a cost of $3.2 million, instead of undercutting it until an 'accident' happened! Crazy!
---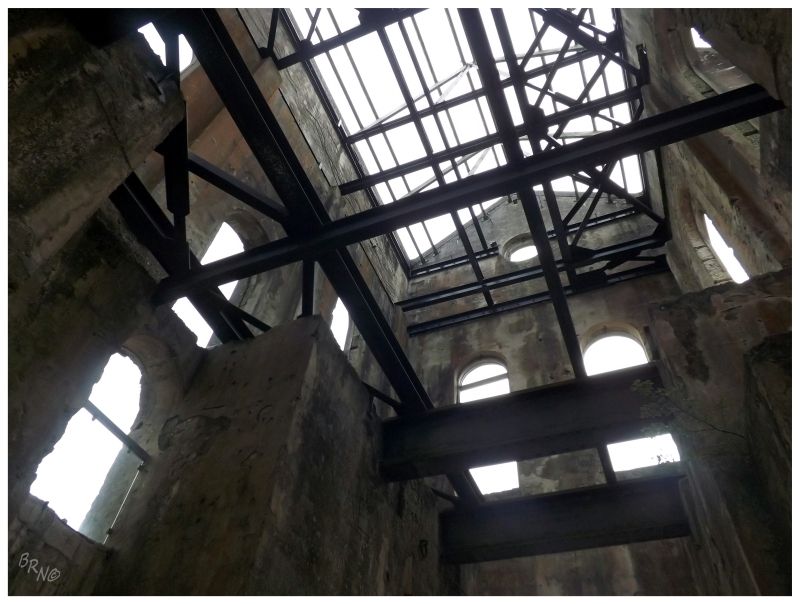 I parked right on the busy main street of Waihi and entered the pumphouse within minutes (along with a handful of other random people). Knowing how sites like this can suffer from lack of maintenance, there surprisingly wasn't that much trash or graffiti inside the pumphouse.
After the 5 minutes it took to see the pumphouse, I thought about how I had been yearning to eat in one of the appealing taverns/pubs that I found in almost every New Zealand town. I decided that today was the day as a promising one was a stone's throw from the pumphouse. It wasn't exactly what I envisioned in a dark, low-ceiling English pub, but the waitress was nice enough and the fish, chips & pint were good. I suppose I would have got a more authentic feel if I went for dinner instead of lunch.
---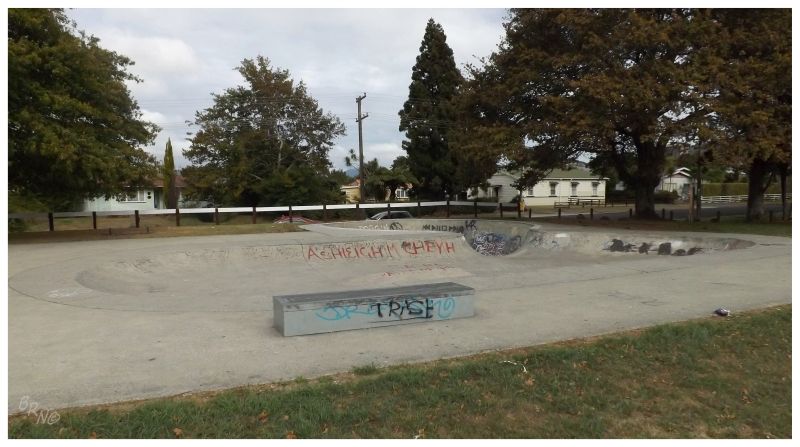 I figured I might as well check out what kind of skatepark is in Waiti & I have to say, it wasn't exactly overwhelming. Even though I'd soon be going through the large cities of Tauranga & Rotorua, I was still excited enough to ride this park with only 2 other users (a woman in her 20s showing her daughter how to scoot (impressively well!)).
I'd probably have to give this one a 4.5/10. It was fun for about an hour, but then I had to ask myself what I was doing with my life and especially these more precious moments of my life.
---
By now I had realized that I wouldn't make it to Gisborne, as well as the place I really wanted to go to. I scrapped my plans for Gisborne and made a beeline down State Highway 5, trying to cover the 350km/4.5hour drive ahead in decent time.
I quickly learned that Google must use the speed limits to calculate their distances as I found the speed limit to be much higher than I was comfortable driving - resulting in added time & people driving so close that I couldn't see their headlights while I angrily tried to find a place to pull over and let them pass (safe places were few & far between on these twisty mountain roads; communities were so far apart that there were gasoline warning signs.)
The above picture is from the Waipunga Falls lookout along the way.
---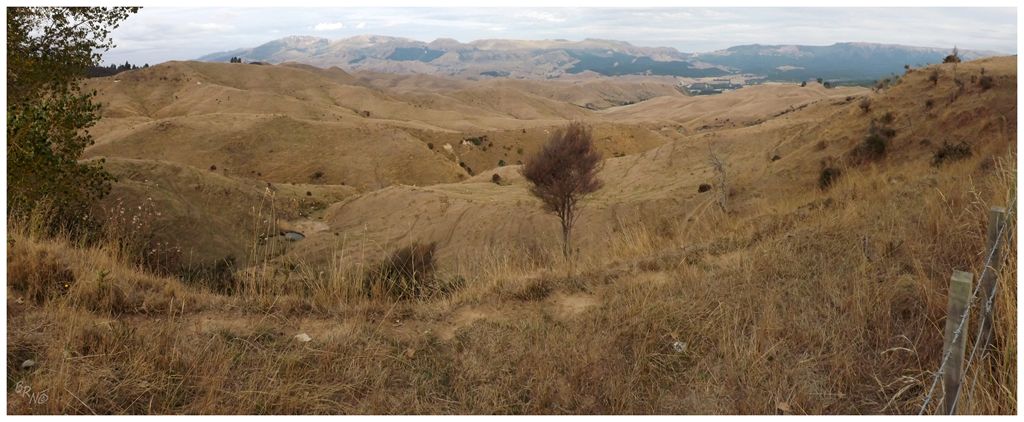 (Let's zoom in on the above picture...)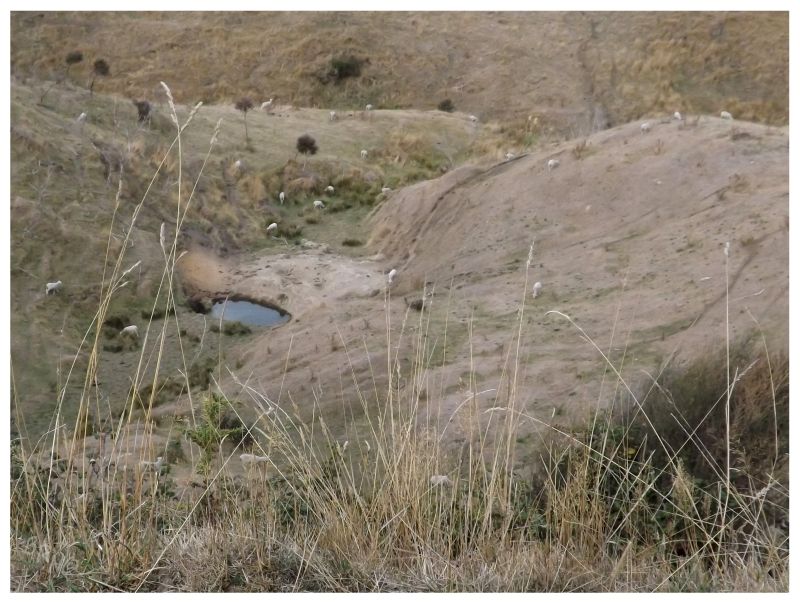 I was driving perpendicular to the North Island's main mountain chain, which runs from the southwest to the northeast. This meant I was going from lush forest to arid farmland and back.
Those forests I thought so impenetrable I was now going right through.
---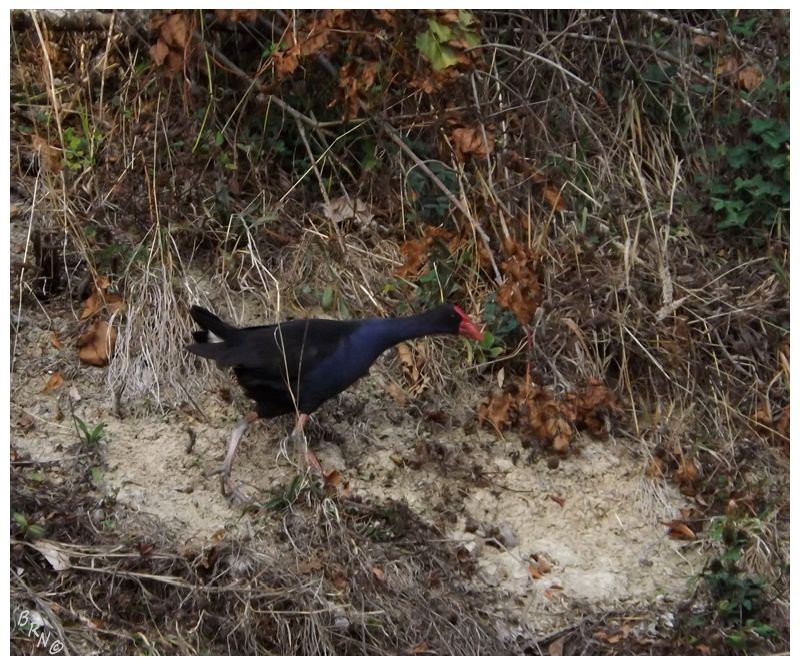 A Purple Swamphen across the road from the above sheep shots.
At the point where I stopped to take pictures of the sheep, I had already went over the crux of the mountain range and was mostly descending out of the mountains into the flat valleys outside of Napier. Without a good map to know which road was the best, I simply followed the highway to Hastings and went through that town in an attempt to finally get where I was going.
This area is known for its quality wines and even as a man who doesn't go out of his way for vineyards, I have to admit the last 1/2 hour of the drive, once I left Hastings, was exceptionally beautiful with tree-lined roads and many vineyards splaying outwards in all directions. It struck me as an area where one could really relax and enjoy slow days...
---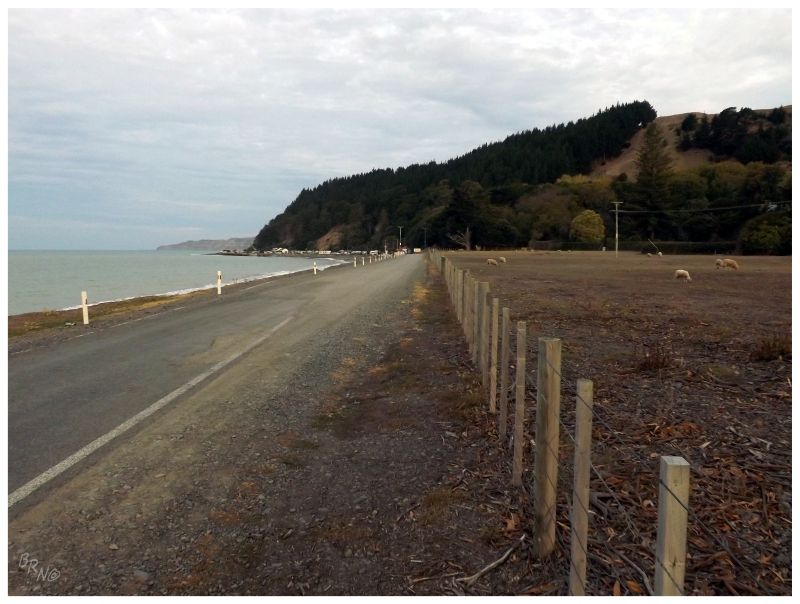 ...but myself I was here for Cape Kidnappers. Here an 18km walk would bring me along the beach to a land of stunning white birds, picturesque geologic formations and even a lighthouse!
You can understand why this was such a priority.
---
The thing was, and I even printed out a tide table, I somehow still managed to screw up the tide times. I could hardly believe it. Hastings looked like a pricey place, so the only way to visit Cape Kidnappers would be to sleep in my car here and hike in the morning, but now that Ryan had my cell phone number, he had let me know about a pre-wedding dinner. He stressed that it really wasn't that important, but I knew it would involve good friends and lead to a night out on the town in Auckland with my very good friends.
I stood beside the posted tide times at this windy cove and pondered the decision.
I suppose I had all of the conclusions I needed to leave Cape Kidnappers behind, a decision I still question. As they say though, hindsight is 20/20 and I really regret not sleeping here, but what am I going to do now besides try to be more prudent with getting things done while traveling in the future?
---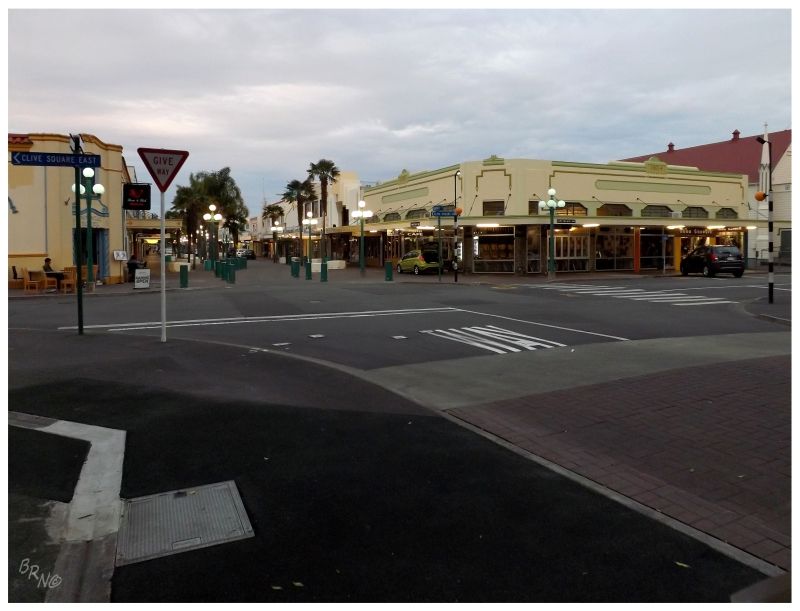 The city of Napier was also on my must see list, so even as I was losing daylight, it was an easy decision to park here and walk around the city.
---
The reason Napier was on my must see list was because their business district was flattened by an earthquake in 1931, resulting in the downtown being rebuilt in the architectural style of the time, Art Deco. While there might be some Californian towns that exist mostly in this style, I found it pretty unique to walk around and experience a entire city district of pastel colours, sans-serif fonts and sharp geometry.
---
I had half a mind to spend the night in Napier, but I needed to make progress on the 5+ hour drive back to Auckland.
Embarrassingly merging right back onto the State Highway 5 which I took to Napier, I know I've only traveled in Canada/America, but you would think I should be better at it that this.
So do I.
---
Darkness would envelope the car within 30 minutes, leaving me to drive an additional 2.5 hours across this suddenly familiar mountain pass.
I left the highway in Putaruru for late night grub, but knowing I was getting close to the costly Auckland, I couldn't help but inquire about the rates at a fantastic hotel I just so happened to pass.
With a sweeping curved staircase and shiny dining room, it really is amazing that you can get a room at a place like this for $60. My room was bare bones and annoyingly didn't have a TV yet again, but there wasn't much time for that anyway. I cracked a beer and sat by the window overlooking silent Putaruru, but would still be asleep within the half hour.
---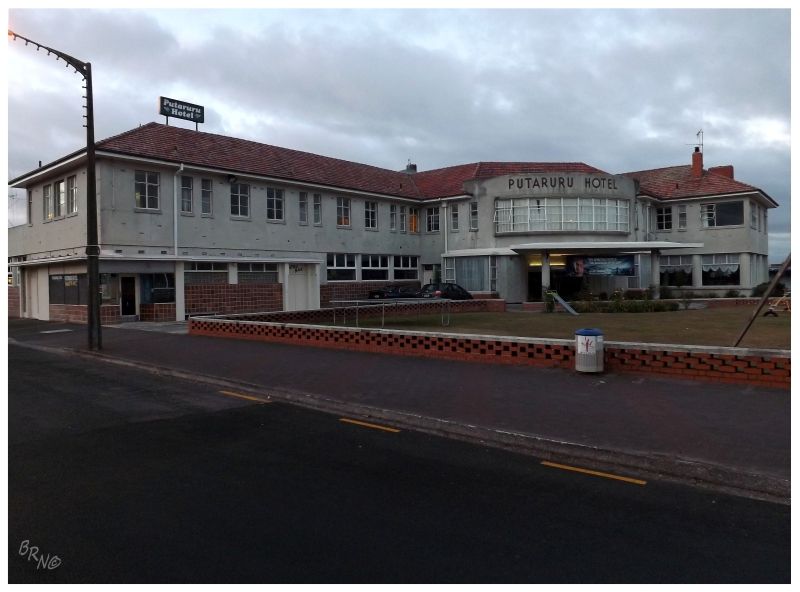 Having never been to England, the pictures and text I've read about the place leads me to imagine places like this in seaside towns. I suppose I don't have to hope they hang on until I get there anymore, because I was able to experience their character, uniqueness and commonwealth feeling in New Zealand.
I felt pretty odd coming back home and having my excitement with these hotels being one of the first things I rambled on about.
---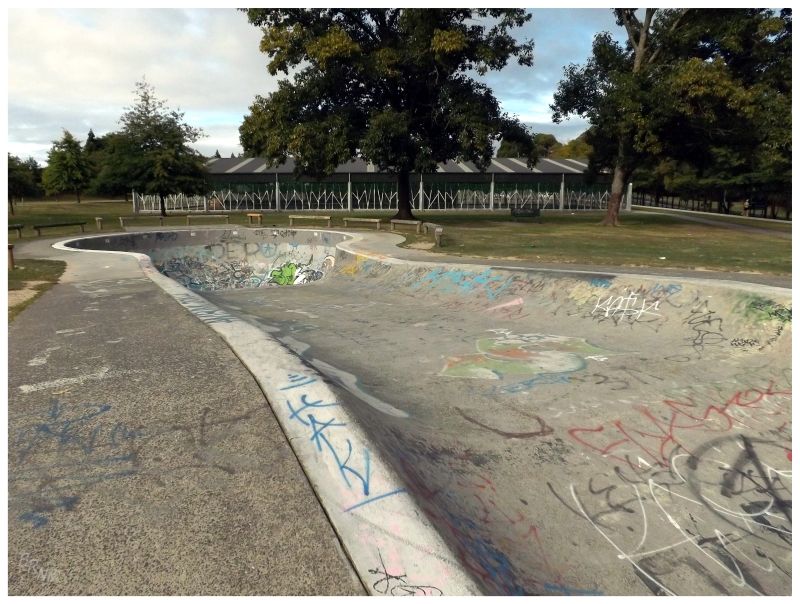 The next morning, knowing I'd never make it to Auckland early enough to avoid the incredible crowds I witnessed at their skatepark, I was happy to stop in the city of Hamilton with only a handful of other people using this park this early.
I fell a few times and was already incredibly sore from going from zero NF biking to twice-daily NZ biking, but I'd still have to give the Hamilton park a 7/10.
Although I really should deduct a point for the chavs who wouldn't stop heckling me until I left.
---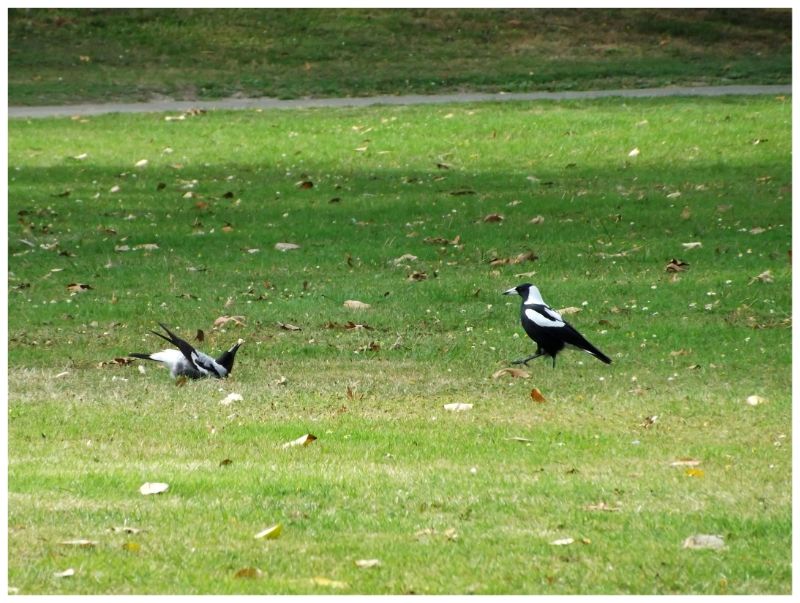 Walking back to the car, I noticed Australian Magpies in the field next to the skatepark.
I would later read a story about them swooping down at people and Ryan said it happened to him in Australia. Later in the week, one flew so close to my head that the boom from its flapping wings startled me.
---
I still had a bit of time to reach Auckland so I stopped for walk around Huntly, a small town along the Waikito River. This was mostly because I wanted to see some more exciting birds than the very common ones I had been seeing so far.
There was a pair of Paradise Shelducks, which I believe are quite common too.
---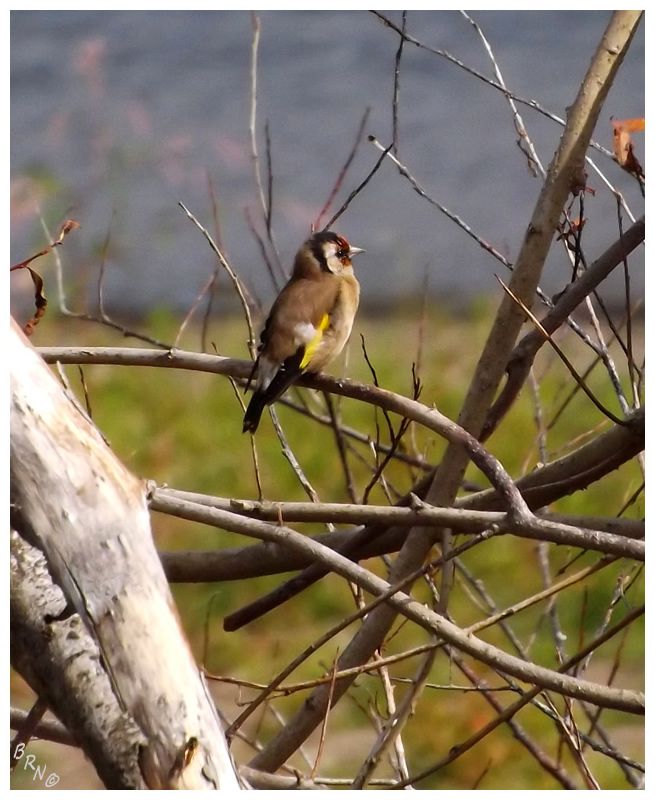 ...and the common European Goldfinch? Gosh dangit, I can't do anything right in this update, haha.
By this point I was about an hour away & went about returning my rental car. After getting turned around in Auckland for the better part of an hour, I would then spend another hour on the $16 bus to get downtown. Ryan had explained to me where his brother and dad were staying & I found the hotel with ease. Going up to Ryan's Dad's room, I learned that everyone was out on the hotel bar's 3rd story terrace, where I totally walked right past without I noticing them or vice versa.
Walking downstairs, I would finally join them for pints along the sparkling harbour.
Continue to Part 4!