I dug into my macadamia nut pancakes in a hasty fashion, knocking back coffee as an aid to get more food inside me. These macadamia nuts were local, as there's a factory you can tour just outside of Hilo. With my love for them in cookies, I knew I had to bookmark a breakfast spot which alluringly put them in pancakes.
They were delicious and such a great addition to a food item which you normally need to slather in syrup. So delicious in fact, that I put up with the cellular data roaming rates to let my roommate back home know about my fantastic breakfast.
---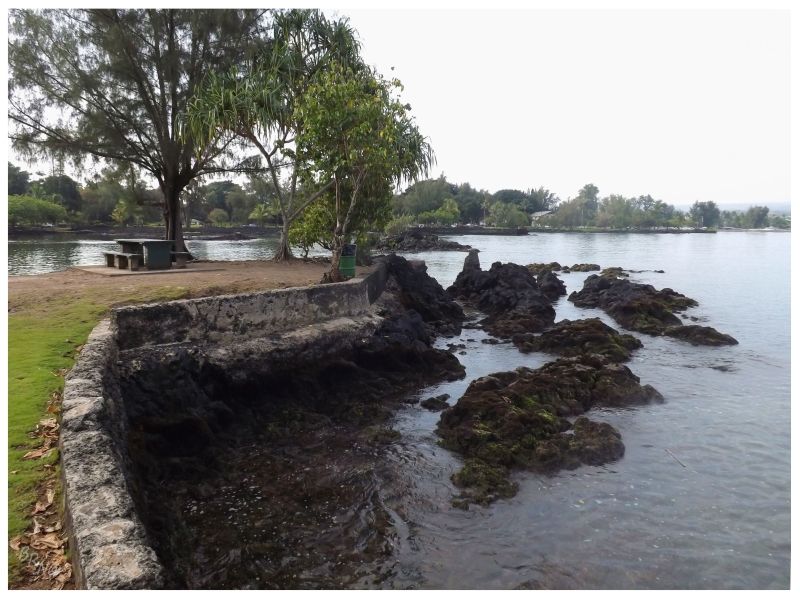 Fueled by macadamia nuts and ready to work off some of the early morning fog, I stopped at Coconut Island in Hilo, on another recommendation from a friend, and the fact that I like offshore islands connected by causeways.
It wasn't even noon yet & quite hot (I had slept with the sleeping bag off at MacKenzie State Park last night). Grabbing a bottle of water, I danced around the slower families and onto the island.
---
At the end of Coconut Island stands the stone ruins of the base of an old footbridge. You can climb up the 10 stairs and have a pretty view over your surroundings, although it wasn't very good for photography because of where the sun was located. Children & teenagers generally jump off of this 'tower' - and with glass-like water conditions today where passing kayakers said they'd never seen the water so calm - it would have been ideal. I was nervous enough in regards to just the crabs, so I wasn't about to jump off any tower into strange waters though.
Since there weren't any other people out here at the ruins today, I relaxed atop the bridge ruins and took it all in.
---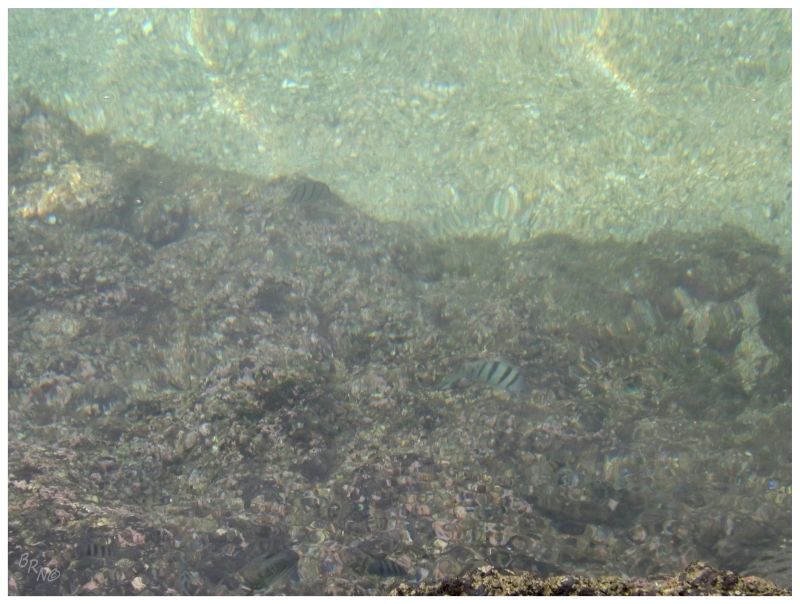 Climbing back down, I noticed colourful tropical fish swimming in the shallows.
(This is why I brought Christian's snorkel gear quarter way around the world...although I never found the time to use it.)
---
Coconut Island isn't the biggest island, so after sitting on the footbridge ruins, I had a 5 minute walk back to the car - except for delays associated with all of the shorebirds distracting me.
Unfortunately, this is a Ruddy Turnstone; a bird we get often enough in Newfoundland.
I assume he looks so sad because there aren't any small stones to turn over for delectable critters.
---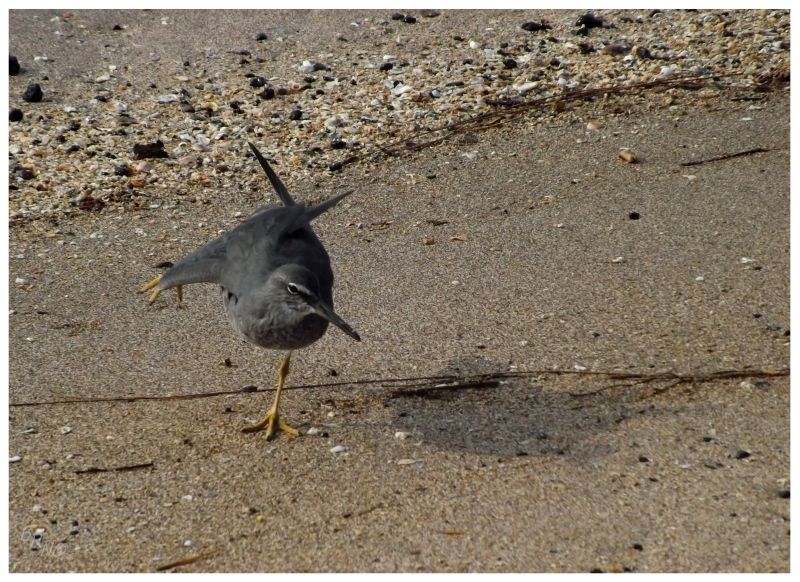 Now this...this is a (stretching) Wandering Tattler!
We don't get these back home & that makes me quite excited. He was just sitting down relaxing when I approached, so here he's getting up and preparing himself to move if I come any closer.
---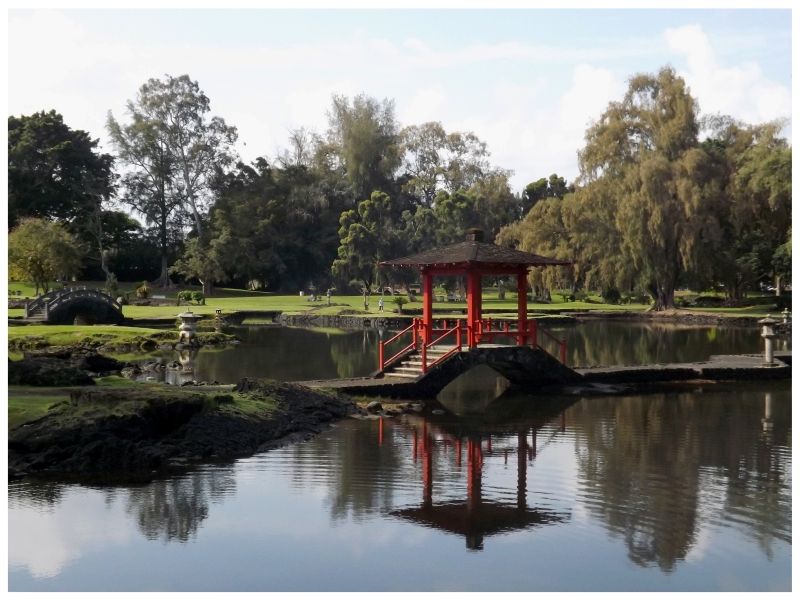 Back across the Coconut Island footbridge, you're right across from Liliuokalani Gardens, where I couldn't pass up a short walk around.
These Japanese Gardens were dedicated in 1917 for the last Queen of Hawaii. They built a Japanese garden here as a tribute to the Japanese immigrants who worked in the Big Island sugar industry.
I figured I'd be able to walk around and see some different birds (as well as stone bridges & lanterns)...
---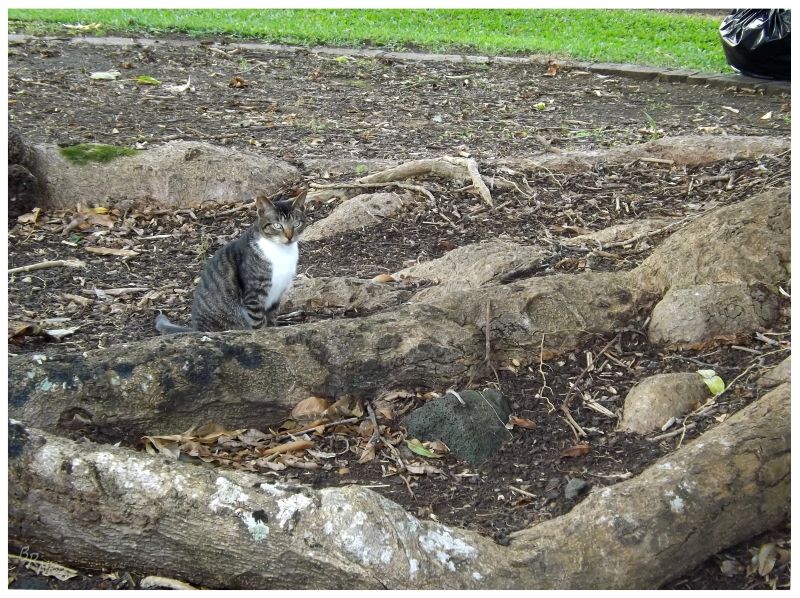 ...but you know, the gardens had killers about.
Eventually, after only seeing cats and Common Mynas, I headed back to the car and over to the University of Hilo-Hawaii. Their campus, in addition to the high school across the street, had a few fun things to ride. Nothing out of this world in terms of ledges or embankments, but enough to have a bit of fun.
After returning to my beloved Casa de Luna open air bar to watch the Jayhawks thanks to golf being cancelled due to lightning, I now had a bit of fire inside of me to attack the afternoon. I grabbed a coffee from my familiar shack and headed west on the Saddle Road out of town. Where I took the western end of this road to reach the Mauna Kea visitor centre on day 1, I was now getting a taste of the eastern section.
I hadn't given up on Mauna Kea. I had earlier went to the Salvation Army in Hilo, buying a coat and the only toque they had, a purple, girl's, Billabong snowboard toque with a brim, which I had to rip the brim out of so that I could stretch it enough to get it around my fat head. It still hurt my skull whenever I wore it.
I still didn't have nowhere near the gear to hike the 8-10 hours to the summit, but I resolved that I needed to ask various people for a ride until I found success. Seeing the highpoint of Hawaii was enough of a priority that I needed to go back. If I chose to be weak & afraid & not ask anyone if they minded a paying passenger, well then I deserved to have my day 3 afternoon wasted in Paradiseeeeee.
So I motored the rental up to the visitor center, parking it and then going to the washroom. Then drinking some water. Then browsing maps. Then browsing sweaters. Washroom again? Inspect the people of the lot again? Go back inside and look at merchandise again?
After 30 minutes, as I was really growing tired with my anti-social cowardice, I returned outside and noticed a middle-aged couple having lunch by themselves.
---
The German couple looked uncomfortable after I asked if they minded having a passenger. I got a lecture about how they rented a car and whether I knew that those rentals cost extra money (I did). I insisted that I was more than willing to pay my share or more than my share. I was told that they wanted to stay up there for hours, waiting for the sunset. I said that was totally fine & they wouldn't see me the whole time as I only wanted a ride. I gave the couple a few windows to tell me that they didn't want me to come, truly trying to instill that I didn't want to burden anyone.
With a bit of reluctance, it appeared that we had a deal. Apparently there was an orientation video to prepare people for gaining 4,000 feet. That was in a 1/2 hour and then we would be leaving. I went away and left them to their lunch, going to clean myself up in the washroom and prepare my backpack for an afternoon at 13,796 ft.
After the introduction video, where I didn't sit with them, I awkwardly walked up as they threw everything in the back of their SUV. Into the backseat I went & we were off. Away from talking to the bartender at Casa de Luna, this was by far the most human interaction I had in days, as the conversation flowed quite well in terms of our various vacations, the differences in Germany v. Canada and general life stuff.
The part I found the most comical was when we hit gravel road and the Germans said, "oh, you're from Canada, you must be used to these gravel roads." It's a good thing I like going to lighthouses in Newfoundland, or I would have made gravel road liars out of them, haha.
---
They were going up to the summit three hours early as there's an escorted summit tour where they go inside one of the 13 observatories on Mauna Kea. With an arid climate in the middle of the Pacific, and very little man-made light pollution, Mauna Kea is an ideal place for astronomy (they've approved a plan for the world's largest telescope to be built here by 2018.)
With 3 hours to lollygag around, how could I complain about a short observatory tour? The facts and the presentation were quite good as well, even if I'm coming up short trying to remember facts about the Keck Observatory seven months later.
---
Back outside, you could see six telescopes to the east. The big white one near the centre is the Canada-France-Hawaii telescope, huzzah!
Anyway, to go from tropical forest to arid deserts by driving is understandable; but then to hop in a car with some Germans and end up in a moonscape devoid of vegetation with giant telescopes everywhere?
I was almost left wondering where I made the wrong turn, befuddled with how I got here. Ever since landing at Kailua-Kona, I had thought I had Hawaii figured out & pinned down.
---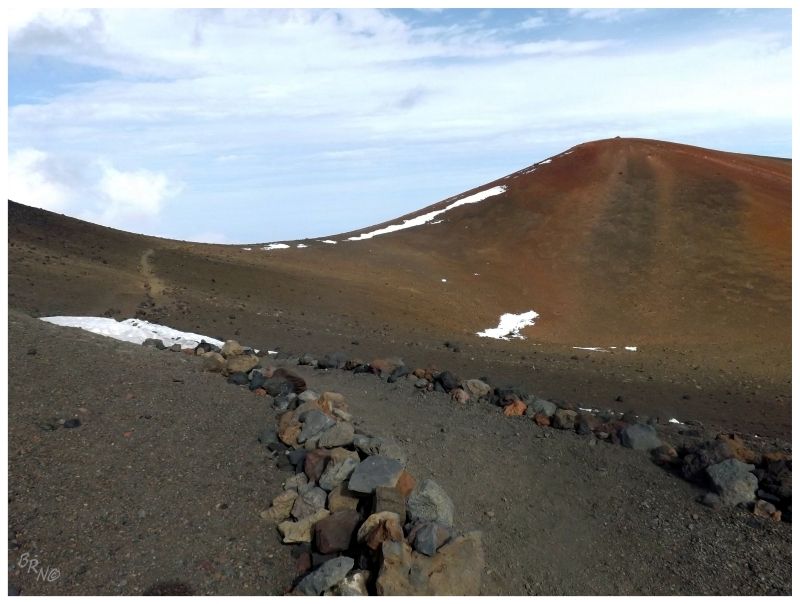 I reasoned that I should quickly go summit Mauna Kea for my 15th state highpoint, even though I had all the time in the world.
Whereas it's a 8-10 hour hike from the visitor center, from the observatory road at 14,700 feet it is less than 100ft in elevation gain and about 2/5ths of a mile worth of trail. Even though it has given me two updates worth of trouble, it is only ranked a 2/10 on the difficulty scale - on par with those grueling hikes of Michigan & Louisiana that I've posted here before.
---
I learned high altitudes give me trouble, when in Colorado my 6-years-my-senior friend made fun of me from 12,000 feet and up. So even though it was only 0.4 miles, I still had to, er chose to, take a break.
I obviously could have pushed through, but look at the view off to the north!
(It also might have been a bit sad if I got altitude sickness from 100 ft of climbing.)
---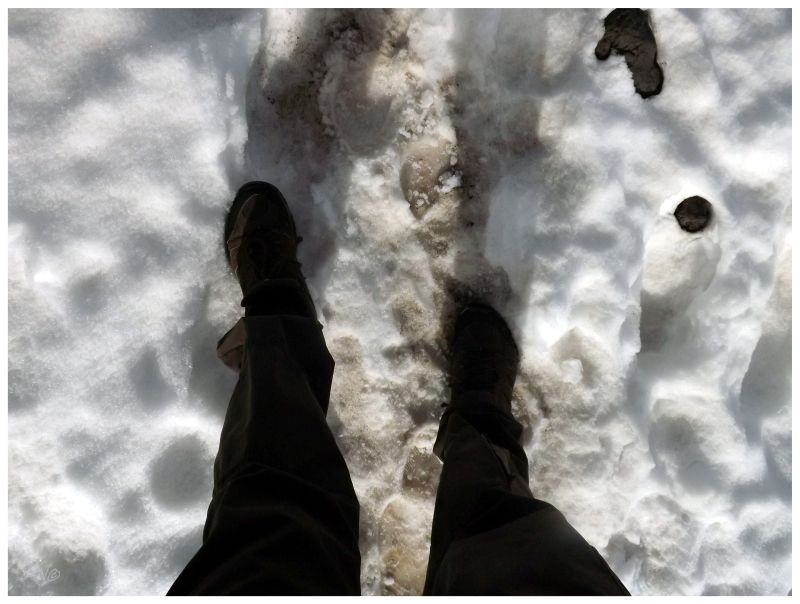 Plus there was snow! For all of my hate of the white devil, I have to admit I was amused to have flown to Hawaii and worked so hard to find myself atop the ~0.01% snow cover the island possesses. I even had to launch a few Hawaiian snowballs.
In January & February, they often get strong snowstorms up here, so I was also glad this was an amusing amount of snow, instead of a debilitating amount. (People sometimes snowboard at Mauna Kea in Jan/Feb).
---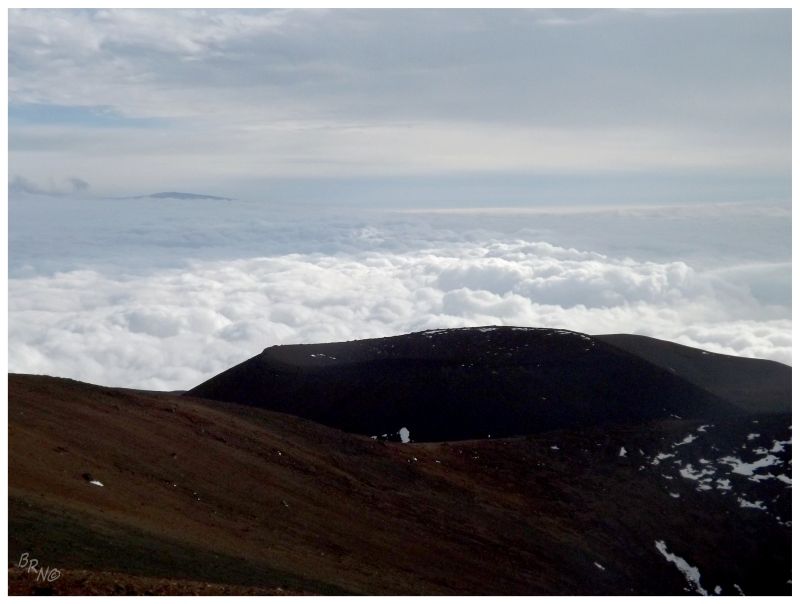 Looking out from near the summit, I was far above the clouds.
---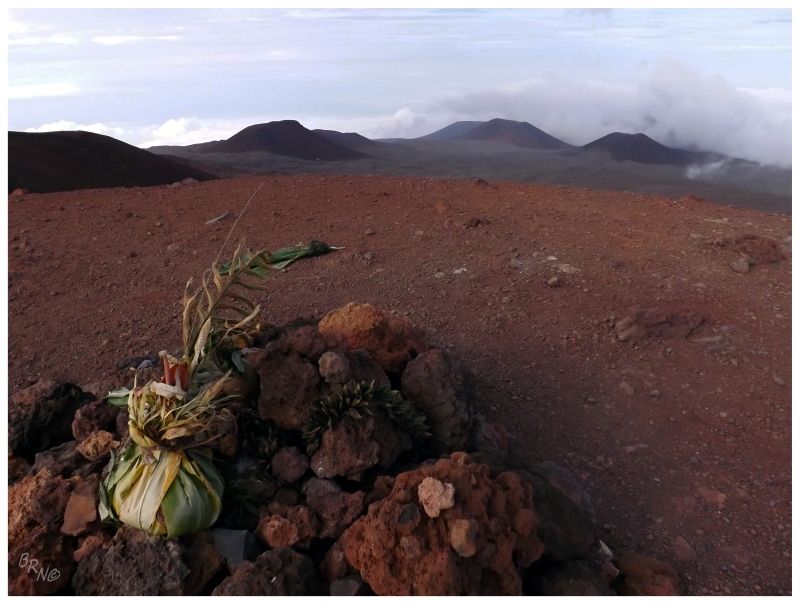 Highpoint #15! The highest point in Hawaii!
There are five volcano summits on The Big Island and all are considered sacred mountains by the Hawaiians. Prior to the white man coming to Hawaii, only tribal chiefs could visit them (often times carrying umbilical cords to dip in nearby Lake Waiau, to give the infants the strength of the mountain).
(I figured some history was in order with the ho'okupu (offering) picture above.)
---
I ate my lunch near the summit of Mauna Kea, then lingered about, moving to various ridges to see different views. Eventually going back down towards the observatories, I had about 90 minutes to go before sundown, so I walked up to one of the other observatories, but would grow tired and needed to rest. It was with resting that I realized the windchill and the temperature up here - I needed to move to where the wind would be blocked by an observatory (I obviously picked the one rundown, disused observatory.)
Reading my book for a bit, I realized that I needed to go for another walk to generate some heat, as my feet and face were starting to get really cold. It was just around this time that tour buses started to pull up and unload tens to hundreds of people. The Germans were sitting at their SUV and gave me the raised eyebrow expression at the cold temperatures and the increase in people - we had finally bonded.
---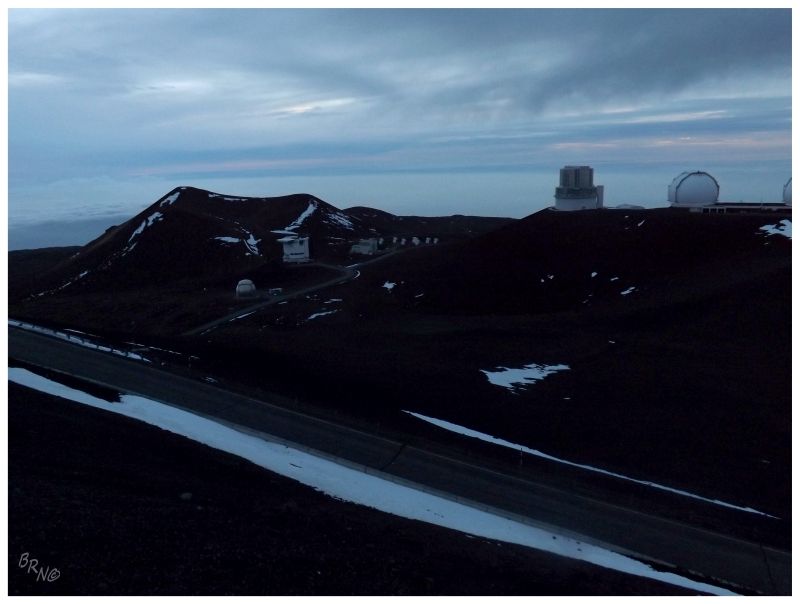 The sun would eventually set in an unimpressive fashion. There are enough pictures to prove this place has spectacular sunsets, but we simply had one of those days where it became overcast near the end before fading into darkness.
It wasn't even that dark before the Germans had had enough. Slowly rolling back down the winding Mauna Kea road, we started to get on the same page in discussing how certain things are better in Europe and our mutual love for travel. I truly think (and hope) that I didn't ruin their visit, judging by what eventually came of it all.
Pulling up to the visitor center, I thanked them 5 times and handed them the agreed upon $60, before being told to donate it to the visitor center donation box. I was questioned about whether I would actually donate the money if asked, which I didn't like, but whatever's whatever.
So, after donating the money, I darted through the hundred teenagers outside on a high school trip for night stargazing.
Driving down the mountain, there was a giant parking lot where Mauna Kea road meets Saddle Road, which I deemed quite suitable for car camping. I had been texting friends back home, and even though it was only 9 o'clock here in Hawaii, I was about to go to bed before them as they were still at the Corner Brook Kardinal Offishall show (at 3a.m. or whatever)
Heck, even one of my friends of a friend was being hit on by Kardinal's right hand man!
---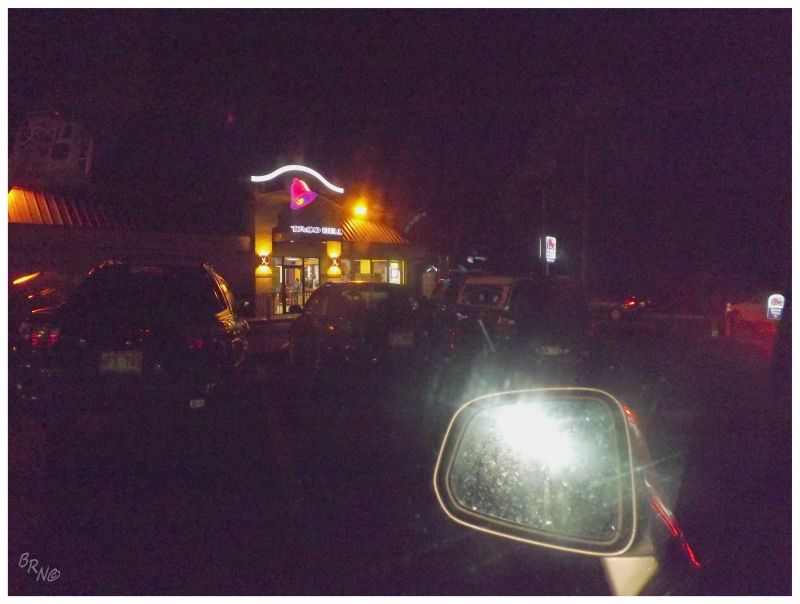 There were a few people at said parking lot and really, it was only 9 o'clock. I decided to climb back out of backseat and head into Hilo. I had plenty of trail mix and granola bars, but I had seen a Taco Bell while driving earlier and I was now fixated with getting back to her.
So yeah, with all of the exotic, interesting food in Hawaii, I had Taco Bell. This doesn't shock anyone.
From there, I went south on the same highway I had driven every single day I had been here. The catch was that I merged onto the HI-11, going westward into the night.
Continue to Part 4...