There was that familiar feeling of getting up at a quarter to four to make one of those early flights which leave my home. I would be leaving this snowy, cold land - which it still was in CB, don't let that last update fool you - for a place where I wouldn't even need a toque. Nor a parka or thermal underwear. Downright preposterous conditions for late March!
Jump ahead a couple of hours and there I was, having a beer in San Fran and carefully watching the clock. Eventually boarding the flight to Kailua-Kona, I wasn't with the same middle aged people I always leave Newfoundland with; instead I found myself amongst families consisting of privileged children and whitebread, stereotypical parents.
The steward was incredibly over the top and very excited about going to Hawaii, even as I heard the stewardesses agree with our confusion in that the flight crew would be immediately flying back to the mainland. "Only five hours to PARRRR-A-DISSSSSSSE", the speakers emitted as I noticed the excited steward had found the mic for the cabin. "Oh good, I thought I got on the plane to Detroit, ha ha ha!" a Real Housewives of San Fran-looking woman smugly emitted to her fellow passenger from her first class seat. I kept walking in a disgusted stupor back to coach, half waiting for the sound of champagne flue clicks.
I was weirded out & wondered if Hawaii simply wouldn't be my cup of tea. I had to get there to see every American state, but would it be that similar place which everyone loves, but which I could go without? I threw on my headphones and watched Skyfall as I had had enough, even though I'd already seen the movie twice. I needed to get away from this malarkey.
---
"Welcome to PARRRR-A-DISSSSSSSE!" the overhead speaker whispered as I woke from my slumber. The steward would then carry on about how much of a pleasure it was to bring us to "our paradise" and our "live-changing location"; while I peered out of the window and finally noticed a meagre strip of lights out there in the Pacific.
I needed to get away from these people, that was for certain. Much like when everyone is so excited to get back to Newfoundland at the Deer Lake Airport, I danced past and grabbed my bags in a hurry. I would wait for a while before the rental car transit bus came, but eventually I had my own small, rented SUV beneath my feet, my luggage in the back & finally, freedom.
I had booked a motel for this first night as I knew I'd be getting to an unfamiliar land at 10 at night. Merging onto the highway, the radio played Kendrick as I drove with the windows down and the shores of the ocean off to my left. I had went from a parka and gloves, to driving comfortably at 10 at night with the windows down. Even though I despise driving with the windows down, I had to have this.
The drive to the motel was only 50 minutes according to Google, but it seemed a lot longer with having already traveled from Newfoundland to Toronto to San Fran to Kailua-Kona. Eventually reaching the strangely dark building, I retrieved my room key before going across the street to the Chevron for some Kona beers. I had looked at this village on Google StreetView prior to coming and knew there wasn't much else worth walking the streets near for at a time near midnight.
Eventually turning off the local TV news, I peered up at the popcorn ceiling and it hit me: I was laying in a bed in a Hawaiian motel room.
Damn!
---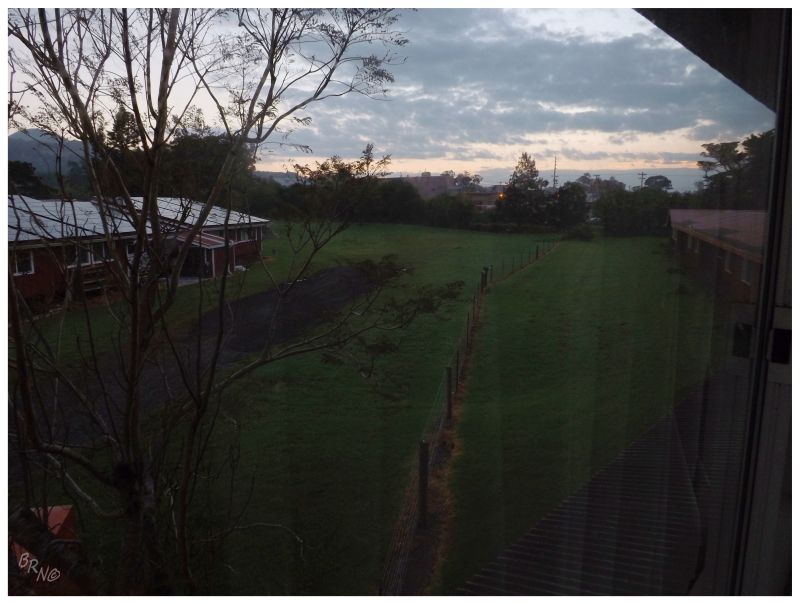 Since I went to bed quite early, and in addition to the time zone changes, I easily woke up before the sun.
Going outside, there had to be a 1/2 dozen cats creeping around the motel which I obviously tried to photograph. A fellow motel patron came out and was confused, then figured out what I was doing. He asked how my stay was, then seem dejected when I didn't have the same stay involving insects and hassles that he seemed to have.
I was already ahead of the game.
---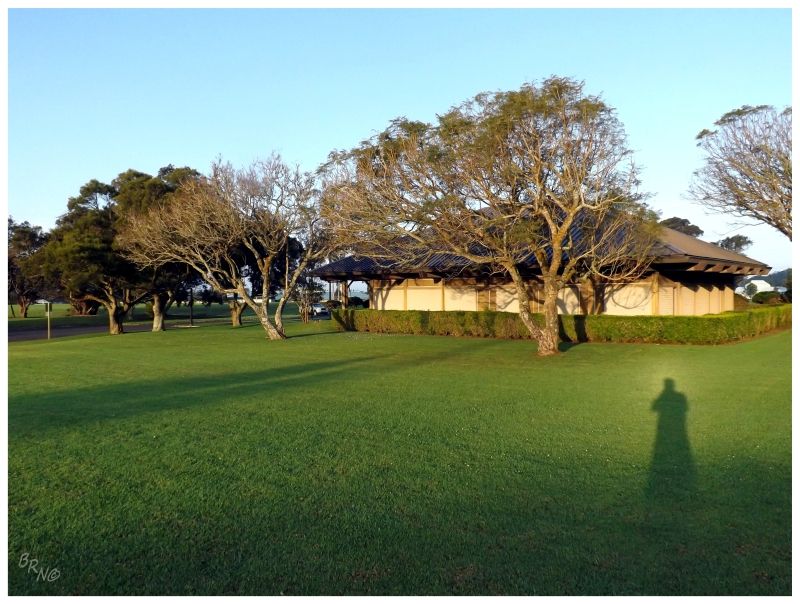 Personally, whenever I reach an exciting location and am overwhelmed with options, I tend to start slowly and aimlessly; this time simply parking the car and wandering around the courthouse grounds in Waimea, the town where my motel was located.
I already had a breakfast from the local bakery, so with that done, there was no need to hurry.
---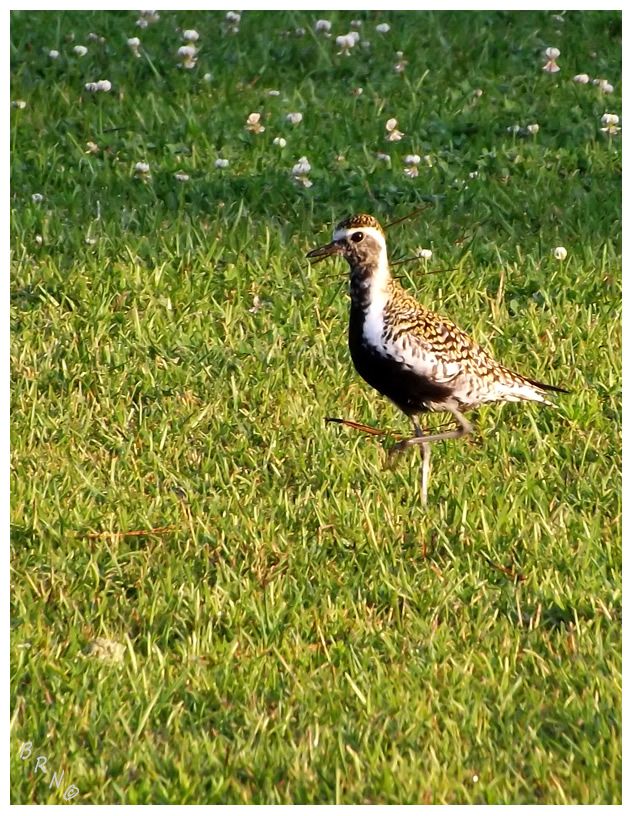 A Pacific Golden Plover poking along upon the manicured lawn.
---
Eventually a groundskeeper would approach me & ask what I was up to. Having only an explanation of photographing birds in a spot where only common birds likely appeared, he found it quite strange. He was nice enough though, although his temperament changed to sadness when I told him that I'd be spending such a short time in Hawaii.
This is something I would encounter several times on this trip, as it wasn't enough time for even one single Hawaiian island in the eyes of these proud people.
After stocking up on groceries at the local Foodland in Waimea, it was time to leave Waimea behind.
---
The reason I was stocking up on food was because I planned to head to the center of the island and get the highest point of Hawaii in short order.
I wondered to myself about whether I would I ever be back in Hawaii? More specifically, would I ever be back to the Big Island instead of Oahu, Maui or Lanai?
Priority #1 of this trip had to be the highpoint of The Aloha State.
So I drove out of Waimea and turned onto a road heading south towards the center of the island. The landscape changed from arid farmland to a lush area with rolling hills and hawks flying away from the highway; which would have almost reminded me of Arkansas, if it weren't for the strange trees nearby and bleak hills off in the distance.
I would get out and take a few pictures, but being surrounded with mostly private property, there wasn't much wandering to be had.
---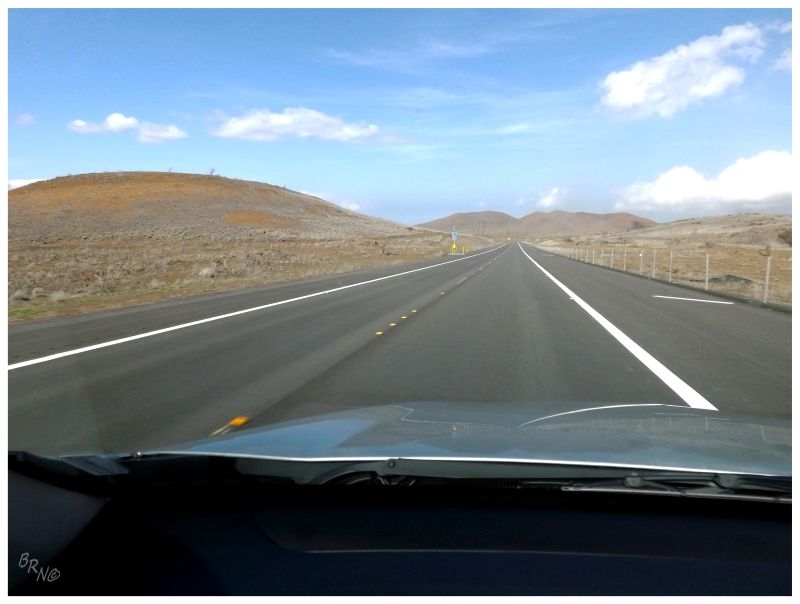 The drive up to the highpoint of Mauna Kea is a constant battle of your gas pedal against elevation. The view eventually turns to visions similar to what you'd expect on Mars, once you've left behind all of the grass, crops and trees at about 5000 feet or so.
---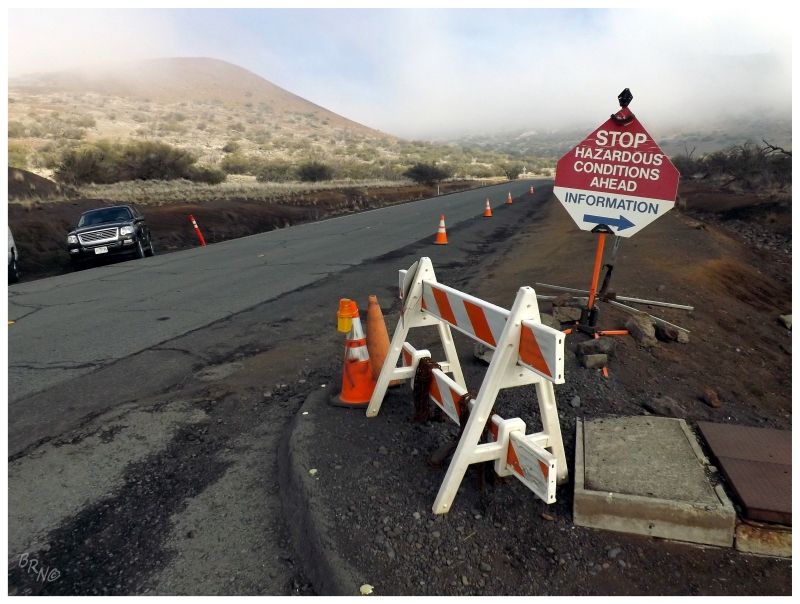 What makes Mauna Kea a challenging highpoint is that the road is sketchy after the visitor information center at 9300 feet. There's only one, overly expensive, local rental car company which allows you to drive beyond this point, and even though plenty of people claim that you can make it just fine in any old car, when you pull up to the visitor center, you know nothing of the road ahead & you're unsure if you want to risk your insurance waiver to drive up to the summit.
And so, since I'm sort of anti-social, I had plans to hike the 8-10 hours that it takes to get up to the 13,803 foot summit, instead of asking someone for a lift. The problem came when I reached the visitor center this day & found how incredibly cold it was. I had researched this previously & knew that it was occasionally cool here, but it was downright frigid this late March afternoon. There was simply no way I could hike 8-10 hours with the meagre, non-polar clothes I packed in my carry-on.
I sat around briefly, gauging the surrounding people in terms of possibilities for tagging along up to the summit. I only found a group of hippies, who I was certain would write me off as a square bird and laugh - so soon enough, I threw my stuff back into the car & returned toward Waimea.
I guess Mauna Kea will have to wait for that eventual dream year where I'd come back to Hawaii with my fiance or whatever? Whatever.
---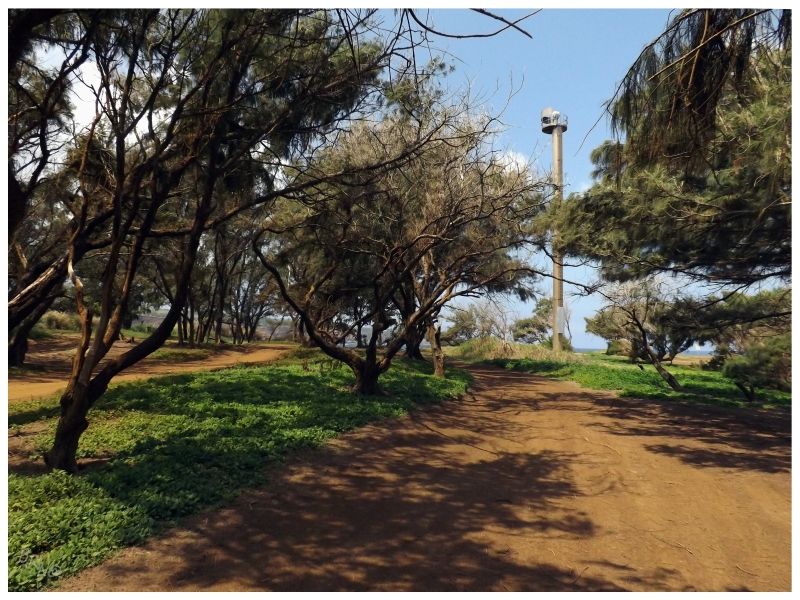 Returning to Waimea, I followed that similar highway back to Kailua-Kona, but then turned north on HI-270; following the coast with a beautiful view over the Pacific (even if the road was narrow and twisting to the point where I had a hard time appreciating it).
I would eventually leave the coast into a moderately-forested area with heavy farming activity; then into the village of Kapaau composed of small houses like the ones your grandparents lived in, as well as good handrails cascading down the falling hills of the town. I noticed a sushi place amongst all of the houses, situated in a 2-story building with a wooden porch like you would see in a cowboy movie, which satisfied all I required for my first real meal in Hawaii.
It was nothing too exotic - and I'm sure y'all living in real cities can get sushi quite easily - but for me, I was all smiles with having a tray of delectable, seemingly authentic take-out sushi on the passenger seat as I moved along.
Anyway, one of the reasons I came up to this northern shore was for a single location with both an old mill and a lighthouse. Parking the car and concerned with all of the vehicular smash & grab warnings, I stashed my true valuables in odd places so hopefully they wouldn't be found. I had a 3km walk ahead of me as I moved past worn mill buildings and on to a dirt track which my rental car wouldn't have been able to handle.
A Hawaiian girl with multiple tattoos driving a Suzuki Sidekick soon came around the bend and I obviously moved out the way; smiling, I was received with the raised eyebrow head nod.
That was quite the reminder that I'm not this cool shaka-brah, surfer dude; but soon after, I almost dropped my Powerade cap, but had the wherewithal to kick out my foot and boot it back up before it hit the dusty ground, elevating it basically right back into my own hand without any repercussions. Woo ha!
---
Oh god, so yeah, I made it to the lighthouse. In all of my excitement though, I've now learned that this is just a modern tower & the historic tower was demolished in 2009 as the coastline had eroded 60 ft. in 70 years (punctuated by a six foot loss in a 2006 earthquake).
So as it goes so far: Hawaiian Lighthouses: 0.
---
The reason I didn't pay a greater amount of attention to the history of the lighthouse & whether it counted, was that you had to park at an old mill to hike to the lighthouse. So the only thing I heard was "park at old mill buildings; hike to nearby lighthouse" and I was sold on this place being a must see.
Once I made it back from the light tower, I saw that another group of hikers had since left & that the Suzuki Sidekick girl was also long gone. Clearly, it was time to go about skulking around these buildings, even if I didn't see too much that was wide open.
---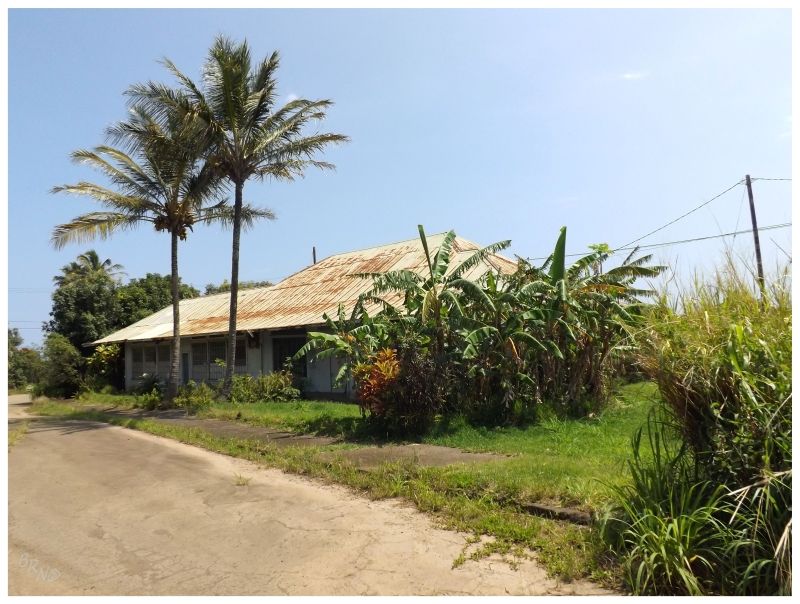 Things weren't looking very good in terms of breaks in the vegetation or open buildings, but things got even worse as I walked up to the third structure and peered into the window to see a man with his back to me, working away on a computer in his office.
Time to skedaddle! Thankfully said gentleman never noticed me.
---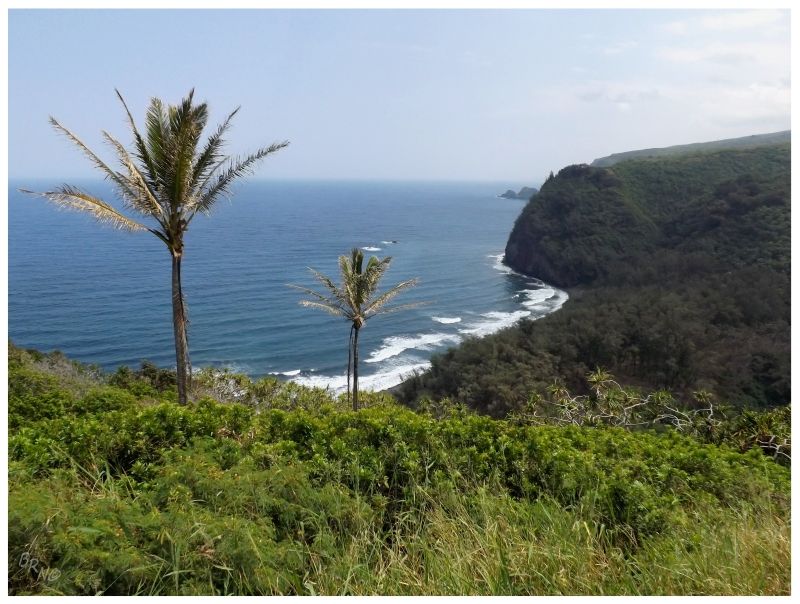 Just 8.5 km0 up the road from the mill/lighthouse, Polulu Valley wasn't one of my must-see's, but it was so close that I couldn't turn it down.
Whereas that lighthouse location had the feel of being alone on a tropical isle, Polulu Valley was a whole different world, where I had to park a good 1/4 mile down the road since there were so many cars.
---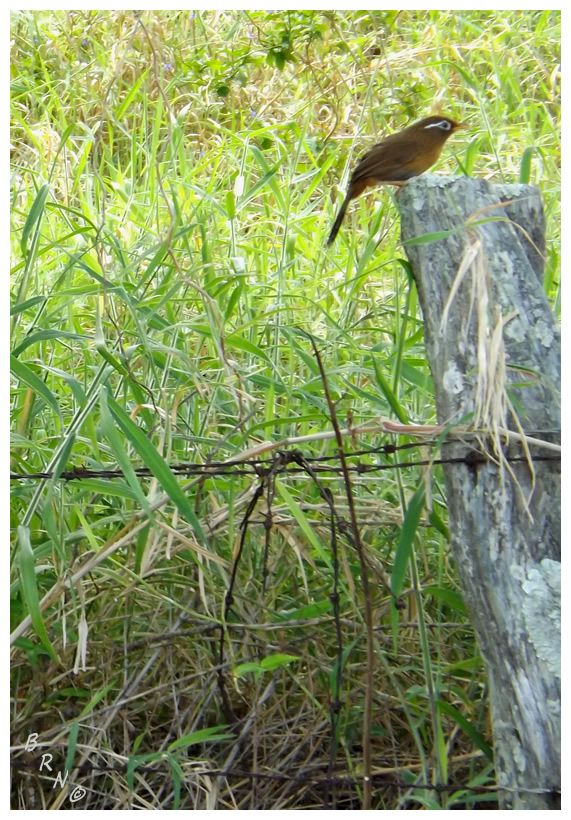 A Chinese Hwamei, or as I prefer, a Melodious Laughingthrush, which was hanging out on a fence pole where I parked my car.
---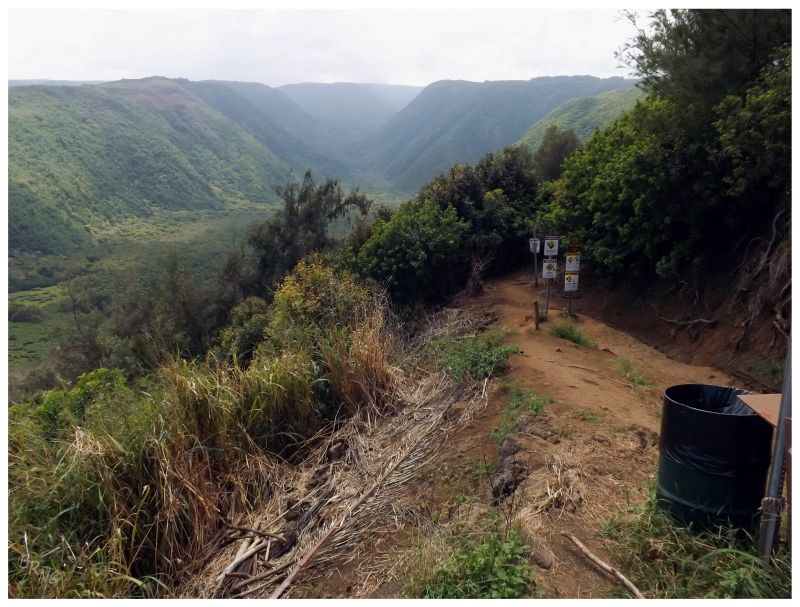 I had no intention of completing the hike to the valley floor here, but after seeing a few people finishing who had 20 years and a 100 pounds on me, I decided that it couldn't be all that hard & that I should probably just do it.
---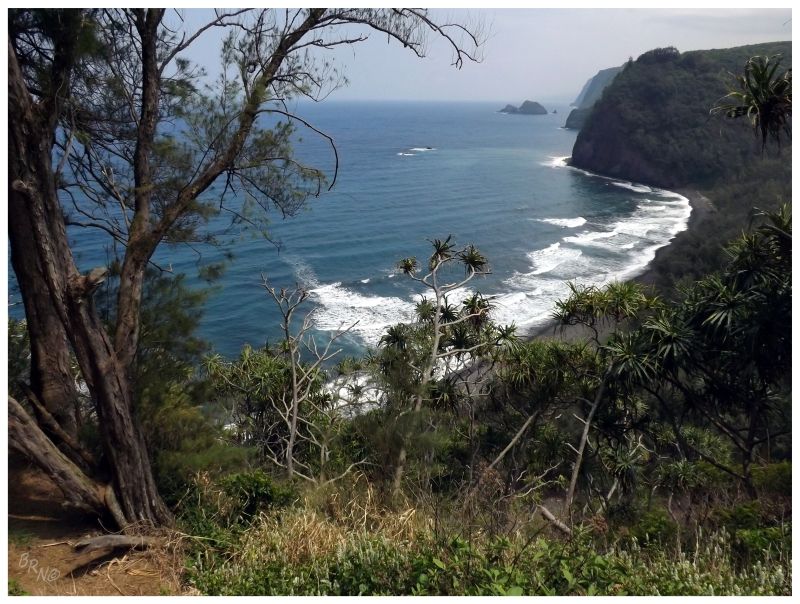 Oh jeez! It was all worth it...there was ruins of something in the forest!
(*Exploring in the forest might have had to do with needing to use the washroom after drinking so much water, thinking the trail would be more difficult.)
---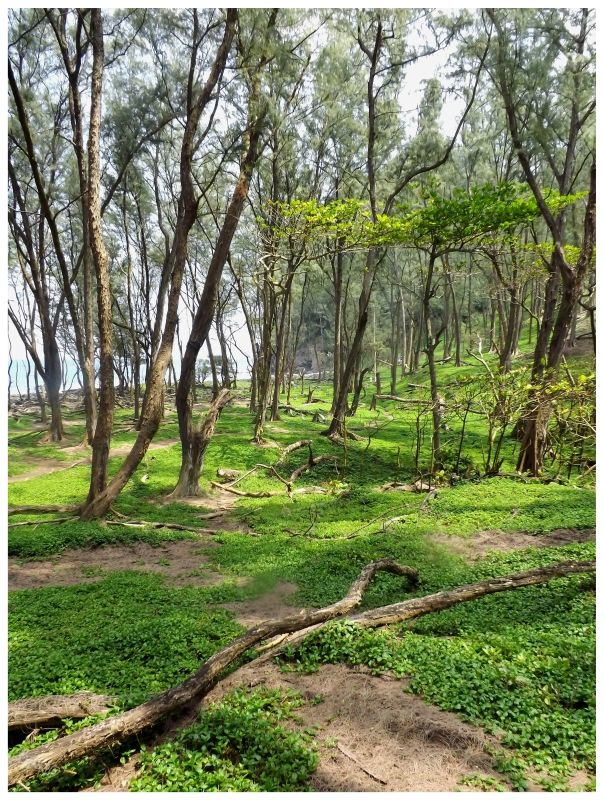 There were so many people swimming & sunbathing on the beach, that I only ended up with forest pictures.
The best view was from the path anyway.
---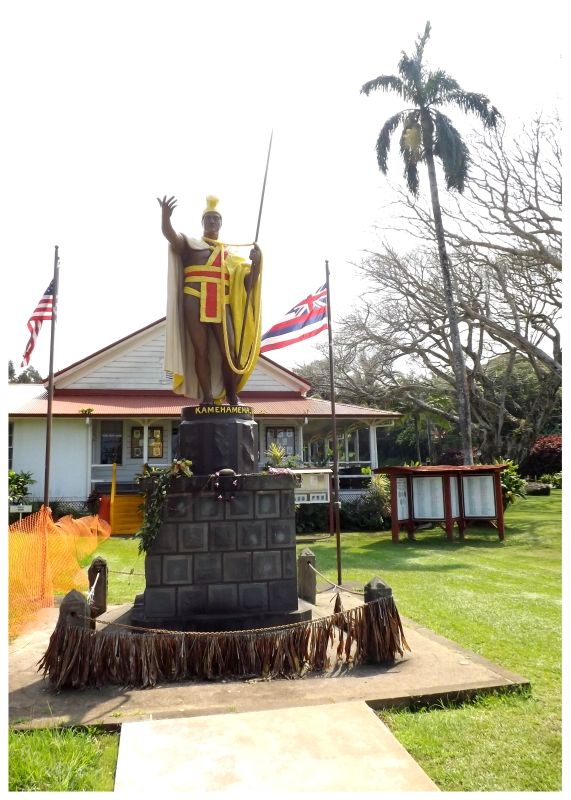 I stopped at the civic center back in Kohala because I wanted to see the statue of the king who founded Hawaii.
I was particularly interested in this because of the statue's strange history. Originally commissioned in 1878 to be built in Florence, Italy, it wasn't until 1883 that it was put on a ship headed for the Hawaiian Islands - but that ship wrecked off of the Falkland Islands and a 2nd statue had to be created. In the meantime though, the Falkland Islanders recovered the original statue and sold it back to the sculptor. He ended up sending both of these statues to Hawaii and one went in front of the seat of government for the Kingdom of Hawaii at Honolulu, and the other was placed here, near King Kamehameha's birthplace.
I was excited to see the one which ended up in the South Atlantic Ocean off of the Falklands, unknowingly stopping at the non-shipwrecked one on this day.
---
The dramatic valley I hiked down at Polulu prevented me from following the coast by car. I had to return to whence I came, driving a highway more inland, but still returning to Waimea where I had my motel last night. From there, I followed the highway east to Honokaa, where I could find a coastal road towards the valley I was targeting for the afternoon.
I only stopped briefly in Honokaa, using the internet at the library after registering to be a card carrying member of the Hawaiian Public Library System and then going to their straight-from-the-1940s Ace Pro Hardware to replace my ratchet the American TSA agents confiscated at the airport since it was longer than 6 inches.
Driving along the northeast coast back in the direction of Polulu Valley, this coastal road met up with the valley on the other side, at Waipio Valley. If you're wondering why they couldn't build a loop road, you may be able to gather that from the previous pictures, but also look at the incredible terrain of this area on Google Maps. Point F is the Polulu Valley I hiked down, Point G is this Waimea Valley where I now found myself.
There are trails which go from valley to other valleys, but alas, I wouldn't have time for that. It's a good thing too, as they said if you camp too close to the beach or rivers and the waters rise, Hawaiian centipedes will retreat from the shore edge and clamber over anything in their way!
---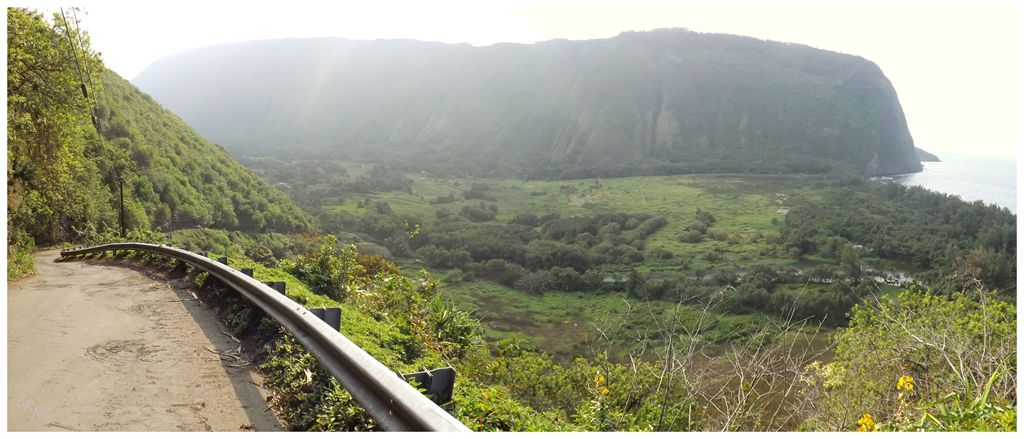 Anyway, there may look like there's a road down to Waipio Valley here, but it's a rough road at the start, had an incredible angle & never really had anywhere to turn around if you changed your mind. If you didn't have a 4x4 vehicle, they highly recommend parking and hiking down.
So why was I so set on seeing this valley?
Well, this is the valley they come to...AT THE END OF WATERWORLD! :O
This is the point where Gregor figures out that the chinese characters are coordinates tattooed on the little girl's back & so they sail their balloon in this direction, finding the upper kilometer of Mt. Everest (above)!
---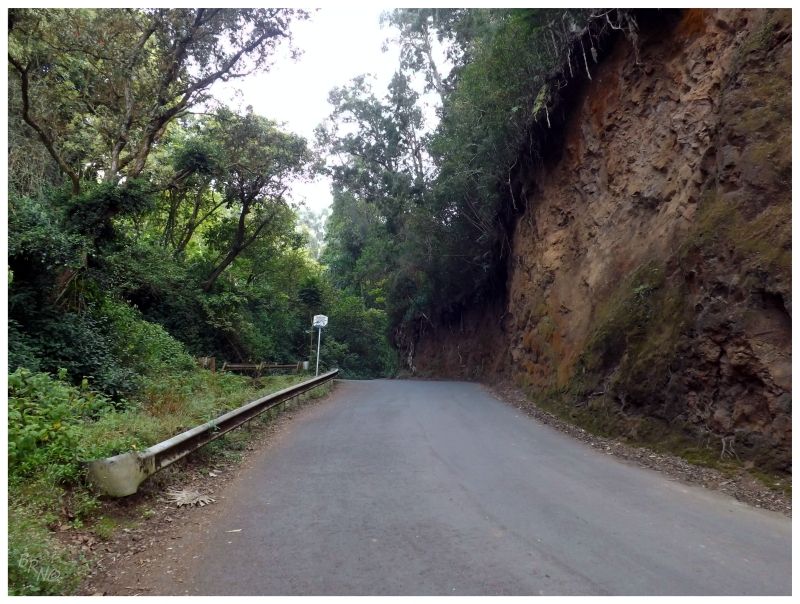 Unfortunately for me, this road was far more difficult than the path at Polulu Valley. The very few people I passed were in incredible shape & I had already consumed a huge percentage of my water, just walking downhill and trying to resist the energy which wanted release in full speed running. Even as I traveled down only a kilometer of the road, there was still so much to go & even at the bottom, there was a fair hike to get to the beach or around the valley.
So I saw the Waterworld Valley, but I did not explore it.
Much like Kevin Costner The Mariner, I had to get going & couldn't stay.
---
The day was getting into the evening by this point & I needed to think about where I was going to sleep. Back at Honokaa, the city where I bought the ratchet, I only had 41 miles to go until I reached Hilo, the major city of the Big Island. I didn't want to sleep anywhere in the city, so I needed to find a place somewhere before 41 miles of travel were traveled.
A sign towards Laupahoehoe County Park seemed promising enough, especially as my Fodor's Guide said that there was camping there.
Even the campground access road from the main highway was incredible, as I had to go mostly between 15mph and 25mph, while the narrow road twisted and turned in front of houses and down to the craggy shore. This was a great location, but much to my chagrin, the system for camping was ridiculous, in that the only way to get a permit was to go online & print one out. Really? They couldn't have a drop box and paper permits with the trust system? I couldn't camp here simply because I didn't plan it in advance? Would someone really come and check for permits? Couldn't I just pay them if they showed up?
I wasn't amused, but I also wasn't in possession of an excess of sunshine. I needed to get moving if I hoped to avoid the last resort of getting a hotel in Hilo.
---
I knew of some sugar mill ruins nearby, and while I worried that this might be the party spot on a Friday night, I thought it was worth a quick look. It was here that I learned of how the main highway is higher up from the coast & that you can get off at any number of places and curve multiple switchbacks down to the shore; through thick forests, aged infrastructure and into more secluded locations.
As you can see in the above picture, there were some tents set up, with surfers drinking Steel Reserve 211 and enjoying the last moments of sunshine. There was another family nearby with a giant picnic table, eating & drinking & being merry in the cleared space before the mill.
No one seemed to pay me any attention as I pulled up and parked beneath the bridge, but would that change with nightfall and further drinks, right?
---
I exited my rental and sat alone at the shore beneath the bridge for a bit, watching the surfers hit the waves where the river met the ocean. Returning to my SUV, I hemmed and hawed until I threw caution to the wind and went over to ask the family what was up. The head of the family looked at me like I was a bit of a square, but once I asked him about sleeping here, I think he figured out that he can't judge me by my book cover, saying that no one would bother me at all.
Sweet.
I read and watched the sunset from the shore until it grew dark. It was still fairly early, so I had a few beers and read by flashlight until I finally felt like going to sleep. Climbing into the back of the SUV and adjusting my clothes into a bed, it would take me a while to fall asleep. I woke up with a few visiting cars passing by, but no one ended up bothering me & no cars even stopped very close - I eventually slept through the night.
I never got close-up pictures of the sugar mill because of the thought that the surfers would mind, but I did acquire a great sleeping experience beneath this sprawling highway bridge, somewhere beside the Pacific, alongside sugar mill ruins from another Hawaiian time.
Continue to Part 2...