I would wake up a handful of times as I slept in my rental. I wasn't especially tired from activities or poor sleep in the motel, so as cars pulled up for whatever reason, I kept stirring and checking on what they were doing.
Finally enough time would pass and even though the valley wasn't even illuminated, I fired up the rental and moved along. Out on the highway without hills surrounding me, the early morning light coloured the countryside.
---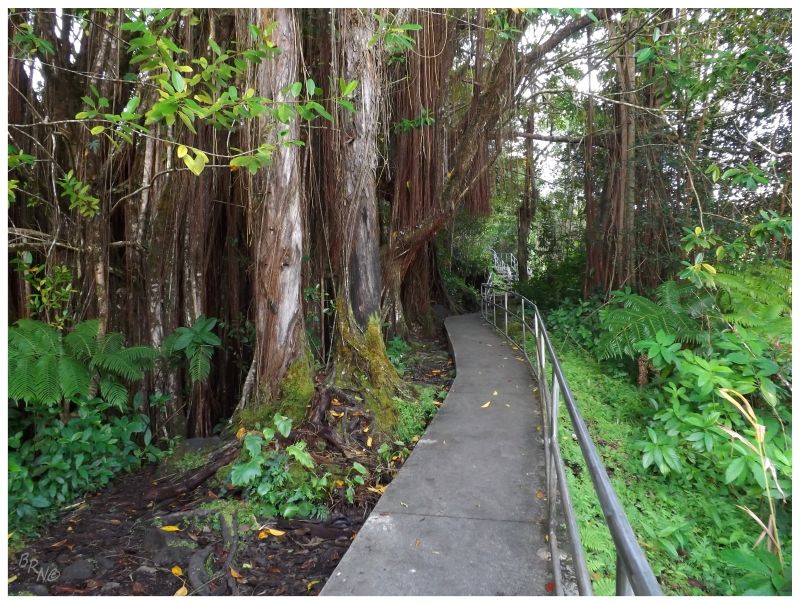 I arrived at Akaka Falls State Park within a 1/2 hour. This closeness played a role in coming here this morning, as I didn't have it marked as a priority, but noticed it was a quick, recommended activity in the travel guide.
---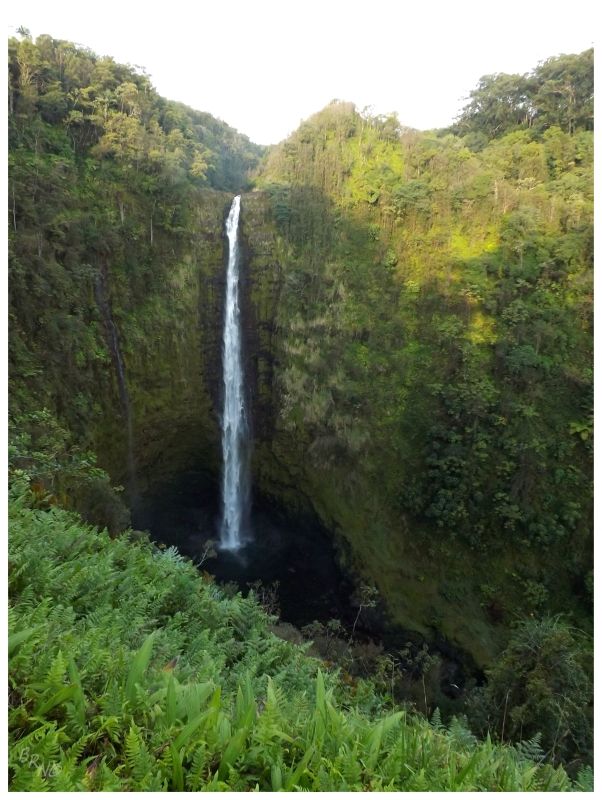 There was one guy who beat me to Akaka Falls, but by the look of him when he left his car, I concluded he must have slept outside the park gate.
I dawdled on the short path taking a picture of a cardinal, giving him enough time to eat his breakfast and enjoy the view in solidarity. Eventually I passed by, appreciated the waterfall for a few moments, then headed back on my way south.
Driving back towards the island's main ring road, the road to Akaka Falls felt like a country lane. I couldn't help but smile as some dude gave me the shaka-brah hand gesture when our cars passed on the rural route.
---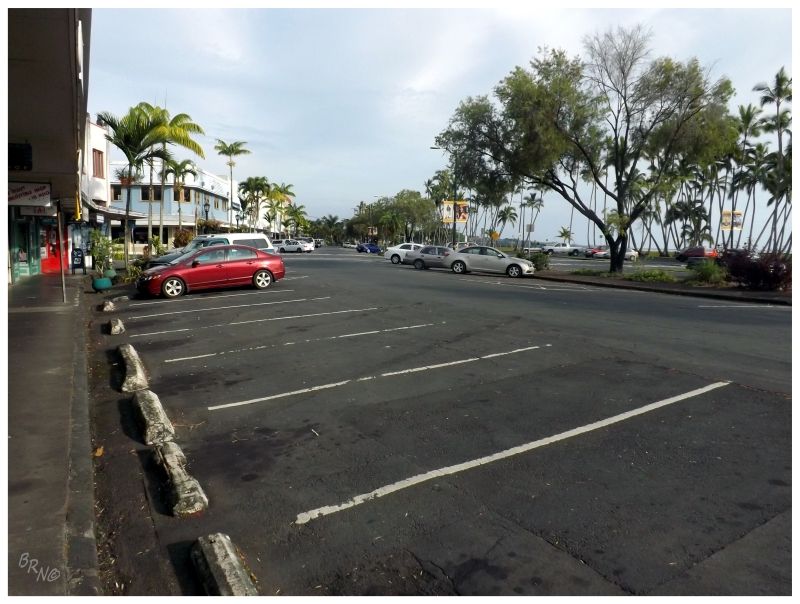 Surprised that I survived the 10 minute hike prior to breakfast, my food-starved self would be in Hilo shortly after leaving Akaka Falls.
Hilo is the biggest city on Hawaii's Big Island, with a little over 40,000 people.
---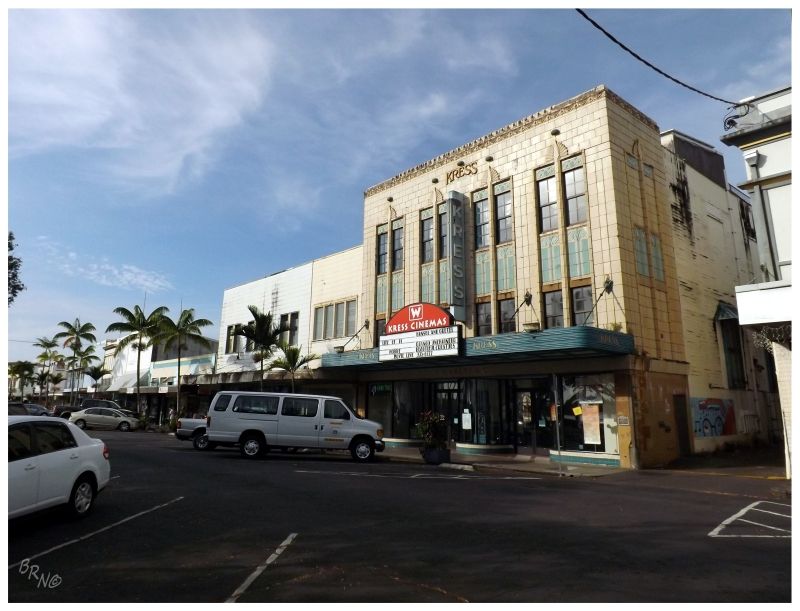 As it was still early, it was really nice to stop at a little coffee shack & then explore the city on foot.
The other Hawaiian places I had been so far could hardly be considered towns, so I was wholly enjoying the exploring of an actual city with Pacific flavour.
---
Of course I had to get the lighthouse in Hilo, even if Hawaii's lighthouses (for the most part) are uninspiring, concrete things like you see above.
Crossing back across the expressway, I celebrated Coconut Point Lighthouse by grabbing some breakfast. At a walk-up breakfast spot, I noticed more exciting options than usual and was blown away with the combo of white rice, eggs & chorizo sausage! All three ingredients which I could get at home, but had never seen presented for breakfast before.
The meal was tremendous. I think I might have ranted about this breakfast the most, whenever people asked me about the food in Hawaii (although I do realize that to be a bit ridiculous).
White rice, chorizo & eggs for breakfast in CB soon.
---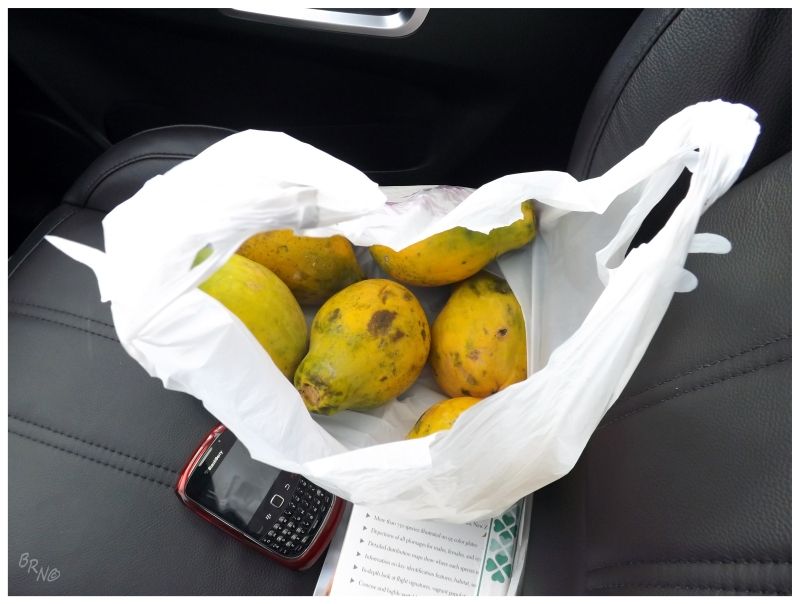 In addition, the breakfast spot was across from the farmer's market, where I got six papayas for four quarters!
I was a long way away from the $4 papayas of home!
---
I ended up staying in Hilo into the afternoon, putting the bike together to go for a ride; as well as heading over to their local Rainbow Falls municipal park on a recommendation from a friend.
The coffee shop from earlier had a donation jar to get a skatepark for Hilo, so that was out of the question and I simply cruised the hilly streets. It ended up being more work than reward though, but there was one of those Californian-looking schools that you always see in BMX/Skate videos, which was something I suppose.
---
Even though it wasn't very long ago that I had breakfast, I figured I should eat before leaving the big city. I noticed the Casa De Luna, an open air bar that looked good enough - which it certainly was, as I had delectable coconut mahi-mahi tacos washed down with a delicious pint of Kona Amber. The bartender was super nice as well, giving me a rum & coke he messed up; plus laughing it up with me about some tourist who wanted a double Long Island Iced Tea - when there was no way of making it since the bartender didn't have a big enough glass (and he thought it a tad bit preposterous).
Anyway, this was enough dallying in Hilo, it was time to go eastward on The Big Island. This would take me by the friend-recommended Lava Tree State Park, which was neat enough & worth stopping at as it was right along the way.
---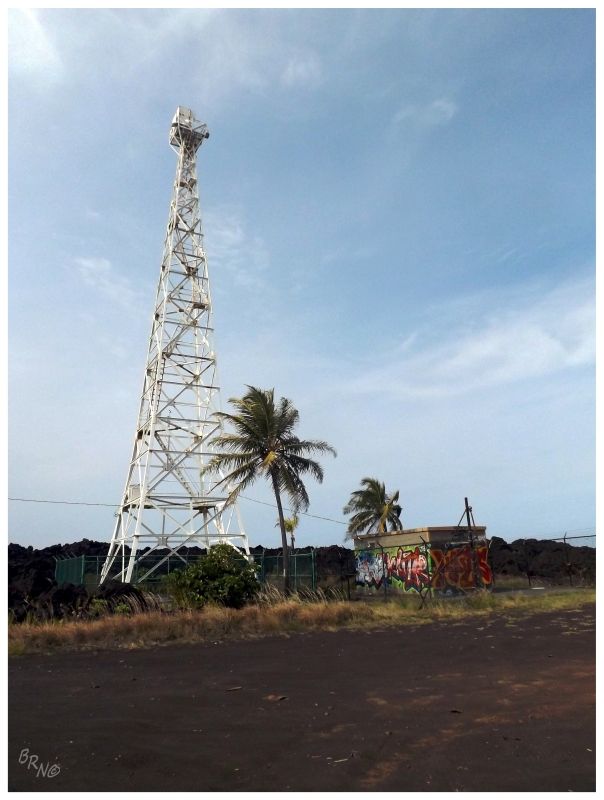 Right along the way to Cape Kumukahi that was!
While I hadn't paid much attention to those small concrete lighthouses, this one jumped out of the page at me. An added bonus is the fascinating history, where a 1960 eruption spilled lava forth, destroying the keeper's house & his orchard, before moving towards the lighthouse, until splitting into two streams just before the light!
The map of the lava extent and the small area where the lighthouse escaped unharmed is amazing.
---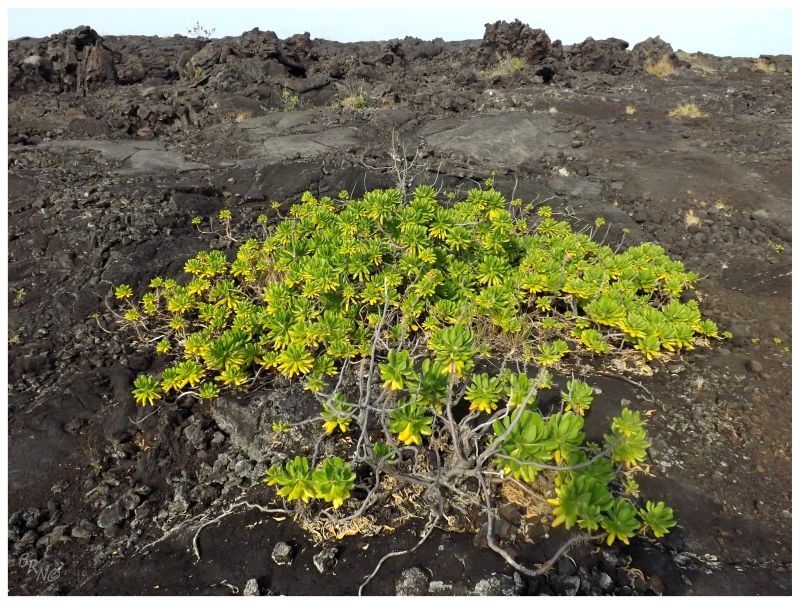 Whereas everywhere I had already been was lush with vegetation, I couldn't help but explore the fields of lava surrounding Cape Kumukahi.
The only vegetation starting to make progress on hiding this lava were the plants you see above, found every 25 feet or so (although there were bigger patches than the above scene).
---
This section of the island has several of these areas with recently formed land. It is over here that you'll find lava meeting the ocean, as well as the end of the Chain of Craters Road due to lava flows.
---
I obviously had an interest in exploring this area more, but there's a county park at the end where they charge a parking fee, making sure you know about supposedly constant smash & grabs on rental vehicles parked anywhere else.
This felt very greasy/dishonest to me, so I simply decided against walking very far from the vehicle.
---
Somehow I had already used up a good portion of the day, the slow backroads likely also being a contributing factor.
I doubled back from the end of the Chain of Craters Road (obviously), following the coast past a couple of promising looking state & local parks, hopeful for a nice stealth car camping location.
There are warnings about certain specific parks having locals who'll harass/rob non-locals, so after going to see these out of curiosity, I eventually found a state park with no warnings and plenty of open space.
---
I drove back into Hilo to hopefully watch the Jayhawks' March Madness game (college b-ball is up there with Bruins hockey for me, priority #1 when it comes to sports). The hilarity of it all though, was that I messed up the time zone calculations and missed the Jayhawks game entirely.
This was the confusing thing though: why did the waitress know about the Jayhawks game? Why was there Jayhawks memorabilia up in a sports bar in Hilo Hawaii? Why was everyone looking at me weird in my Jayhawks shirt?
It turns out that the bar owner is a huge Jayhawks fan and all of the staff pay attention to the games because it wildly affects his moods. They told me it would have made his day to meet another Jayhawks fan for the game & that I would have had one hardcore fan watching beside me.
I found this all very strange in Hilo.
---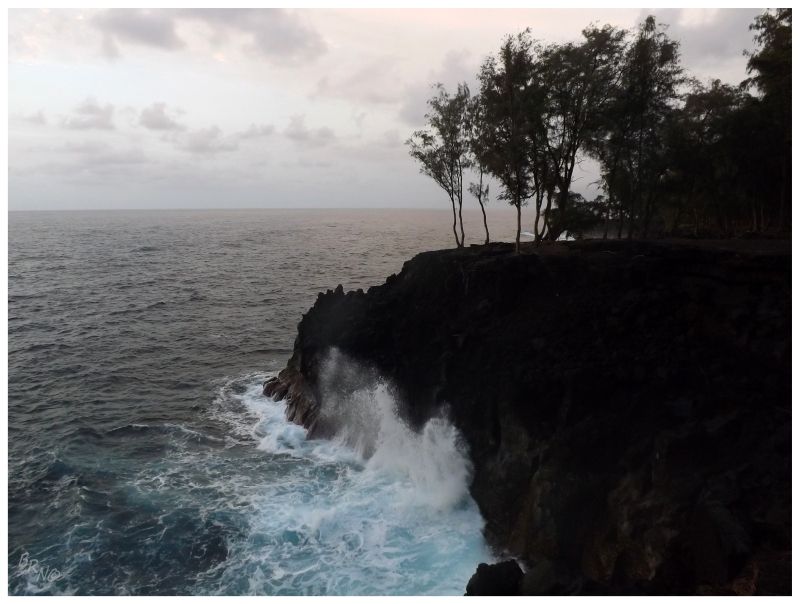 So instead of delaying for 3 hours while watching the game at a bar, I was back at my MacKenzie State Park camping spot in no time. Creeping the SUV over sharp black rocks, between trees and amongst a handful of distant cars, I made it to a clearing near the ocean which I declared to be as good as anywhere.
In the pitch dark I quietly exited the car, opened the rear hatch & climbed inside.
---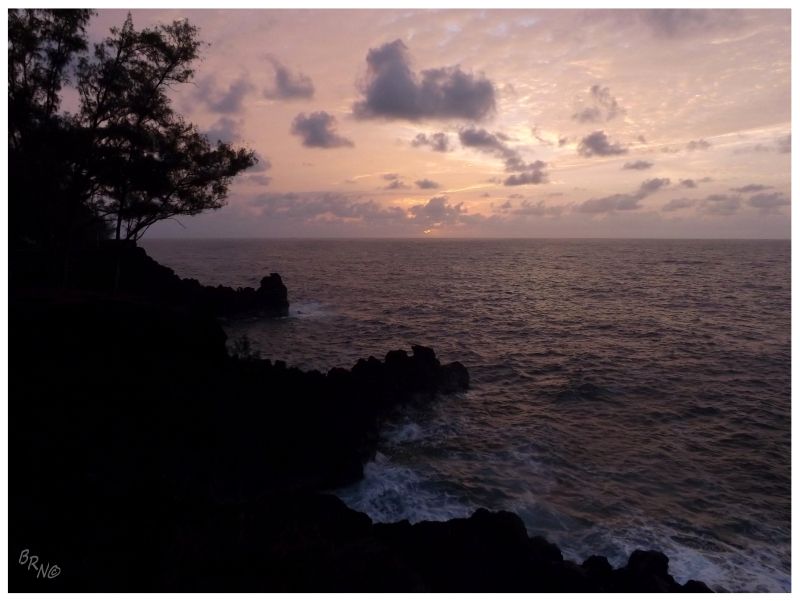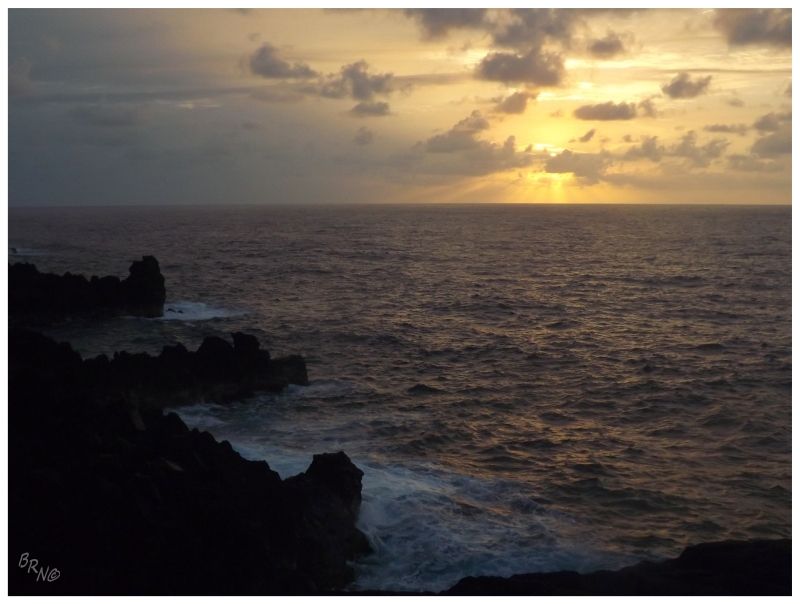 Which means that these aren't sunset pictures, but rather, sunrise pictures.
I slept a lot better this night, although after I started to check my watch at 4 o'clock, 5 o'clock and so on, I made the easy decision to get out at daybreak and watch the sun rise from one of the more eastern spots on the island of Hawaii (Cape Kumikahi is the easternmost).
---
After that kind of start to day 3, the fervor was lit inside me to get going and make things happen.
Continue to Part 3!