It's not very often that I look at pictures of buildings in places where I don't expect to eventually go. Only in randomly surfing the web and being enticed by a picture of this Romanesque Revival beauty, that I then I followed the link and read up on Preston Castle.
The thing was though, was that Preston Castle was in California's Gold Country, a region lying between the Sierra Nevadas and the Sacramento Valley, and when exactly would I find myself back in that area?
Well lo and behold, I had a spare Saturday after seeing the Sacramento Kings ball on Friday and my departure flight from San Francisco early Sunday morning. The funny thing was that I wanted to drive around Gold Country and spend a day loafing about the California foothills anyway, so stopping in Ione fit like a puzzle piece into my itinerary.
---
The Preston School of Industry, aka The Preston Castle, isn't the type of place you sneak into anymore. With their small group of volunteers, you have to show up on either the first or the third Saturday of the month to take a guided tour.
My random spare day just so happened to be the first Saturday of April? What a fantastic coincidence!
So I signed up for the tour and was told to peruse the museum while I waited for my group to fill up. In this time, a grown-ass woman scurried away because she was scared of the supposed spooky interiors; ingrate children were loud to the point of discomfort in regards to their lack of interest in being at Preston Castle & a middle-aged woman was complaining about how she almost didn't get her Starbucks this morning before coming.
I walked out and started making my way down the driveway back to my car. This wasn't my scene. I've developed a love for older hospitals from being inside of a few, but this wasn't my cup of tea.
---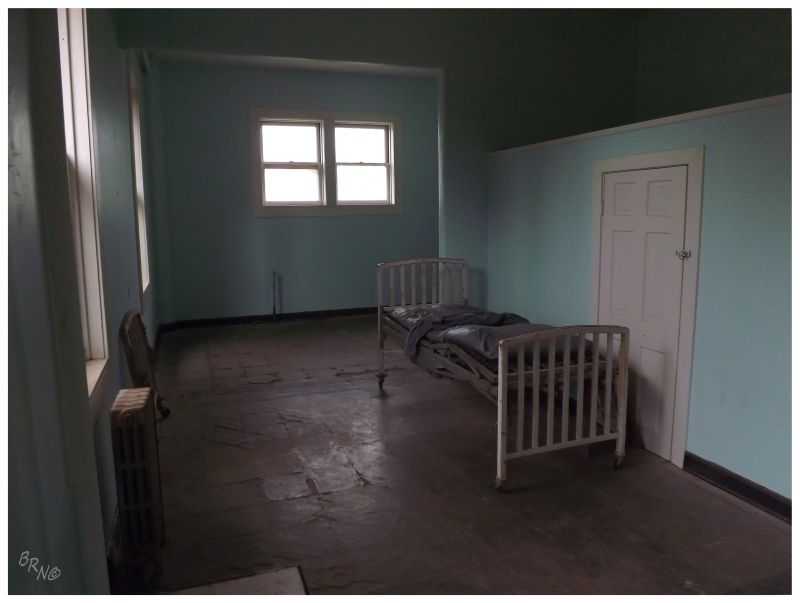 I was back at my car when it occurred to me that I had already signed up & that they'd be looking for me & that it'd ruin other people's experience in them having to wait. It was with that, and the fact that I actually did want to see other parts of the interior, that I went back inside.
Funny enough, I ended up with a fantastic group of people, absent of loudmouths, know-it-alls or believers of the paranormal.
---
In the late 1800s, juvenile offenders were still being sent away to places like San Quentin & Folsom State Prison when they committed crimes. The State of California decided this was a problem & purchased land to create a facility where young offenders would be rehabilitated instead of simply jailed.
Constructed between 1890 and 1894, the Preston School of Industry would teach young men trades and skills that they could use to succeed once they were done their bid.
---
The castle would remain open until 1960, at which time replacement buildings were constructed on the expansive grounds. Preservationists would step in after 41 years of abandonment to try and maintain the castle, but they obviously had and have an uphill battle.
Although I imagine the castle wasn't that bad in comparison to what it could be after 41 years of abandonment, figuring that it was on an active prison campus which might deter a few youths from partying inside.
---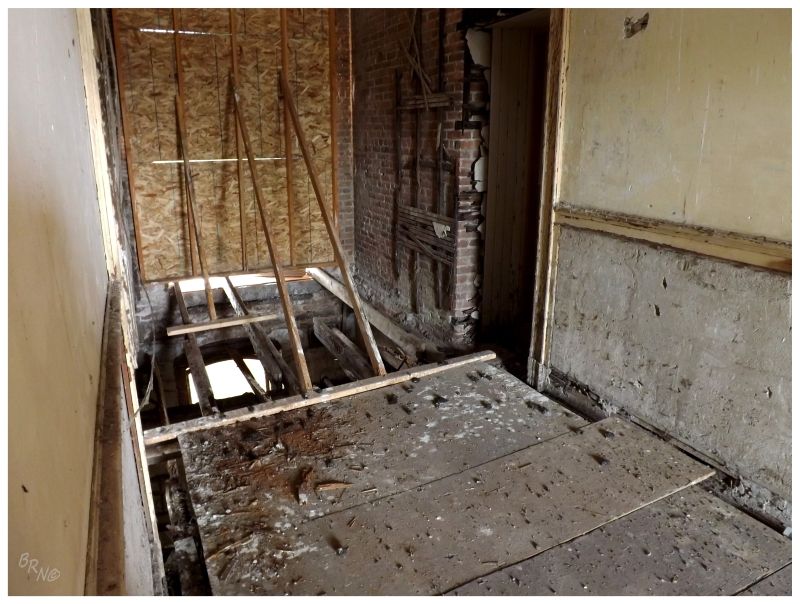 Of course any tour like this is going to be comical in parts where you've been in hundreds of these buildings and others might be going in their first.
And that's where I found it funny when our tour guide stressed the floor holes and the dilapidated condition. (Although I do understand that it is interesting to others and probably helps with donations.)
Really though, I'd have to give our tour guide 2 thumbs up. The presentation was good, she handled all the questions with ease, she seemed interested...she even clowned on one of those Discovery Ghost Hunter shows that came and supposedly heard voices or felt orbs or something (this got her about 10,000 points in my book).
---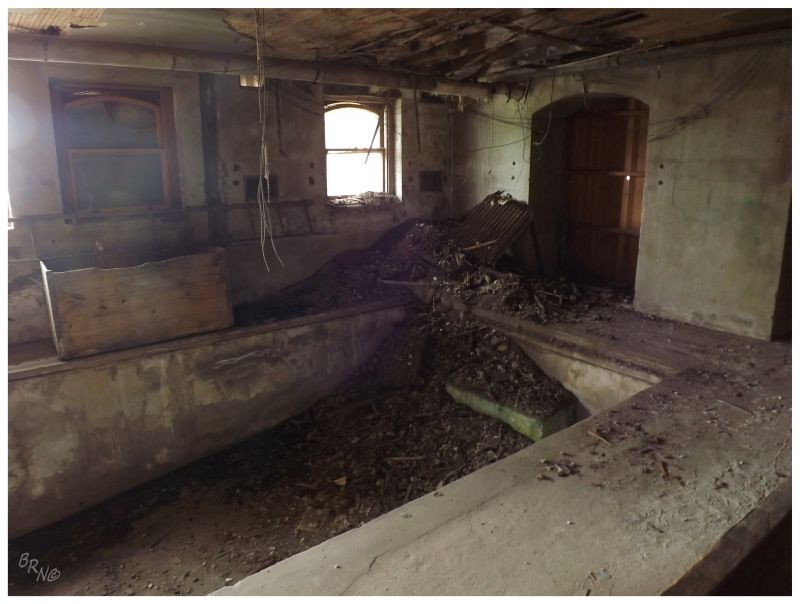 There was a small pool downstairs with the only light coming from a less than advantageous place for picture taking.
---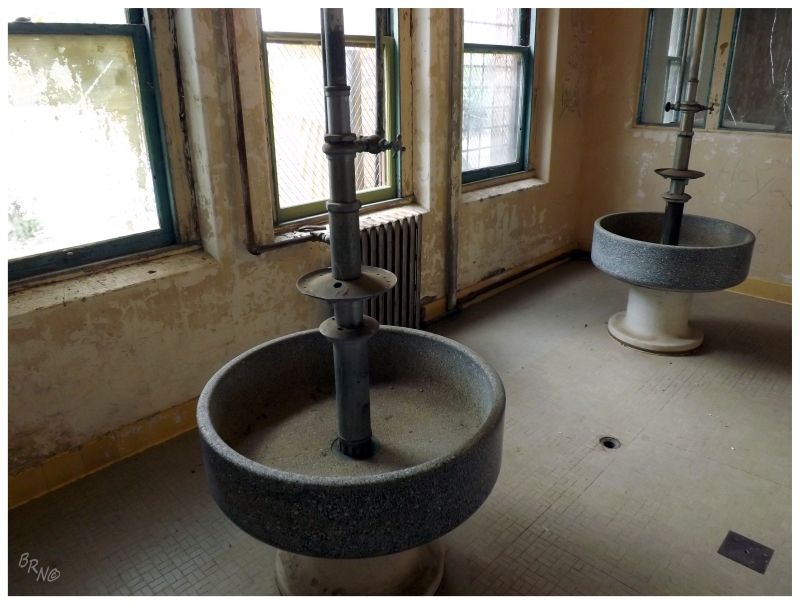 Many times with these abandoned places, they have ties to people who are before my time. Not with the Preston School of Industry though, as Merle Haggard was actually imprisoned here! (He's a Country singer).
When someone asked the tour guide about ole' Merle donating some money, she said that they reached out to him, but apparently he said something along the lines of how he hoped the place burned to the ground.
Gives some weight to the visions of prisoner abuse you hear in regards to these institutions, right?
---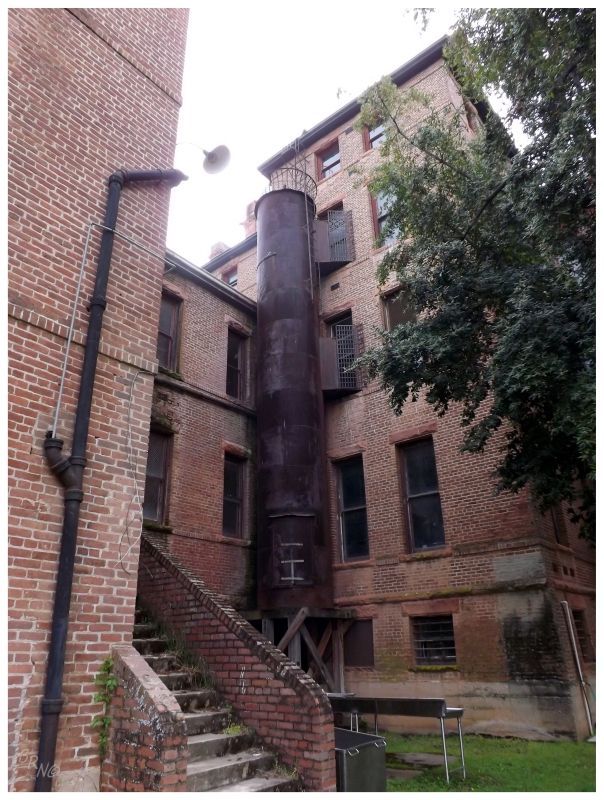 One of the more interesting things was their fire evacuation slide, built in a style I hadn't seen even in a picture before. We all peered inside from the actual building and it simply dipped away into darkness, in what must be a very tight circle.
---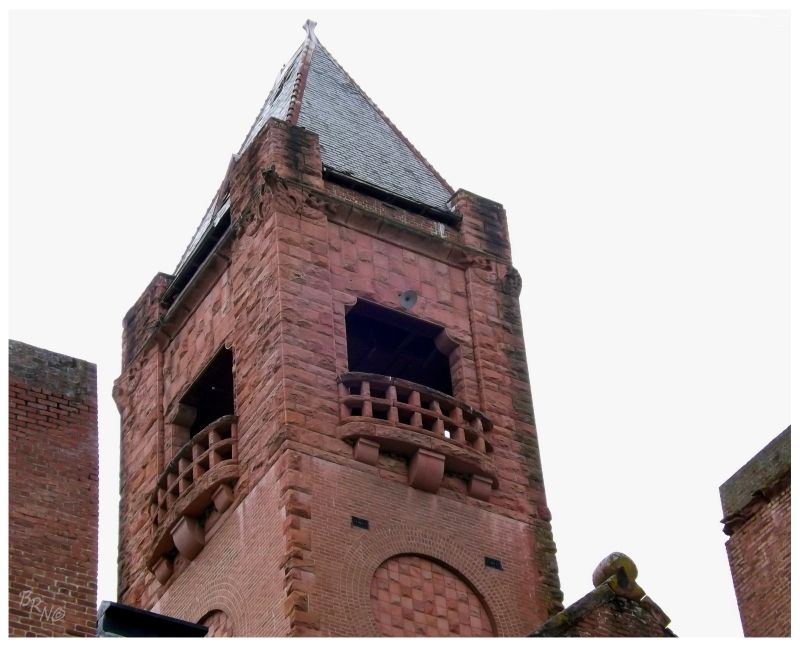 The tour ended with our guide pointing out how the no longer accessible Preston Castle tower used to have four gargoyles, but that she suspects some went missing when the building closed, where the State of California let people come inside to take whatever they want after paying a flat rate.
---
As previously mentioned, the Preston Castle is open every first & third Saturday of every month of the year. They also allow for private photography tours or overnight ghost hunting romps.
Ione California is located 50 minutes from Sacramento or 2 hours from San Francisco.
---
This update comes from 2 days I spent in California on a layover. To check out those days, click here.
To return to where you left off reading that update, click here.